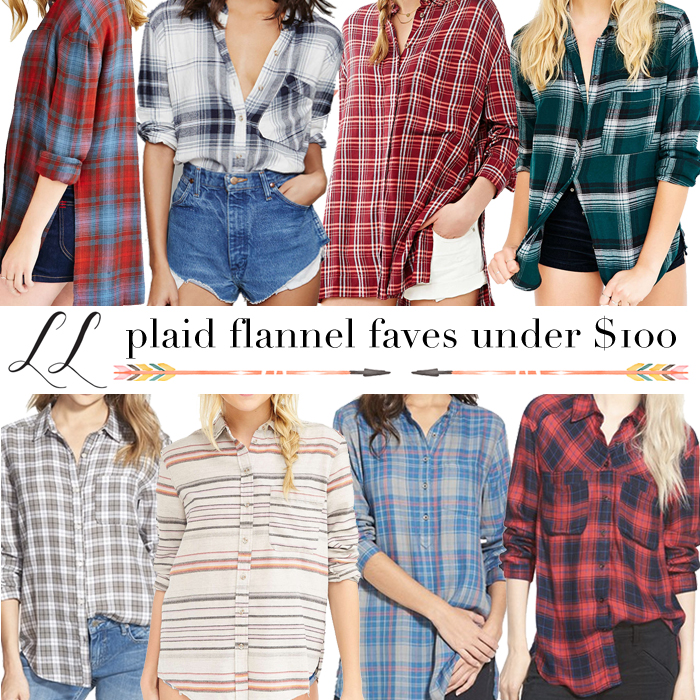 If there's anything I love for fall, it's most definitely a cozy plaid flannel button up! (Psst, all of the ones I listed are under $100 and a few for $20!). Until this year I literally used to wear the SAME plaid button up once a week (y'all I'm not kidding…Blake went and got me a new one because he felt like I over wore this thing, ha!)…and you know what? Even though I now have a few more of these perfect tops hanging in my closet, I STILL will wear that old, tattered one! There's just something so effortless, comfy and fall-esque about go-to plaid flannel. And yes, okay, so maybe I should alternate to a bi-weekly wear for that oldie but goodie…!
If it still hasn't quite dropped to those cozy, cuddle-worthy fall temperatures in your city (cough *Austin, TX * cough), well then, there's nothing more "cool-girl" and 90s-chic than tying a plaid long sleeve button up around your waist with a pair of cut-off shorts and a v-neck tee! As ACL festival is just a couple of days away, I can assure you we are all prepping that one fabulously cool outfit that most definitely involves plaid flannel…(fear not, I'll document all that I see at the fest on my snapchat: livvylandblog 😉 ).
In case you haven't yet scooped up your best plaid pick for the season, I've rounded up some amazing plaid button ups that will be oh so perfect for your fall wardrobe! Take a look and click the images below to shop – enjoy these killer deals at Nordstrom and Urban Outfitters.