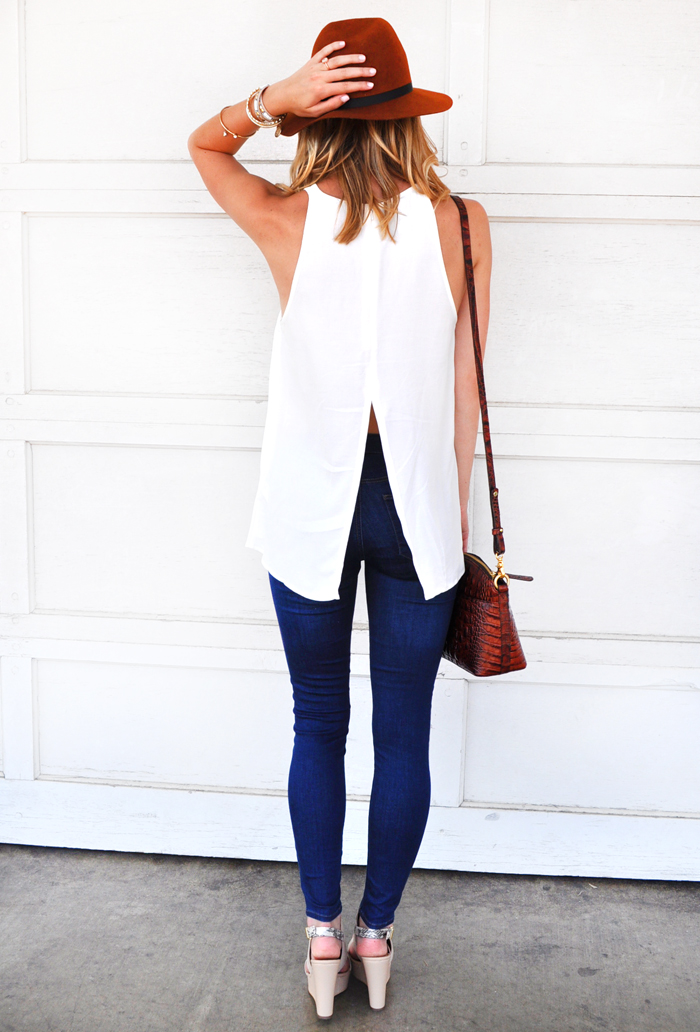 If there was an outfit that I've felt truly embodied "Austin" style in a nutshell, it's this look. It's casual yet trendy, which I feel really hits the nail on the head when it comes to Austin fashion. We like to keep things wearable all the time. That's one of the many things I love about this city…the fact that this outfit could literally go anywhere – brunch, dinner, shopping, a live music set…you name it, this look just works. So, where is this ridiculously adorable split-back top from? Topshop! Nordstrom is crushin' it these days, and I am seriously  l o v i n g  that entire Topshop department they have online and at their stores.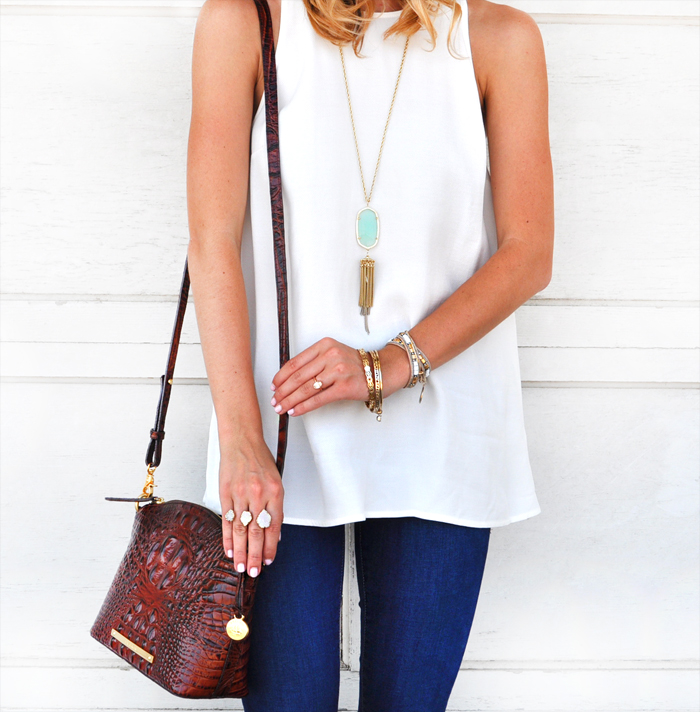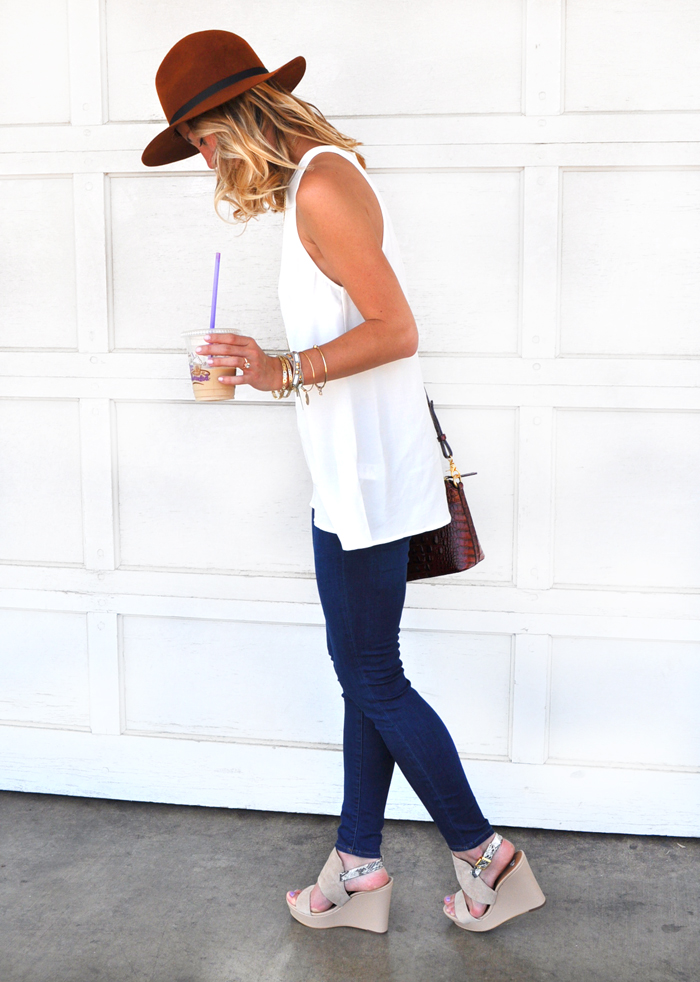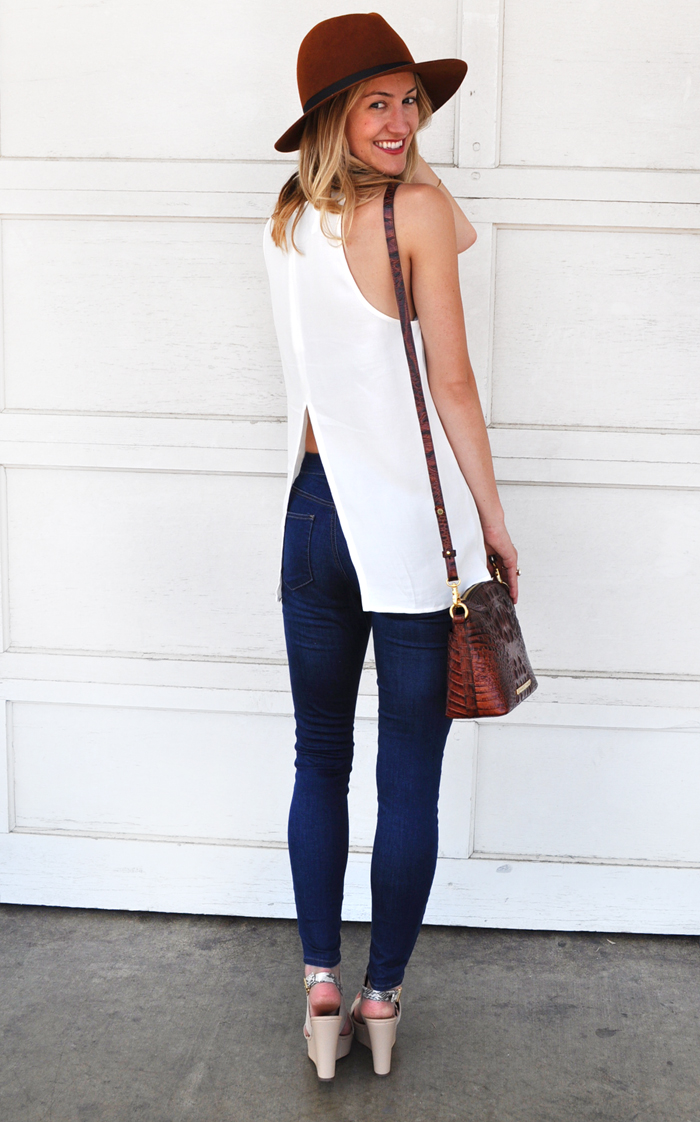 Not only is this top a fabulous summer staple, it could also easily work as a layerable piece for fall. Just add an army green jacket and swap the wedges for Cheslea booties and you're golden! (Wait…can the temperature just drop about 30 degrees so I can wear that outfit right this instant?! 😉 ) I paired the top with my go-to skinny jeans (I've been wearing these pretties a lot lately! Loving the color and great fit), nudie wedges (again…I can't get enough of nude shoes), my rust-colored fedora hat and Kendra Scott necklace with a gorgeous chalcedony stone front and center. Oh! And that bag! It's by Brahmin and it was one of those "take three steps away from it at the store, only to turn and run right back over to it and whip out my credit card-kinda-things" …you know the ones..? 😉 I actually bought the same bag for my mom a few months back, it's a timeless purse and Brahmin is a favorite of mine! High quality at a low price, I'm all about that!
Loving this look? Shop it below! Ps. The top also comes in orange-red or pink colors…take a look through the scrollable images!
top – topshop / jeans – nordstrom / wedges – nordstrom / necklace – kendra scott / hat – topshop / purse – brahmin / wrap bracelet – stella & dot / bangle bracelets – kendra scott / drusy double ring – kendra scott