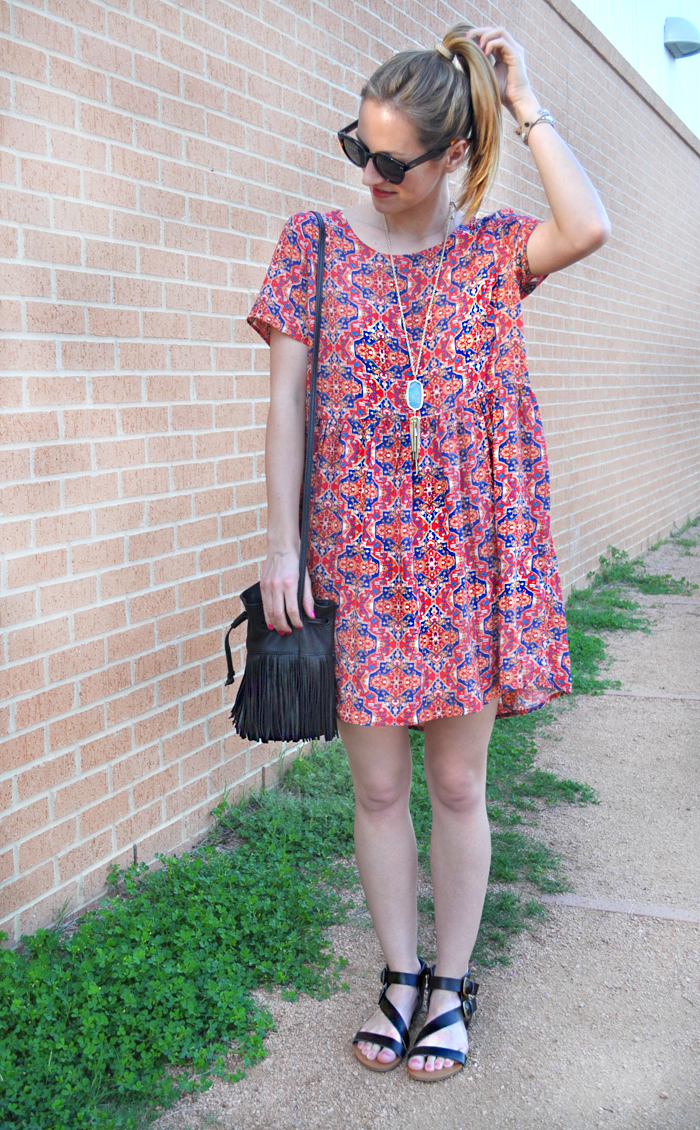 Hooray for 80 degree weekends and babydoll dresses! Who doesn't love when comfort and fashion combine to create the cutest little button of dress?! Oh and it gets better…this dress is $15! Seriously, I love love love Forever21. I don't care if walking into a store makes my head spin from too many options and clothing racks everywhere I turn…their stuff is cute and affordable! Ps. That's what online shopping is for! 😉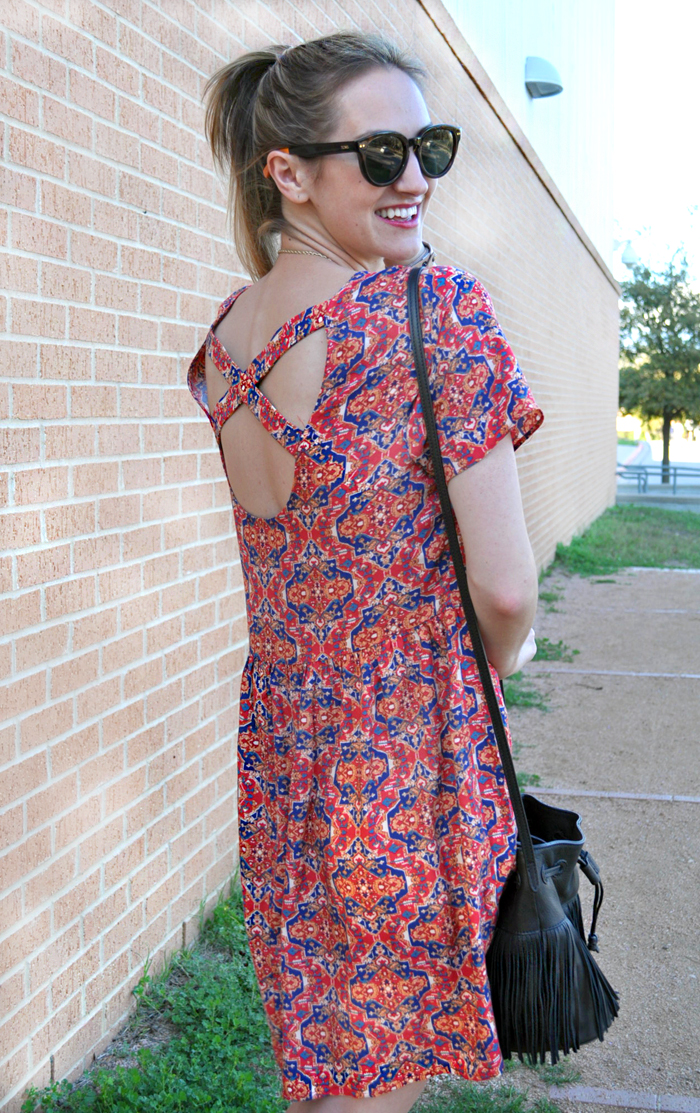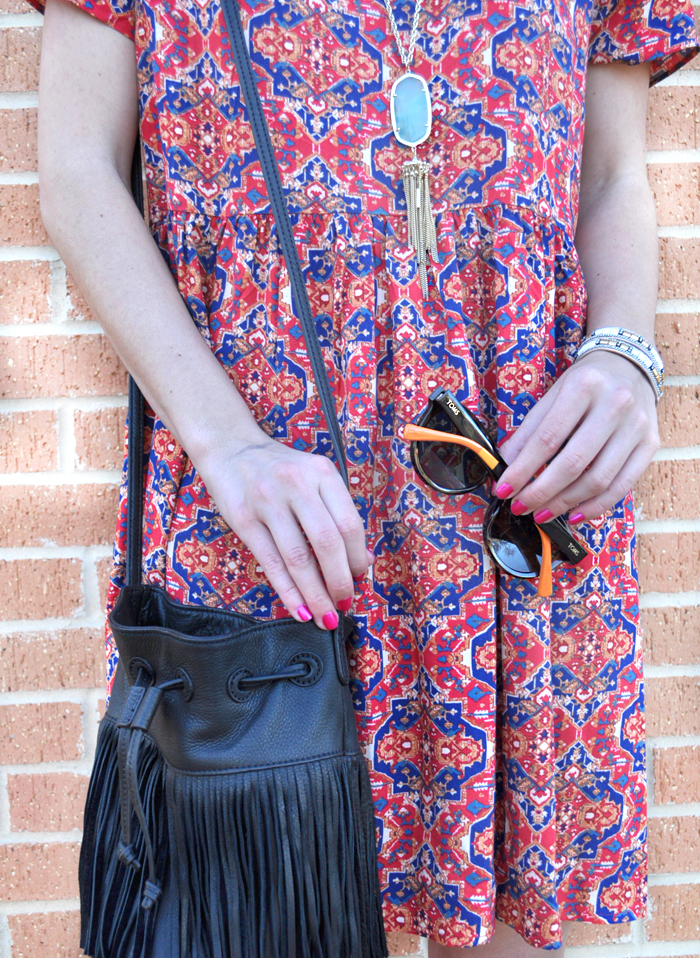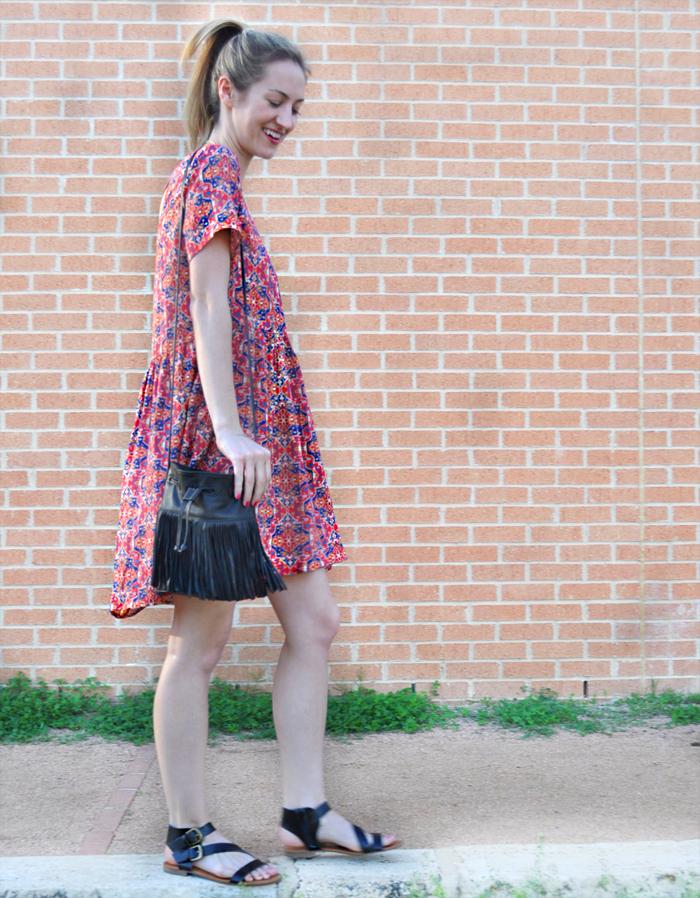 I paired my fun, tribal print dress with a pair of sandals I scooped up at Target for just $18. I'm beginning to think this is a serious bargain hunting outfit post ha! Also, I must add that these shoes were super comfortable from the get-go…I didn't ever have blisters from breaking them in ("beauty is pain" right? Not so much with these pretties!), so that's great news. There's actually a zipper on the side opposite the buckles, so you don't actually have to spend that extra few minutes buckling them up – perfection!
As for accessories, as you can tell by now, this Kendra Scott necklace is clearly a go-to for me…I wear it all the time! I will forever adore that lovely chalcedony stone color, it just works so well with a bright dress or neutral top, you really can't go wrong. I also wore my Stella & Dot wrap bracelet to add a golden touch and topped off my look with my Tom's sunnies and fringe bucket bag (this one is no longer available so I linked to a similar option!).
Love this outfit? Shop my full look by clicking on the item links & images below! I also added an extra row of tribal print dresses within the same price range (such good deals right now!). One more thing – I got the dress in a medium because I like things a little roomy on me, but I could definitely have worn a small. Just so you get a good size reference!
dress – forever21 / shoes – target / necklace – kendra scott / bag (similar) – necessary clothing / bracelet – stella & dot / sunglasses – toms
Hooray for 80 degree weekends and babydoll dresses! Who doesn't love when comfort and fashion combine to create the cutest little button of dress?! Oh and it gets better…this dress is $15! Seriously, I love love love Forever21. I don't care if walking into a store makes my head spin from too many options and […]