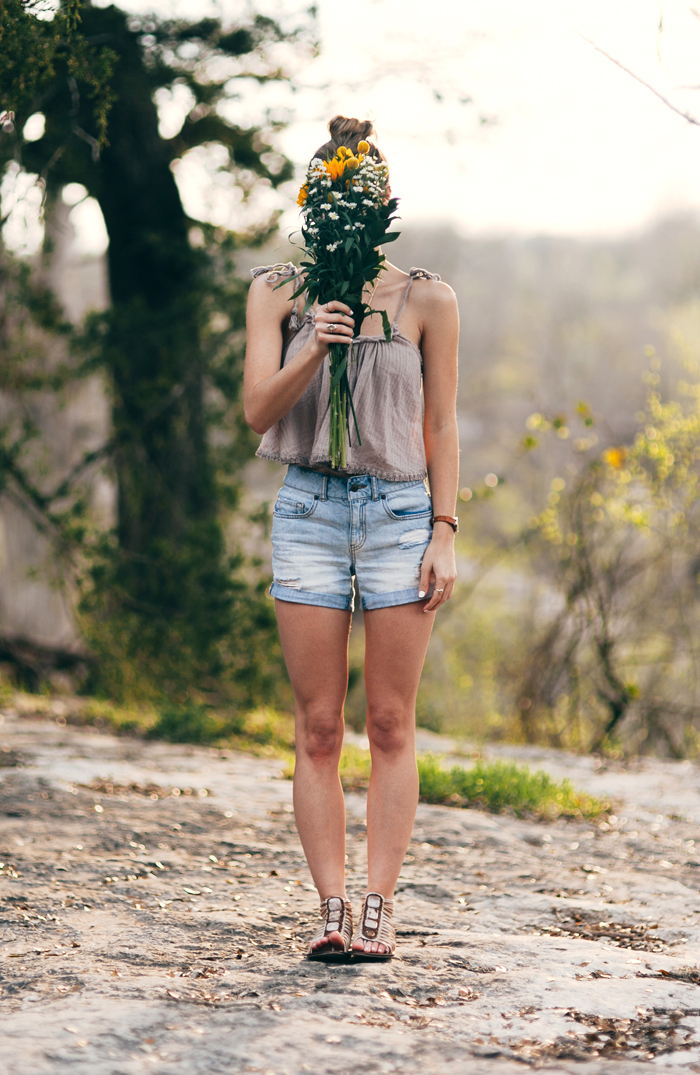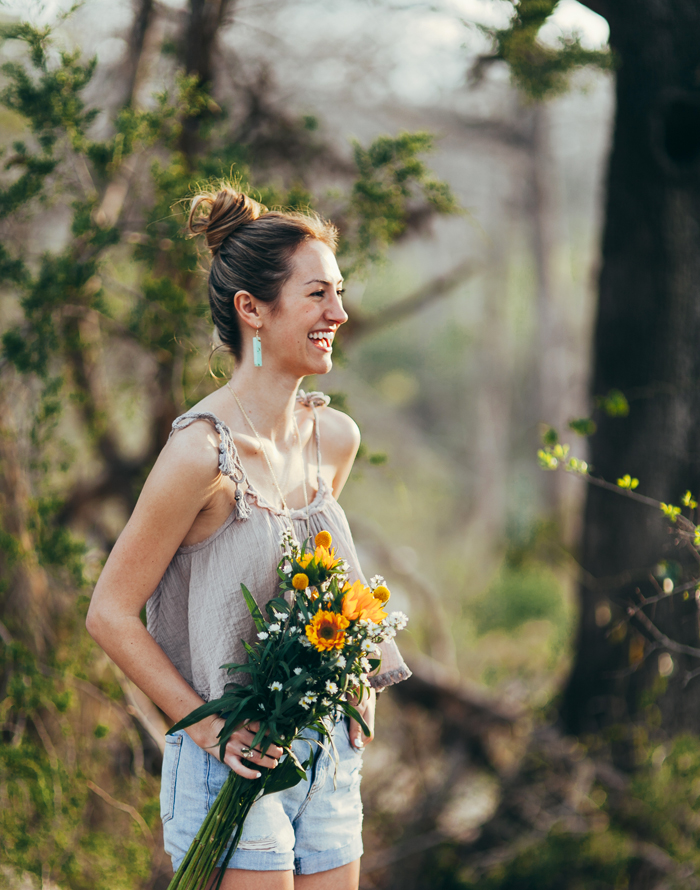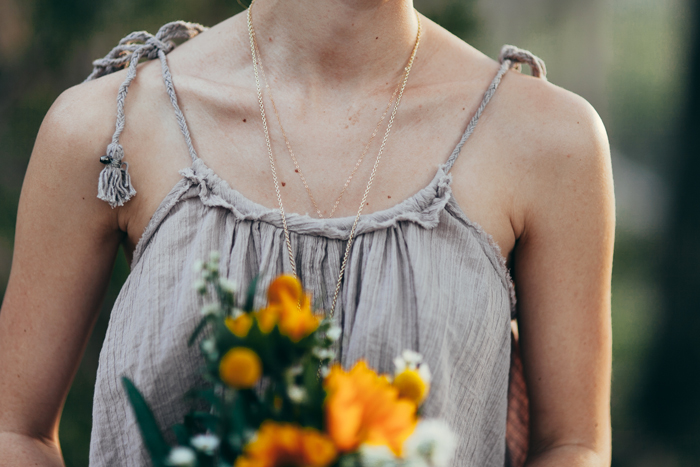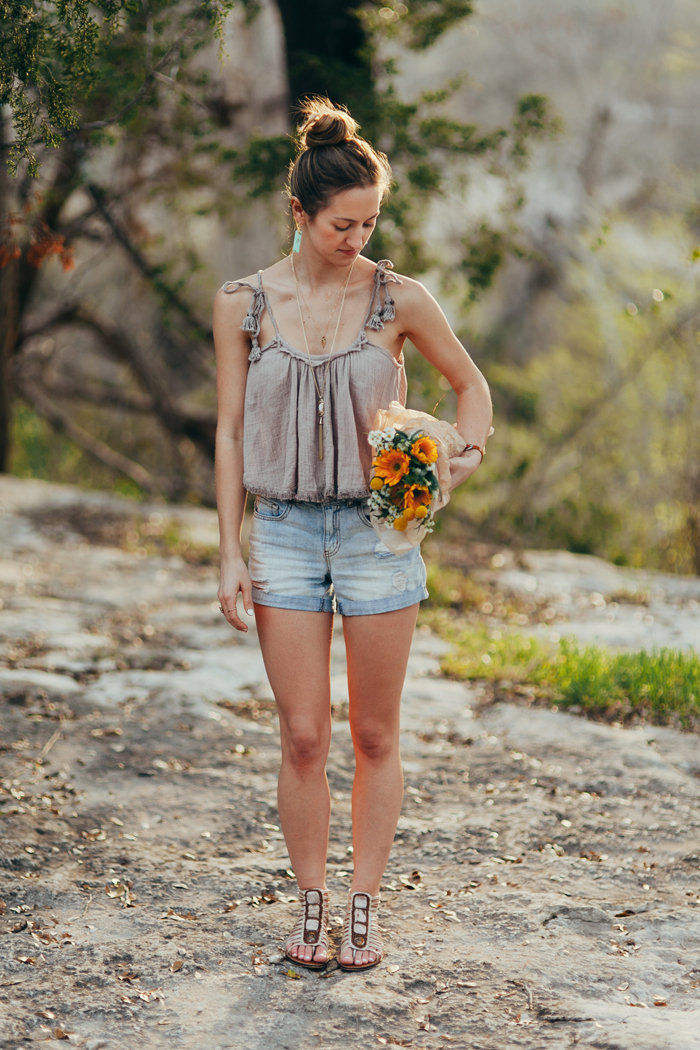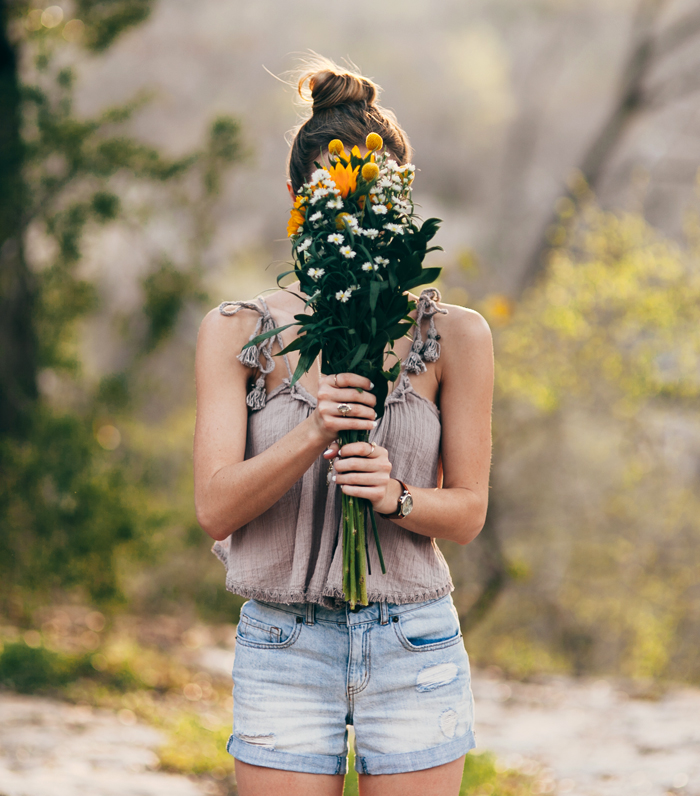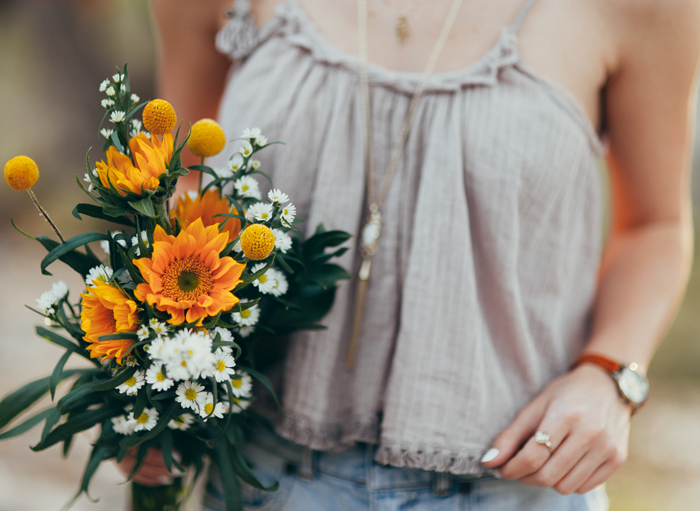 As warmer temperatures and festival season head our way,  I'll happily swap my long sleeve tee for a flowy crop top any day! And as we inch closer to the Free People SXSW party this Friday, I wanted to share another fun look featuring this Free People Swing Cami in Sandstone that will be available at the party pop-up shop. If you missed my last post featuring the FP Festival Days shindig info, you can check it out here – I'd love to see you at the party, so grab your besties and come have a beer with me!
First off, how lovely is this color? It's such a beautiful nearly-neutral shade that could go with everything…even your go-to jean shorts (hello, comfort!). Second, the shoulder ties are adjustable, so you tie it to fit how you want – whether a little looser to show a strappy bralette peeking through, or a little tighter as I did. I also love the tassel details on the ties, they just add that special touch to top off an already oh-so-perfect cami.
I threw my hair in a topknot and accessorized with Joy Dravecky jewelry – my shorter necklace and those incredible earrings. I am completely enamored with her collection, and these pieces in particular – that pop of color from the earrings really compliments the earthy tones from my outfit. As I've mentioned before, I am a sucker for quality jewelry and this designer is everything.
My longer necklace is Kendra Scott and the watch is another oldie but a goodie, so I linked to a similar style watch below. As for the shoes? Hand-me-downs from my sister…she was kind enough to give those pretties up! I linked to another similar pair below, too.
Will I see you on Friday? Excited to do a little shopping, snap some pics and boogie down to the killer music lineup! Don't forget to check out this post to get your wristbands! If you're not in town or won't be able to make the bash, feel free to shop more FP tops + my accessories below.
free people crop top / shorts – similar urban outfitters / earrings – joy dravecky / short necklace – joy dravecky / long necklace- similar kendra scott / watch – similar nordstrom / shoes – similar nordstrom
As warmer temperatures and festival season head our way,  I'll happily swap my long sleeve tee for a flowy crop top any day! And as we inch closer to the Free People SXSW party this Friday, I wanted to share another fun look featuring this Free People Swing Cami in Sandstone that will be available […]