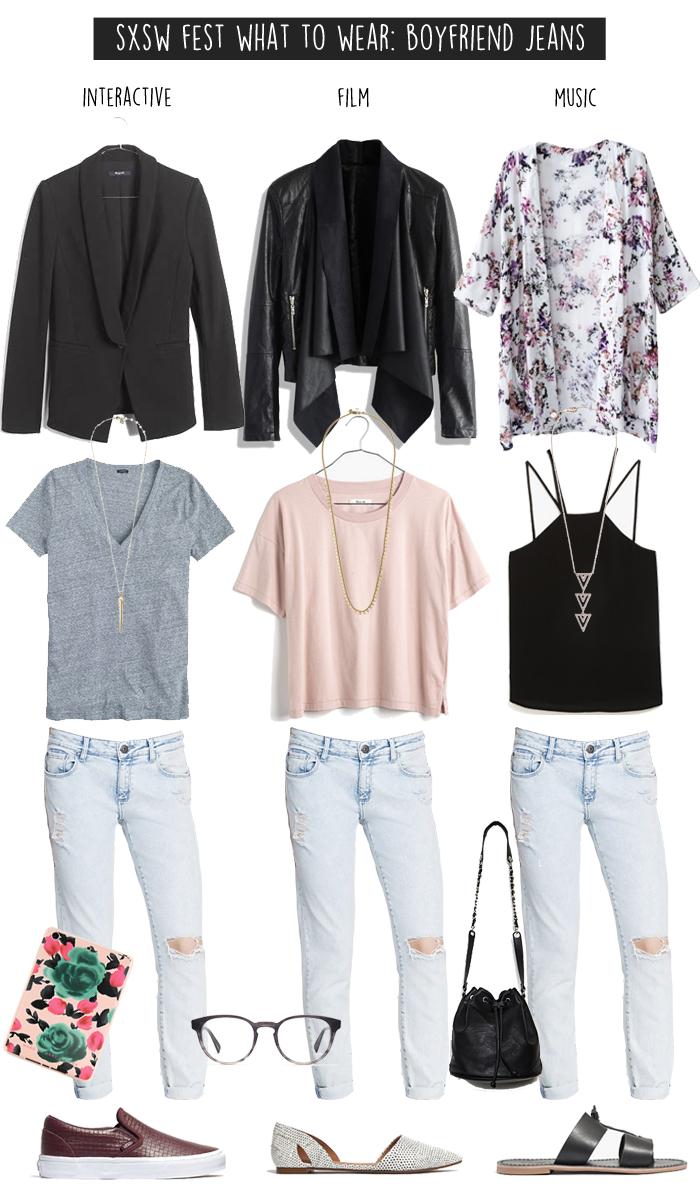 When I worked for Kendra Scott Jewelry in their marketing department for the last couple of years, we were always sent to the interactive portion of SXSW. From my experience, wearing a kimono and flash tattoos probably isn't the best move for that part of SouthBy. Take note ladies, save the boho glam look for music end! As for the the interactive and film portions, I've learned a thing or two about the best style for such events – and above all, it's comfort! No matter which portion you're attending, comfort is key – so boyfriend jeans and good shoes will be your besties for the week of festivities.
Given that relaxed jeans are a foolproof way to incorporate fashion and comfort (and you're likely already stuffing your suitcase to the brim), rocking a pair of light wash, distressed boyfriend jeans is the way to go throughout your trip! It's not going to be a super scorcher yet in town, so you can get away with breezy jeans that leave a little wiggle room. I pulled this pair of DL1961 jeans – seriously, these things are perfection! You can't go wrong splurging on high quality denim, and trust in this brand to always deliver and make me feel great!
INTERACTIVE: The Vans shoes are key. You will be walking a lot and networking like crazy, so keep it business on top (fashion-forward, though) and a little relaxed/party vibe on the bottom. The blazer adds a sense of professionalism to the look and that adorable floral tablet cover is a fun way to dress your tech. Also, who doesn't love dressing up a v-neck? Yes, please!
FILM: The film portion is always a little eclectic and down to earth – and definitely the most quirky of the whole festival (in my opinion!). It's generally panels, press events and screenings day and night, so it's good to have a mix of items and be able to dress the look up or down. Keep it low-key with those classic Madewell flats, or add black pumps for a more evening appropriate look. Also, you'll never see more pairs of trendy glasses than in this 4 days of film everything. Thus, have those Warby Parker frames ordered and ready to go by show time!
MUSIC: Okay, boho babes, this one's for you! You can either take the Chuck Taylor-grungy approach (equally awesome), or style your look with a little free spirit flair, a la a kimono and slouchy bucket bag! Layered jewelry is a definite do, and go ahead and bust out the flash tattoos for this one.
Whether you're attending the fest or simply drawing outfit inspiration for a spring wardrobe revamp, shop these key pieces and have some fun mixing and matching!
interactive: blazer – forever21 / necklace – stella & dot / v-neck – j crew / jeans – DL1961 / shoes – vans / tablet cover – marc jacobs
film: jacket – chic wish / pastel shirt – madewell / necklace – madewell / jeans –  DL1961 / glasses – warby parker / shoes – madewell
music: kimono – oasap / necklace – stella & dot / strappy top – azalea / jeans – DL1961 / bucket bag – forever21 / shoes – madewell
When I worked for Kendra Scott Jewelry in their marketing department for the last couple of years, we were always sent to the interactive portion of SXSW. From my experience, wearing a kimono and flash tattoos probably isn't the best move for that part of SouthBy. Take note ladies, save the boho glam look for […]