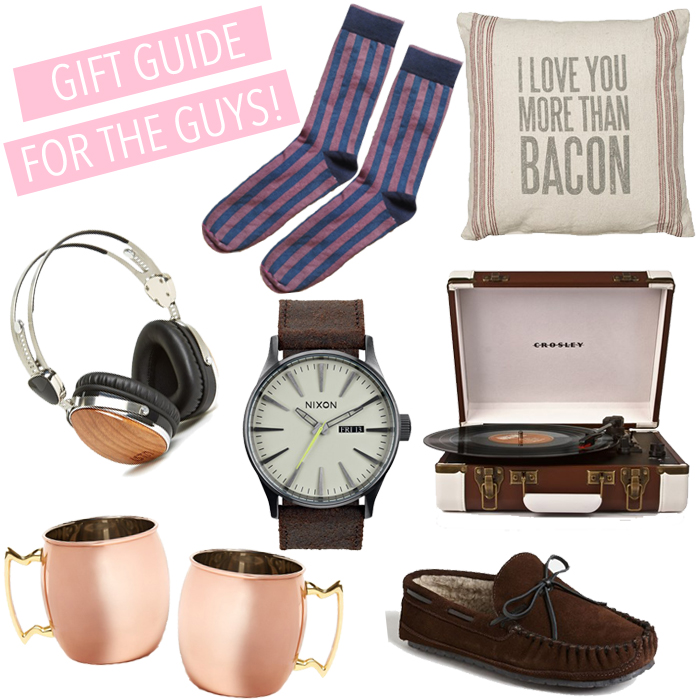 striped socks – bryan ashley clothiers / pillow – nordstrom / record player – nordstrom / house slippers – nordstrom / moscow mule mugs – nordstrom / watch – nordstrom / headphones – nordstrom
Wow…I know it's already February…but really? Nearly Valentine's Day?! Where has the time gone..! It's always smarter to buy your gifts in advance, if anything to reduce the stresses of last minute shopping (but to also know you'll actually have it by Feb. 14th!), so I created a men's gift guide to cover all the special fellas in your life! (Boyfriend, hubby, friend, dad, brother, etc.). Hopefully when you scope out my favorites above, someone pops into mind! Here's why these are my top picks:
1. Bryan Ashley Clothiers socks / $25 – American made and hand dip-dyed, these socks are the ultimate in quality & comfort. You can even buy in bundle packs if your man is a fashionable sock lover.
2. I Love You More Than Bacon pillow / $25 – But seriously, this is a really good way to spend $25 and get some laughs. Also, lets be honest…loving someone more than bacon is true love.
3. Crosley Record Player / $110 – I think this is the coolest gift on the list. Add a few of his favorite records (…or a record that has your song on it – ba bam!) and that's a pretty darn sweet + really awesome Valentine's gift. And it sets you up for an easy gift idea in the future, just help build that record collection! (Check out Urban Outfitters for records – some really great stuff!).
4. Troubador headphones / $150 – Clearly your man is more special than regular 'ol headphones. He needs something extra cool and unique, like these amazing beech wood headphones. High quality and stylish? Yes, please!
5. Nixon watch / $150 – Okay, so Nixon is my faaavorite affordable men's watch maker. Honestly, their watches are handsome yet minimalistic, so they really do go with everything! I own one men's watch for myself (as I said, it's one of my favorite brands) and have bought two of these watches as gifts for both my boyfriend and my best guy friend. Nixon is a definite do.
6. Moscow Mule Mugs / 2 for $38 – Ah man, I saw these and instantly fell in love. If drinking is on his list of hobbies, consider investing in some amazing Moscow Mule mugs, like these copper beauties. Give him the mugs + the fixins' to make delicious Moscow Mules and you've just been crowned best girlfriend of the year.
7. House Slippers / $40 – As I've written on my blog before, you can NEVER go wrong with house slippers! They are the gift that keeps on giving…every morning, everyday when he gets home from work and every time he wants to make a quick run to some fast food drive thru and only change his shirt to leave the house. You won't regret it, I can tell you that!
What are you getting for your special someone this Valentine's Day? Feel free to shop my picks by clicking on the links above & the images below!
striped socks – bryan ashley clothiers / pillow – nordstrom / record player – nordstrom / house slippers – nordstrom / moscow mule mugs – nordstrom / watch – nordstrom / headphones – nordstrom Wow…I know it's already February…but really? Nearly Valentine's Day?! Where has the time gone..! It's always smarter to buy your gifts in advance, if anything […]