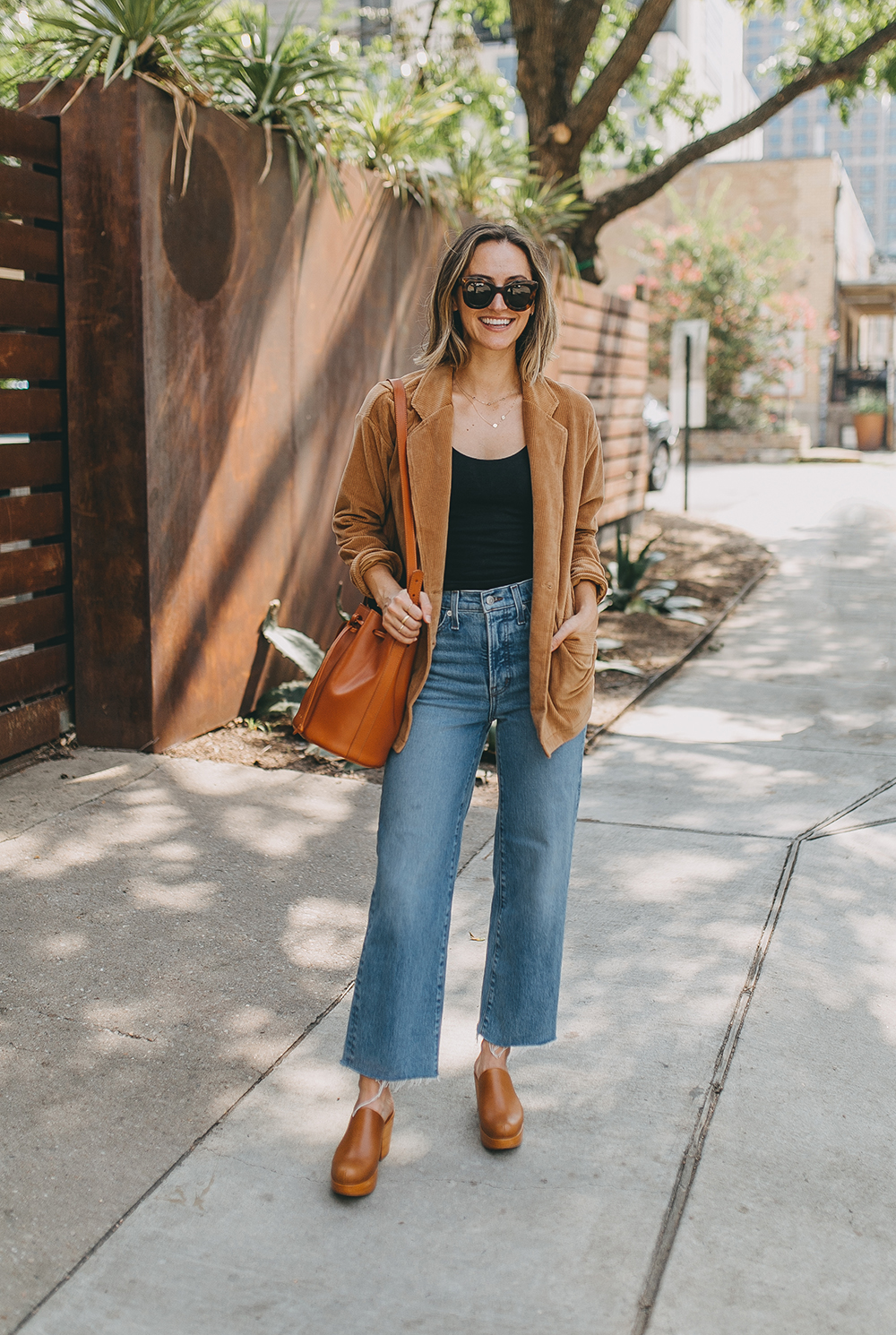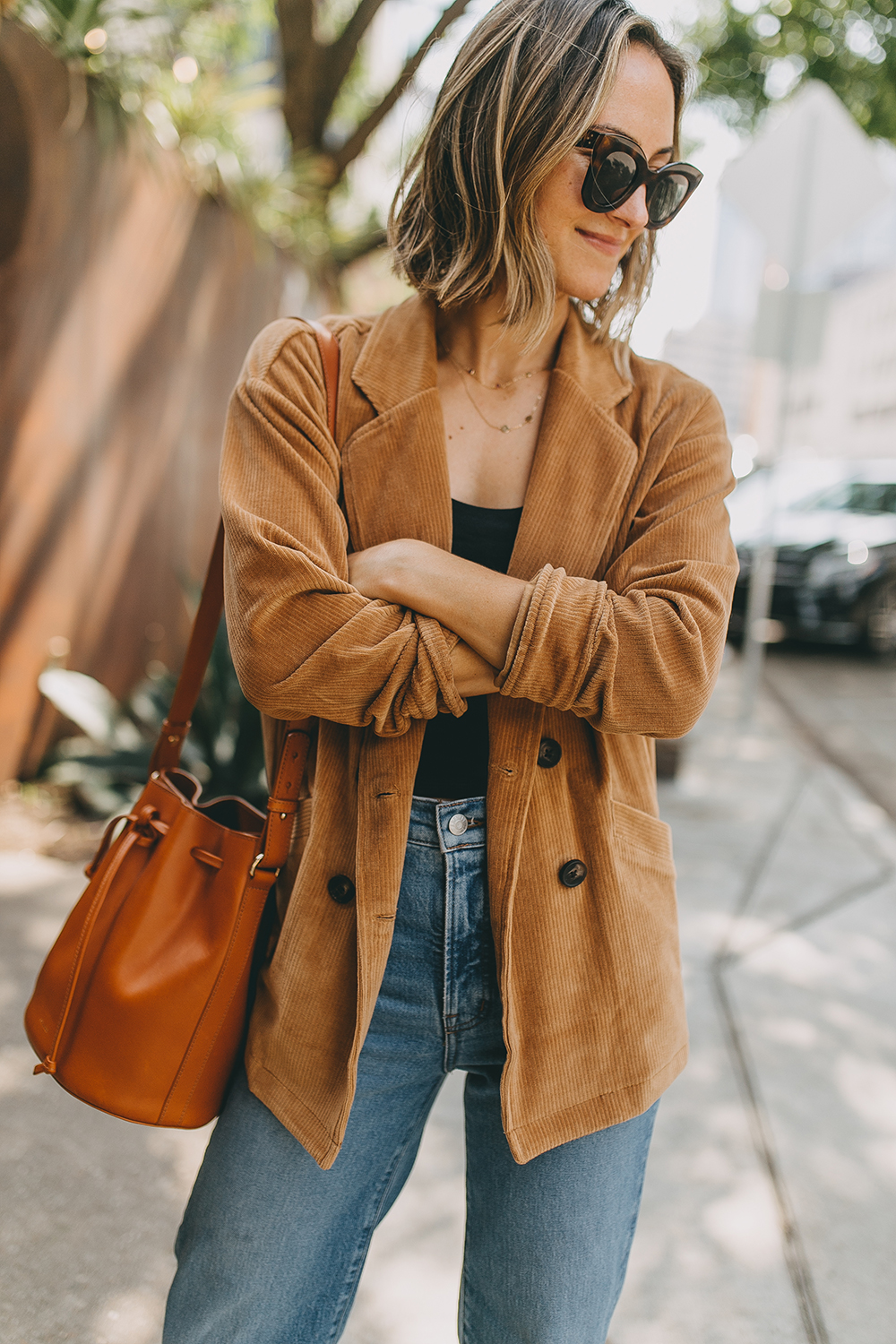 Ooh fall is SO fun to dress for! This time last year I was in the depths of renovation preparation mode and taking care of a baby and a toddler, so I didn't really go all in when it came to getting dressed, priorities were elsewhere! But this year, even just a couple weeks into fall weather, I am already LOVING piecing together cute, practical and wearable looks. Like this outfit that I was so eager to share on IG – and y'all clearly loved this blazer as much as I did, it's been in my top 3 most sold products for two weeks now…and I have a feeling it may stay there for a while! Yummy caramel corduroy AND a cool relaxed fit? Slow clap for this blazer and yes, just go ahead and add this one to your cart.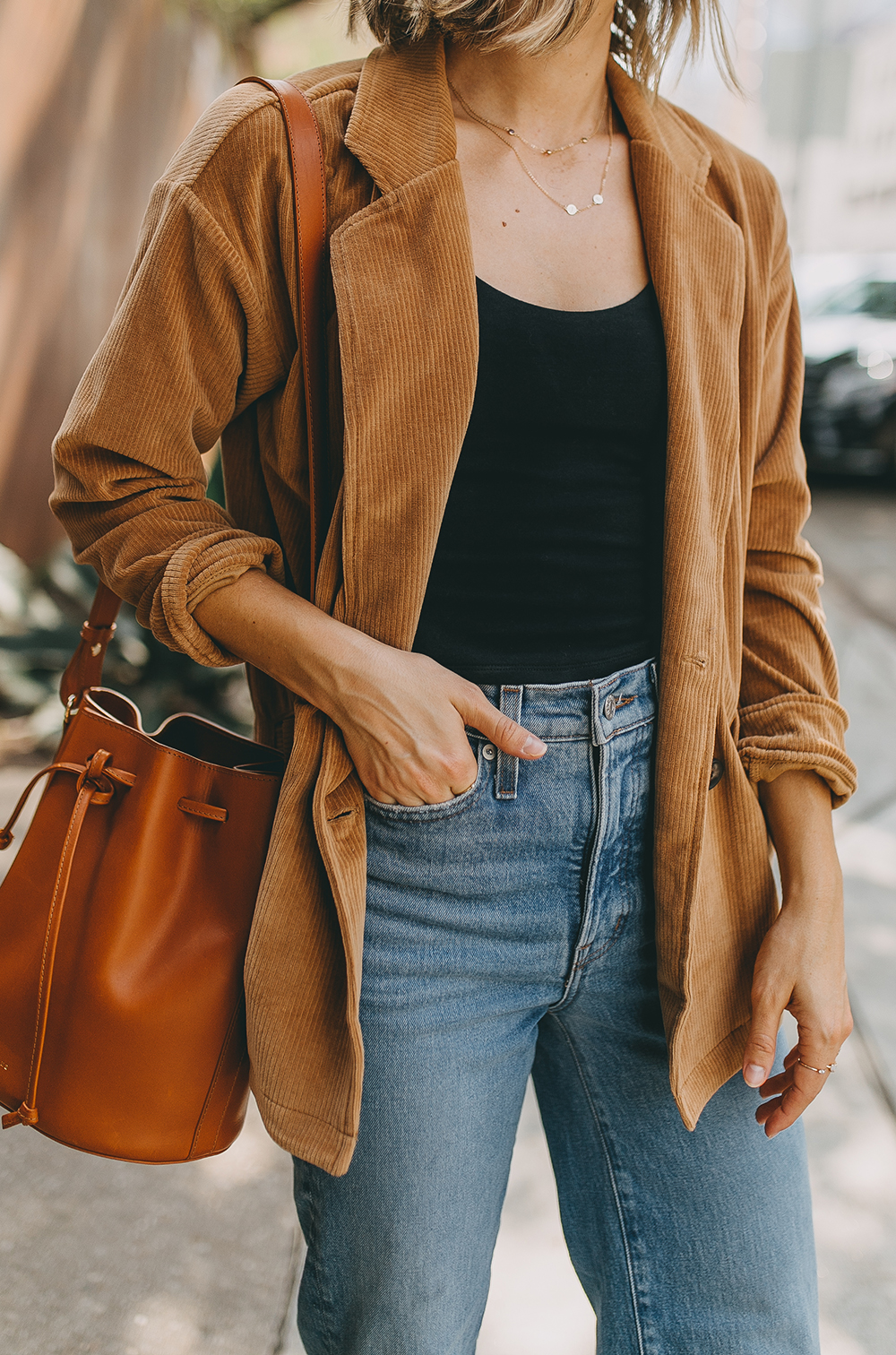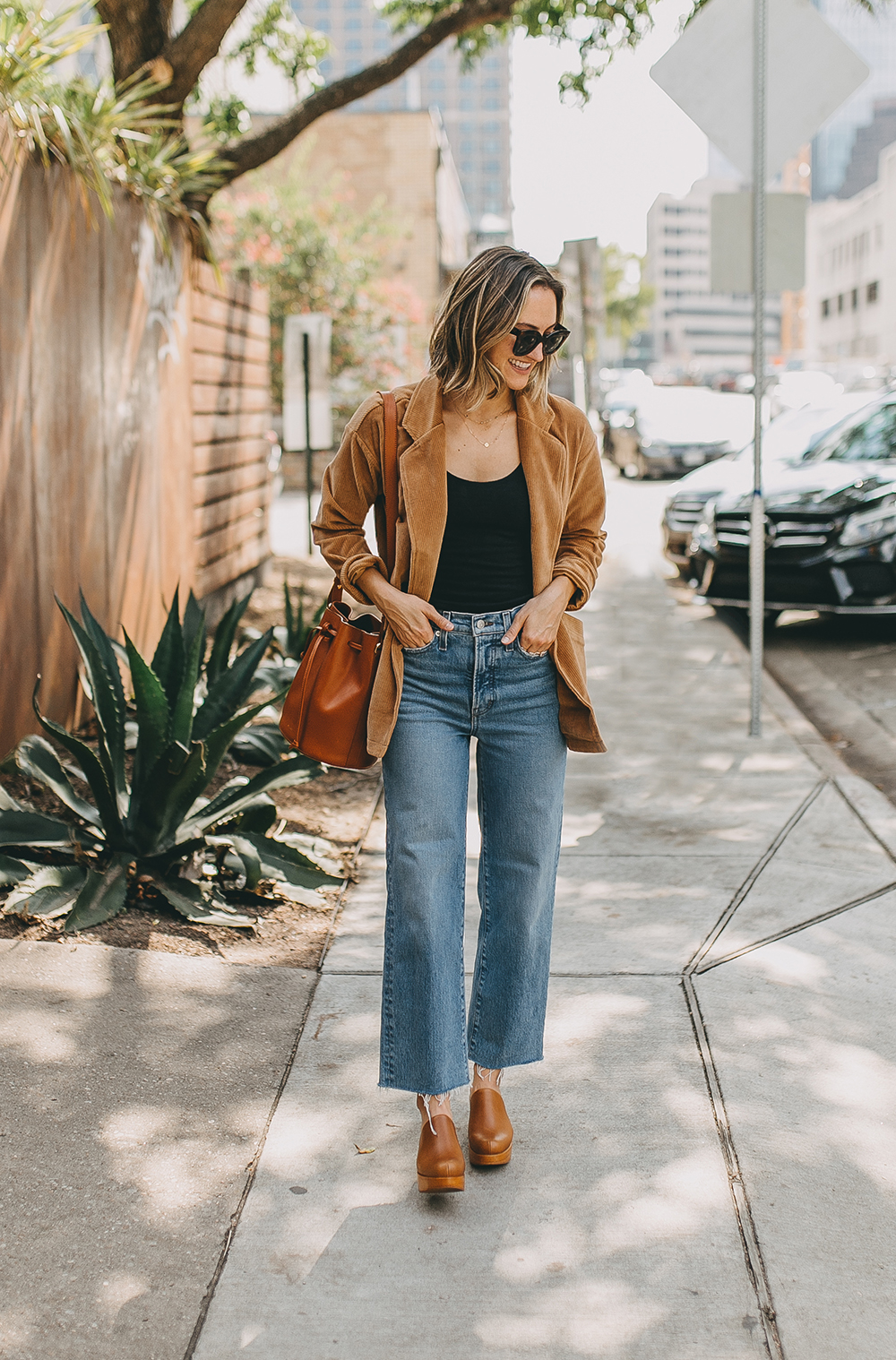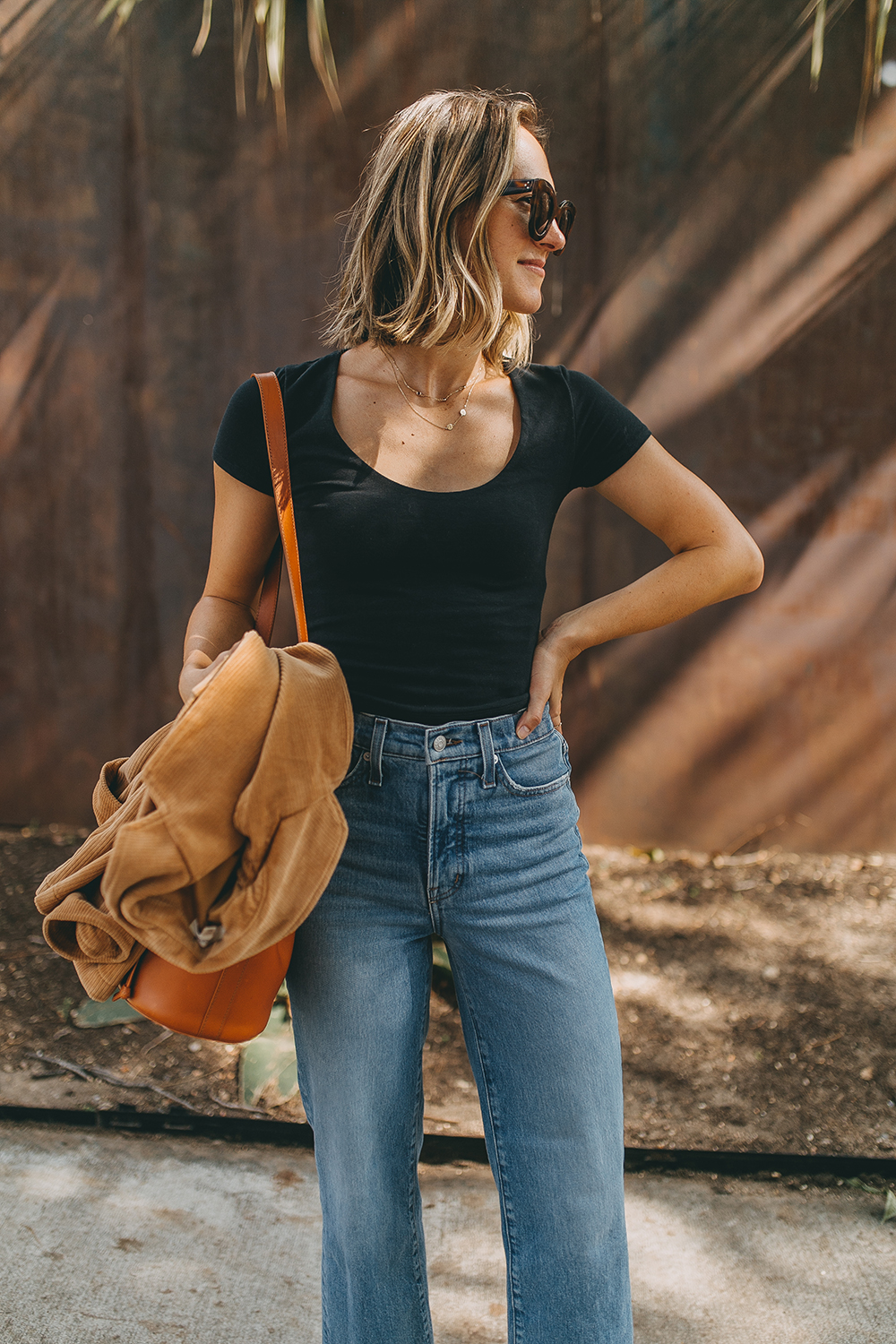 How cute is that scoopneck tee? $21! Abercrombie has so many great basics and I love love love the cut of this top and how easy it is to layer with. Really cute alone with jeans and high rise skirts, but also such a great base layer for cooler days. Wearing XS but probably could have gone with a small.
And then the jeans – THE jeans. The perfect high rise, wide leg, raw hem…truly, the jeans of our dreams. I am wearing my usual Madewell size (I wear 24 in Madewell denim, 25 everywhere else) and they have a little stretch to them. LOVE! Can't recommend enough (and if you follow me on IG, you know I literally recommend them daily haha ah!).
I think another super fun way to style this blazer would be to layer it over a maxi dress with booties or clogs. It feels very laid back yet still pulled together. I also love the 70s vibe it adds! Corduroy done right.
Alright friends, once again it's nearing 11pm as I write this (but hey, I'm on a roll! Feels really really good to make the time to blog again) and I'm ready to shut my laptop. Time to go read People We Meet On Vacation and hit the hay! 😉 Thanks so much for stopping by. XO
SHOP OUTFIT DETAILS
BLAZER / TEE / JEANS /CLOGS / BAG