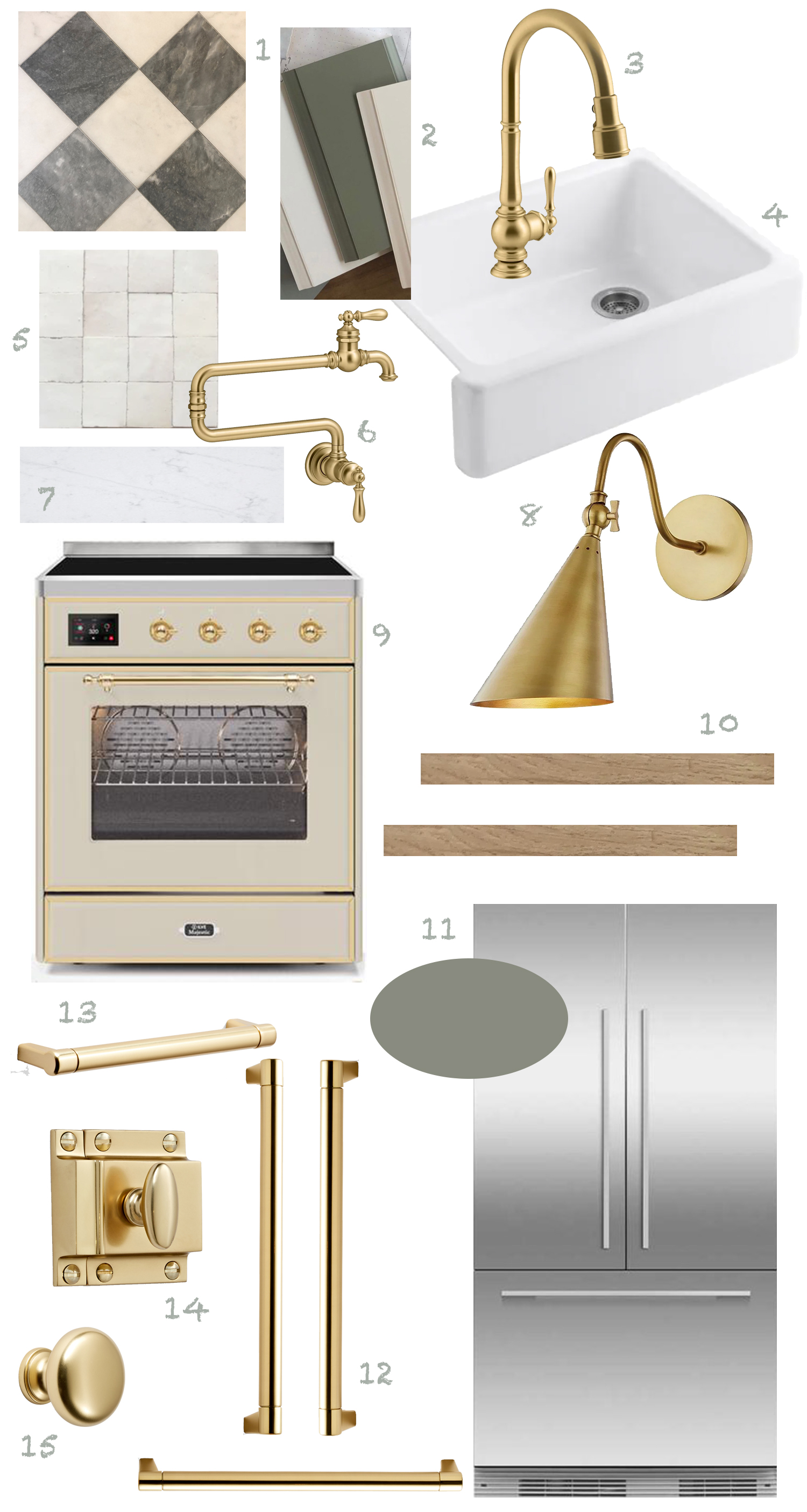 Quickly following up my kitchen reveal post with a list of products we used to make it all come to life! When planning this remodel, I used countless blog posts as resources and was SO grateful for those ladies who took the time share…and in turn, make my life easier when it came to selecting products (because if you're renovating, you KNOW is an absolutely agonizing experience haha…SO. MANY. OPTIONS!). Let me know if I missed anything and I am happy to share in the comments.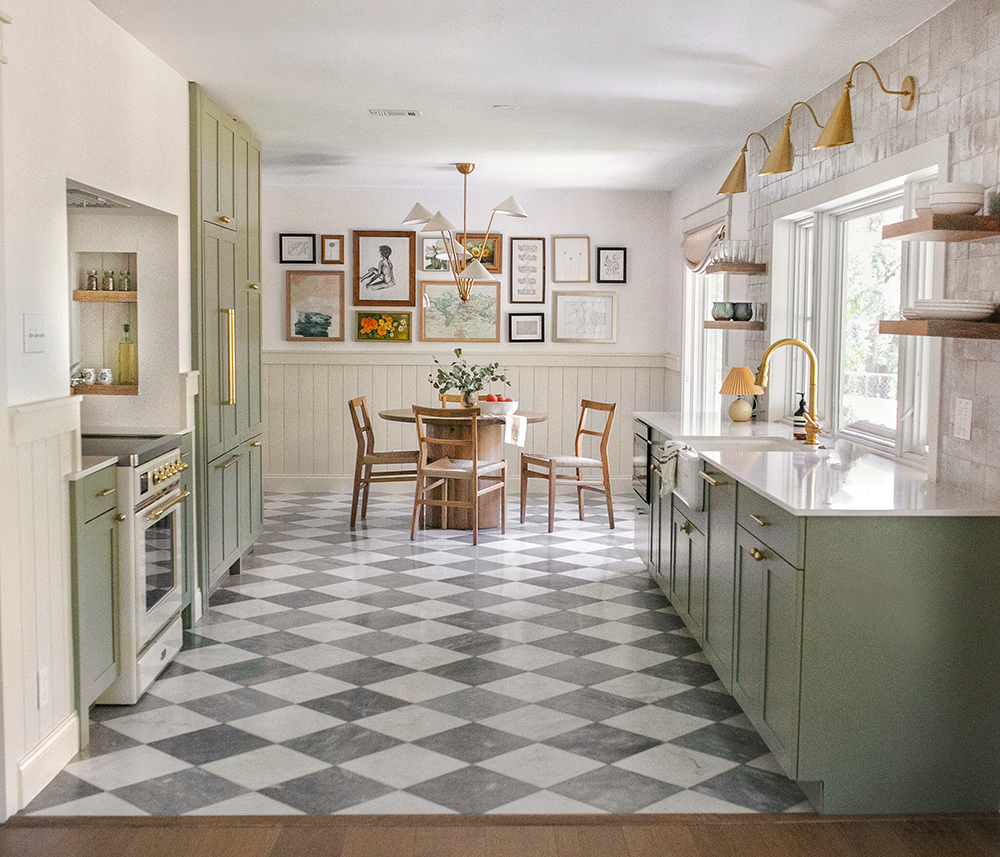 1. Checkered Marble: As mentioned in my kitchen reveal post, I don't want to share this source because it was a huge struggle start to finish. Renovating is challenging enough, let alone spending thousands of dollars and then never hearing a word until you have to hunt down your product! So, if you're wanting a similar look, this blog post has loads of wonderful options. A few details about ours: honed, 12×12 and we did half white, 1/3 light grey, 1/3 charcoal grey for a more dynamic look. Marble is absolutely stunning and really durable (think historical streets in Italy, France, etc.), so it adds loads of charm and character, but also wears well over time! (If you're going for marble, you can't be afraid of stains and scratches, that's just the nature of it if you live on it – gotta embrace those imperfections that make it so beautiful in a home!).
2. Cabinets: We ordered the 1600 series from Bellmont Cabinets (we ordered through Factory Builder Stores) with the invoke shaker style doors in color Silvermist. Though these came painted, this is the color touch-up stick they provided so you can order and then color match. It's such a beautiful sage green! The lighting in our kitchen changes a lot throughout the day, so depending on how high the sun is, it can lean a darker, muddy green or a brighter true sage. So beautiful with the diamond marble floors, they compliment each other so well!
3. Sink Faucet: I love a bridge faucet but maybe in my next kitchen! 😉 With two young kids, we needed a pull-down faucet…much more functional given our stage of life! Throughout this renovation, I learned that I really LOVE Kohler products. Their brushed brass is so rich and gorgeous, there wasn't really another brand that compared to the color I wanted in brass finishes. The Kohler Artifacts collection has that old world feel that felt right with the style of our kitchen. After a year backordered, the Kohler Artifacts Pull Down Faucet in Brushed Brass finally arrived and it is perfection!
4. Cast Iron Farmhouse Sink: There was never a question about the sink I wanted for this kitchen. The Kohler Whitehaven Farmhouse Cast Iron Sink in White was THE sink from the start. It is sooo hearty, rich in color and just beyond gorgeous. There are a lot of lesser priced versions from different brands, but nothing compares to the look and feel of this one. Beyond gorgeous! We have the 30″ and it feels very big and spacious.
5. Backsplash: Another item I always knew I wanted as our backsplash –4×4 Zellige in Natural White. We found ours at Riad Tile and they were so helpful start to finish. Once it finally came time to install, we had some edges that weren't going to be flush with a wall and I started to panic because I didn't want a schluter edge trim in this space. Thankfully, Riad quickly emailed me with different trim options and the mitered edge won my heart. It is perfect! Zellige really is worth all the hype!
6. Pot Filler: Another backordered item that we waited a year for…! Totally worth it, nothing can beat the color or style of the Kohler Artifacts Pot filler in Brushed Brass.
7. Countertops: Initially I was dead set on quartzite, but once we saw a handful of different quartz options, we opted for Silestone quartz with less veining and in a brighter white. We ordered from AAA Countertops in Austin and they were incredible. The whole process was fast, easy and their team was just all around SO lovely. Highly recommend if you're in Austin or surrounding areas!
8. Sconces: I had my heart set on these but the price point was a hard no (still lovely, though!). While looking at a handful of my favorite interior design accounts on Instagram, I kept noticing they'd all use the same minimal sconces in their clients homes. After lots of digging around the Internet (I am a pro at this by now haha), I found them! The Lupe Scones by Mitzi come in three color options the brass is beautiful. It's rich and leans more yellow than orange, but they really can go with anything!
9. Oven/Stove Range: I can't tell you how much time I spent goo-goo eyed over ILVE ranges while we were planning this renovation. They are works of art! Blake and I went back and forth over the color options (they sell neutrals but also lots of fun color pops), but ultimately keeping with the light and airy theme, opted for Antique Cream. We are SO glad we chose the lighter option, it's understated enough, but also THE centerpiece of the kitchen. I think every person who comes over immediately runs to touch it haha. We have the ILVE Majestic II 30″ in Antique White.
10. Floating Shelves: We initially ordered from Rejuvenation but unfortunately after installing the window and cabinetry, realized they were too big. Thankfully, it worked out because we found Custom White Oak Floating Shelves by UltraShelf on Etsy and the quality is unmatched! (The Rejuvenation ones are actually hollow and printed on). Definitely recommend UltraShelf, we LOVE the shelving.
11. Panel-Ready Fridge: Another fun backordered item that was so challenging to find, but we finally got it! We have the Fisher Paykel 36″ panel ready fridge + freezer and Blake installed the cabinet panels + appliance pulls and said it was pretty simple! Something to note: this one is fairly small, a full size pizza box will not fit (in the fridge or freezer part), so keep that in mind. Aside from that, it's gorgeous and functions nicely.
12. Appliance Pulls: All hardware we found at Rejuvenation. For the fridge, we used three 18″ Blair Appliance Pulls in Aged Brass. For the dishwasher we used the 12″ Blair Appliance Pull.
13. Cabinet Handles: We ordered the Greenwich Pulls for drawers in various sizes. The cabinet hiding our trashcan/recycling is the 8″, and the others are either 6″ or 4″. All in aged brass. Very sturdy and beautiful.
14. Cabinet Latch: Though the latch isn't entirely practical (more for aesthetics than useful), it sure is pretty! 😉 We bought the Large Oval Cupboard Latch in Aged Brass for the cabinet under the sink.
15. Cabinet Knobs: Another item I always knew I wanted in a kitchen, ball cabinet knobs. They're understated yet inviting, and the price is awesome. These are the best!
Lastly, I didn't add this to the collage but our dishwasher is the panel-ready version by Bosch. Super great thus far and an easy install!
Pheww I think that covers it all. 🙂 Hope this was helpful! If you're about to start renovating or in trenches of it (yes, trenches it the word I'd use while in reno-land haha), I wish you all the best of luck in creating your dream space!!