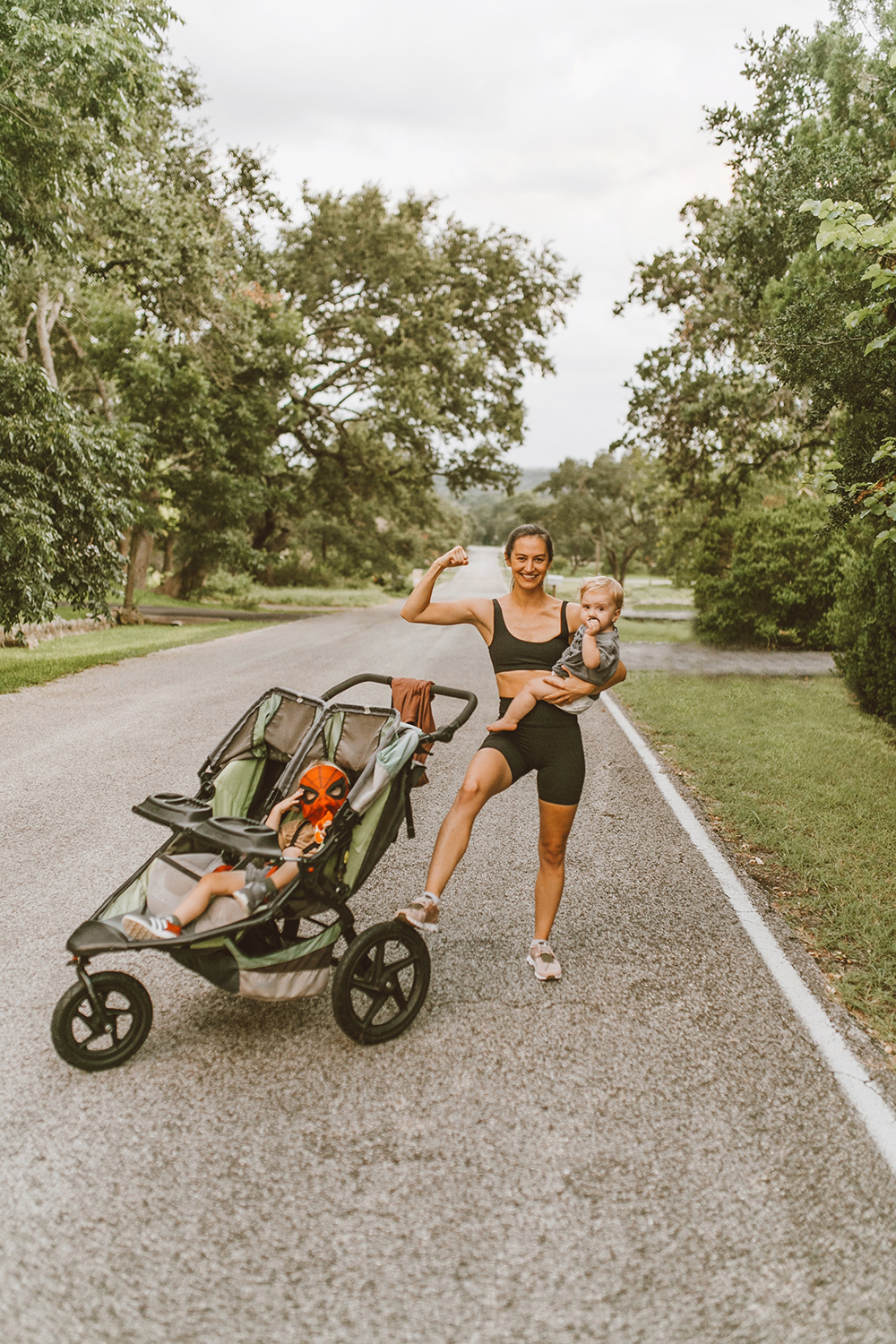 Hello and thank you for being here! It's been a while since I've sat down to share a more personal post, but it certainly feels good to write in this space again. For those who have been following me on Instagram, I have shared quite a bit that running has become a big part of my life. I do want to start out by saying that every postpartum journey is different, every body is different. Metabolisms, energy level, free time, whether or not your kiddo will chill in a jogging stroller (…and if not, whether or not you are okay with turning up your headphones full blast to finish your run, haha ah!) – there are so many variables that will make my journey different than yours. So if anything, please throw comparison to the wayside, and rather, I hope this post inspires you to start or keep moving your body – for you.
---
In short, having a baby, taking care of a toddler, moving into a new (very old) house and questioning my career happiness during a global pandemic really did a number on my brain. Never leaving our bubble, the monotony of life and lack of sleep that comes with a new baby hit me hard and of course, the added stress of fearing for your loved ones lives with Covid on the rise. For about a year, I was in and out of depression – for the first time in my life. I'd drop the boys off at my moms house with the intention of devoting the morning to work, then end up parked in our driveway crying alone for hours. It was a really dark time and I felt helpless, like life was completely out of my control and caving in on me. I was talking to Blake about my feelings and he encouraged me to start running again. Exercise always makes me feel better, literally always. When have you ever worked out and regretted it? Exactly.
For a long stretch of time, Ezra would wake up at 5am. If that sounds brutal, it was, ha. Jude didn't wake up until 8 so whoever was up with Ezra had three hours to kill – quietly. As my fellow parents know, there's only so much Frozen watching and block playing before you want to bang your head against a wall (in the nicest way). That's when it just made sense to use an hour of this time to get outside and go for a walk with Ezra in the jogging stroller.
Having a baby is an enormous change for your body. I gained 40+ lbs with my boys, so the added weight and jiggly insides made getting out very daunting. Not because I was worried how I looked, but because the uphill battle ahead felt too steep – I could barely chase a kid across the room without feeling out of shape. And especially during depression, it felt easier to hide inside. But truth be told, moving my body was more for my mental health than anything else, but of course the physical benefits are wonderful, too.
When Ezra was about 6-7 months old, I'd put him in the jogging stroller and walk around the block. Simple, easy on my body and the fresh air was lovely. (It was also lovely to not be watching Frozen).
A few weeks went by and that half hour walk turned into an hour long walk. Eventually I felt like I'd built up some confidence and endurance to try running. Jog, walk, catch my breath, hand Ezra another toy to distract him for the next few minutes, repeat.
Within a month I had found the Dua Lipa station on Pandora (forgive me for still using Pandora) and the feeling of being in a gay club disco extravaganza gave me the motivation to run the full route. Dua Lipa, Lady Gaga, Britney, Black Eyed Peas. This was what I needed to push myself. Just when I felt a side ache coming on, Promises by Sam Smith and Calvin Harris would come on and immediately I had the strength to keep going. I am not a podcast runner – hands down I need the sound of a beat that makes you want to catwalk with conviction on a suburbia sidewalk.
A couple weeks later, I was running 4x a week, 4 mile stretches. I added another section of the neighborhood to lengthen the run. I started seeing the same early riser neighbors that would cheer me on, Ezra in tow, my face as red as a cherry and the mindset of complete determination that this is my moment of "me time" for the day, and to make the most of it. I started to feel stronger, more in control of my happiness and my body.
For those who have asked me – no, Ezra does not like the stroller. He is the busiest child I have ever met (no really, he literally cannot stop moving), so for him to be strapped into something (even though it's moving! and trees, look up! and here's a random tiny spatula, please stop shouting at me!), so things like a stroller, carseat, front pack…really anything where he doesn't have full reign upsets him. So what did I do? I brought a mountain of distractions and snacks on every run. The distractions changed daily: odds and ends, the more random the more interest he has. A container of sprinkles, a toy hammer, a Princess keychain from my nieces backpack, an empty Ensure bottle, a plastic sword that seemed enormous for a 7-month old but that he would hold and wave around for 20 minutes straight. And then sometimes nothing would make him happy…and he would shout and cry midway through the run and I'd either carry him the remainder of the route while pushing the stroller (a very, very good workout if you're wondering), turn up my headphones and take the judging glances from neighbors, or surrender entirely and call Blake for a pickup. Truth be told, I run a lot faster when I have a kiddo with me. There is nothing that can make me sprint my heart out like an upset baby in a stroller. So really, the tougher the day, the faster and more determined I have learned to be.
It took me a full year after having Ezra to feel like my old self in terms of body strength and endurance. I have worked my butt off running often every week and I love it. I love the feeling of freedom and control as I clutch the handles of the jogging stroller – it has become a home base for me. I love the high I feel when I crush a hill that used to make me feel like I was going to puke (calling it the "Texas hill country" is not an exaggeration, these hills are tough!) and I genuinely love that I get to do this with my kids. There is so much strength in motherhood, and taking control of your mind/body with your babies by your side is an incredible feeling. I love that they are watching me better myself, this past year especially I really needed to better myself – for myself.
Lastly, another question I have received a lot was about food and nutrition. Contrary to what you see on Instagram, I cannot survive on just 17 coffee drinks per day. The truth – I feel like pregnancy and nursing totally shifted my eating habits to be clean and thoughtful. If something doesn't provide nutrients, why am I consuming it? Don't worry, I eat fast food, donuts, Doritos (Jude's favorite haha), but I don't overdo it and learning about what's in the foods makes it a lot easier to say no to the bad stuff. Over the last three years I've been more aware of what I am eating and making sure my body gets something good from it. Also just learning about ingredients and eating the healthier alternative makes me feel better, too!
I am so grateful to have found running again, I do feel like it saved me in a lot of ways. Obviously it can't solve all of life's problems (I used to tell Blake I am "literally running away from my problems" haha) but it has certainly helped me so much. My biggest piece of advice for those looking for advice: just begin. Go on a walk. Then go on a longer walk. Then add a little jog. Then try to run down the street. Then catch your breath. Then hand you kiddo a cracker. Then put on Dua Lipa and take control.