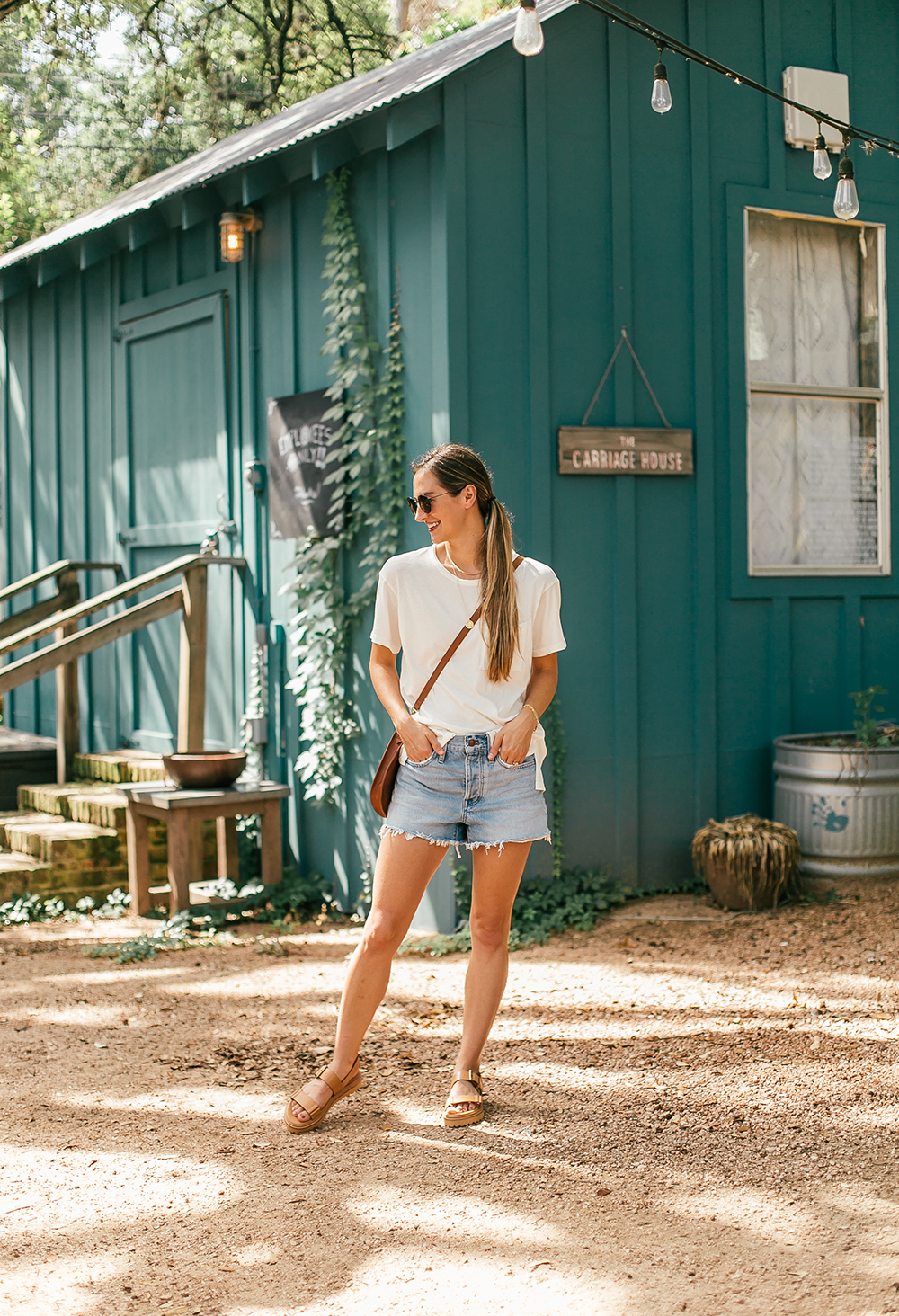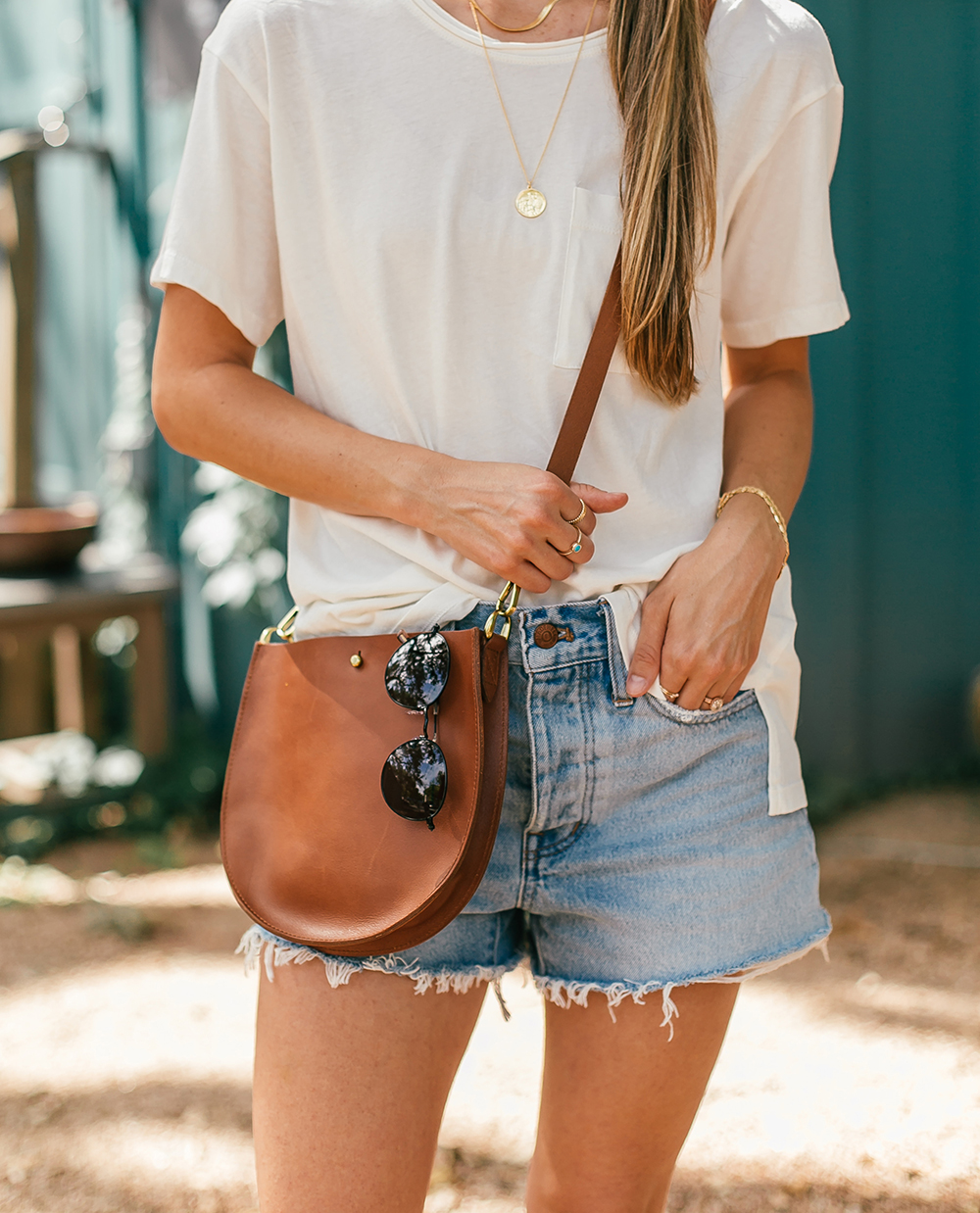 First off, HELLO! I feel like I probably don't need an explanation for my blog sharing absence – but in case you're new here, I have two young kiddos (2.5 y/o and 10 months old)…aaand that pretty much sums it up! 😉 (Who knew raising children takes ALL your time?! Ha!). However, GOSH it feels good to sit down and share an outfit post again. To even WEAR an outfit (and makeup!) these days is a major deal in my world. Between keeping two little humans alive and thriving, and also scouring the internet for home renovation supplies (we are adding a primary bathroom, having our bedroom ceilings vaulted + adding skylights, totally redoing our kitchen + updating the boys bathroom), any ounce of extra free time has been devoted to sourcing materials as we gear up for phase two of our 1970s house flip in August. However, I have missed my little corner of the internet SO much…and I'm excited to start sharing content regularly on here again – YAY! My friend and wonderful Austin photographer, Brandon Hill, has kindly agreed to meet bi-weekly for shoots. So, prepare for more outfit inspo + renovation posts headed your way! And also, some mama me-time, hooray!
…Starting with this very "Olivia" casual, jeans + tee look. 😉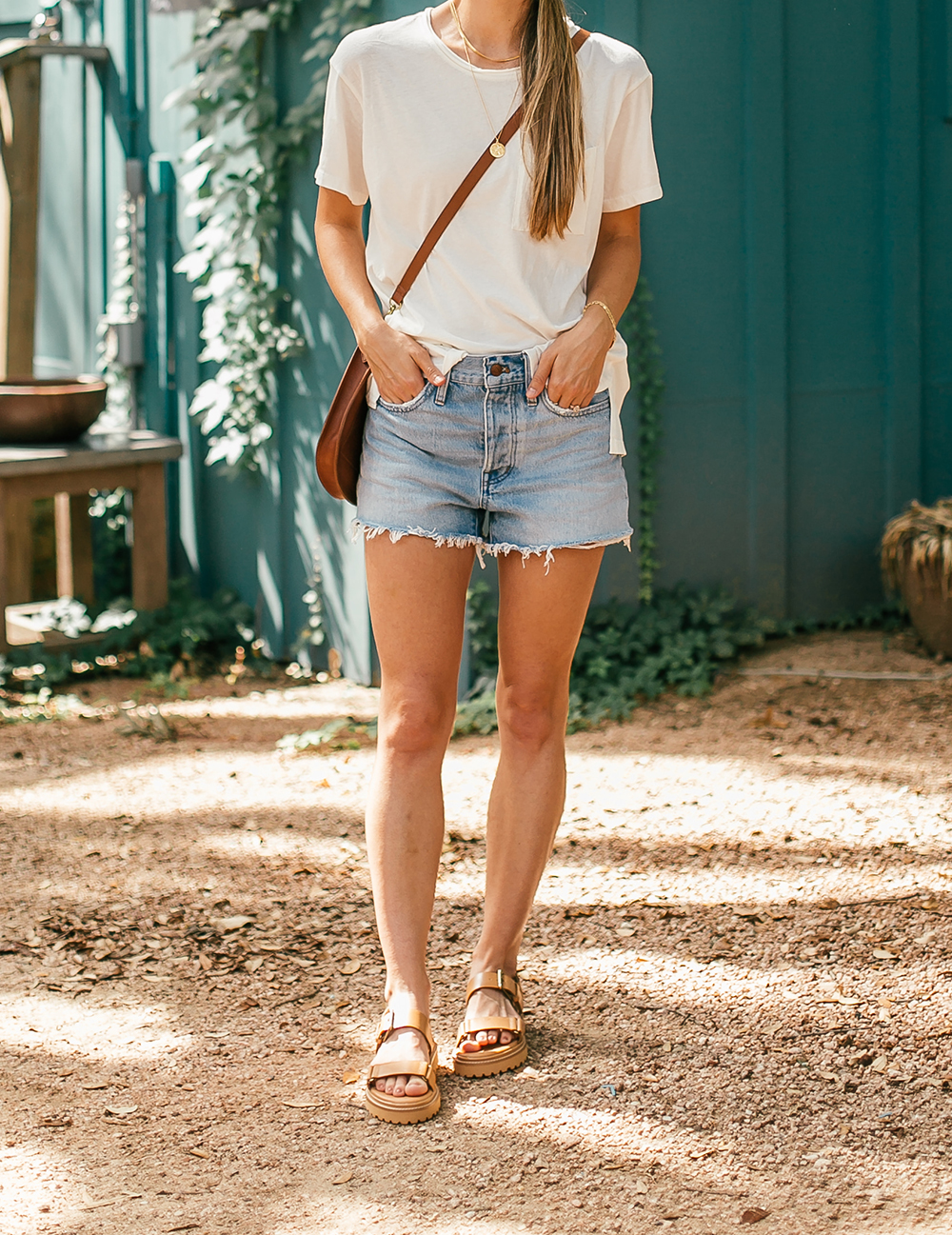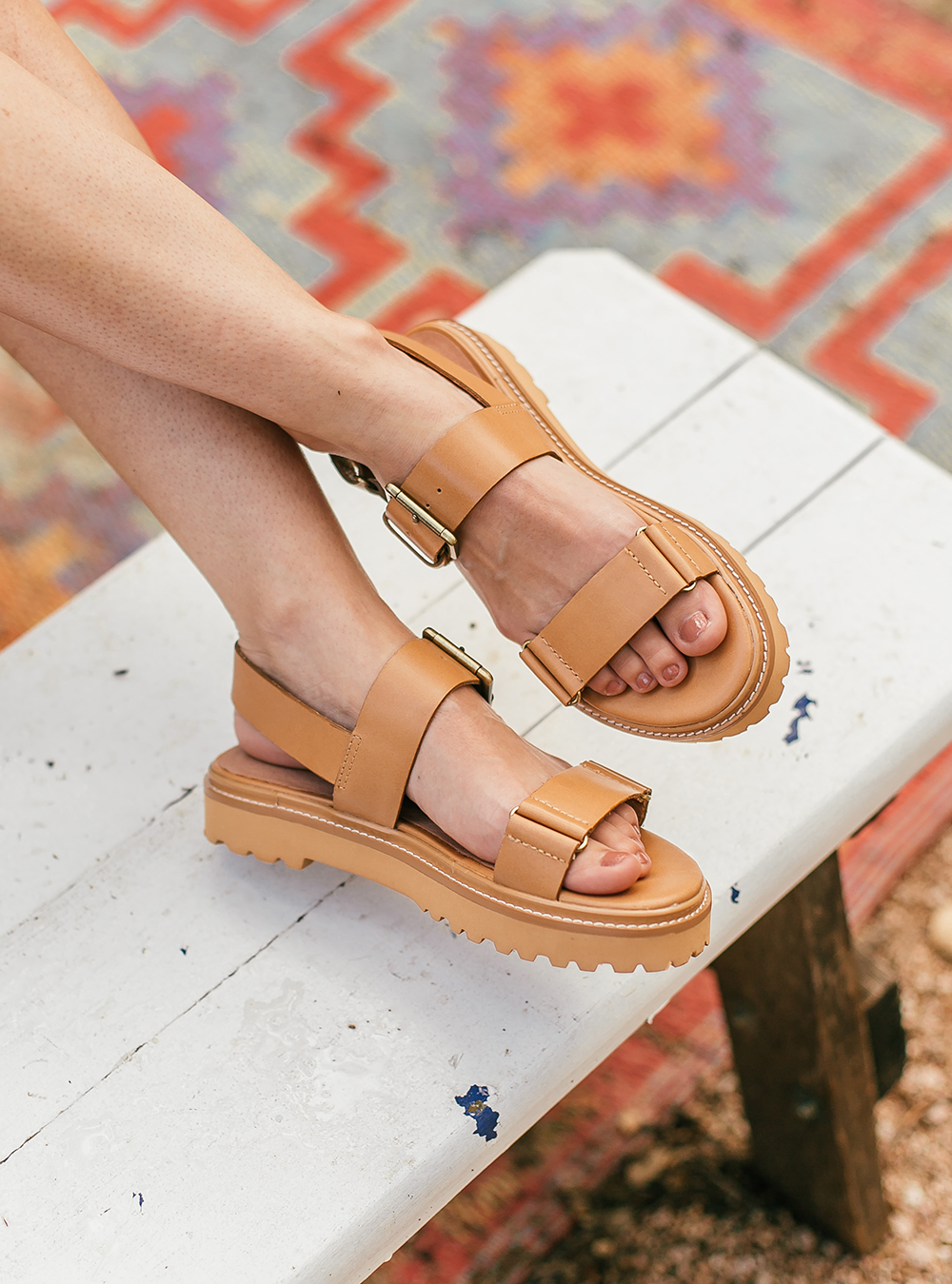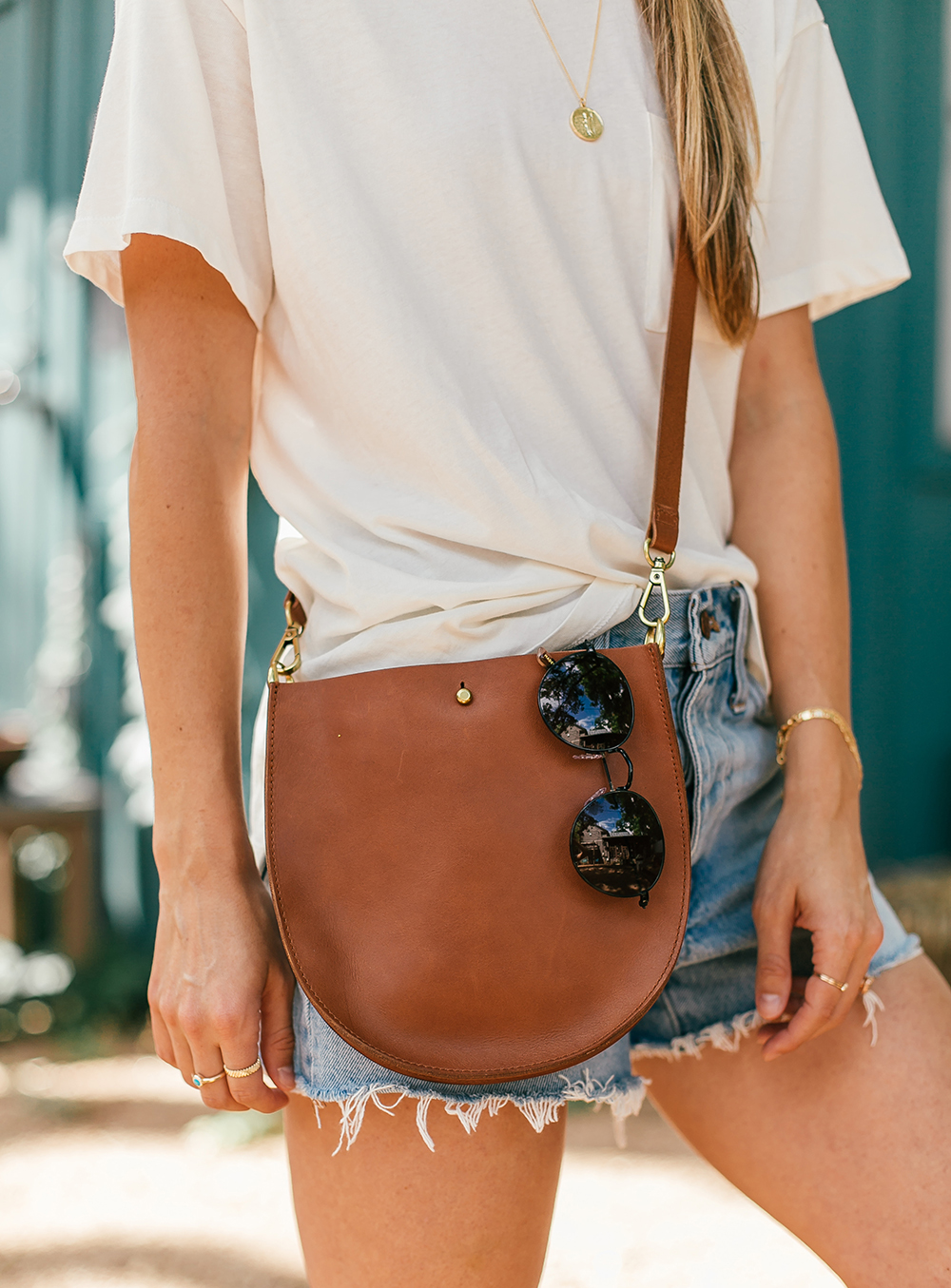 I am sooo excited to share a summer partnership with Madewell! If you've followed me for a while you'll know it is a total dream for me to work with them. To me, they are the perfect lifestyle brand…casual, comfortable, everything is amazing to mix and match and of course, timeless. I love that each piece feels special, yet so versatile. I also love how they've made a conscious effort to hire diverse models in all shapes, sizes and ethnicities – and are now selling a lot more sustainable products. Progress is GOOD! Prepare to see more Madewell outfits on my blog in weeks to come!
*Awkward transition to sharing outfit details, commence!* These Relaxed Denim Shorts were a shoo-in "add to cart" option. For one, I'm either wearing track shorts or cutoffs in the steamy Texas heat (it's a sauna out there), and the relaxed fit means they won't stick to me, ha. Plus, I like wiggle room in my shorts since I'm bending over all day with the boys. Comfort is KEY! I am wearing a size 24 (these run quite large) so order a size or two down IMO – the 100+ reviews are helpful for sizing, as well. LOVE them + on sale right now, wahoo!
My tee is that perfect combo of effortlessly oversized + still pulled together. I rarely wear white when with the boys but I loooove white with a tan in the summer, so for a coffee date or errands solo, this creamy color is lovely. If I'm in mom-mode, black it is! I have on a small, just $29.
Jewelry is another thing I miss wearing since having babies. Ezra is in the "grab everything and rip it off" phase so I rarely wear anything that's not barely there. However, I LOVE this thicker gold necklace trend and it really elevated a casual tee/jeans outfit. Madewell has so many beautiful layering necklaces, you can check them out here (and I linked the ones I have on below).
Lastly, this Small Transport Saddlebag is stinkin' adorable and the perfect size for outings! Holds all the essentials. I always love Madewell leather goods because they wear so well over time. Every scratch adds to the character of the bag and tells a story (like when Watson greets me at the door and jumps up + scratches my bags…) ;). I personally love that…(Or I've just had to reframe how I see things, ha!).
Oh one more! The SHOES! I'm super into the chunky sole trend and these are 1. comfortable and 2. I really love the tan option. It's a more Millennial take on the chunky shoe trend (Gen Z is crushing the Doc Martin's game but I just don't feel like those are quite "me" – ya know what I mean?). Anyways, these are wonderful and very cute, definitely recommend!
Alright friends, THANK YOU if you made it to my blog and read this far. I miss this so much! Super excited to get this space back into a good groove again. Hope y'all are doing wonderful! XO
PS. Madewell has kindly offered LL readers $25 off your purchase of $125+ with code Livvyland. Enjoy!
**Photos by Brandon Hill Photography
OUTFIT DETAILS
SHORTS (they run big, go a size or two down) / TEE (wearing size small)/ HANDBAG / SANDALS (fit TTS) / SUNGLASSES / BRACELET SET / HERRINGBONE CHAIN NECKLACE / COIN NECKLACE / HAVERHILL TURQUOISE RING (LIVVY15 for 15% off)