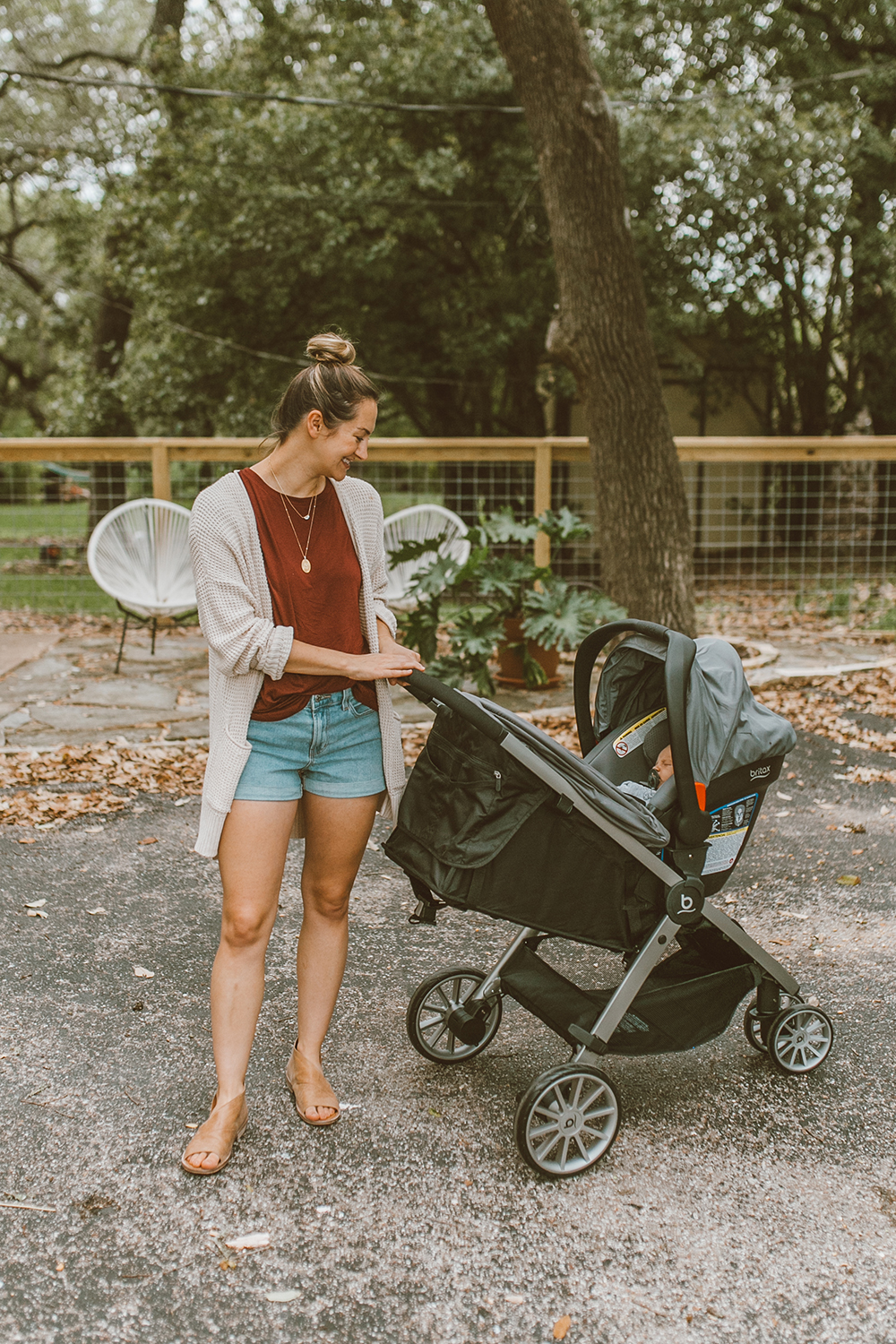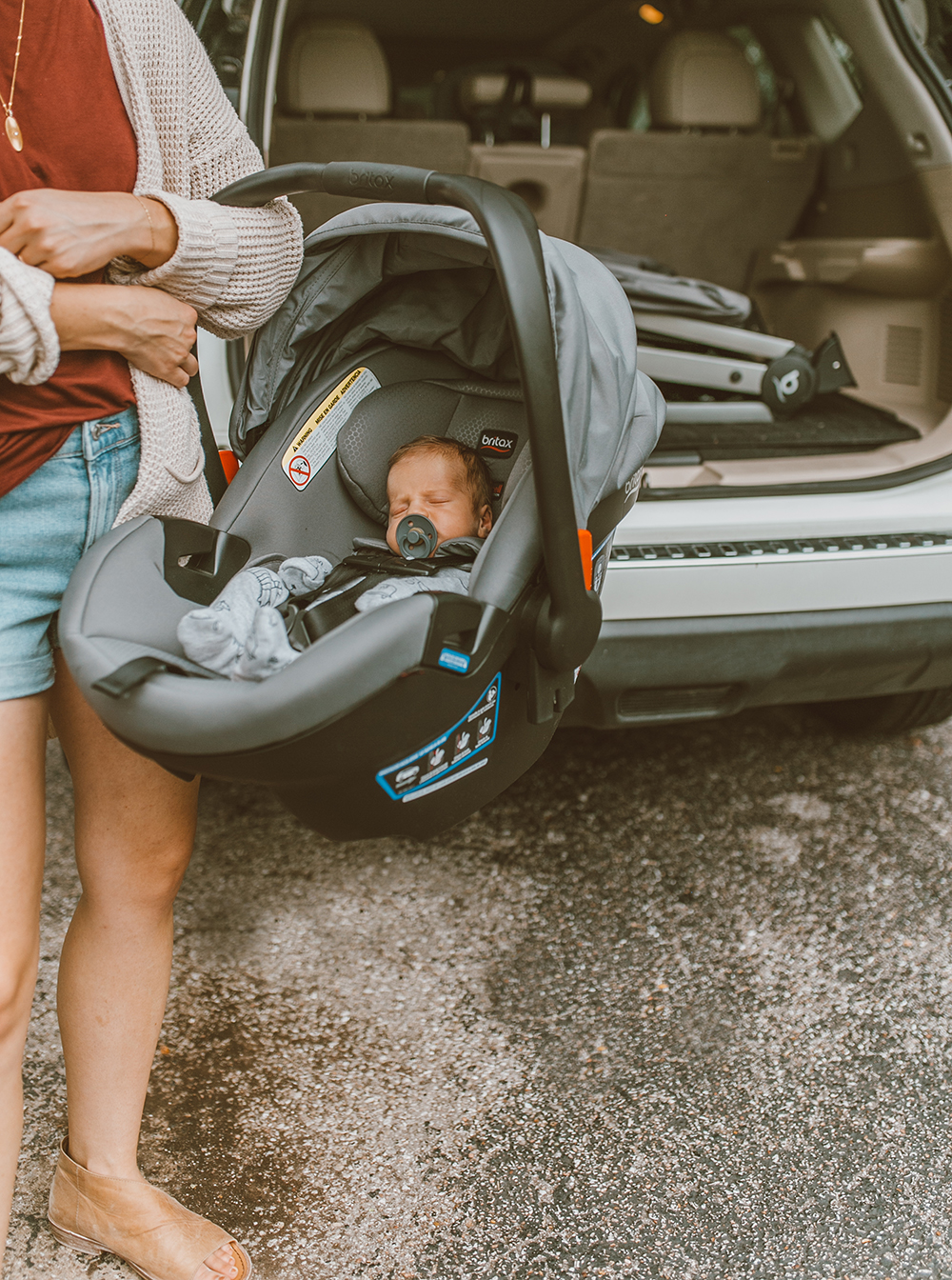 You can purchase Britax B-Lively & B-Safe Ultra Travel System via Amazon HERE.
It's Car Seat Safety Awareness Week (perfect timing to have a baby, ha!) and we are loving our new Britax Travel System with the B-Lively Stroller and B-Safe Ultra Infant Car Seat. It's an infant car seat and stroller combo, which is perfect for when Blake has Jude and I need to run errands with Ezra. Fear not, I'm still in my newborn mama cave, but for my sanity I need to get out every now and then – but with Ezra nursing, it's a lot easier for him to tag along! Excited to share the details with y'all today…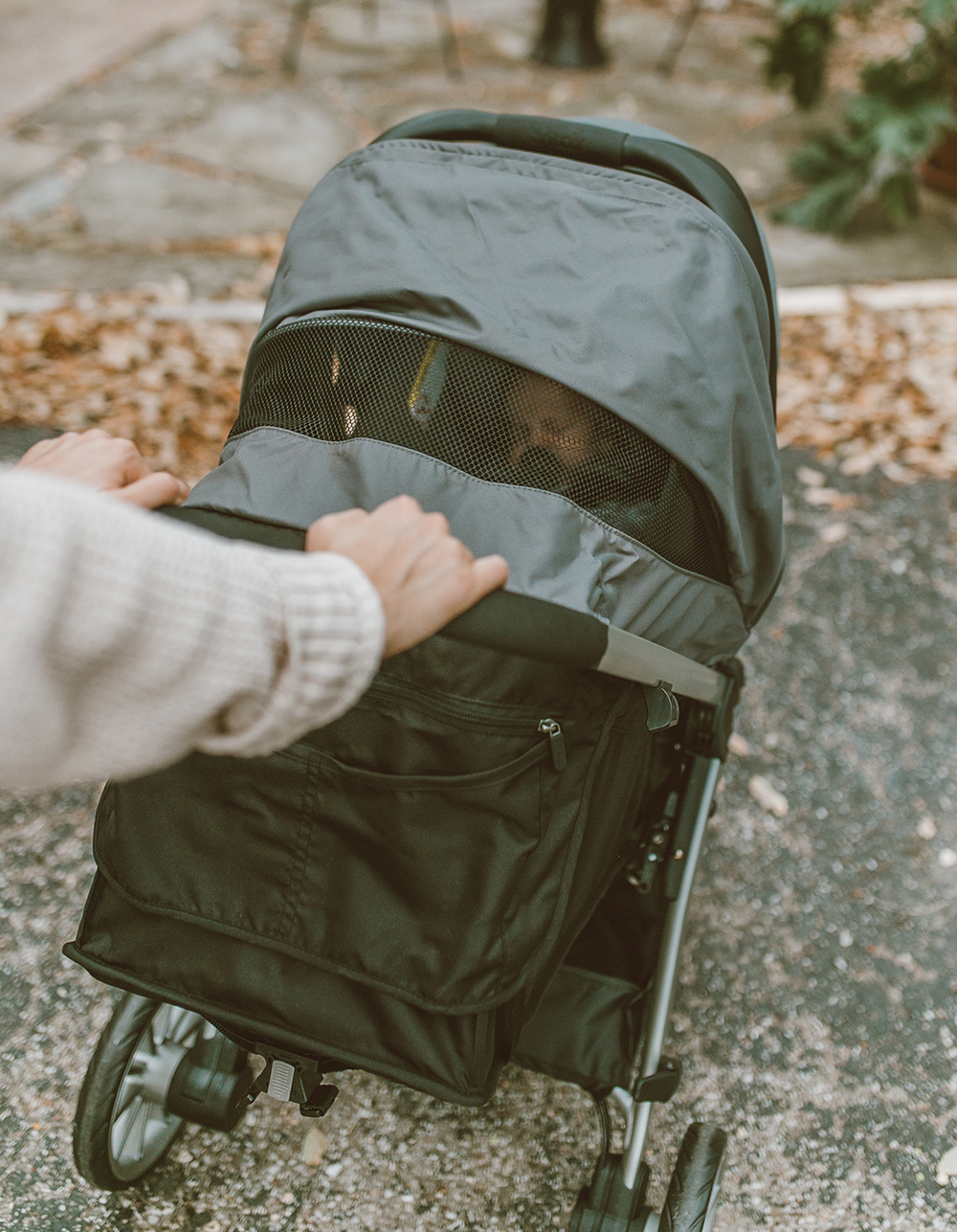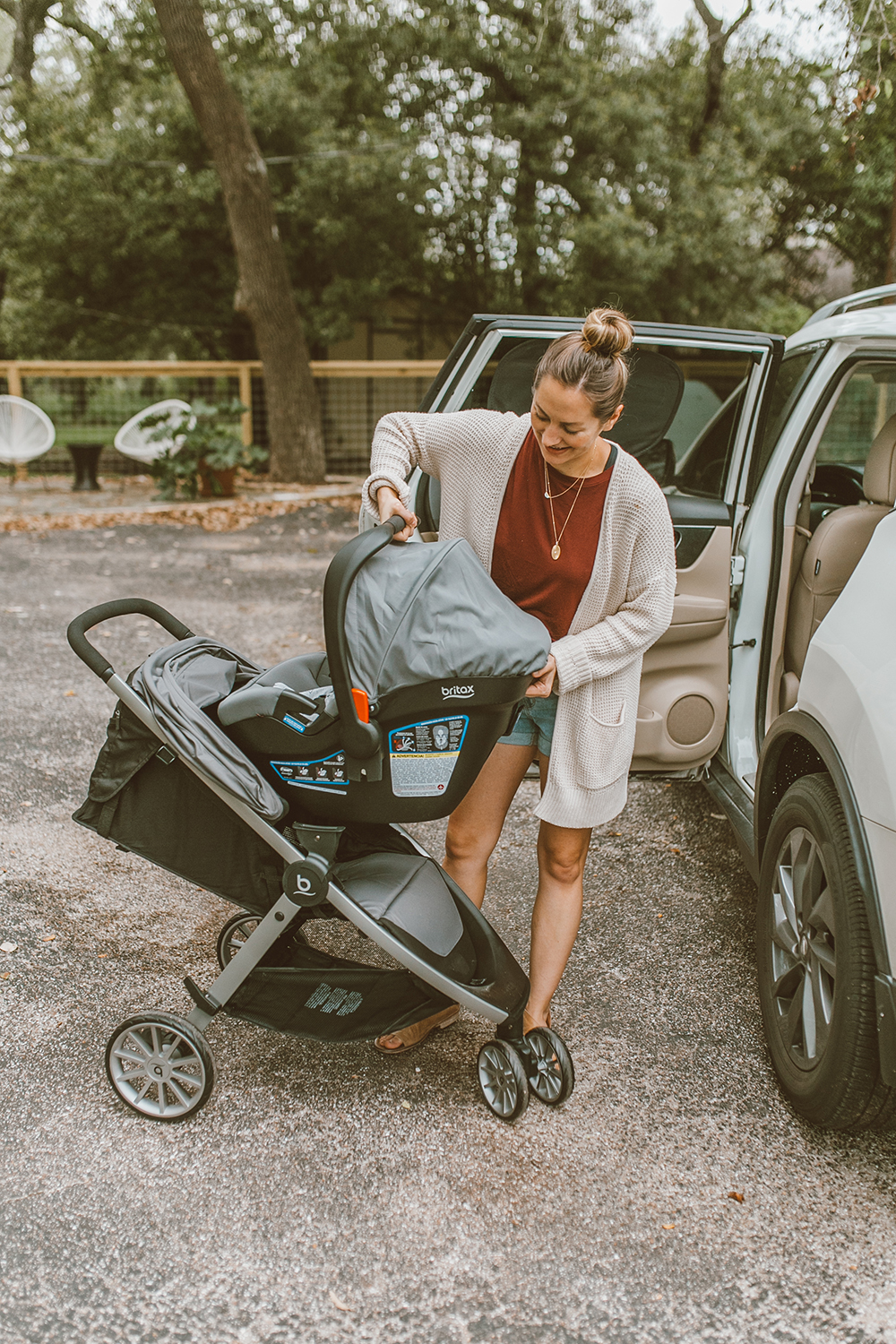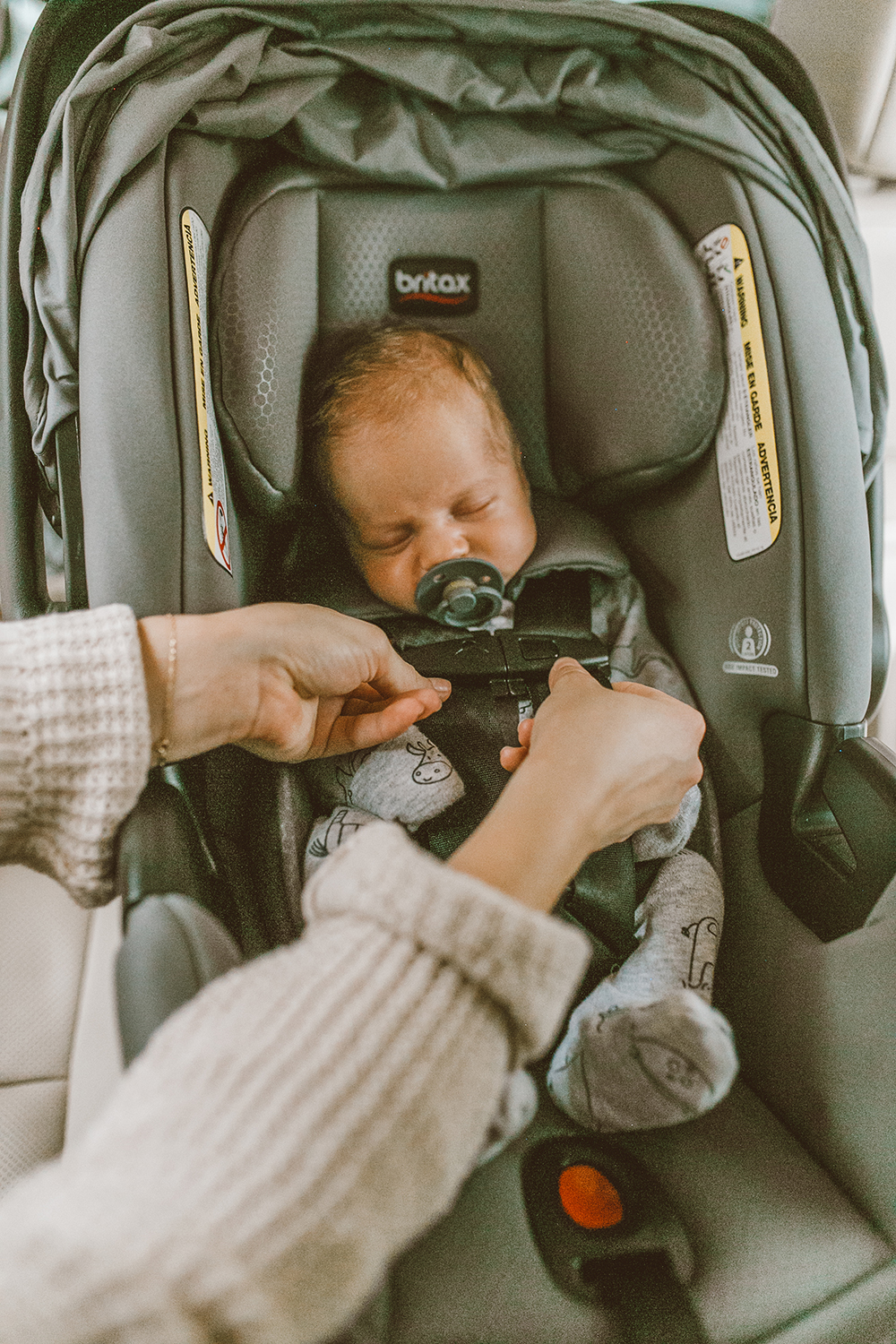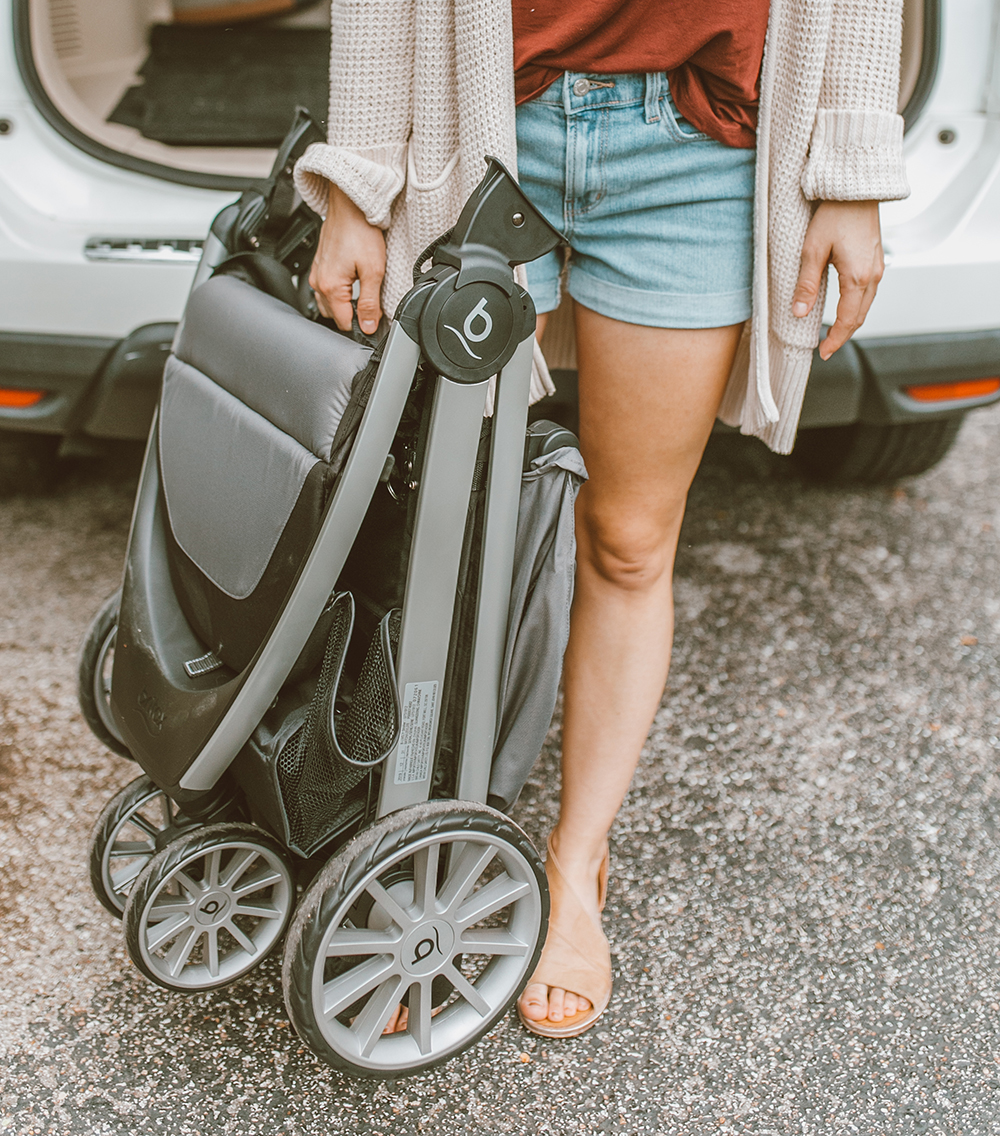 I'll admit, when we first brought our car seat up to the hospital to take Jude home last year, both Blake and I were pretty clueless as to all the do's and don'ts when it came to car seat safety. Luckily, that's why you bring the car seat into the hospital so a nurse can show you how and approve the baby is safe before discharging. One of the most important things to note is to never put the car seat anywhere but the ground or secured in the car—no sofas, countertops, chairs, etc. Unless, of course, you're attaching your car seat to a stroller using an acceptable infant car seat adapter, like the Britax Click&Go adapter that was included with my Travel System. As for the Britax B-Safe Ultra Infant Car Seat, make sure it's always rear facing with harness straps in the closest position at or below the child's shoulders, and the top of the baby's head is at least one inch below the top of the head restraint. Every state has different laws and regulations, so be sure to follow your user guide to meet best practice, which will mean you'll always meet your state's specifications!
The Britax B-Safe Ultra Infant Car Seat works perfectly with the Britax B-Lively Stroller as a Travel System. And, all Britax harnessed car seats are certified for aircraft use. So if you're headed somewhere by plane, the Britax B-Lively & B-Safe Ultra Travel System will definitely make your travels easier…it already makes my weekly "outing" (…er, my quick run to the grocery store, ha! Hey, I'll take it…!) a heck of a lot easier and I love how safe the combo feels…I've got precious cargo onboard!
As for using the Britax B-Lively Stroller with the Britax B-Safe Ultra Infant Car Seat – it's super easy! In sum, you just snap the adapters to the stroller, place the car seat rear facing onto the adapters and push down until you hear a click and voila, you're good to go! You remove the car seat the same way you remove it from the base in the car – by pulling the lever at the back of the car seat. To fold the stroller, you simply push the little release button on the stroller frame and pull up on the strap in the stroller seat. The stroller is super lightweight, which makes it so nice for when you're on the go with your hands full! …And as moms, we know our hands are always full, ha! Another thing I LOVE is the ventilated canopy. Living in Austin, this is a must…plus it's nice to be able to easily see your baby while they're covered.
With two under two, these days our life is 100% about our babies! Keeping them safe and comfortable is our top priority – especially when it comes to our car seats, strollers and getting from point A to B.
A big thank you to Britax for sponsoring this post! All opinions are my own.