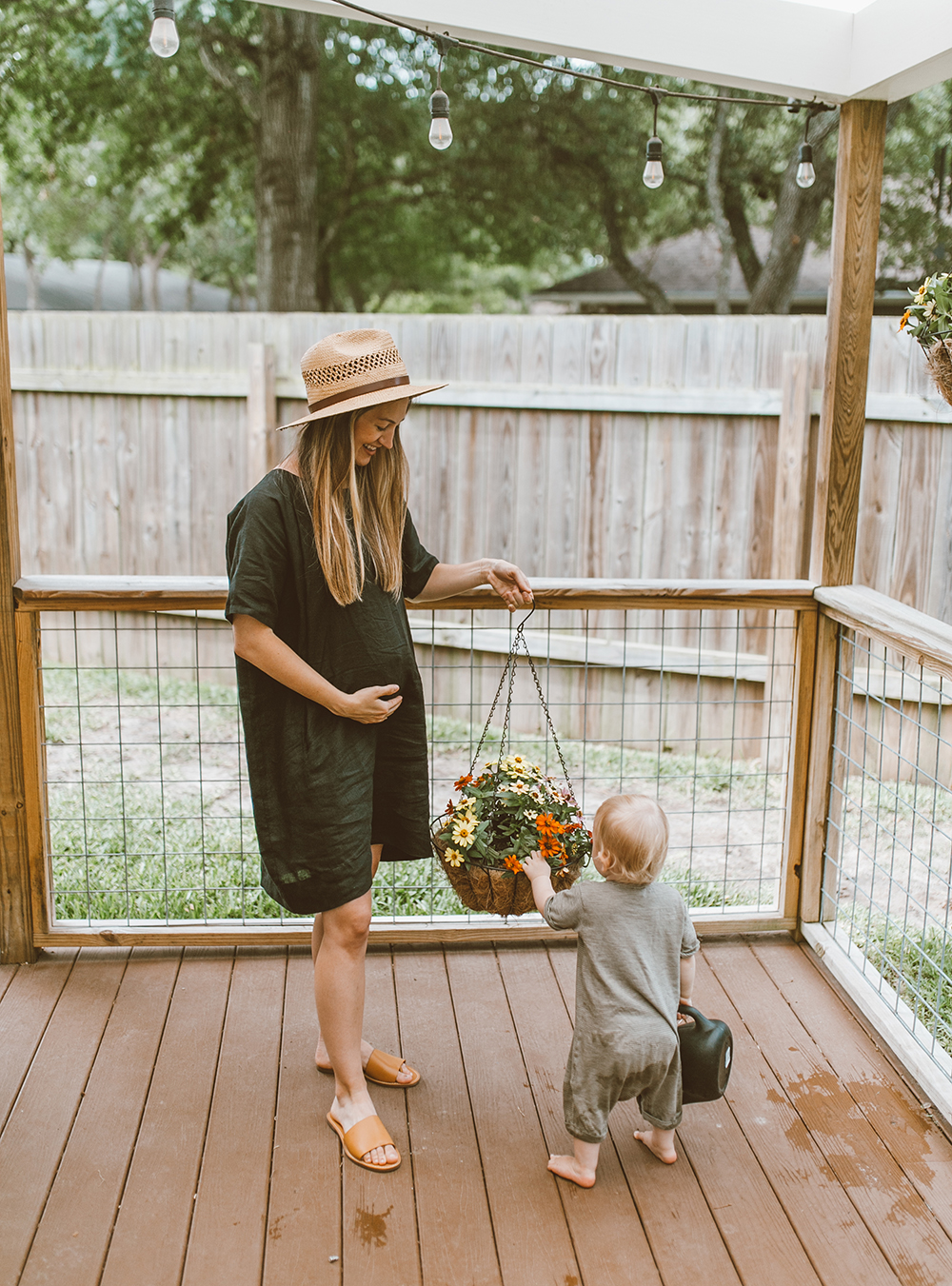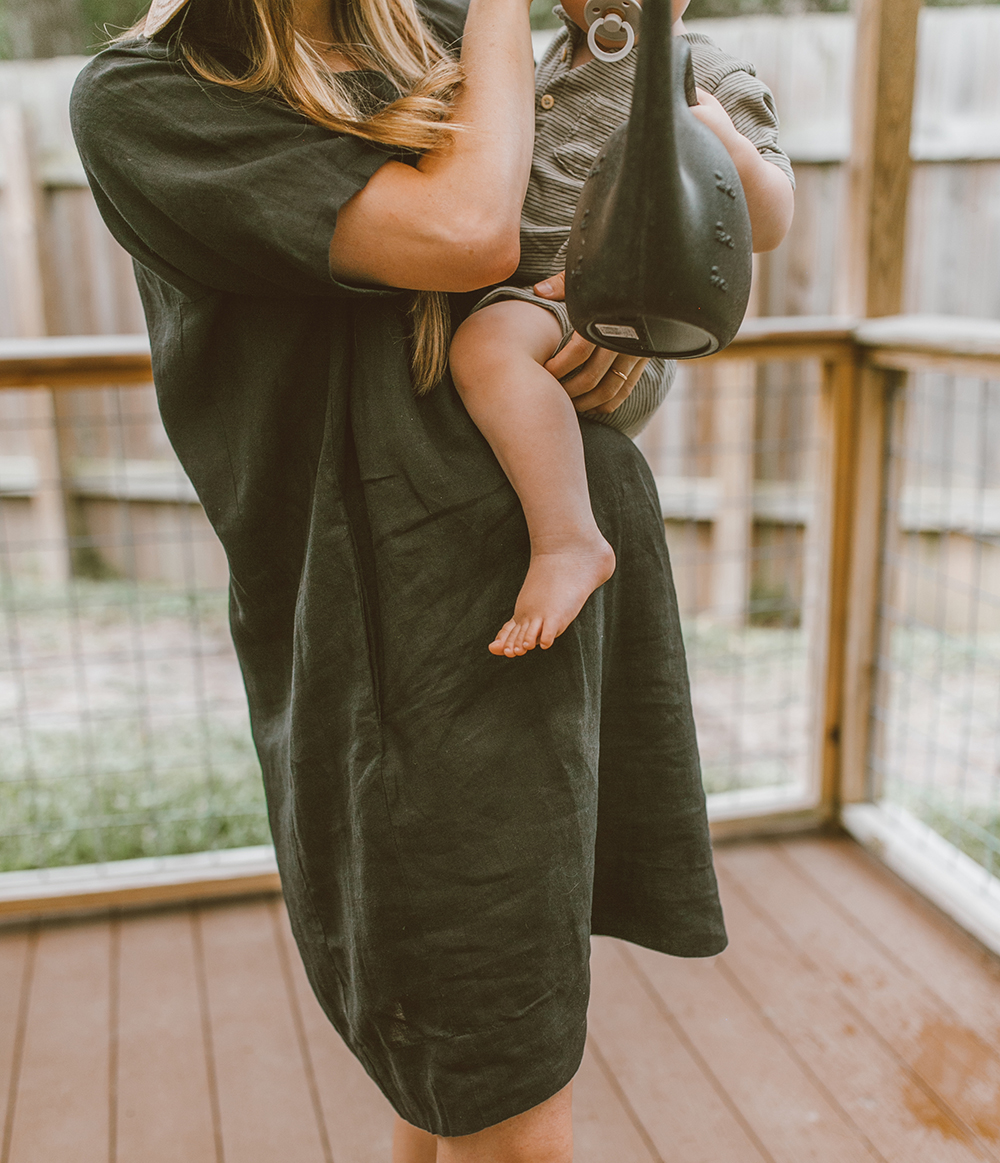 Ohh these precious moments at home! We have LIVED on our back patio since the quarantine began. If Jude could stay outside aaaall day, I'm pretty sure he would, ha. We've been lucky to have mild summer weather lately, which means it's the perfect time to throw on a breezy linen dress and do a little gardening. Blake finished up the vegetable planters at the very edge of our backyard, and I've had fun keeping the plants on our patio hydrated and thriving. Also…I never knew just how entertaining a watering pale is to a 15 month old…Jude is in HEAVEN! That big gummy smile was killing us! Though we've got our ups and downs like everyone else during our stay-at-home time, we sure are soaking up this time with our little man…and making memories like these sure fills my heart!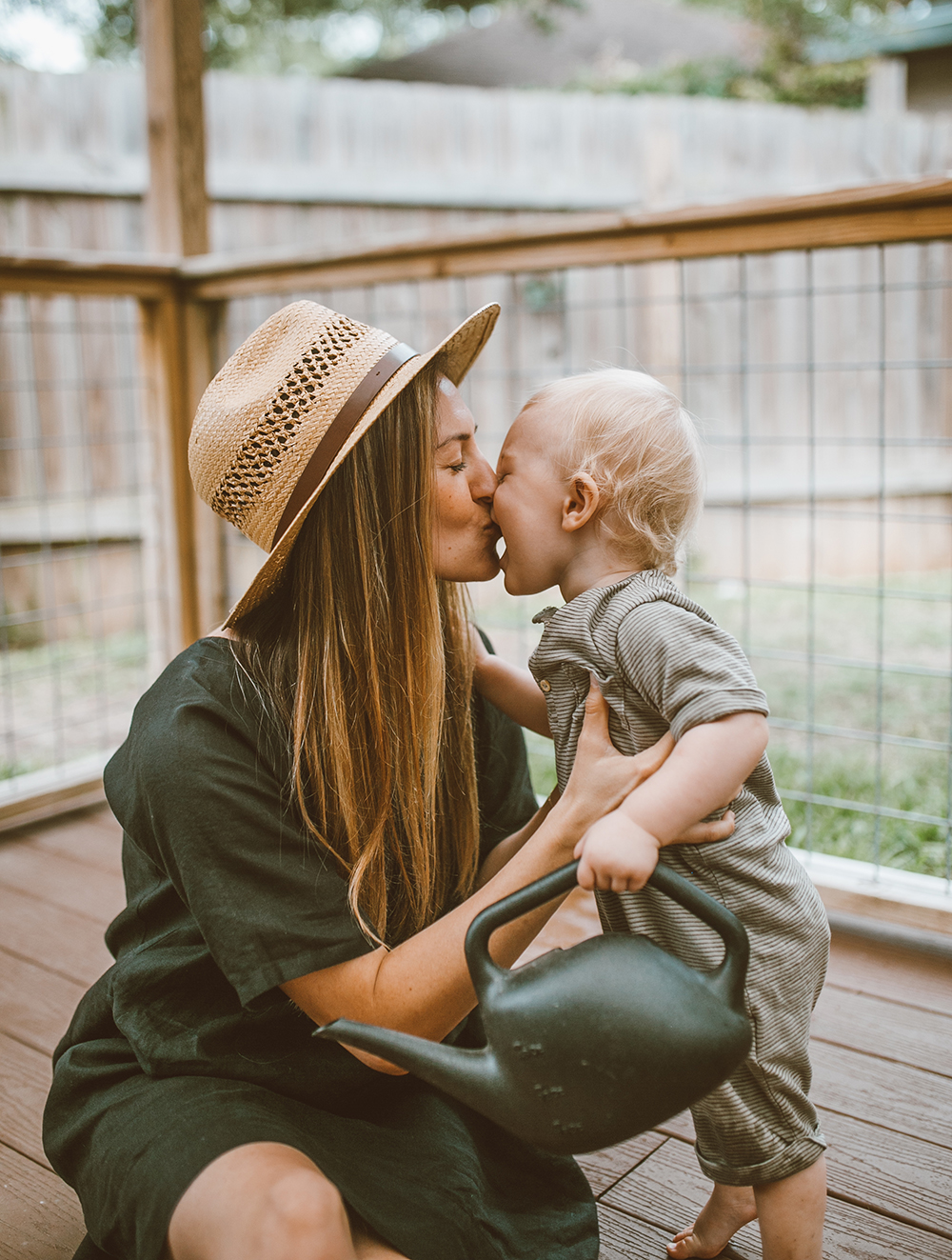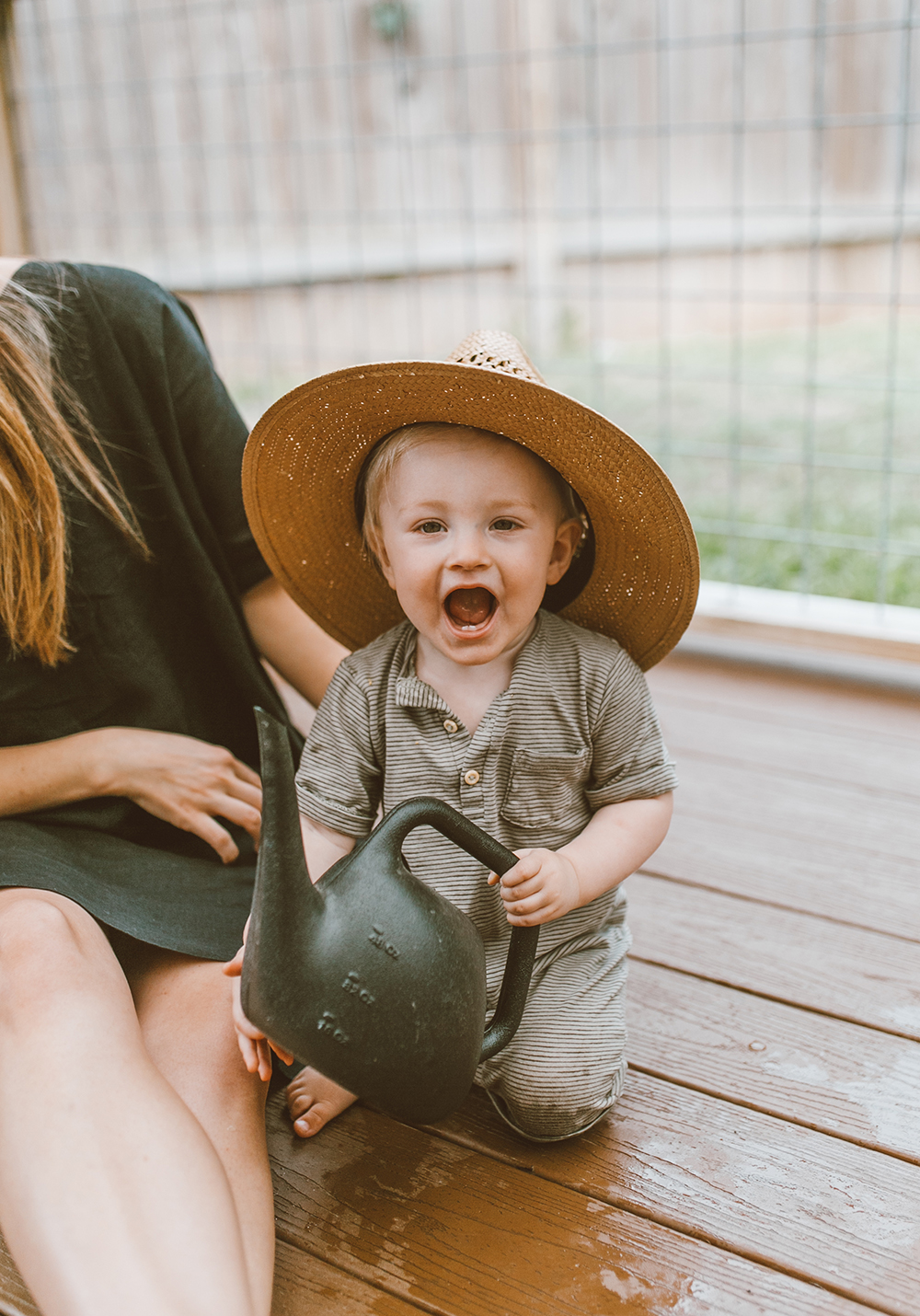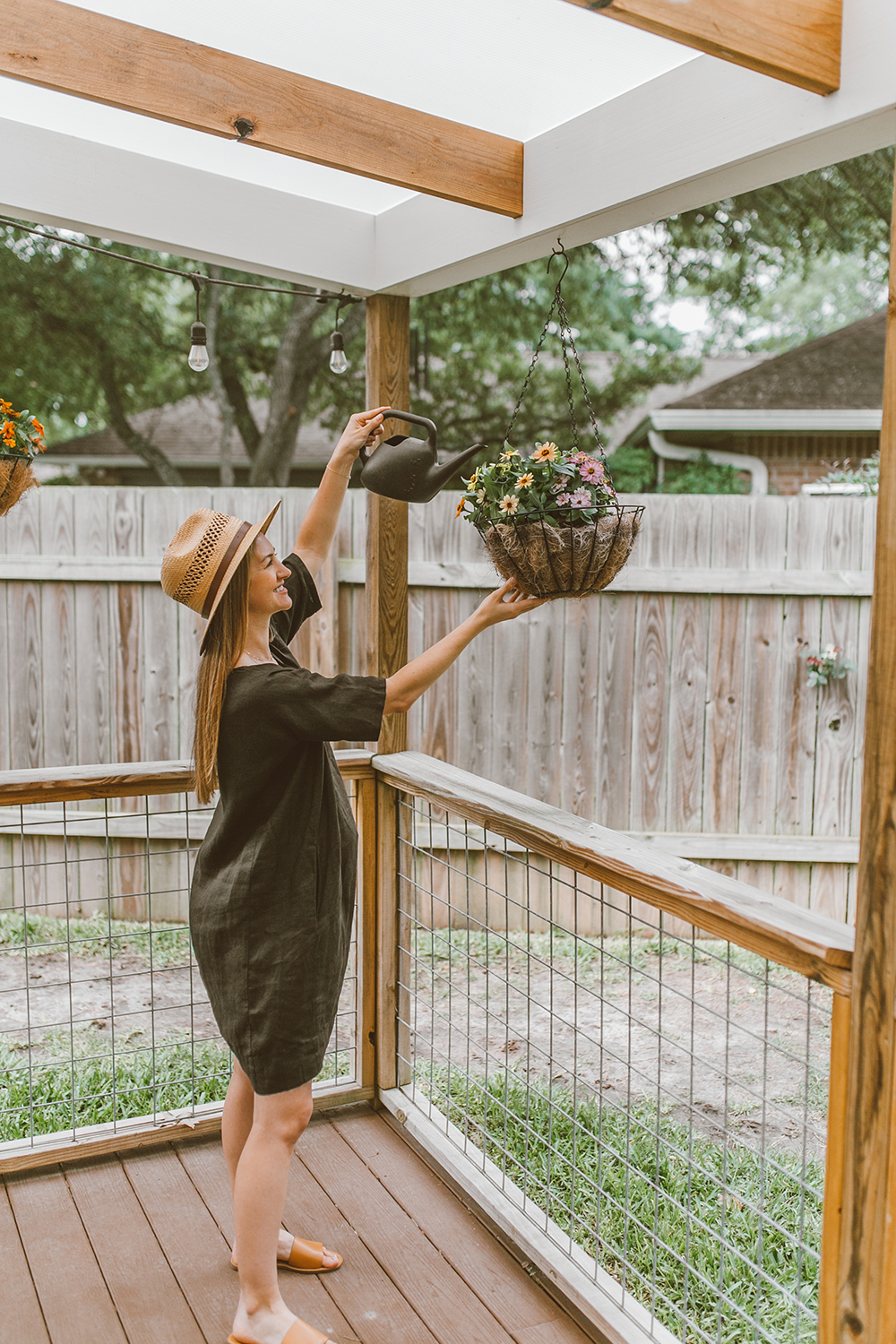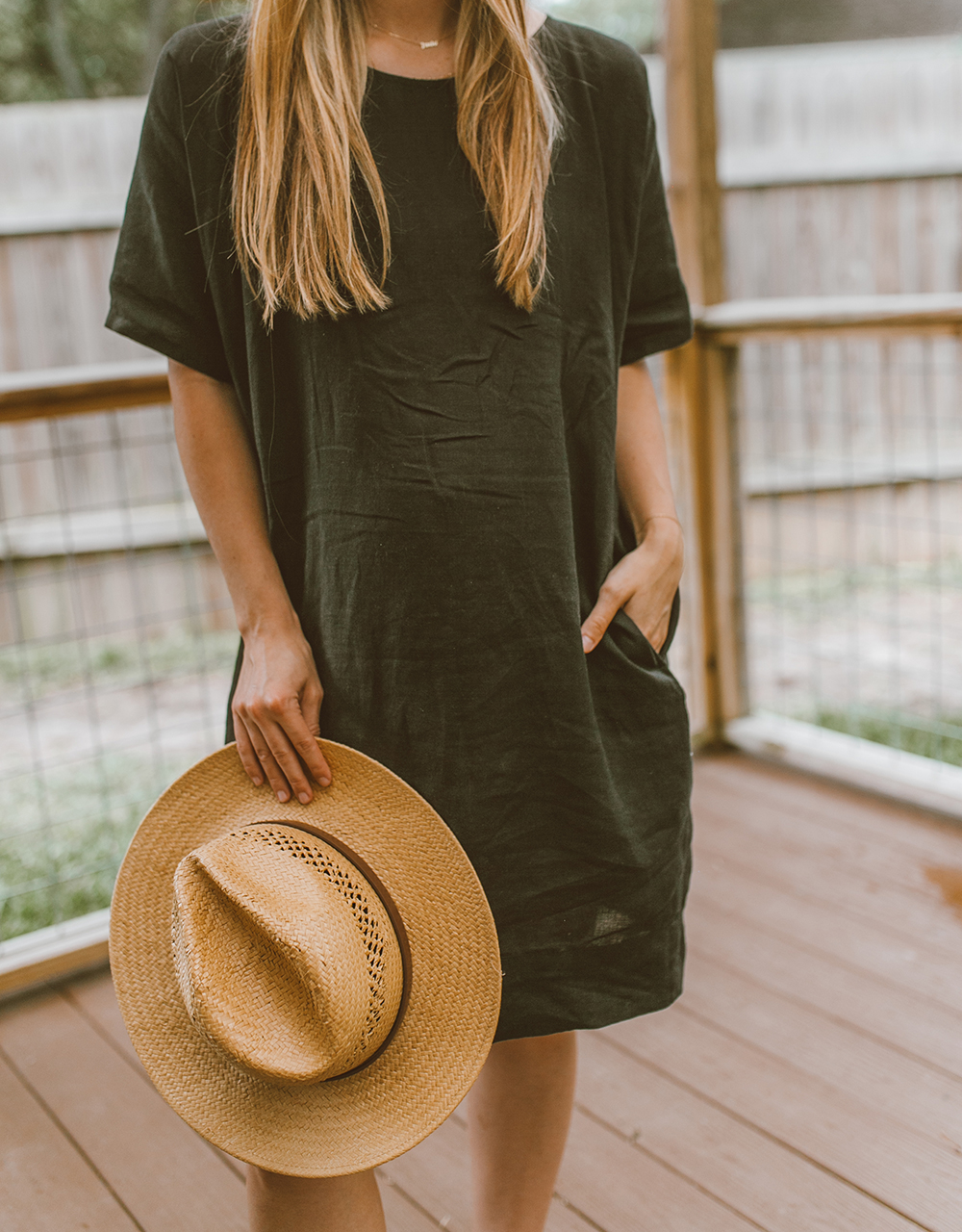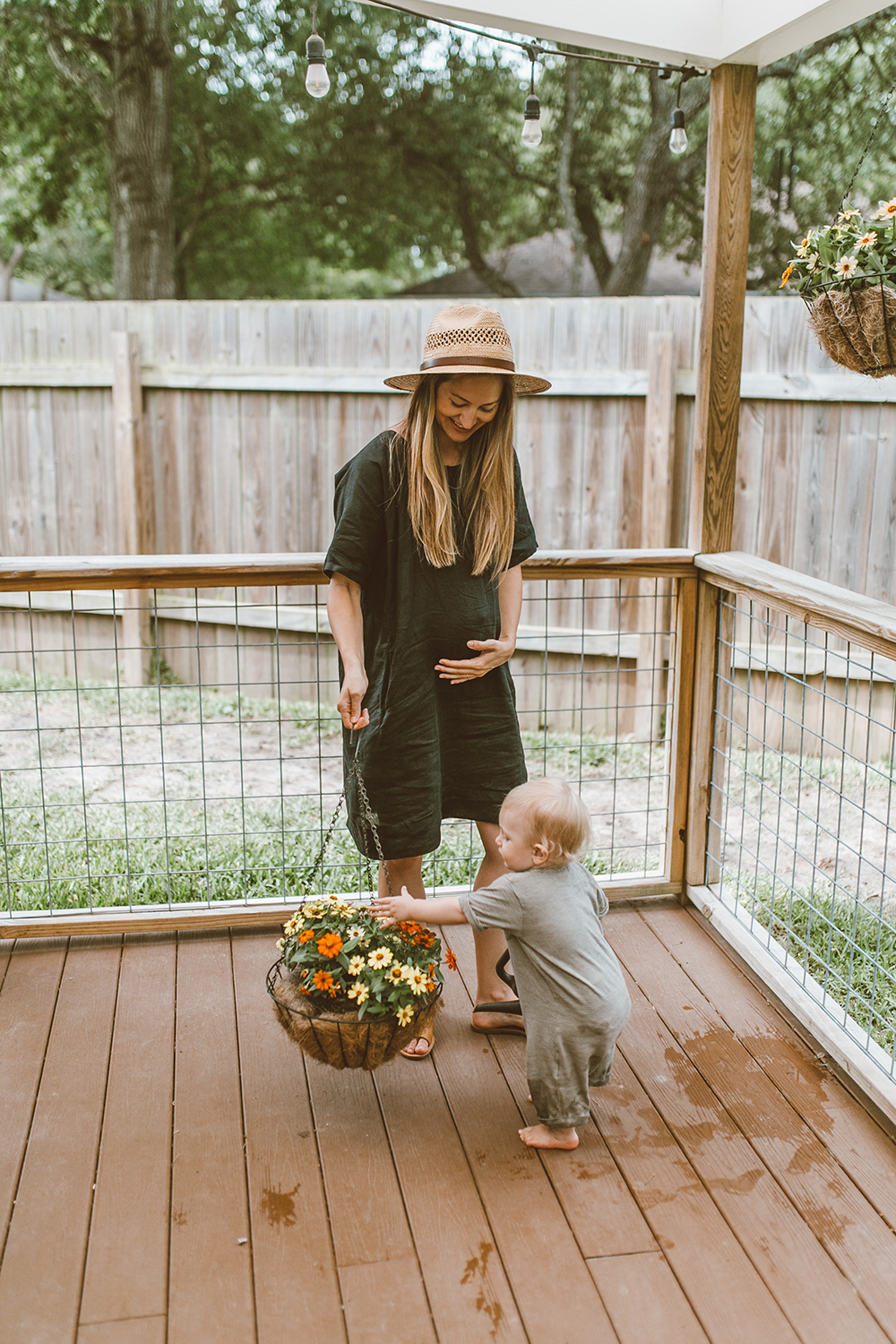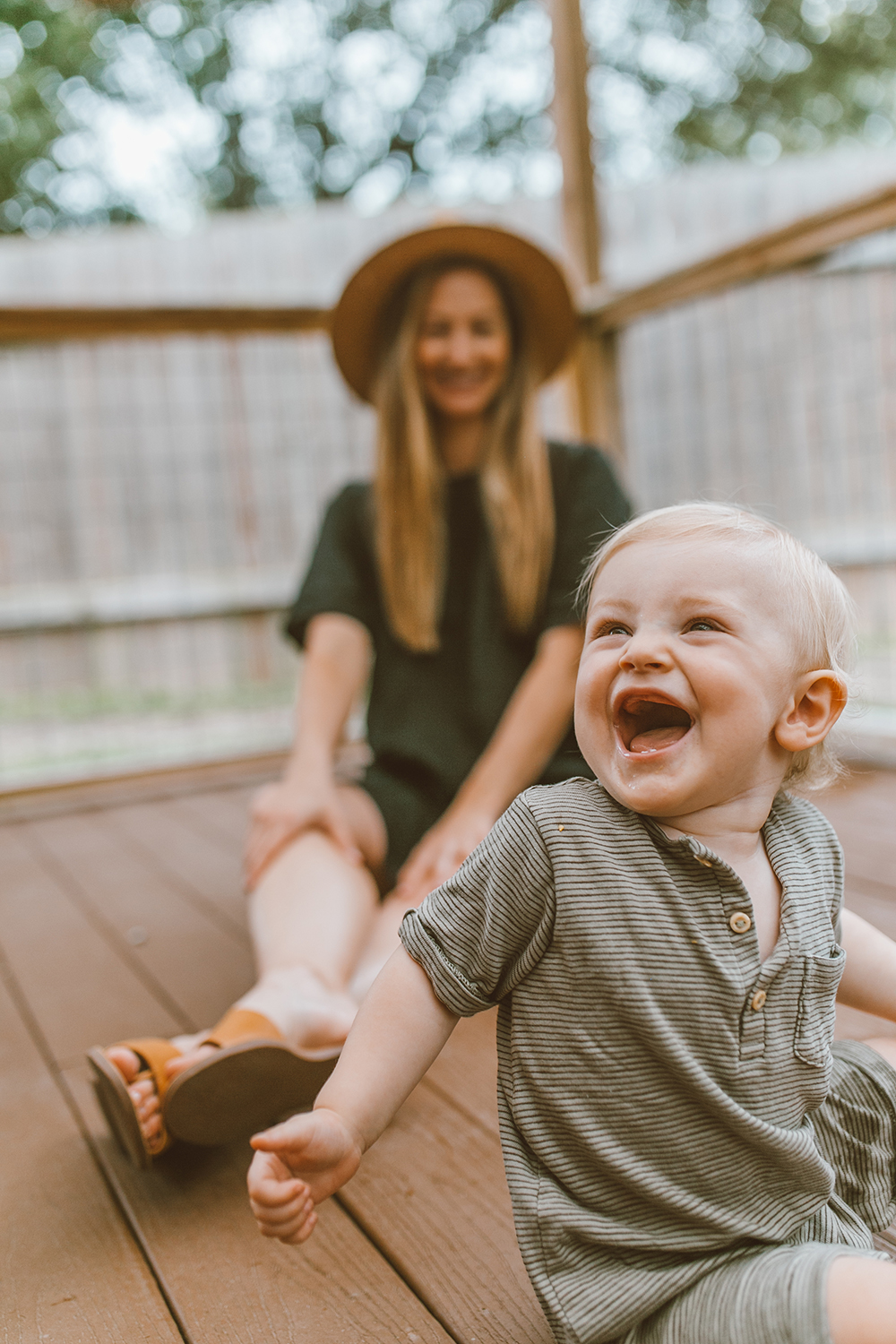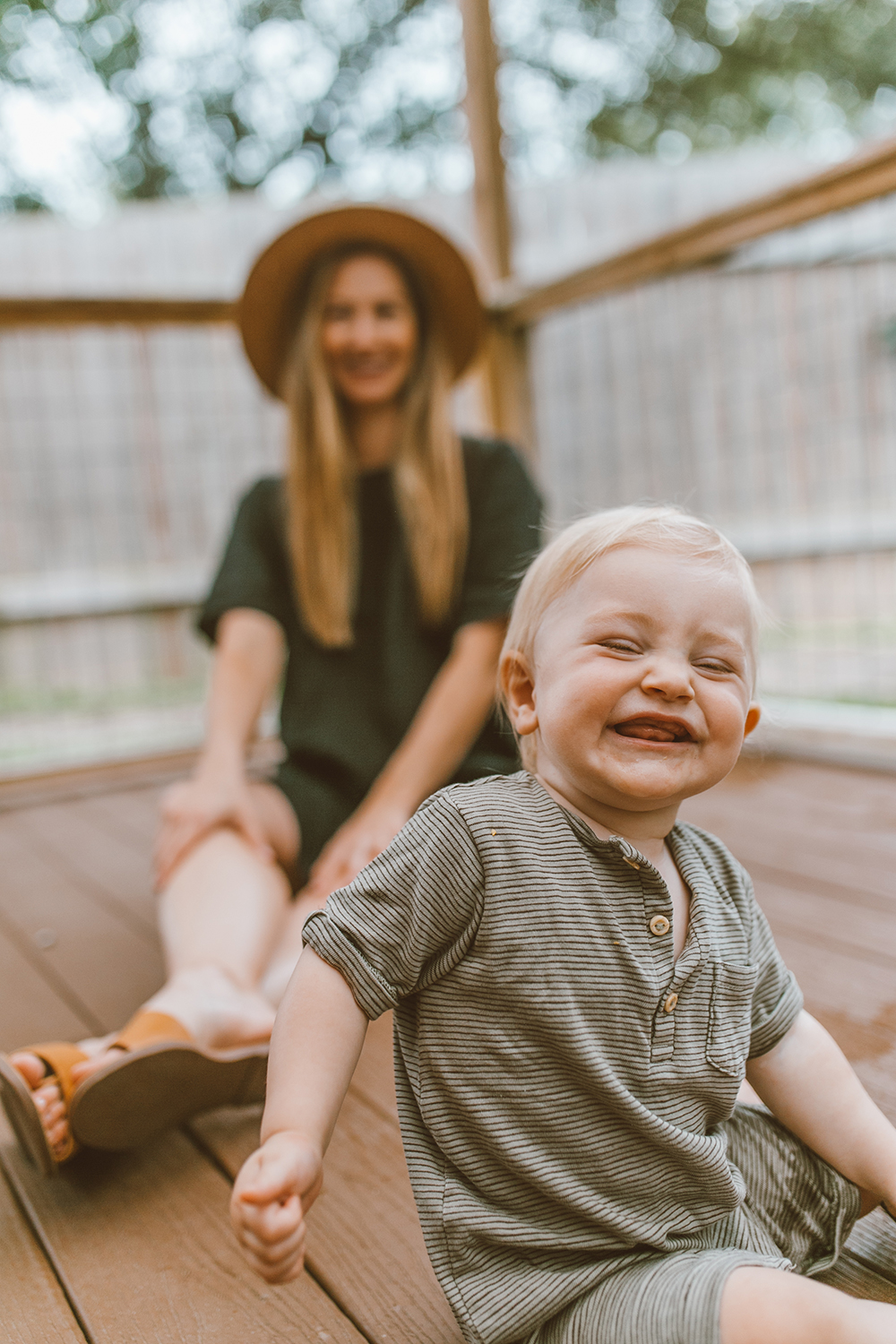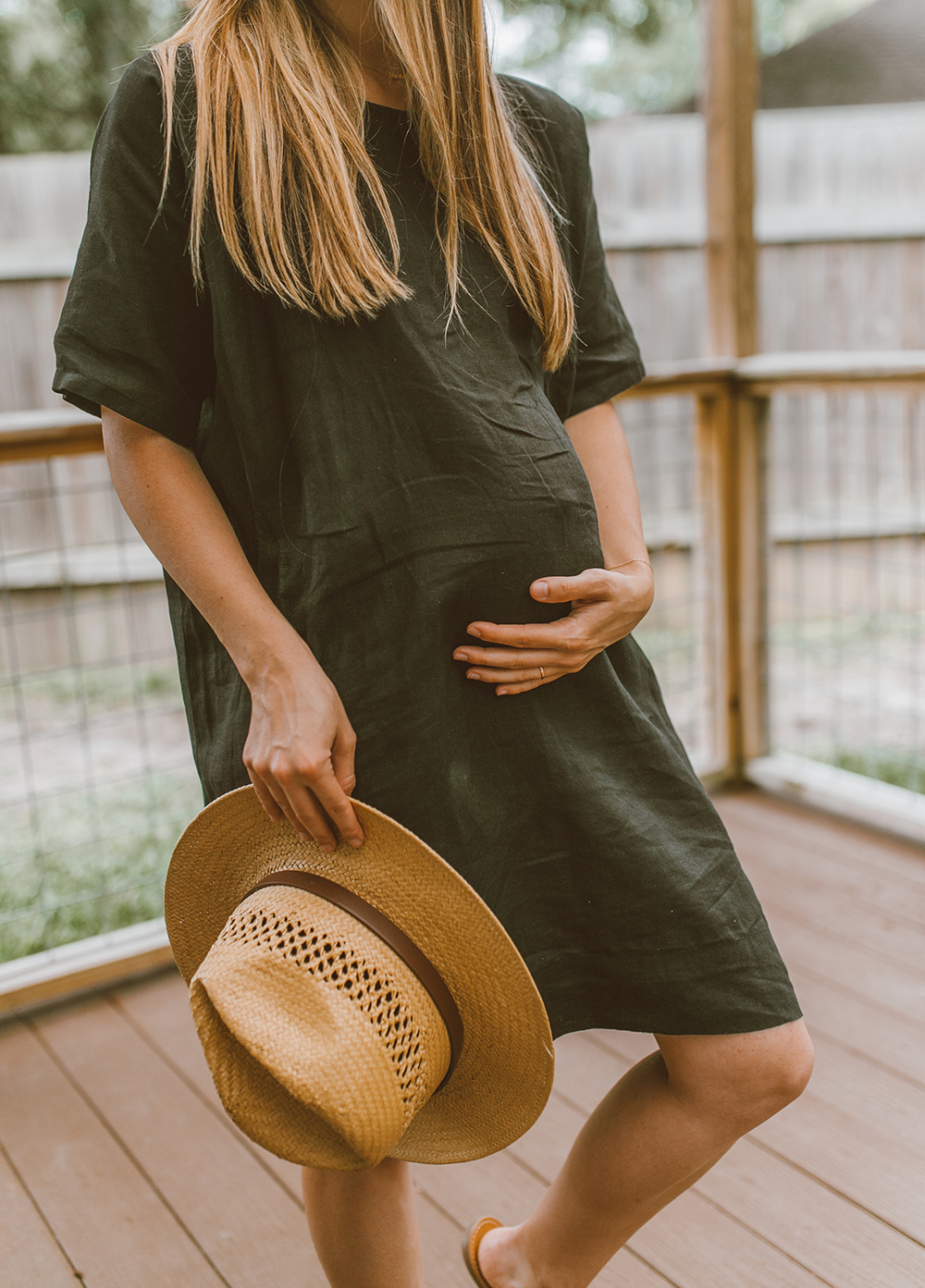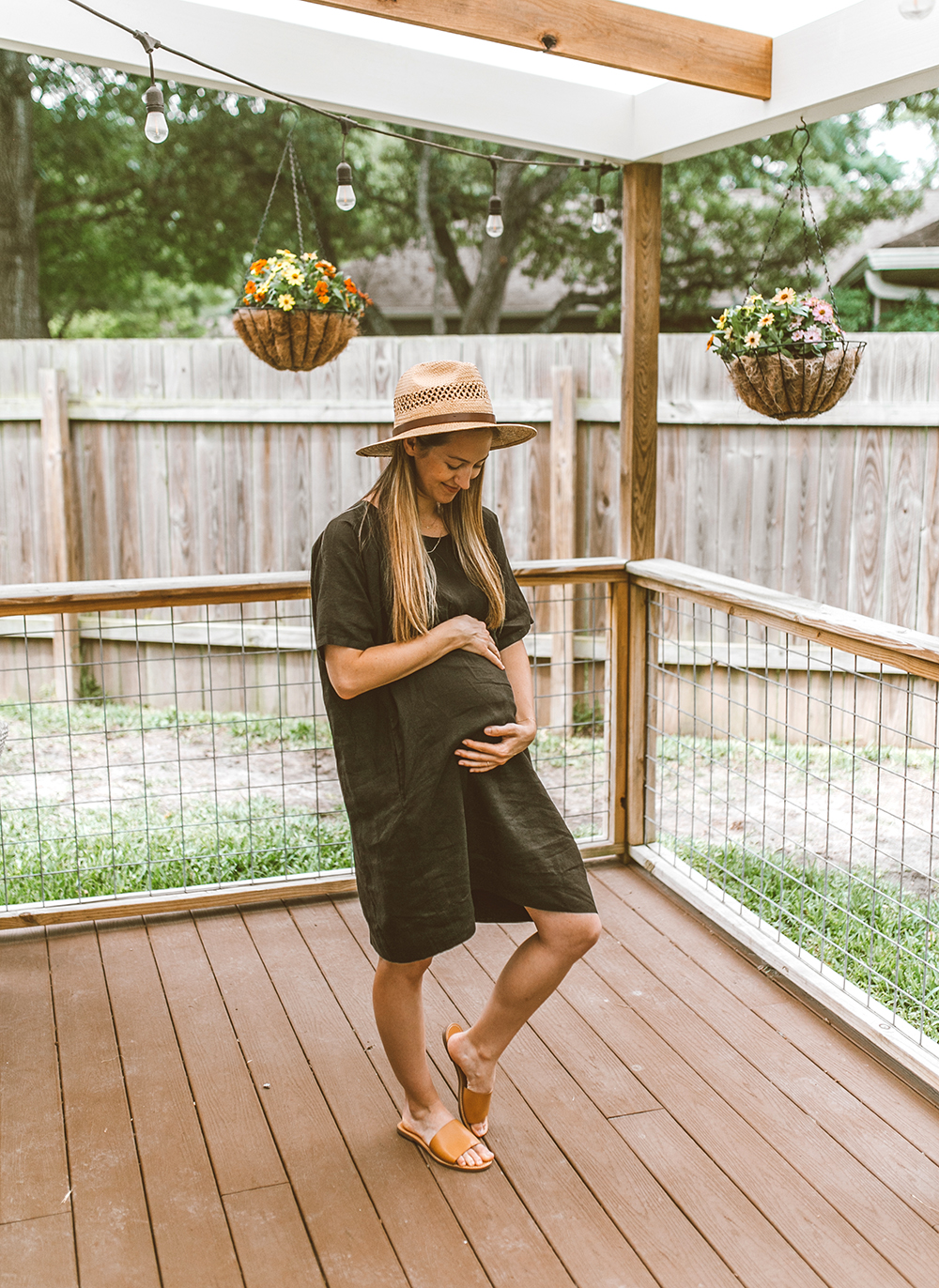 When it comes to dressing for the season, there is nothing more comfortable than simple, cool linen in easy shapes. Whether I'm pregnant or not, a boxy shift dress is such a go-to summer staple to keep in my closet forever…and style it in a hundred different ways! Pair with sneakers if I'm taking Jude to the park (and chasing him around…!), layer a cozy cardigan over it on a crisp summer night, swap the sandals for wedges and add a swipe of red lipstick for an easy going date outfit. One dress, so many possibilities!
When it comes to maximizing your wardrobe, I can confidently say that EILEEN FISHER does it best. Truth be told, I have been a major fan of this brand for years…they were my very first partnership when I started my blog! I love their values – it's all about meeting the highest standard for environmental and social impact by using sustainable materials and methods. Which means using the finest 100% organic linen in their Spring 2020 Collection. EILEEN FISHER also stands behind mixing and matching pieces to create new outfits – and the latest collection nails this one perfectly.
With just a few simple pieces, you can create a dozen different looks. As I get older and my "mom style" evolves, I have a new appreciation for easy going tops, pants and dresses that I can get a ton of wear out of. I also love that linen is such a timeless fabric, it's a great investment because it never goes out of style. I love that the wrinkles in the material form naturally throughout the day…and they're the sign of an afternoon well spent outside with my family. Not to mention, is anyone else wearing the same thing for days on end? I certainly am!! This dress is being put to very good use, ha!
Given the current state of things, I find myself being a lot more thoughtful about where I'm spending money and if what I am buying is truly worth it. I'm no longer making frivolous purchases, every time I "add to cart" I want there to be purpose behind it. EILIEEN FISHER is one of those brands I am so happy to support. Not only are they a socially conscious brand (…and they have been since 1997!) with beautifully designed clothing and accessories, but they encourage their customers to be better and more thoughtful, too. It's one of those brands you wear with pride – and wear for years and years!
I'm linking to more of my favorites from their Spring 2020 Collection below. I hope you find something you absolutely love! You can shop my dress HERE. For reference, I'm wearing a size small and it's nice and roomy with a 25-week bump, I think I could have gotten away with an XS in this one.
SHOP SUMMER FAVORITES

A big thank you to EILEEN FISHER for sponsoring this post! All opinions are my own.