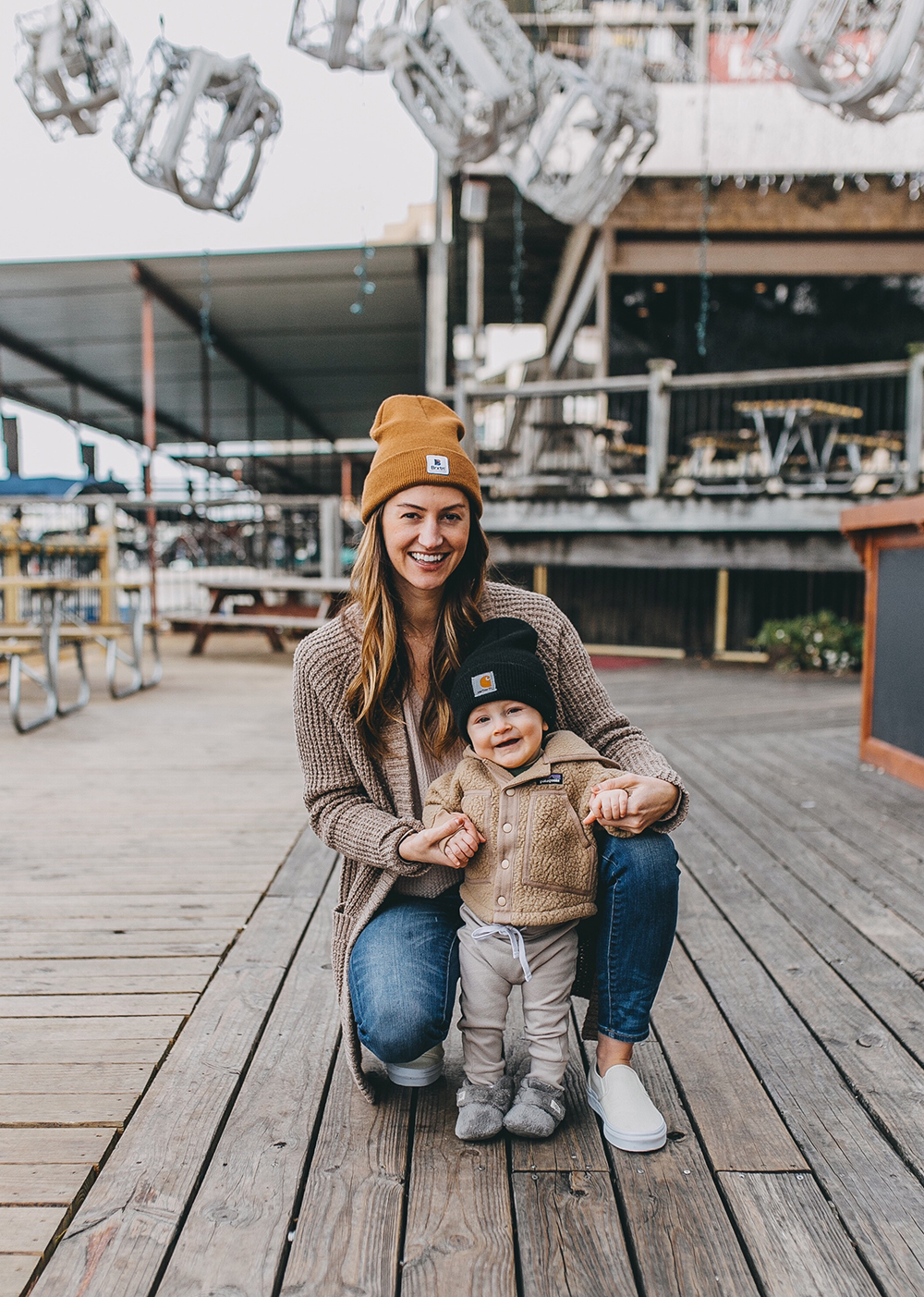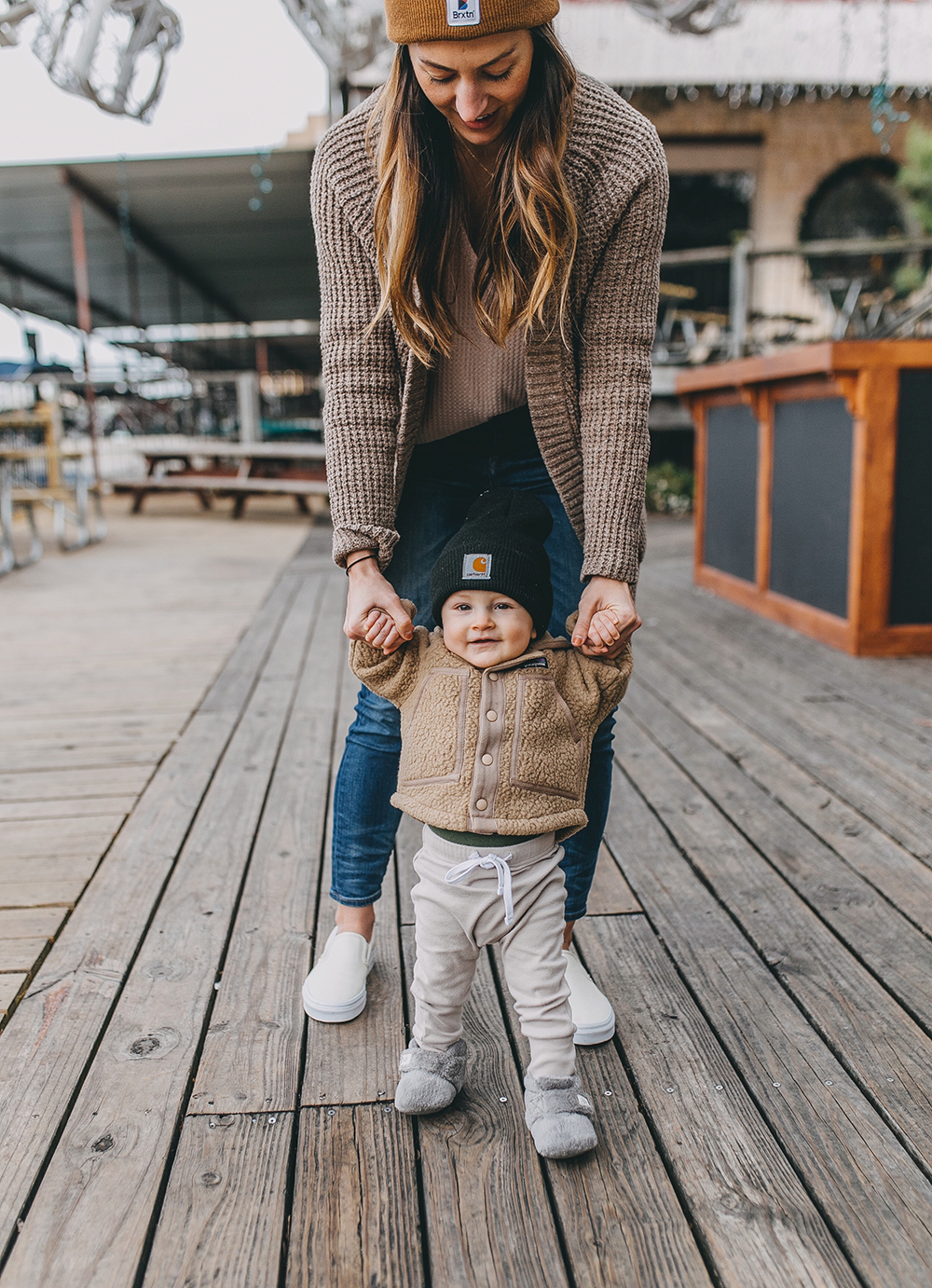 Ohh the weather outside is…definitely COLD! We bundled up and hit the town for a little coffee date on Lake Austin. Jude fell asleep on our way to Mozart's, so Blake and I enjoyed a coffee date just the two of us before the lil man woke up and was ready to MOVE outside. We're just days away from 10 months over here and this boy is officially a wiggle worm. He is very vocal and let's us know quiiiickly that he wants to be down and walking (with our help!). And while mom and dad are absolutely getting their steps in these days (and passing out before 9pm because of it, ha!), what a joy it has been to spend the holiday season together. Mozart's forever has a special place in our hearts because Blake and I grew up coming here, it's where he proposed and now we get to bring Jude to enjoy their yummy pastries, this view and the outdoors all at once. Such a lovely place to come as a family!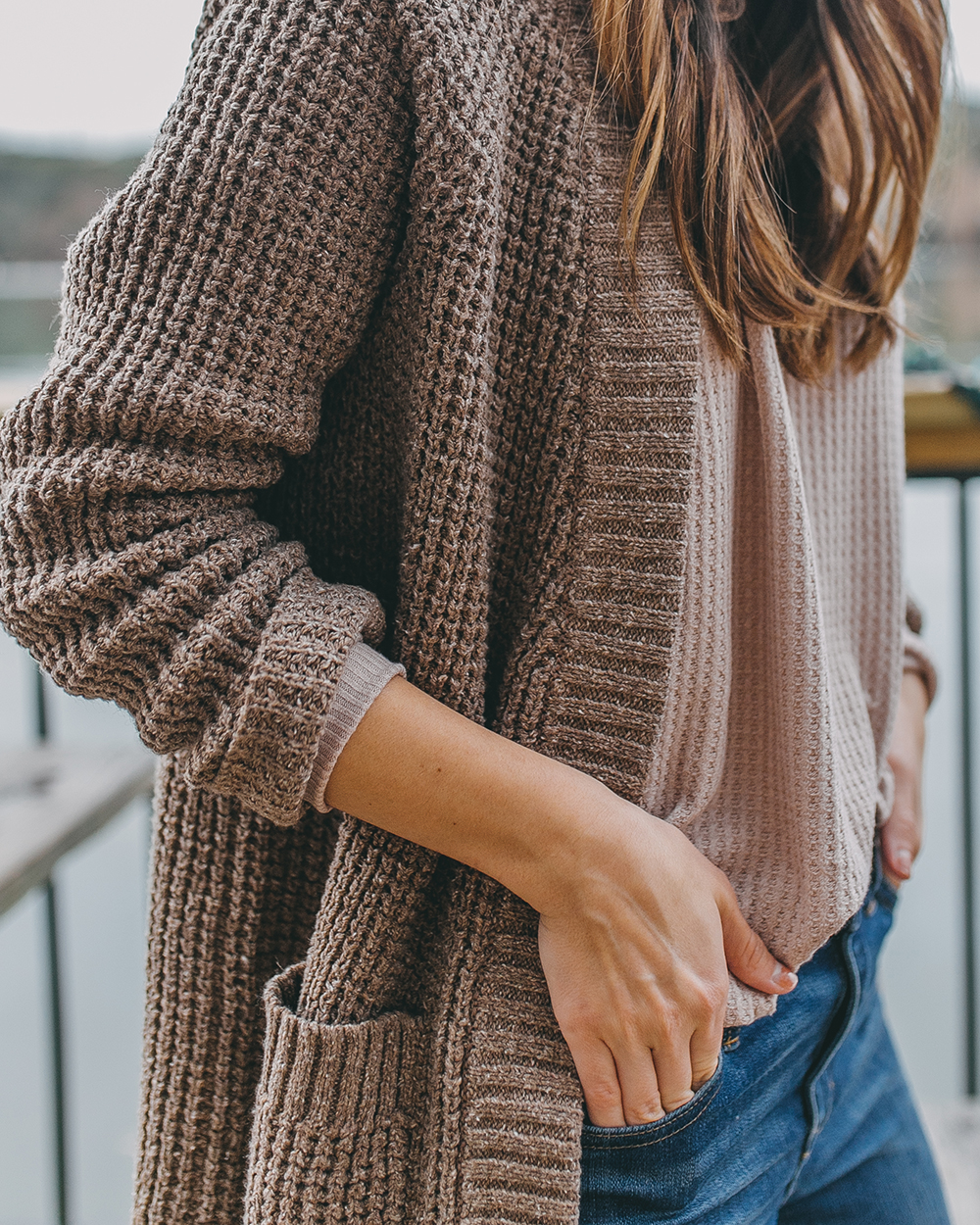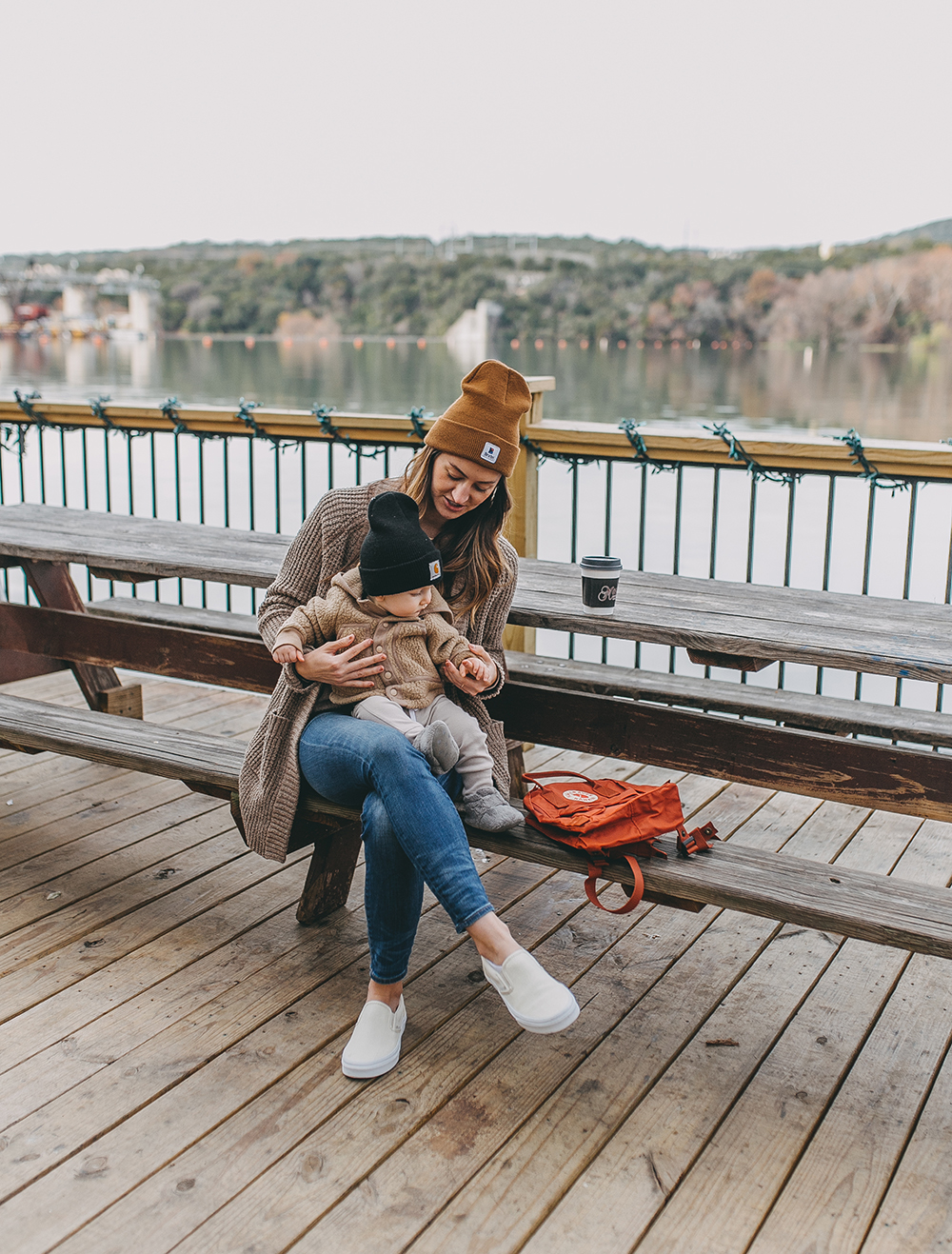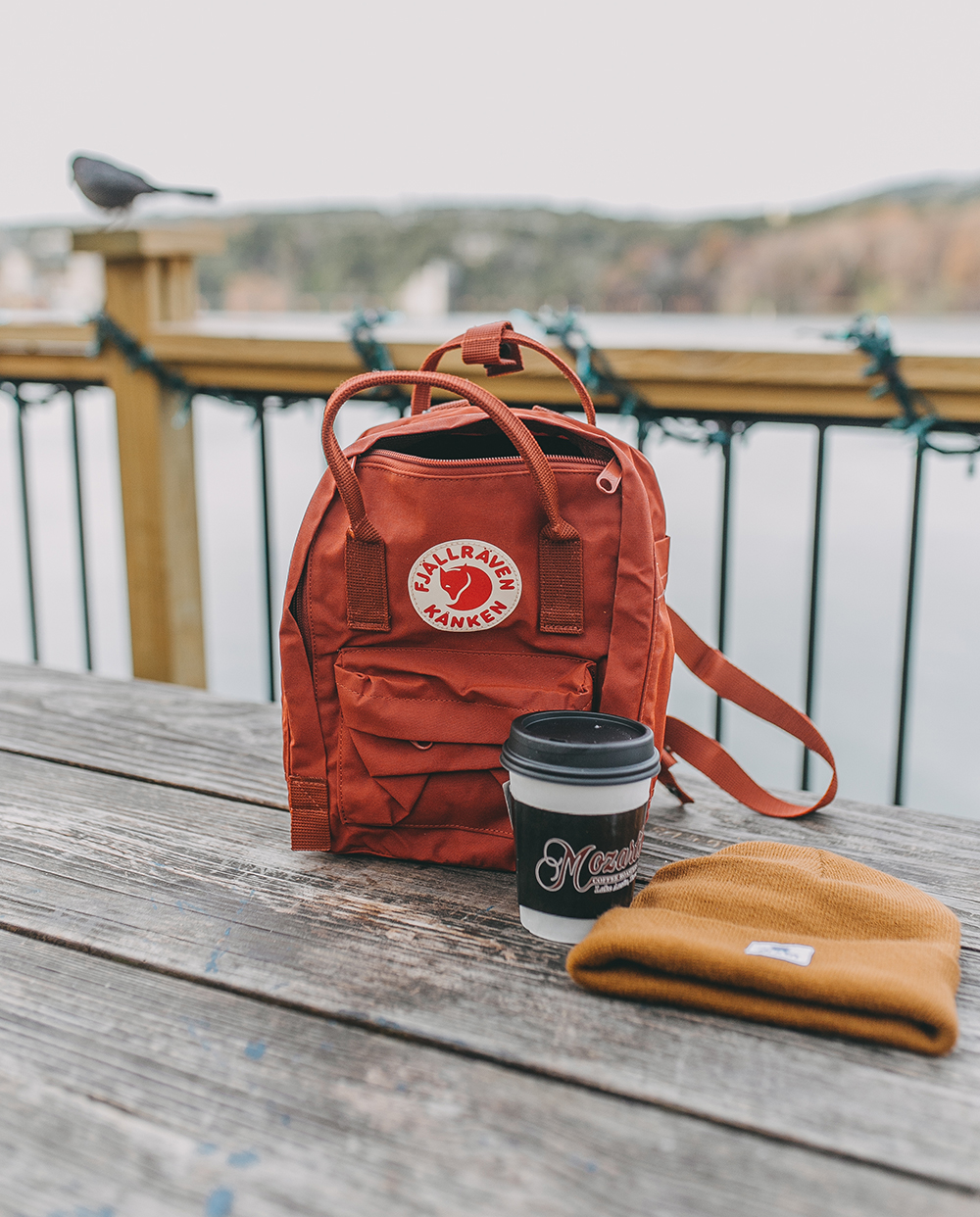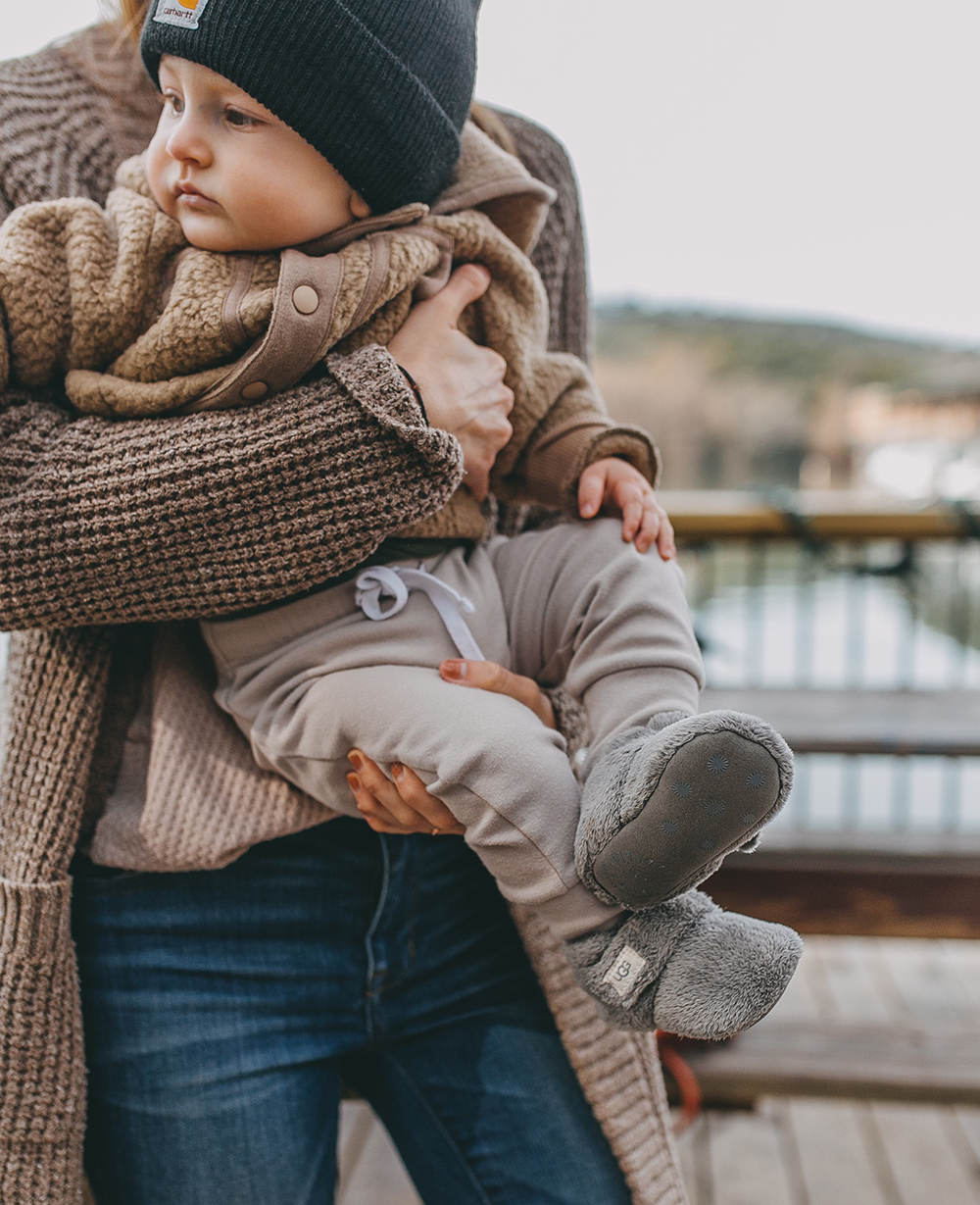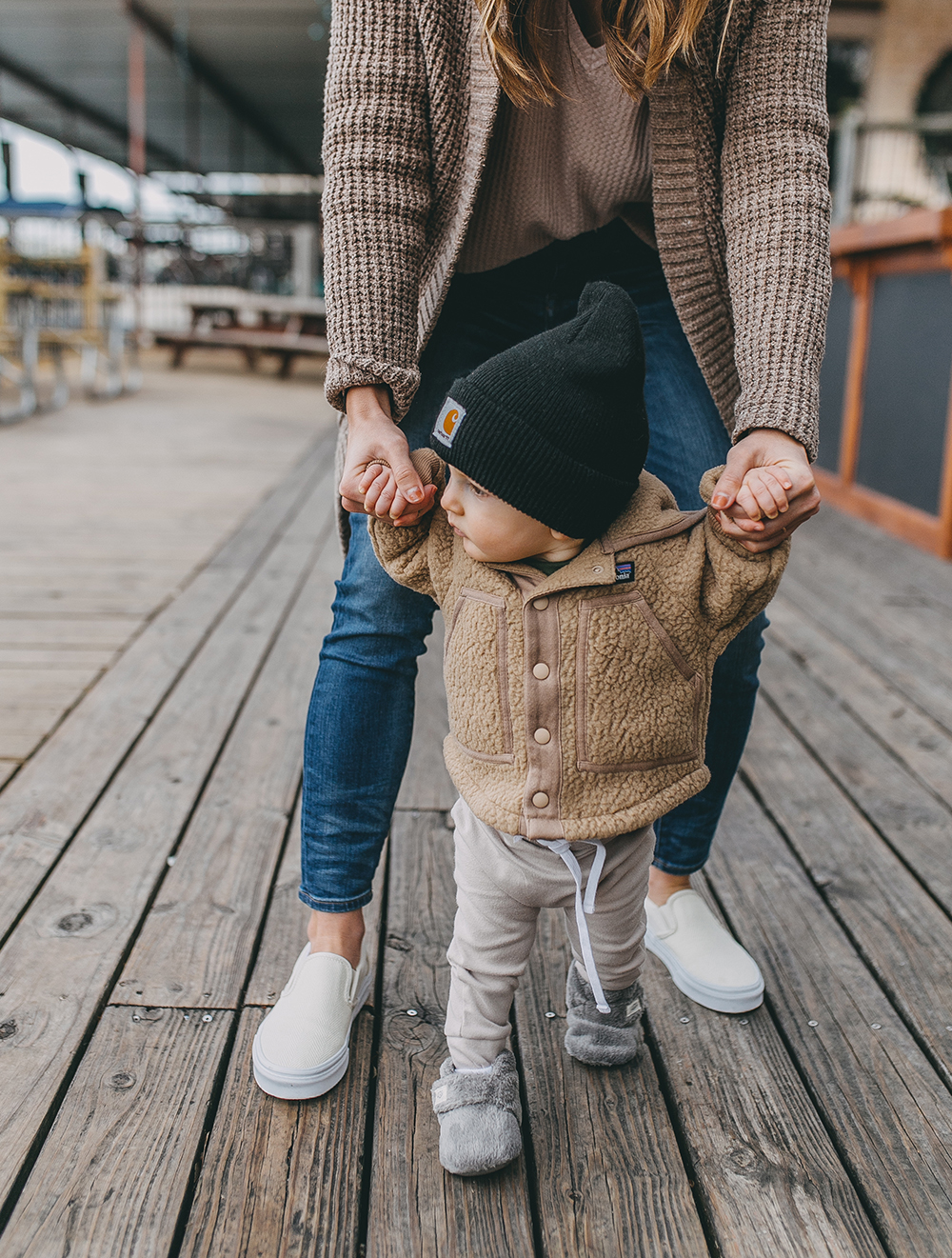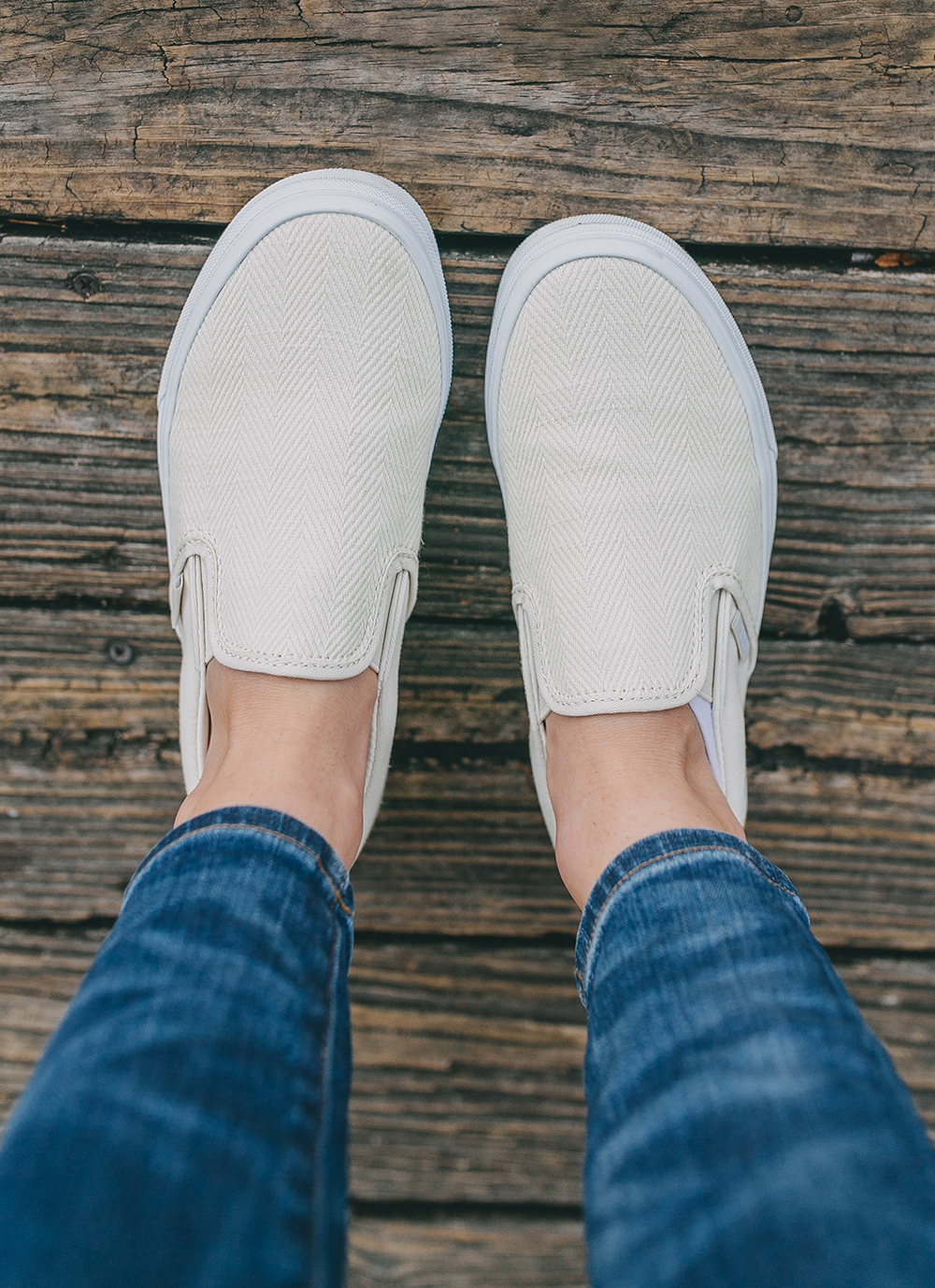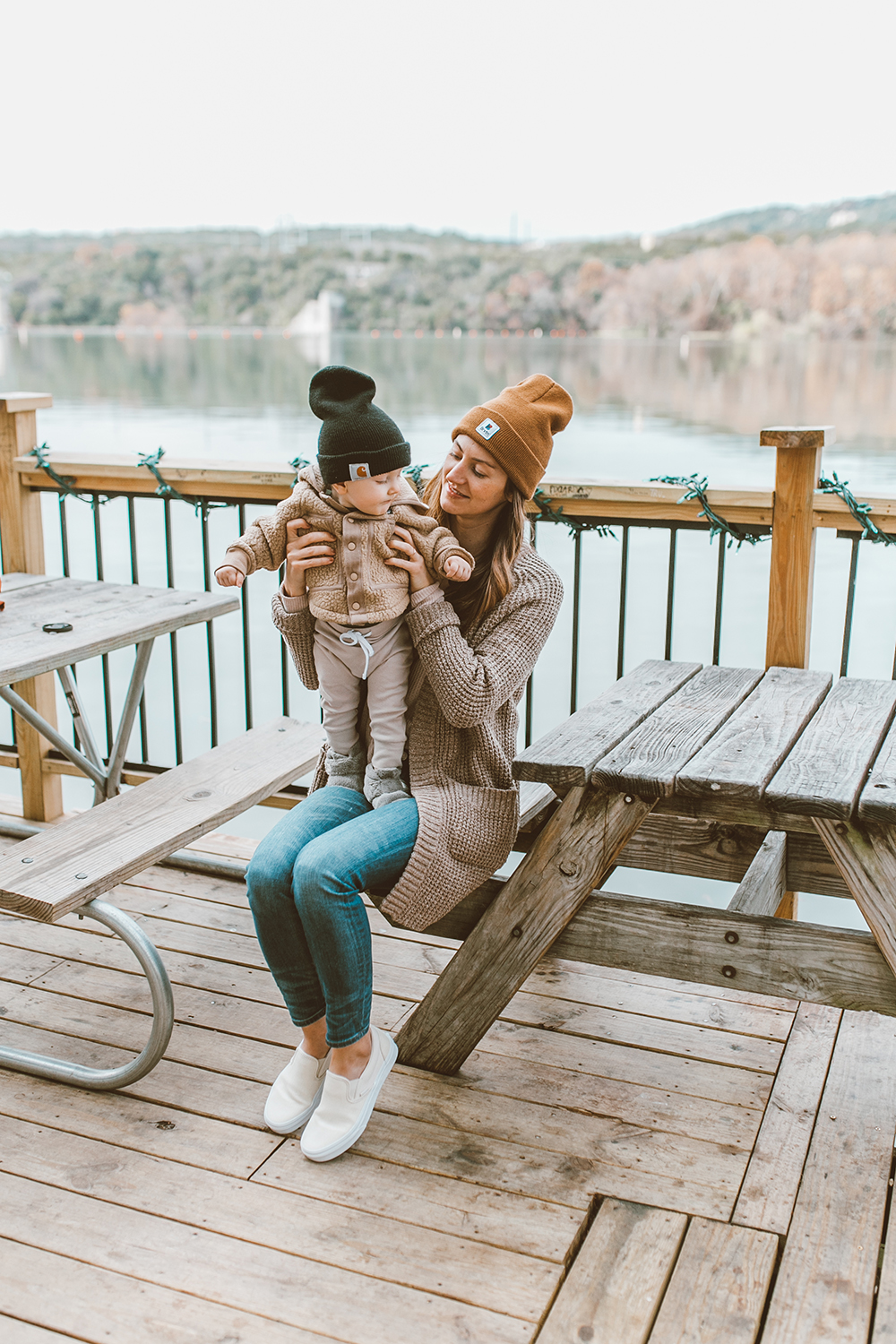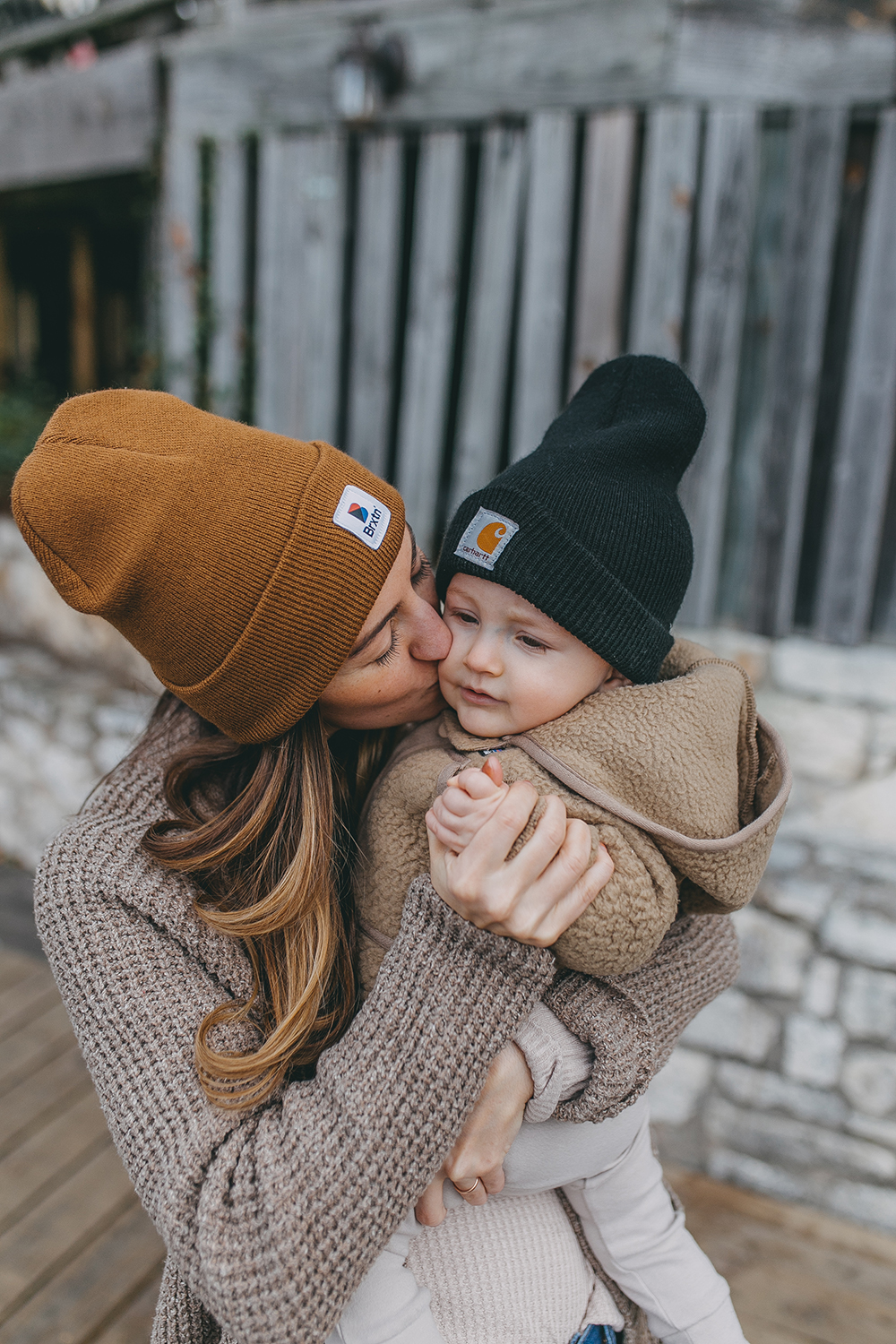 When it comes to dressing for cold days spent outside, I am such a fan of layers! Give me a cozy thermal top and knit cardigan any day of the week and I'm a happy gal – especially in such a gorgeous, neutral color combination. My top is Free People (wearing a small and this thing is SOFT!) and my cardigan is by Patagonia (also wearing size small). I saw this on the Backcountry website a while back and kept coming back to it until I finally made the purchase. The reviews sold me…! For one, the color is so dreamy and two, it's actually VERY warm…like, surprisingly warm for a cardigan! I always expect top-notch quality when it comes to Patagonia, and this is no different. My shoes are by Vans and although I thought I'd prefer shoelaces once Jude was born (giant pregnant belly = can't tie your shoes!), I am actually hooked on slip-ons like these. Best $50 you'll spend on shoes, trust me. I wear mine daily!
Okay okay, can we talk about Jude's outfit?! BABIES IN PATAGONIA, I DIE! Be still my heart. Uggs and Patagonia. I think I'm having waaay too much fun dressing our little bean. But truly, this infant Patagonia jacket is super warm and I love that the color goes with everything. His cozy UGG booties have been the best investment ever and he's worn them SO MUCH. Worth every penny! For reference, he's wearing size 6-12mo in the jacket (he's about to be 10months) and a 4 in the shoes. If you're a parent looking for warm winter gear for your kiddos (or yourself!), Backcountry has such an amazing selection and TONS of great brands.
Mozart's has an amazing light show every night and we were lucky enough to see it with my entire family a few weeks back…even though Jude slept right through it, ha! We're so excited to create annual family traditions and visit our favorite places around Austin with Jude in tow. So much to be thankful for and look forward to these days!
Use code LIVVY15 to take 15% off your first Backcountry order! Exclusions apply.
Need more cozy ideas to give and receive this season? Rounding up more favorites below!
MY OUTFIT: thermal long sleeve – FREE PEOPLE / cardigan – PATAGONIA / shoes – VANS / hat – BRIXTON / backpack – FJALLRAVEN (Autumn Leaf color)
JUDE'S OUTFIT: jacket – PATAGONIA / shoes – UGG
A big thank you to Backcountry for sponsoring this post! All opinions are my own.