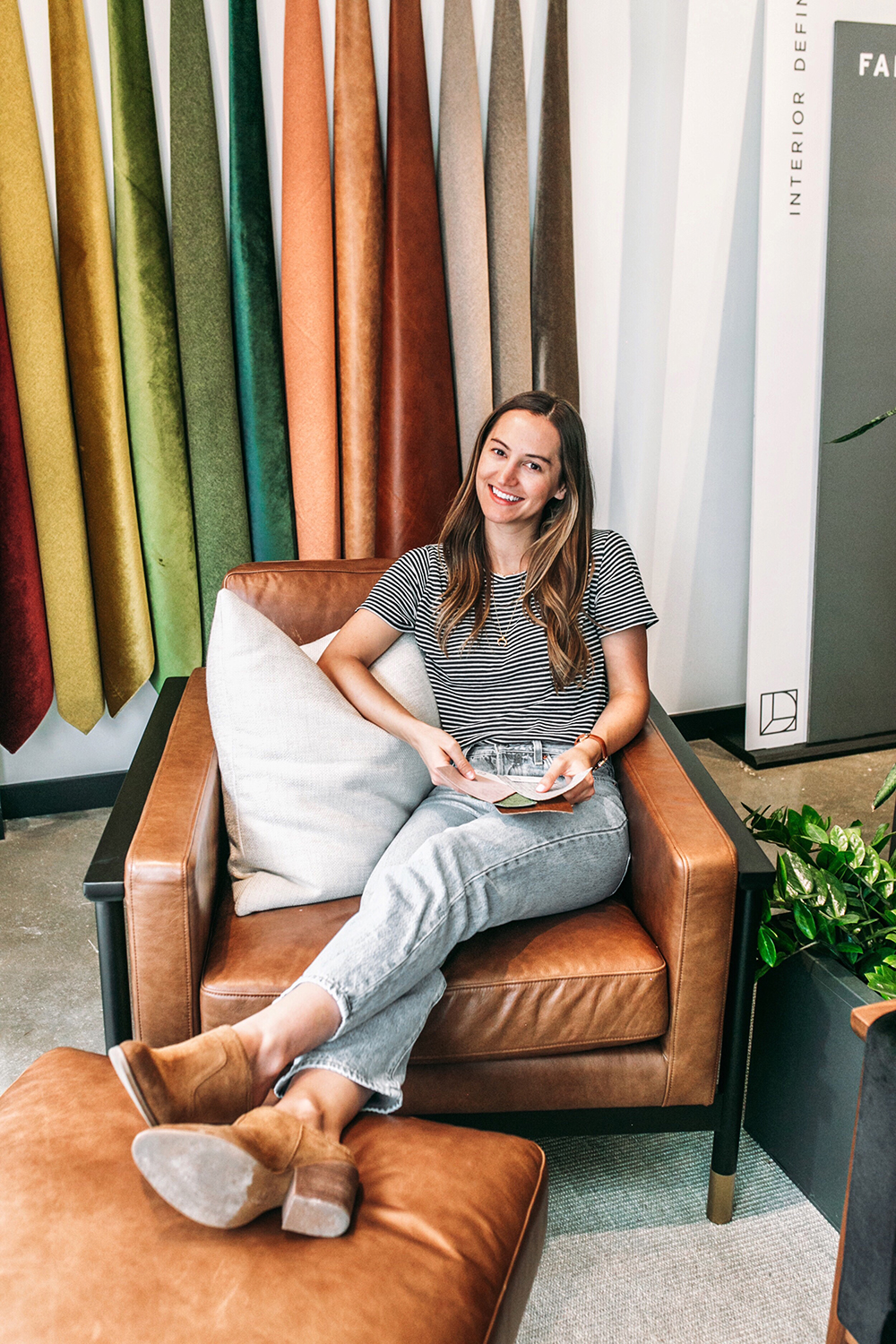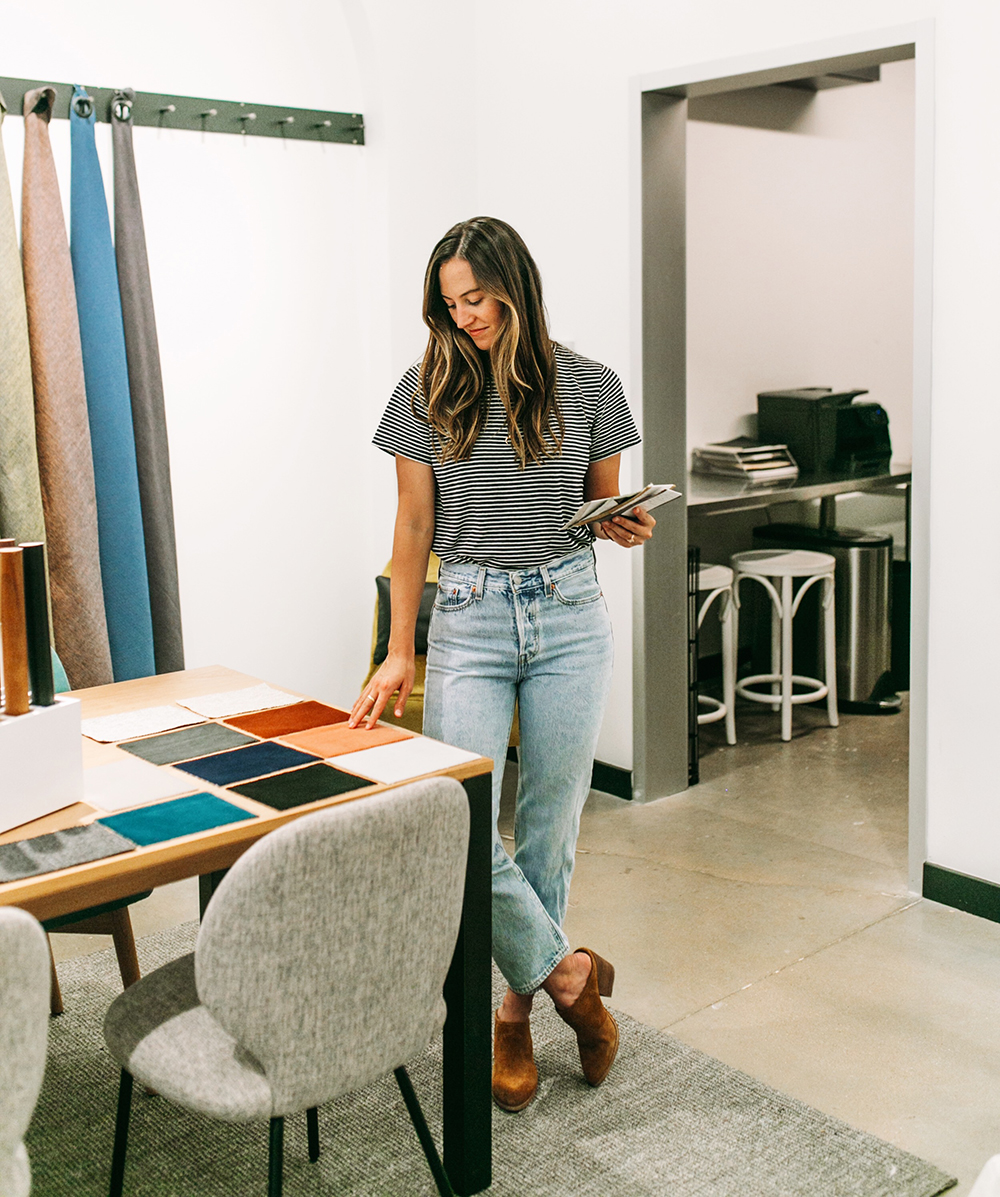 There's just something about a new season of life that makes you want to change things up. Now that we have Jude, I see the functionality of our house differently. Can our sofa withstand a couple of kiddos? Is that rug soft enough for crawling? Will our blinds survive Watson freaking out when the postman rings the doorbell? (Spoiler: we're on our third set of blinds…). I've loved our current living room setup, but when I dream up living room furniture that will stick around as our family continues to grow, a sectional sofa and more durable chairs come to mind. Within the last 10 months, we added a 95lb dog and baby to our family…which means big changes in this small house! Having beautiful furniture that's created with pets and kids in mind is exactly what we need…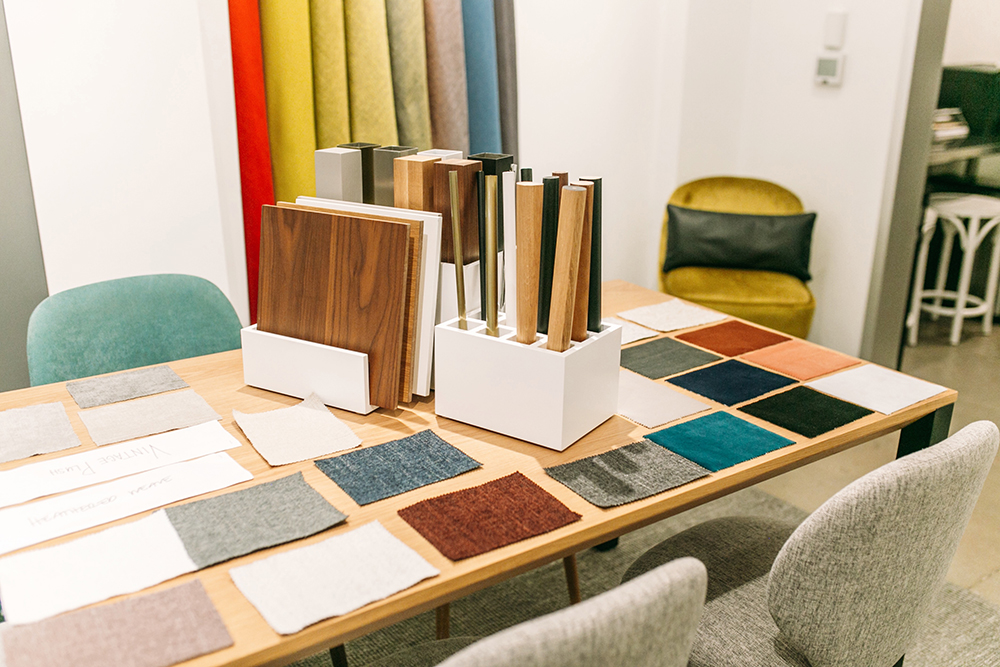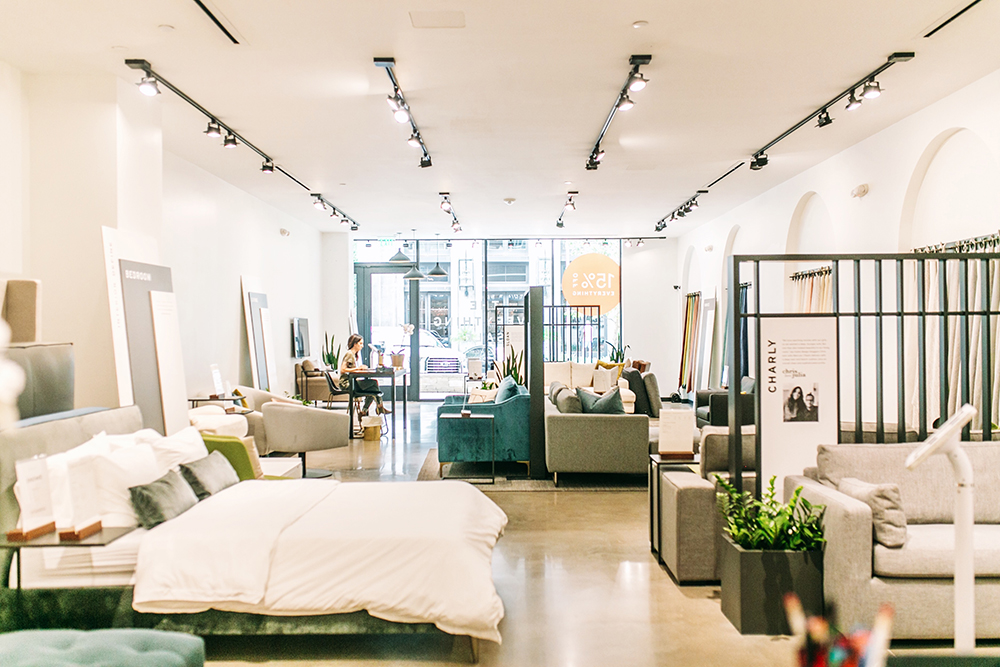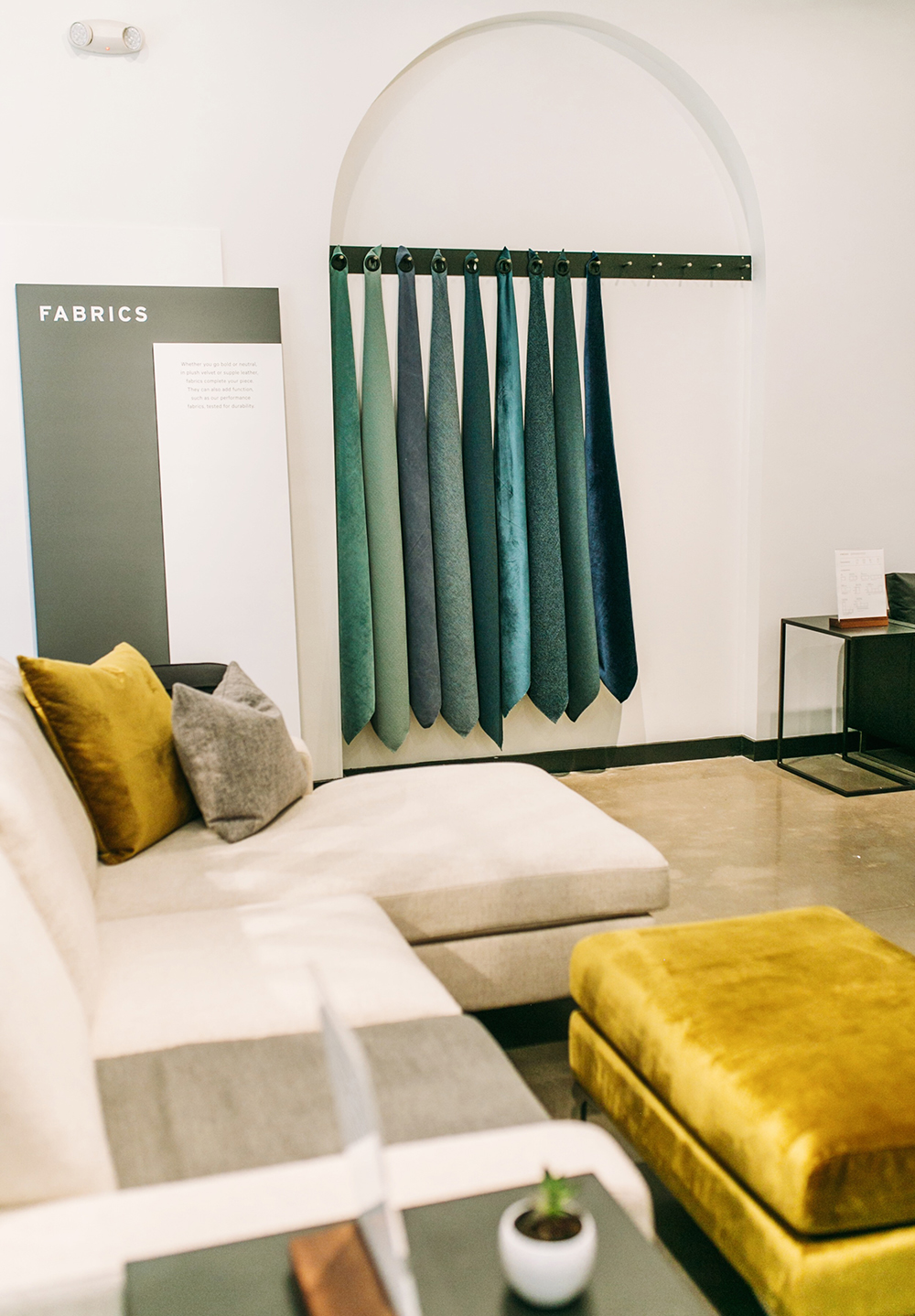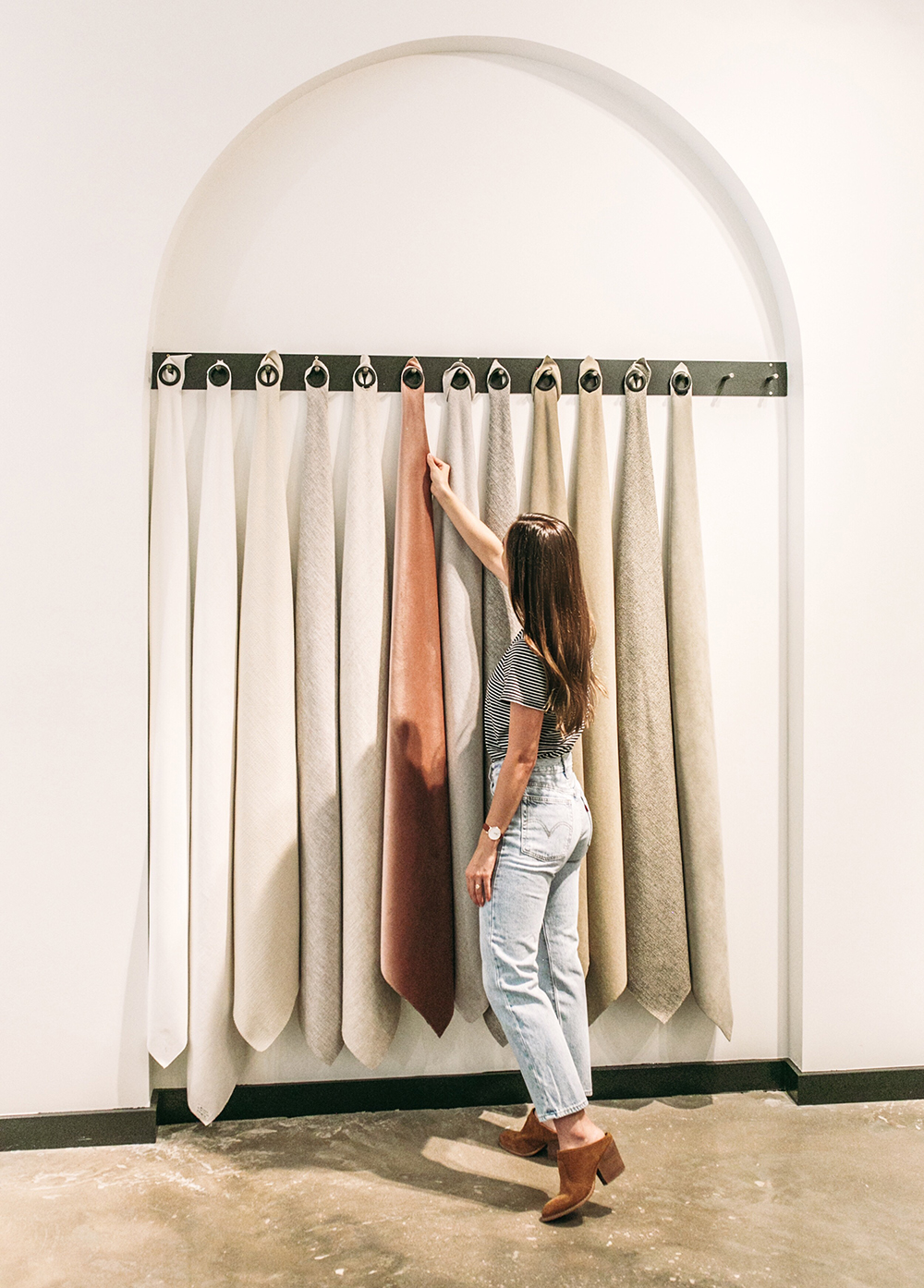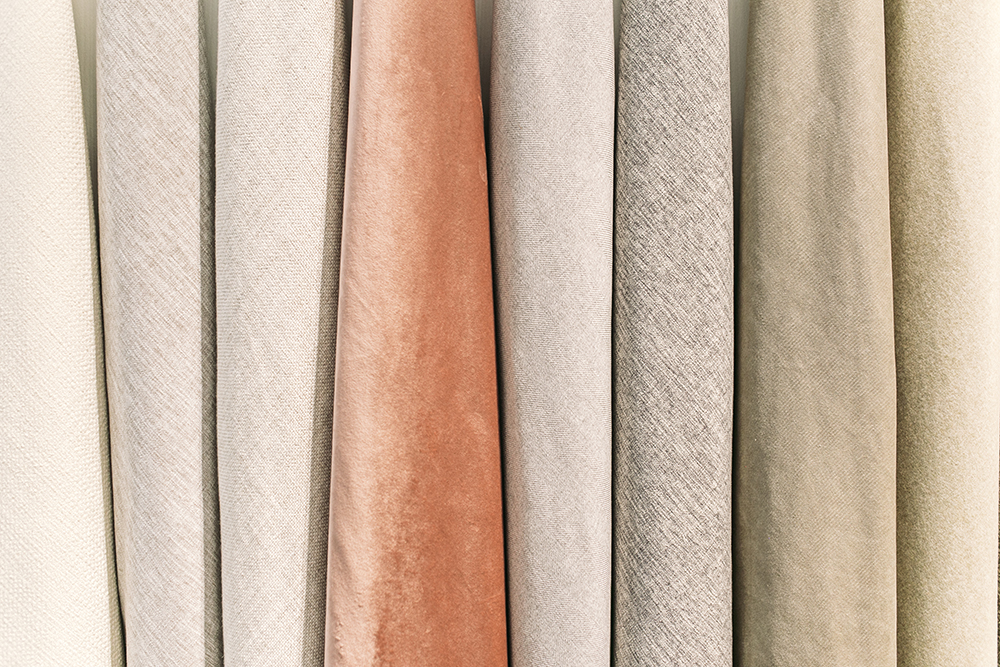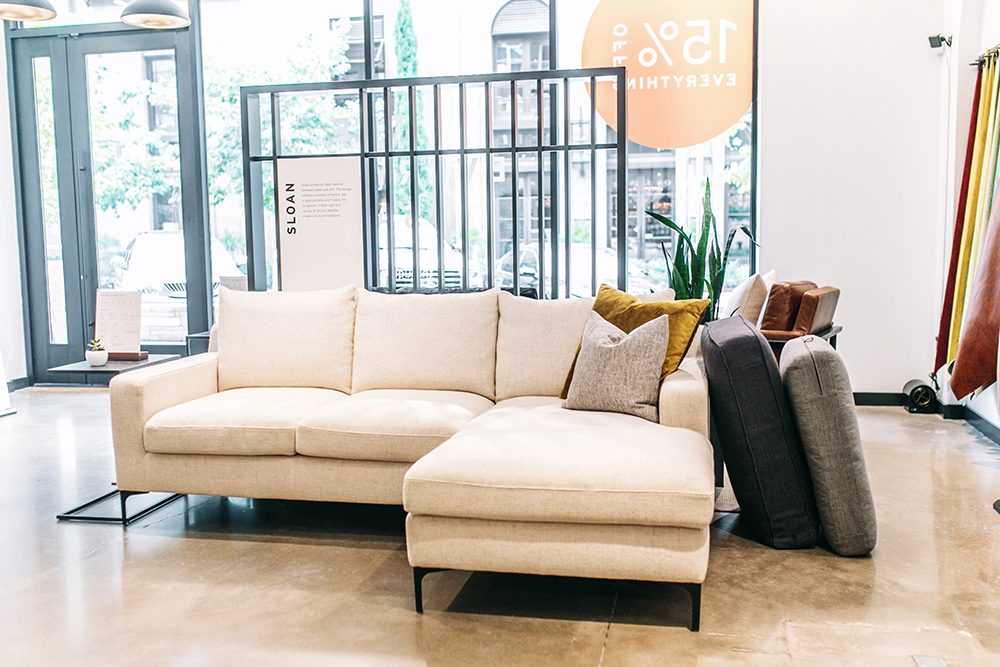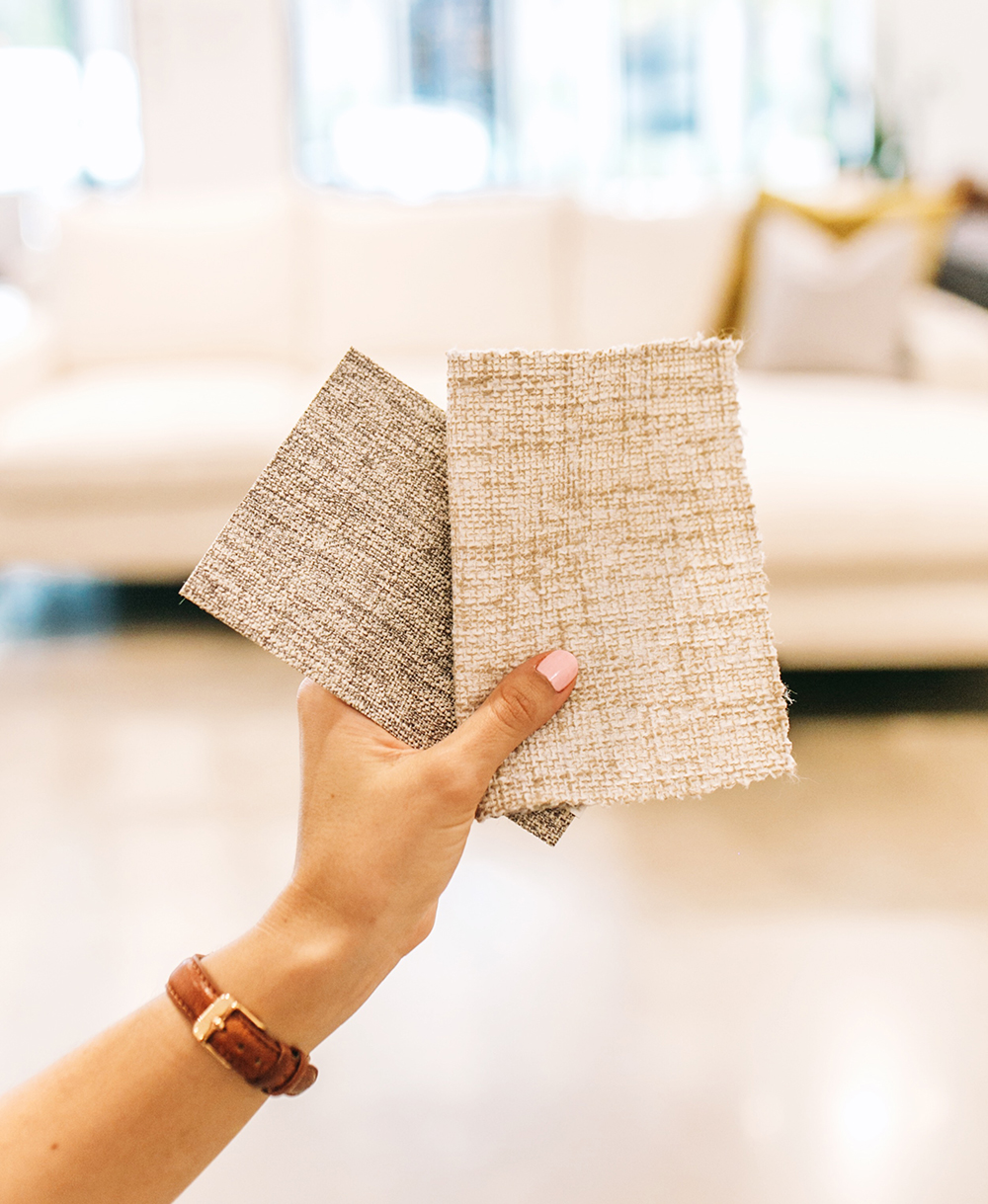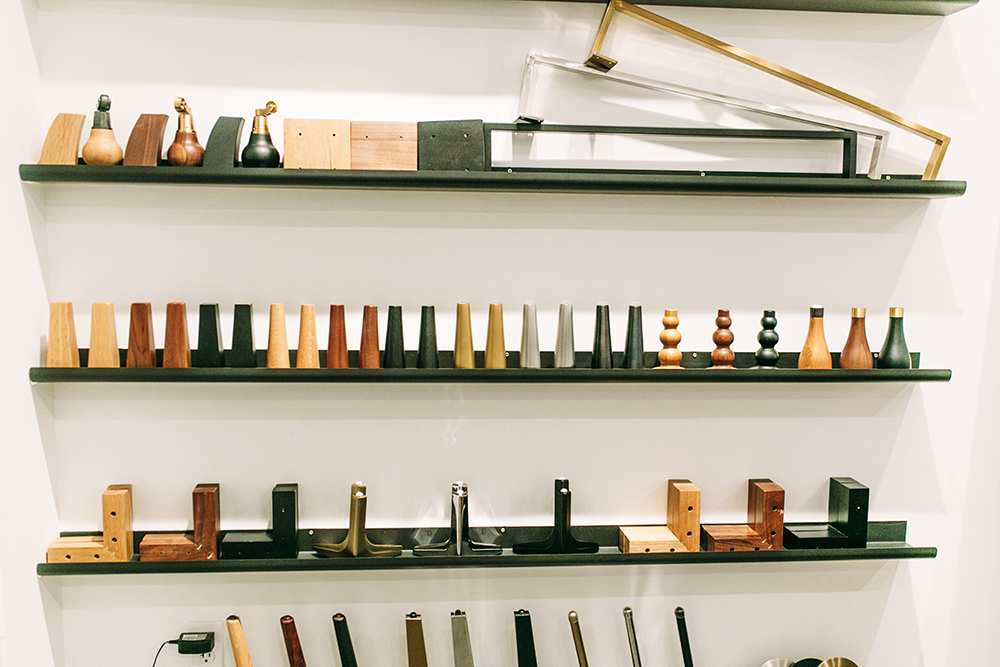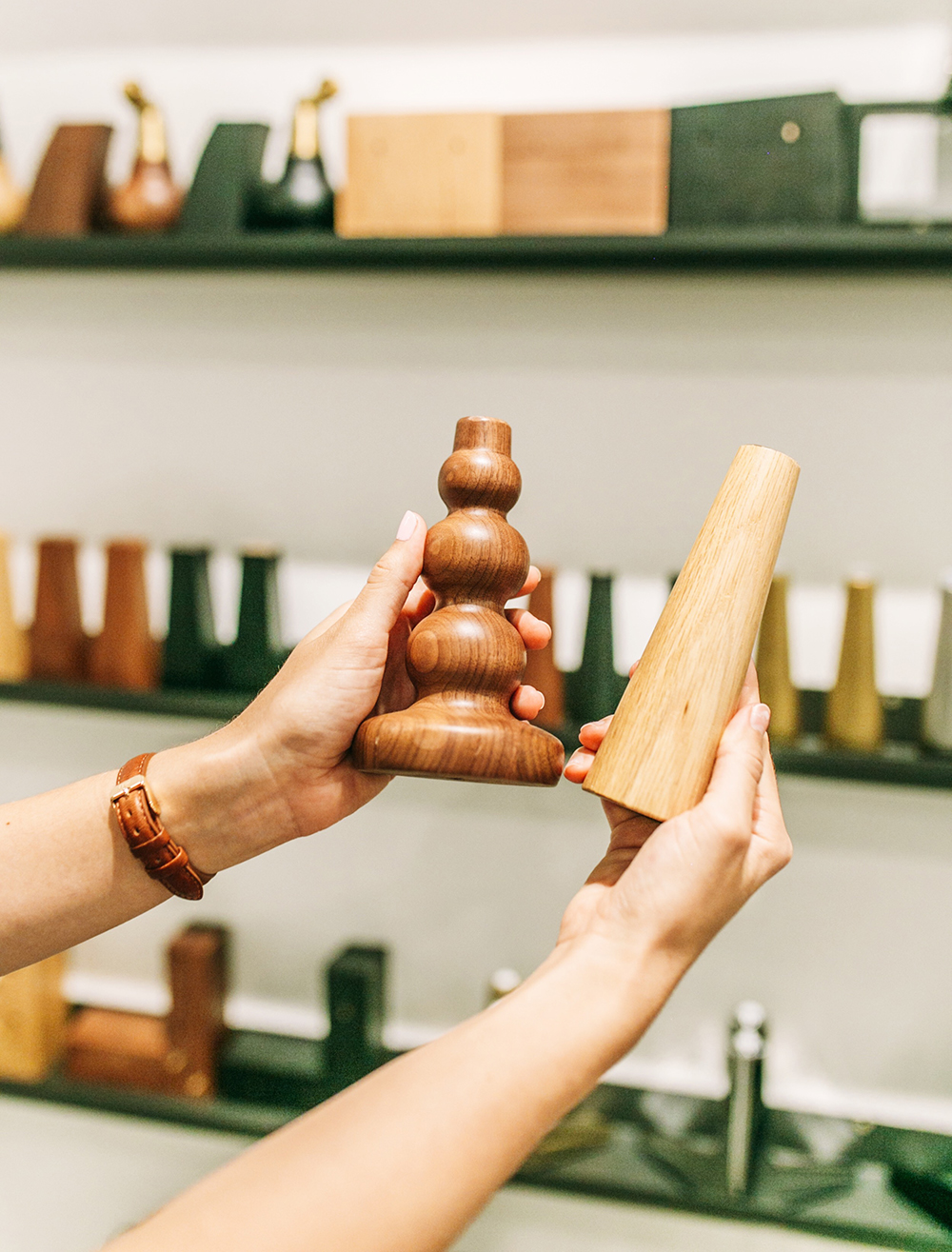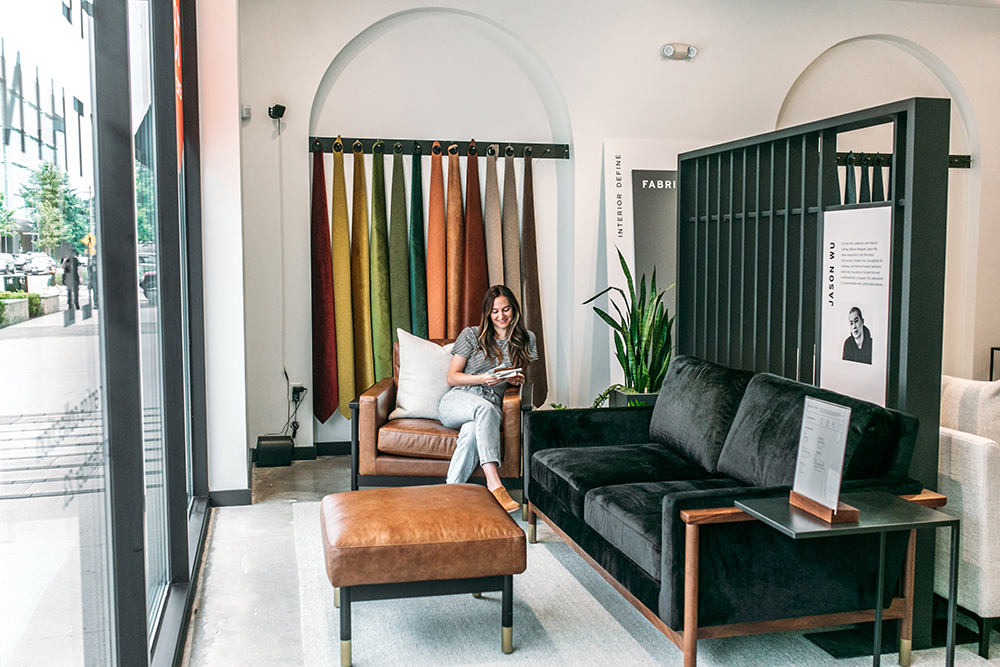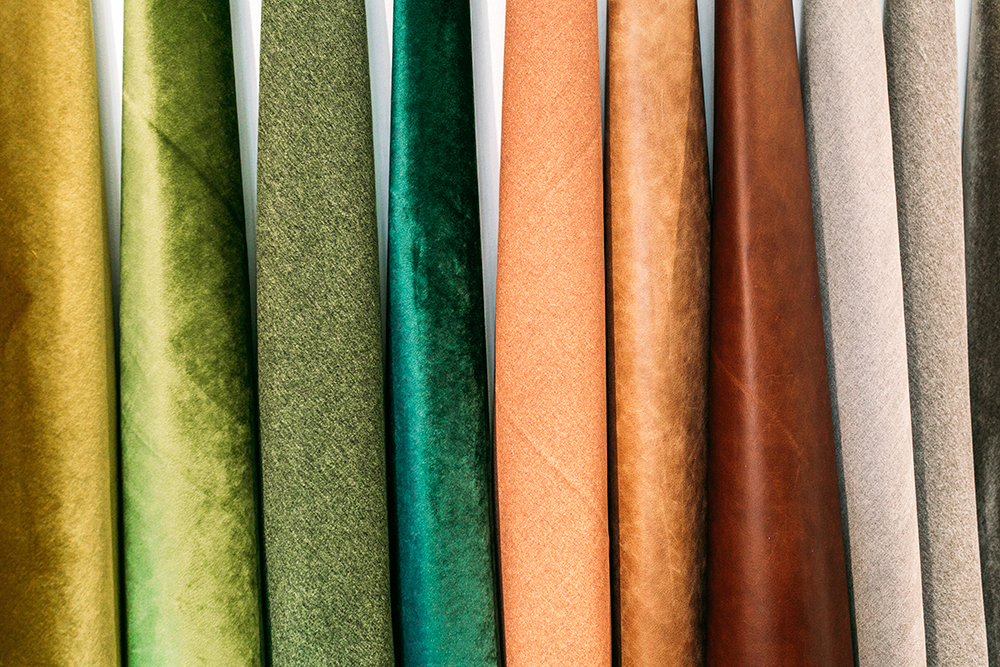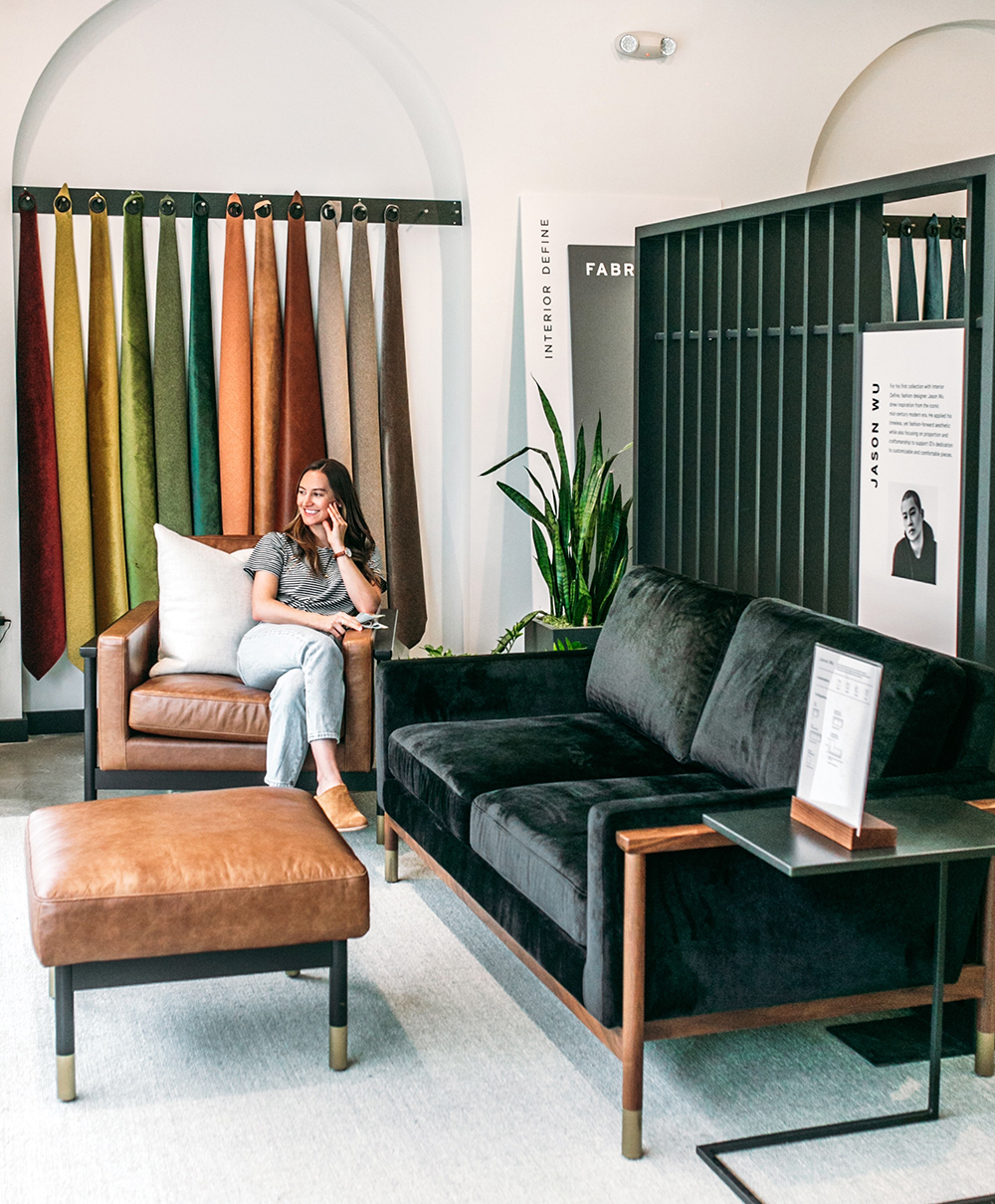 In the early newborn phase when Jude slept the majority of the day, I spent a ton of time on Pinterest. There was one image of a sectional sofa I kept coming back to. As I clicked around and entered the "where's that item from?!" vortex (my fellow online shoppers know that one…), I was finally led to Interior Define.
Interior Define is the go-to for customizable living room furniture – essentially, they provide the silhouettes and you get to play designer from there. Do you want light or dark oak chair legs? Brass or silver? A sleek and fashion forward sofa for an office or something cozier that the whole family can dive into? Pet friendly fabric? Blush velvet or a pretty neutral you can doll up with pillows? The possibilities really are endless and the process is SO fun!
Though you can order fabric swatches to your house and complete an order online, we are lucky that Interior Define has an Austin location. A few weeks ago, Blake and I got to stroll around the store and get a feel for the pieces we'd been eying on their website. Online, the Jasper Sectional stole my heart…but once we sat on the Sloane Chaise Sectional in the store, we were sold. Next up was deciding on the fabric, legs, sofa size and cushion level.
Given our dogs and a baby, we knew a durable pet friendly fabric was definitely what we wanted – and ID makes it super simple to find the fabrics that work with pets & kids. They have so many amazing options, it was a struggle to narrow down the colors! I was fighting for a bold velvet citrine (dreaaaam!), but Blake was into something more neutral that could be updated by swapping a rug or changing out throw pillows over time. We also knew we wanted to pair the sofa with a cozy chair and ottoman, so once we decided on the Jason Wu Pecan Leather Accent Chair (which ohh my heart this thing is GORGEOUS!), we decided on the neutral Earth Crossweave fabric for our sectional, which will be a really beautiful and timeless combination. We continue to gravitate towards that clean, airy feel when it comes to our home decor and this duo totally fits the aesthetic.
As for the turnaround once you select your items – it takes around 12 weeks to ship. Which is perfect because now I need to find a new rug and coffee table that will compliment the furniture, freshen up the space and be more practical than our current setup for Jude as he starts crawling! I haven't had a home project in a while, so being able to customize our living room furniture has been SO fun for me.
I can't wait to share the big reveal with y'all once our furniture arrives in the upcoming months! Stay tuned for that!!
If you're looking to update your living room, add a cozy chair to your bedroom (hello, reading nook!) or customize a set of dining chairs to match your space, definitely take a look at Interior Define! And also grab coffee or wine and scroll through their IG feed for major inspiration…you're gonna be there a while every image is so dreamy!