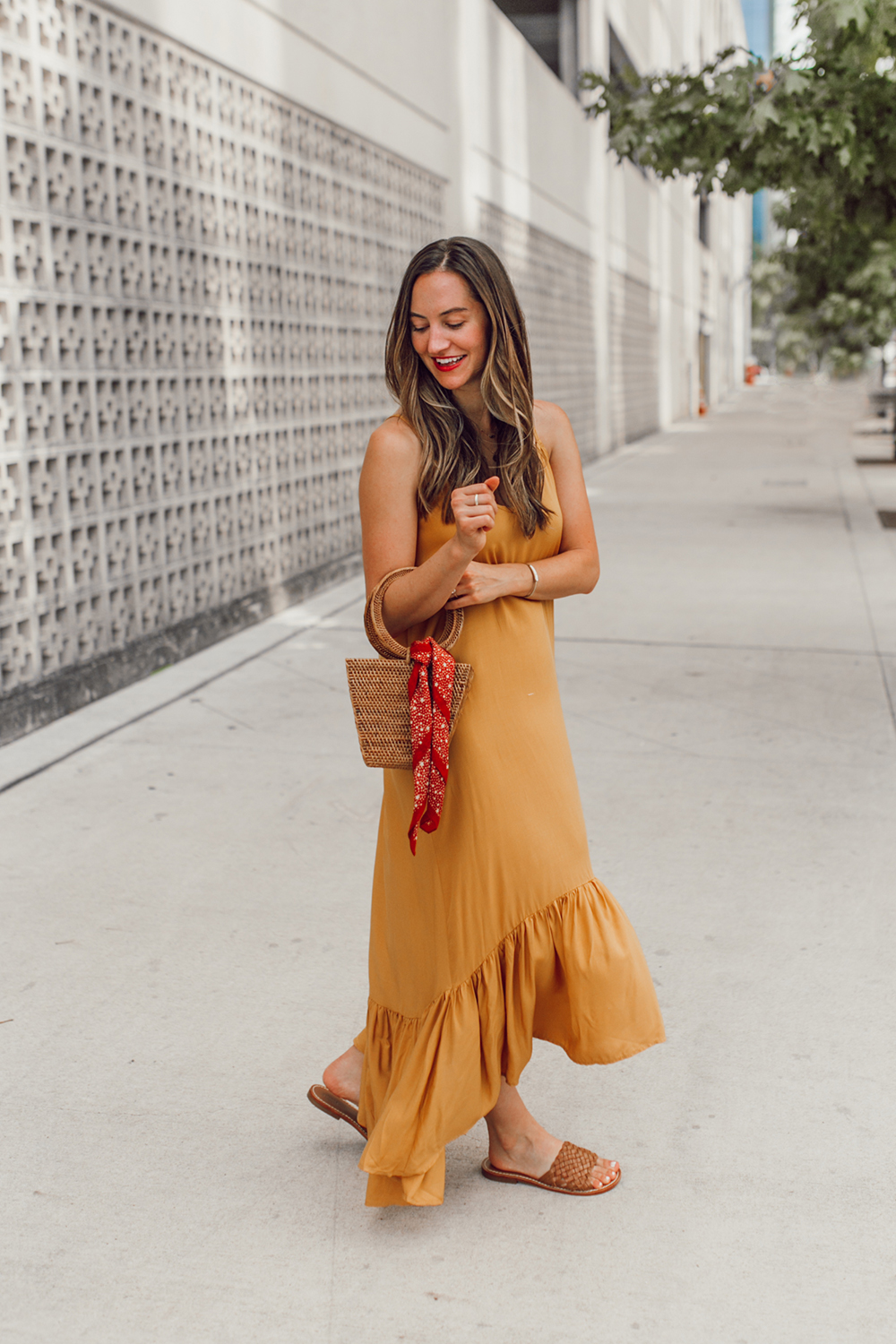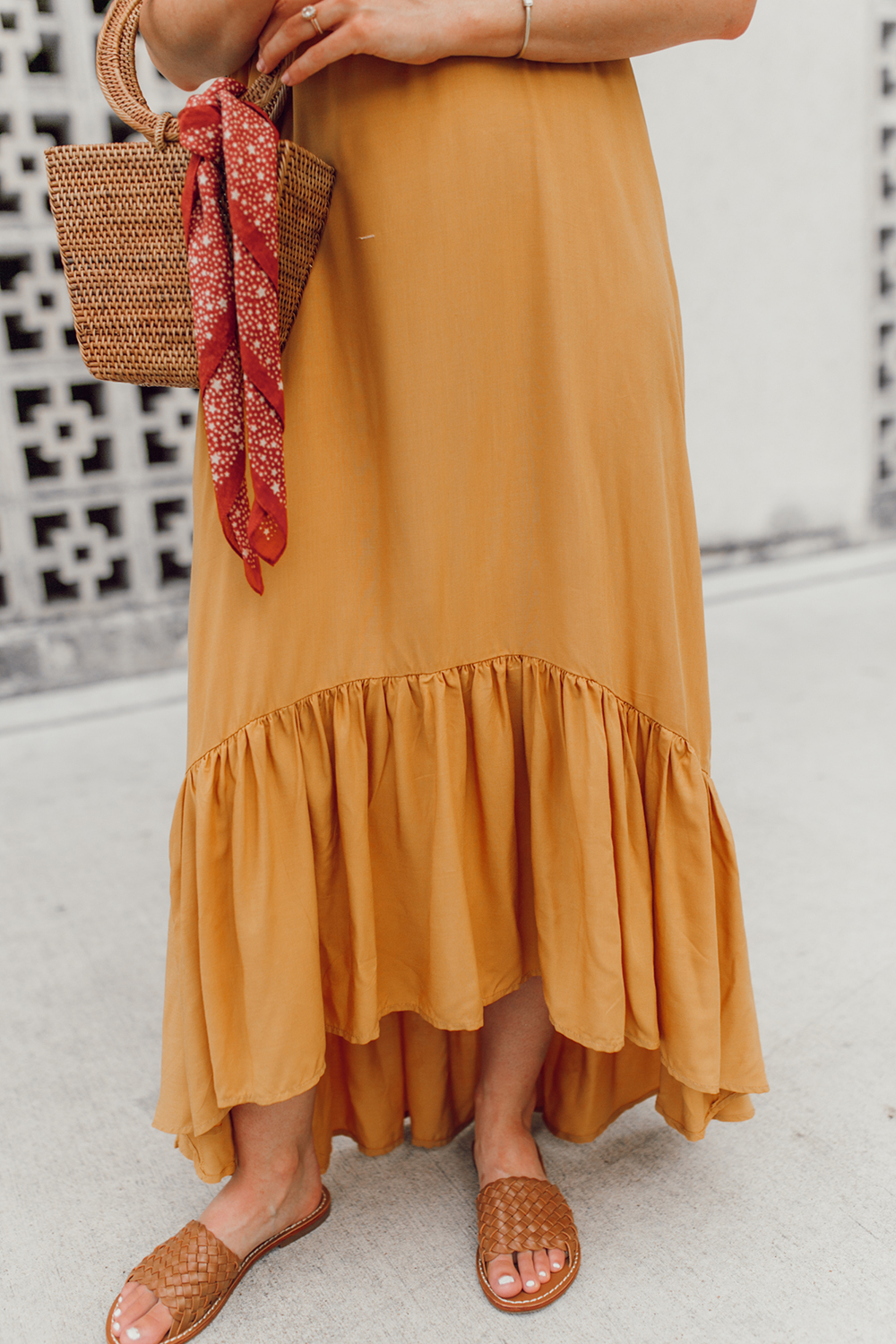 If fall in your city means 95 degree temperatures, then I am right there with you! As a blogger, I am guilty of smiling as I pose in cozy cardigans and fleece joggers…when in reality I am dying a slow and painful death melting in triple digits and daydreaming of nothing more than an ice cold margarita. Now if that mental image doesn't scream "fall!" then I don't know what does haha! 😉 In Austin, fall can mean a tank top and shorts or flowy dress…this city sort of skips fall and goes straight to winter (…and our winter could technically be another city's fall given that we rarely hit below 50 degrees…). What I'm trying to say is – regardless of the season, you can dress in whatever you're loving, while keeping the latest seasonal trends in mind. Bohemian, pretty prairie style is something we'll be seeing a lot of this fall, and this mustard yellow maxi dress with a ruffle bottom totally fits the trend and is a staple you can wear now and into the next few months. The best part? This $27 maxi dress comes in three colors and could easily be styled for cooler weather weather…simply add a leather or denim jacket and some ankle booties or mules!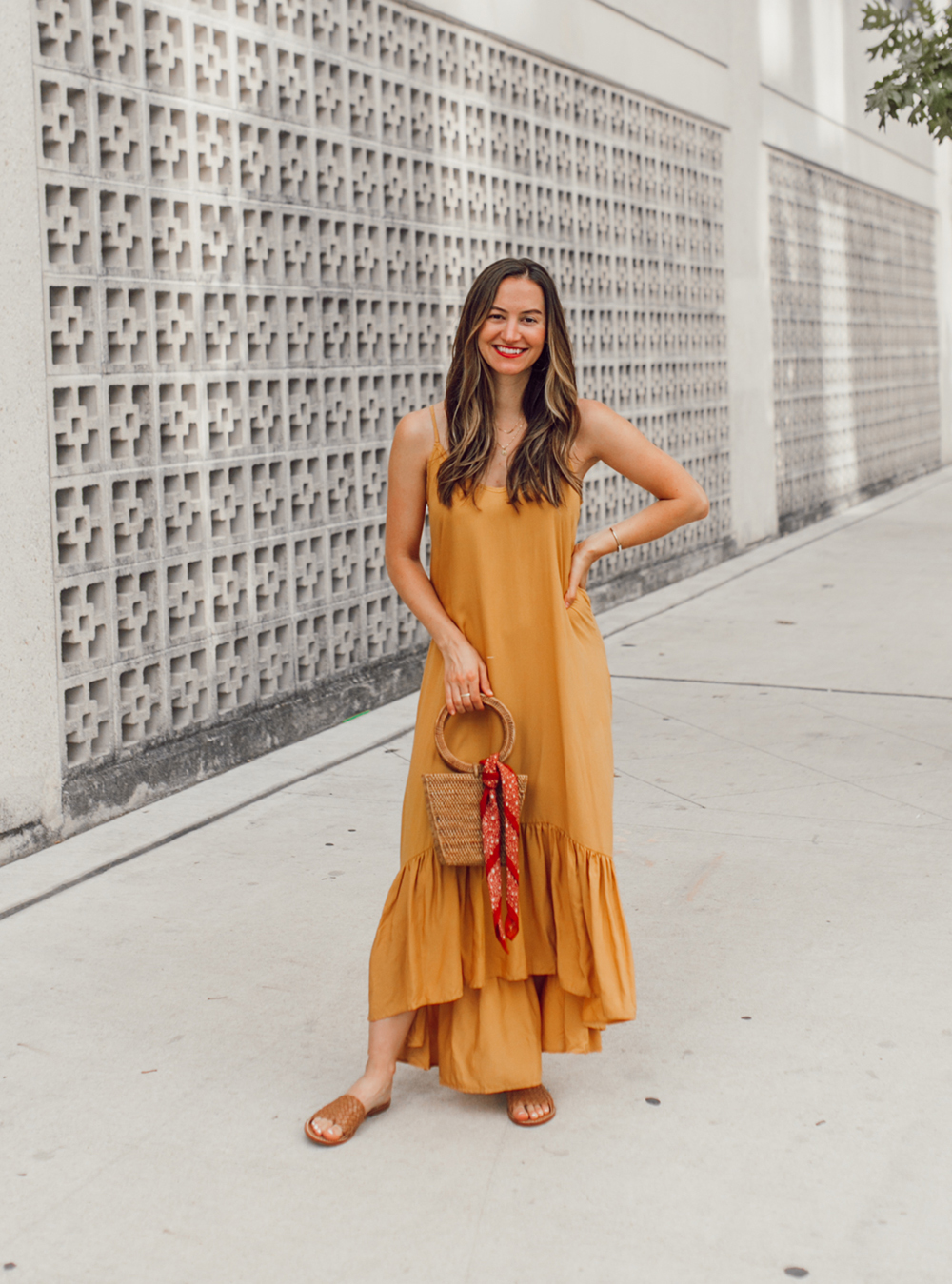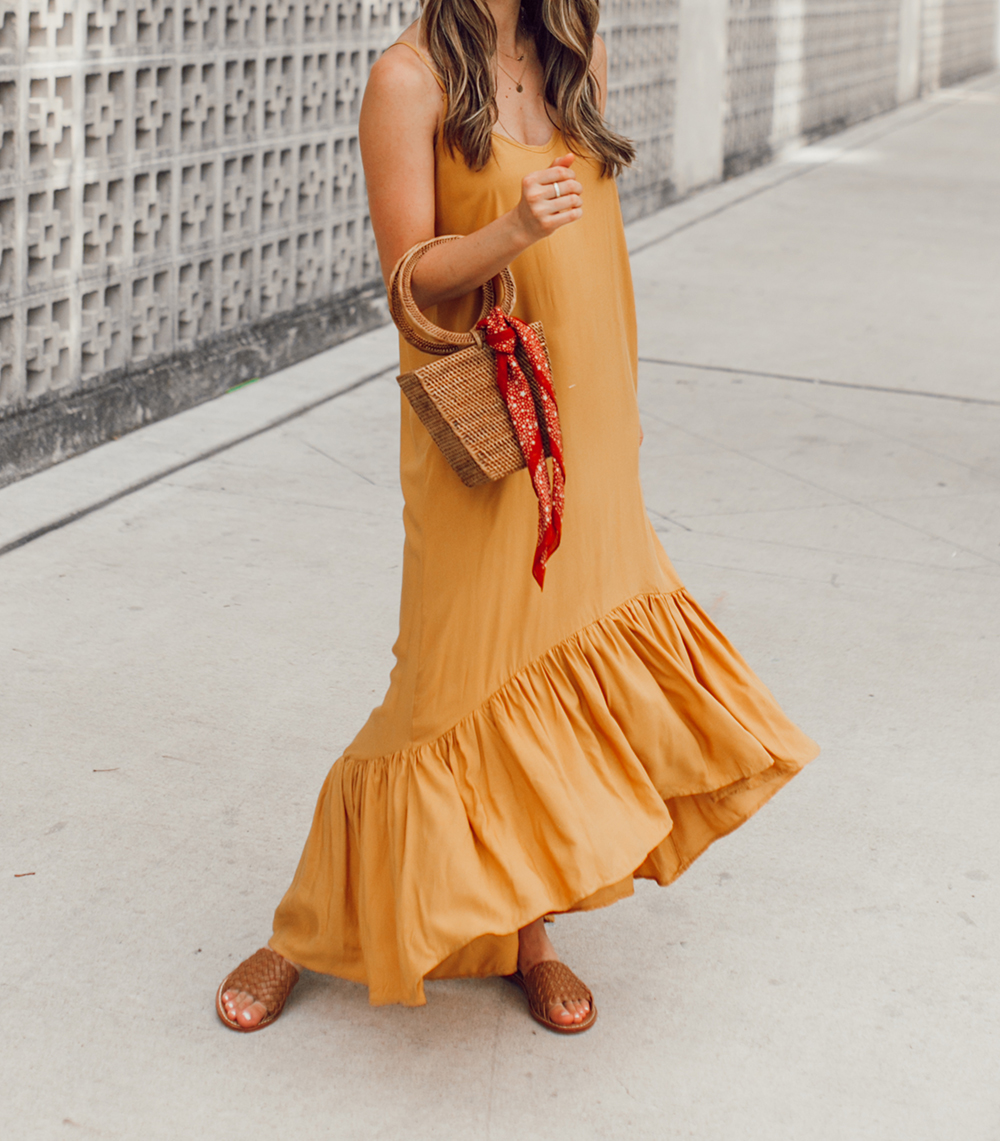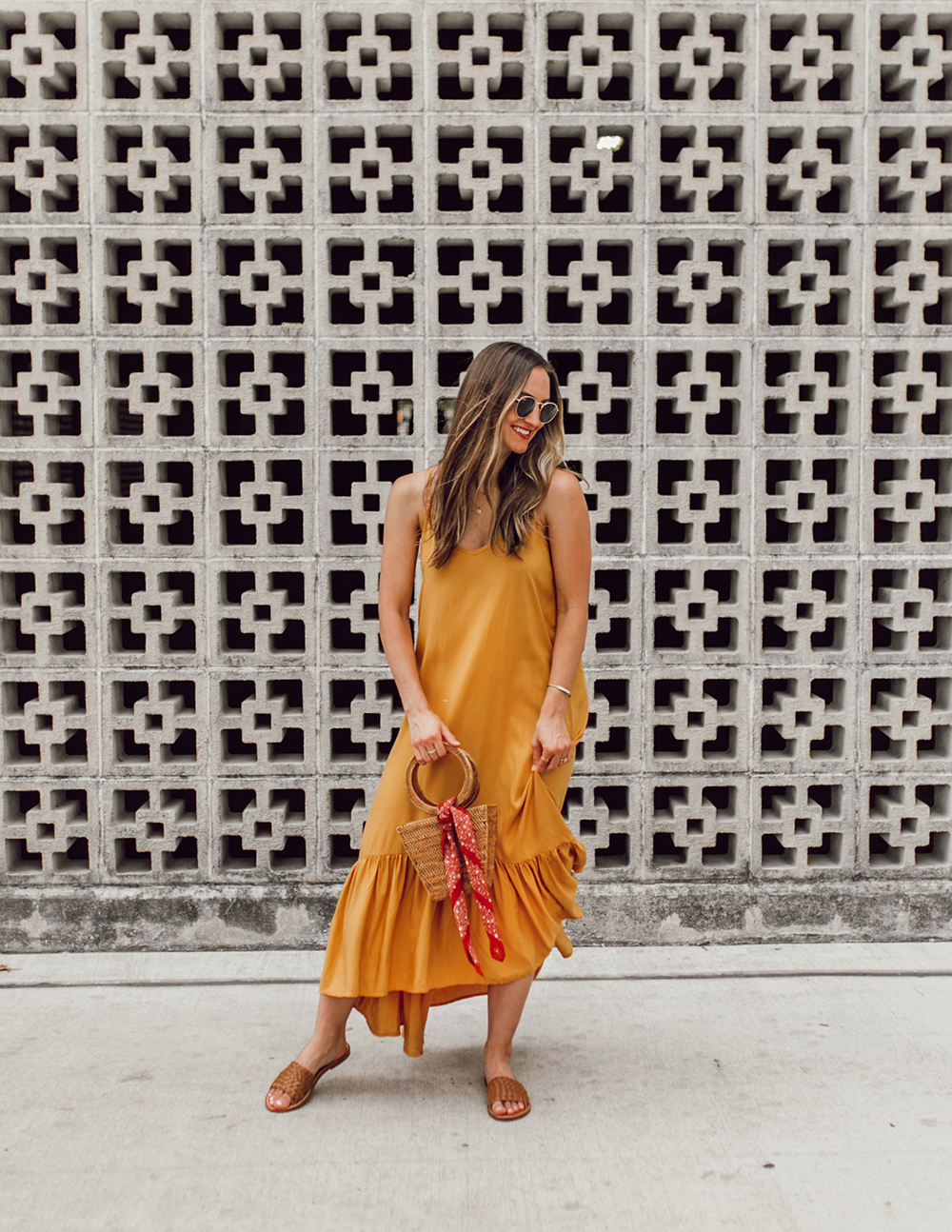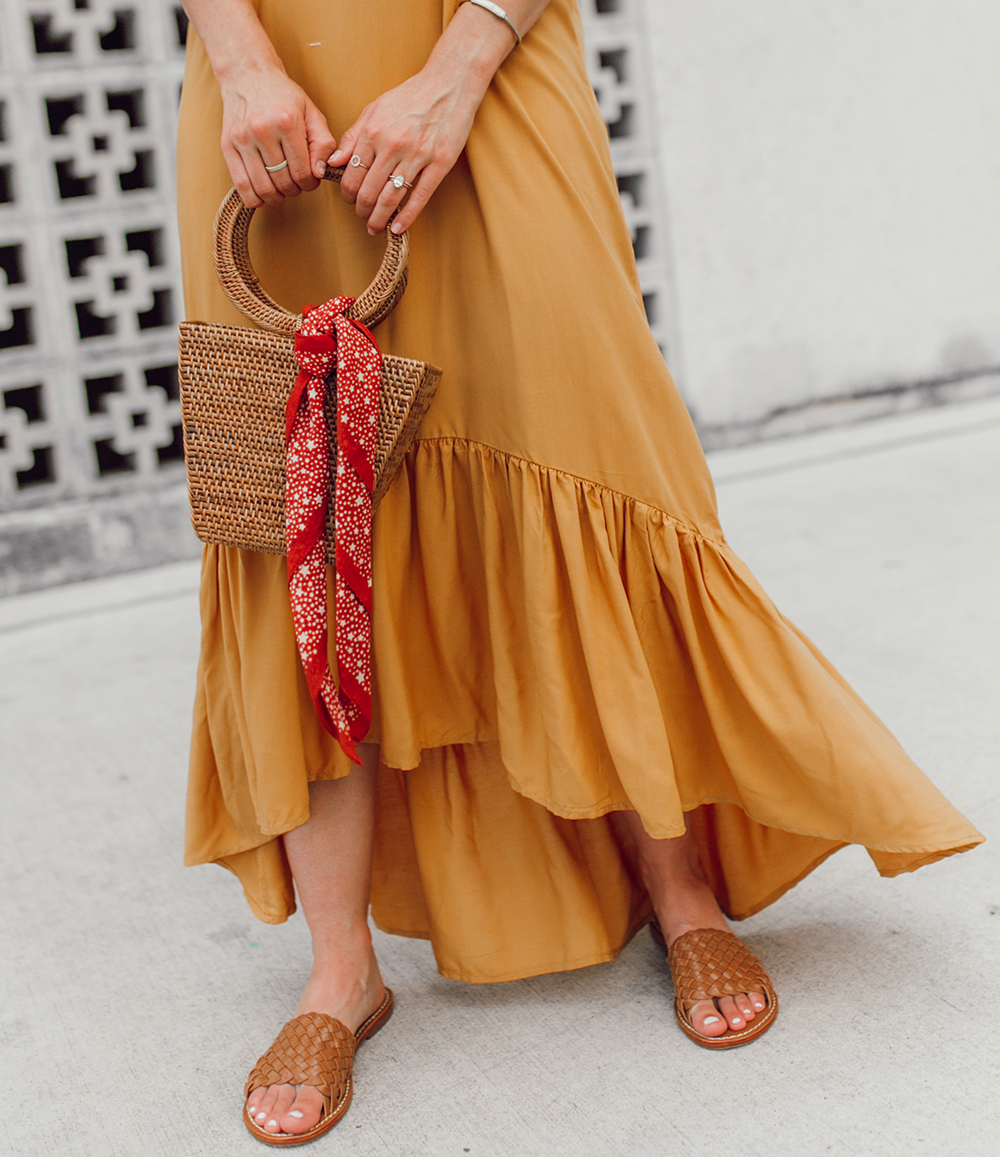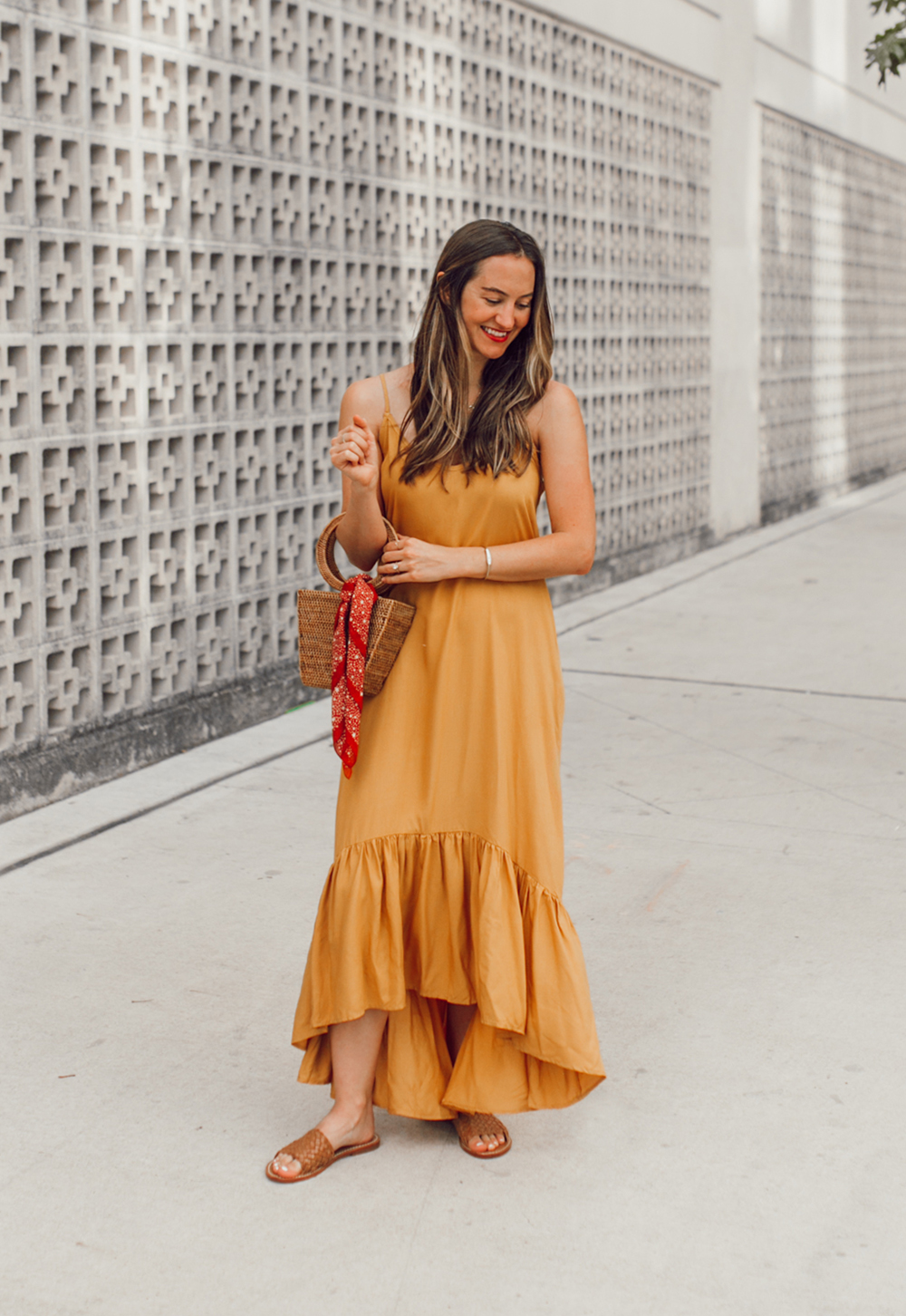 Though date nights are few and far between these days (…like, very far between haha), how fun is this dress for a day or evening date? It's ultra flowy, extremely flattering and I love the flirty bottom detail. You could dress it up with a long necklace and some wedges, too. I'm wearing a small and found this beauty at Walmart!! Y'all…they have THE cutest dresses right now…so many for under $30! I also scooped up this striped midi dress (darling with the buttons!) and my sister saw me wearing it and went and ordered one right away…needless to say, Walmart is nailing the latest trends and of course, you can't beat that price. The brand of this dress is Love Sadie and they've got so many fun pieces!
Another way to style this one as the temperatures cool down would be to layer a cozy sweater over the dress to make it look like a skirt + sweater combo, or you could rock an oversized cardigan with it, too. If your city is like Austin and maintains sauna heat, you could layer a soft tee shirt over the dress and tie a knot at the waist. One $27 dress, SO many outfit possibilities!
If you're loving the boho, prairie trend, definitely check out Walmart's round up of pieces that fit the trend here. SO many cute styles to choose from!
You can scope out more of my favorite budget friendly options below. PS. I am 5'6 for height reference and this maxi has adjustable straps, too. Love it so much! XO
dress – LOVE SADIE (wearing size small)
SHOP MORE BOHO/PRAIRIE TRENDS
A big thank you to Walmart for sponsoring this post! All opinions are my own.