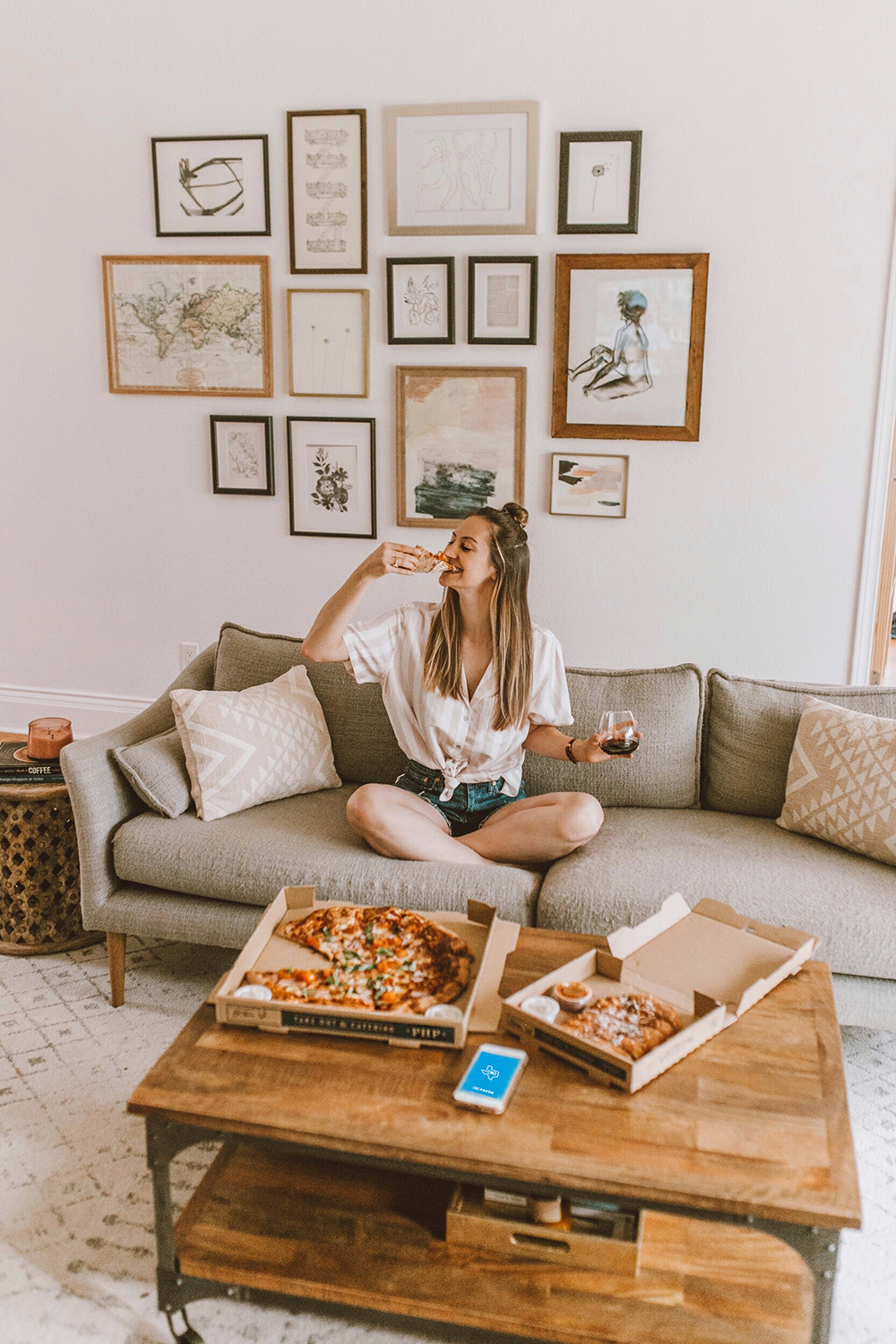 Things I love about living in 2019…(this is about to get very "first world" here)…oat milk, backup cameras, craft beer, DVR, Google Maps…to name a few. Another high up on the list is Favor – an app that allows food, beer & wine (!!) and grocery deliveries. Clearly, I am all about convenience over here, ha! But in all seriousness, I am SO excited about today's post because Blake and I use Favor ALL. THE. TIME. Like…I'm talkin' multiple times a week. Sometimes (okay, a lot of the time) at the end of a crazy busy day, the last thing we want to do is prepare a meal and do dishes. This is when one of us whips out the Favor app and orders a meal that'll bring instant joy (umm…pizza does that, 100%). We press that orange Order Favor button in the app and an instant sigh of relief washes over. Before we know it, we're catching up on The Bachelor, walking Jude to sleep and digging into our favorite pizza – without ever leaving the house (…and in our comfy loungewear, ha!).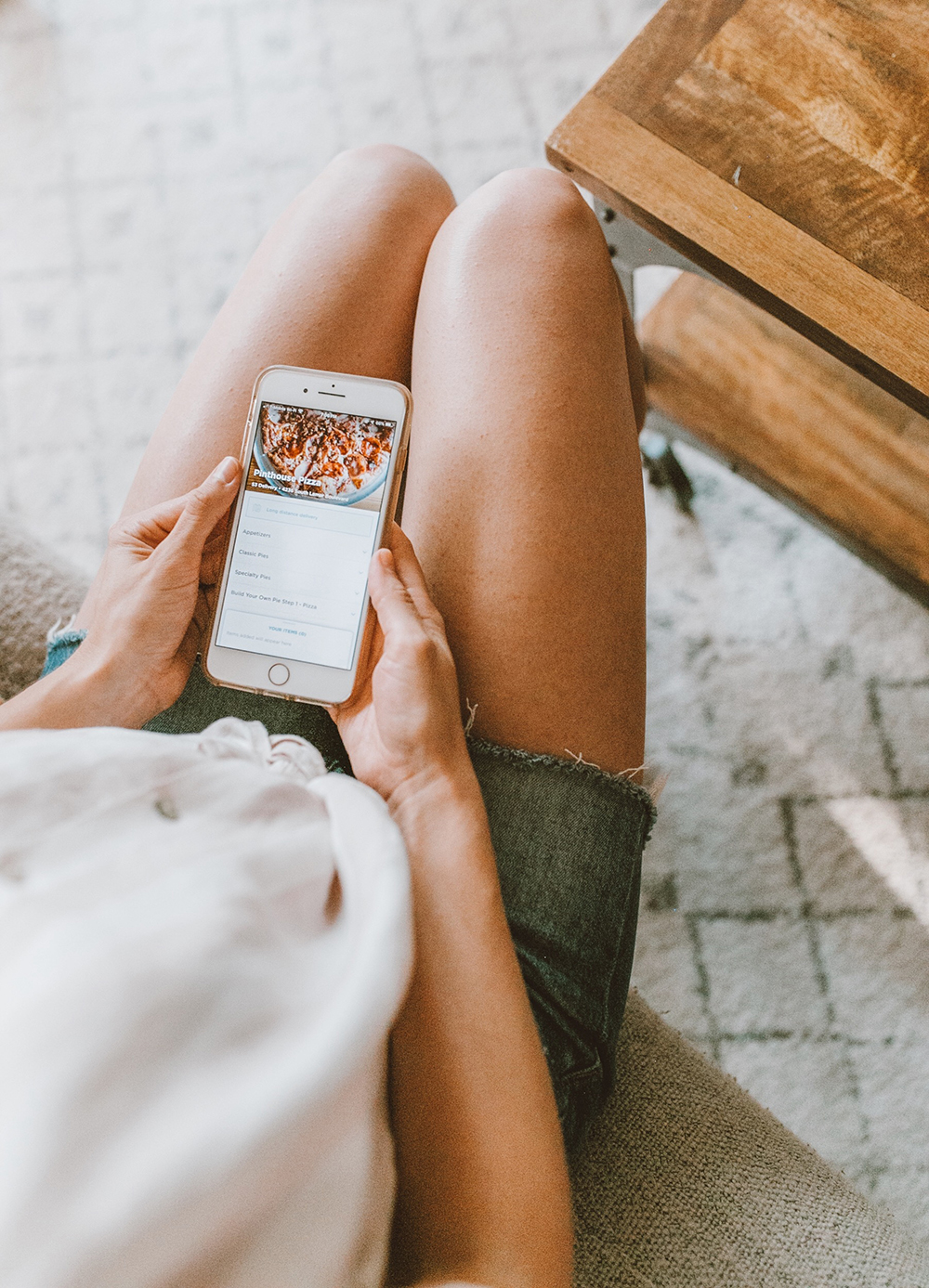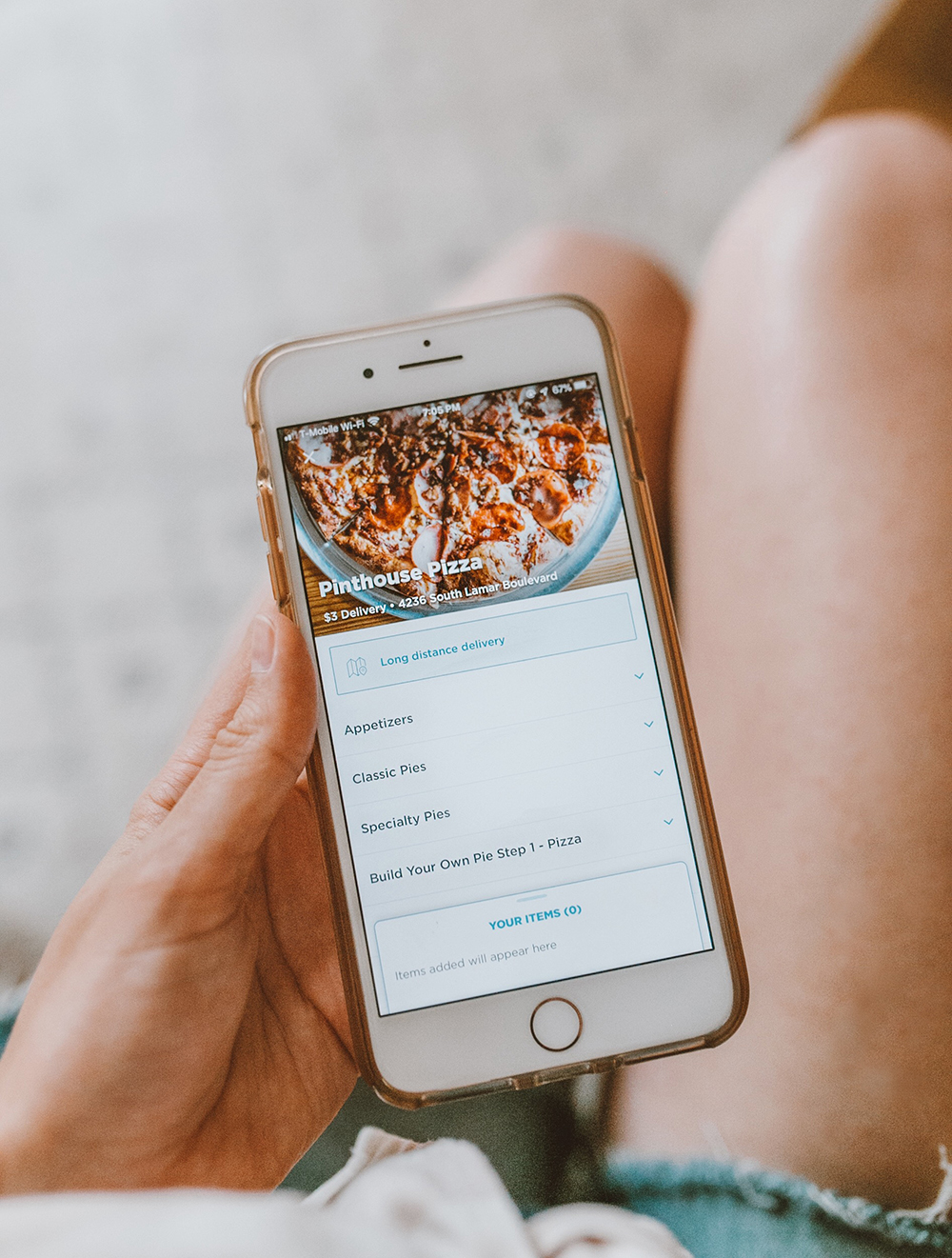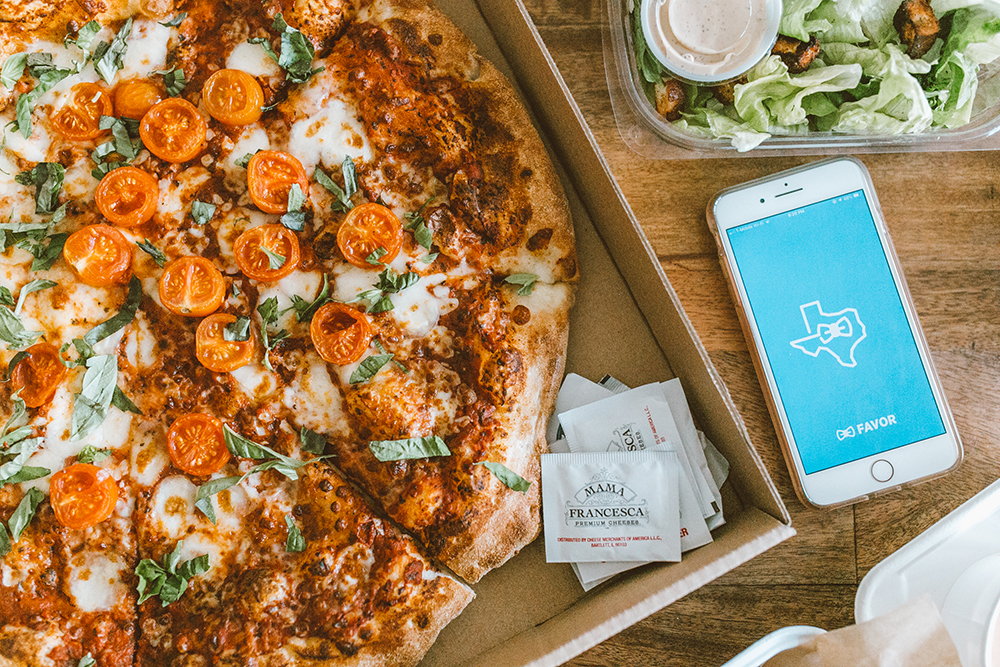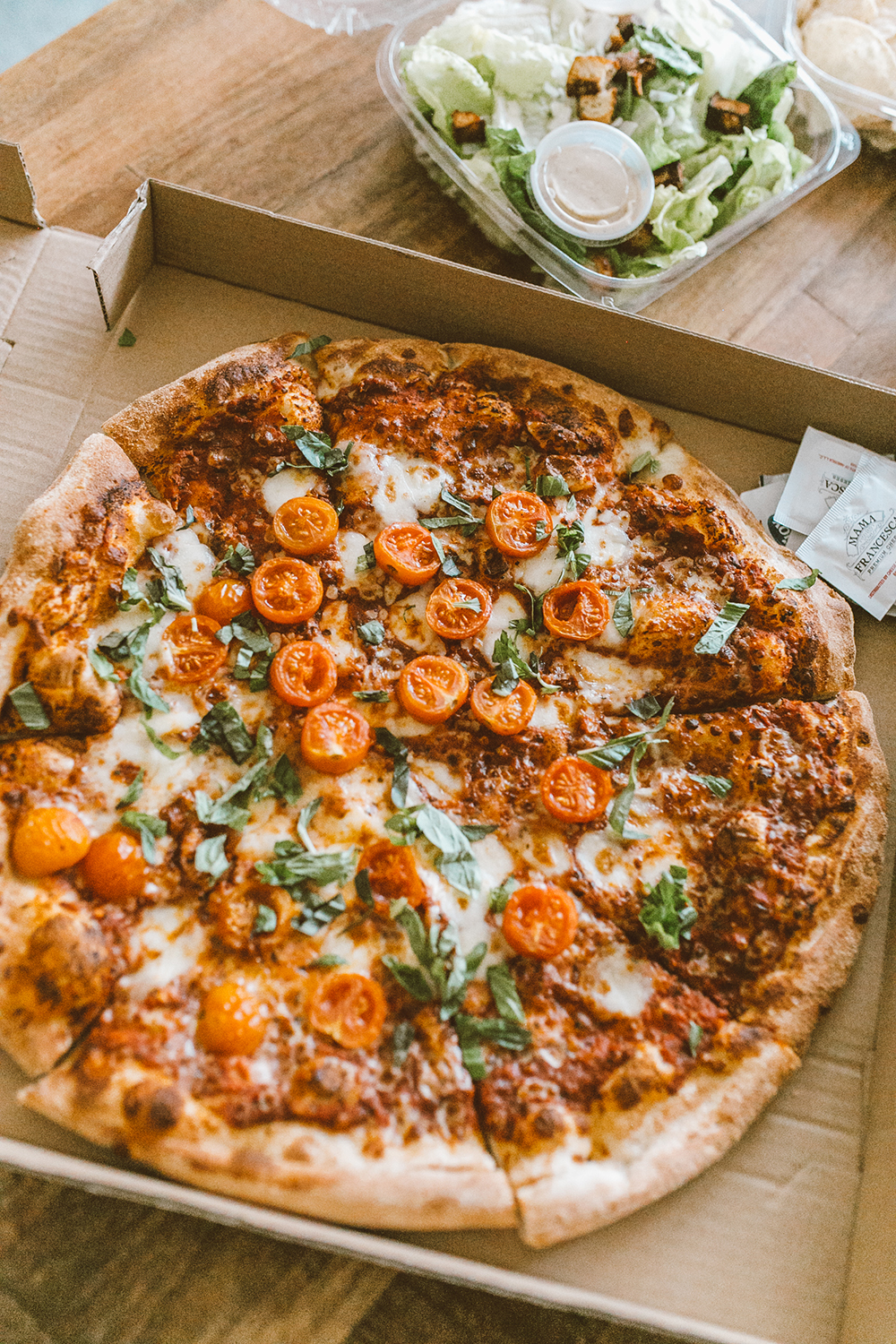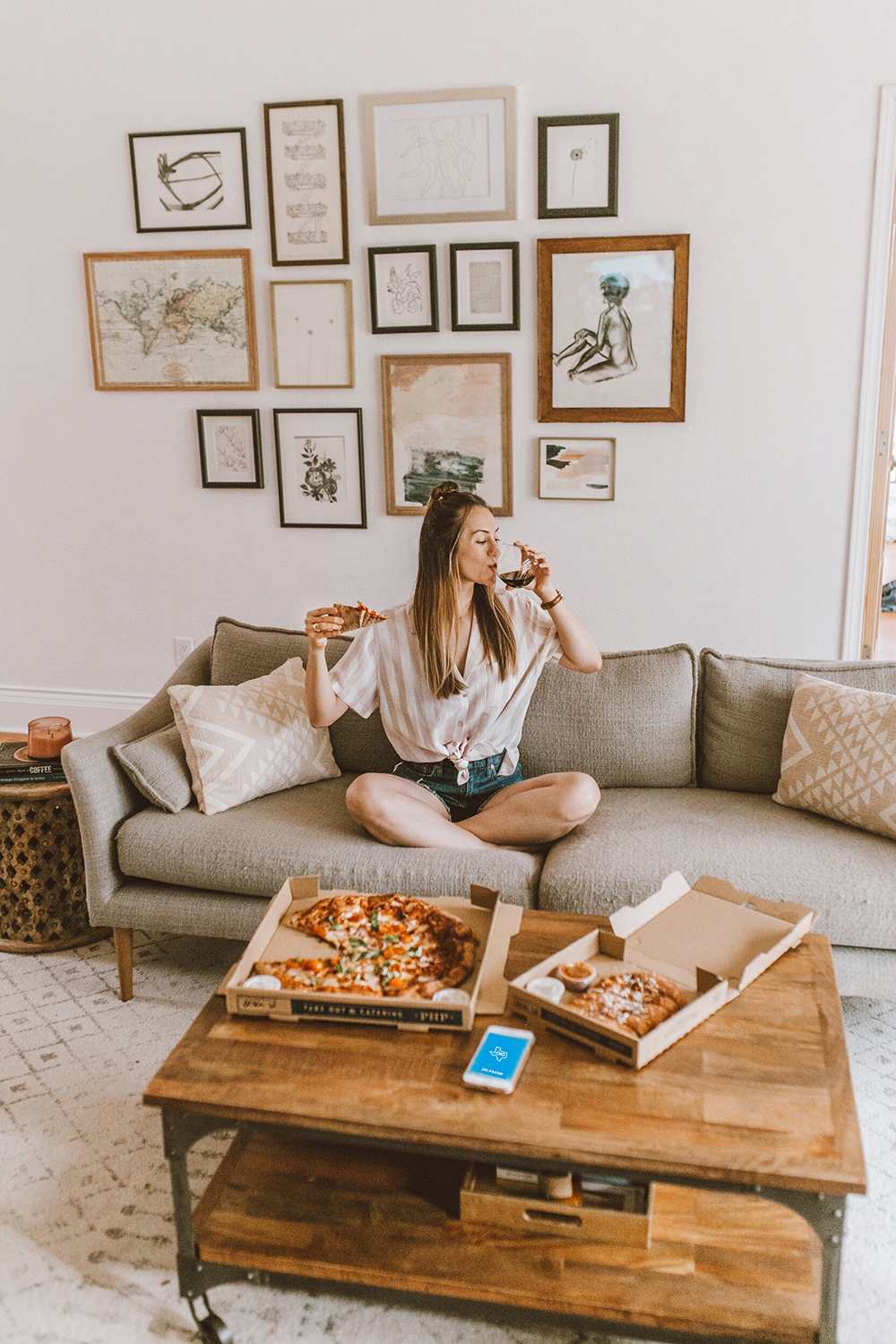 For those unfamiliar, Favor is an on-demand delivery company (based in Austin, yay!). It's now available in over 50 cities and offers an "Anything Delivered" aspect – which means all types of errands including grabbing your favorite meal and having it delivered to just in time for dinner, scooping up medicine at the drug store, grabbing those essentials you may have forgotten on your last Target run, specialty items from home improvement stores, clothing or other items from retail stores, etc. How amazing is that? As a new mom, I give this app ten thumbs up because anything that makes life easier right now is a win in my book!
When it comes to meals – you can search whatever food you're in the mood for like "American," "healthy," and so on – and once you select your restaurant of choice, their menu comes up and you simply tap the items to add to your cart. Within an hour of hitting that orange Order Favor button, dinner (or a bottle of cabernet…or a pack of diapers) will be at your doorstep!
When Jude was a newborn and Blake went back to work, I would order my favorite coffee drinks through Favor. I'd answer the door looking half dead (hello, zombie…er… "mombie" life!) and soak up every single sip of that oat milk latte from my favorite coffeehouse – that I couldn't quite make the journey to yet. Not going to lie, having that bit of familiarity in the comfort of my own home was amazing. I am so thankful that Favor was around during that hazy newborn phase and I'm still grateful for their services come Friday night when our fridge is empty and nothing sounds better than pajamas and our favorite restaurant meals!
If you're a fan of convenience and looking for a delivery service that's been a favorite in our home for a long time, I highly recommend downloading Favor in the app store! If you're a new Favor user, you can get free deliveries for the first month! We truly LOVE Favor!!
Ps. The food in this post is from Pinthouse Pizza…which we order once a week, haha! Pro tip: if you're in Austin and order from Pinthouse, definitely get the brownie + Mexican Vanilla ice cream for dessert…it's SO GOOD.

A big thank you to Favor for sponsoring this post! All opinions are my own.