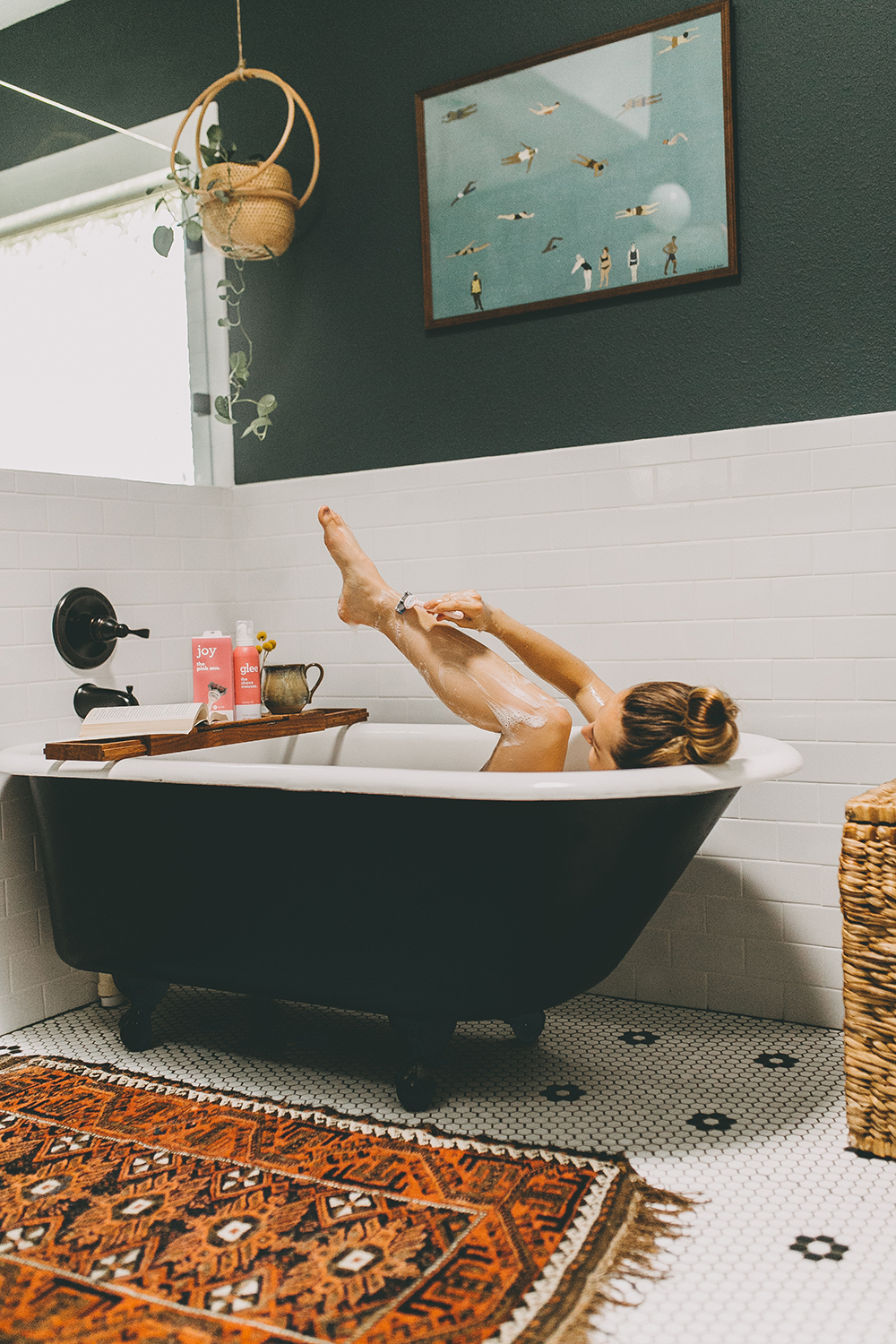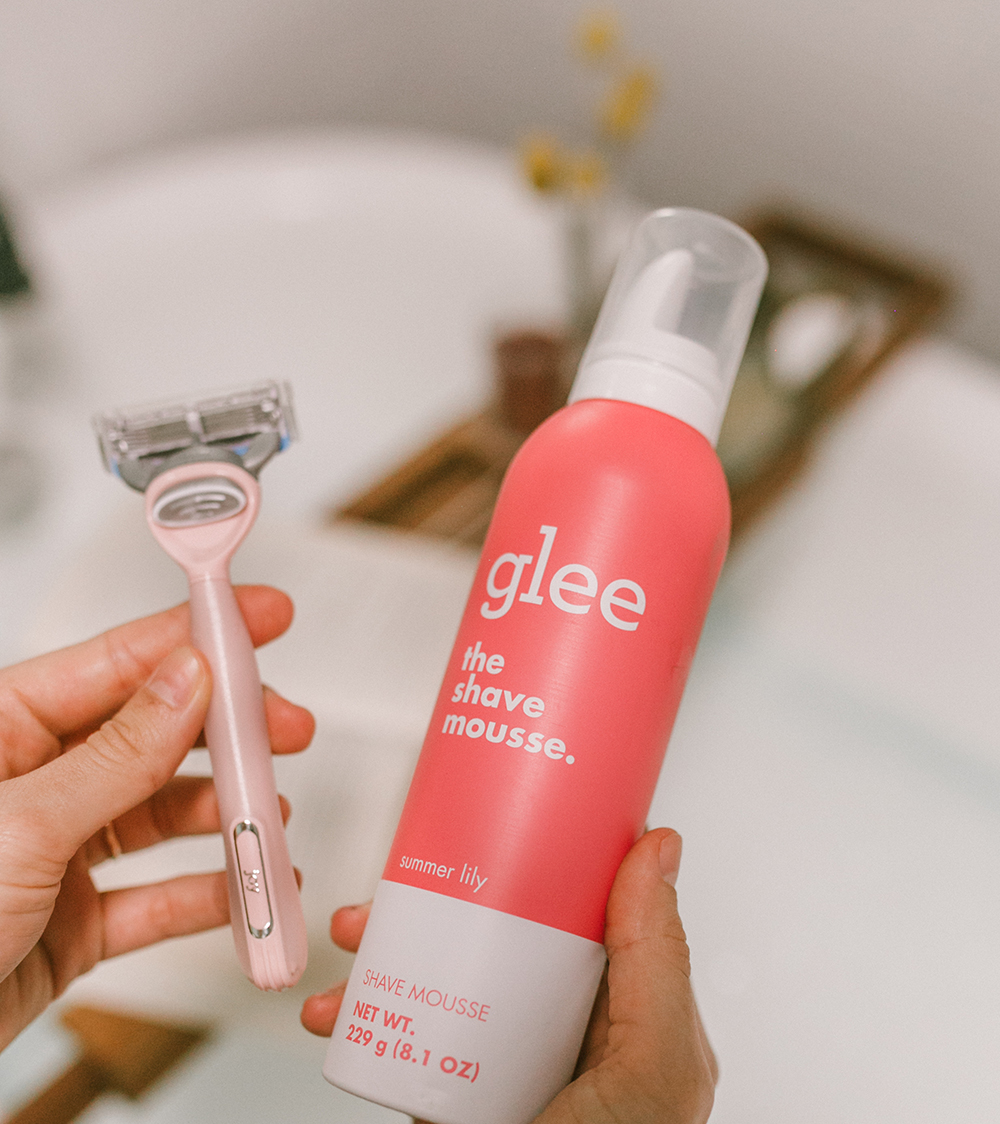 Among about 1000 other things I took for granted before becoming a mom (…like leisurely eating lunch, finishing an entire episode of anything, singing at the top of my lungs in the car, sleeping through the night, finishing my coffee while it's still hot…fellow mamas, ya feel me?), the one thing that might just top this list is…drumroll…shaving my legs! Not going to lie, on the days when I have enough extra minutes to shave, it's a VERY big deal and I've basically conquered the world. I feel like a new woman when I step out of the shower with silky smooth legs…even if those legs are going right back into activewear as I walk my little man to sleep around the house, ha! (But hey, successfully getting Jude to nap is a major WIN in my day!). When it comes to spending time on myself and going the extra "self care" mile, there's one razor and shaving cream brand I'm reaching for…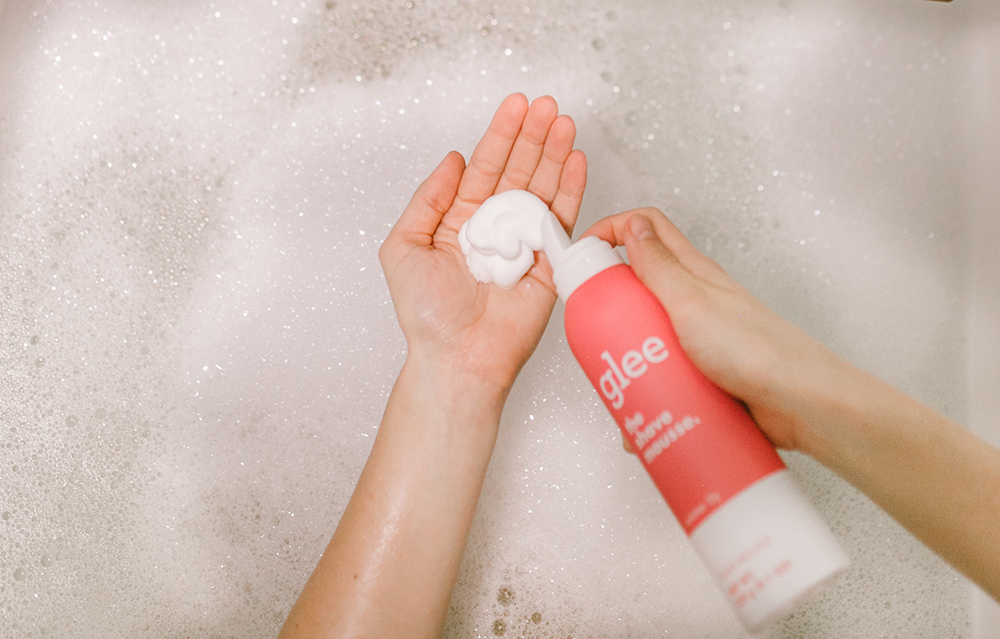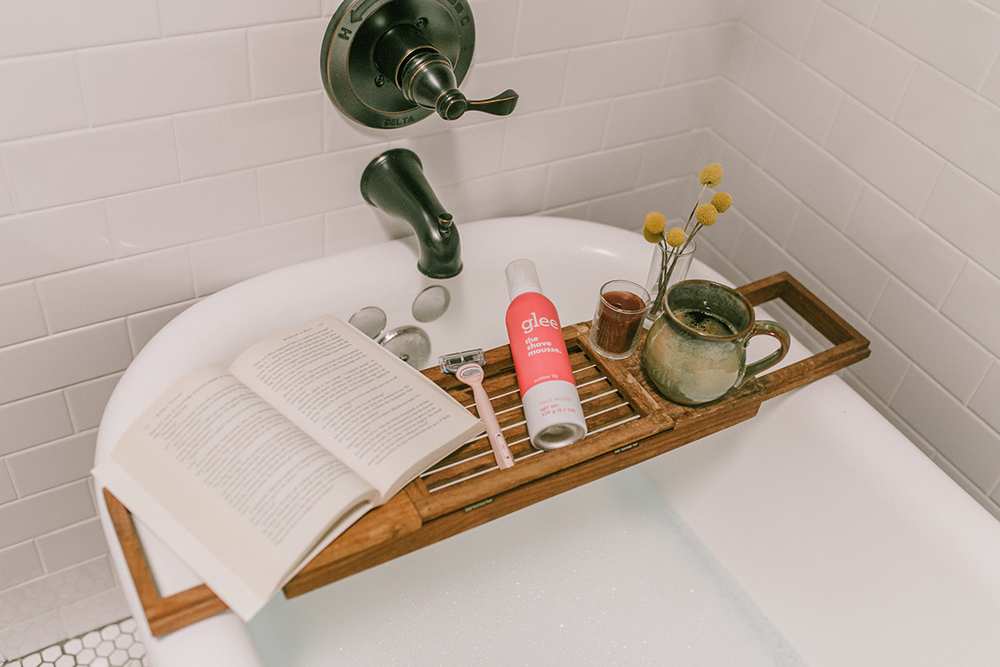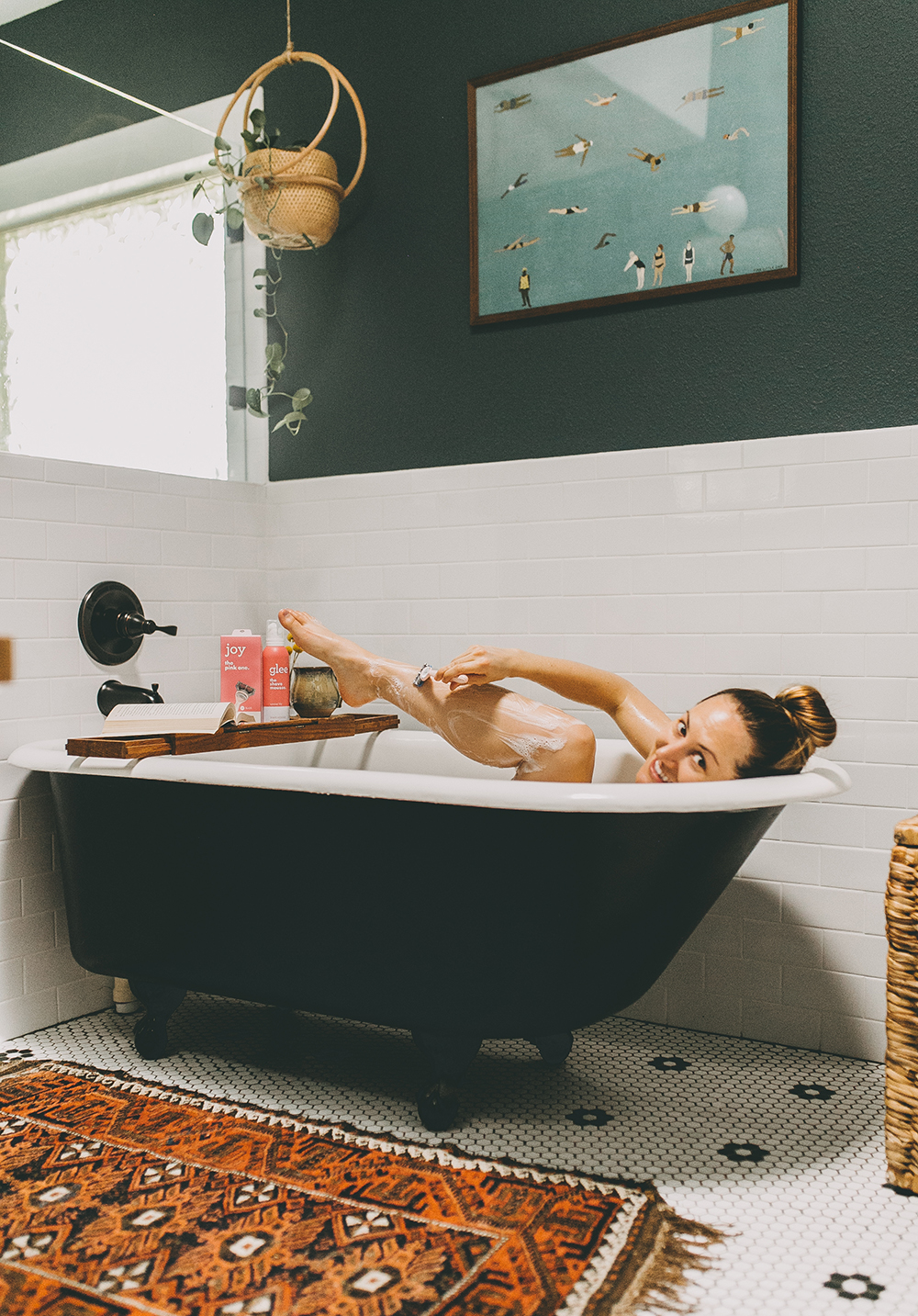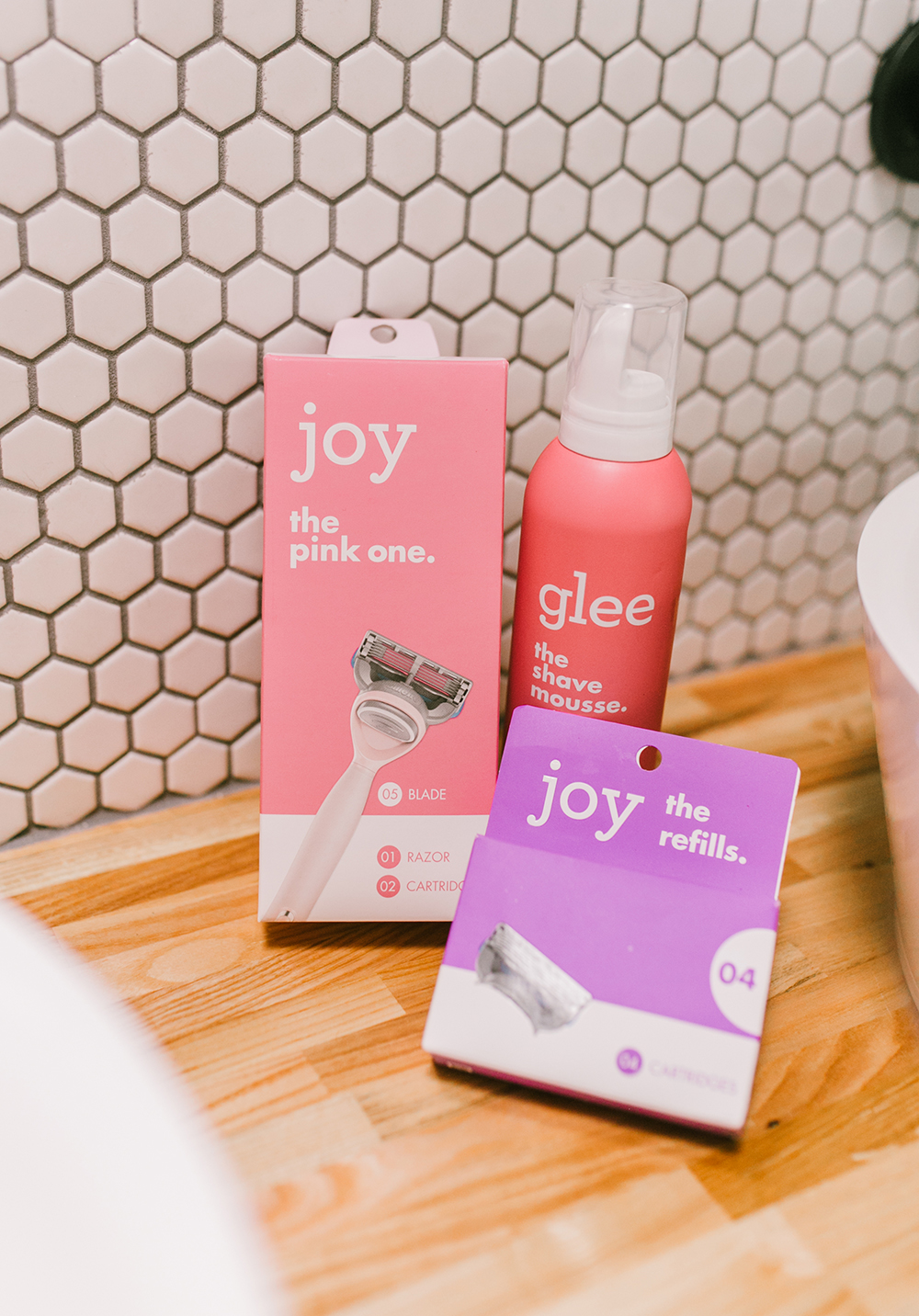 When Blake gets home from work, that's when I get an hour to myself and I have a few options: answer emails, exercise or take a bath. By the time 7pm rolls around, I'm an actual zombie-human and nothing sounds more incredible than a super hot bubble bath and a good book (…and the door closed so I can lather up in silence)…thus, it's the obvious choice. Lately I've been more thoughtful about what's on my bathtub tray and after discovering joy Razors and pairing with glee Shave Mousse, I'm realizing you don't have to break the bank to enjoy amazing products. For one, the packaging is seriously adorable and the copywriting totally sucked me in (…it's so fun and relatable! "joy is a new women's razor that won't change the world, but it will change your leg hair situation. So if you do decide to change the world… you can do it with less leg hair." Ha! You can read more of the product details here), and two, with five blades, a no slip-grip and lubrastrip, you're in for an ultra smooth shave. I should also mention that the Summer Lilly Shave Mousse smells SO GOOD and makes your skin feel buttery soft. Yes, please!
joy Razor and glee Shave Cream is exclusively available at Walmart. I love that Walmart carries so many awesome brands, and this one in particular is one I'll continue to buy. While scooping up these products, I also grabbed a jade roller (y'all…$9!! I've seen these run up to $45 at other retailers) and a bottle of wine…because, well, #selfcare. 😉
With minimal free time, I'm digging that joy razors work wonders and make me feel great – quick! Smooth skin and onward to tackling my day! You can shop more joy products below (love the fun colors!!).
A big thank you to Walmart for sponsoring this post! All opinions are my own.