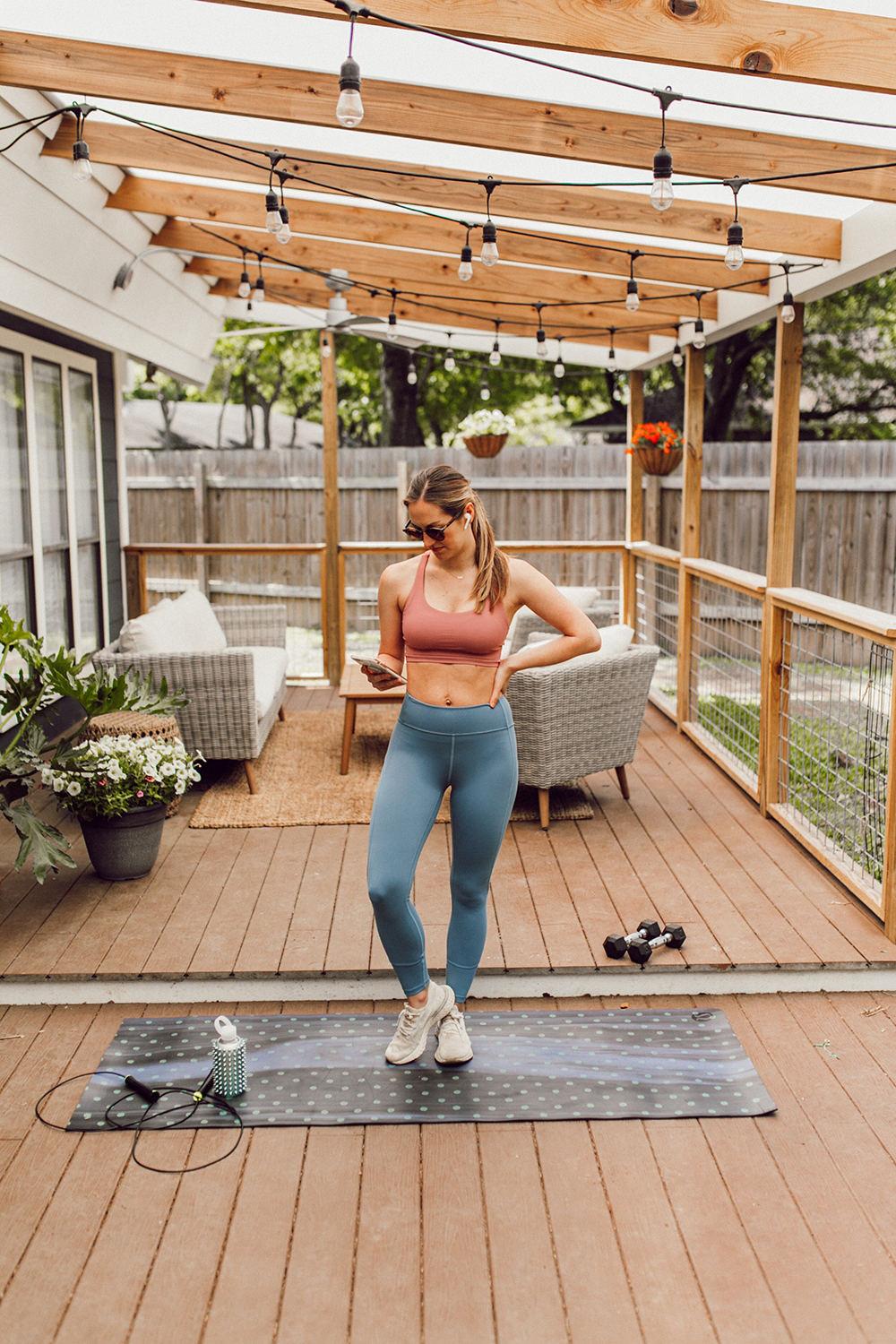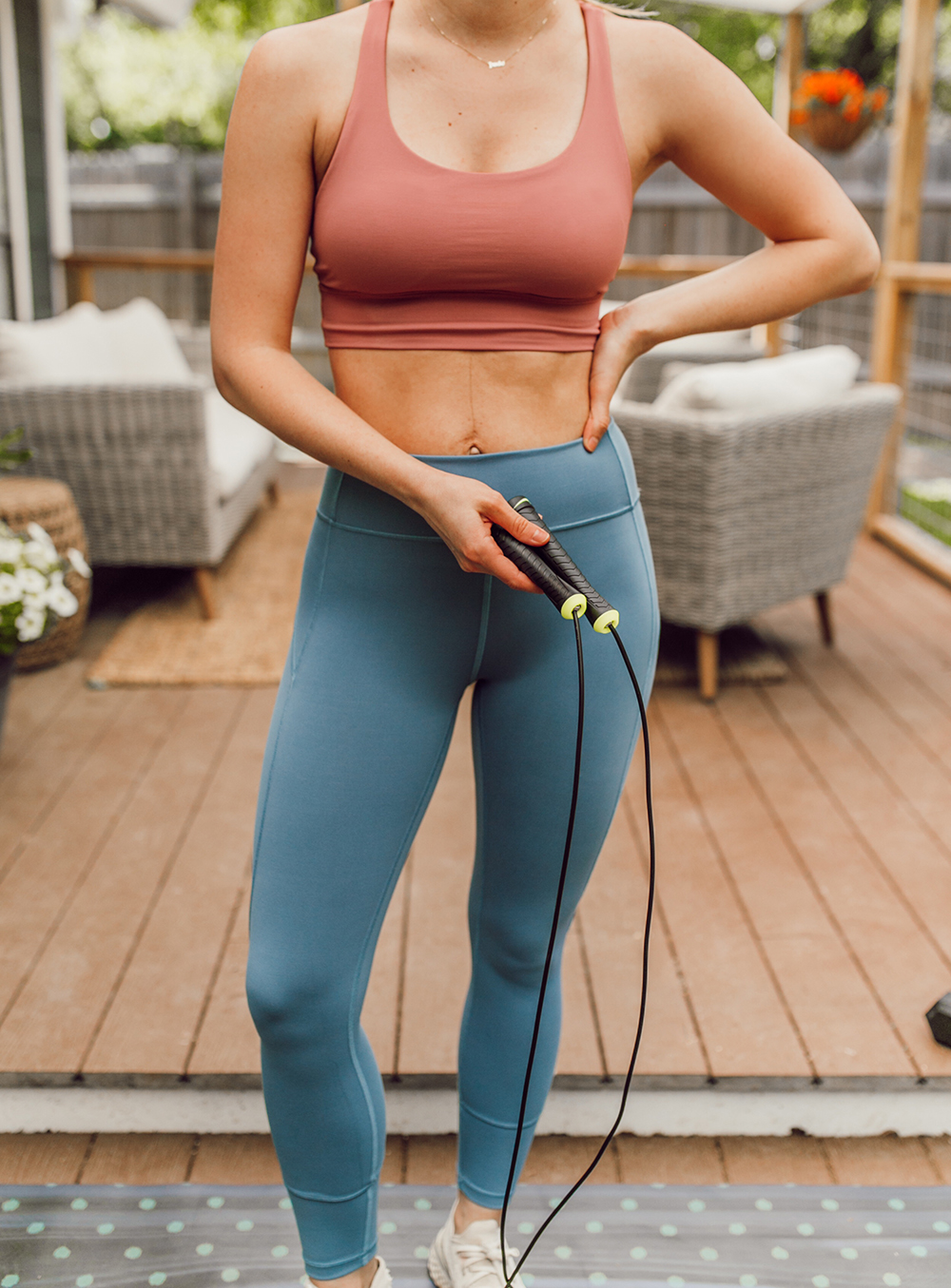 Ohh ya know, pregnancy just casually did a number on my body for nine months…and nine weeks postpartum, I am finally in a solid fitness routine to get my body back in shape! I realize I may never look like I used to pre-baby, but I am certainly ready to feel strong and build my endurance back up again. I put on 40lbs while pregnant with Jude and I've still got about 10lbs to shed to get back to my pre-pregnancy weight (…and to fit into my old wardrobe haha! …Let's be honest, that's a major motivator right there…!). Our postpartum bodies are pretty fragile, so I've slowly been getting into my fitness rhythm – here's what I'm doing (…and what I'm wearing, too!)…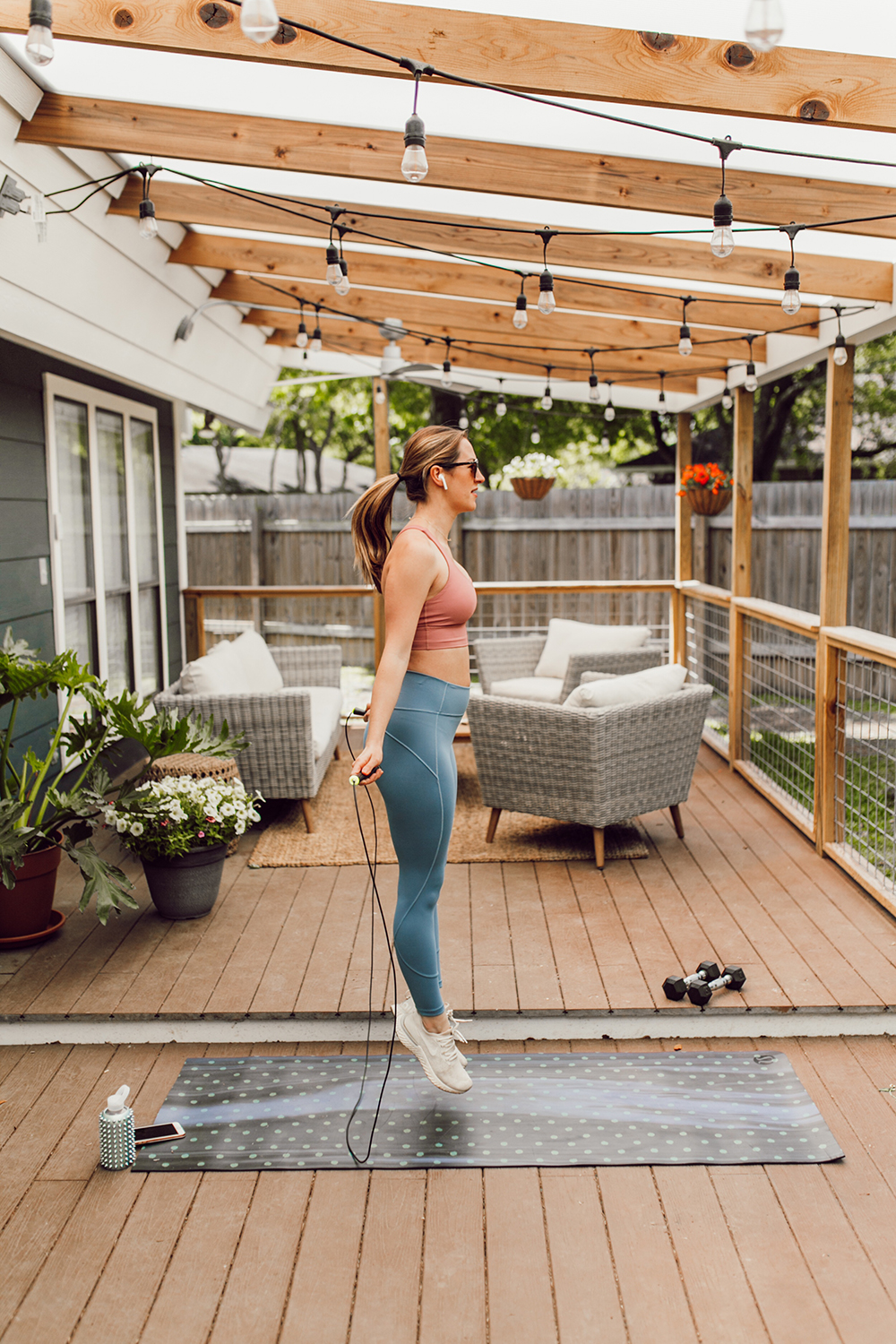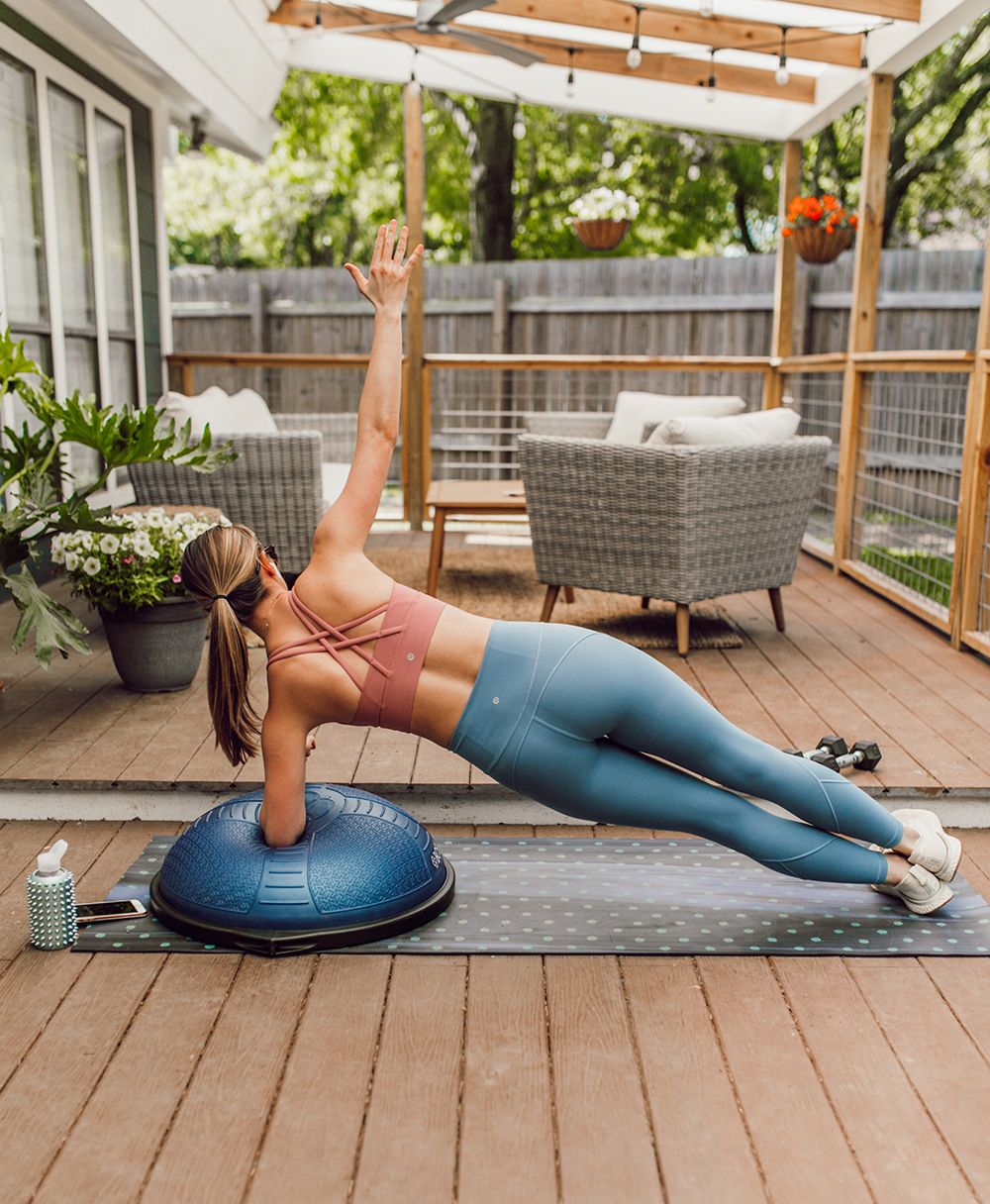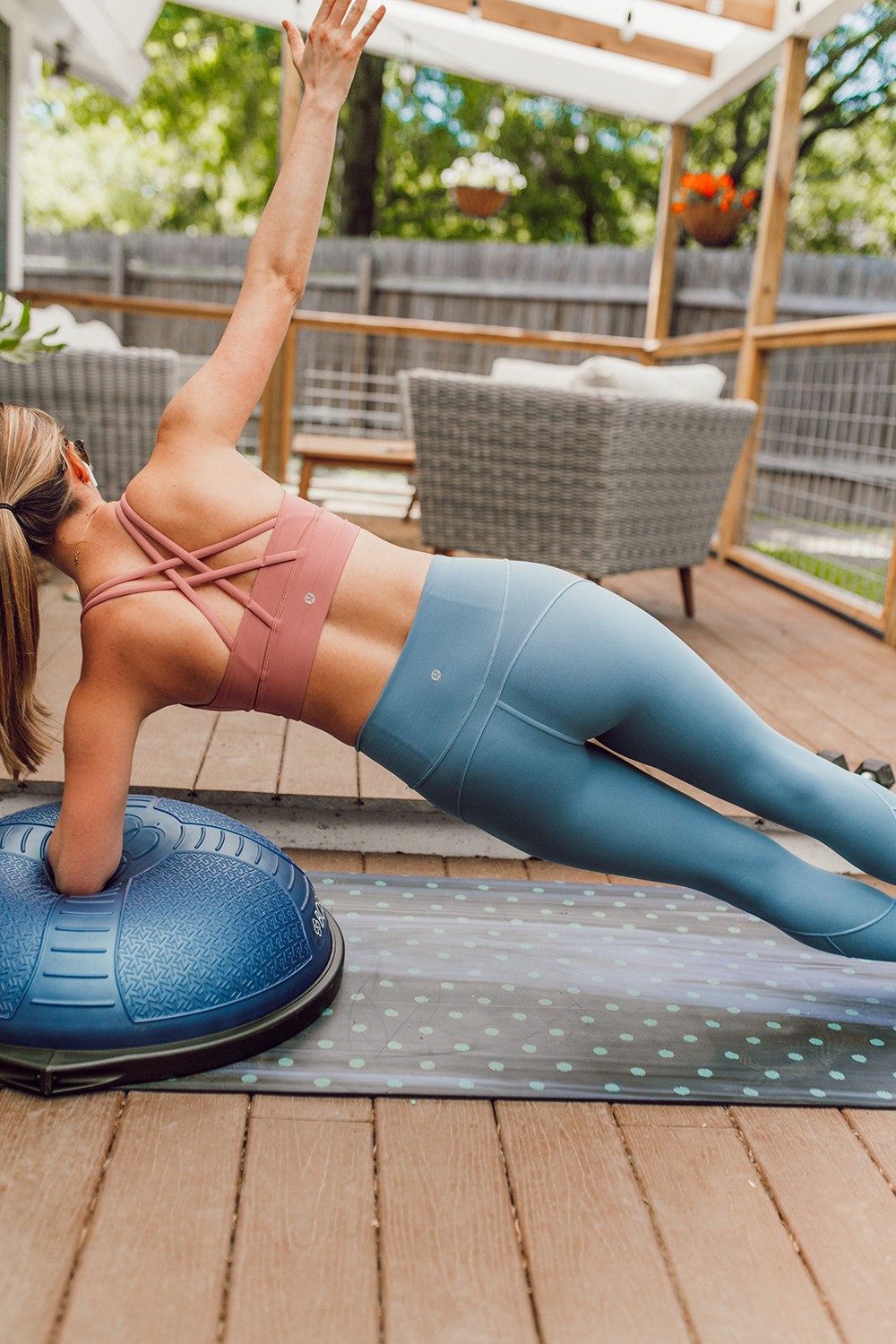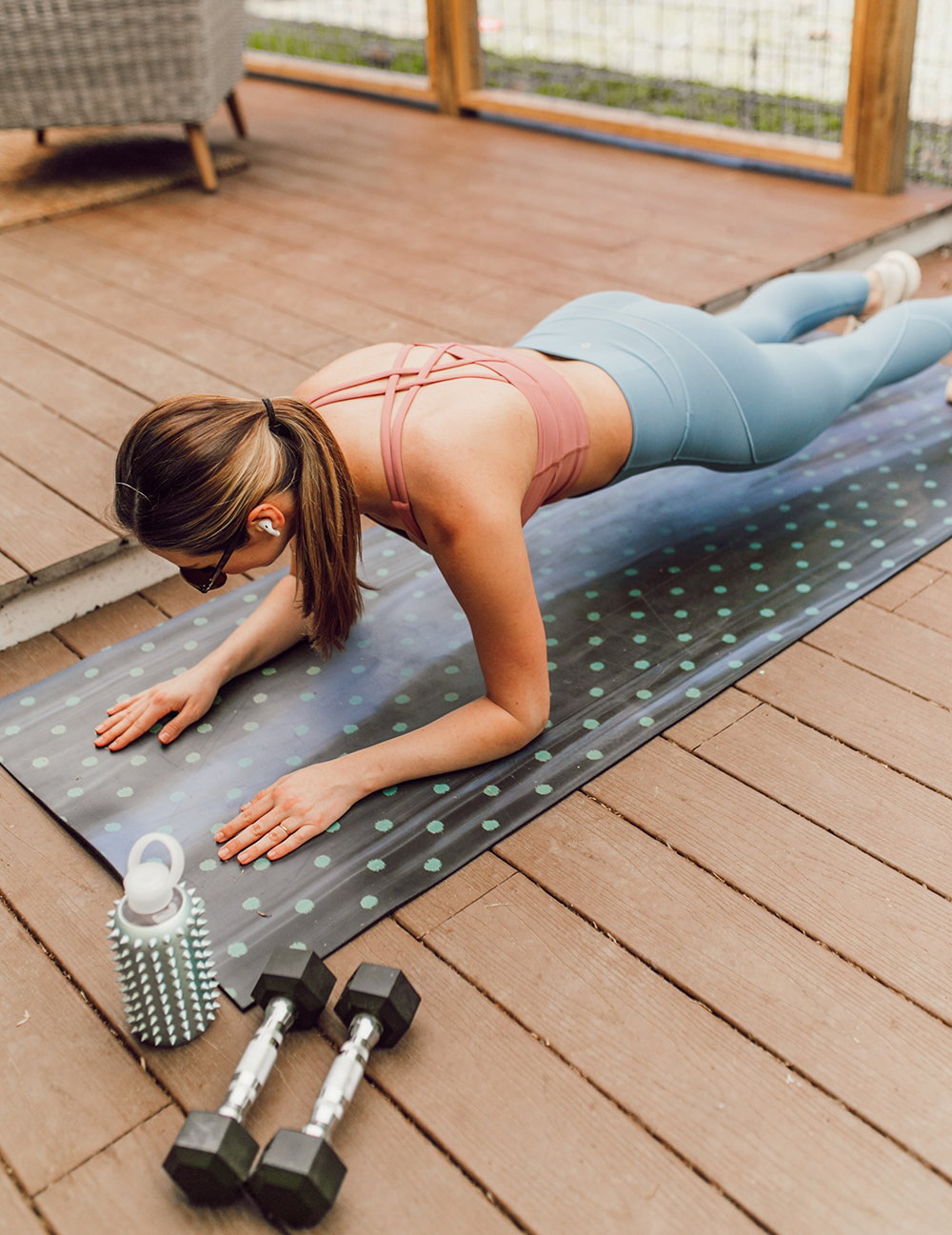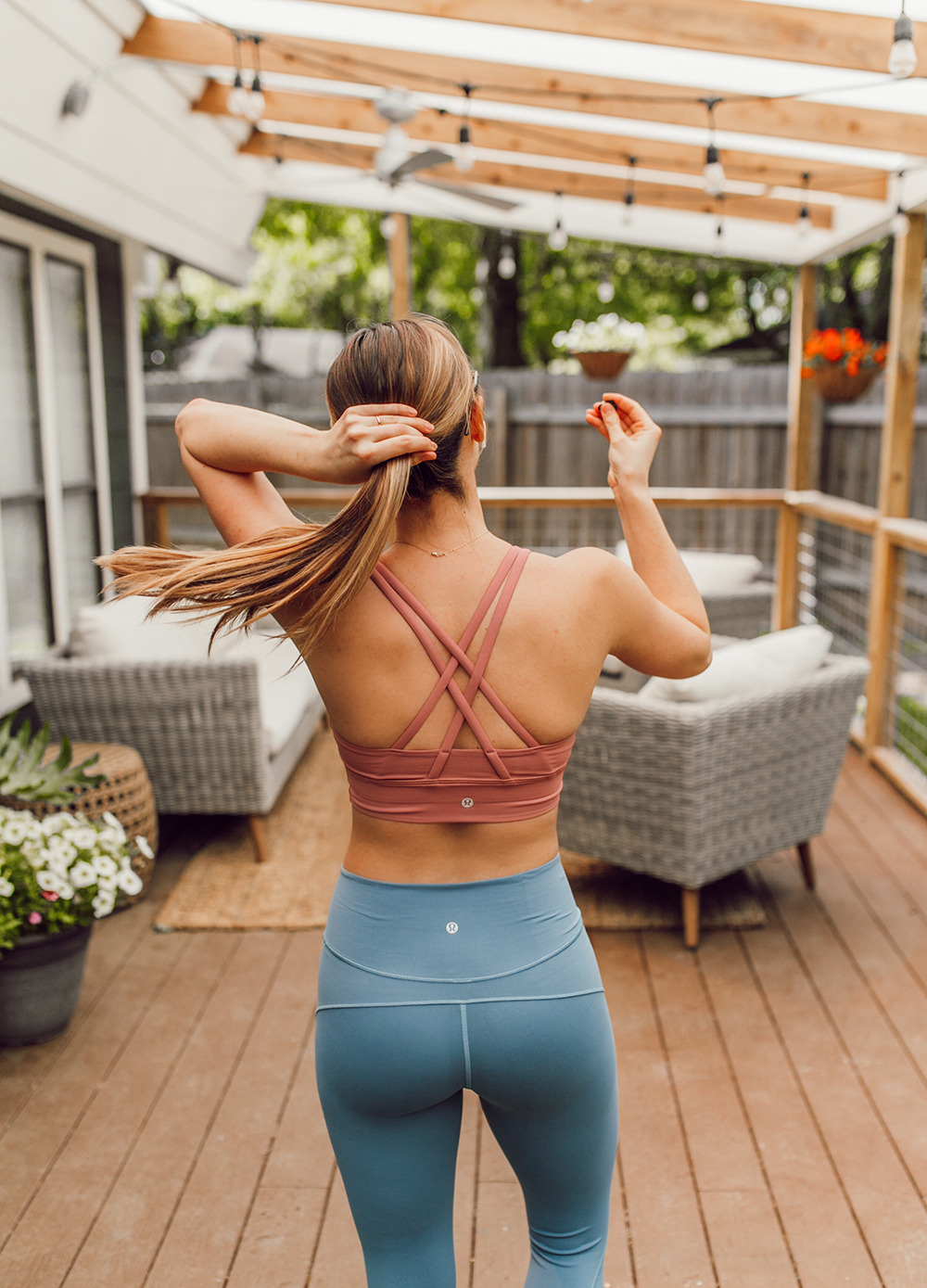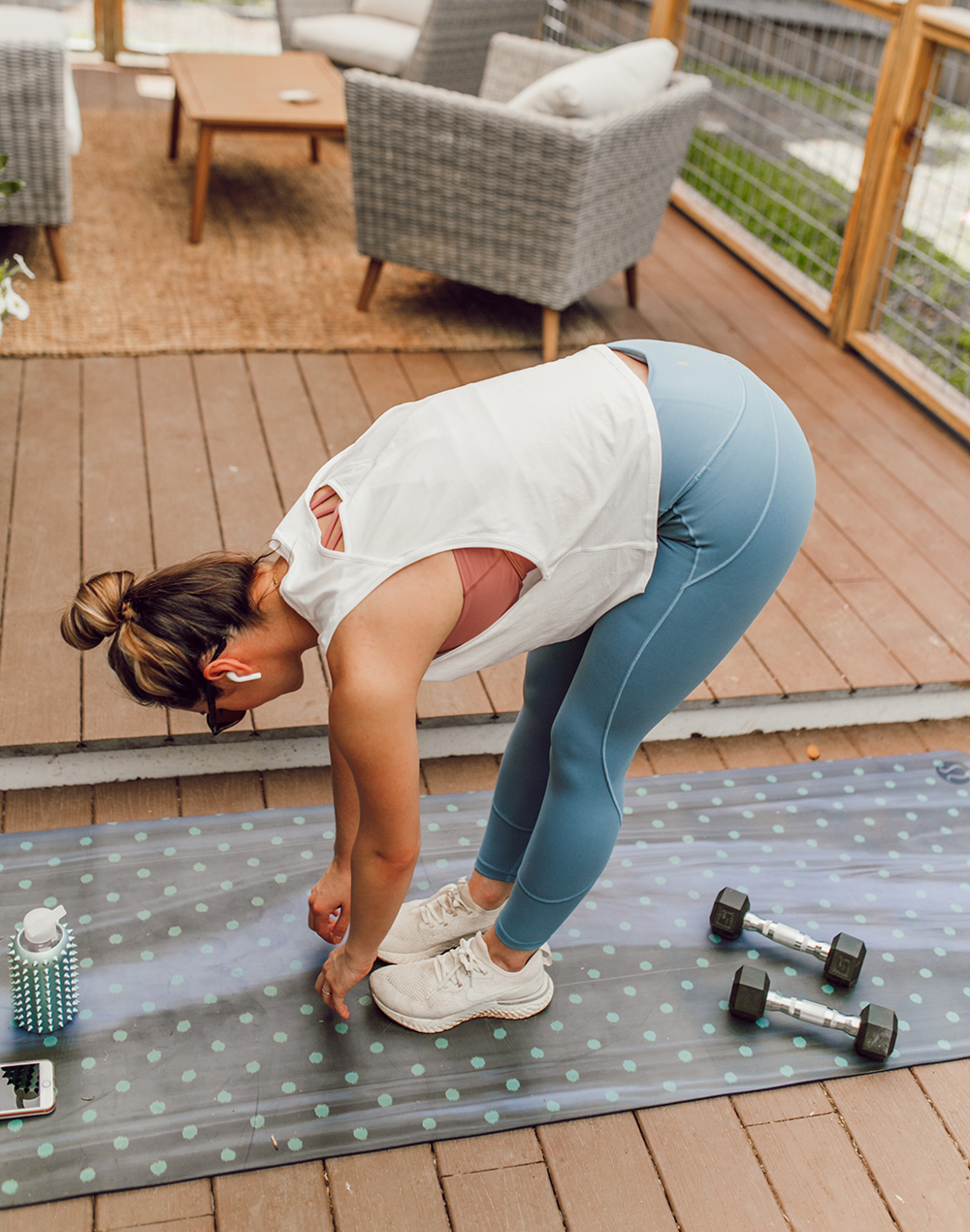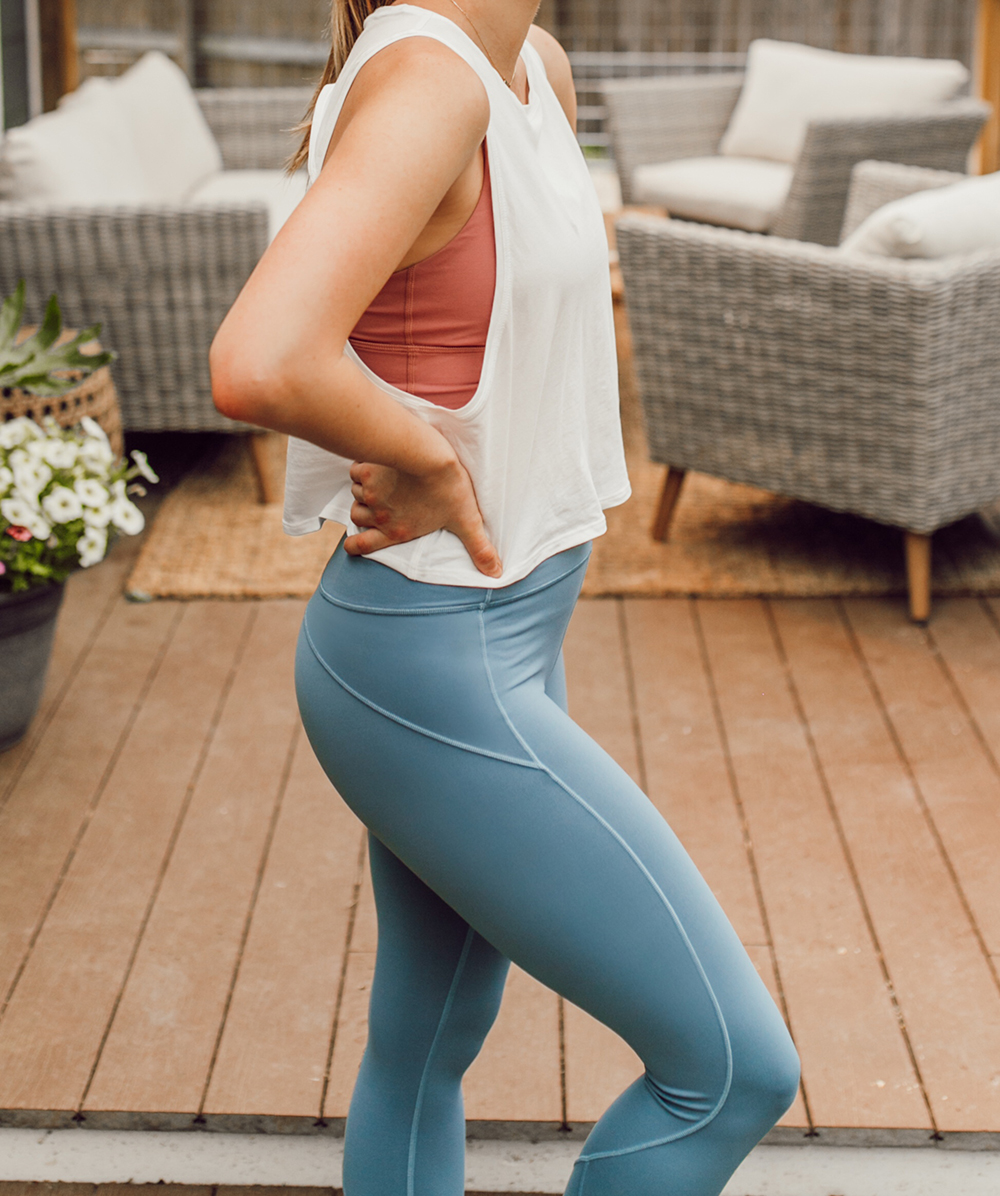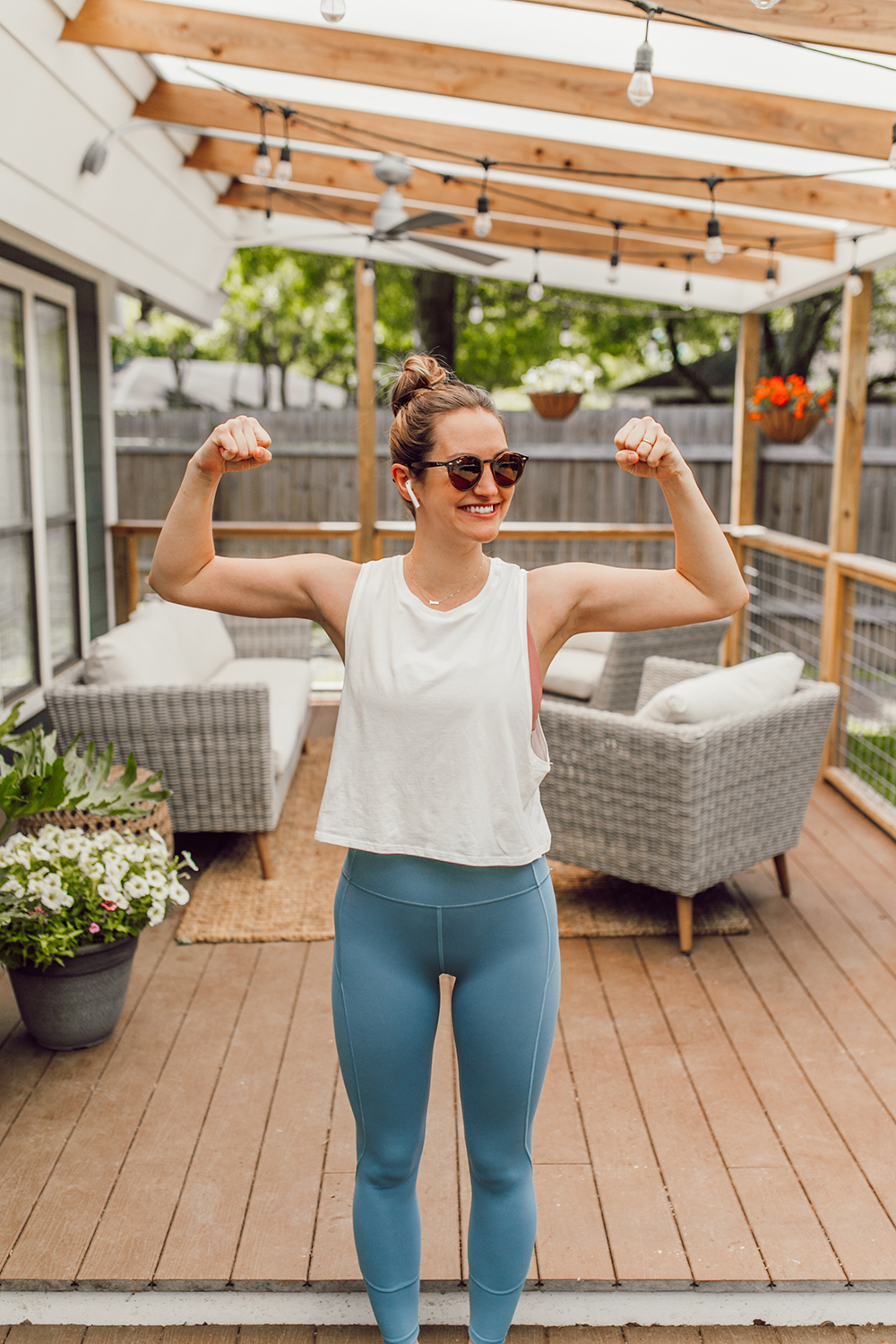 At my six week postpartum OB appointment, I was given the green light to start working out. I was SO ready to move again that just hours after my appointment I went on my first run…and it was the strangest feeling ever, ha! I felt quite jiggly all over and even lifting myself off the ground felt pretty tough. Throughout my pregnancy I went on a daily walk, but running post-baby feels VERY different…not going to sugarcoat things…it's hard! For the past three weeks I've been going on a three mile run once a week and it's definitely getting easier and I'm feeling lighter on my feet.
In addition to running, I am doing the Kayla Itsines SWEAT resistance training workouts three times per week. They're 28-40 minute workouts you can do from home via an app, so it's perfect for a busy mama (…especially one with a baby who takes very short naps!). I'm doing the 12 week beginner program and so far it's totally kicking my butt! With spring weather in full swing, it's been SO wonderful to get outside and do these workouts on our patio. A friend of mine does the SWEAT workouts daily (god bless her…that's intense!) and her body is totally killer because of it. Very inspiring and major endurance goals, that's for sure!
Given that I'm taking my time to get back in shape (…seriously, new moms need no more added pressure!) and enjoying my new exercise routine, it's been really fun to find fitness gear that's 1. super cute and 2. suitable for resistance training and high intensity workouts. I'm a size up from my pre-baby workout clothes and lemme tell ya, putting on a tight workout outfit that's too small doesn't make anyone feel good, ha! Thus, I've scooped up a few new pieces that are bright and cheery, and more importantly, they fit and make me FEEL amazing! I've loved lululemon for years and was so excited to partner for this post. Their workout gear is such great quality and really does make you feel confident and beautiful.
Though I normally reach for neutrals or black workout gear, lululemon has SO MANY adorable color options that I had to branch out and rock a fun color combo like blue and mauve. How fun are these leggings?! There are so many new pant styles available – these leggings are the 25″ In Movement Tights and ohh my goodness they are crazy soft, give you full coverage and dry sweat asap so you can confidently rock a crop top. Since I get really hot during my workouts (…I look like a cherry by the end haha), it's important to wear tights that are breathable and keep me cool. I'm wearing a size 6 for reference, both in the leggings and sports bra.
Whether your workout of choice is running, training, yoga or anything in between (…can't wait to swim laps this summer in one of these cute suits!), lululemon has gear for you! I'm linking to this look and more of my favorite training pieces below.
What type of workouts do you do? Any fellow mamas do something you swear by to get you back in shape? Let me know in the comments below! XO
LEGGINGS / SPORTS BRA / CROP TOP
SHOP MORE TRAINING MUST-HAVES
A big thank you to Lululemon for sponsoring this post! All opinions are my own.