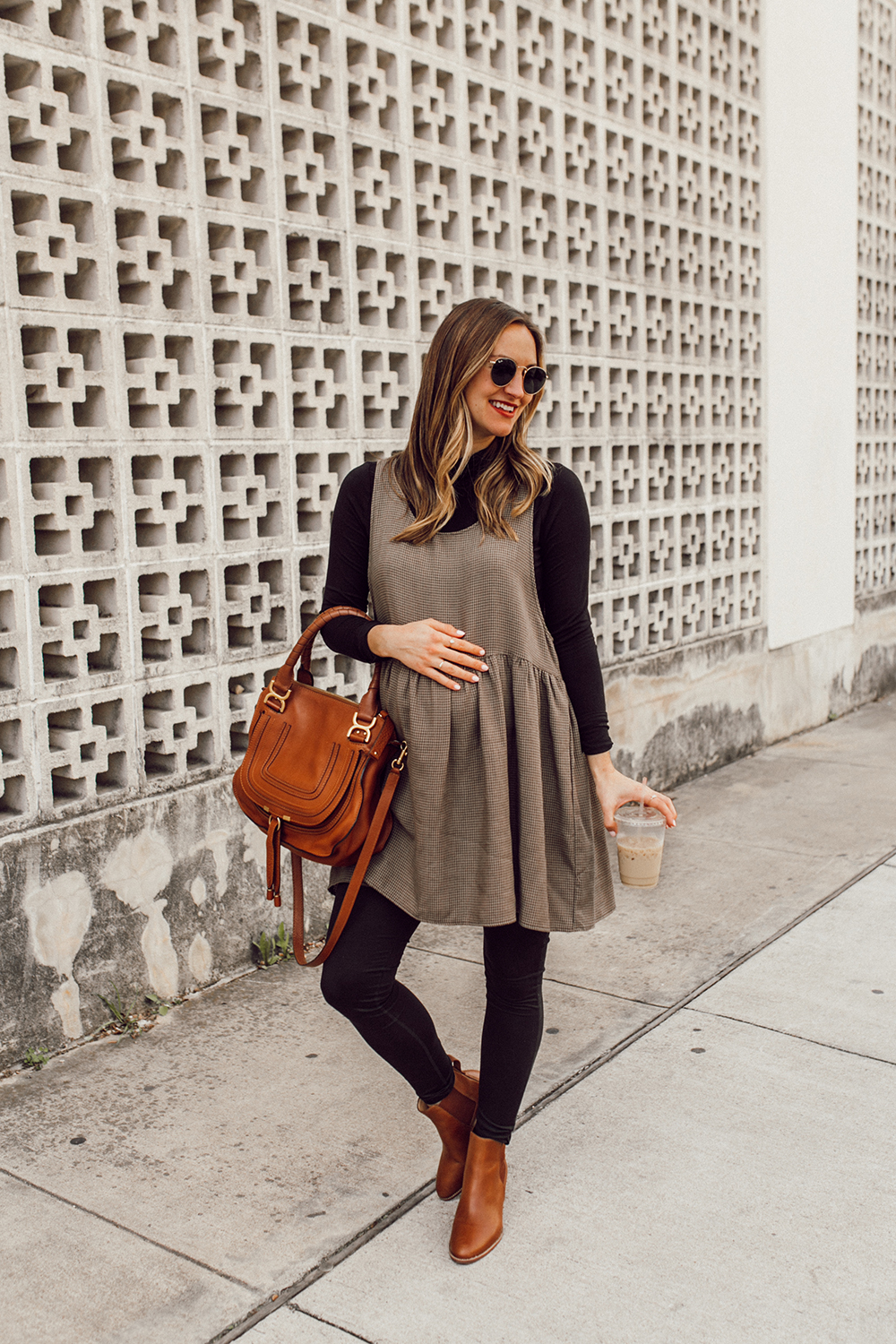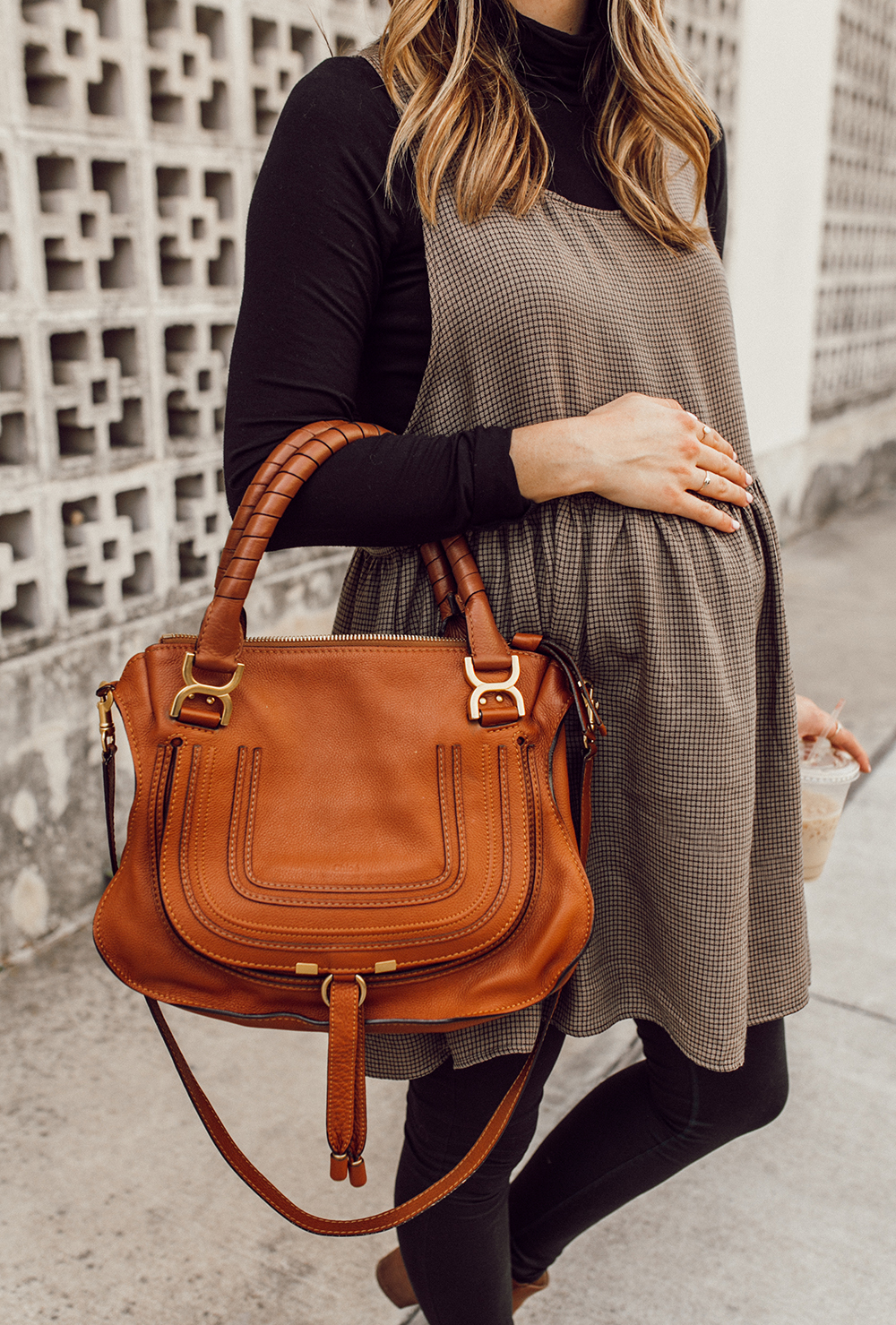 Hello and happy Thursday, friends! Not sure if you've noticed, but I've been MIA on my blog and social media lately…we are renovating our master bathroom (meaning contractors in and out of the house) and honestly, pregnancy pains have been pretty unbearable lately (ligaments stretching = ouch!) …so I've been laying low trying to focus on our house and overall just staying sane and healthy. I shot this look with my sister a few weeks back and am finally sharing it…! This babydoll dress is DARLING whether you're pregnant or not, and I love it worn over a chic black turtleneck.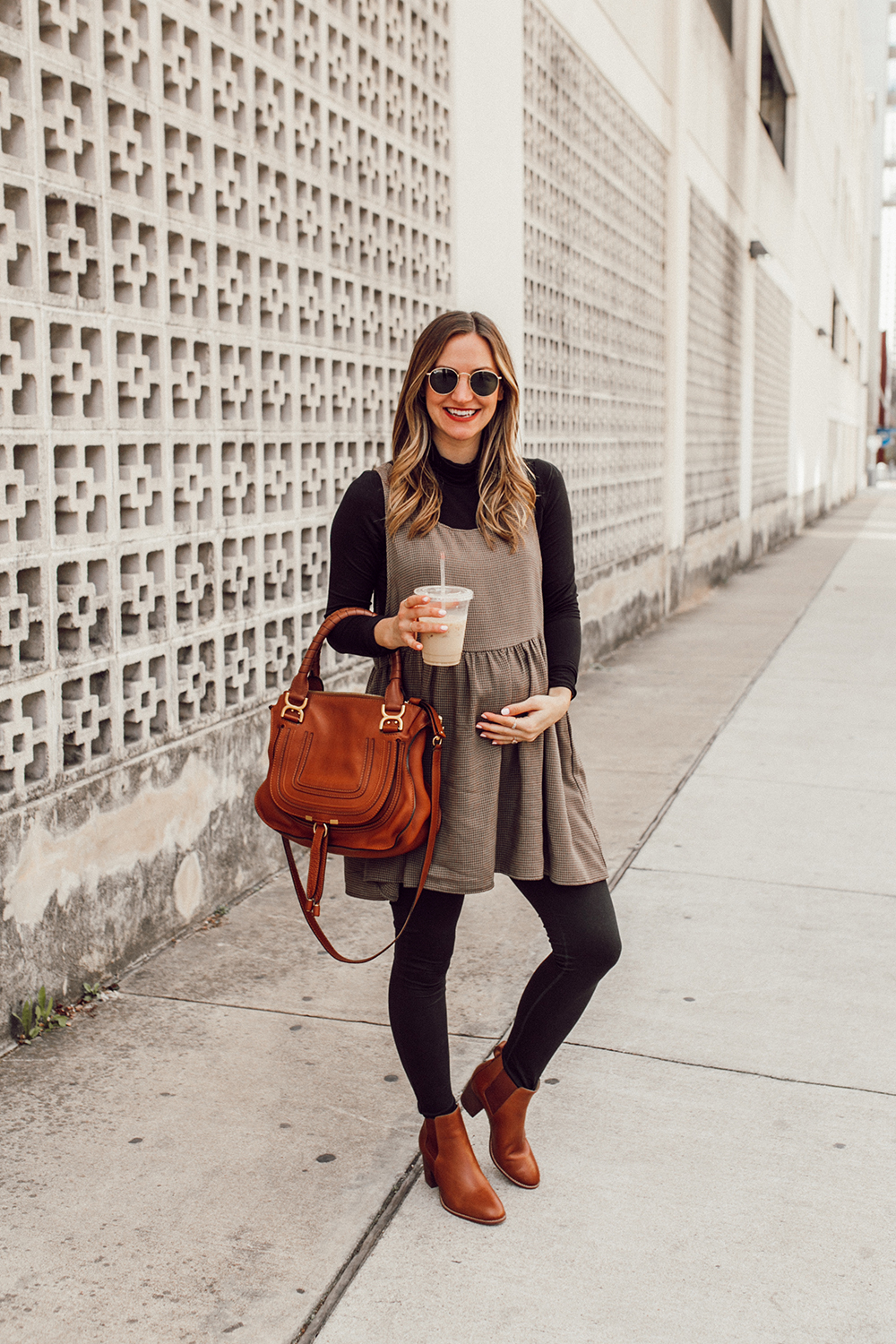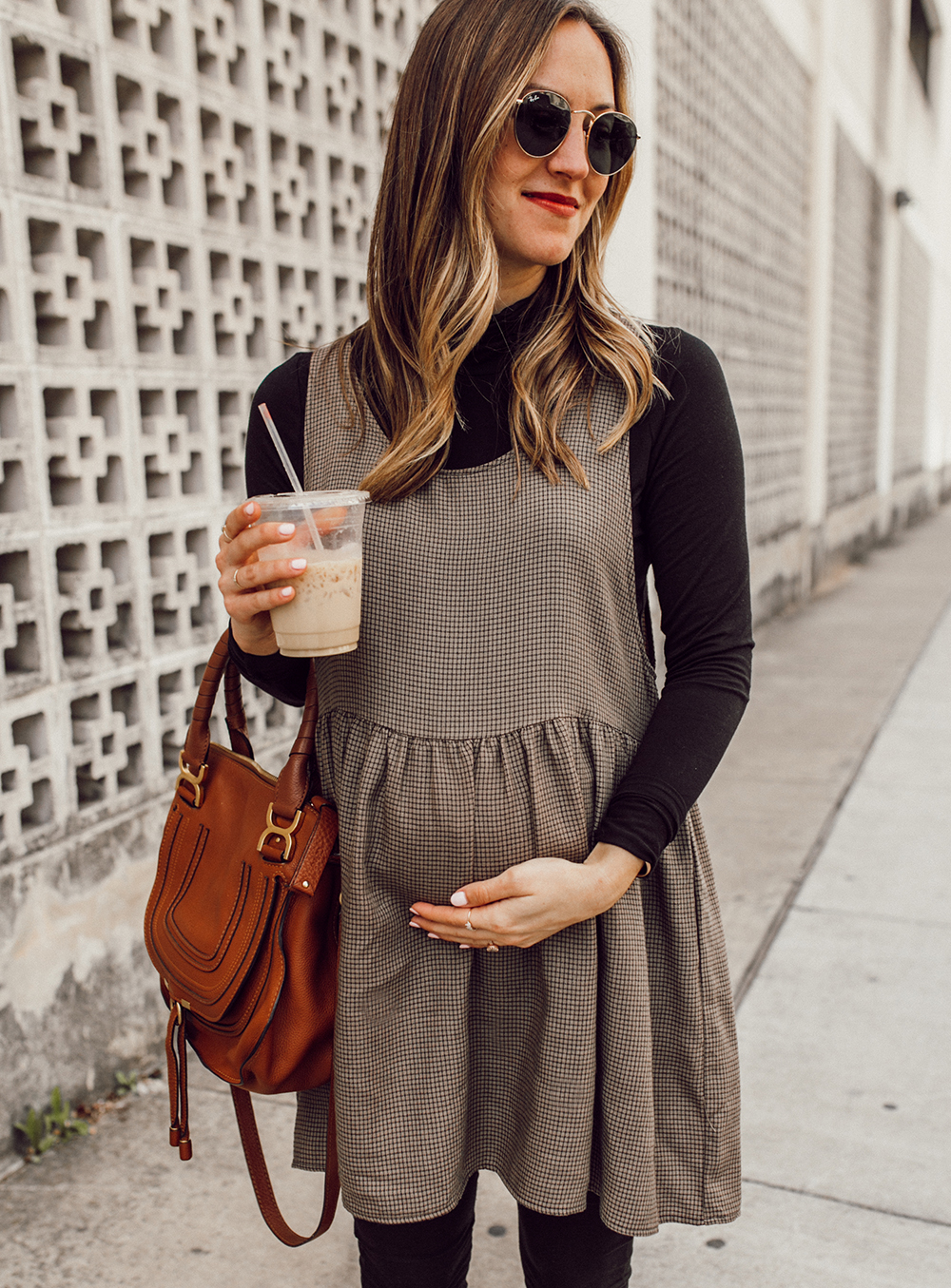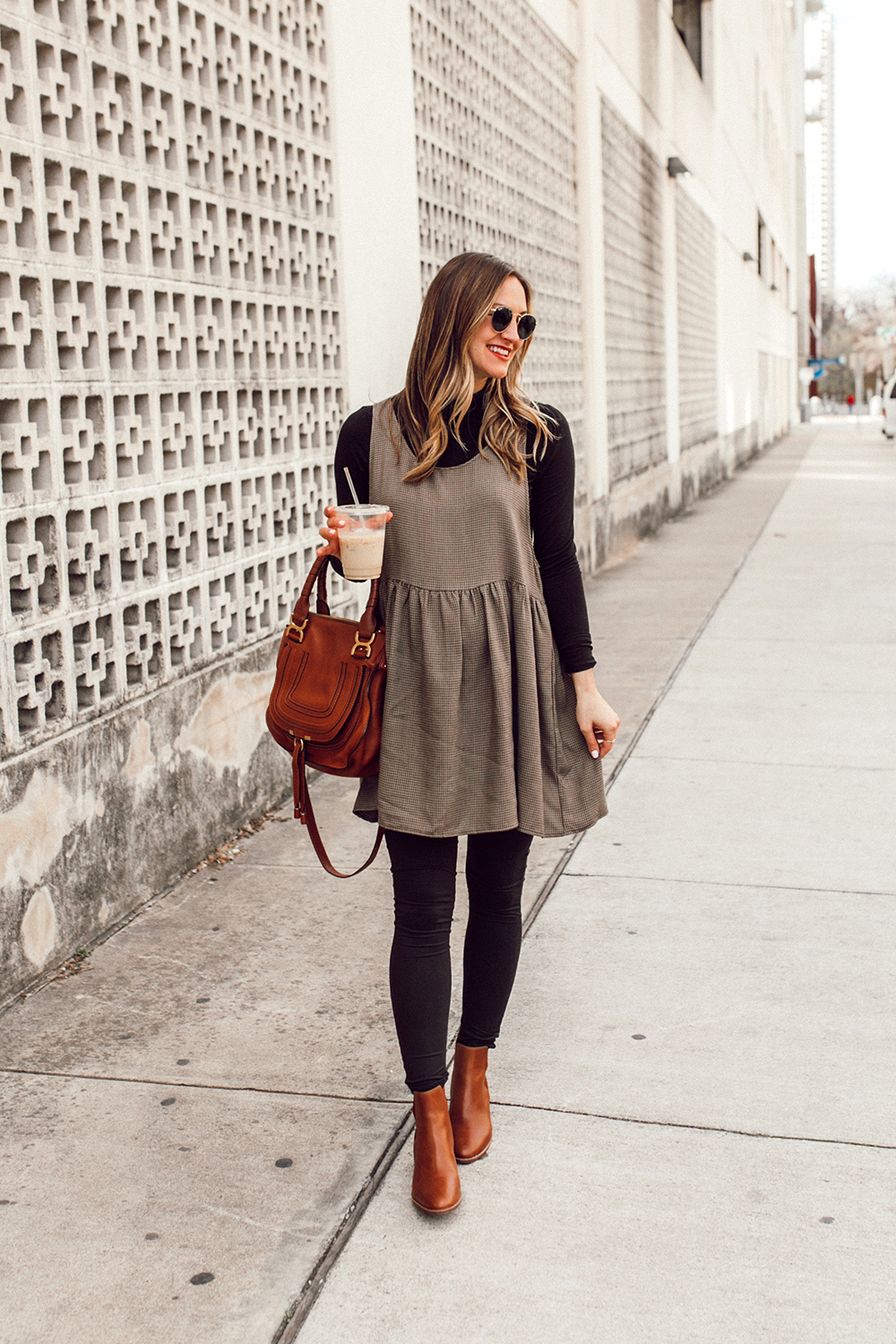 My top and leggings are both maternity (linked below) and I swear by these maternity leggings!! They're from Target (!!) and just $19. There are SO many maternity brands that are outrageously priced (…I mean, I swoon from afar but they're not exactly practical when I'm trying to save for a baby haha!), so it was a very pleasant surprise to stumble upon these low-rise maternity leggings while doing some shopping at Target. My top is from Motherhood Maternity (another favorite store of mine throughout pregnancy!) and it's sooo soft and cozy. Big fan! Ps. I am linking a super cute non-maternity option below (Urban Outfitters heyo!).
My dress is from Urban Outfitters and it's SO stinkin' adorable! This late into my pregnancy, it's getting more challenging to dress a giant bump (…well, mostly it's finding the energy to care enough to dress my giant bump haha…leggings and oversized tees are my jam lately), but this dress makes me feel polished and put together…while still keeping comfort at top of mind!
Keeping it short and sweet today. 🙂 I hope y'all have had a wonderful week! Countdown to the weekend starts…now! XO
DRESS / TURTLENECK (non-maternity option HERE) / LEGGINGS (maternity) / BOOTIES / HANDBAG / SUNGLASSES