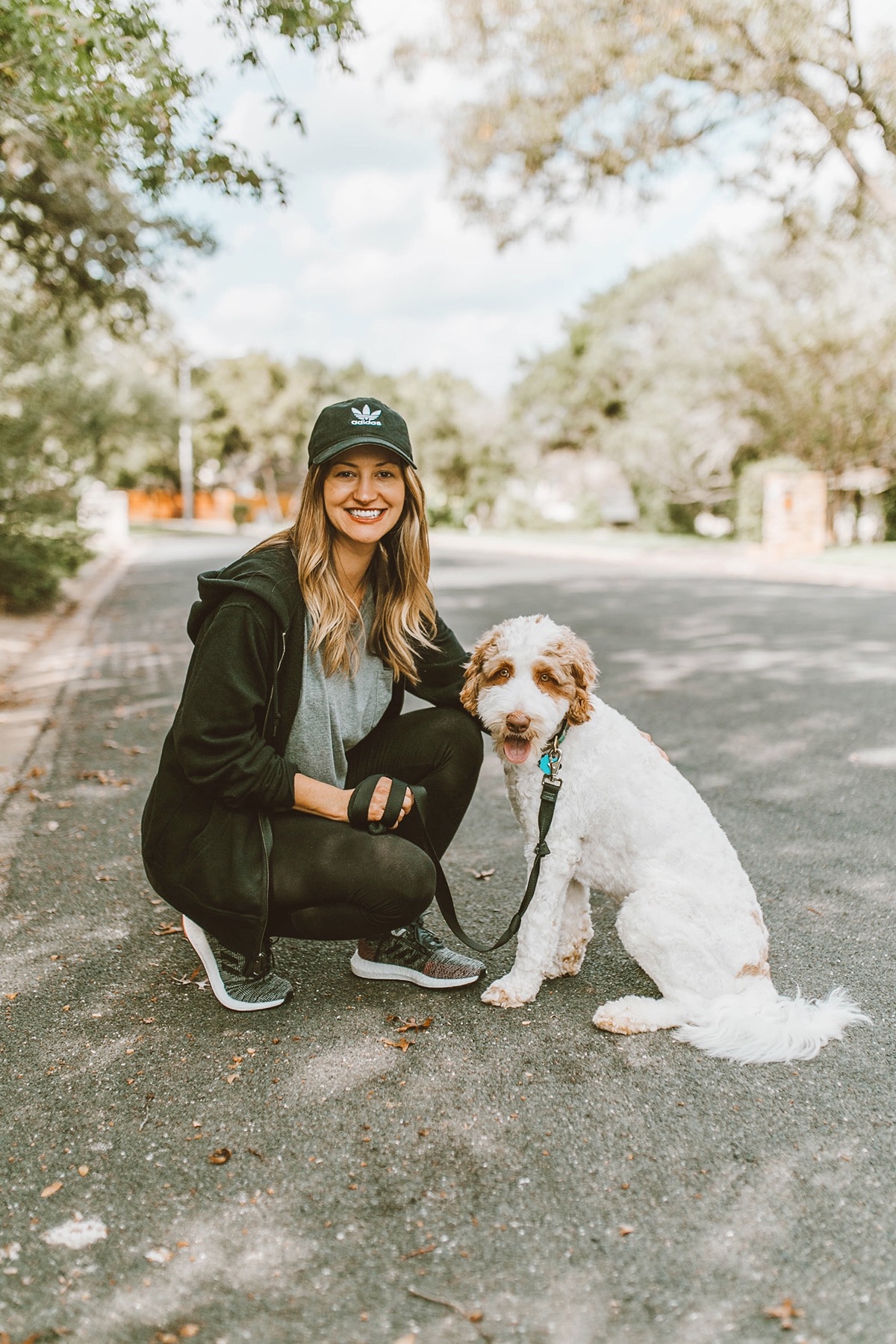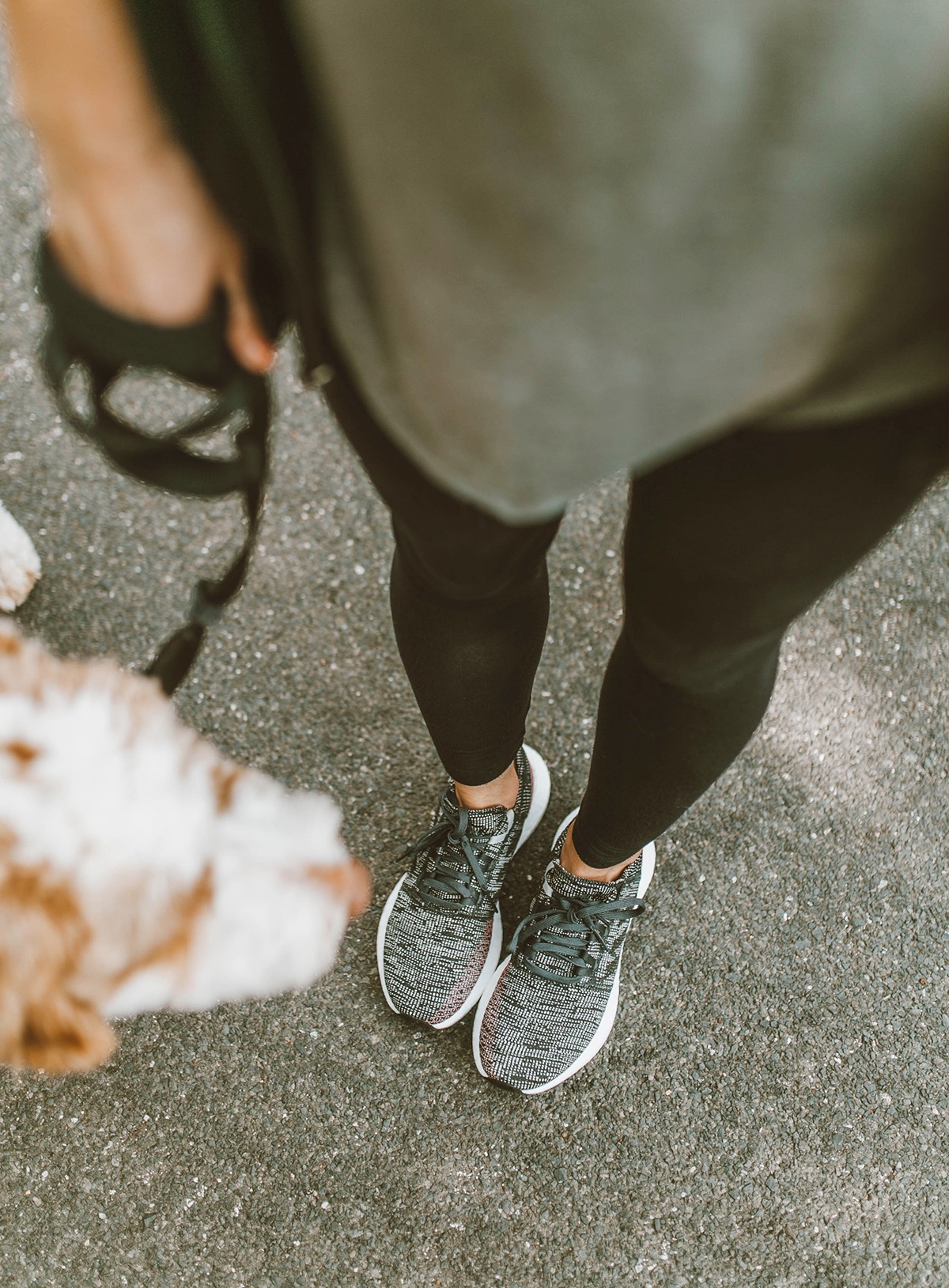 If there's one thing that makes me feel less bloated and provides an extra boost of energy these days, it's getting in my daily workout. Though I can't "go hard" like I used to pre-pregnancy, I have discovered one thing that makes me feel confident and strong…
PS. Hey cutie Watson in this post! As soon as he hears me grab the leash, he is sprinting to get out the door, ha!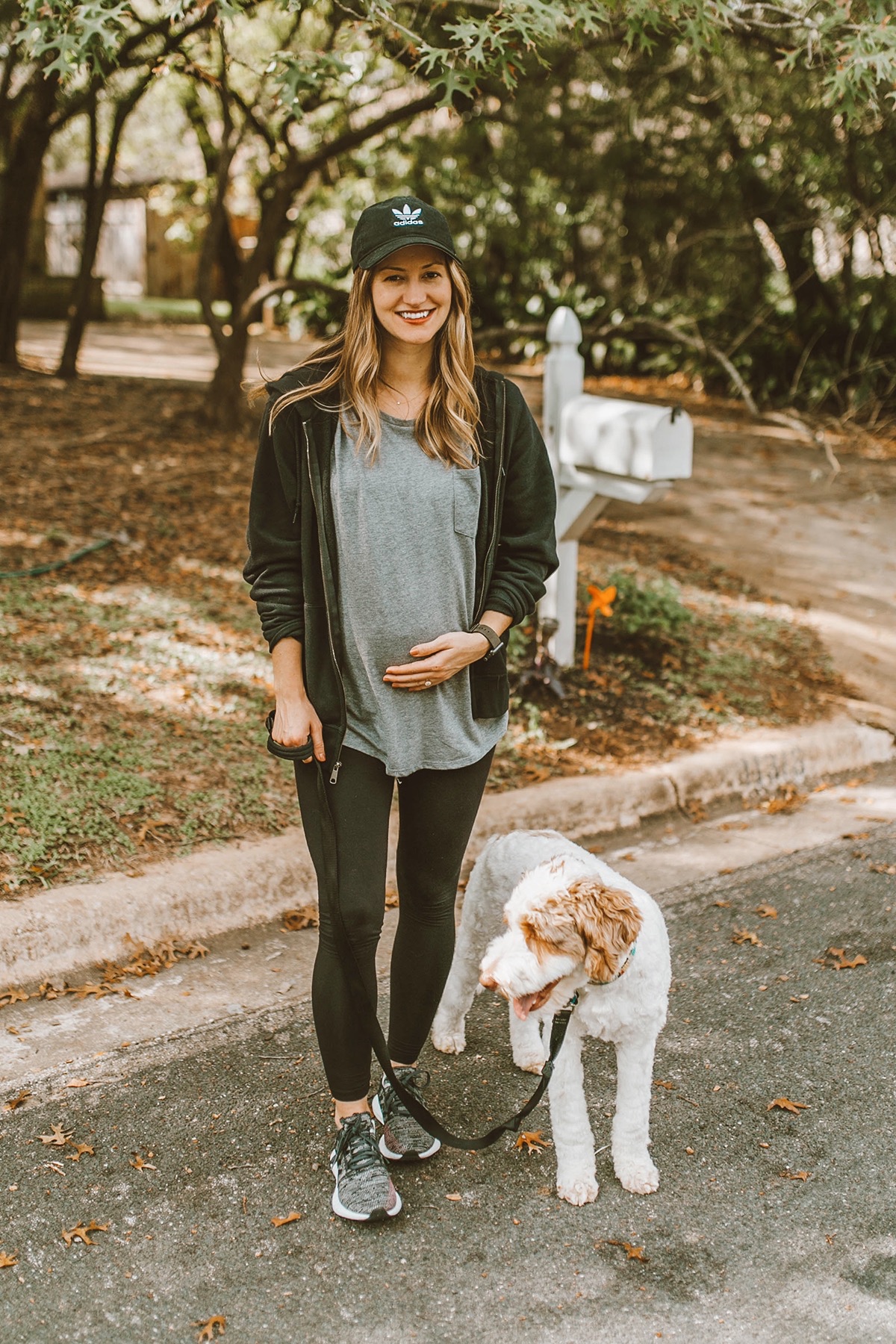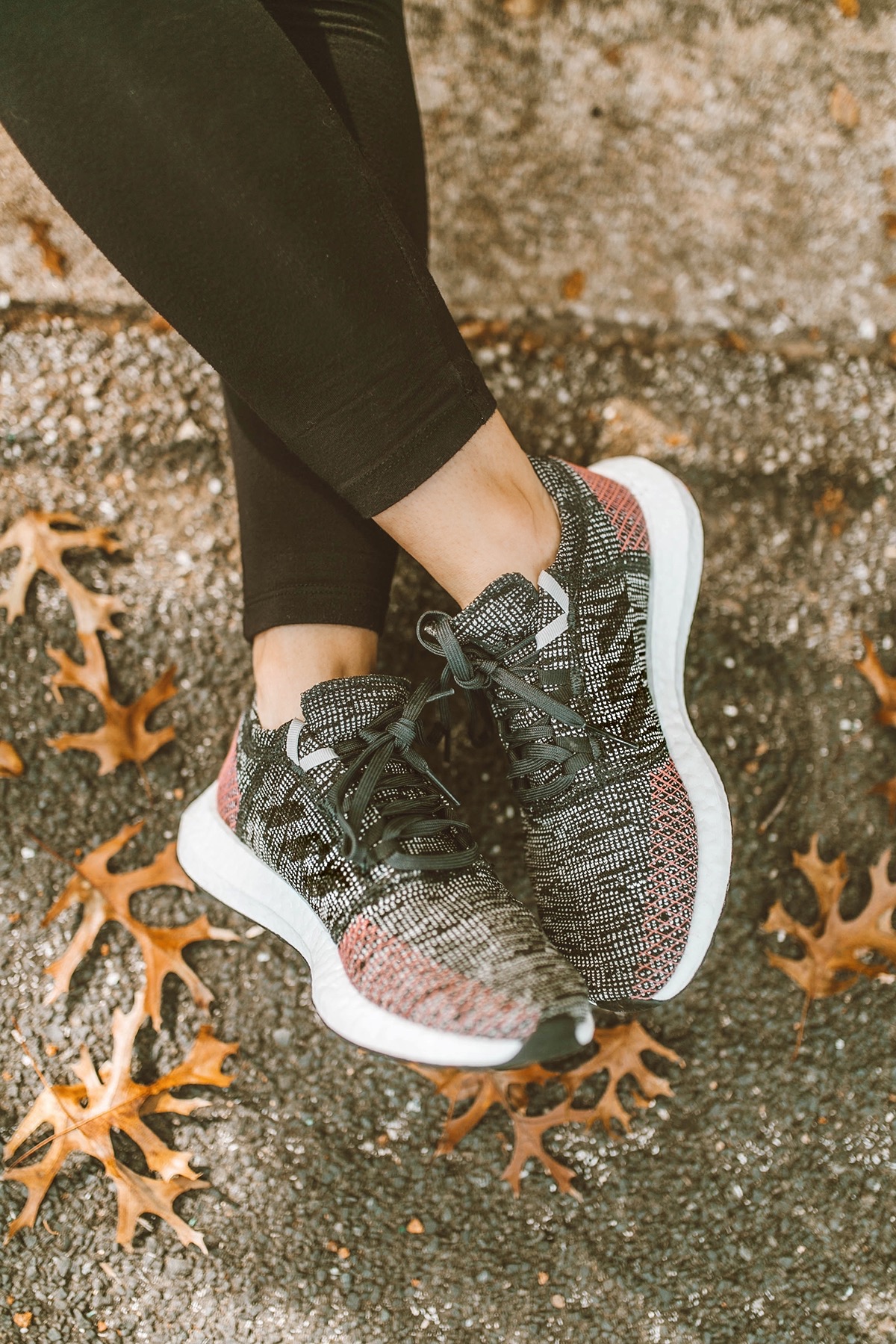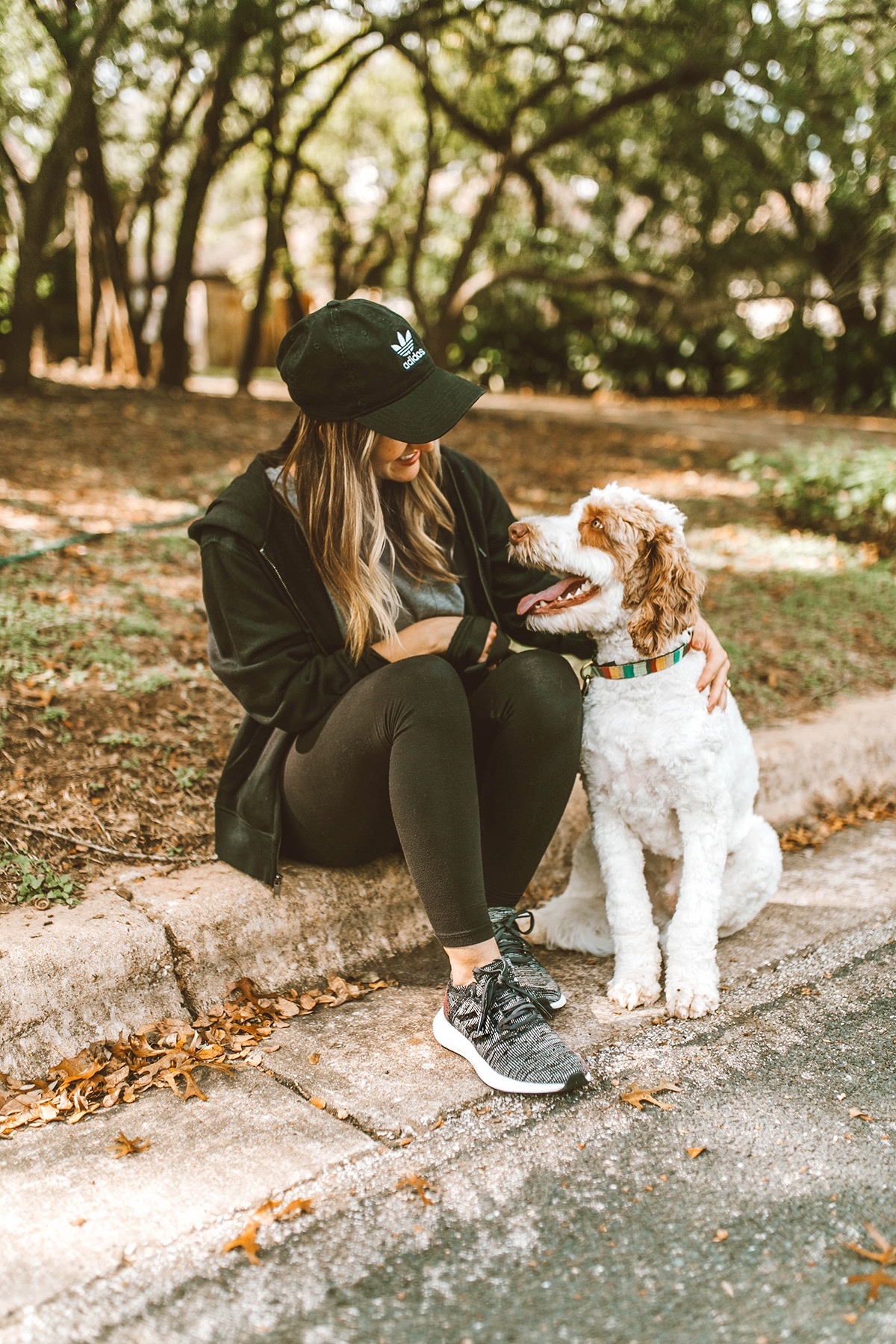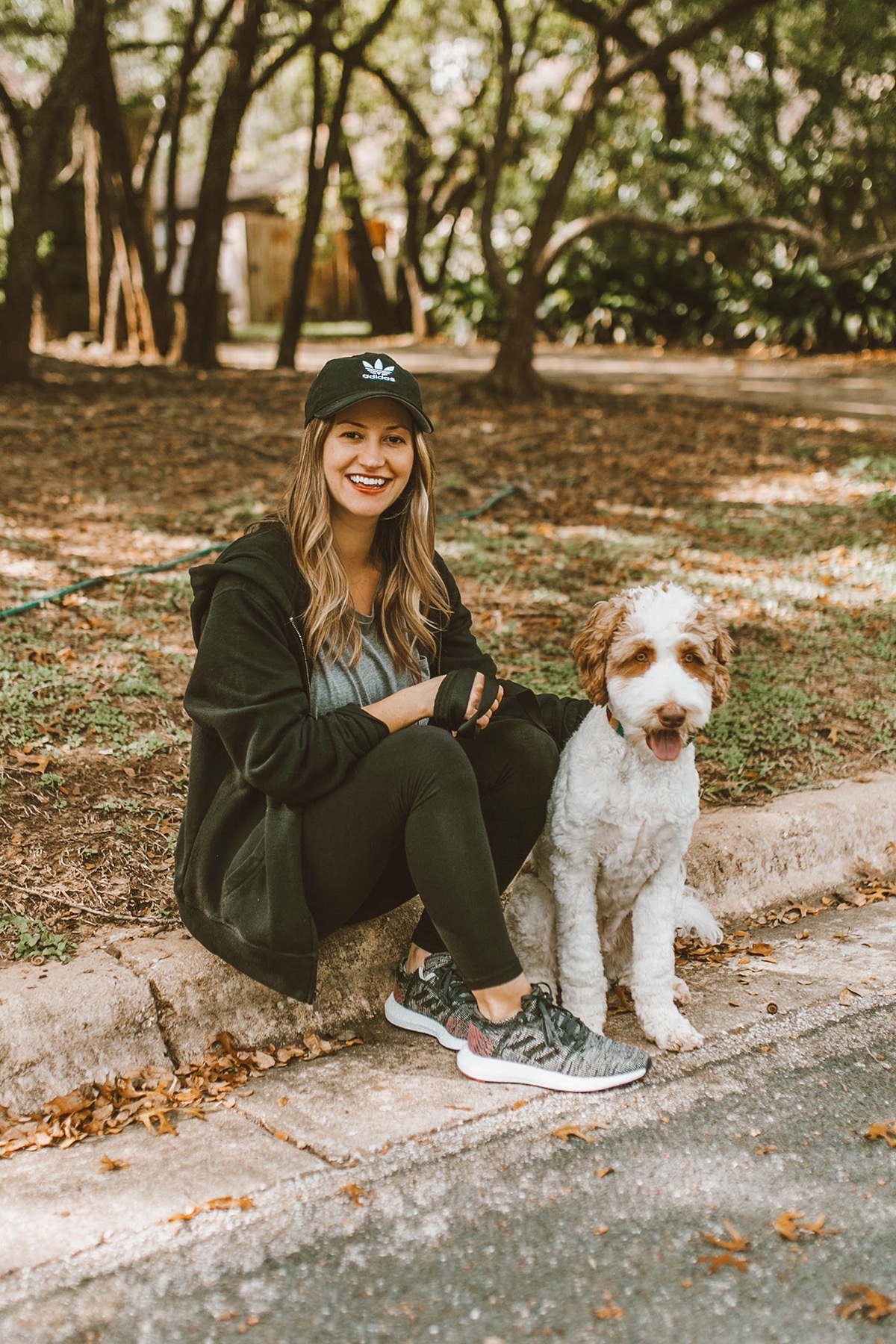 Rain or shine, I have been getting in a long daily walk. Anywhere from two to five miles…depending on my mood, the weather and how lengthy my to-list is on a particular day. I press play to my favorite podcasts (currently alternating between Freakonomics Radio & TED Radio Hour), lace up my sneakers, grab Watson and we stroll for over an hour…and it is lovely! With the crisp fall temperatures lately, I feel like I am itching to put on my leggings and sneakers and get out the door…nothing like fresh air and breaking a sweat to revive my mind and body. Once I get home, I'll head to our patio and do three reps of arm exercises with weights, followed by some lunges and squats. I finish off with a few yoga stretches (downward dog is apparently very good for pregnant women!). Throughout my first trimester and even into the early stages of the second, I was pretty much exhausted and dead weight all the time. It's crazy how much your hormones dictate your mood and energy levels! Luckily, my energy is back and it's been so wonderful to add fitness back into my daily life.
I've also shared this on my IG Stories, but on weekends when Blake is home from work, we'll hit a golf course and I'll basically walk/tag along while he plays. We walk from hole to hole and he plays nine…and in just nine holes we've walked over three miles! I am a super dork and do 20 lunges at every hole (I have absolutely no shame in my life anymore haha) and Blake simply enjoys the company and the fact that he's golfing…whether I am totally embarrassing him or not, ha! Truth be told, it's been so fun to spend that time together and it also feels amazing to get in a great workout, too. We keep talking about how in just a few months we'll be out walking the course and I'll be wearing a front pack and baby! So exciting, so crazy…we can't wait!!
So what am I wearing throughout my walking extravaganzas lately? The Adidas PureBOOST GO Running Shoes are SO WONDERFUL. Lightweight, extremely comfortable and perfect for both high intensity or leisurely activity. We've been looking into jogging strollers and these shoes will transition great from my daily strolls to daily runs once our little guy is big enough! Finish Line is our go-to store for sneakers, and their selection of Adidas shoes is amazing…there's something for every fitness level (…and always so stylish, too!).
Ps. I know every pregnancy is SO different and some folks can run 5 miles while others are more comfortable simply taking a slow stroll around the block. Above all, do what is healthiest and feels right for YOU!! I feel like with social media and the blogging world, comparing ourselves to others is all too easy (hi, speaking from experience over here – totally guilty of this!). As LaVar Ball says (and yes I am absolutely going to quote this man right now haha ah!) "Stay In Yo Lane" …it's really as simple as that, and especially when it comes to pregnancy and fitness!
sneakers – Adidas PureBOOST GO Running Shoes
SHOP MY ADIDAS PICKS

A big thank you to Finish Line for sponsoring this post! All opinions are my own.