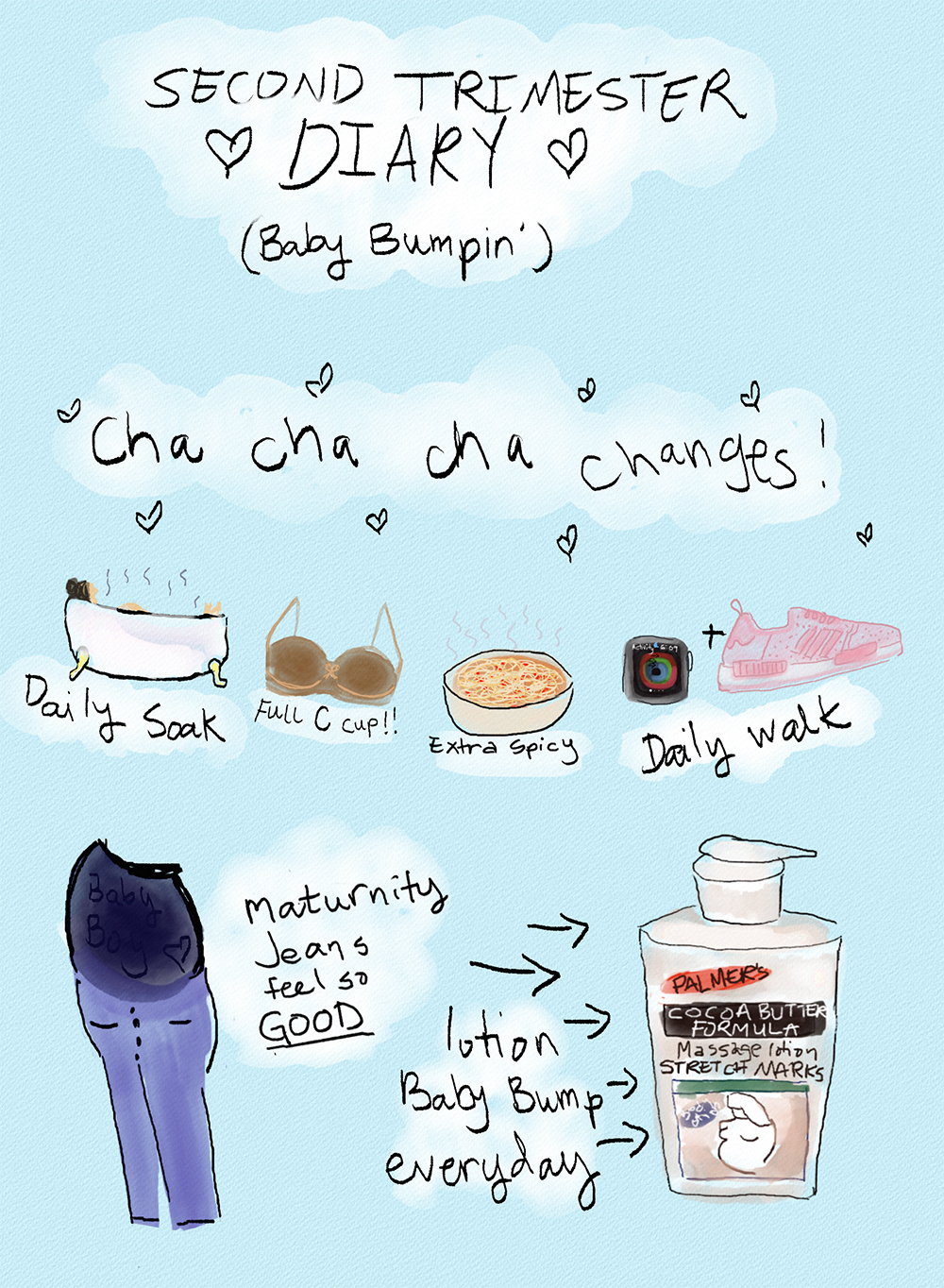 **Illustration by Kimberlee Watson

Happy Monday, friends! And happy 23 weeks of pregnancy over here! Baby boy is the size of a grapefruit this week and his little face is fully formed, now he's just growing growing growing. This week he starts to recognize my voice and once born, will be able to know it's me when he's out and in the world. Pretty incredible stuff! My first trimester is long gone, but the second is in full swing (until week 27/28 weeks apparently)…which means a whole slew of new feelings and physical changes. Excited to share them with y'all today – plus I'm sharing a few of my fellow pregnant blogger friends in case you want to follow along with their journeys, as well! Each month we'll all be posting about a new pregnancy topic…this month is our current bump-date and introductions, while next month will be all about maternity fashion (yay!). That said, let's get to it…
For starters…physically my baby bump is out and proud (…and my belly button is, too haha!) and my boobs are bigger than ever! Y'all know in normal life I'm a teeny tiny A-cup, but pregnant Olivia is a FULL C, Y'ALL! This is a really big deal…I have never not worn a push up bra, so to purchase a regular C-cup bra without padding…I mean, MONUMENTAL. Perhaps that's TMI, but dang, it's a big deal in my world haha!! Ps. I wasn't sure how long the new friends would stick around, but I guess things are only getting bigger, so I finally bit the bullet and purchased two new bras. If you're on the hunt for a super comfy converts-to-strapless bra (non-maternity), this one is amazing!
On the subject of physical changes, I've been slowly but surely moving towards denim and leggings with a belly band. I am movin' and shakin' all day long (two dogs, errands to run, photos to take), so oftentimes I am reaching for overalls or denim with a belly band attached to really lift and tuck me in (note: this post). Currently swearing by these jeans & these leggings. Also, I splurged on these stinkin' adorable kick-flare corduroy jeans this week…couldn't resist!
Speaking of this belly, I've been big on applying my cocoa butter stretch mark cream morning and night! My mom used this for all five of her pregnancies and walked away without a single stretch mark. It's $5 at the grocery store and it smells amazing. I know people say stretch marks really can't be stopped if it's in your genes, but hey, for $5 it's worth a try!
Around this time is when they say the back aches start to hit your body…and ohh my goodness they are NOT fun! I've been taking a nightly bath so I can soak in epsom salt and give my body a rest. It's kind of funny because even in the bathtub I have to shift positions so my back doesn't ache…can't seem to escape the pain! I've been reading about the back aches and most sources say these will stick around until the end of pregnancy. I guess it's just something to fight through…!
As for fitness – I know last week I said I've been dead weight into my second trimester, but for the past five days I've been forcing myself to walk 4-5 miles a day (I am clocking an 18-minute mile haha! Don't worry, it's nothing intense!). Truth be told it wasn't so much the physical need to get up and move, but mentally I needed some clarity. With a new puppy, work piling up and little time for myself these days, I simply needed to figure out a way to find some headspace. Even though I'm dragging my feet out the door, once I start on the walk it feels amazing…and I've come to look forward to that portion of my day so much! I used to listen to music while working out, but since this isn't really "high intensity," I've been listening to podcasts: Freakonomics and TED Talks. I am feeling SO much better, mentally and physically, even in just that short amount of time!
Aaand last but not least, those funny pregnancy cravings! This time around, I've been less inclined to order sweets and instead am opting for the spiciest thing on the menu. In particular, spicy noodles have been my #1…I could seriously eat them all day, everyday haha! I think also the fact that I can't have spicy foods post-pregnancy (while breastfeeding) has made me want spicy things even more. Soaking it up as much as I can right now!
Aside from all that fun stuff, my second trimester has been really wonderful! Our little guys' kicks are getting stronger and I love to lay down at night and feel him move around. It's been a really special thing to experience…I feel like I'm never alone, which is really sweet. As for names, we've narrowed down to three and I think Blake and I are pretty much set on the same one. We shall see…things seem to change all the time around here!
If you made it this far, thanks for reading! I know a lot of my followers are in a similar portion of their pregnancies, so I'd love for you to share how you're feeling, what you're craving, all the good stuff! XOXO
SHARING A FEW PREGNANCY FAVORITES LATELY

PS. Sharing those sweet blogger friends who are also currently on their own pregnancy journey! We've got some awesome ladies in their first, second and third trimesters!!
1. Mara runs the blog M Loves M – she is 20 weeks along and pregnant with her second baby (and soon to announce the sex, so exciting!). You can read more about her pregnancy journey here.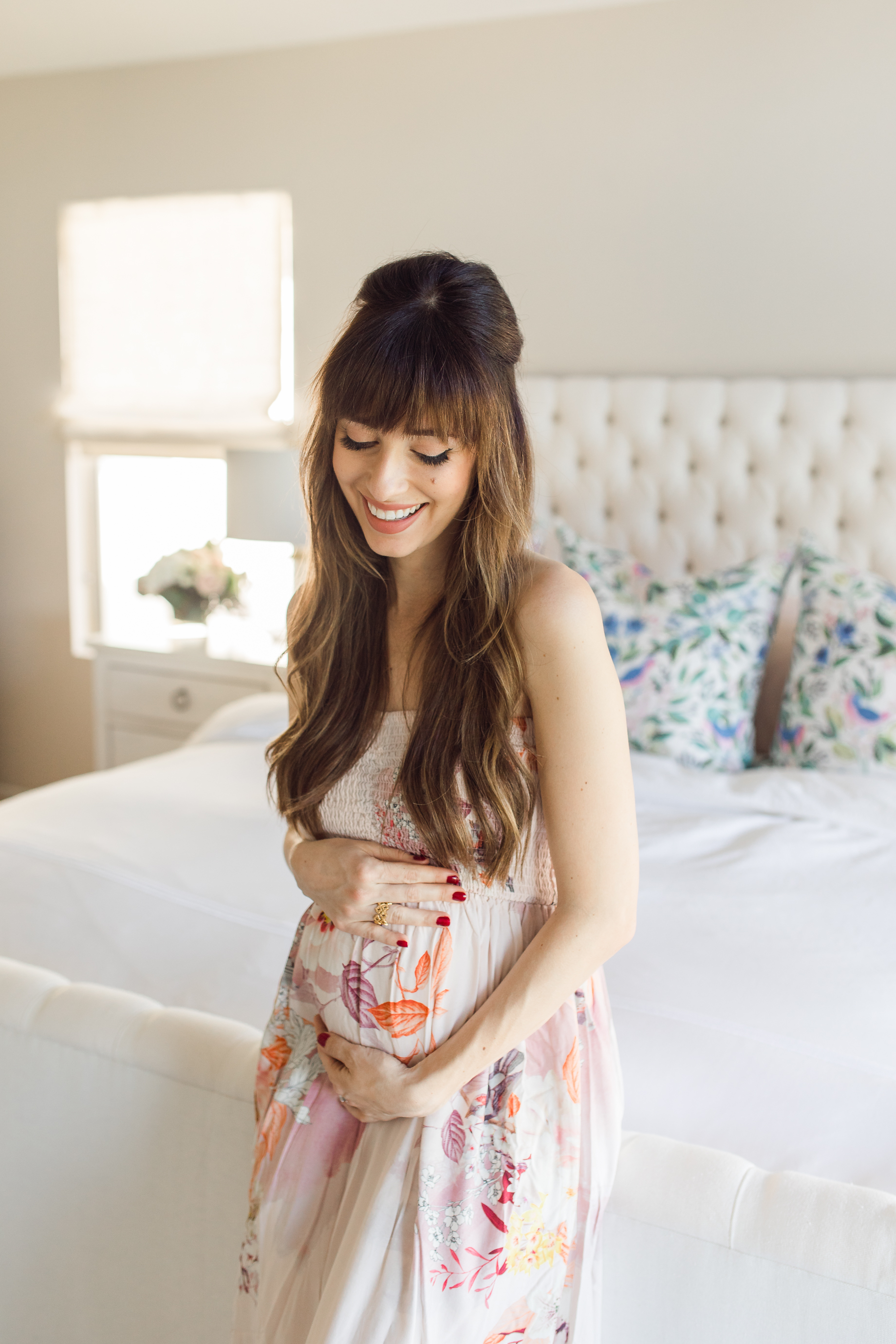 2. Brittany from Loverly Grey is six months pregnant with a sweet baby girl (also her first pregnancy!). You can read more about her pregnancy journey here.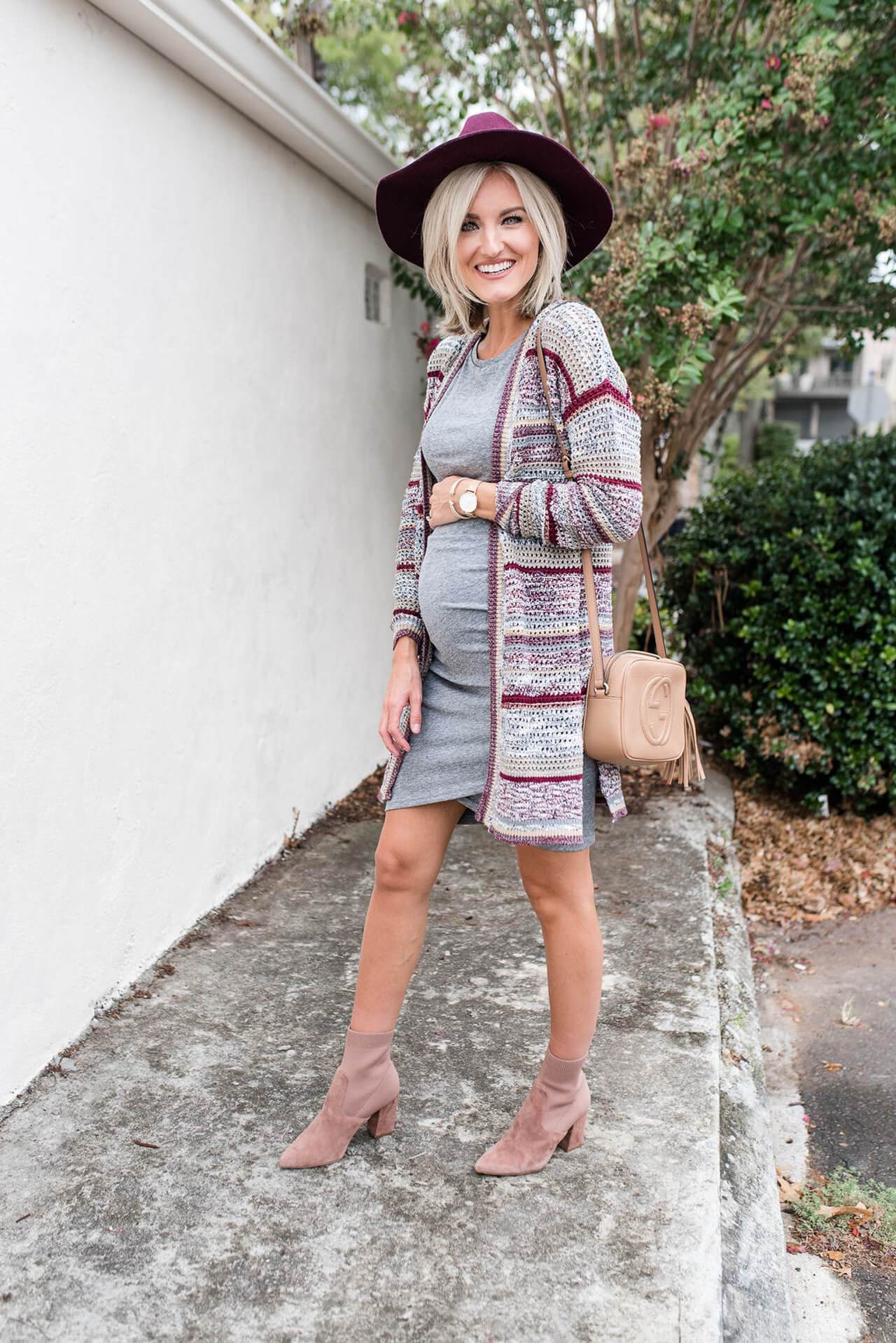 3. Lydia runs Jetting Jewels is pregnant with her second baby – a boy! She's into her third trimester and will meet her little guy in just 7 weeks. Read more about her journey here.


4. Jenn from Mrs. Casual is pregnant with baby #2 and 26 weeks along! Read about her pregnancy here.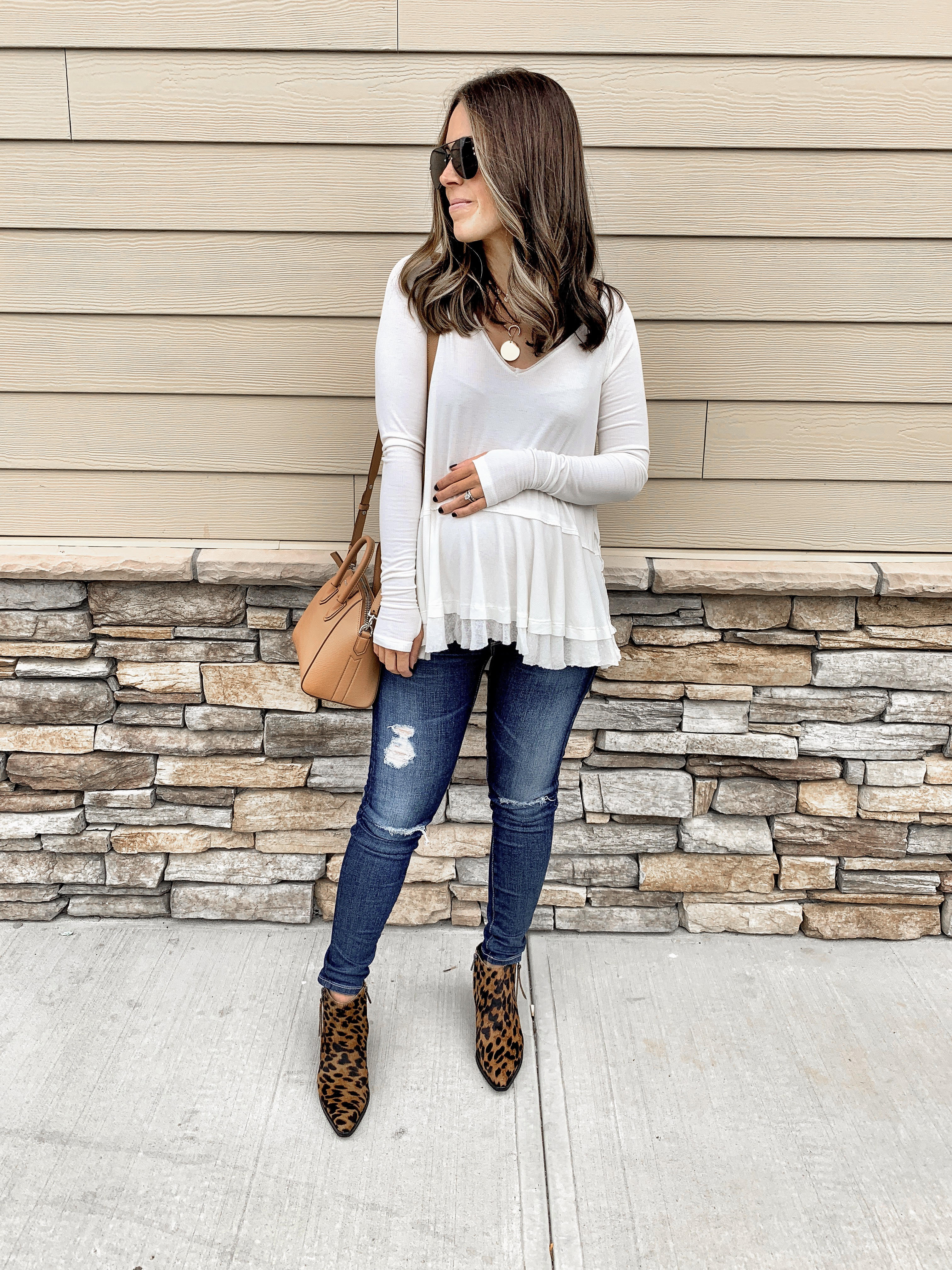 5. Shannon from Itsy Bitsy Indulgences just announced she's pregnant with baby #2, another girl! Read more about Shannon and her pregnancy here.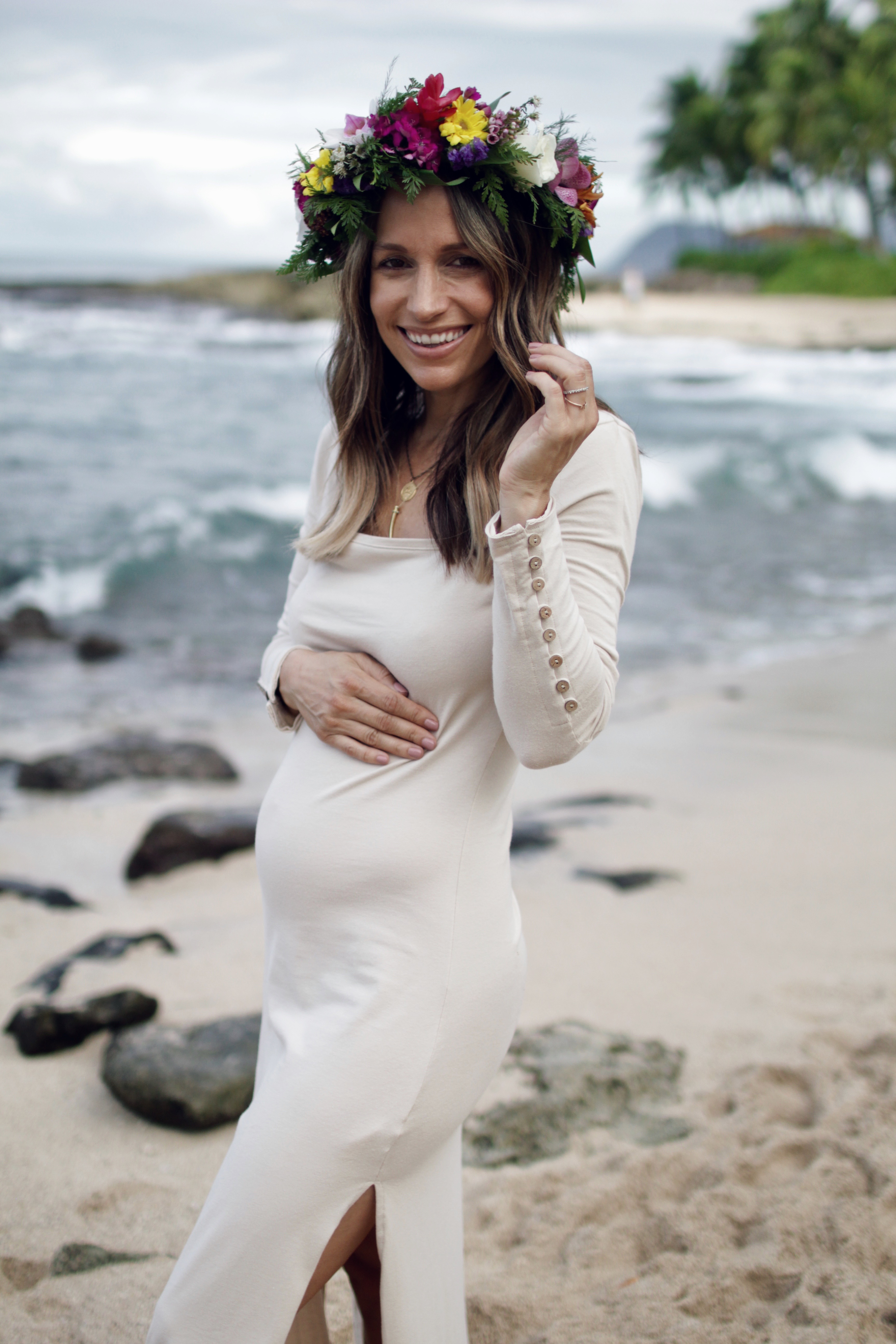 6. Daryl-Ann runs Something Beautiful and is pregnant with her first baby – a boy! She just started her third trimester – read more about her pregnancy here!