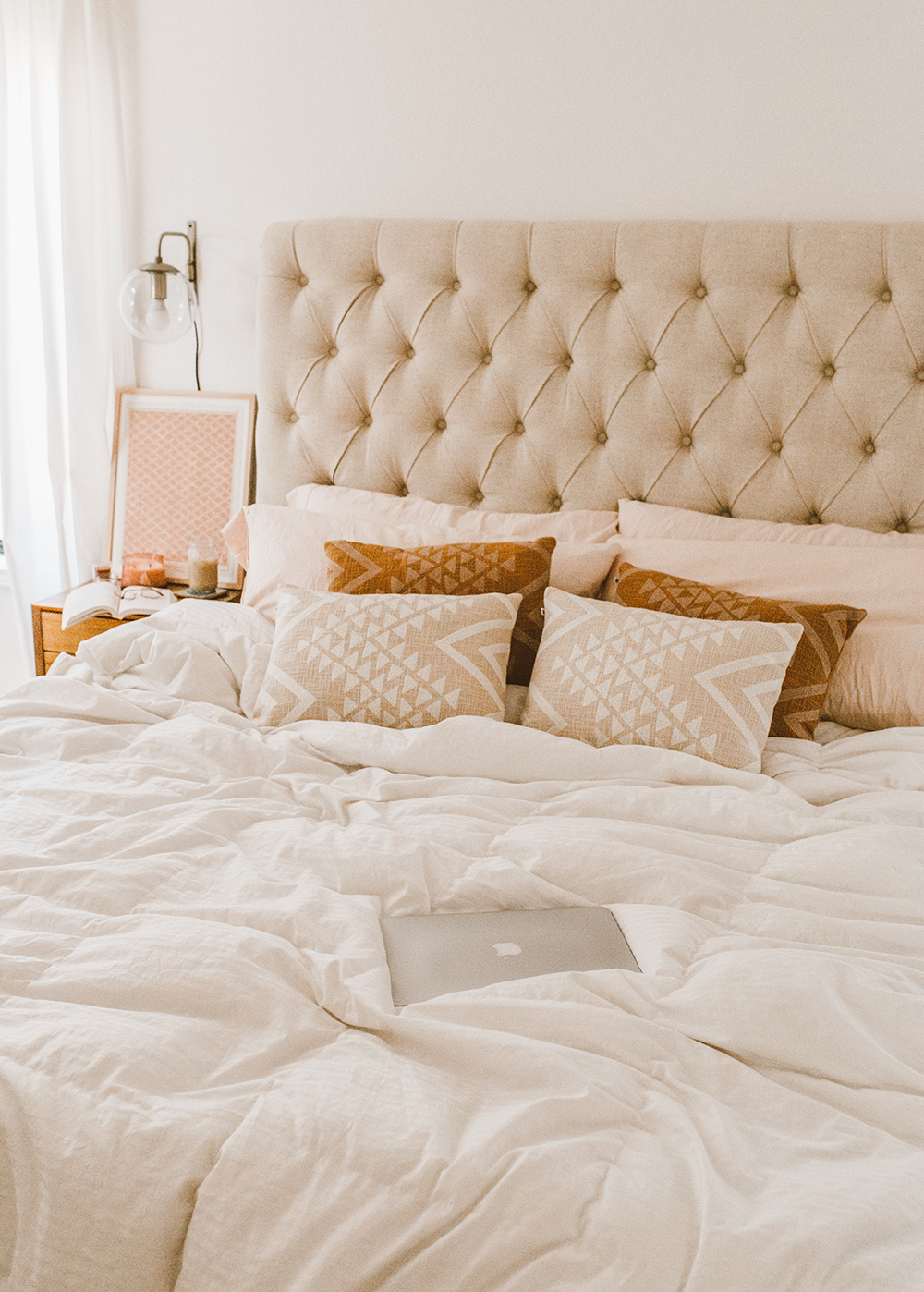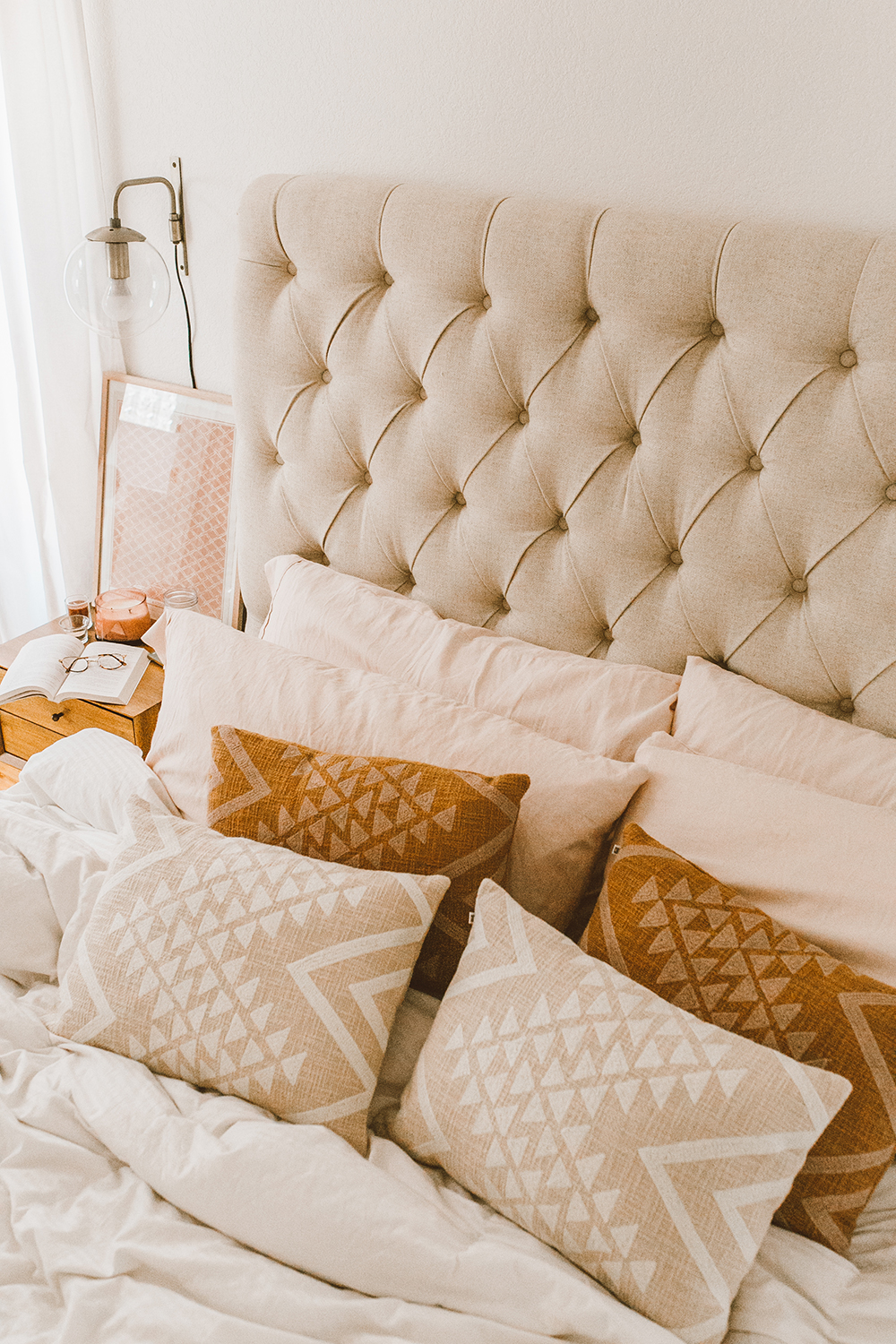 I don't know about you, but jumping into an ultra cozy bed sounds like the most amazing thing ever right about now. This week was a straight up d-o-o-z-y and I am very much looking forward to some quality lounge time…and you can find me riiiight there in that spot above, being slobbered on by Watson and with a giant cheesy grin on my face! If you follow me on Instagram, you probably know that Blake and I recently updated our bedroom a bit – we switched to a king size bed and swapped out our old lamps (…although beloved!) for some bronze wall sconces (swoon!). I feel like such a grownup with the sconces haha. It's almost like I should be reading the newspaper instead of scouring gossip websites (god bless you JustJared…you've kept me entertained for yeaaaars)…but nahh, I'll stick to my 'ol reliables! 😉 In addition to the headboard, lighting and sheets, we topped off the space with THE most beautiful lumbar pillows. Our rug has hints of orange throughout, so I thought opting for a mix of orange and cream pillows would be really pretty and soft…without adding more pink to the room (…thinking of Blake with this one, ha!). We also added a couple of seat cushions to our living room area (more on that further into this post…). Excited to share it all with y'all!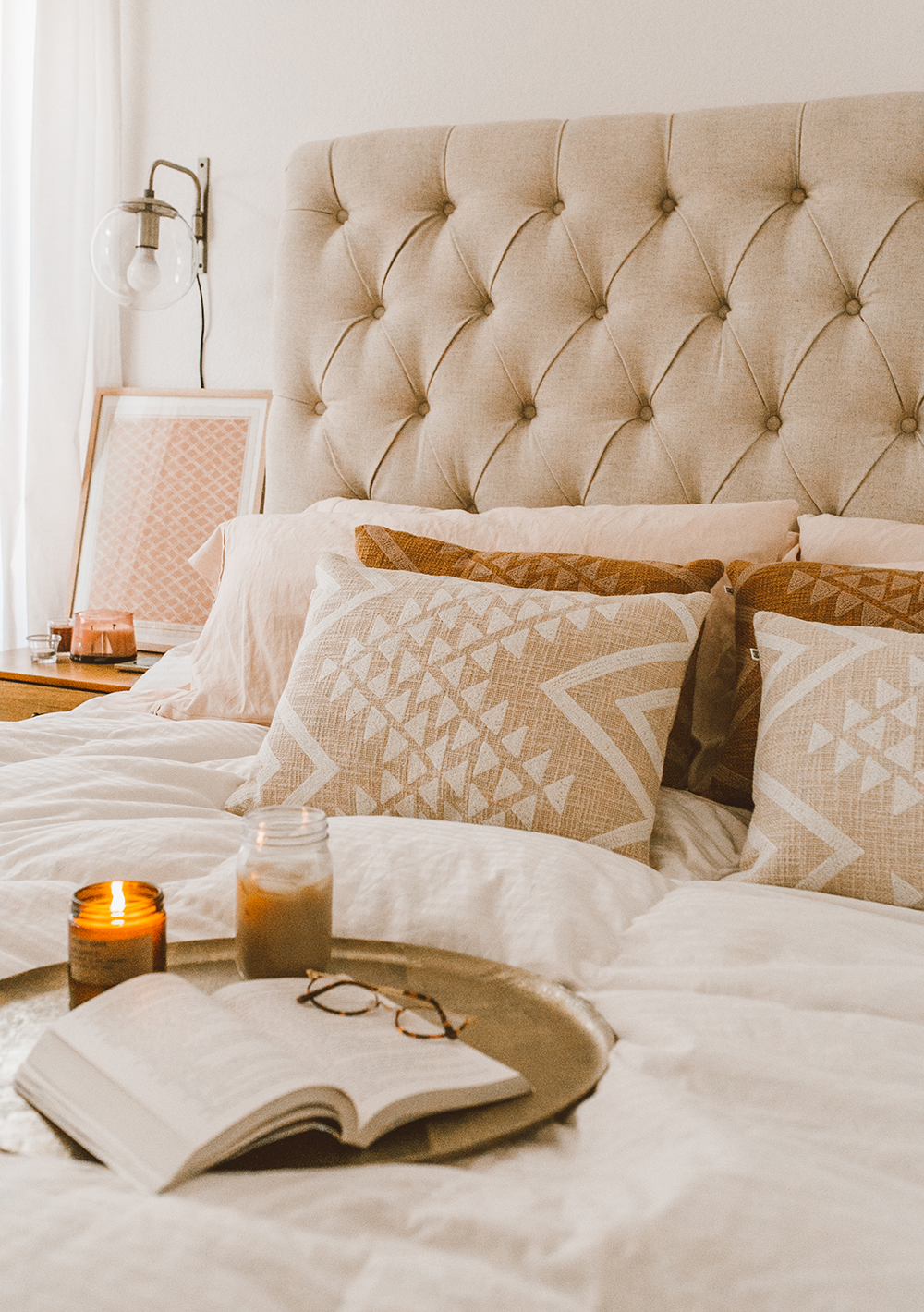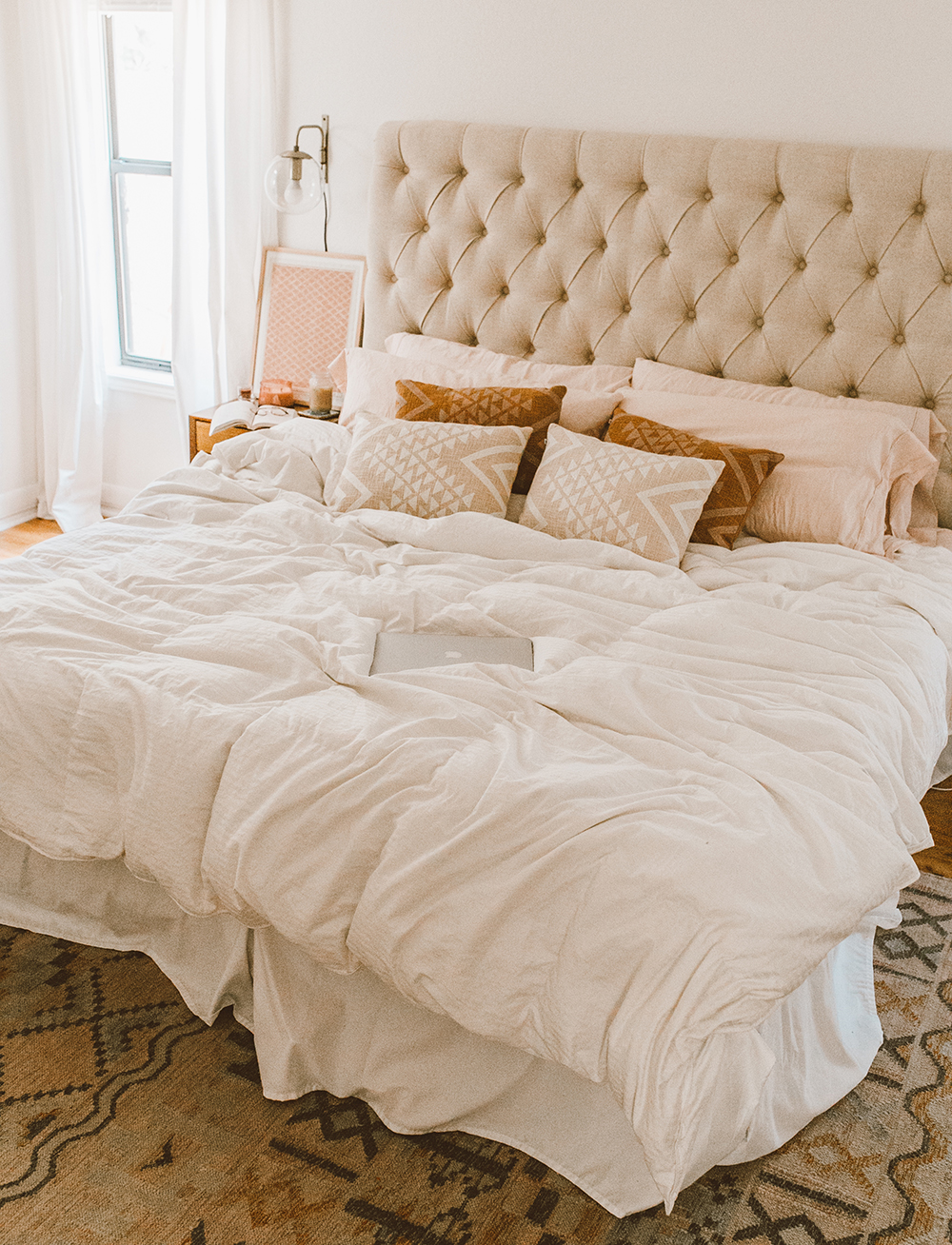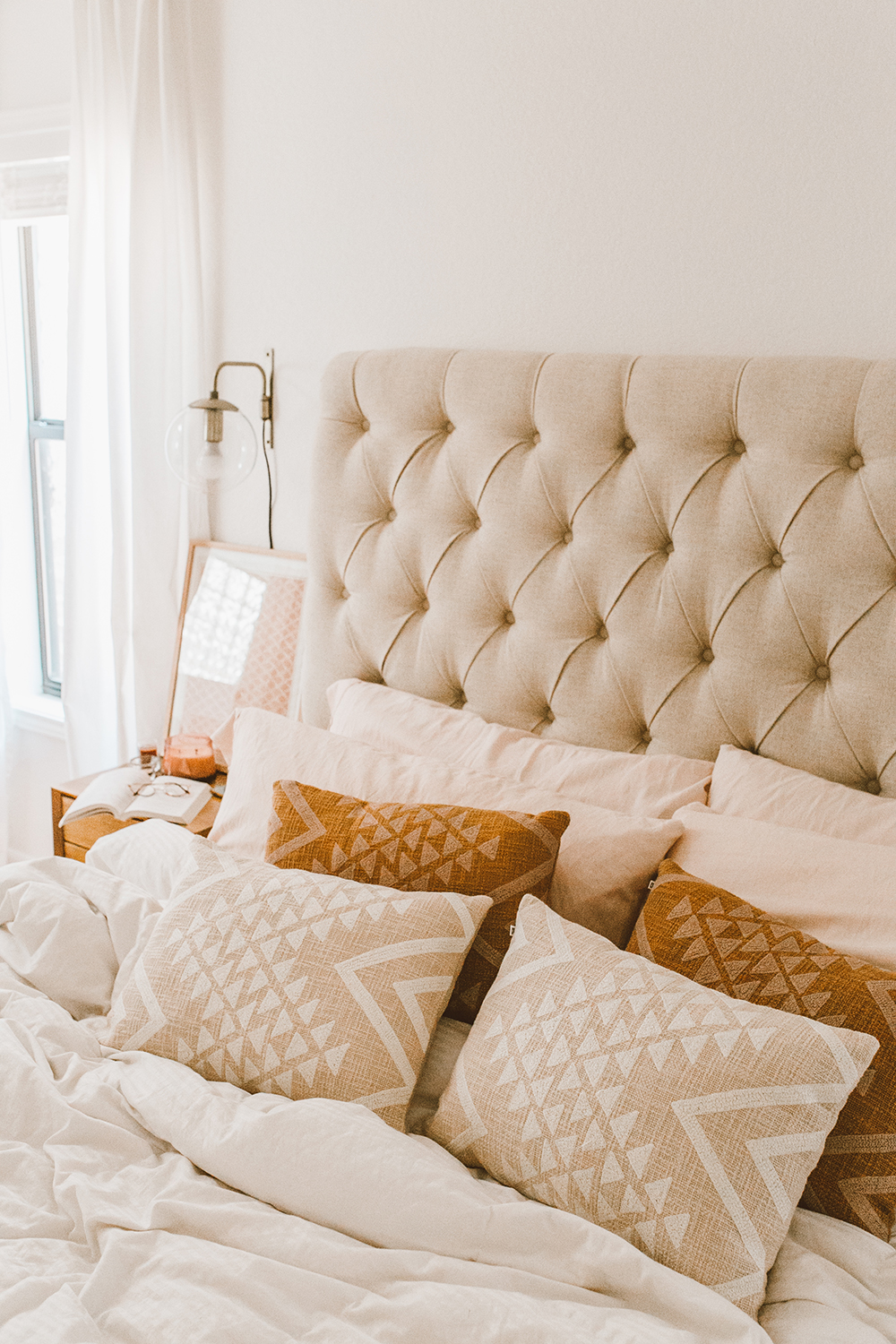 And now for the family room! I scooped up another one of my very favorite P.F. Candles…they smell incredible and I love their earthy look – that color is perfection! I tend to go through these rather quickly (big candle fan over here), so having some stock on hand (they're great decoration on a bookshelf while you wait to use them, too), is key for me!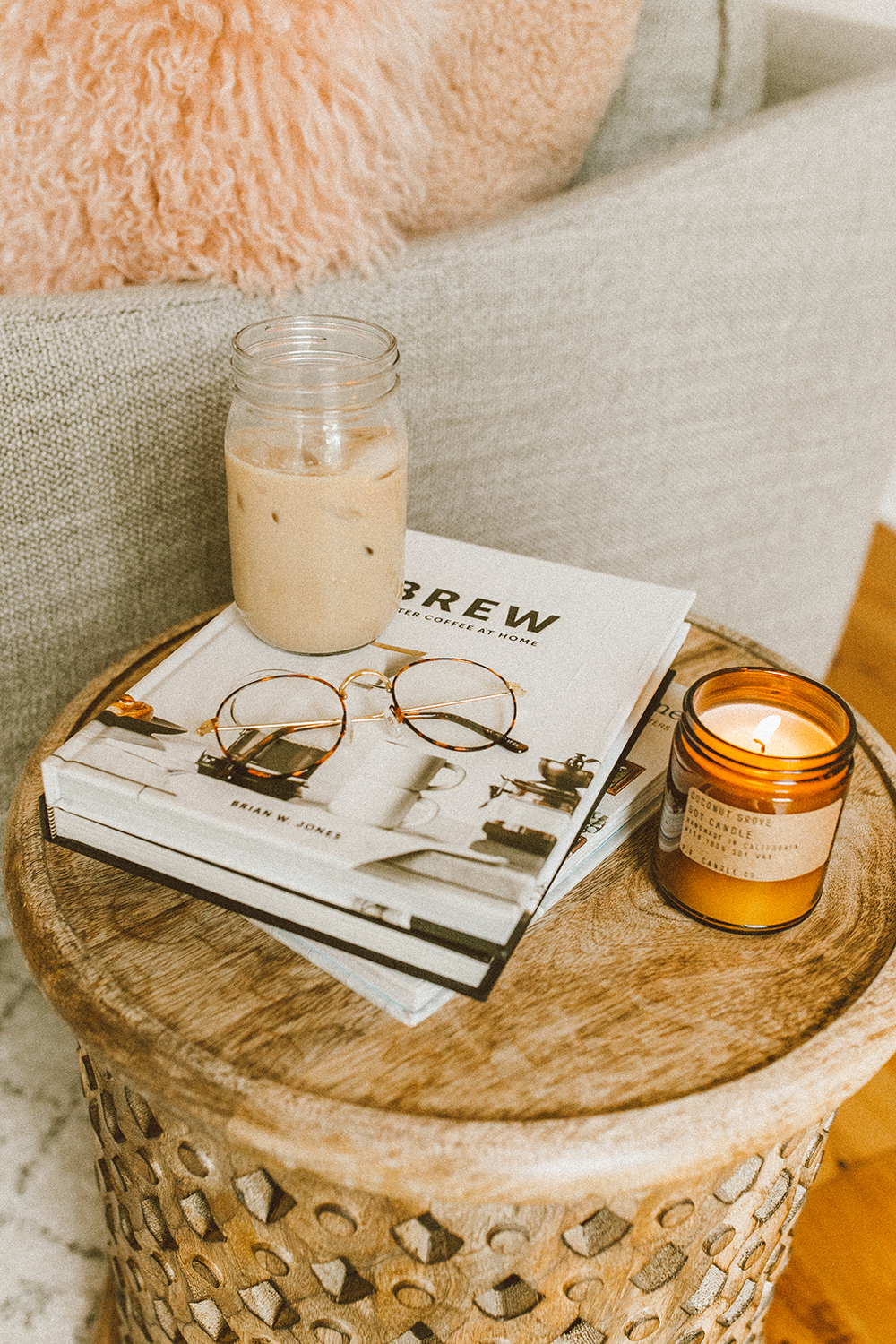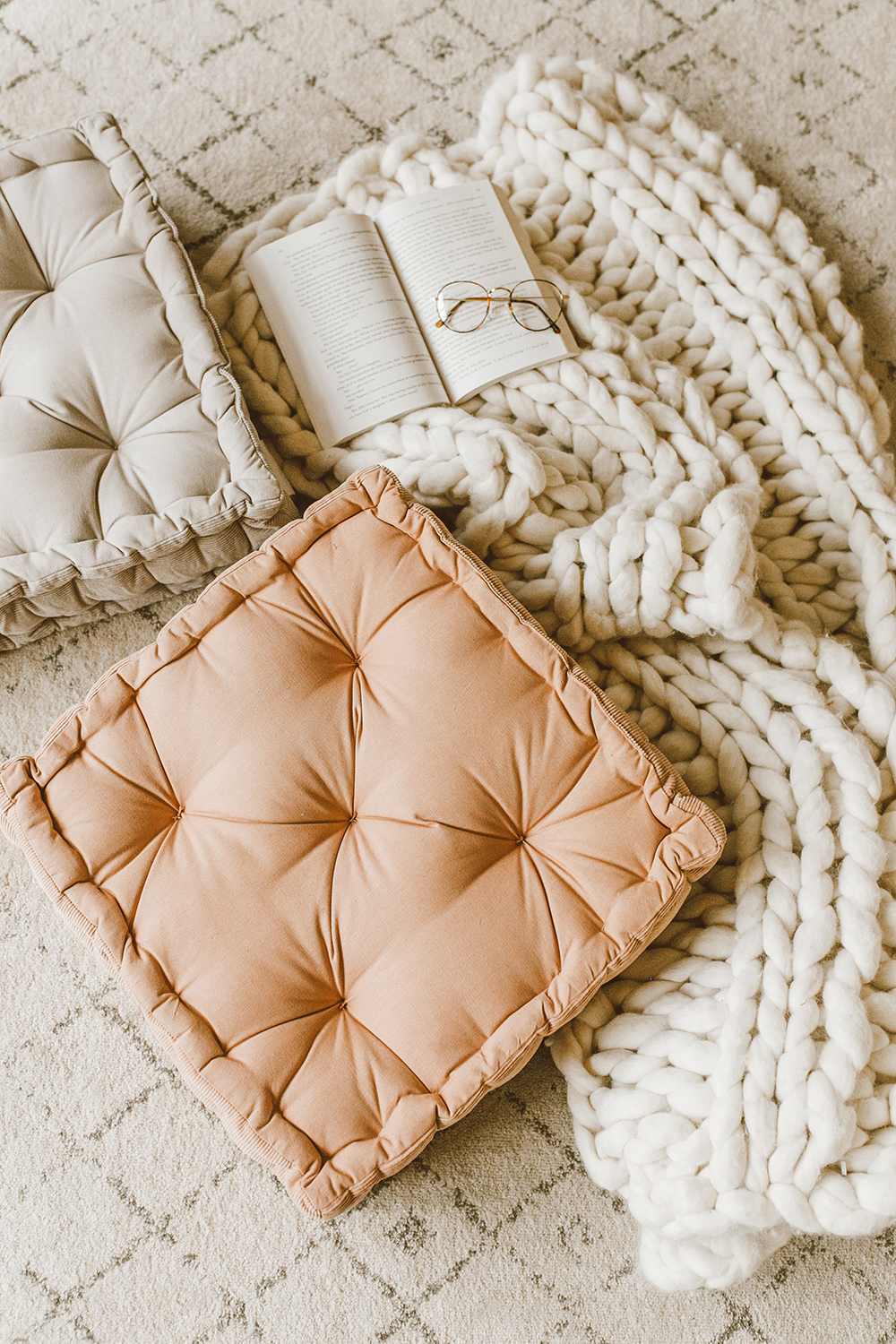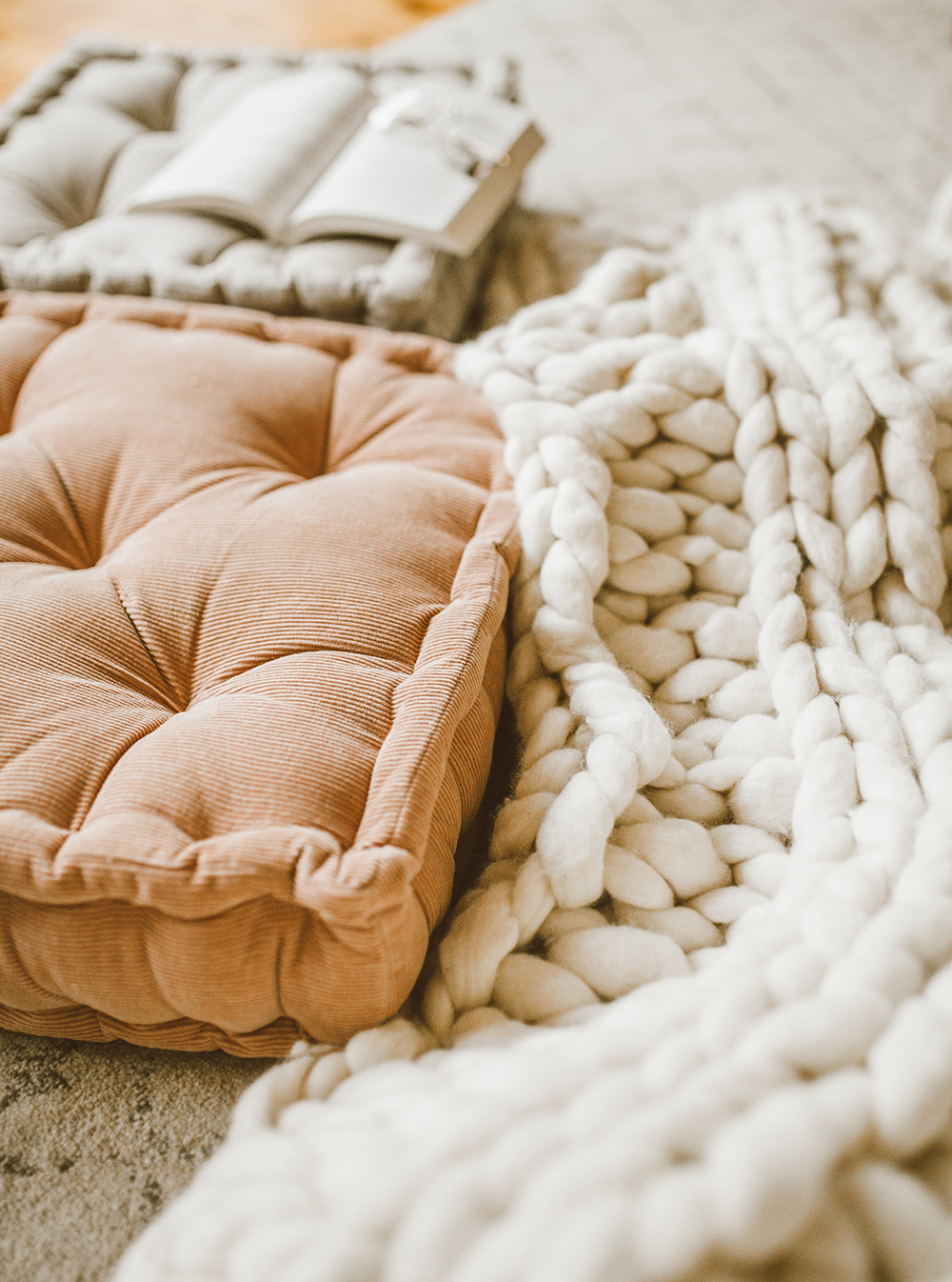 Those yummy floor cushions have been on my Urban Outfitters wish list for quite some time. Blake and I often end our day by having dinner on the sofa and it's always a pain to bend down from the couch to the coffee table (woah is me, right?). Thus, 9/10 times you'll find me eating on the floor because it's more comfortable. Given that we've got hard wood floors, they're exactly that – hard…so plush floor cushions (…the pretty colors don't hurt either!) have been a very welcome addition! Also, how darn cute is the corduroy fabric? LOVE that!! These are also super easy to stack and set on our fireplace…easy to store and they add some color and texture to the space, too.
As I mentioned in this post a few days back, I've become a major homebody and have fully embraced it with open arms (…open arms filled with lots of cozy things haha). It's all about creating our own sanctuary space and adding things here and there that feel extra inviting. For example, I absolutely love how a simple candle can add such a home-y feel, both in aesthetic and scent. Those floor cushions now have me excited to eat dinner on the floor (…and breakfast…and lunch…ha!), and our new throw pillows are seriously magical – I love the calm vibe they bring to our bedroom. Urban Outfitters is one of my very favorite retailers overall, and especially for home decor products. They're affordable, the pillows can take a beating (we've had our living room pillows for years and they've been through the wrath of puppy Watson…and that's saying a lot haha) and I love the assortment of style and colors they carry. I feel like I've got such a niche home furnishings style that I gravitate towards (bohemian but also mid century? Still figuring out where exactly I fall…), but Urban Outfitters totally just gets me – and I love it!
What's on your must-have home decor wish list? Feel free to share below – wishing y'all a restful, wonderful weekend! XO
EMBROIDERED LUMBAR PILLOWS / P.F. SOY CANDLE / FLOOR CUSHIONS

A big thank you to Urban Outfitters for sponsoring this post! All opinions are my own.