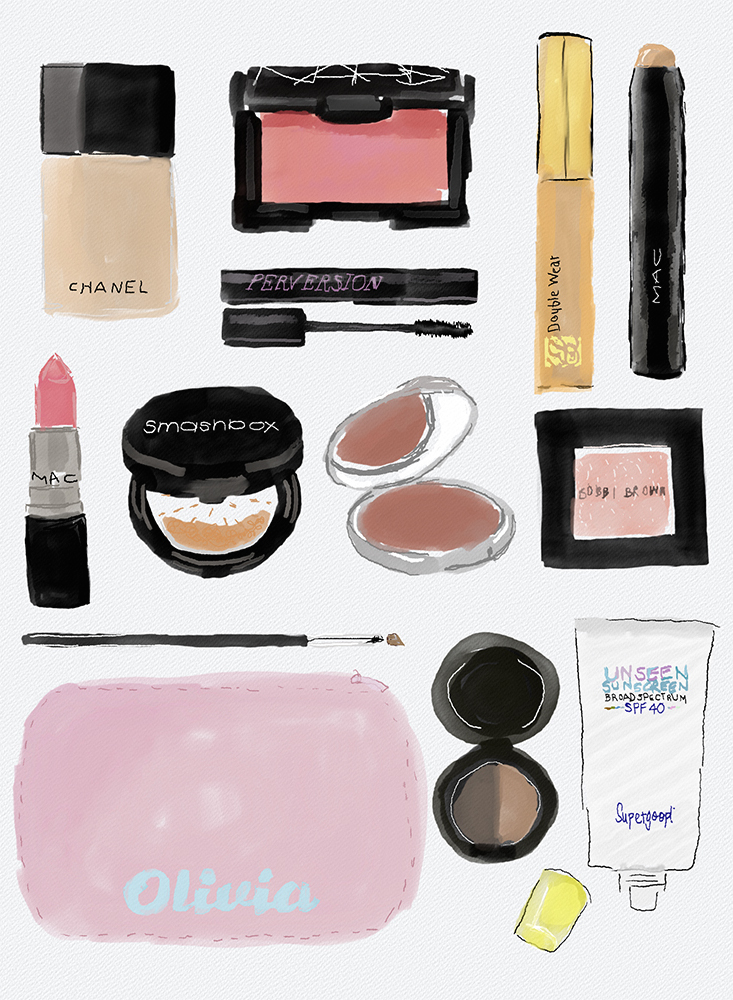 **Artwork by Kimberlee

As I get deeper into the world of blogging, I've been exposed to a lot of different makeup brands that I probably wouldn't have found on my own while strolling around Sephora. I used to be the person who swore off foundation or eyebrow powder, but in 2014 I was a newbie to the makeup world (…and in comparison to my fellow fashion bloggers, I probably still am…!) and was terribly afraid of layering up makeup in fear of looking (and feeling) unlike myself. However, by 2018 I've experimented a bit more and found some tried and trues I keep buying over and over again – and I'm super excited to share with y'all!
That said, you've likely seen a few of these brands mentioned on my blog before (hey there, Supergoop!), and I'm also including some new ones that have made the cut over the years. Sooo, let's get to it! Ps. Sharing these items in order of how I apply them – start to finish…
And there you have it – my favorite makeup (currently) this summer! I feel like I've found a new love for beauty products (both makeup and skincare) this year and it's been so fun to try out different products and discover awesome brands to add to my rotation. I'll keep you updated as I find more beauty goodies that I love!
Is there makeup in your cosmetic bag that you swear by? Let me know in a comment below! Hope y'all have a wonderful July 4th, XO.