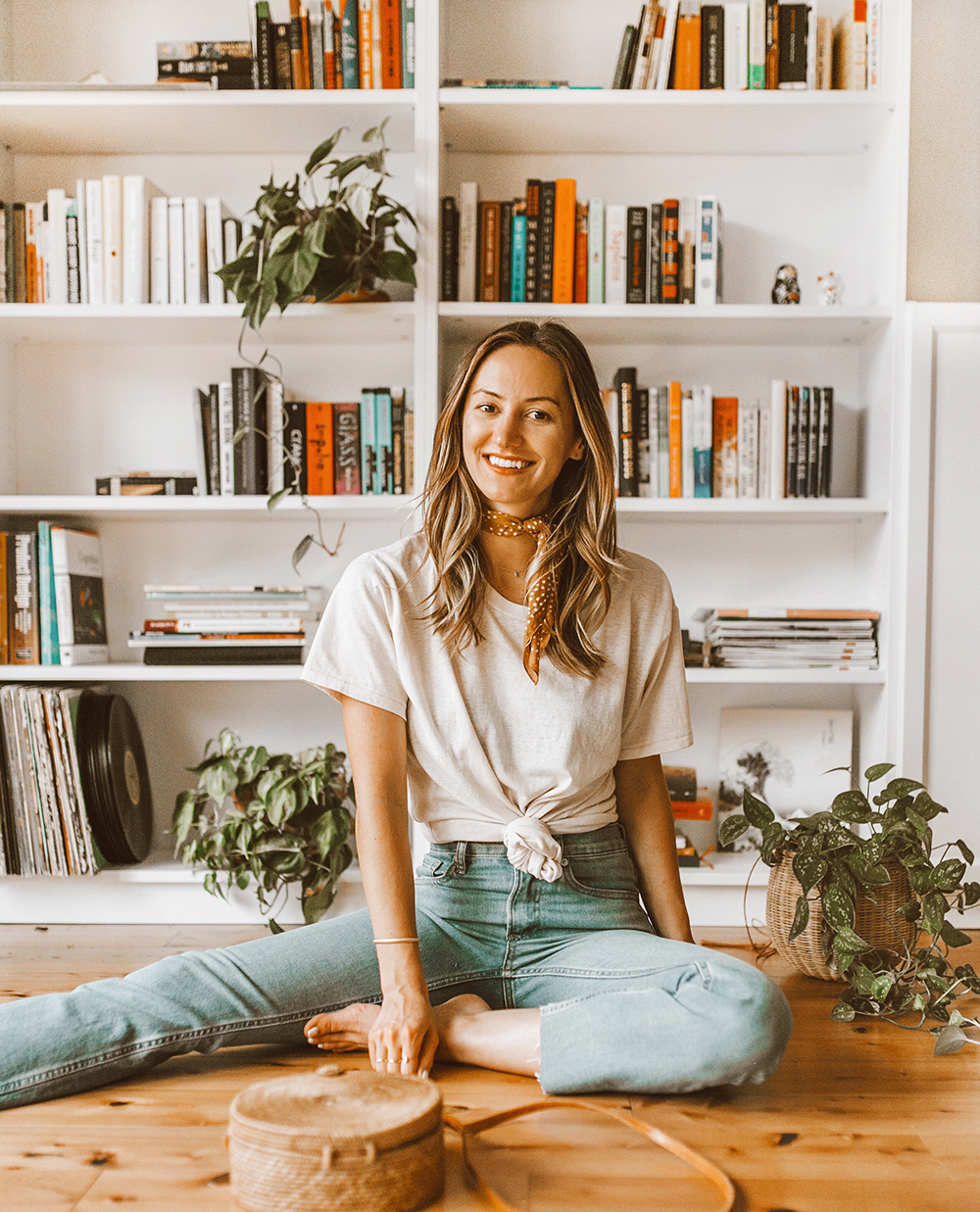 As you have probably noticed by now…LivvyLand got a makeover! This has been a long time in the works behind the scenes, and I am thrilled to finally share the new logo + site design (and a life update) with y'all!
I think as I've grown as a person and brand in this space, certain elements just didn't seem as tailored to who I am in 2018, versus who I was in 2014 when I started my blog. Over the years there has definitely been an aesthetic I've gravitated towards and I'm so excited to finally have my "branding" reflect that. Casual and approachable with warm tones – those are some key words that describe the overall vibe of my blog, style and social media. As my content has expanded and that whole "who I am" thing has slowly (but never entirely) fallen into place, I realized it was time to hire some help and freshen things up over here! Special thank you to the wonderful Anastasia over at The Identite Collective for the beautiful rebrand design and to Blake for developing the site – my little corner of the internet is feeling more "me" than ever!
Aaand now that we've got that covered! 😉 It's been a while since I've shared a general life update, so I figured this would be a great time chat about what's been going on in our world…
Our house: So much to say here! To begin, the new patio + sliding door reno is complete and turned out just as we'd hoped! I've been patiently waiting on our outdoor furniture to arrive and there have been some hiccups along the way, but it should (fingers crossed) arrive tomorrow. Once we get it all set up, I'll be snapping the photos (ideally this week!) and will be able to share aaaall the details by early next week. Stay tuned for that!! Second, we're in the process of updating our kitchen table area and I'm currently on the hunt for some giant canvas artwork… we have a big white wall to fill and I think shelving will be too busy… If you know of any artists I should check out, please let me know!! Lastly, I did a poll over on my IG stories a few weeks back asking y'all to share your favorite mattress brands because we want to upgrade from a queen to a king. Overwhelmingly, the winner was Casper! Thanks so much to everyone who messaged me with their mattress brand of choice, we're ordering ours this week…(hooray! Now Watson and I won't have to fight for my side of the bed haha).
Watson: Our little pup turned into a big pup (40lbs) and he is just the best!! Keeps us on our toes but is no longer eating furniture… things are slowly calming down in the puppy department over here and I am veeery happy about it. He wakes us up at 7am on the dot each morning by jumping on the bed and licking our faces, then he'll cuddle for half an hour. #1 cuddler award goes to Watson.
Life: Sooo…big news! Blake quit his job! He finished out his last day a little over two weeks ago and omg it has been SO fun having him home. Initially he left to try and start a business of his own, but within a few days companies starting reaching out with offers to work for them. (…And I could tell he was really excited to hear about all the potential opportunities, too). Thus, as quickly as my dream of the two of us working and living under the same roof came to life – just as fast, it's back to the days of just me and Watson. (Can you tell I've got the happy sads about this one? Haha. It was like working + hanging out with your best friend all day… it made life that much sweeter!). Buuut anyways! This has been a giant change in our house and it's the first time Blake has had a break…in well, forever. (He interned for his previous company in college and then started right away after graduating). I love seeing him less stressed and excited about his future career plans…I'm all for taking a leap of faith over here! I've been fortunate to spend more time with him over the last few weeks and whichever company he chooses will be so lucky to have him!
Travel plans: Given that Blake is likely accepting an offer somewhere, we're going to try and squeeze in a beach trip asap! We tend to book "trips" and not "vacations" when we travel (I guess we'll see if we can sit still for more than a day haha), so I'm thinking a relaxing vacay with margaritas, a beach and books sounds divine. Gotta soak up these final weeks before PTO and all that jazz comes into play! Ps. If you have any good book recommendations, let me know!
Work/life balance: Y'all know I've been a lot more cognizant of how I'm spending my free time (see this post, for example) and overall have just been a lot more mindful of turning work off and focusing on my mental and physical health. I am reading The Power Of Now (life changing!) and have been exercising 4x a week for the last three weeks. I'll alternate between swimming laps at our gym pool or heading downtown to run the Hike & Bike Trail (it's a 3 mile trail). Blake and I also discovered spaghetti squash (for realz have I been living under a rock?! This stuff is amazing!) and we've been replacing our pasta meals with it (…and if you know us, you know we eat a LOT of pasta haha). All of these healthy changes have really made me feel 100x better and more in control (strength, endurance, mental clarity, etc.). I feel like my stress level has gone down a ton and overall I feel more balanced. Things are on the up and up!
Aaand I think that covers it! Do you like the new site design? Thanks so much if you made it this far, ha! 😉 Have a great week, XO.
jeans – EVERLANE / tee – URBAN OUTFITTERS / basket bag – POPPY & SAGE