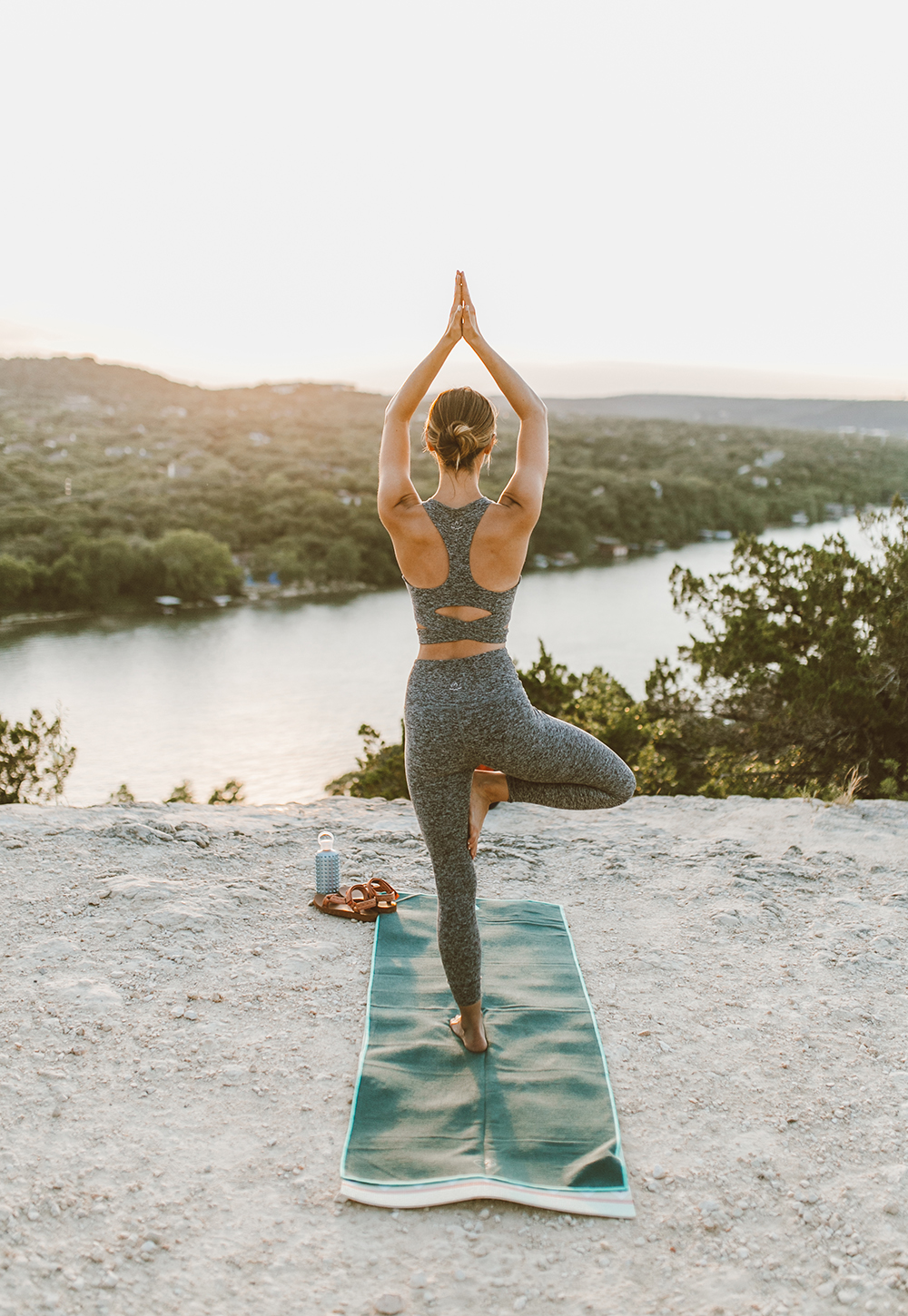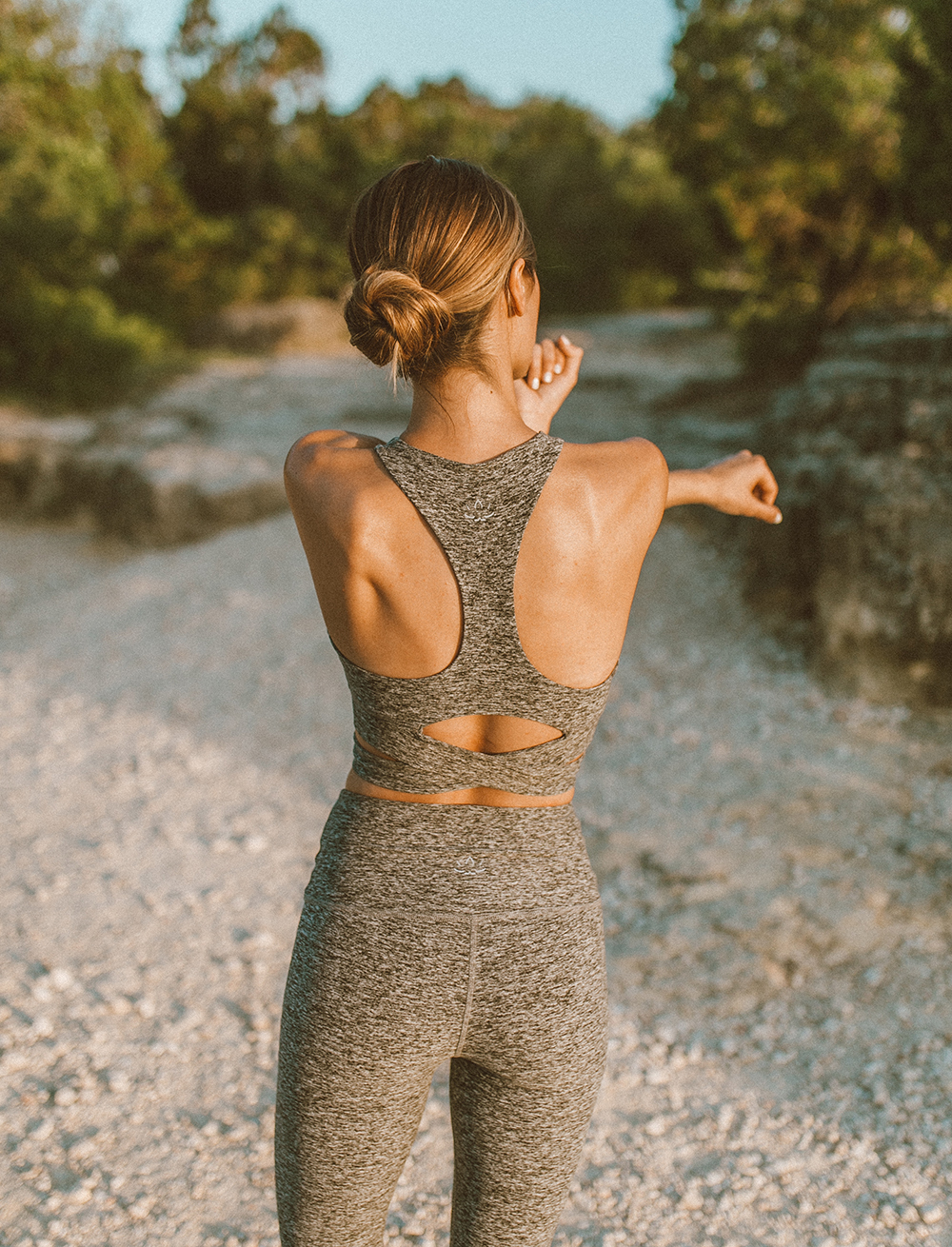 Austin is filled with so many beautiful lookout points, and Mount Bonnell is one I hold dear to my heart. It's a short hike up to jaw-drop stunning views of Lake Austin (…and the mega mansions that surround it!), and on a weekday evening it's not yet filled with tourists. It was once a hidden gem in town, and thankfully on a random Wednesday night as the sun was setting, we were able to set up camp and practice some poses. The sun sets around 8:30pm these days, so luckily most folks had left the area and were headed home – which gave us plenty of space to stretch freely and soak up the cliffside views, lush greenery and open air.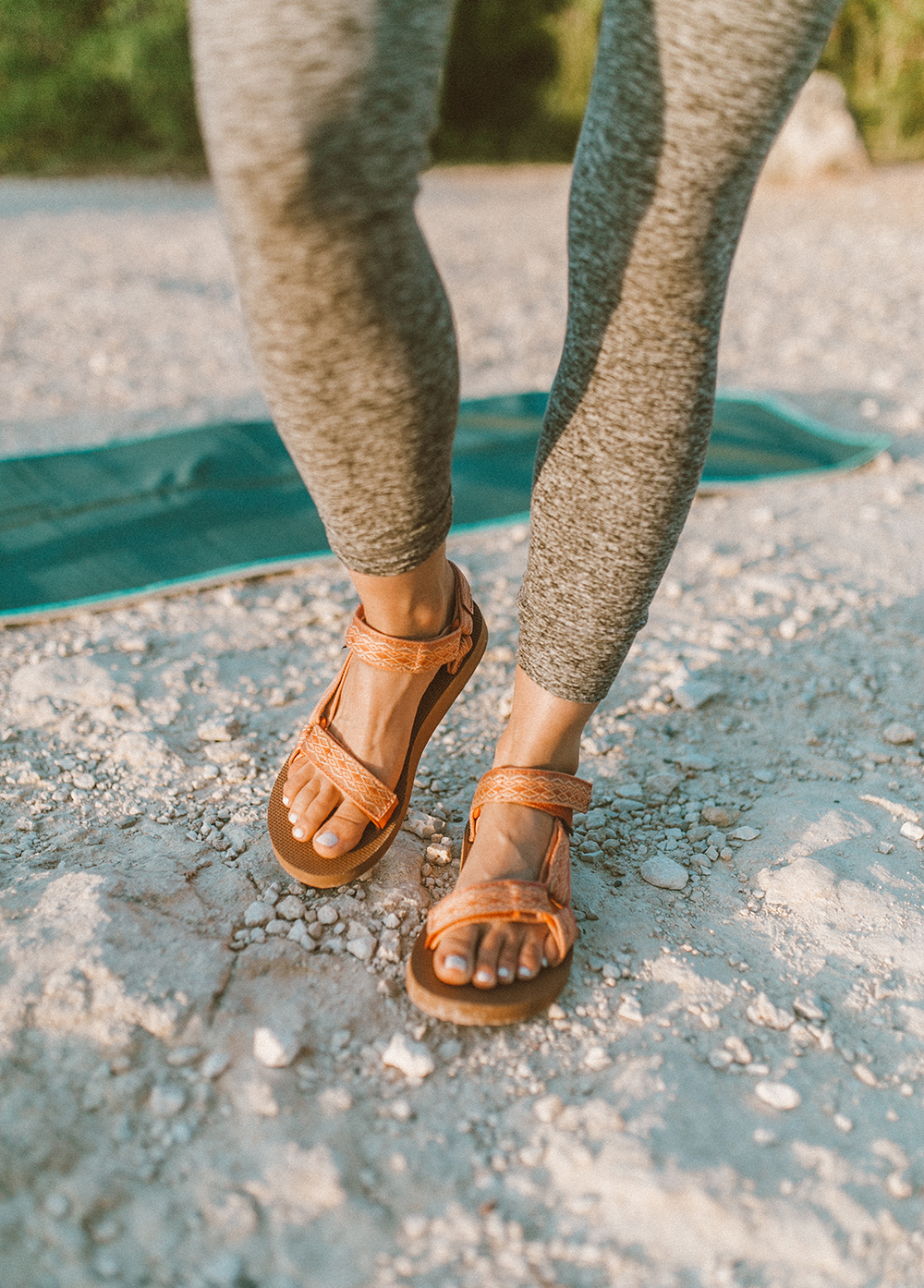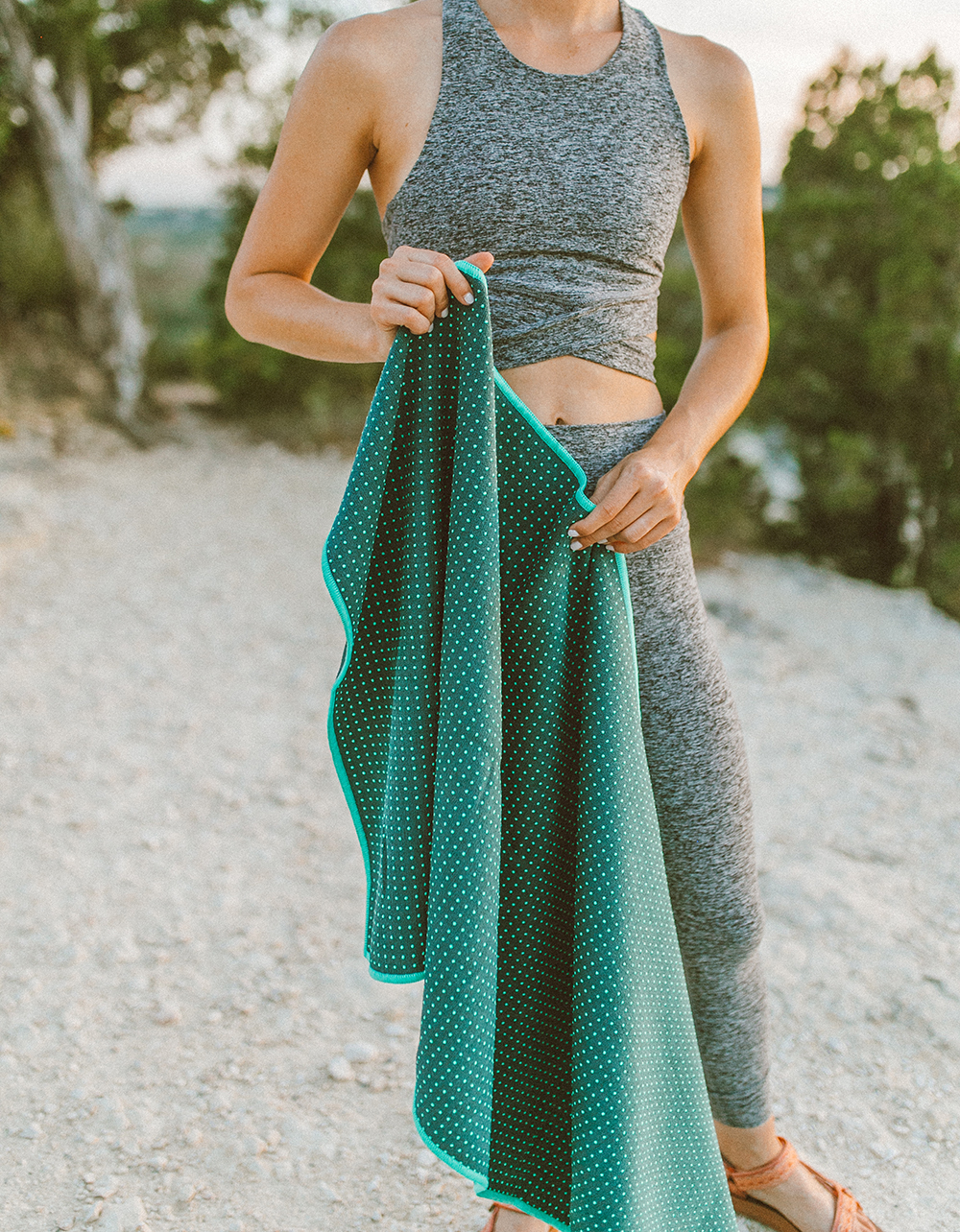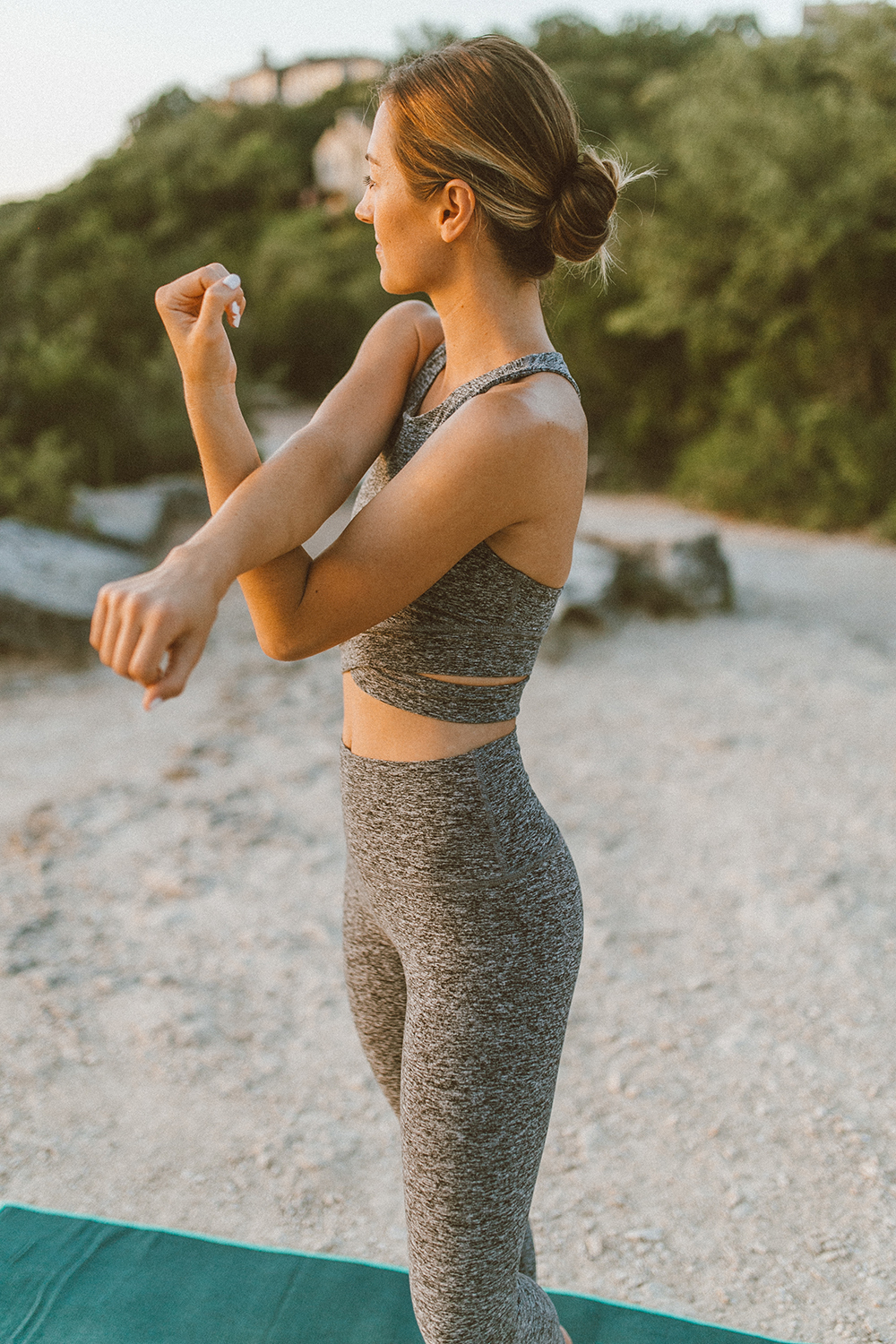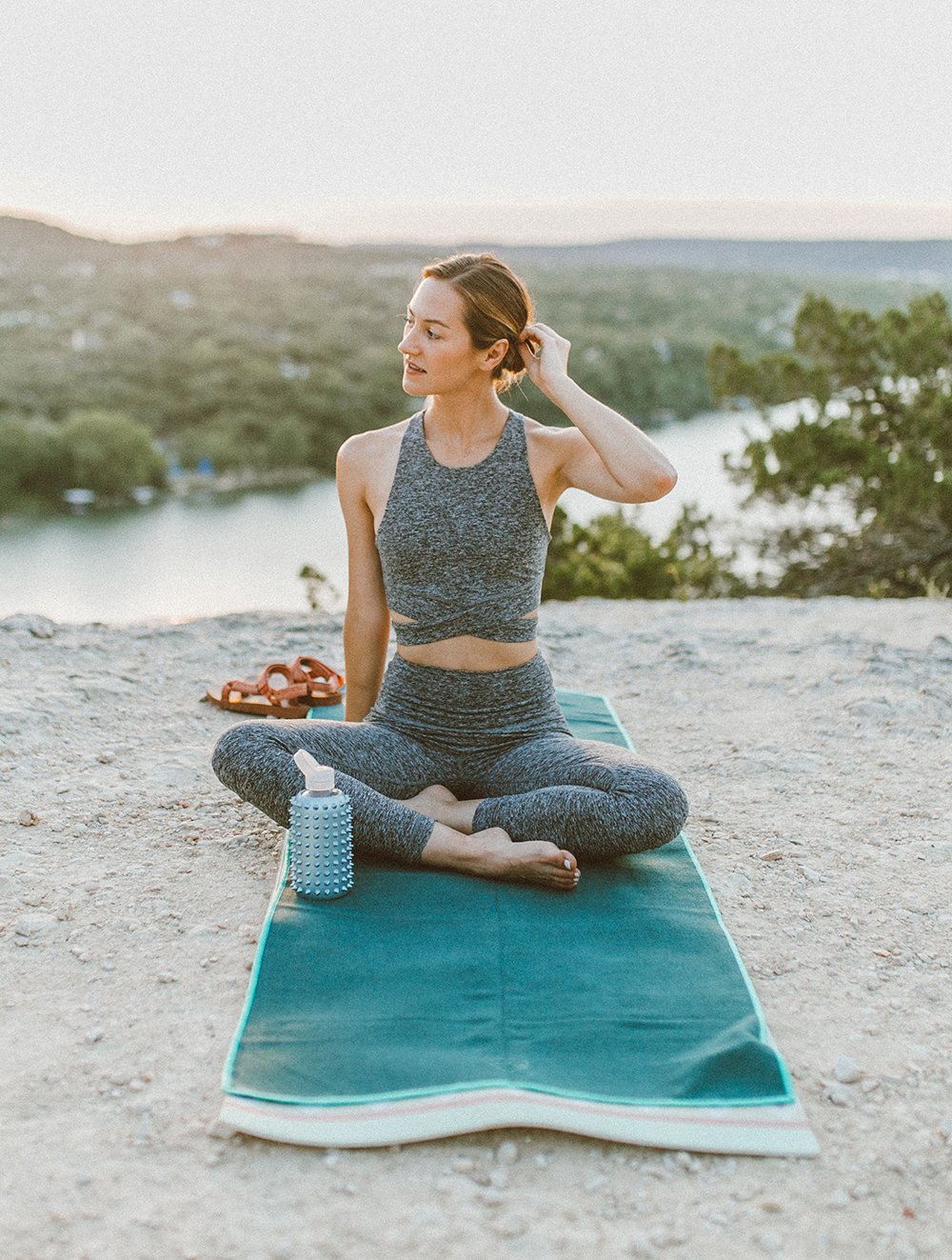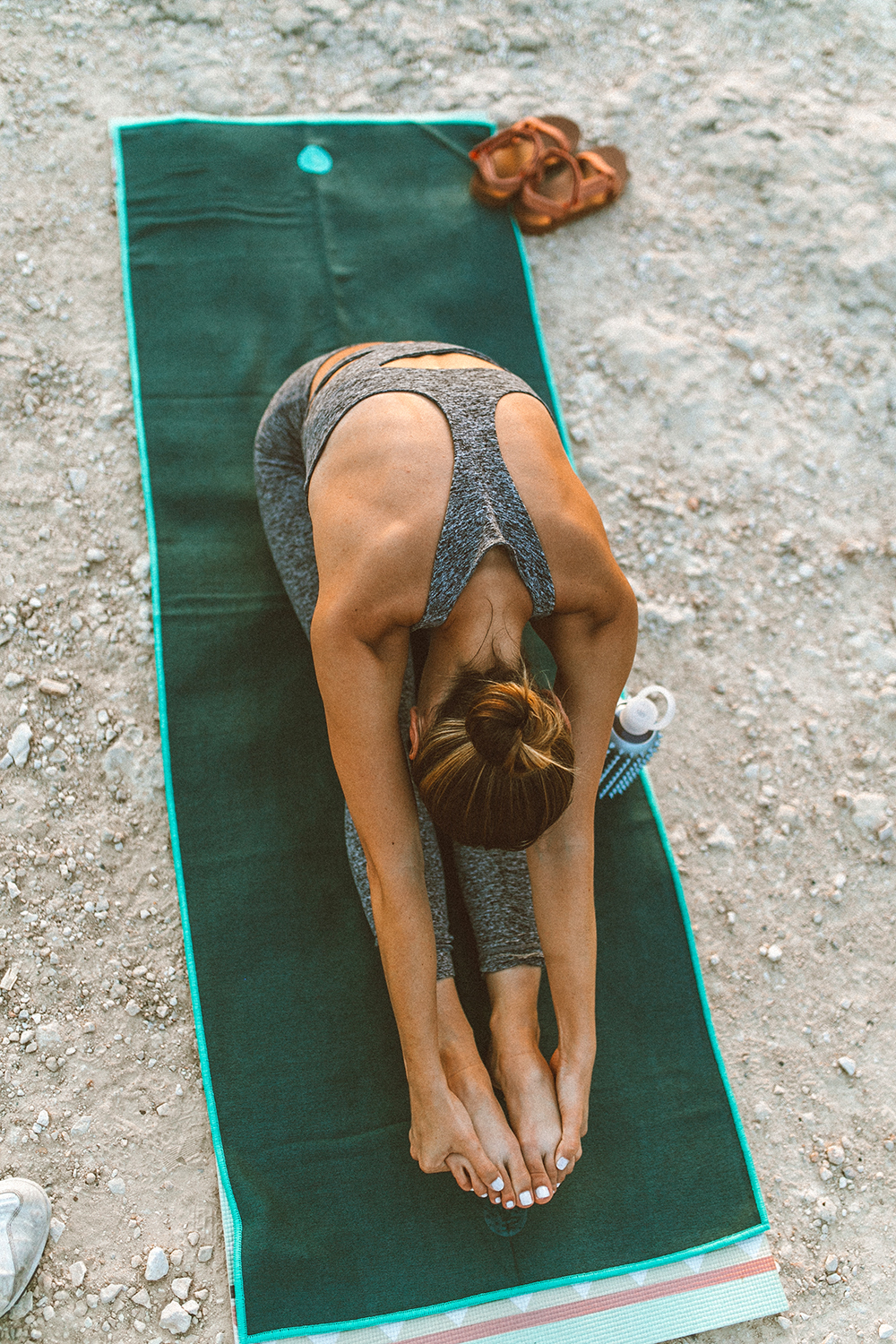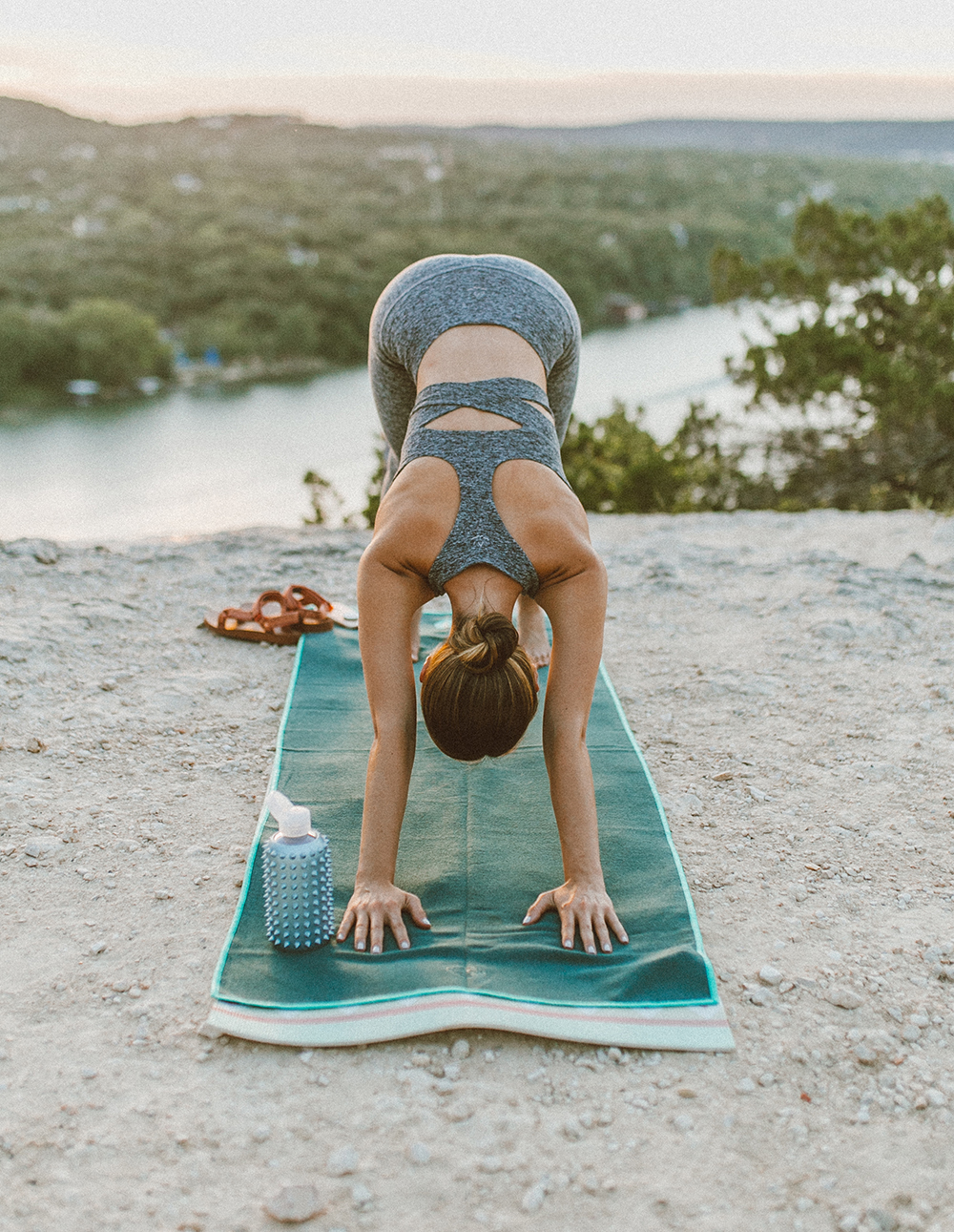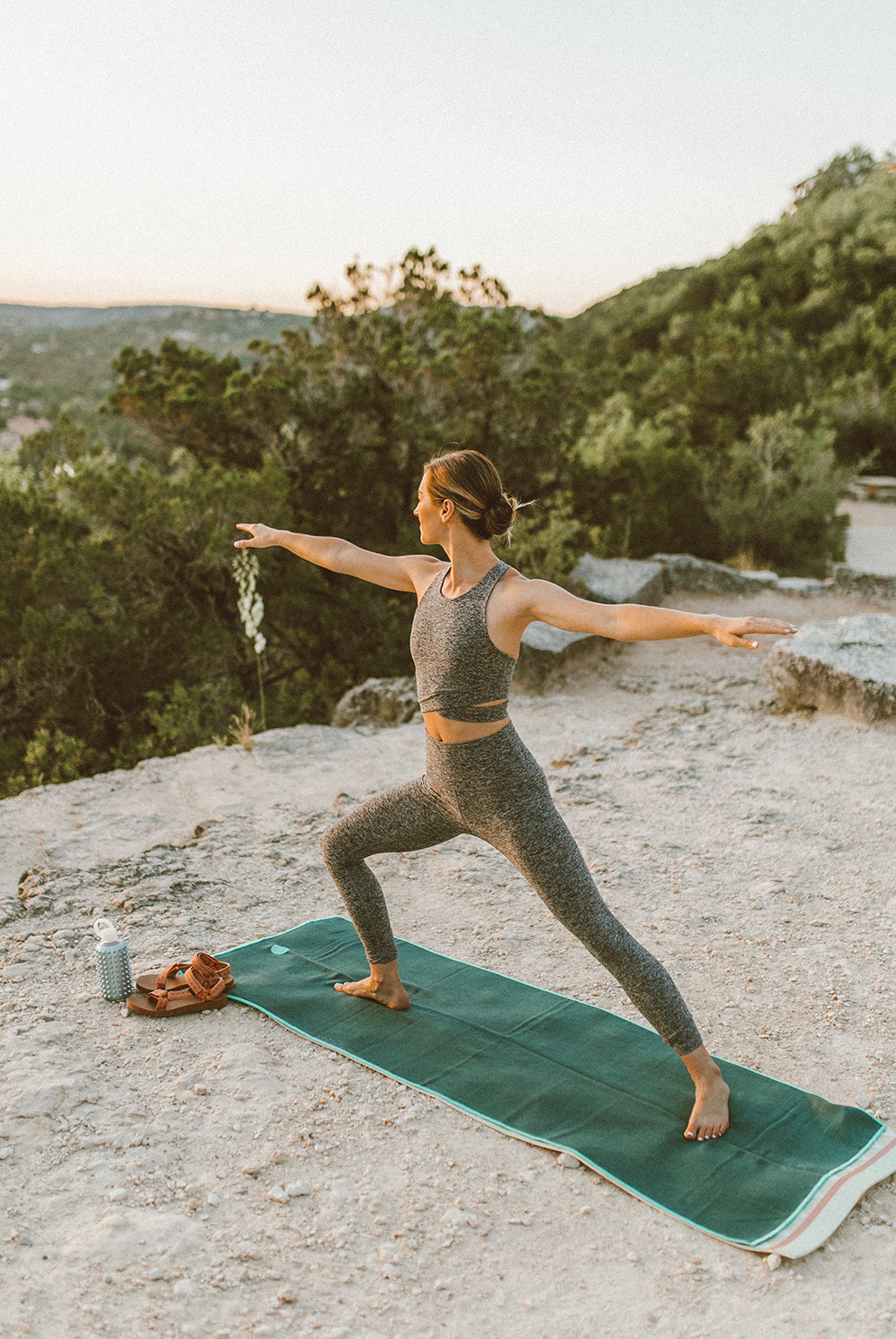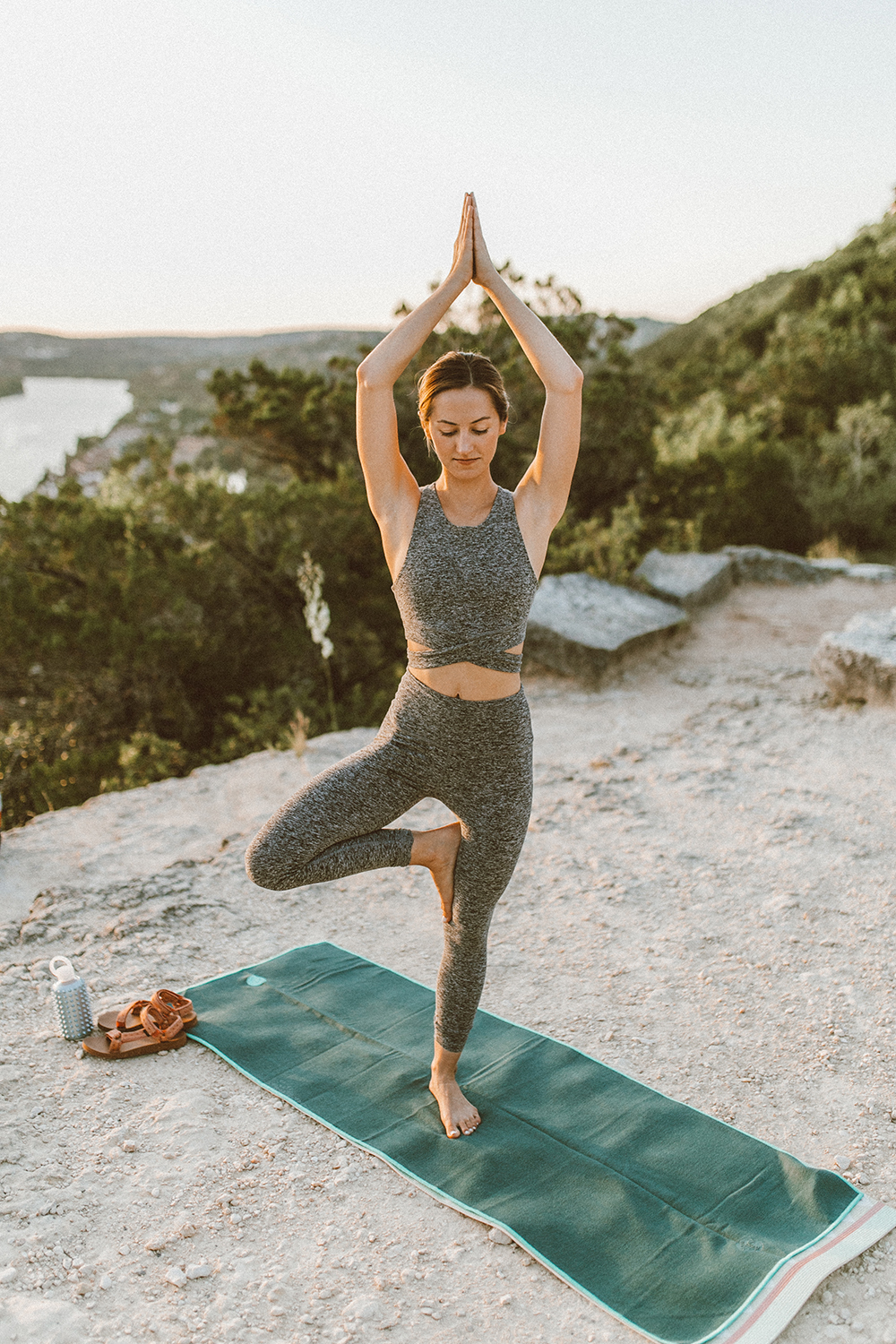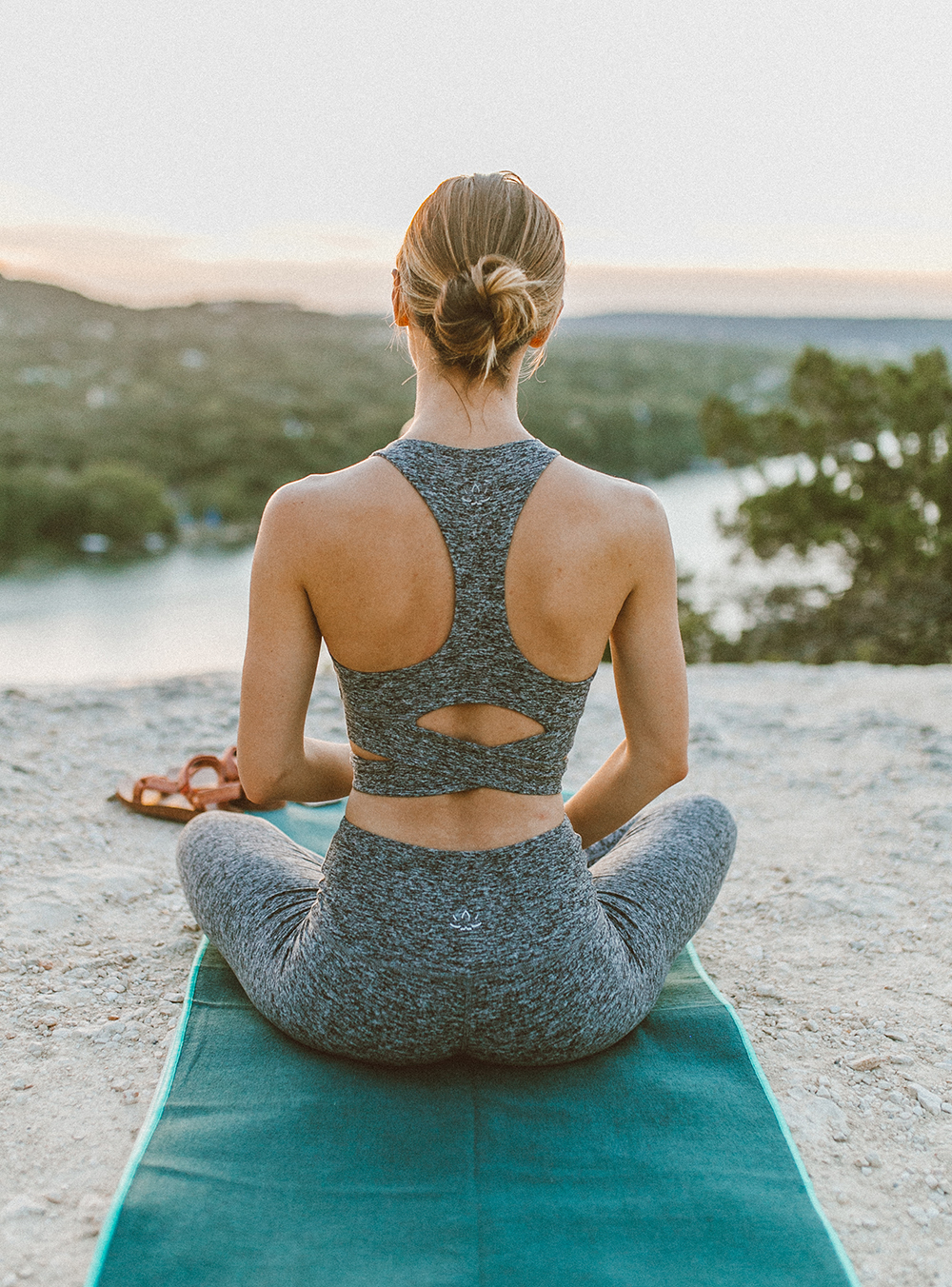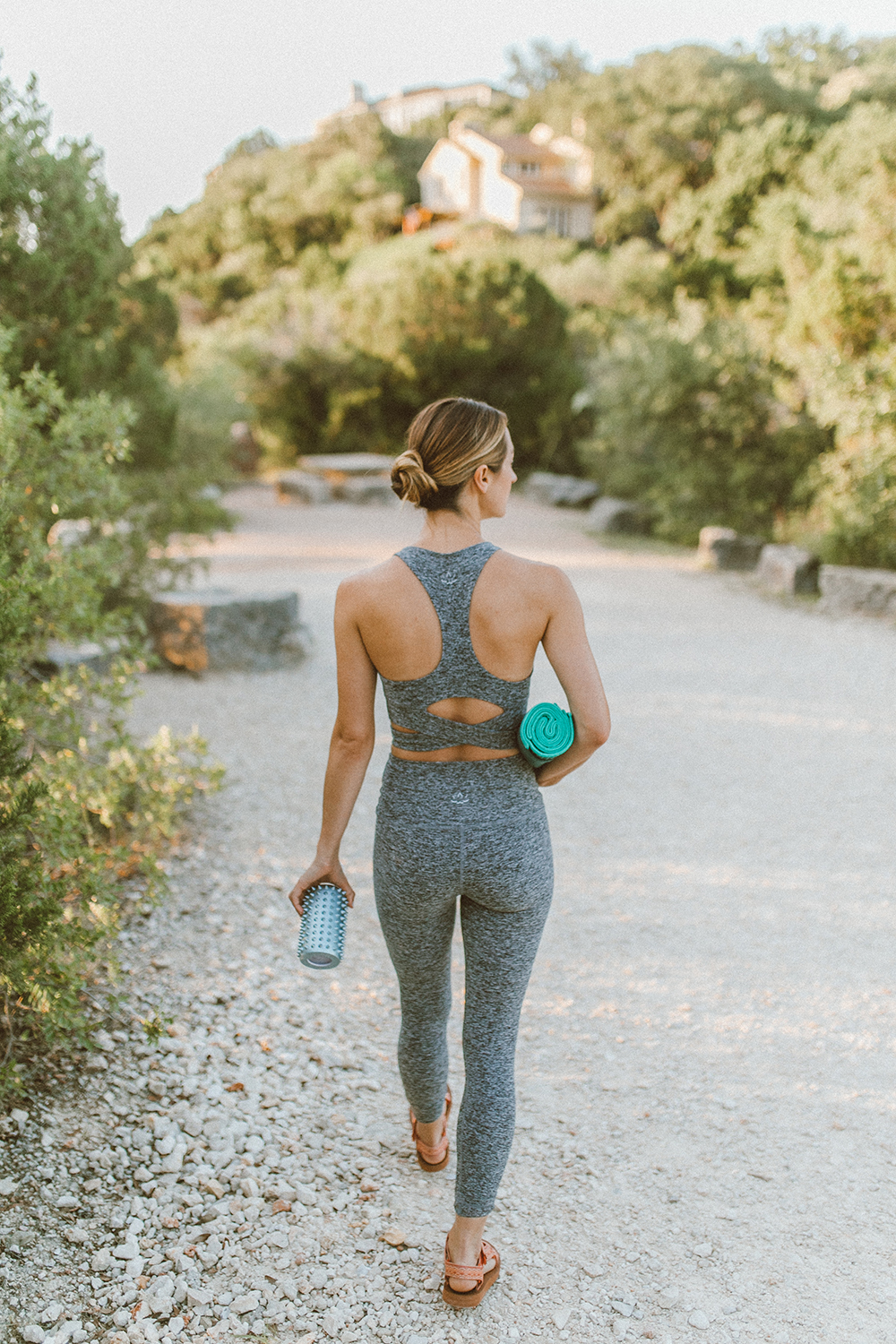 Ever since Blake and I returned home from Japan, we've been focusing a lot on keeping our work/life balance in check. Now that it's basically summer out, it's been a lot easier to shut my laptop and get outside. I have always been a warm weather fan (growing up in Austin, it would kind of be impossible not to be, ha) – even if it's a scorcher outside, I am game to go on a run or do something outdoors. I feel healthiest when I'm getting my vitamin D fix (nothin' like good 'ol sunshine) and breaking a sweat at the same time.
I've been swimming laps every other day (my sister is an amazing swimmer and goes often, so I started tagging along and have been LOVING it!). If I'm not swimming, I'll go for a run and do some conditioning. And on those days when I don't want a high intensity workout but still want to keep my mind at ease and my body in check, I'll do yoga. Today was one of those days.
"When the world moves too fast
and you lose yourself in chaos,
introduce yourself to each
color of the sunset.
Reacquaint yourself with the earth
beneath your feet.
Thank the air that surrounds you
with every breath you take.
Find yourself in
the appreciation of life."
-Christy Ann Martine
I discovered that quote the other day and it immediately resonated so much. It couldn't be more true – when I'm feeling bogged down or overwhelmed, simply stepping outside and looking up or looking down tends to put life in perspective pretty quick. It feels good to be present in a moment – not feeling anything else except the wind on your skin or the sound of your surroundings. For me, yoga encourages just that. It's conquering a pose while allowing your mind to simply just "be." It's leaving anxiety behind and replacing it with positive thinking and self care for your body. It's challenging and freeing, all in one.
Given that fitness has become a big part of my routine over the last few months, I've been looking to retailers that have plenty of outdoor options, no matter what physical activity I have planned. Y'all have seen me gush about Backcountry countless times by now, and their yoga selection reaaaally just takes the cake (…they have entire tab devoted to yoga products, it's awesome). My leggings and sports bra duo are both by Beyond Yoga and lemme tell ya, I have never put on anything SO soft in my life. The fabric is extra stretchy and buttery smooth – the absolute best combination when describing yoga gear. I am wearing a small in both top/bottom for reference (the reviews said to size up in this brand and they were spot on!). My shoes are by Teva and omg these are magical sandals. My love for Birkenstocks runs deep, but these will definitely be in heavy rotation this summer (…which clearly is a really big deal haha). They're super lightweight and I LOVE the fun print! I was deciding between classic black and the peachy color combo, and ultimately the colorful kicks won me over. Lastly, that yoga mat towel is SO AMAZING! I am the person in class who is constantly readjusting my towel, but because this one has rubber grips all over the bottom, it stays in place. Seriously, brilliant!
GREAT NEWS: Backcountry is currently running a Memorial Day Sale and offering up to 50% off select products (including a ton of Beyond Yoga items), and also offering 20% off one full priced item (code will be applied at checkout). Time to stock up on all your summer fitness and outdoor essentials – you can shop the sale here.
What's your favorite way to exercise in the summer? Linking to this look and more yoga favorites below! XO
leggings – BEYOND YOGA / sports bra – BEYOND YOGA / sandals – TEVA / yoga mat towel – MANDUKA YOGITOES

SHOP MORE YOGA FAVORITES

A big thank you to Backcountry for sponsoring this post! All opinions are my own.