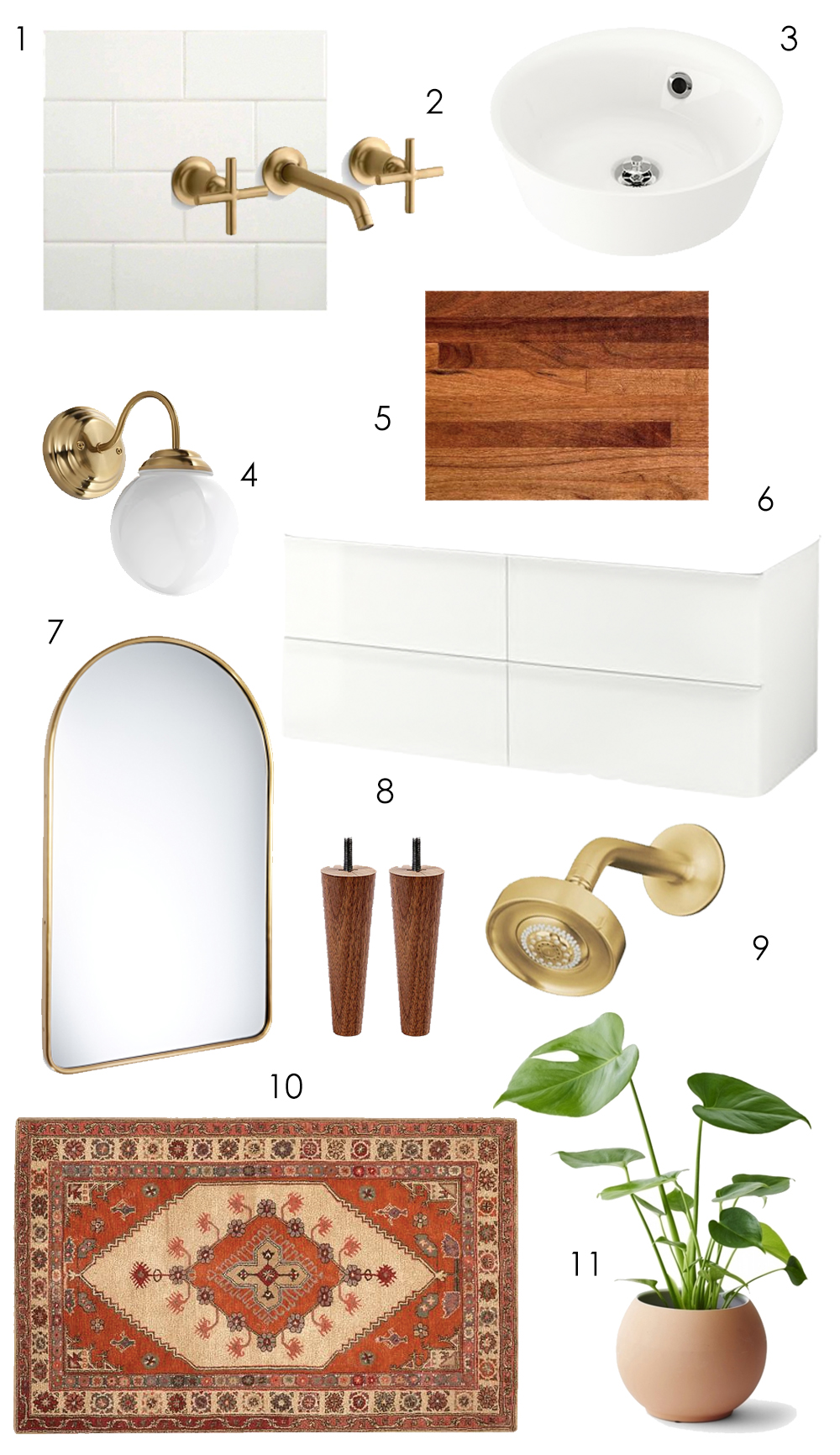 Hooray for another home decor project! Never a dull moment over here… home ownership means a running list of updates, fixes, changes and renovations, and we are FINALLY making progress with our master bathroom plans! I've mentioned before how the previous owners of our 1980's abode flipped the house and did a fabulous job – but of course, there are a number of things we're excited to update to feel a little more "us." The master bathroom has been at the top of my list for quite some time now and over the weekend we finally nailed down our plans and started purchasing products…it's really happening, y'all! 😉
Sooo if there's one thing I've learned about home renovation projects…it's that they are expensive and add up really fast. Spending money on clothing is one thing, but a brushed gold sink faucet is a whole other ballgame. Throw in another faucet, a shower head, bath spout and vanity with nice mirrors and you've got yourself a dent in the 'ol savings account. However, YOLO. And also, the amount of time I spend in the bathtub staring at our current ugly fixtures and wishing with all my might that I could swap them out, is well, honestly a ridiculous amount of time. Onwards to loving my nightly bath ritual even more and allowing my mind to wander to other subjects that don't involve a tile backsplash or wall sconces!
But in all seriousness, Blake and I are accustomed to creating a sanctuary space within a reasonable budget. Y'all know by now that some of my favorite home decor retailers are the ones kindest to our wallets, which is why we decided to save some money by doing a vanity + butcher block + floating sink DIY – all thanks to IKEA! Our house is small as it is, and our master bathroom has a particularly interesting layout that doesn't leave a ton of room for a big vanity (let alone one with a double sink). Prior to hitting up IKEA, I did some thorough research for a vanity with sinks already installed, but it was nearly impossible to find one narrow enough to fit the space. That said, we ended up buying the exact same style we currently have – but opted for a longer size so that we could fit two floating sink bowls (the vanity we purchased is 48in), and we'll add the mid-century peg legs to tie in the wood elements.
I love a bathroom that feels inviting (I mean, let's be honest, we spend a lot of time in our bathrooms haha!) and also has character, which is why I love pairing natural wood with more design-y gold fixtures. It feels warm and also has some personality. Our current bathroom fixtures are black and look like they came straight out of the 90s… and while I love a good retro vibe, let's just say these aren't the good kind of 90s.
All that said, here are the official-ish plans! (Mirror and light fixtures are tentative…mulling over a few options). Swap the vanity + sinks, stain and seal the butcher block counter, add a subway tile backsplash to match the rest of the bathroom, change all black fixtures to brushed gold and finally, decorate with a vintage rug (my fave!) and lots of fresh greenery. Top it all off with a bubble bath, glass of cabernet and some candles burning. Let me lather on my facemask and ohhh girls I am READY.
Later this week Blake and I are going to stop by Home Depot to pick out the tile and swing by the a few appliance stores to scoop up all the brushed gold faucets. It's aaaall coming together and we are so excited! (Well…not so sure Blake is haha, but I certainly am! 😉 ). I'll be sure and share behind the scenes updates as it comes along…!
Hope y'all are having a wonderful week! XO
1 SUBWAY TILE / 2 SINK FAUCET / 3 SINK / 4 WALL SCONCE / 5 BUTCHER BLOCK / 6 VANITY ("high gloss white") / 7 MIRROR / 8 PEG LEGS / 9 SHOWER / 10 RUG / 11 PLANTS