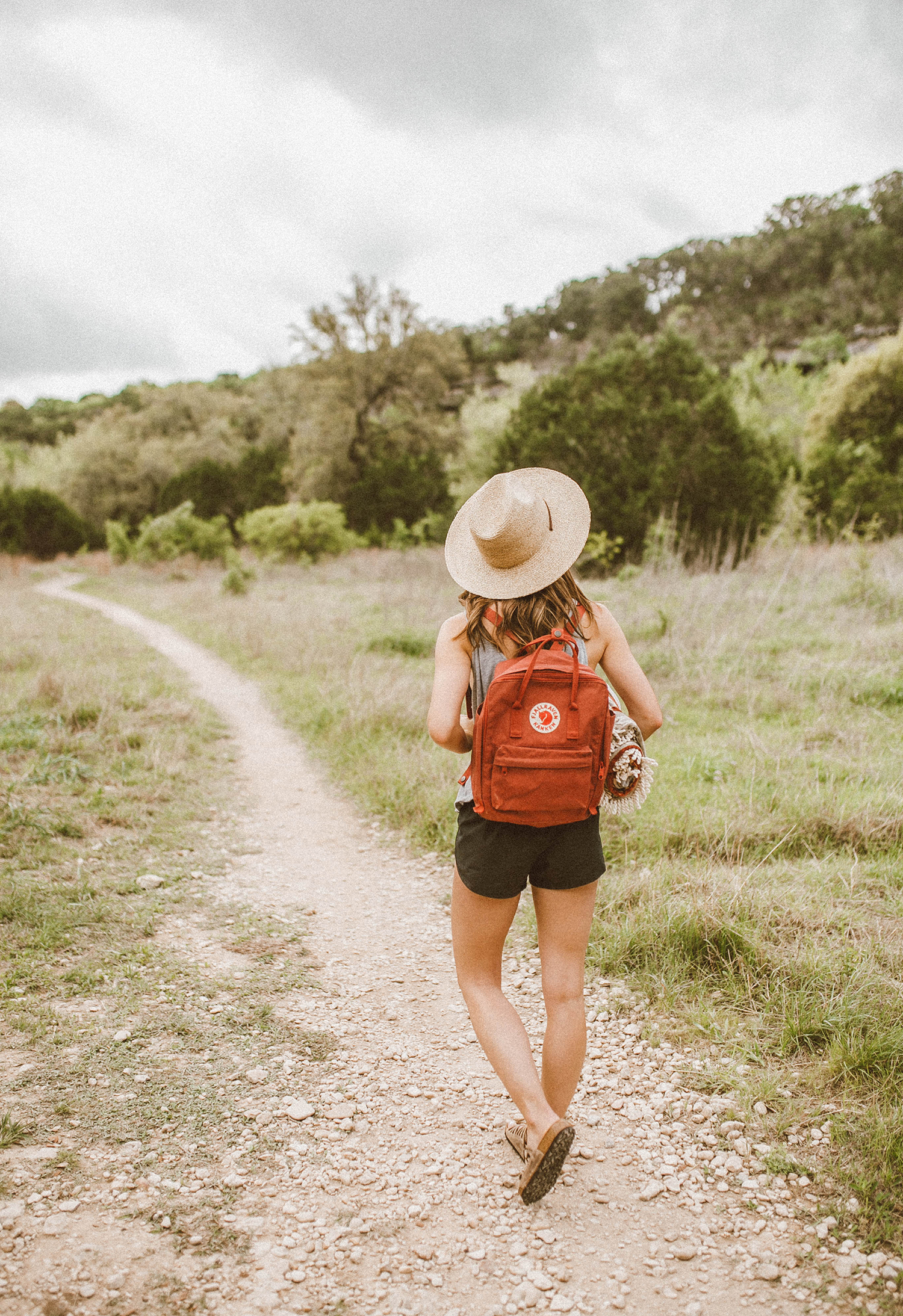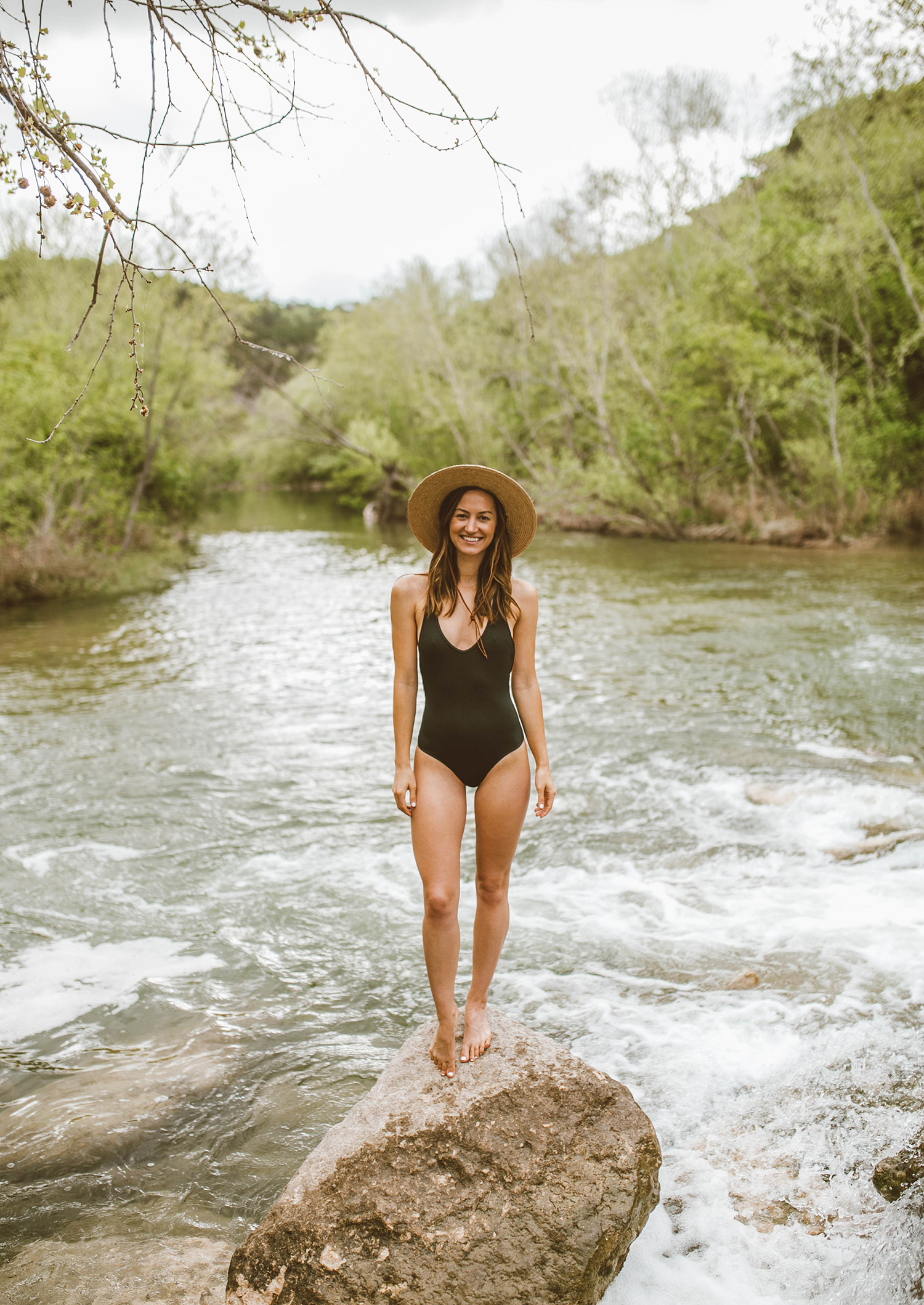 The best way to clear your head and let go of that do-list that won't stop running through your brain? Get outside! There is nothing more calming than the sound of a flowing stream, the beauty of vibrant nature around you and that exhilarating feeling that breaking a sweat during a hike can bring. This weekend Blake and I ventured down to a spot we've been visiting since our high school days (…it was fun to reminisce as we hiked down to the water…so many memories here!) – the Austin Greenbelt. There were some heavy rains last week, which meant hitting one of our favorite swimming holes was a great idea. It was SO beautiful, peaceful and best of all, a pleasant morning date that gave us a wonderful, fresh start to the week ahead.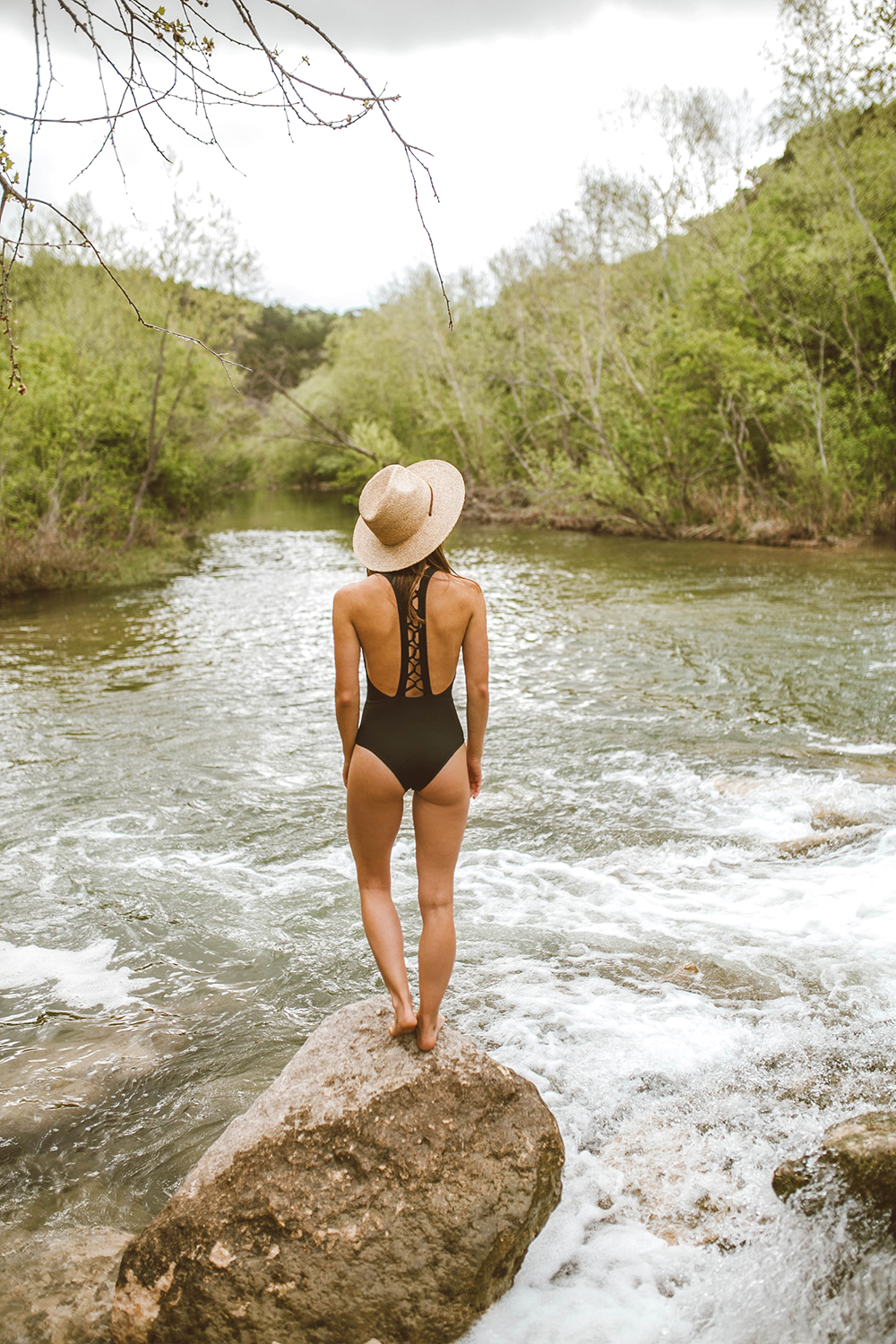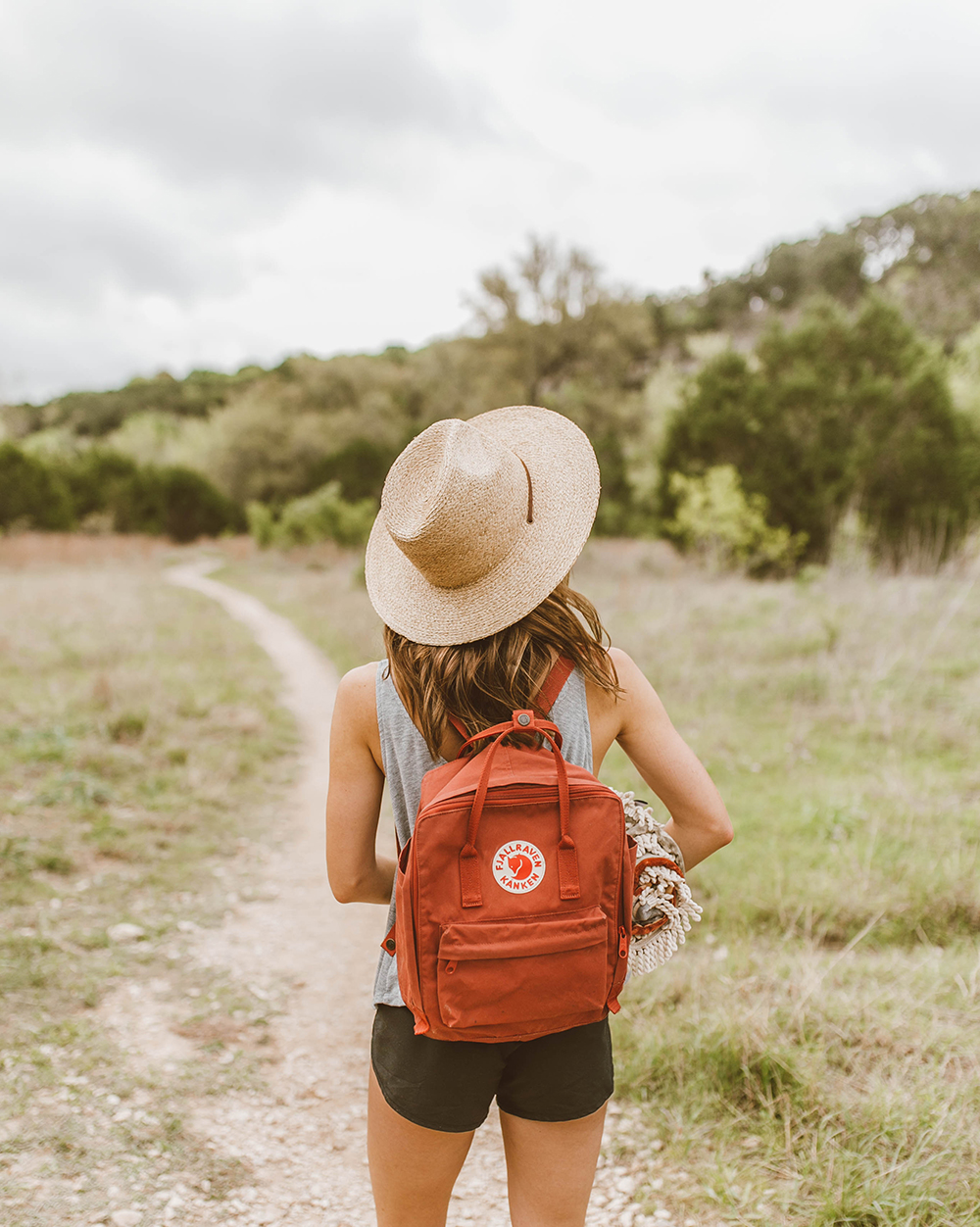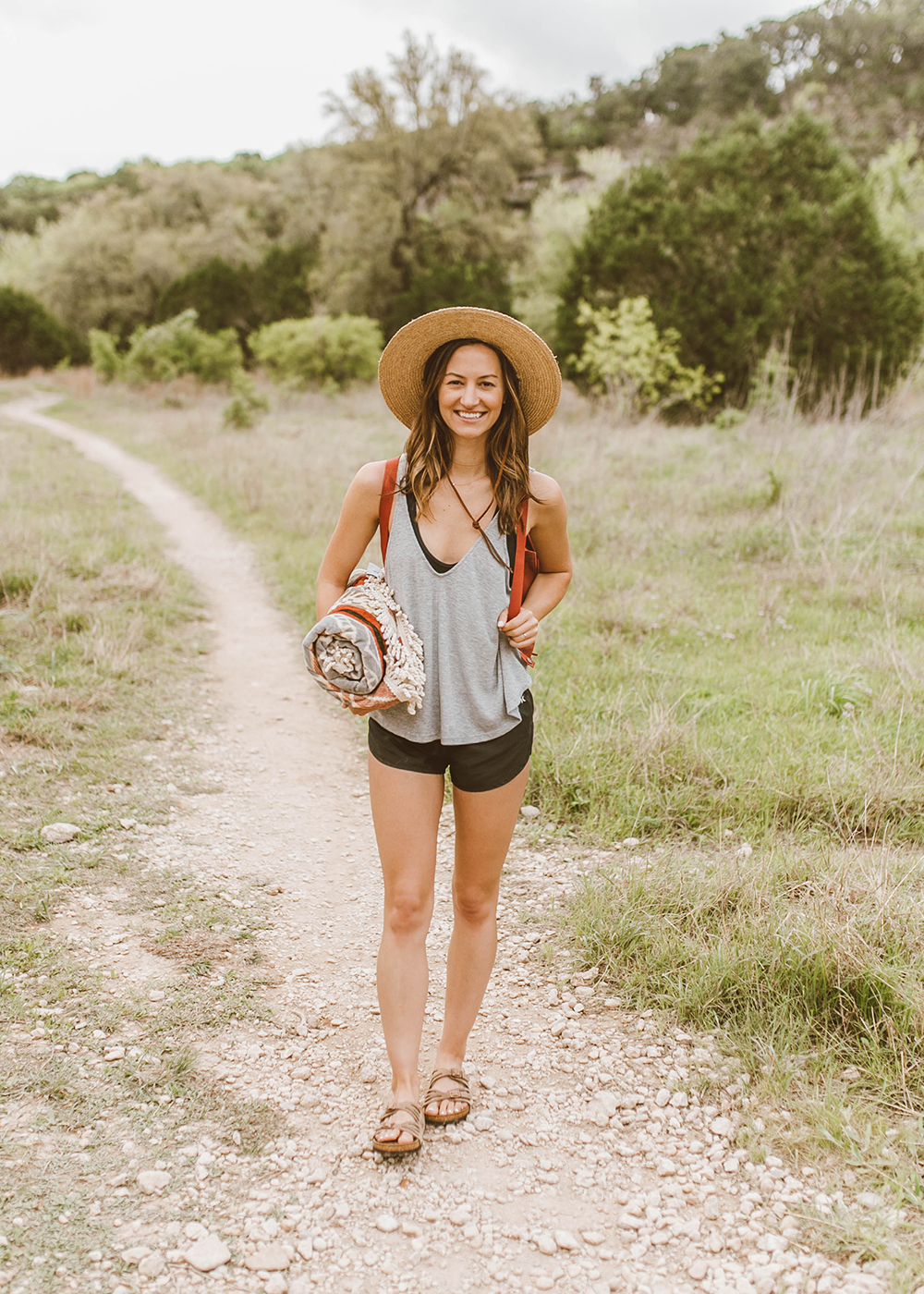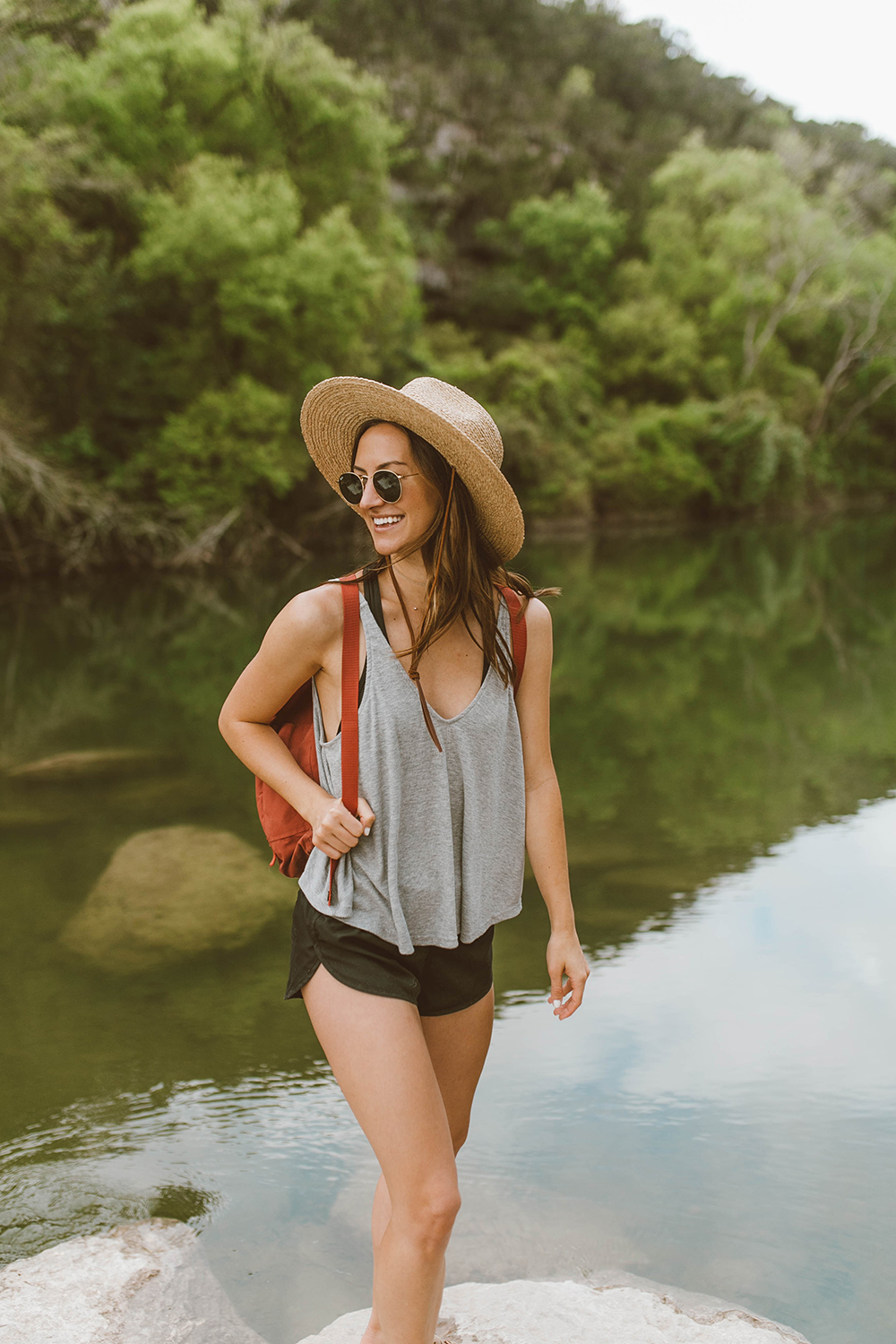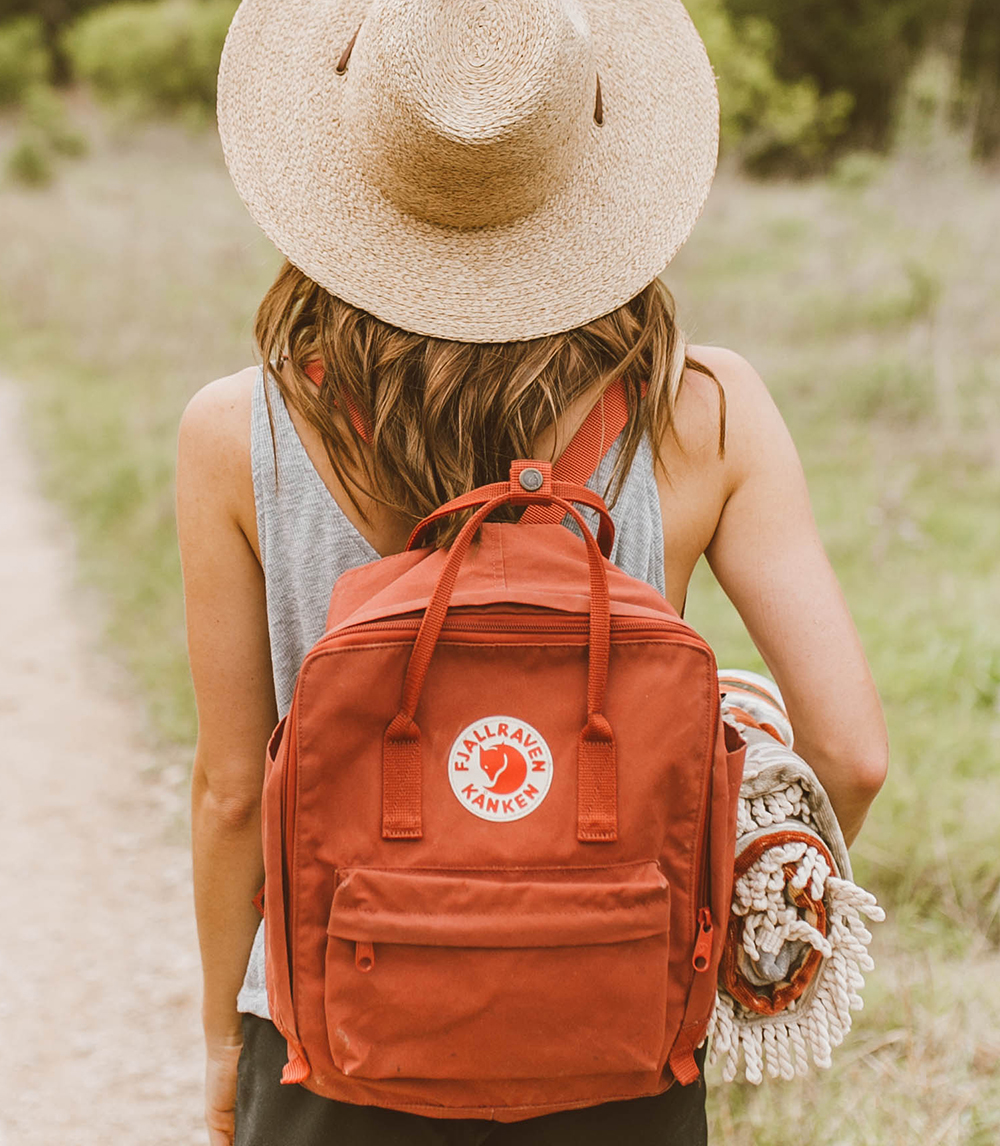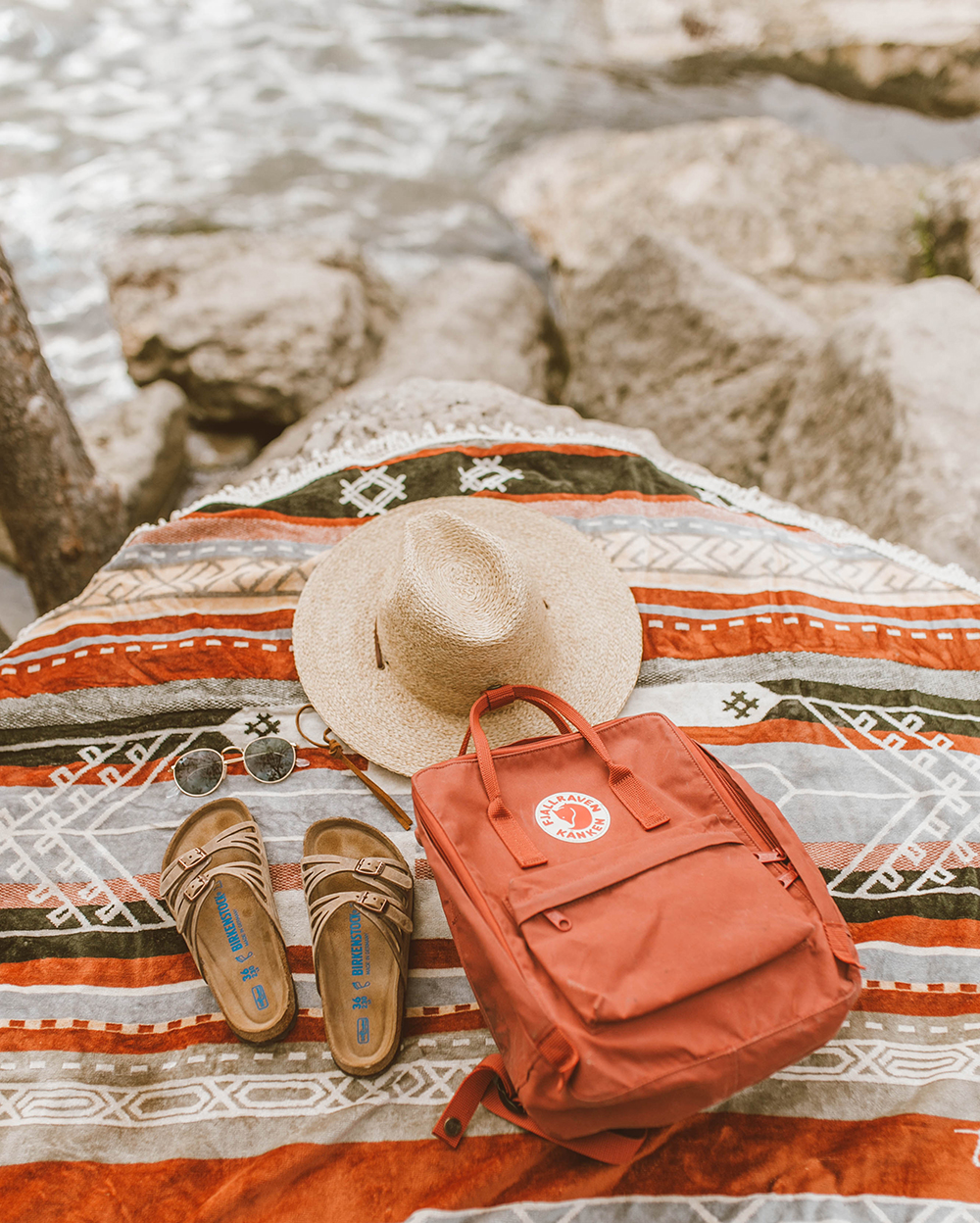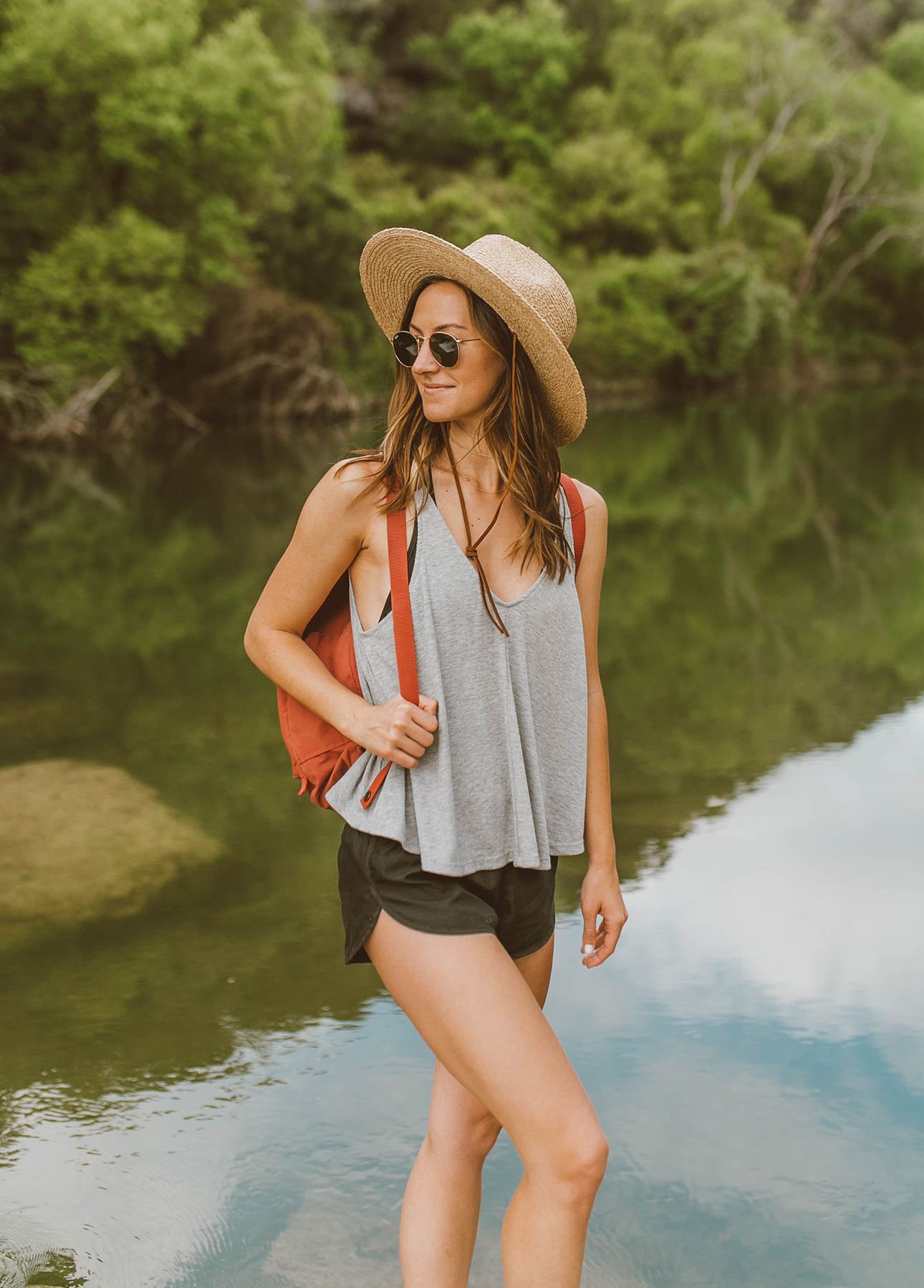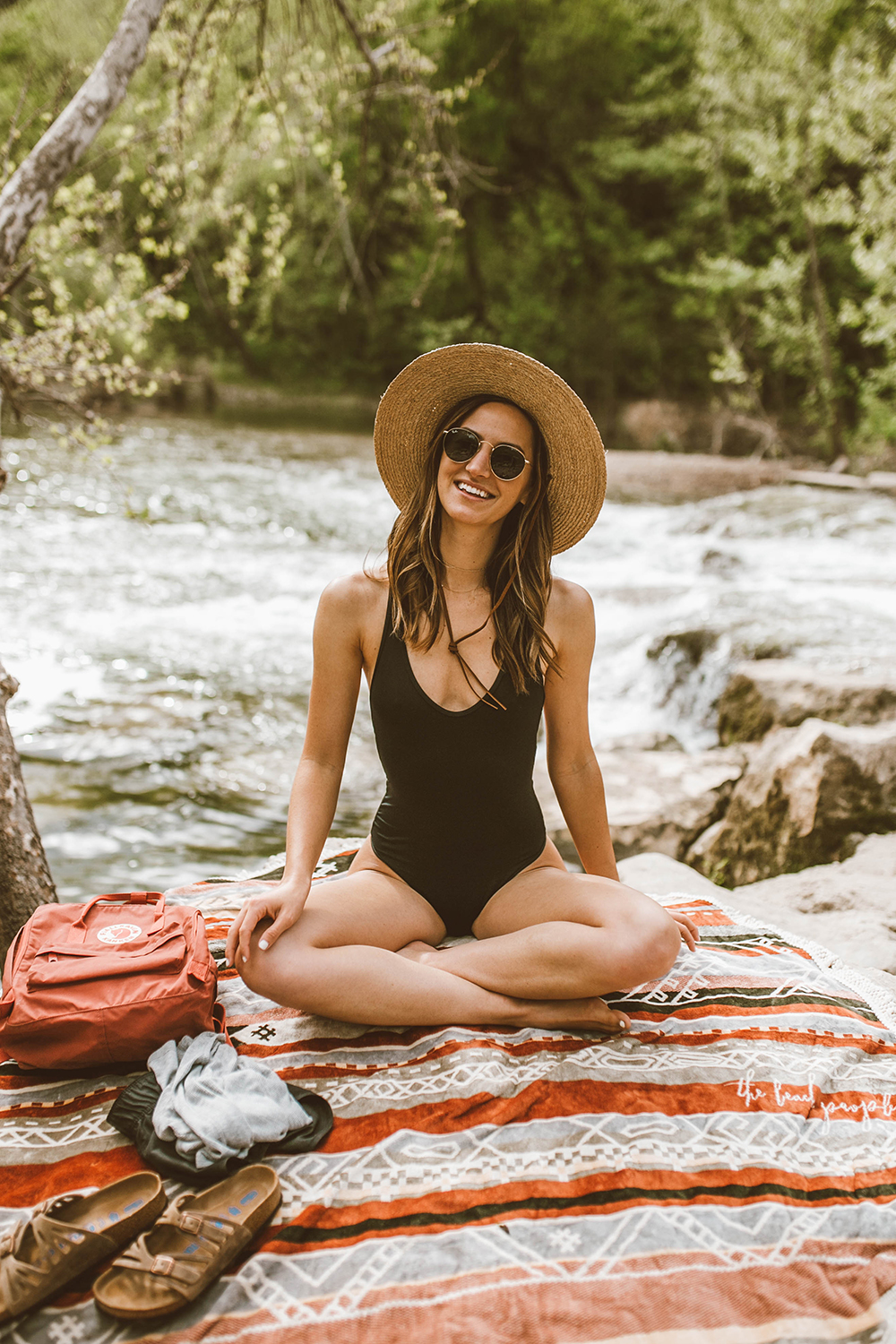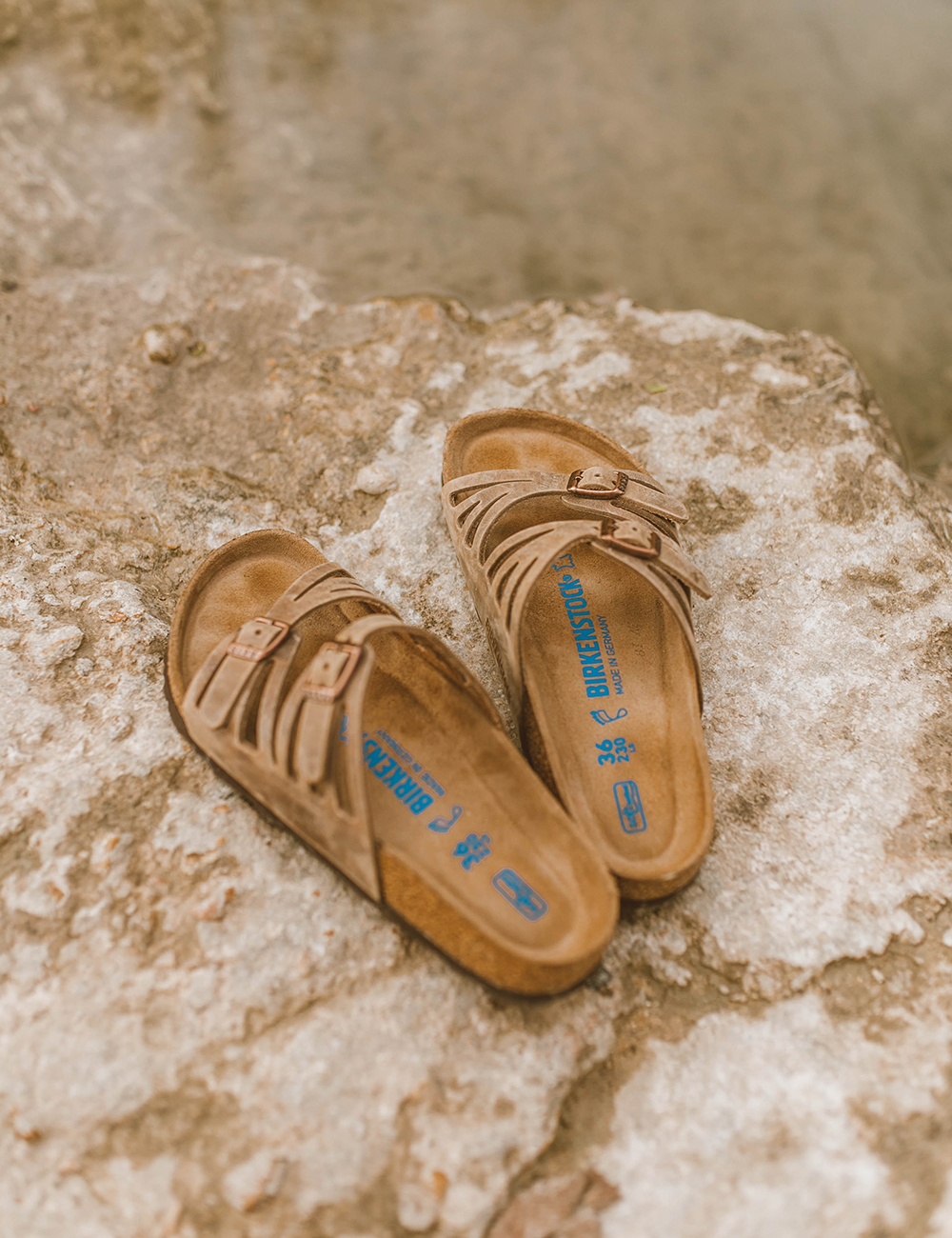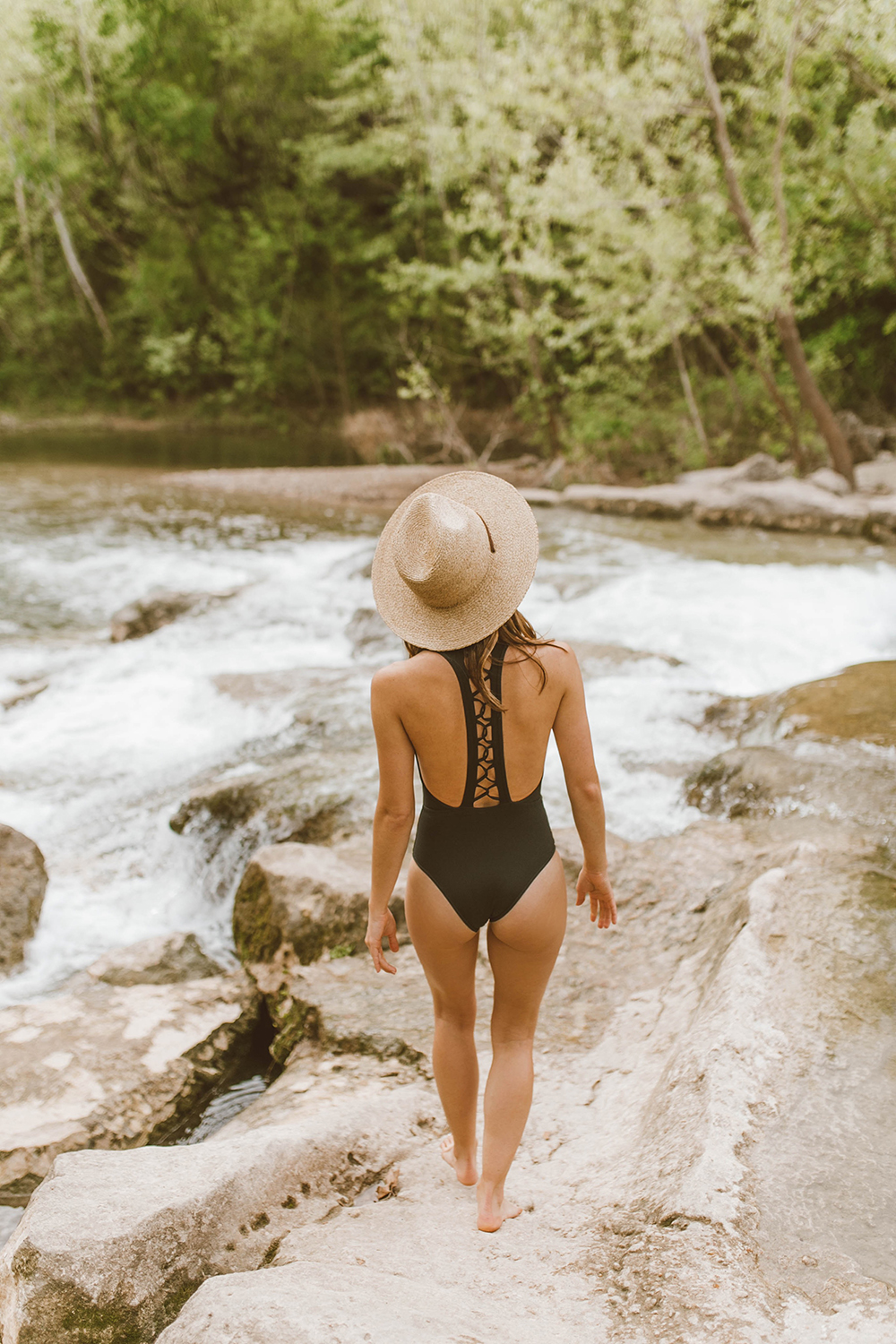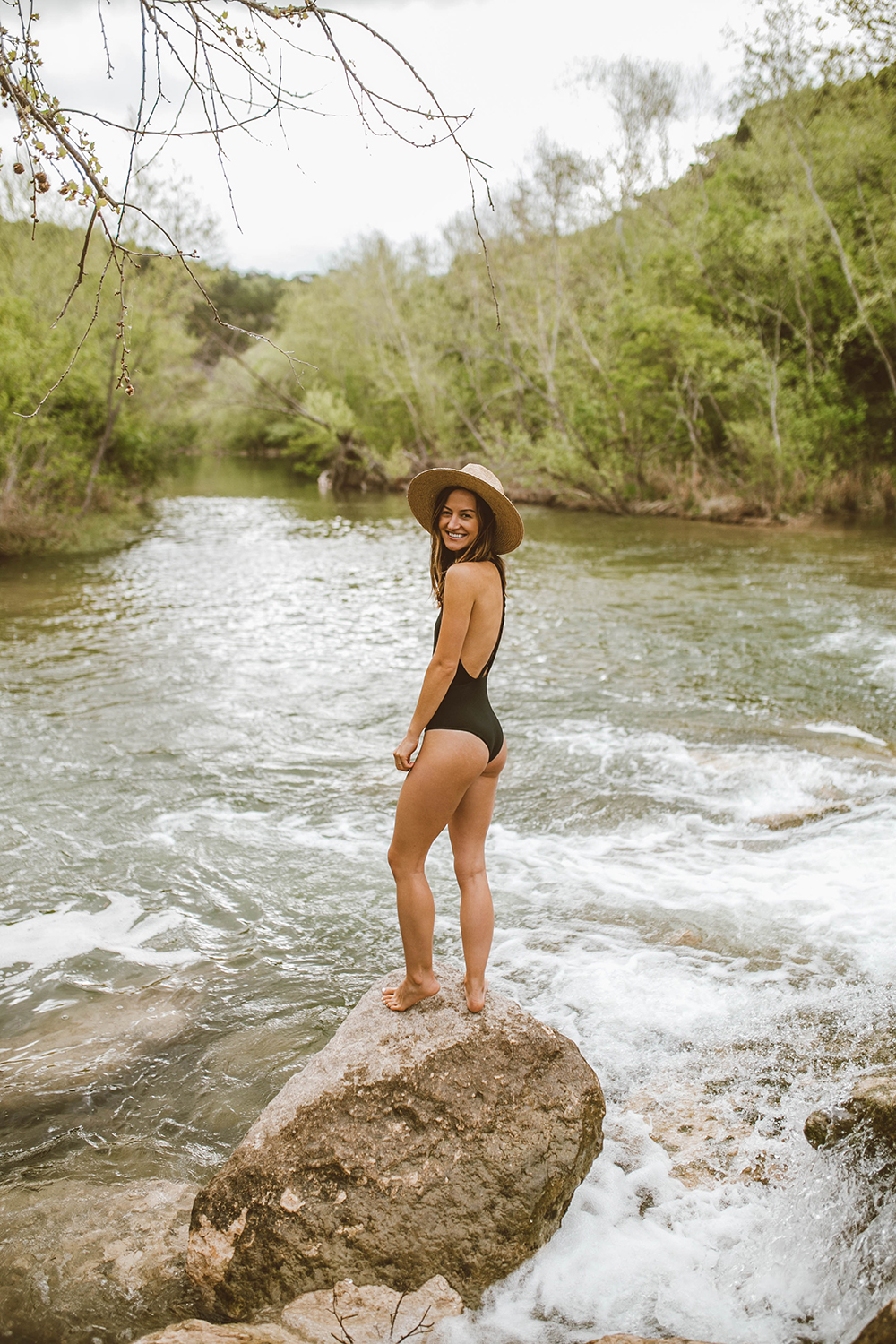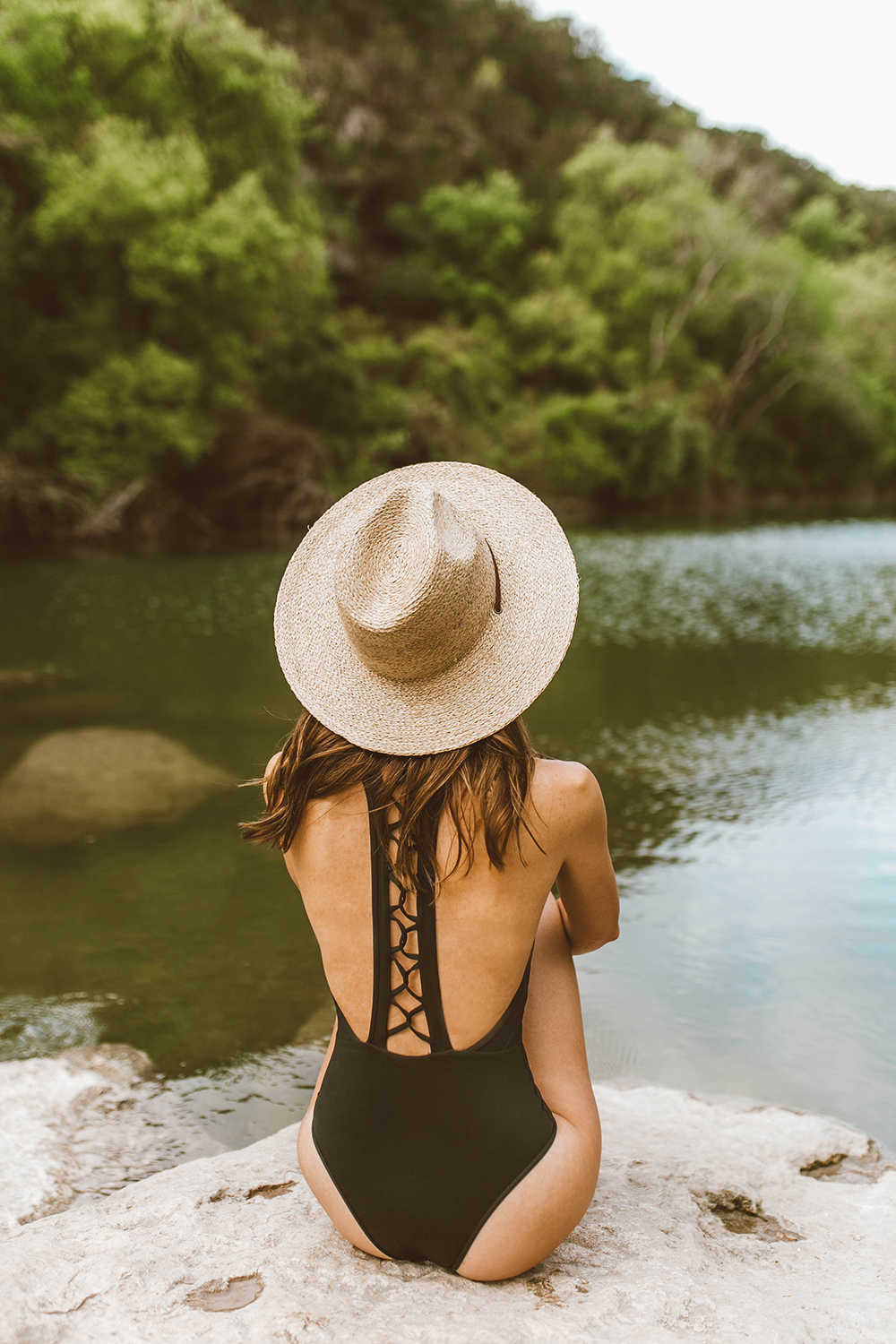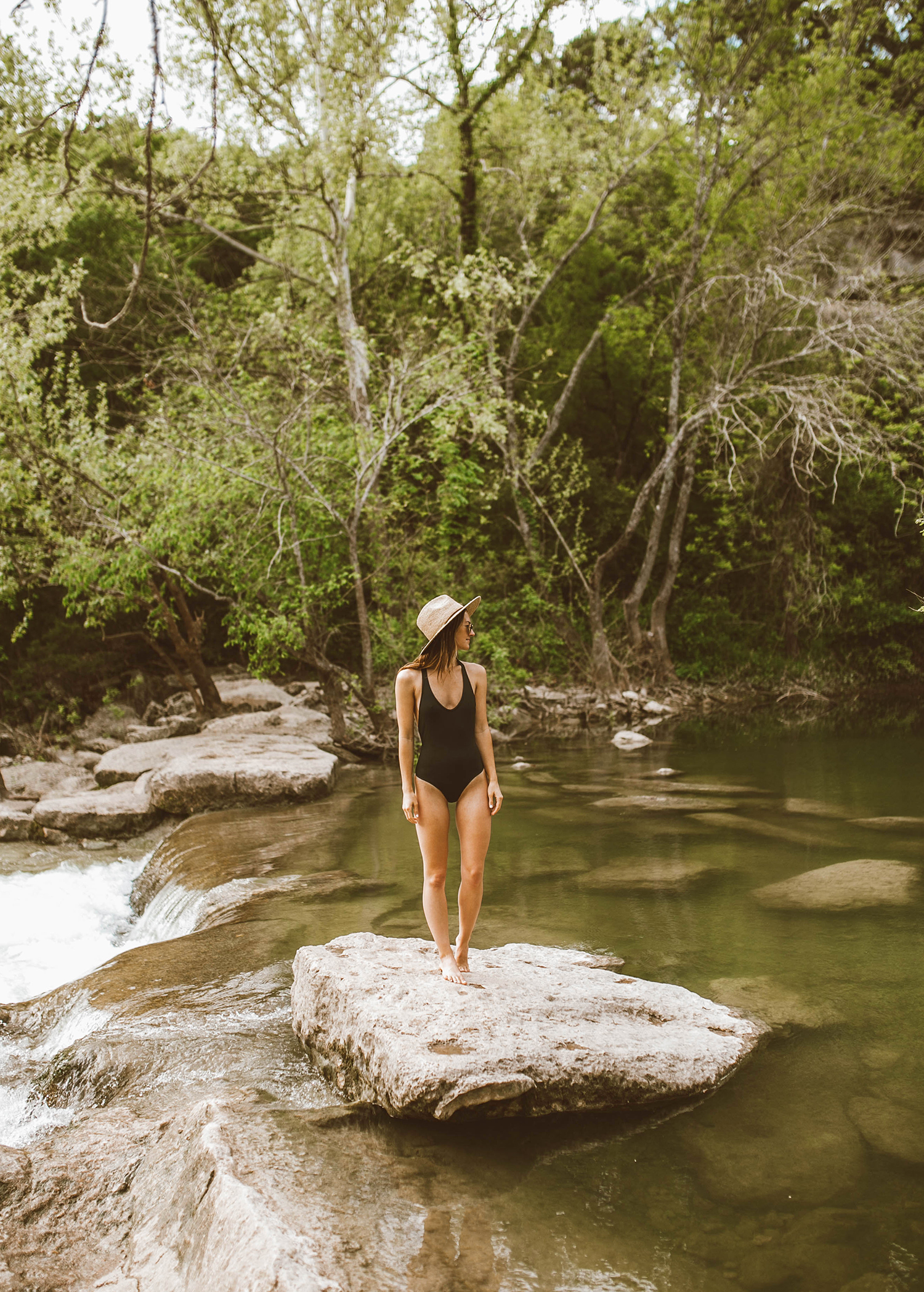 When it comes to hiking or walking for a long time in warmer temperatures, my absolute favorite sandals are Birkenstocks. My obsession has lead me to purchase five different pairs (…when I tell y'all I LOVE and stand by these shoes, I am so serious, ha!). When I saw this particular style online, I completely fell in love. The color goes with anything and they're a little more narrow than a few of my other pairs (…which means I should totally get them, right? 😉 hey, gotta rationalize somewhere!). Truly, Birkenstocks are the shoes I keep in my car and put on after my photo shoots, they're what I wear to take Watson on walks, and they are so great for chasing after my nieces and nephews (…and just everyday life, in general). BIG fan!
If you've followed me for a while, you'll have probably noticed me wearing a lot of pieces that come from Backcountry (…like my Patagonia pullovers and Brixton hats) – and this entire outfit, from my clothing to my swimsuit, is all found at Backcountry! The vibe of this company is SO wonderful and I looove their products. They carry an array of brands for all your active and outdoor needs (…and beyond…they carry tons of cute clothes, too!). From North Face to Free People, they've got it ALL.
On that note – let's talk spring swimwear! We're already reaching the mid 80's here in Austin, so stocking up on cute swimwear is totally necessary (see what I mean? I can rationalize any purchase… 😉 )…even just a few days into the new season! Also…can we just take a moment to give thanks to L*Space for creating THE MOST flatting, sexy, modest, magical one-piece ever?! I have been working super hard at the gym lately and yaaaas does this swimmie accentuate all that hard work! I have never had a butt EVER, but thanks to the Stairmaster and a really fabulous and flattering swimsuit cut, even Blake made some comments about how much he liked this suit on me. This is my second swimsuit by L*Space (I have this bikini and LOVE it) and I am always so impressed with both the practicality and flattering fits of their suits. From leisurely sunbathing to a lengthy hike or swim sesh, their suits can do it all.
Lastly! My shorts by Hurley and just $18!! My top is by Free People and $20…I got the grey and an olive one… such a great price and so cute with denim cutoffs, too.
If you're ready to spend some quality time outdoors and are looking for some awesome active, swim and sportswear, I can't recommend Backcountry enough!! The best customer service and so many amazing products and brands to choose from. Hoping you get the chance to get outside and enjoy the sunshine this week, XO!
shorts – HURLEY / top – FREE PEOPLE / shoes – BIRKENSTOCKS / swimsuit – L*SPACE (wearing size US4) / hat – (similar, mine sold out!) BRIXTON / towel – THE BEACH PEOPLE / backpack – FJALLRAVEN KANKEN

A big thank you to Backcountry for sponsoring this post! All opinions are my own.