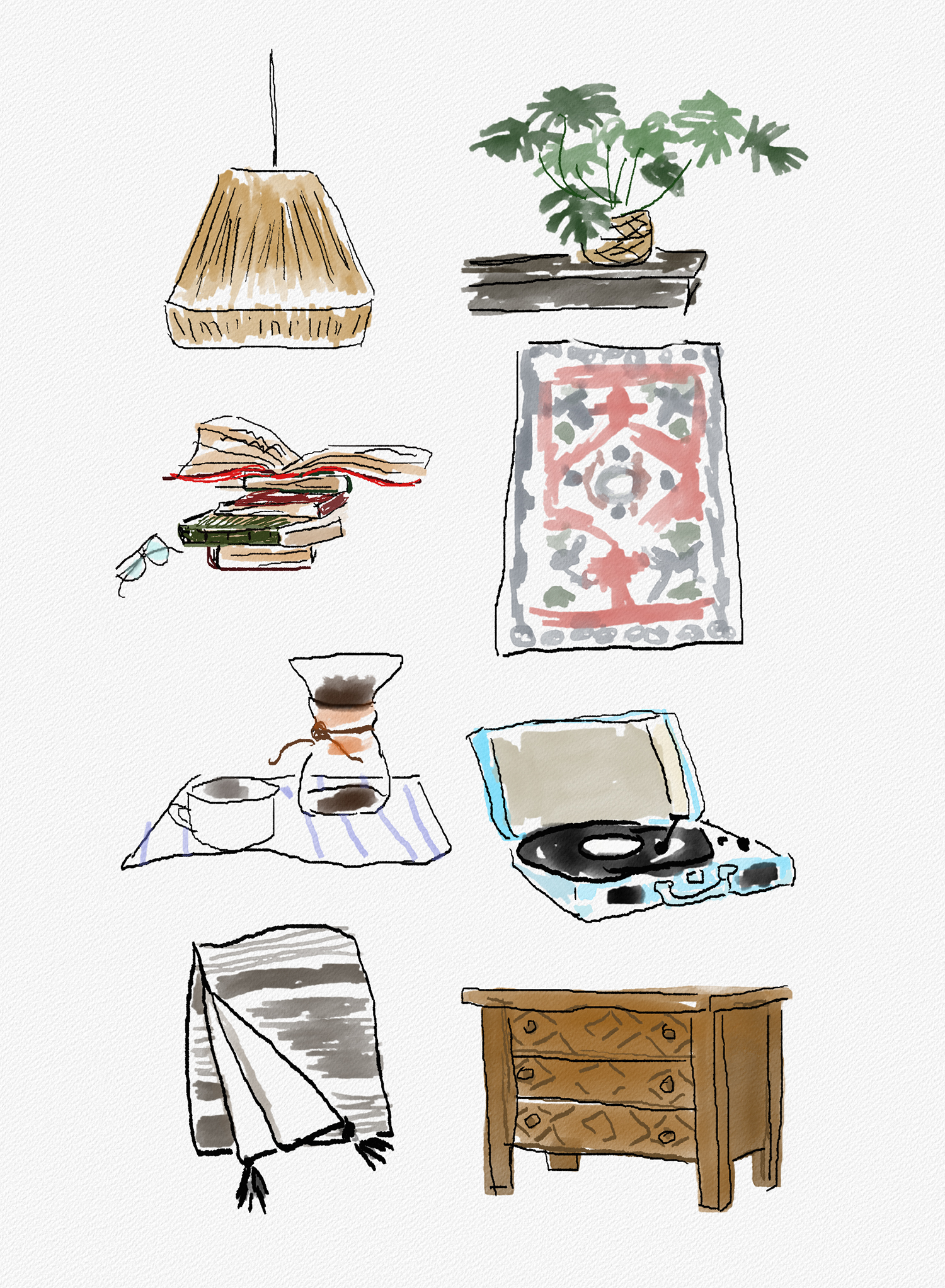 **Illustration by Kimberlee Watson
Blake and I moved into our first house back in April 2017 (more about that from this post) and I have learned SO much about home decor within that first year. For one, I learned the aesthetics I like and don't like (I love a good, cozy vibe, I don't looove super minimalist, modern pieces). I learned what Blake likes and doesn't like (…I pick out what I think would work best for our style, then he approves. I've come to learn he's less of a "french cottage" style kinda guy (…then again, have you ever met one that is? Hey, a girl can dream over here haha!) and more of a "I can tolerate some bohemian elements here and there" kinda guy haha). I appreciate that he wants to participate in the outfitting of each room, but I'd be lying if I told you a lot of our arguments didn't stem from my love for a more feminine style versus his resistance to let our house become a girly-haven-Anthropologie-catalog-type of home. Either way, we've made lots of progress over the past year, learned a LOT about the aesthetic we can both happily agree on and have had so much fun turning our first house into a beautiful, cozy space we can finally (proudly!) call our home.
As I dive deeper into updating rooms in the house, there are a few elements that seem to be consistent in creating that cozy, bungalow vibe we love so much. Home decor has been such an exciting new world for me this past year – we lived in apartments for three years prior to living here and I never cared too much about furniture, rugs, all the fun stuff until we moved into our house. Truth be told, entering the world of home decor and interiors has been such a welcomed escape for me from the fashion industry! Literally, when I walk into Home Goods it's like all my worries wash away, ha! Anyhoo – I'm excited to share the components both Blake and I love with y'all…and likely you've got a few of these things lying around the house already, it's simply how you pair them that makes the difference! Hope you enjoy…
1. Jute: whether it's a jute light fixture or jute rug (like the one in our entryway), adding this texture brings about an earthy vibe that you can easily build upon. Not to mention, the color is natural so it goes with anything – and especially goes well with natural wood and fresh greenery. We have something woven or "jute" in every room…these light fixtures in the kitchen, this light fixture in our living room, woven basket planters spread throughout the house… it all adds such a calm and cozy feel!
2. Plants: this one is probably a no brainer but truly, plants make SO much difference when creating a more "lived-in" aesthetic. Like I mentioned above, we have a bunch of woven basket or hanging rope planters that stick to the natural feel we like so much. You can find planters on Amazon, Urban Outfitters has a ton of great options and World Market is always a favorite, too. As for plants – Home Depot is awesome and inexpensive when it comes to house plants, and even checking our your local grocery store is a great place to start, too. If all else fails and you can't find "the one" you're looking for, head over to a boutique plant shop in your city…it'll cost you but you'll definitely score that Fiddle Leaf Fig Tree you've been searching for.
3. Books: turn off Instagram and cuddle up with a good book! Blake is such a big reader (…a book will sit on my bedside table for MONTHS and he will rotate three books within a week…can you tell that "turn off Instagram" snippet was really for me? haha!), so our book collection is forever growing. Whether you live in a tiny apartment, a bedroom in your parents house or have a house of your own to style – adding a bookshelf and filling it with books, plants and knick knacks will make your space feel extra personal and cozy instantly.
4. Vintage rug: I worked at a rug shop when I was in college and thus, my love for beautiful hand woven, vintage rugs runs deep. I follow about 20 IG accounts that sell similar rugs and I will spend hours falling into the rug vortex…and I #cantstopwontstop – even Blake is into rugs because of my obsession haha! The thing about a vintage rug is that they come with durability and character… and are mostly one of a kind pieces that then become unique to your home. I love that aspect! Also – if you take good care of them, you can pass down to your kiddos, etc., one day. An investment worth the money in my opinion! (Ps. A few of my fave rug IG accounts here, here and here).
5. Coffee accessories: we're big coffee drinkers in our abode, so switching things up and making coffee in a Chemex or french press is a fun way to mix up our morning and afternoon routines. I don't know about you, but when I'm in a slump, a fresh cup always seems to bring me back to life haha. Coffee or tea = home essentials!
6. Record player: you don't necessarily need a record player, any music will do the trick to add a cozy "at home" element to your space. Music sets the mood – relaxed, energetic, happy, contemplative… it's all up to you and how you're feeling – and I love that! We are big record fans over and try to buy quite a few new picks throughout the year… my parents have so many good ones that we hope to do something similar and pass down to our own kids one day. Not to mention, a record player is a great conversation starter when you have guests! You can see our record player nook setup here.
7. Throw blankets: brownie points if they have a cool texture or knit pattern, but a solid color will do just fine. Add a cozy element to movie watching or sofa hangs, plus add some fun texture to your living area with throw blankets (we have this oversize knit throw and it's magical!). Decorative and function, win/win! (Ps. We use this woven basket to store our blankets and we LOVE it!).
8. Natural wood: the one thing I've realized as we've furnished our house is that I am SUCH a fan of having natural wood pieces in every room. I feel like that pretty walnut color is just so calming and really warms up a space and makes the house feel more inviting overall. From the dresser in our bedroom (see here), to the wood beams and mantle in our family room, and our current project: DIYing our own reclaimed wood vanity + sink in the master bathroom – this is one element we both love and want to keep throughout the house.
What are the must-have elements that make your house feel like a home? I'd love to know! Like fashion, home decor is so dynamic and such a reflection of the people living in the space…always fun to catch a peek inside! Hope you enjoyed this one – happy Monday, loves! XO
SHOP OUR HOME PICKS