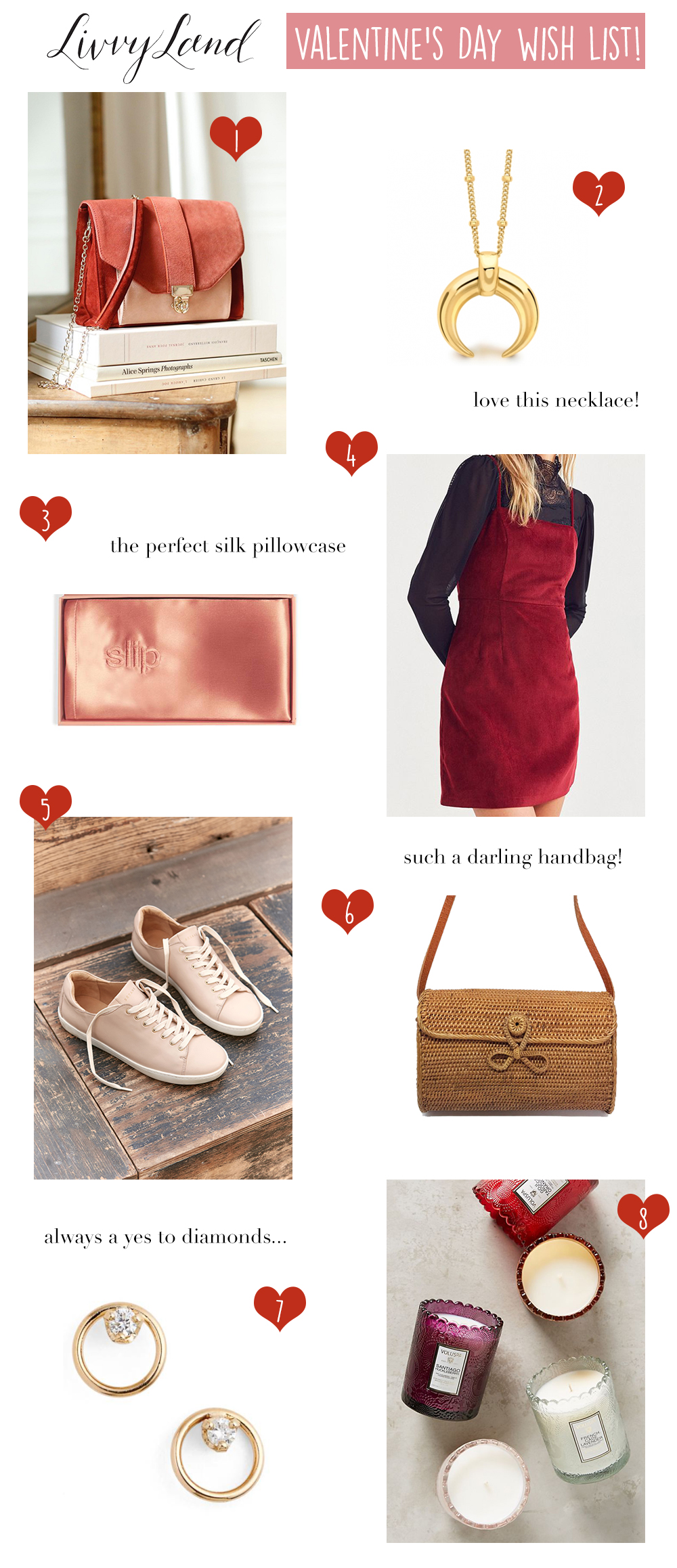 What's on your Valentine's Day wish list? Jewelry, candles, a silk pillowcase perhaps? (Psst, this pillowcase has amazing reviews and that color is TOO cute!). Blake and I generally keep things pretty simple to celebrate the day – we get each other a sweet gift and card, then make dinner together and cuddle up to a movie at home. He has never been one to love the gift shopping experience, so I make it extra easy and send him a few options (…and he does the same for me). At the top of my list? …Well, really any of these gorgeous goodies listed above! I've been eyeing that pretty necklace (#2) for over a year now, though…hey Blake, hint hint! 😉
How are you celebrating Valentine's Day? When I was single, my girlfriends and I would get together and go see a movie at Alamo Drafthouse (wine + a comedy = yes!). Every year though, I wake up and spend some time at my parents house first thing (…we now live 10mins away from each other, ha!), just to soak up some quality time with my mom (also always an amazing way to celebrate the "love" holiday…moms are the best!), I'll scoop up a little something special for her, too. (A cute coffee mug, candle or bath products, etc.).
If you're planning to spend Valentine's Day celebrating YOU, then treat yourself to something amazing "just because." Loving ourselves is probably the hardest thing to do (…I know I have my self-doubt uuuups and doooowns constantly!), but picking out that handbag you've been drooling over or finally scooping up that cute jumper are 110% acceptable on this day (…or maybe that's just what I'm telling myself? Ha! 😉 ).
Above all, Valentine's Day is a celebration of love in all forms: romantic, friendship, family, self-love – and I am all about it!
1 – SEZANE TIGER HANDBAG / 2 – MISSOMA NECKLACE / 3 – SLIP SILK PILLOWCASE / 4 – URBAN OUTFITTERS JUMPER / 5 – SEZANE SNEAKERS / 6 – RATTAN HANDBAG / 7 – ZOE CHICCO DIAMOND EARRINGS / 8 – VOLUSPA CANDLE