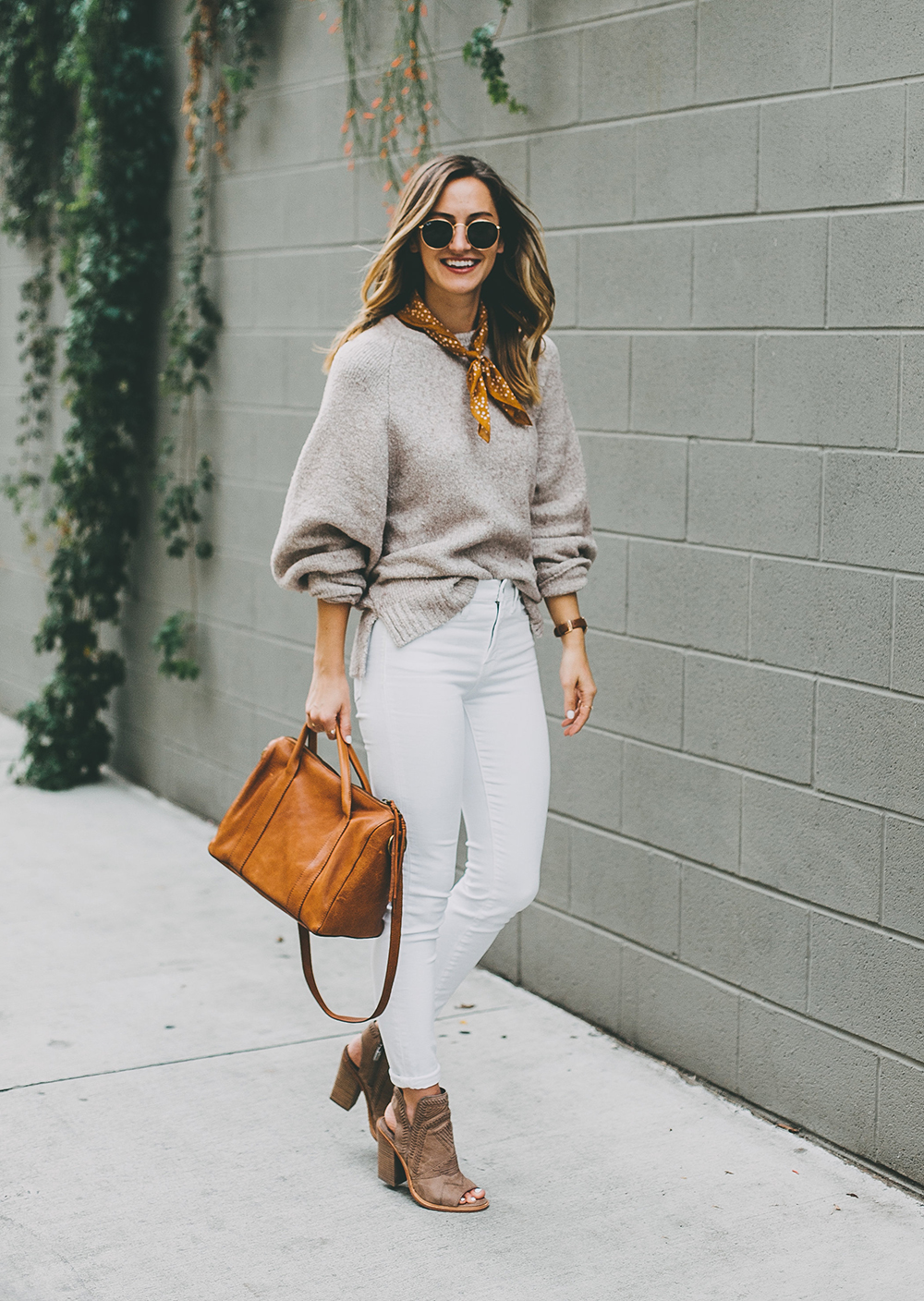 Anyone else a fan of re-wearing items in your wardrobe over and over? (…and over…and over…umm me!). I was raised to treat my clothing with kindness so that it lasts a long time – being the baby of five kiddos meant we all went back to school shopping once throughout the year and that those clothes needed to last. I am thankful to my parents for teaching me to respect and care for my things…it makes me appreciate the wardrobe staples I purchase, and also encourages me to use the same piece and style it a ton of different ways.
One thing I see in the blogging world is the tendency to wear an outfit just once for a photo, then never again. The truth is, I have absolutely done this (…Blake and I are total homebodies, so if you see me wearing a dress it's likely I snapped the photo to share the styling aspect, but put on jeans and a tee asap when I got home, ha!), but in reality most people rewear the same items of clothing all. the. time – and that is NORMAL! Thus, I have embraced that I rewear the same pieces over and over and I am excited to start a new series where I'll share how I styled a certain item five different ways. Today's topic: white skinny jeans! …and yes, you can definitely rock these after Labor Day.
**My exact jeans in this post are by Madewell and the sizes are quite limited (looks like they're trying to phase out this style). Thus, I am linking to a similar pair by Topshop that I also own and love! If you order the Topshop style, be sure and size up because this brand runs snug!
sweater – URBAN OUTFITTERS (wearing XS, this color is sold out!) / jeans – TOPSHOP (run small, order a size up) / shoes – VINCE CAMUTO / handbag – MADEWELL / sunglasses – RAY BAN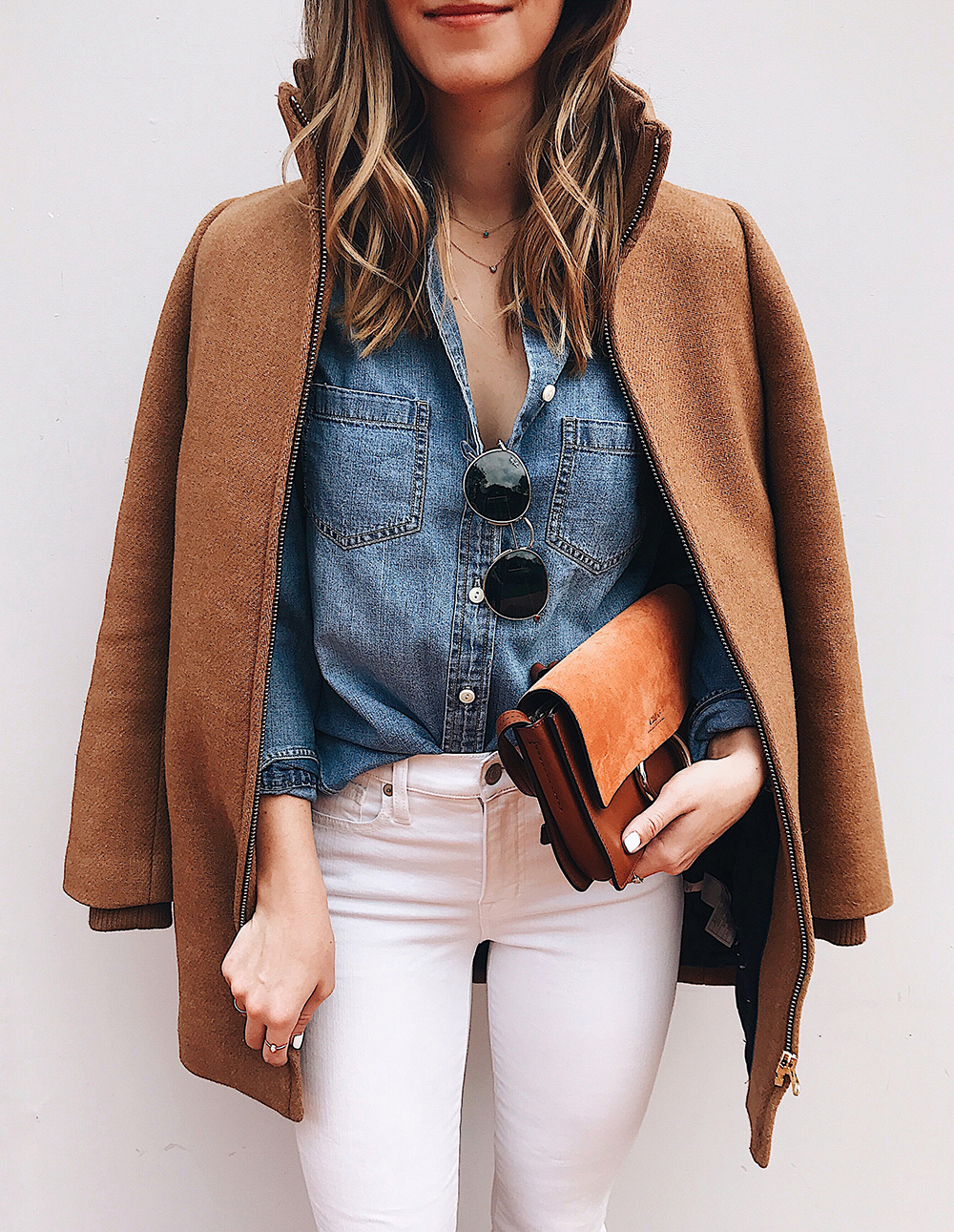 Front-tuck a chambray button down (if you don't own one, you should! It's the shirt that never goes out of style) and layer up some dainty necklaces, throw on your favorite winter coat and reach for a gorgeous handbag.
COAT (wearing size 0) / CHAMBRAY TOP (wearing XS) / JEANS (run small, size up) / HANDBAG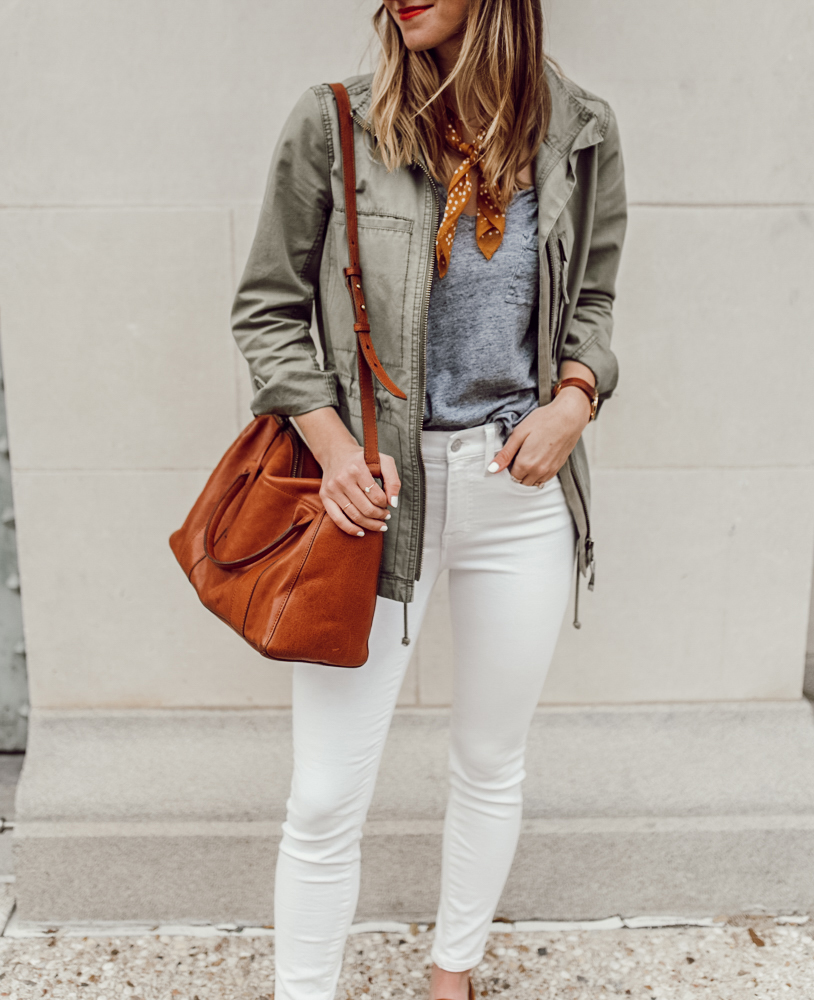 This utility jacket is more than deserving of its own "5 ways to wear" post (literally if you see me running around Austin, I am 99.9% of the time in this jacket) and it's SO. CUTE. with white skinnies! Rock it with a relaxed v-neck (this one is just $19 and a personal fave, I own it in 4 colors), a fun bandana and some cute cognac accessories (handbag + slides).
JACKET / TEE / SCARF / JEANS / HANDBAG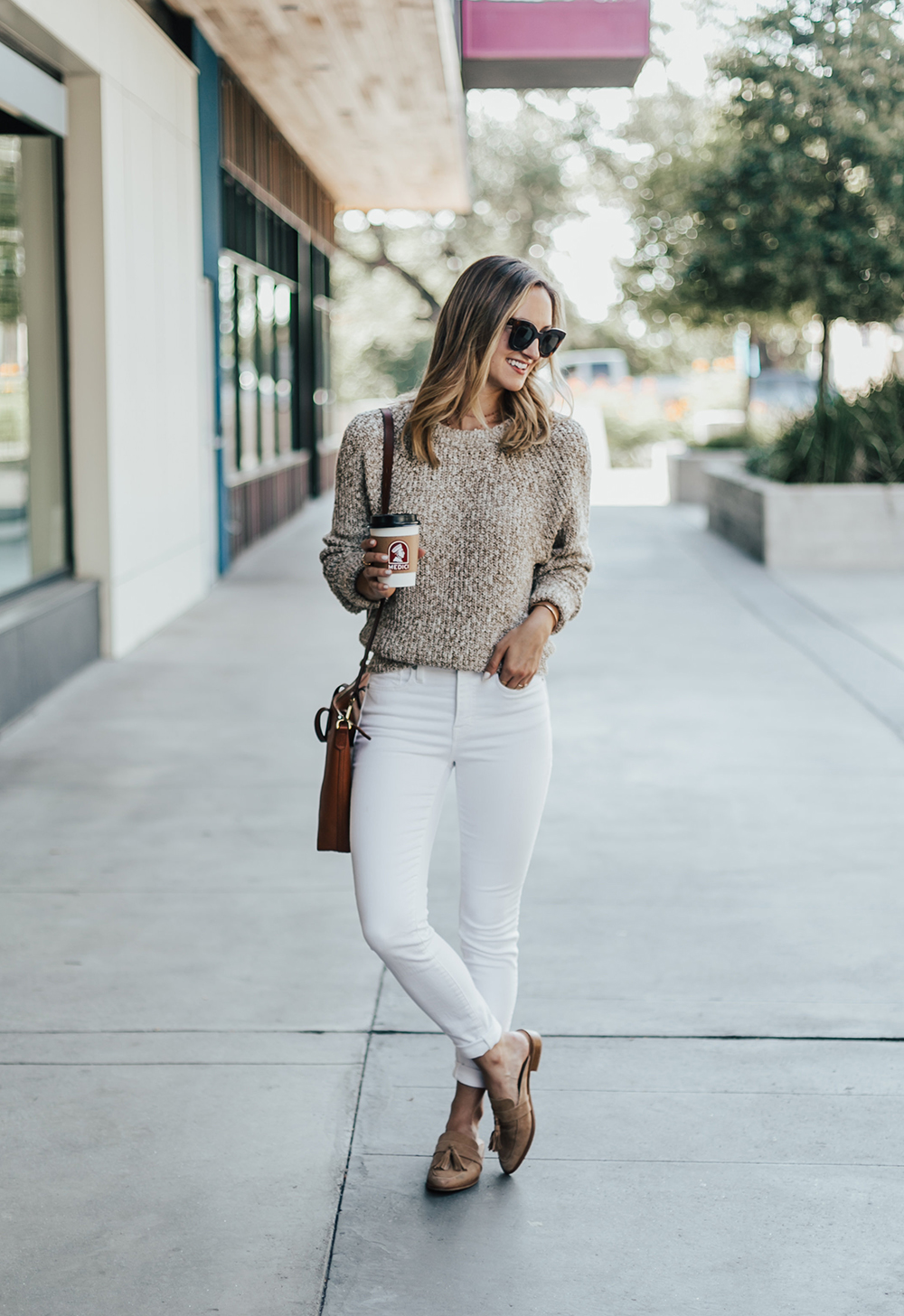 Forever a neutrals fan, I love the combo of oatmeal and crisp white…such a soft and feminine pairing! This sweater is wonderful from season to season (even great in the summer for those breezier nights at the beach…if you live near the beach, that is!) and I love it with some loafer slides.
sweater – similar NORDSTROM (mine is old Free People) / jeans – TOPSHOP / slides – nearly identical SAM EDELMAN / handbag – MADEWELL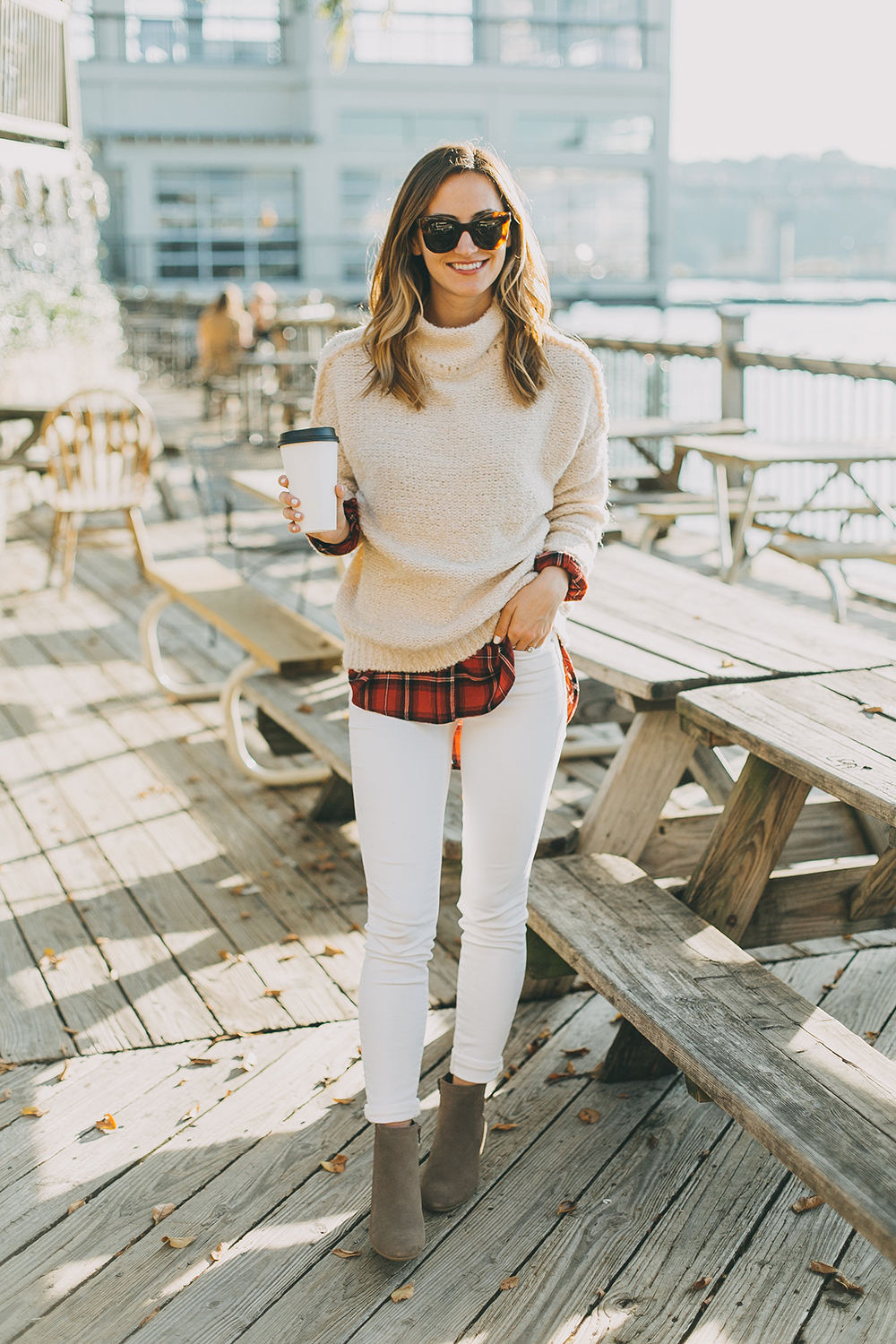 Winter is in full swing and this outfit is absolutely on repeat over here! Ankle booties, a plaid button up and a cozy knit…recipe for a solid cold weather look!
sweater – ASTR (wearing XS) / jeans – similar TOPSHOP / booties – DSW (#yaaaas!) / plaid button up – BP