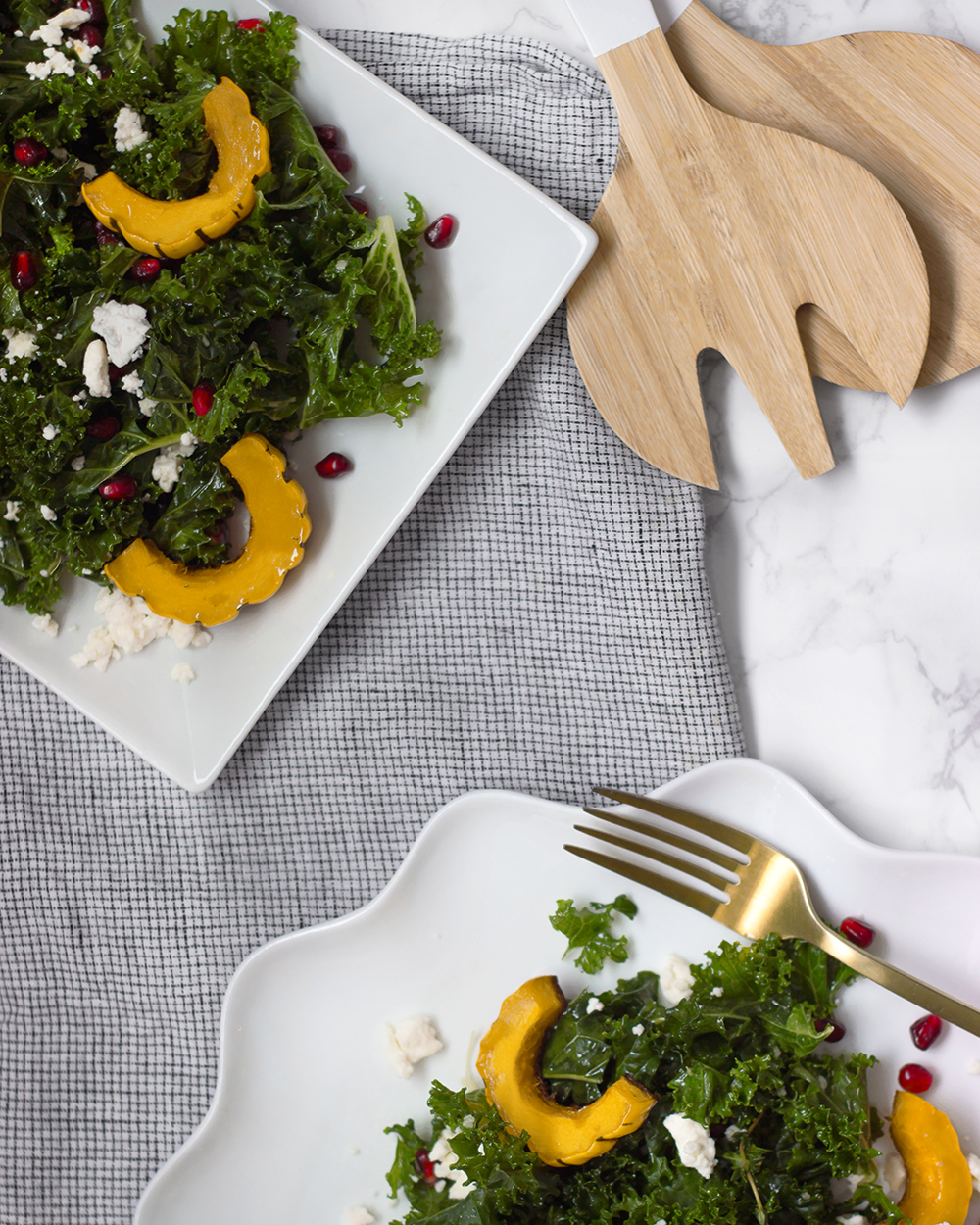 By Jessica Lee
It's January, and though most of us won't admit it, statistically-speaking it's likely that we're taking a long, hard look at our diets right now. The holidays bring delicious goodies and not a whole lot of leafy greens. Hey, that's cool! It's all about that magic word — balance. Let's weigh out the bad with some good by way of a hearty kale salad with roasted delicata squash. It's hella healthy and still tastes delicious. Seriously.
Have you tried delicata squash before? I picked one up on a whim a few months ago at Trader Joe's, and I've been hooked ever since. My boyfriend says that it tastes like Captain Crunch cereal when roasted. He's not wrong. Bonus points for the fact that you don't have to peel it!
The key to a truly delicious kale salad is not being afraid of getting your hands dirty. If you've ever eaten raw kale, you likely noticed that it's bitter and hard to chew. Meh. To make raw kale a bit more appetizing, you need to massage it. YUP. Pour your lemony vinaigrette on top, get your hands in there and really go after it. You'll notice that as you massage the dressing into those leafy greens, it softens up.
Once the kale is fully massaged (it never doesn't sound weird, trust me), we're going to toss in our roasted delicata squash, feta cheese and pomegranate seeds. My mom says crumbled goat cheese would make a great feta substitution. I don't disagree! You do you.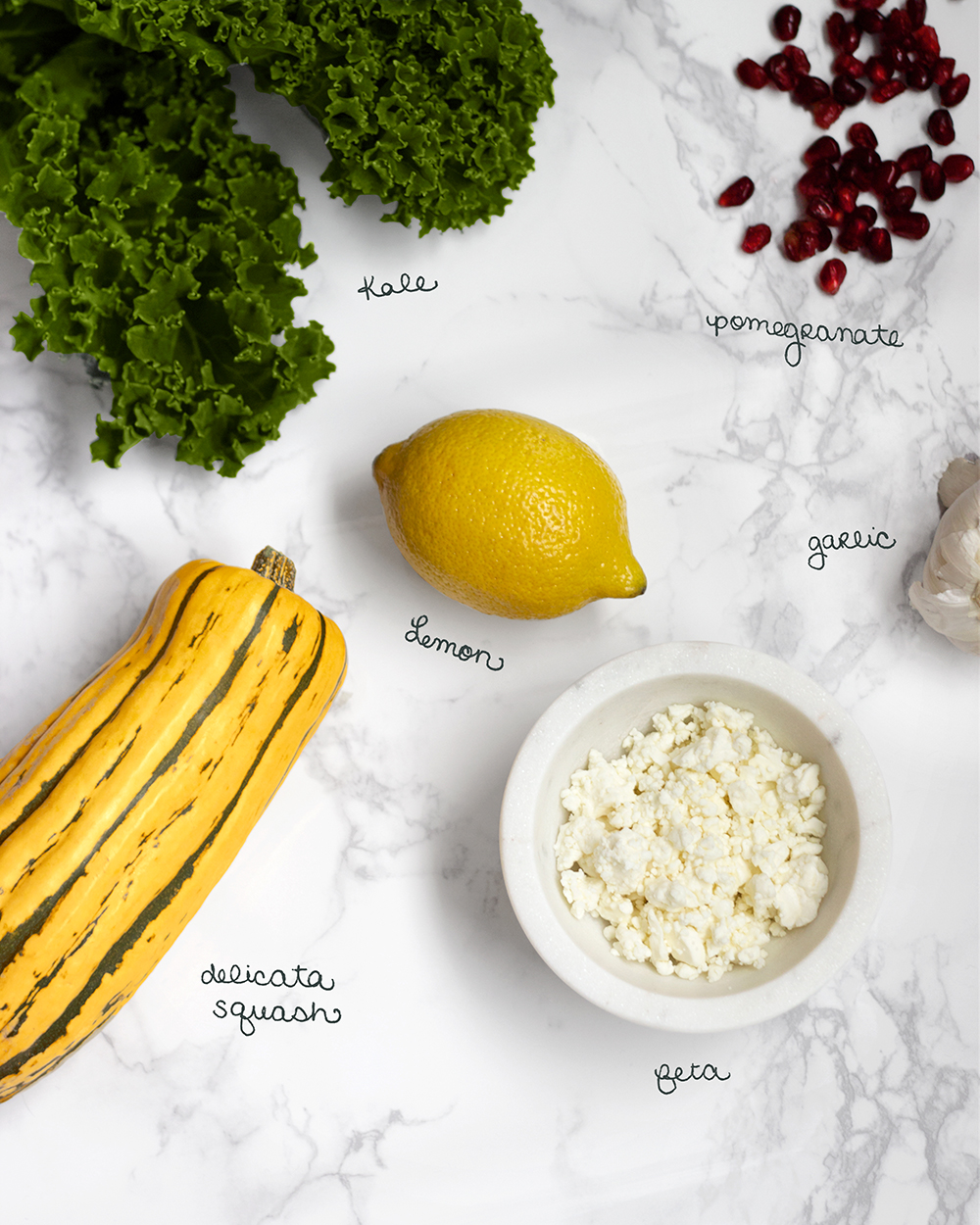 Kale Salad with Roasted Delicata Squash
Serves 2 as a main dish, 4 as a side
For salad:
1 bunch curly kale
2/3 cup pomegranate seeds
1 cup feta cheese
1 delicata squash, halved lengthwise, seeded and sliced
1-2 sprigs thyme, removed from stem
For vinaigrette:
1 garlic clove, minced
3 tablespoons olive oil
1 tablespoon white wine vinegar
1/2 lemon, juiced
Salt and pepper, to taste
Preheat oven to 400° F. Toss delicata squash with thyme and a drizzle of olive oil. Assemble onto a baking sheet and roast for 20 minutes or until golden brown.

Make the vinaigrette by placing all ingredients in a small mason jar. Place the lid on top and give it a good shake.

In a large mixing bowl, combine kale with vinaigrette, massaging kale until softened. Toss in pomegranate seeds, feta cheese, and delicata squash. Season to taste.
Note: you can easily make this recipe vegan by removing the cheese. Shaved salted almonds would be a lovely addition in its place!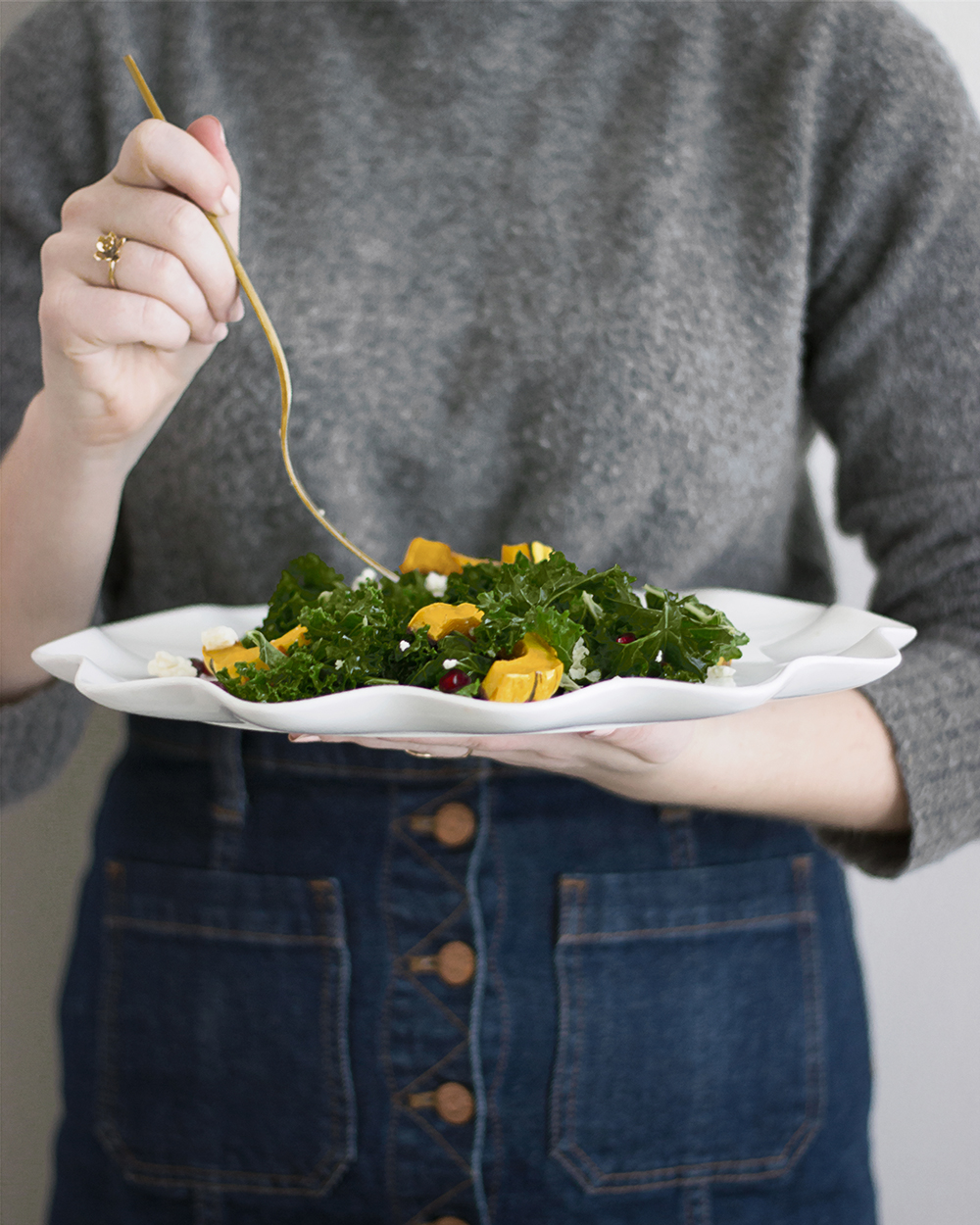 DINNER PLATE / RECTANGLE PLATTER / NAPKINS / GOLD FLATWARE