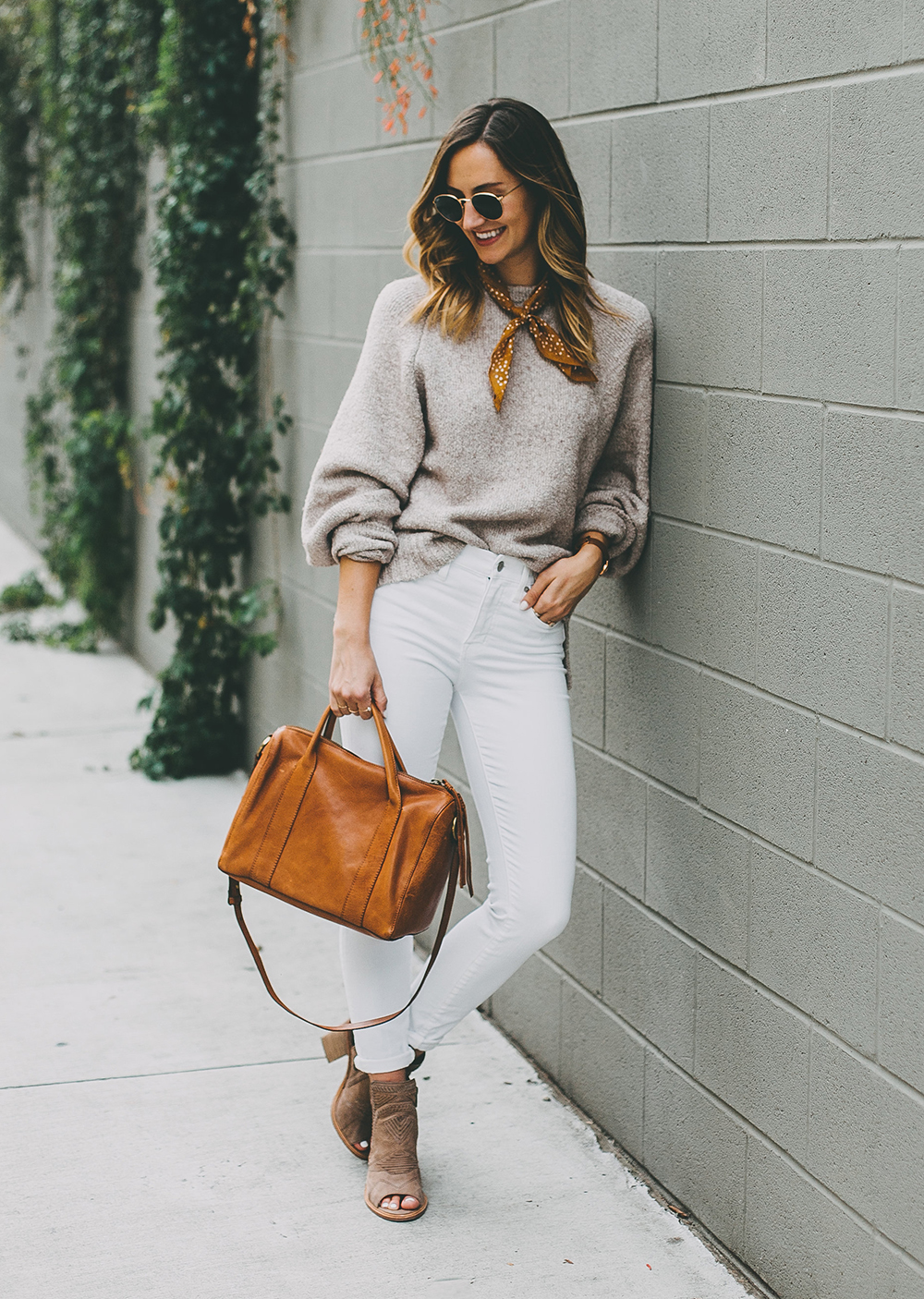 Hey ladies – happy Halloween! I hope your week is off to a great start and you're indulging in aaaall the candy today. 😉 Blake and I are excited to go trick or treating with my niece and nephew for a bit, then head home and pass out candy in our neighborhood…it's our first Halloween in the new house…kind of a milestone, right? Ready to meet some more neighbors and see all the cute kiddos in their costumes – big day ahead!
As y'all know, sweaters are probably my favorite wardrobe piece when it comes to fall and winter wardrobes. They're ultra cozy, flattering and can be dressed up or down. Normally when you think of a chunky sweater, it's paired with jeans and cool sneakers or flats…so today I'm excited to style the cuuuutest sweater in a more dressed up way!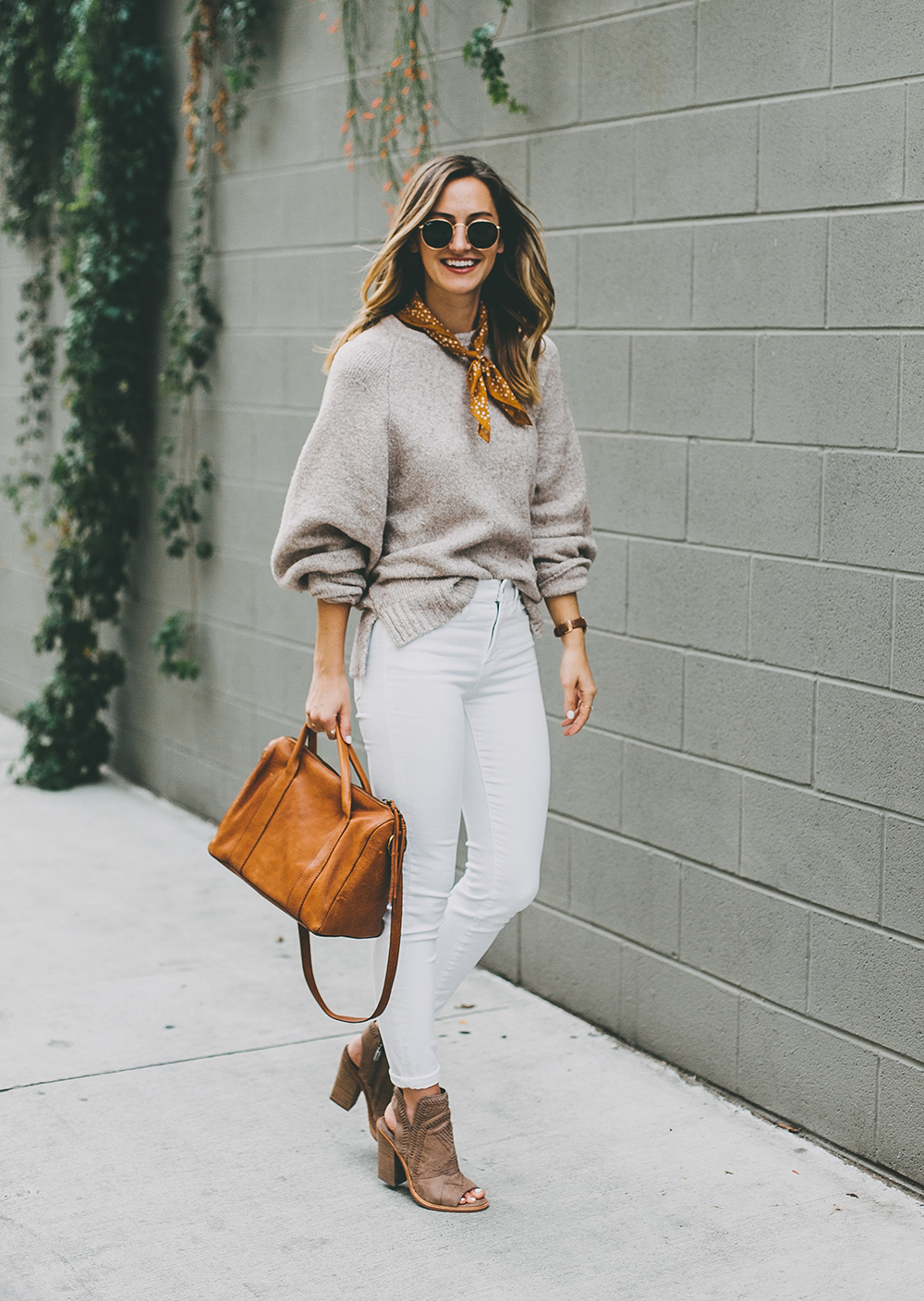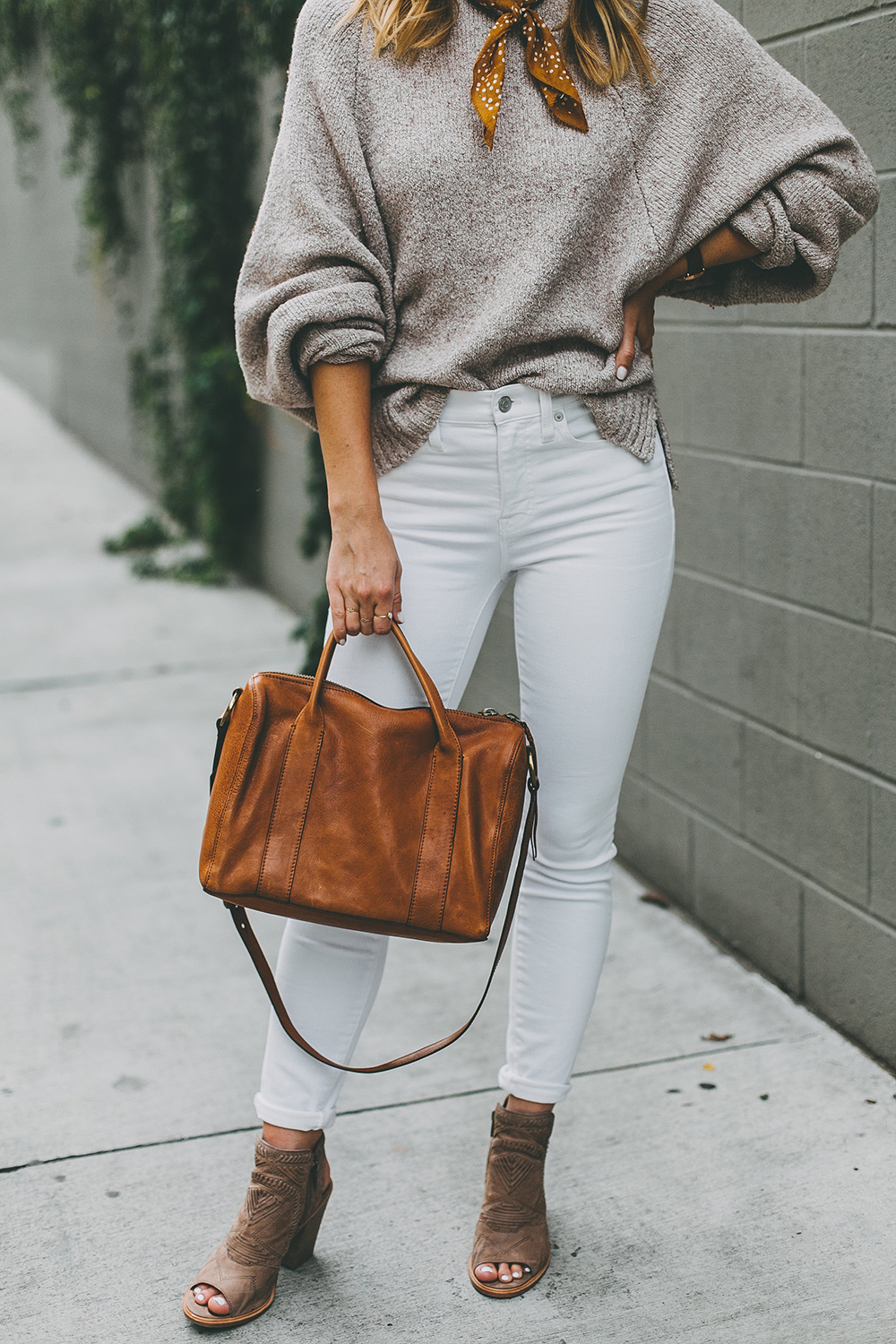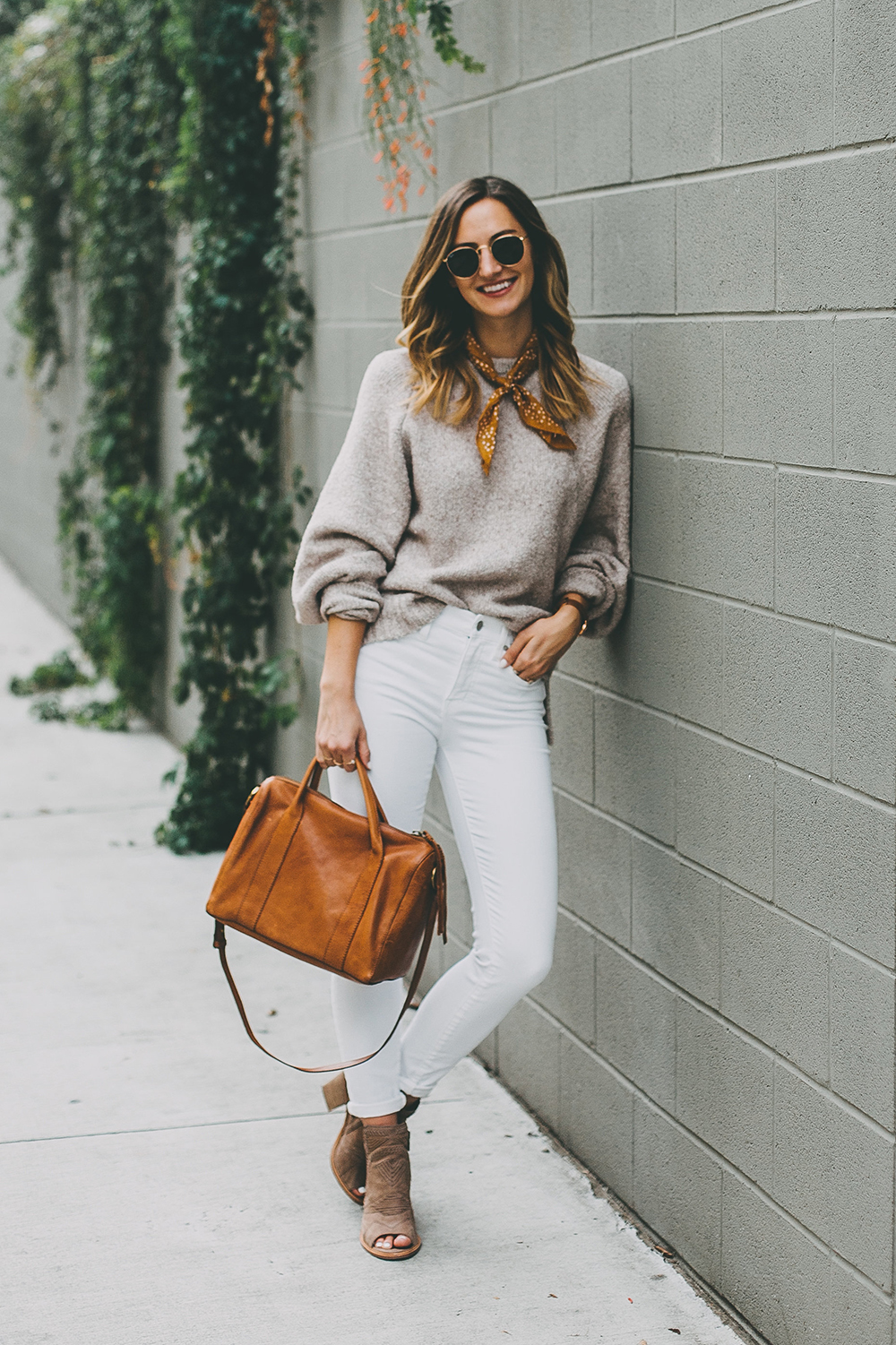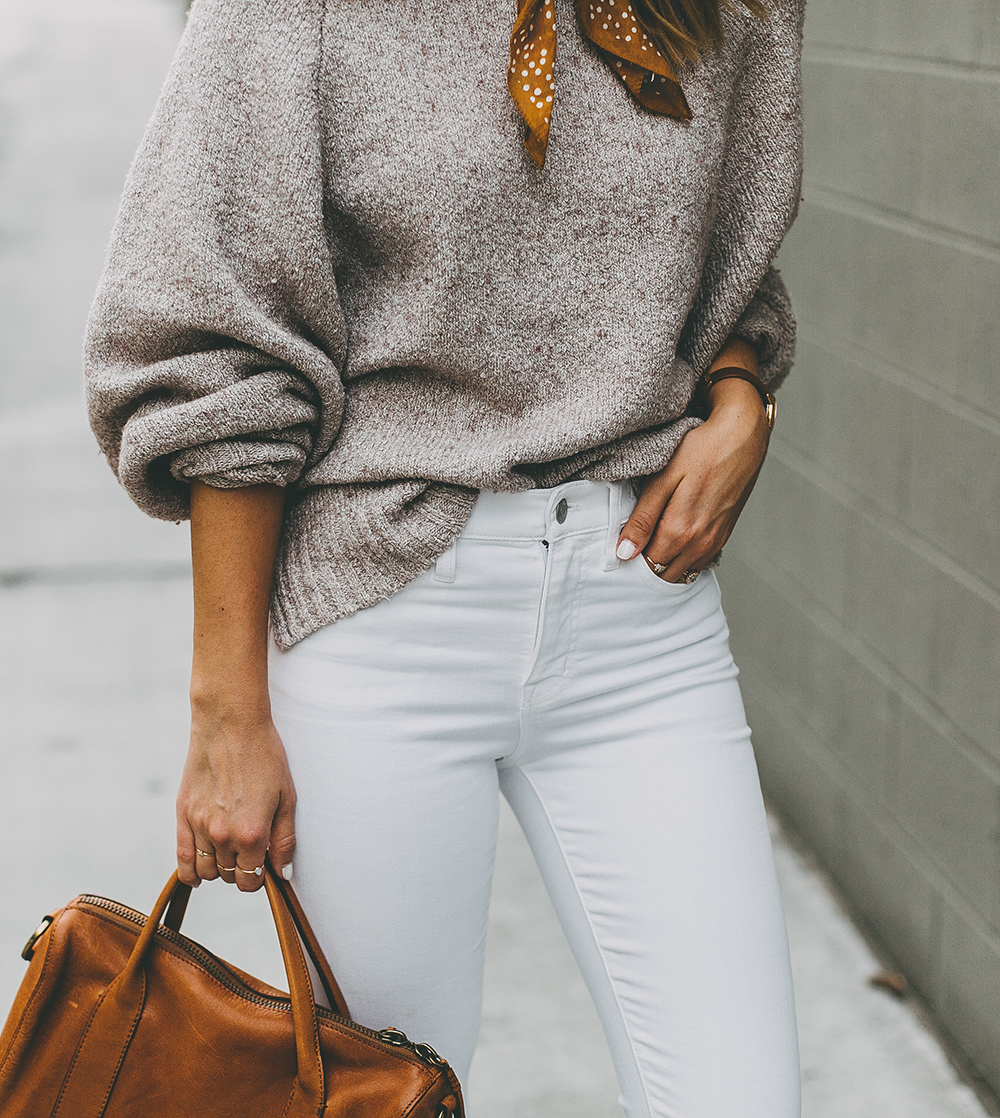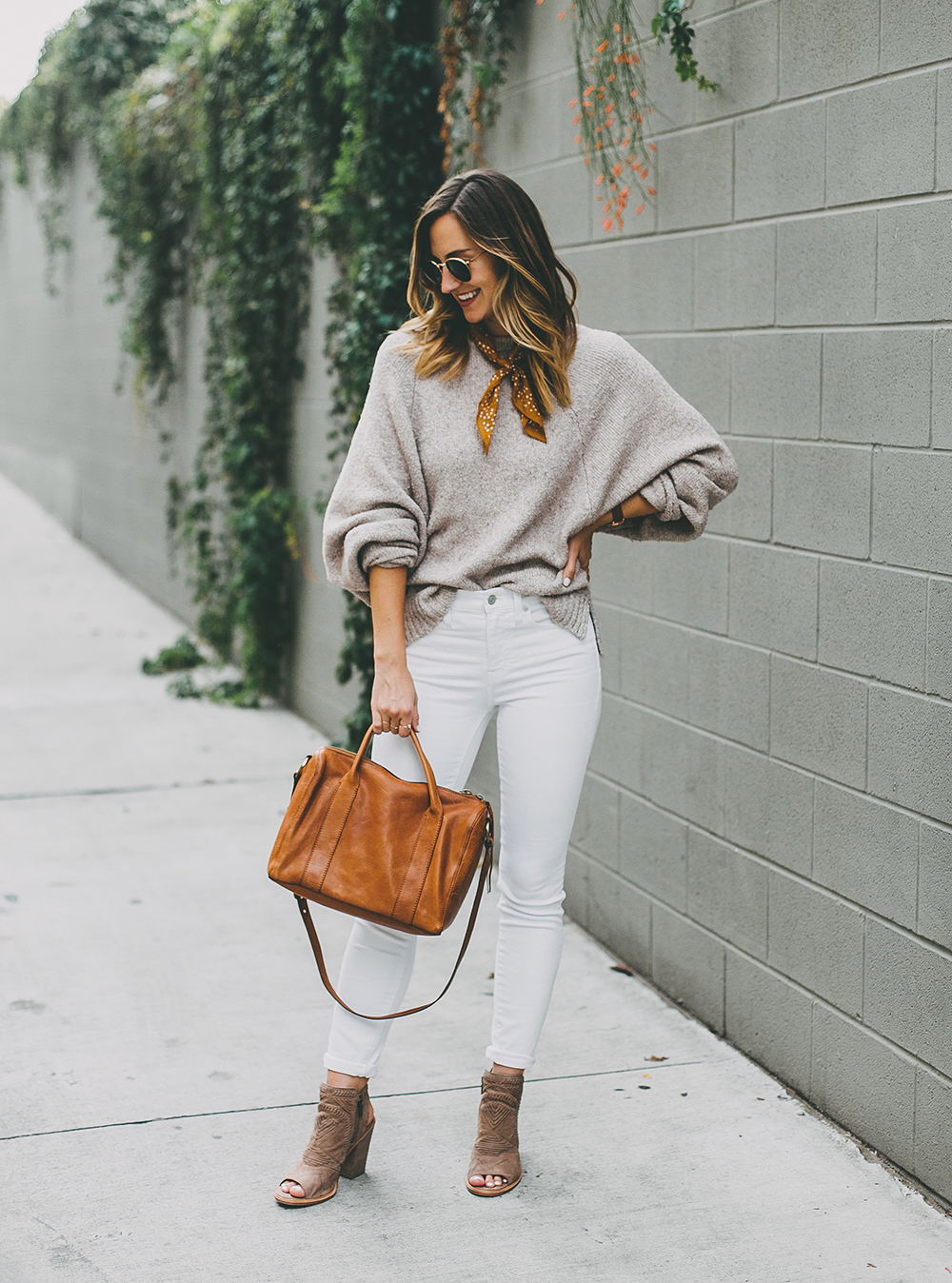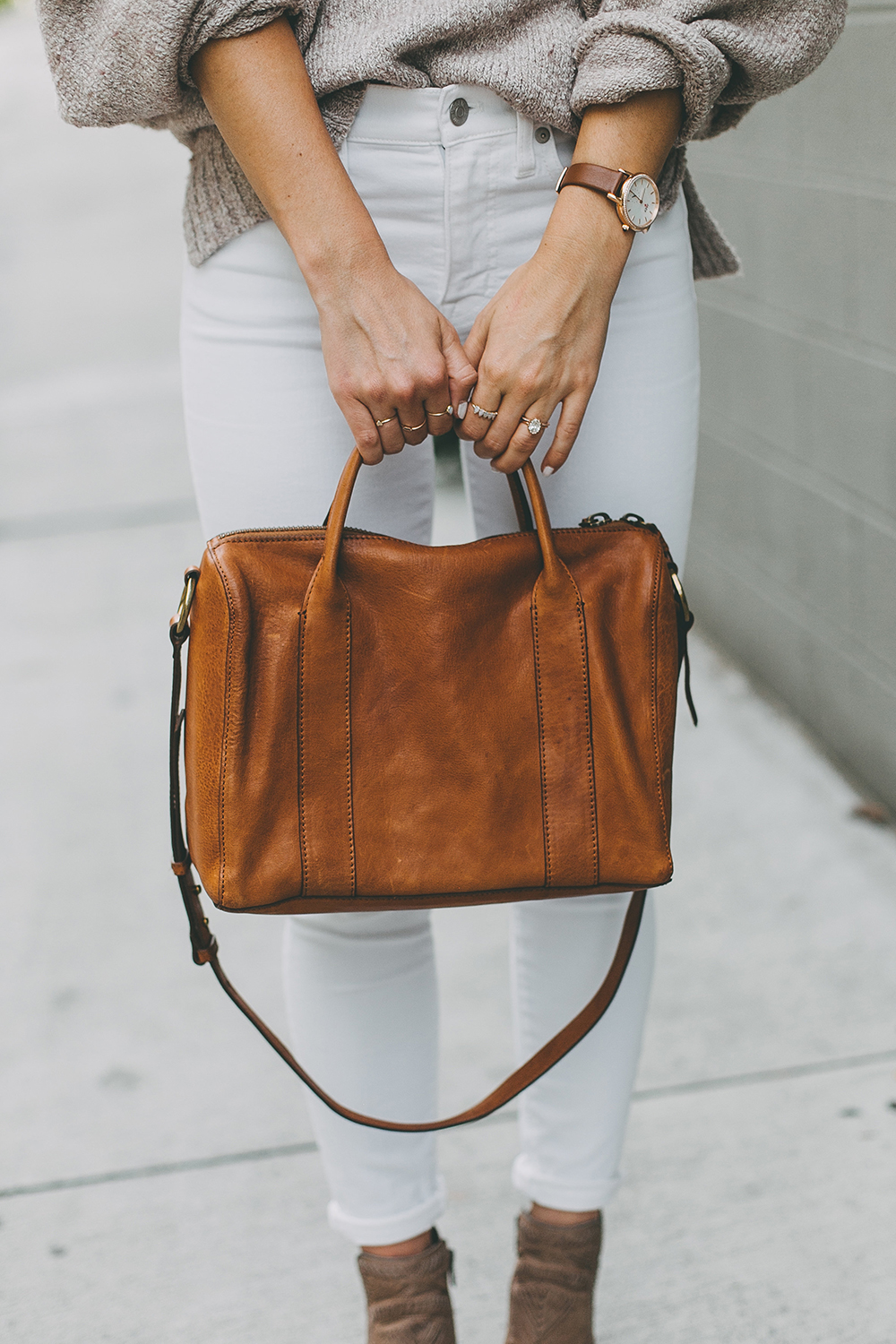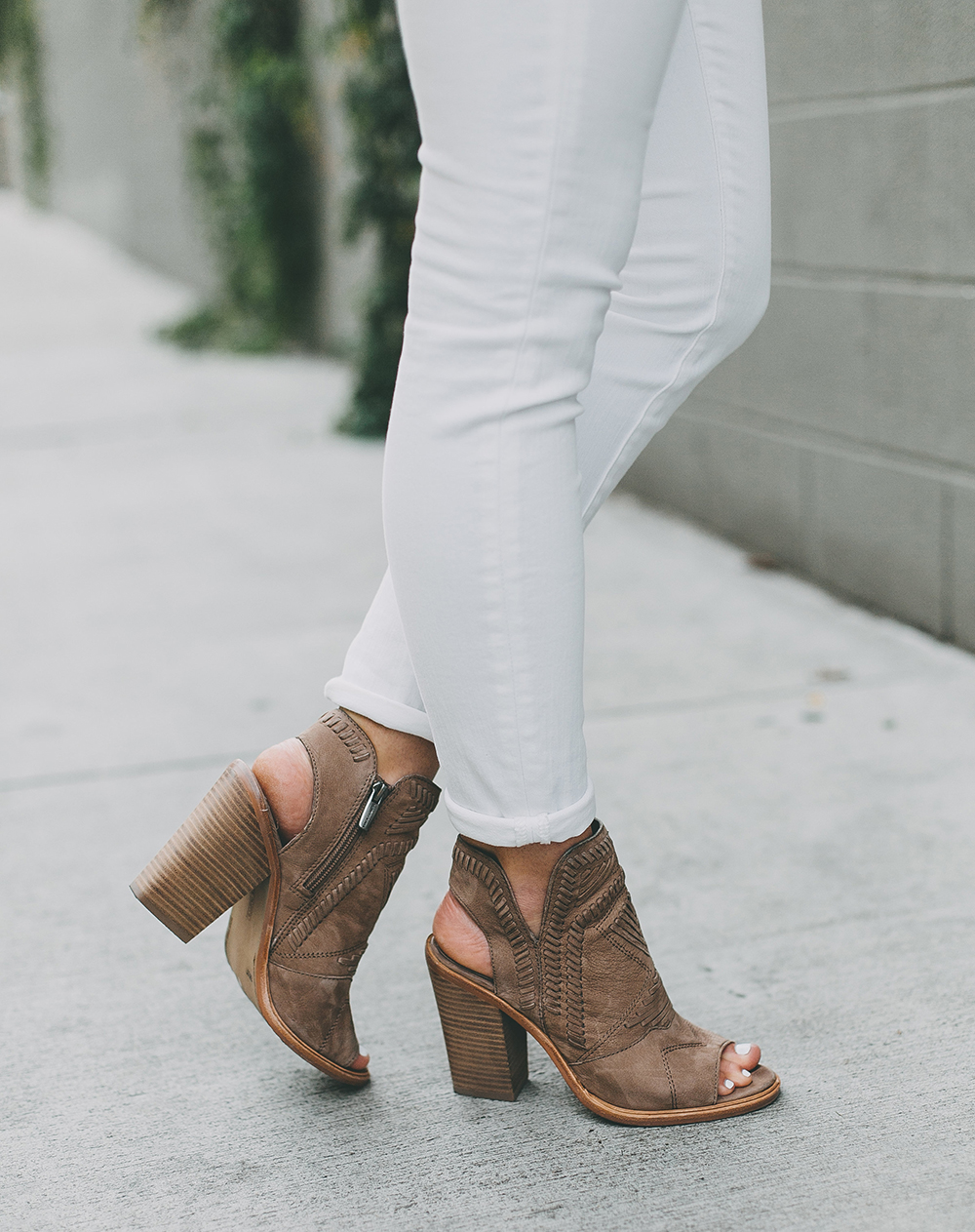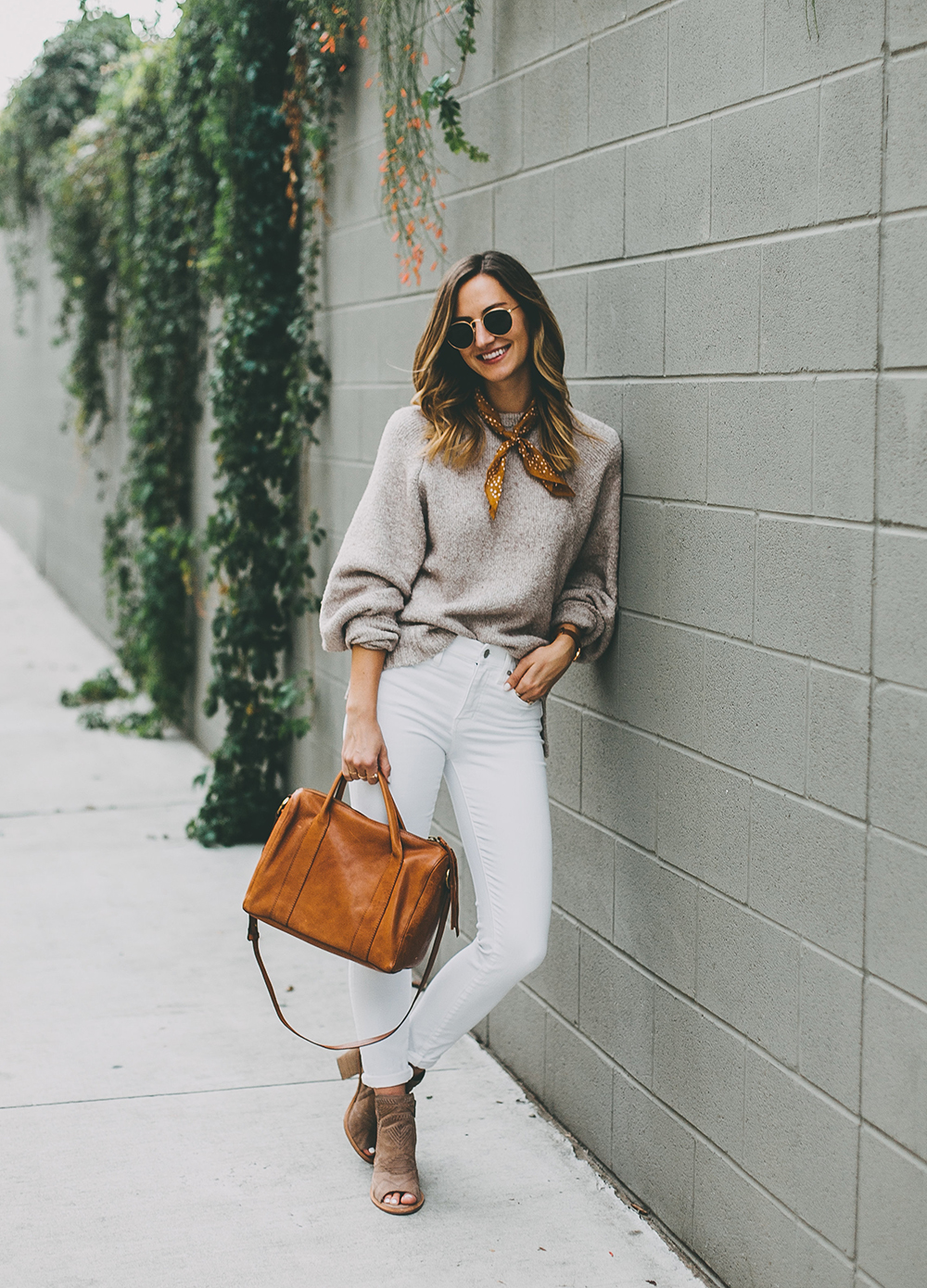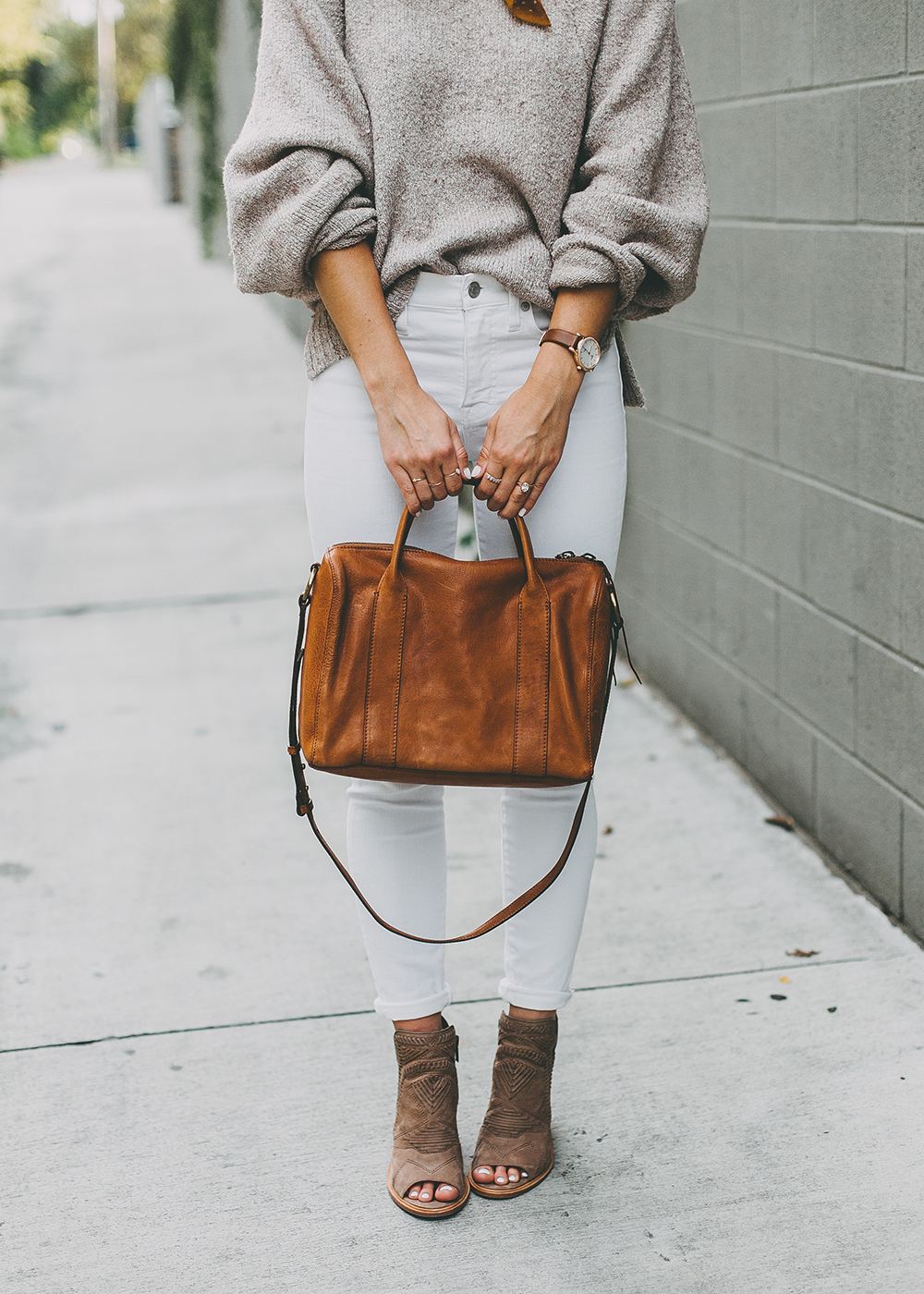 The perfect recipe for day-to-night chunky sweater outfit?
1. A good pair of denim with a flattering rise: I always like to wear jeans that have at least a 9 to 10 inch rise, then I'll front-tuck my top so that my outfit has some "shape" and my waistline is visible. Adds a cute, feminine touch, too!
2. Peep toe ankle booties: this pair is SO flirty and fun…also can't go wrong with the classic taupe color, it goes with everything!
3. Add a neckerchief for a fun color pop: y'all know by now that my obsession with neckerchiefs is very real…love that you can tie these in so many ways around your neck (another way to style it – see here) or tie on the strap of your handbag (see here) or in your hair (around your ponytail, like in this look on my Instagram). Bandanas and handkerchiefs are inexpensive and really complete a look!
Aaaand now for my outfit details…how stinkin' cute is that cozy sweater?! It's such a gorgeous, neutral color and SO soft. My skin is super sensitive (always has been) to itchy sweaters (…honestly, I was that child at dance recitals wearing a full on t-shirt under my costume because I hated the itchiness, ha!), so I'll be the first to tell you if a sweater has some itch to it. I am wearing size XS and it's from Urban Outfitters (…told you I stalk their sweaters tab like a crazy lady haha). Highly recommend it and am seriously LOVING their fall arrivals…big fan over here!
My jeans are by Madewell and they run a big, so order a size down. I think a white pair of skinnies with no distressing is such a solid wardrobe staple…they're classy and can be worn throughout every season! My shoes are Vince Camuto (they fit TTS – currently on sale, wahoo!) and my handbag is by Madewell (major heart eyes for this thing! Also comes in black…decisions, decisions…).
Alrighty friends, that's a wrap! Have a wonderful Halloween! XOXO
**Photos by Anna Szczekutowicz Photography
sweater – URBAN OUTFITTERS / jeans – MADEWELL / scarf – MADEWELL / shoes – VINCE CAMUTO / handbag –  MADEWELL / sunglasses – RAY BAN