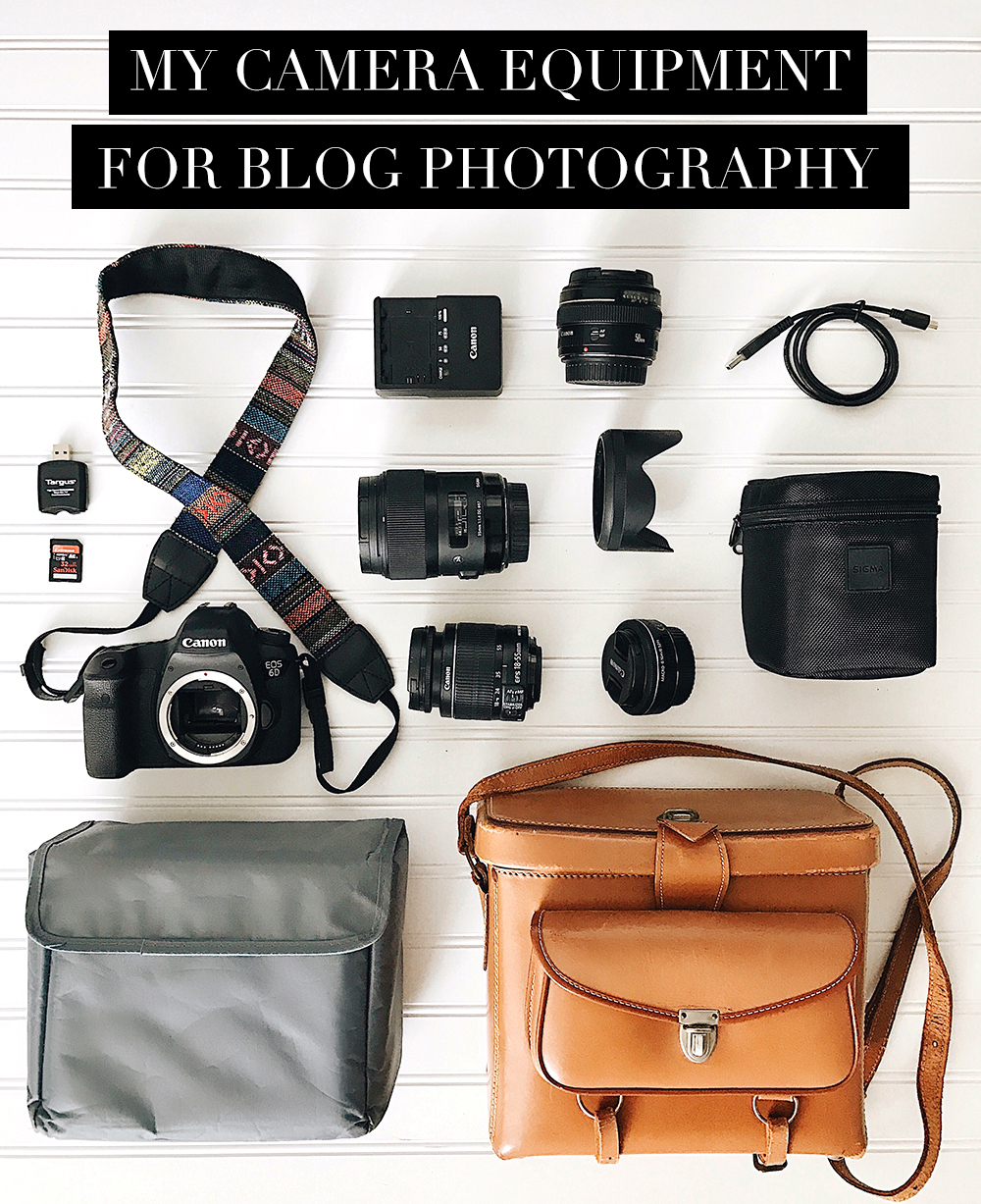 Happy Friday, y'all! This post has been a long time coming and I am finally sharing the scoop on my blog photography equipment! From what camera we use at home and for travel, who my go-to Austin photographers are and everything in between…let's get to it!
Who shoots my photos: First and foremost, the majority of the photos you see on my website are snapped by professional photographers I hire in Austin. Though I love photography and think the editing process is super fun and fascinating…I simply can't do it all and am so thankful to have such amazing photogs who I work with often. For fashion posts I shoot with Brandon Hill & Anna Szczekutowicz, and for interior + home decor posts I shoot with my brother, Jacob Watson.
Though Blake is awesome with the camera and I often wish he'd become a full-on Instagram Husband, I am totally aware that the world needs his brain power much more than I need his photography help! However, on weekends and of course when we travel, he is always kind enough to help shoot with me (…and he is always so good at it, too!).
For Instagram posts, I grab my friends, my sister, or my mom and dad to help me. Blogging is definitely a career that requires friends/family involvement, ha!
How I learned about photography: My dad is a camera operator in the film industry and my brother is a professional photographer, so we always had cameras around the house growing up. I didn't become more acquainted with photography until I started my blog and knew it was something I would have to learn. When I first began, I didn't have any money to pay a photographer, so investing in a starter camera of my own and watching countless YouTube videos to help me understand the camera and shooting in manual really helped a ton. Seriously…you don't need a photography class (although that would probably be very helpful if you have the funds for it), YouTube has tutorials for pretty much everything – for free! I would then get the camera settings ready and pass it off to whoever was helping me shoot an outfit post that day. Aaaand if all else fails, start with shooting in Automatic at first (…that's why it's there!).
The camera I use to shoot blog + IG images (when not working with a photographer): Right before Blake and I left for our trip to Scandinavia, we knew we needed to up our photography game and invest in camera equipment that matched the quality of the photographers I shoot with in town. I was previously shooting with a Canon Rebel t5 and decided to upgrade to a Canon EOS 6D. Truly – can't recommend it enough…it's incredible and the quality is fantastic.
My favorite lens to shoot with: My absolute favorite (…and pretty much the lens we use 95% of the time) is the Sigma 35mm F1.4 art lens…it. is. fabulous. Gorgeous, clear shots and that perfectly blurred backdrop so that my outfits really pop, this one is our #1 go-to lens. We also bought the Sigma Hood lens when we need help blocking sun from a shot.
What I use to edit my photos: Lightroom and Photoshop. Previous jobs gave me a solid intro to editing photos with Photoshop, however Lightroom was something I wanted to learn given that it's a lot faster than Photoshop when editing a full round of blog photos. I actually hired a photographer I really love in town named Chelsea Francis to give me a one-on-one "Intro to lightroom editing" session a couple years ago, and that's where things started to click and become easier when editing in Lightroom (highly recommend her – she was so sweet and helpful!). Lightroom is similar to Photoshop, but  you can create editing "presets" that fit the mood/aesthetic of your photography style and "paste" them onto multiple images at a time…viola, editing time cut down a TON and it's much easier to "brand your photography" style by using the same preset every time you edit.
How I travel with my camera equipment: I treat my camera equipment like a small child and carry it with me everywhere I go, ha! It was such an investment that it's basically "my baby" right now. I bring only the equipment I need for that particular trip (I don't normally bring all of my lenses, I'll just pick a couple) and place it in a cushiony case, then put that in a tote bag or my camera carrier.
What I recommend for camera accessories + carrying cases: Amazon is my favorite place to find inexpensive, cute camera accessories and cases. Have fun getting a cute strap (always read the reviews – some are flimsy!) – I'll link to my protective gear + accessories below. Ps. My vintage camera case was a gift from Blake when I first started blogging…such a gem and one of my very favorite things! He found it on Etsy but I am linking to a similar option below.
What I recommend for bloggers just starting out: Given that photography is such a major component to fashion/lifestyle blogging – and if you're serious about wanting to make blogging a career – then I recommend investing in high quality equipment and studying those YouTube tutorial videos! Back in 2014, I was working a full time job to get my blog off the ground, so funds were limited and I did my best to learn about the camera I had…but in hindsight, I think I would have saved up and invested faster in a better camera and upped my photography quality from the start. Even if you have a small following but produce amazing content, you will build momentum and growth a lot faster than others with lower quality photos (…in my opinion!).
Above all, have fun with the learning process and don't be too hard on yourself! Use your resources and ask those around you for help, pay a photographer in town to shoot photos for you (and ask what settings they use as you're shooting together…I guarantee they will share their knowledge and be excited to do so!) and watch photography and editing tutorials. Your hard will pay off – you got this! 🙂
Linking to my photography staples below – please feel free to comment with any questions! XOXO