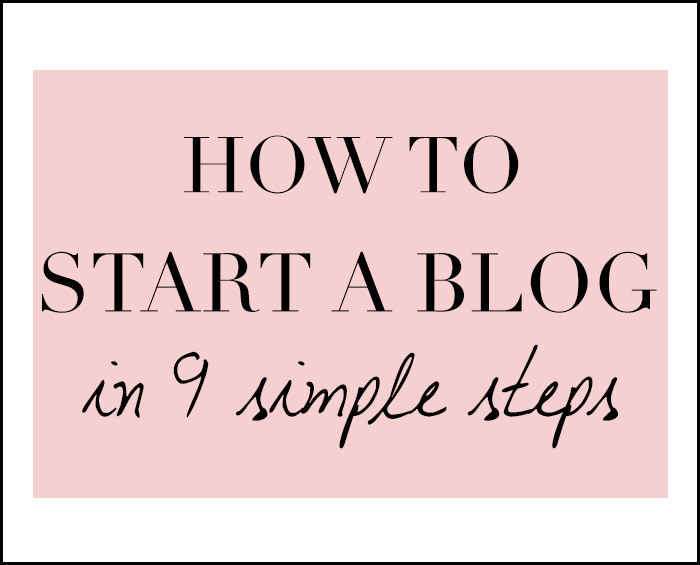 Alrighty gals! This post has been a long time coming and I received so many awesome questions from y'all over the past week – excited to get down to the nitty gritty and share how to start a blog!
I am very fortunate to have Blake as my web developer and site designer (thanks my darlin'!), so I asked him to provide some feedback on a few bullet points that will help get you started in everything from buying a domain name to figuring out the aesthetic and layout you want your blog to have. As always, if you have any further lingering questions, please comment below!
Step 1: Pick a Blog Name
When I chose LivvyLand as my blog name, I was actually a junior in college and thought of it while interning in NYC (buuut just for a hot sec, more on that moment in my life here). I created a blog way back when in hopes that my family and friends back in Austin could keep up with me while I was away for the summer. (Side note: I didn't keep up with it at all and then re-launched with my domain name years later). Though I go by Olivia, my very best friends call me Livvy – which is where LivvyLand came into play. I was in NYC for a fashion magazine internship, but thought the blog could perhaps be a more explorative space that wasn't limited to just fashion…which is where a few suggestions came to mind for this bullet point:
You may go into blogging with the mindset that you'll only focus on "fashion" or
"food" or "DIY," but as you evolve in the blogging industry, you may want to switch gears and go a different direction. I never thought I'd be interested in home décor until we bought a house…three years after starting my blog and I'm more excited than ever about adding more home posts to my content. See what I mean? Don't pigeonhole yourself by selecting a name based on one set thing. (On the flip side – if you're 110% certain that you'll forever be writing about fashion or whatever that one thing may be, by all means – you do you and go for the name!).
Blog names are like band names: they're a part of your brand, so be thoughtful and confident with whatever you decide. Also – you'll forever feel ridiculous saying it out loud when people ask, "what's your blog called?" I haven't met a single blogger who doesn't feel silly saying their blog name out loud, ha!
Make it easy to remember (and easy to spell!): The standard spelling of "Livvy" is actually "Livi" …so I kinda blew it with that one haha! But honestly, I recommend choosing something that most people will automatically know how to spell because it will help your search results (in Google). Alliteration also helps people remember your blog name!
Step 2: Pick a domain name that fits your blog name (For example, my blog name is LivvyLand, so I locked in www.LivvyLand.com).
– Most of the time the blog and domain name will fit, but not always.
– Use the search bar at www.godaddy.com to help you pick one that is available and in your budget.
– If your name is unique, it should be around $5-$10 dollars a year.
– .com websites are the best for SEO, but other domain names are okay to choose as well (aka livvyland.blog).
Step 3: Secure your social media accounts
-Lock in your Instagram handle, Facebook page, Twitter account and Pinterest page using your blog name. It's best to use the same name for each social media site (makes your life easier down the road, trust me!).
– Example:
1. www.instagram.com/livvylandblog
2. www.facebook.com/livvylandblog
3. www.twitter.com/livvylandblog
4. www.pinterest.com/livvylandblog
Step 4: Pick a blogging platform
– Most everyone uses WordPress, but there are other blogging platforms available like squarespace https://www.squarespace.com/tour/create-a-blog/, tumblr (www.lifewire.com/how-to-make-free-blog-on-tumblr-3476398), or blogger (www.wikihow.com/Start-a-Blog-on-Blogger).
– WordPress is the most widely used and will come with the most plugins and themes to choose from (this is what makes up your site from a reader perspective – Plugins and themes are on the backend/development side of a blog). It also allows you the most potential for customization and has built-in tools for SEO (search engine optimization). I definitely recommend using WordPress, it's very easy to navigate and has a ton of plugin and theme options perfect for blogs!
Step 5: If you're using WordPress, pick a hosting service.
– Squarespace has their own hosting service for blogs (so if you choose to use Squarspace for your site, you'll all use them as your hosting provider).
– GoDaddy (https://www.godaddy.com/websites/wordpress) has a WordPress hosting service, which will allow you to manage all of your hosting and domain stuff at a single place.
– You can also host through other hosting companies like:
* Bluehost
* WordPress.com – Side note: you don't have to use wordpress.com for hosting if you're using the WordPress platform. This is a separate hosting service for the WordPress platform.
– Or, if you want to go rogue and are or know a software developer, you can deploy to AWS (Amazon Web Services) or Google Cloud. It'll be more expensive, but you'll be able to control much more about the hosting environment.
Step 6: Follow the instructions through your hosting service to get a site up and running
– Each of the options listed have wizards for starting a WordPress site. Just follow their instructions to getting your site running.
Step 7: Map your domain name to where your blog is hosted
– If you're not using Godaddy for hosting, you'll have to point the domain to your IP address (the unique internet location for your server).
– Every place on the internet has a specific number associated with it – this is called an IP address. Whenever you submit a domain name through your browser, that domain name will be used to find the location (IP) of the server hosting your website.
– For your specific hosting service, you'll need to add your domain to your account. Usually you can do this on an account settings page.
– Once you've added a domain to your hosting account, you'll need to update nameservers for your domain in GoDaddy. Here are the nameservers for some specific hosting sites:
* Inmotion hosting:
– ns1.inmotionhosting.com
– ns2.inmotionhosting.com
* Bluehost:
– NS1.Bluehost.com
– NS2.bluehost.com
– For other sites, you can easily find these by searching the name of the hosting site and the word "nameservers" and it should come up!
– Now that you have your nameservers, you can update your GoDaddy account to use them. Here's a tutorial on that HERE.
– If you already have a wordpress.com site, HERE are instructions for mapping your domain name to your existing blog.
– If you're not using Godaddy or can't get things working, look to YouTube for instructions on how to point your domain name to your specific hosting service.
– Once you've done this correctly, it'll take up to 4 hours to work. You'll know it's working once you can type your domain into a browser and end up at your blog.
Step 8: Pick a theme!
– The look and feel of your blog is one of the most important things you can do to get readers interested. Make it a space people want to visit time and time again!
– Have fun with it – building your blog aesthetic is "branding" your blog! You want this to feel unique to you and speak to your sense of style. (Are you colorful? Earth tones? Minimalist? Etc.).
– WordPress has a great UI for creating themes and customizing your site.
– If you want to go rogue again, you can program your own theme (Blake went rogue and programmed my theme) or hire a developer to build your site.
-This is where you'll pick your blog category pages (ie: "fashion" "home décor" "fitness," etc.) and they'll generally live on a toolbar at the top of your site. (Piece of advice: start small and expand – when I first started I thought I could blog about about 10 different things…I quickly realized I did not have the bandwidth to produce content for 10 different categories haha…loved that I dreamed big, but it just wasn't realistic! I also ended up putting a TON of unnecessary pressure on myself to simply get content on each tab…these days I focus mainly on fashion and have slowly added a couple other content topics into my blogging repertoire).
Step 9: Start blogging!
– Viola, if you've made it this far, go pour yourself a glass of wine! Cheers to YOU & congrats on creating a blog of your very own!! Wahoo!
Curious about getting into blogging? Feel free to scope out my Blogging Tips tab HERE. If you have more questions about getting a blog site up and running, please leave a comment below! Hope this was helpful, ladies!! XOXO
Read more Weekly Chat posts:
1. My Favorite Instagram Editing Apps
2. 5 Things No One Tells You About Starting A Blog
3. 5 Tips To Grow Your Blog
4. How I Started Blogging
5. 3 Mistakes I've Learned As A Blogger (And What I Learned Along The Way)