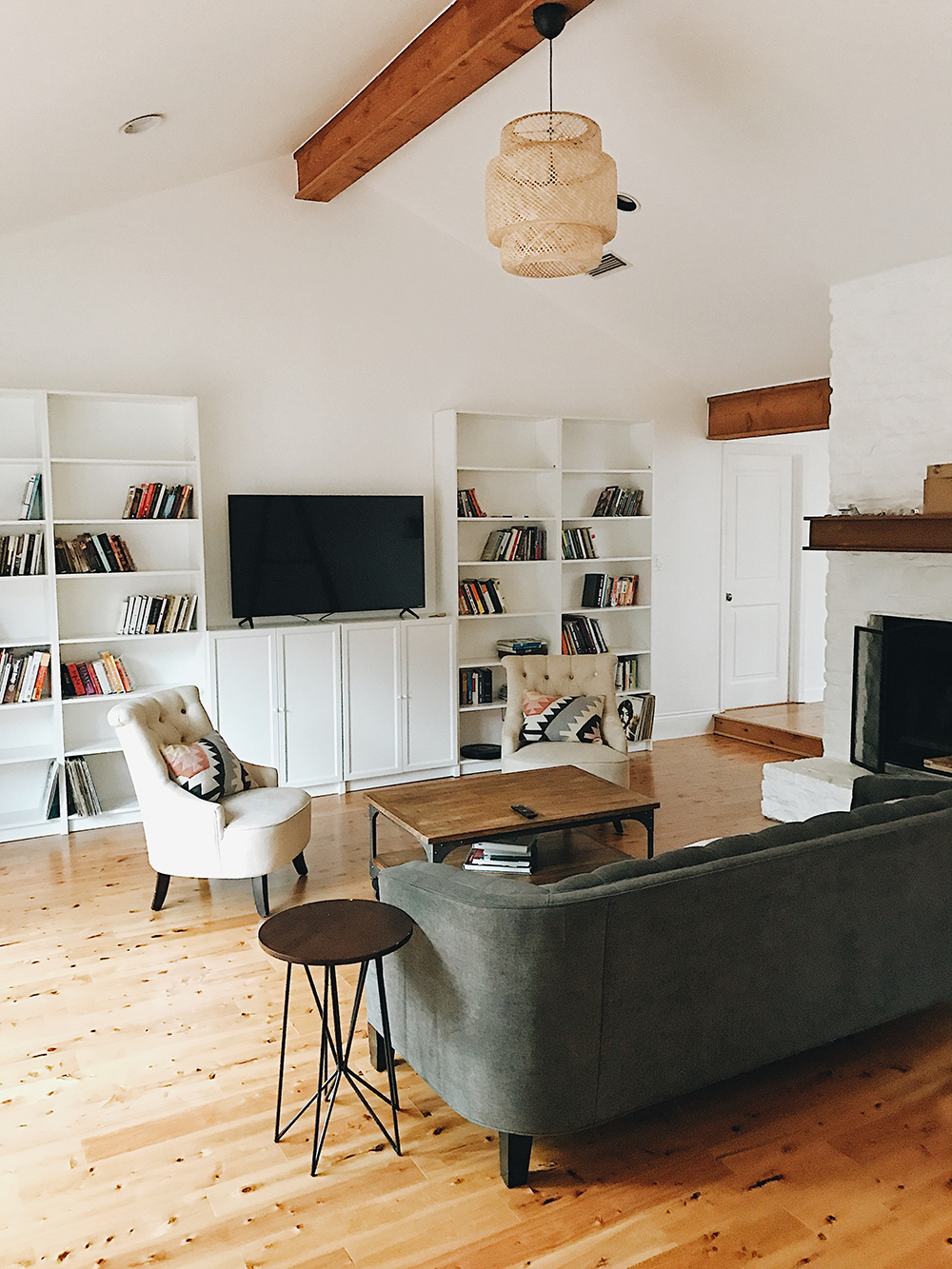 Hello friends! I am pretty darn excited to share a little peek into our new home today! These are all iPhone snaps…and yes, I definitely took these with the intention of sending them to mom and not posting on my blog haha. Buuut after so much wonderful feedback on my Instagram Stories last night (I did a mini-before/after progress report), I figured it would be super fun to document our house little by little. I'll be posting full room reveals as we get things together (lots of fun ideas!), so stay tuned for those over the next few months (…err, year? No pressure, right?! 😉 ).
Disclaimer: we are still living in a state of empty boxes (like…everywhere, ah!), piles of things to put away (…that's what the weekend is for, right?) and of course, lots of open space that will be filled in time (I know, I know, those bookshelves above are lookin' scarce!). All that said – we are having SO much fun settling in and it still feels surreal that this precious house is our very own. Blake and I are so grateful to have found this gem and even though not a single room is complete at the moment, we still sit in bed with coffee each morning and look around in awe. Needless to say, we are loving every second in our new space! Sooo….without further adieu, here we go!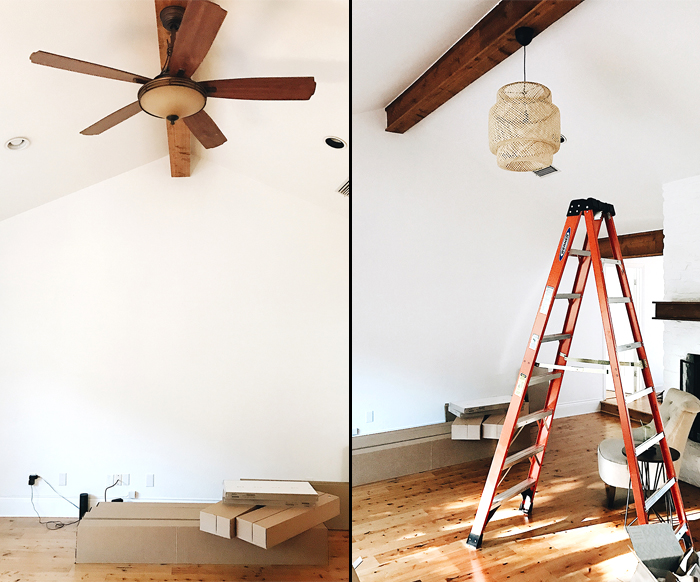 1. Exposed beams are magical.
2. That light fixture that came with the house isn't quite as magical. First things first, swap the light fixtures! Our vision for the living room area is basically to create a relaxing, tranquil space where we want to sip our coffee in the morning and have friends over for wine at night…the new light is a good start!
3. If you scroll to the first image in this post, you'll notice we added built-in bookshelves! …And by "we," I really mean Blake put the shelves together and installed them while I drank a glass of wine and watched Jimmy Kimmel. I have officially started calling him (Blake) Superman because he is kind of a miracle worker when it comes to mastering these home decor projects in a crazy short amount of time!
4. We're going to swap out all the furniture and we finally know the sofa, chairs and rug we want for this room…excited to put our order in tomorrow! Fear not, this room reveal is in the works…very excited to share more with y'all soon!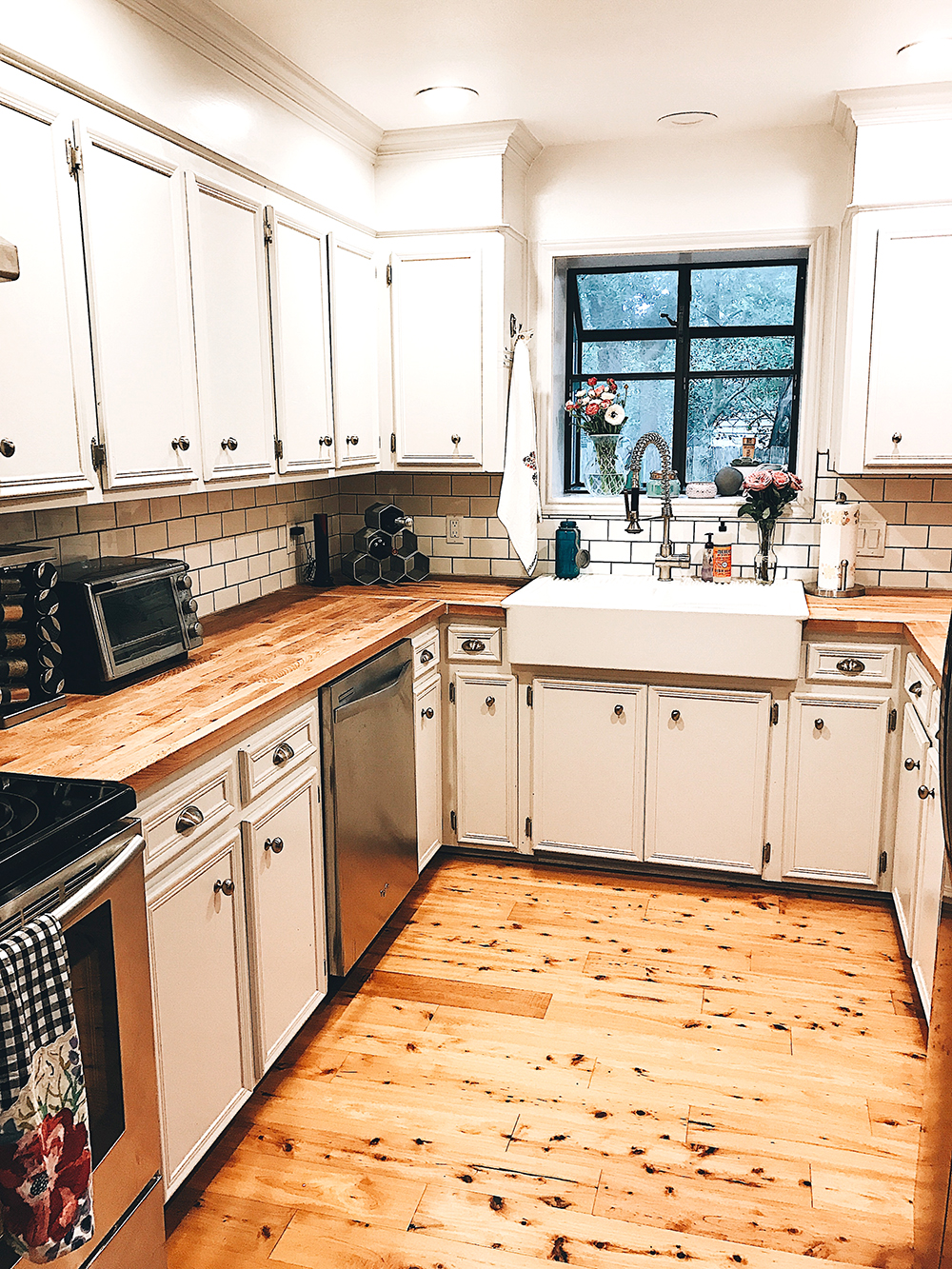 Be still my heart. Adorable kitchen of my dreams! Thinking a runner rug might be a cool look…still deciding, thoughts are welcome!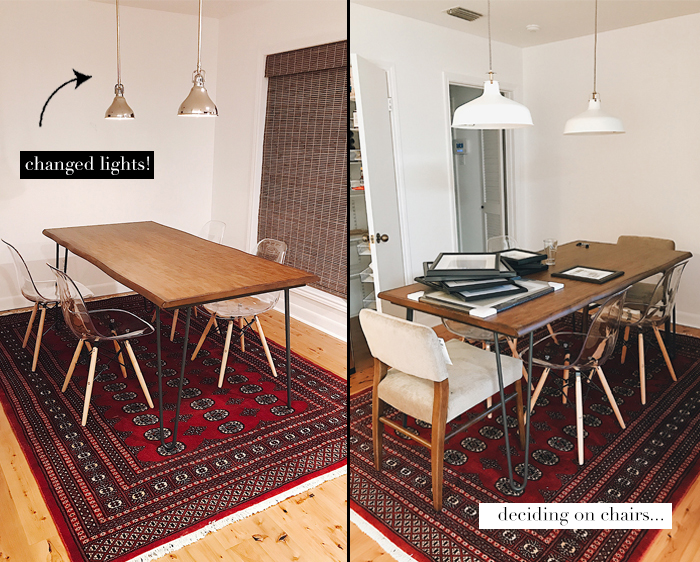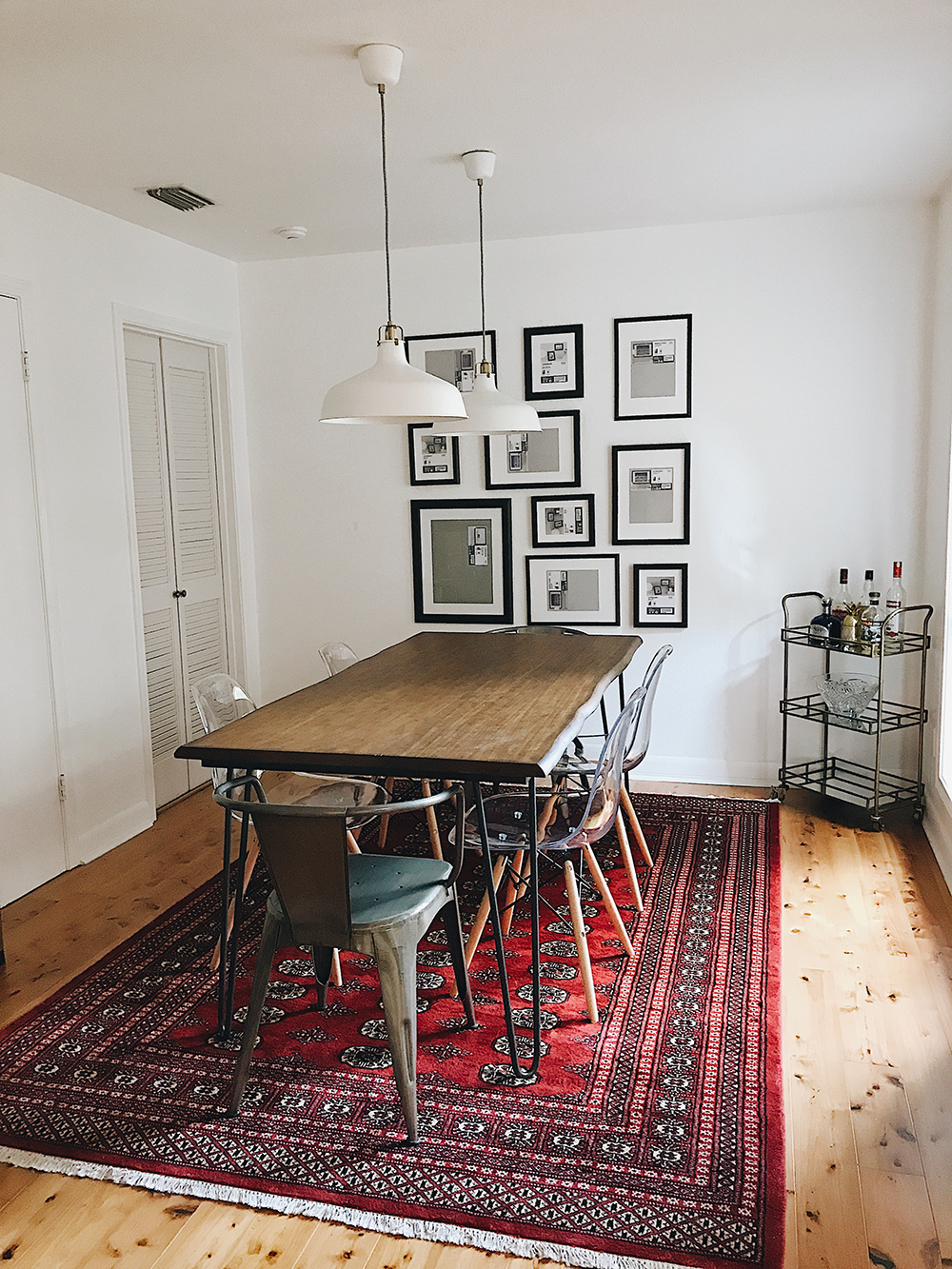 Nowww we're getting somewhere! 😉 I feel like as I get older I totally understand my mom waaaay more! (I didn't quite understand her love for home decor until getting this house…and now I TOTALLY get it!). I went back and forth to World Market about 10x in ONE day…the associates kept asking, "Did that chair work?!" …After a couple tries, we finally found the head-of-the-table chairs that felt right!
And yes, you can totally LOL that there is no actual artwork in those picture frames, ha! However…framing out the gallery wall is how we like to start…artwork to come, frames subject to change or perhaps be painted white…and maybe add in some wood frames? See what I mean…lots up in the air over here! And the bar cart is lookin' a little bleak these days…we'll work on that, too. 😉
Shoutout to my mom for shopping around Austin with me and ultimately leading me to that gorgeous rug! Y'all…Macy's in Austin has a "Fine Rugs" department (apparently there are only a few of these in the U.S.) and OMG did my heart skip a beat when I saw this thing. I worked at a rug shop in college (yep, true story), and ever since, my appreciation and love for beautiful, hand woven rugs runs deep. This is one of those home decor pieces worth the investment and a rug I will cherish forever!
TABLE / CLEAR CHAIRS / METAL CHAIRS / LIGHT FIXTURES / BAR CART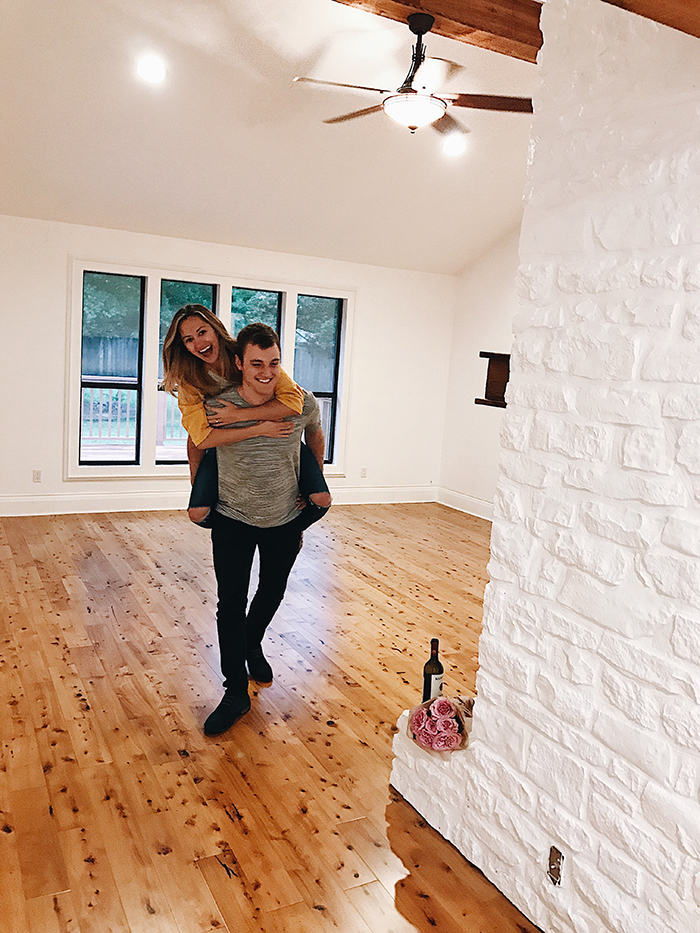 Aaand we've come so far! (Another snap from the day we got the keys…vacant room no more!). Slowly but surely turning our house into a home…one room at a time! I still have a lot more of the house to share with y'all, but the communal spaces are top priority at the moment. As always, thank you for the kind words and encouragement along the way – y'all are wonderful!! Will share more as it comes along! XO