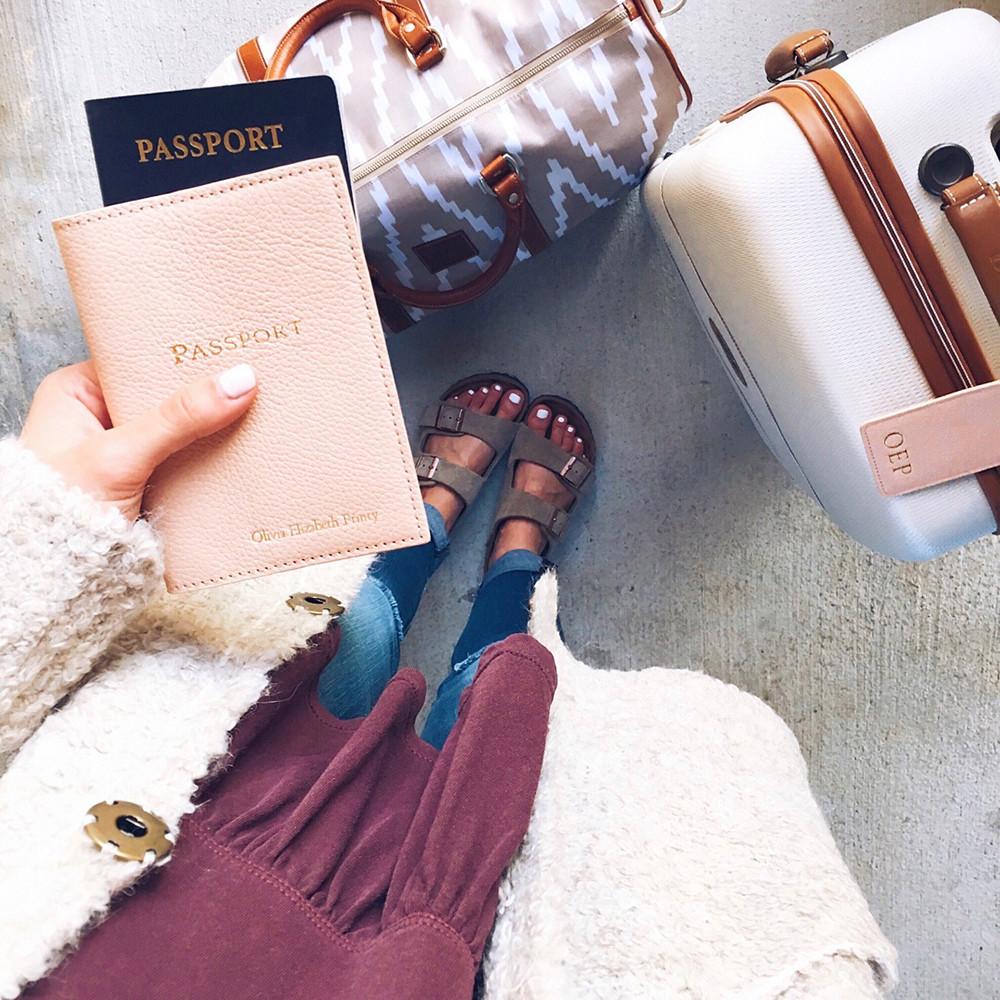 Happy Friday, ladies! We just pulled into Tallinn, Estonia (omg SO COOL! Still geeking out at every stop!) and while Blake and I sip our coffee before heading out to explore, I wanted to get in a blog post and answer a few questions I've received while on this trip! I am LOVING that y'all are so awesome about sending along travel suggestions/questions while we're in Scandinavia – and I wanted to be prompt and get this post up while it's all still fresh (and current) on my mind! From the best sneakers, to my favorite countries (thus, far!) and even quick tips for flying long distances…hope you'll enjoy this one!
1. What are your favorite sneakers to wear while traveling?
I have been asked this one a LOT on this trip! I mentioned that my very favorite travel shoes are Birkenstocks (in my last Weekly Chat), buuuut if you're in colder weather, obviously sandals are not going to cut it. Next on my list of travel shoes would be sneakers and these Nikes have been AMAZING! Super light weight and I didn't have to break them in (thank goodness!). I actually bought them in Copenhagen after a pair of boots left my feet in shambles from walking all day (no really…Blake had to give me a piggyback ride into the shopping mall because I was nearly in tears from pain!)…bandaids and new sneakers, FTW!
I received a few Instagram DMs about my white sneakers from our trip (seen here). These are SO CUTE and super comfy BUT you have to break them in first! It took me about three solid wears for them to finally loosen up and feel great for walking around a city/strolling long distances. I am such a big fan of GREATS shoes and highly recommend these kicks, just be sure you have some time to break them in before traveling. I wore them all day in Berlin and they were wonderful!
2. How do you balance style and comfort while traveling?
So…as read above, I am still finding this balance, ha! Not going to lie, it can be a little tough to perfectly master style and comfort…especially as a blogger! I clearly got it wrong with my shoe debacle above (…booties = great for photos, not as great for my feet!)…and that said, it only makes me gear more towards comfort as I continue my travels (…hello, sneakers…everyday!). All that said, here are a few pieces of advice that help me:
If you're wearing jeans, make sure they're stretchy! I am all about classic denim that sucks you in and doesn't leave much wiggle room…but that's not really a practical (or comfortable) choice when you're sitting on a plane/bus/train for hours on end. Trust me, I've also learned this one the hard way and felt super nauseous after a 3 hour bus ride from our port into a new city!
A leather jacket goes a long way. I brought this gorgeous leather jacket and have already worn it SO MUCH (see this Instagram post for reference). It's warm, fashion forward (love the drape-front look!) and this thing goes with everything from chunky sweaters (layered during the day here), all the way to nice dinner attire. I wore it over a cocktail dress last night and it was perfect! I wear size XS for reference.
Brands that never fail me for traveling: Patagonia & Zella! This Patagonia pullover has been my daily go-to as we roll out of bed and hit the breakfast bar each morning – and these Zella leggings are never out of my sight (obsessed is too weak a word for these!).
Don't underestimate the power of a good scarf – it can make the outfit! Not only is it an extra layer of warmth, but scarves can make a fun style statement, too. I'm super excited to rock this adorable scarf during todays excursions. (Ps. If you're headed somewhere warm, summer scarves are equally fun to play up and outfit with…how cute is this one?!).
3. What are your thoughts on European vs. American fashion?
European fashion is SO. GOOD. Literally, everyone looks like a walking fashion ad campaign haha! When we were in Norway, I kept turning to Blake to ask, "Are we surrounded by models?!" It was pretty nuts. Everyone dresses beautiful – so chic, well groomed and super stylish. The big thing I've noticed is that Americans dress much more colorfully…if I see someone in a pink peacoat, it's definitely an American tourist, ha!
4. What's number one on your travel bucket list?
I've visited Paris a few times – but never with Blake! It is truly the most romantic city I have ever been to and I really adore french culture so much. (I took french from 6th grade through college!). I would LOVE to spend some time there with Blake, then hop to a few neighboring countries and explore.
Next on my bucket list is Iceland – the Blue Lagoon looks incredible!
5. What's the coolest thing you've ever done while traveling?
When I was in high school, my parents, sister and I went to a week-long surf camp in Costa Rica. We stayed in a bungalow style hotel with THE most incredible staff…we surfed all day and finished each night with authentic cuisine and live music in the open air. It really was pure bliss! Definitely lived that Pura Vida life. 😉 In case you're looking for an amazing vacation (where you'll also get super fit, ha!), definitely check out Witches Rock Surf Camp.
6. Do you get seasick on cruises?
I am very lucky and don't get seasick, however a few of my blogger friends on this cruise don't have it so easily! They loaded up with ear patches and dramamine.
7. What are some quick tips for flying long distance?
After six overseas flights in the past 10 months (all of which were over 8 hours each, eek!), I have officially learned a LOT about flying comfortably! 1. Change into sweatpants or leggings asap once you board the plane. 2. Bring a cozy sweatshirt (…or shawl…this one is MAGICAL). 3. Bring a pair of warm socks and put them on once you're in the air. 4. An hour before landing, use makeup removing towelettes on your face (I just bought these for our flight to Denmark and they were SO awesome!) to refresh. I then reapply a fresh face of makeup so I don't look like a zombie and terrify everyone when I exit the plane! 😉 5. Lastly, I now pack a travel toothbrush kit and quickly brush my teeth in the bathroom (…bring a water bottle!) before we land.
One more thing! If you've got the funds or airline points, definitely consider upgrading to Business or First Class. More leg room, better service, etc. (…Ps. I haven't ever travelled like that…but one day, ha!).
8. Favorite city you've visited in a foreign country?
Athens and Rome are at the top of my list! SO much history, it was kind of unreal. Also the fact that a modern city and ruins sit side-by-side was just amazing. In Rome, you can literally eat at a cafe that overlooks the Colosseum…definitely felt like I was dining in a movie set!
9. Any must-see historical monuments?
The Acropolis in Athens is an absolute MUST! It is enormous and unbelievably beautiful (…it overlooks the city of Athens…seriously breathtaking!). I highly recommend visiting when you're more able-bodied because there are a ton of steps and the marble can get slippery – just a heads up!
Ps. You can check out my Greece travel post here. 🙂
10. One day in a new city: do you visit historical monuments or do you hit up cafes/bars to get a feel for the city?
Blake and I try to knock out site seeing in the morning, then stop for a cappuccino and stroll around markets/shops until we're ready for a local beer! If I had to choose between the two, I'd go with ambiance over sites…we love chatting with locals and getting a sense of the culture wherever we travel!
That's a wrap on this one! If you have more travel questions, please feel free to leave a comment below!! You can follow our journey through Scandinavia over on my Instagram feed (officially halfway through our cruise – ah!) – hope you have a wonderful weekend, XOXO!