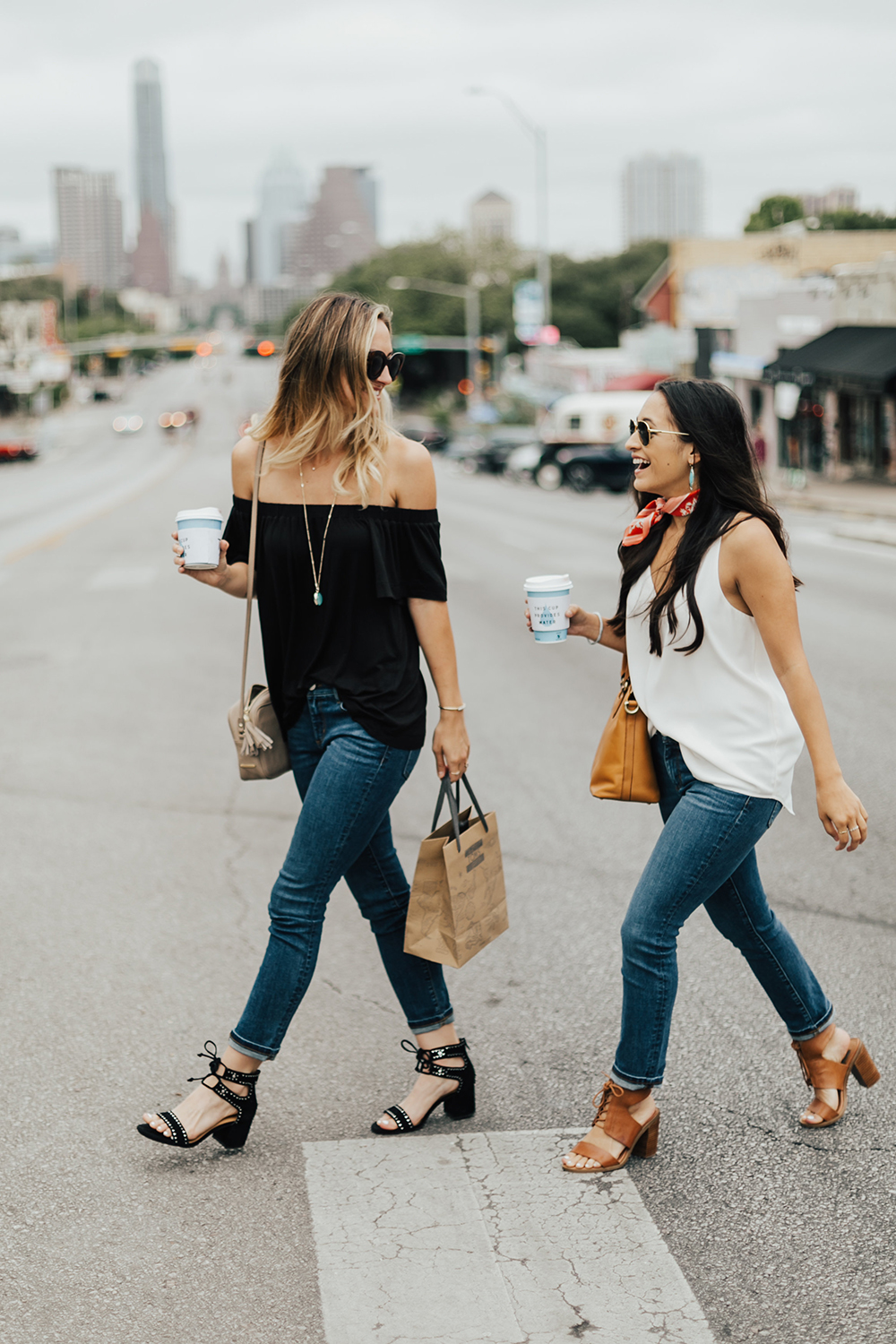 Let's start the week on a high note because….LOFT is having a 40% off site-wide 'Friends & Family' SALE! And y'all, their new spring pieces are SO. CUTE. Not to mention, when everything is nearly half off, that is reason enough to add some seasonal updates to your wardrobe! I am always so thrilled to partner with LOFT because I adore their clothing and brand aesthetic, but today is extra special because I grabbed one of my very best friends, Veronica, (who is also a petite section shopper – she's 4'11, so all my petite readers, take note of her look! 😉 ) and we had ourselves a galpal date over the weekend to share a few of our favorite pieces from the sale. The best part? Both of our outfits come in regular and petite sizes. Yep…the good news just keeps getting better.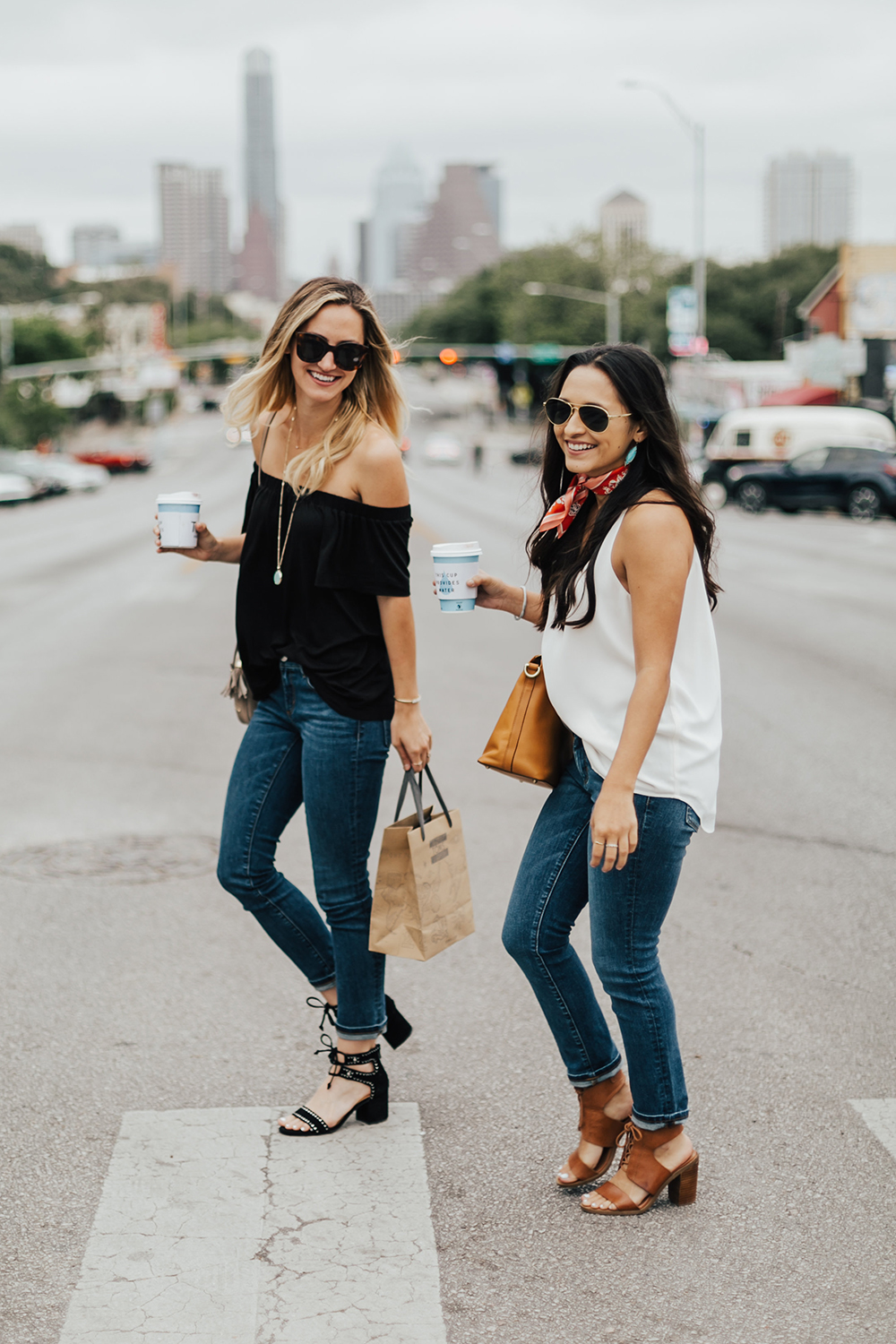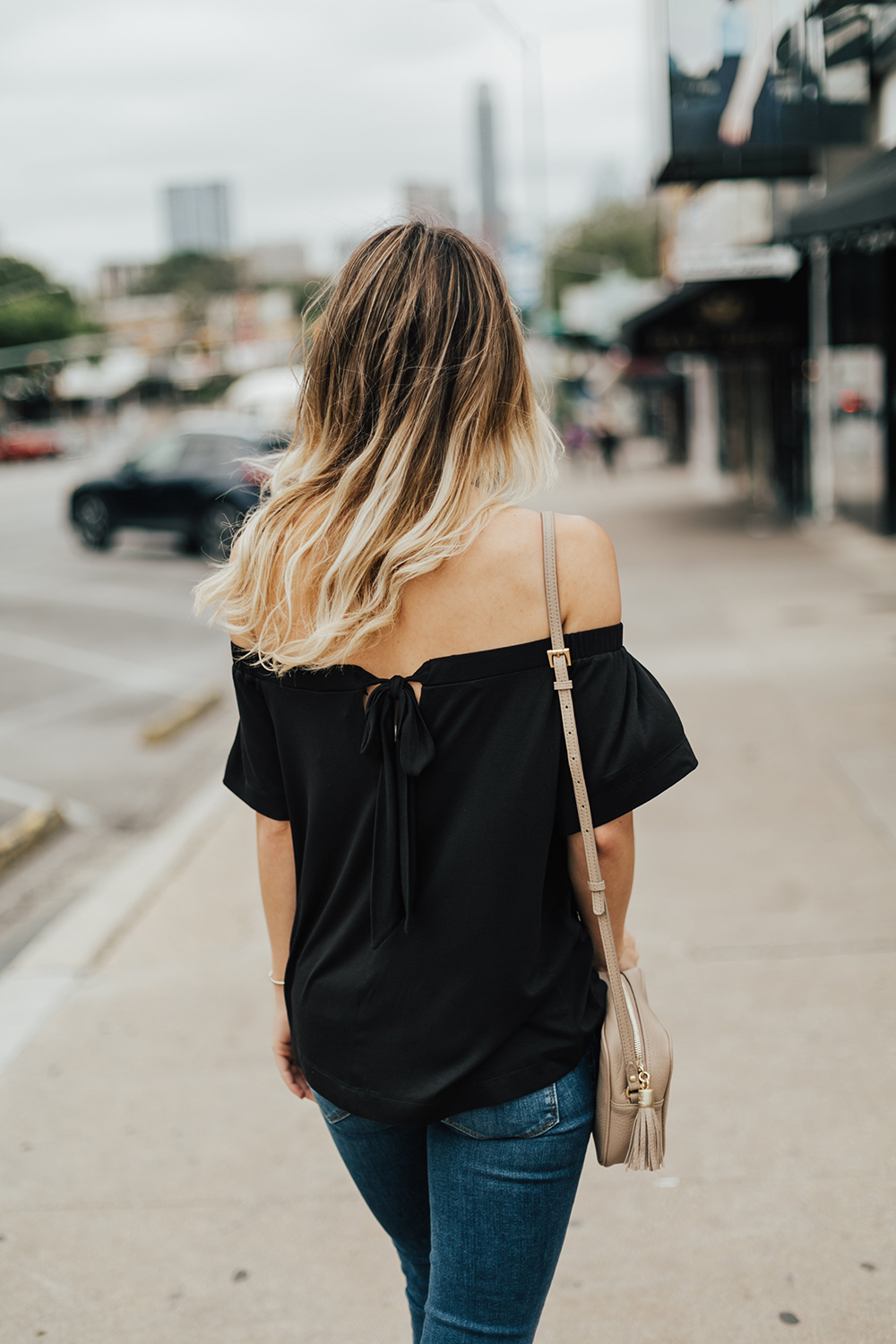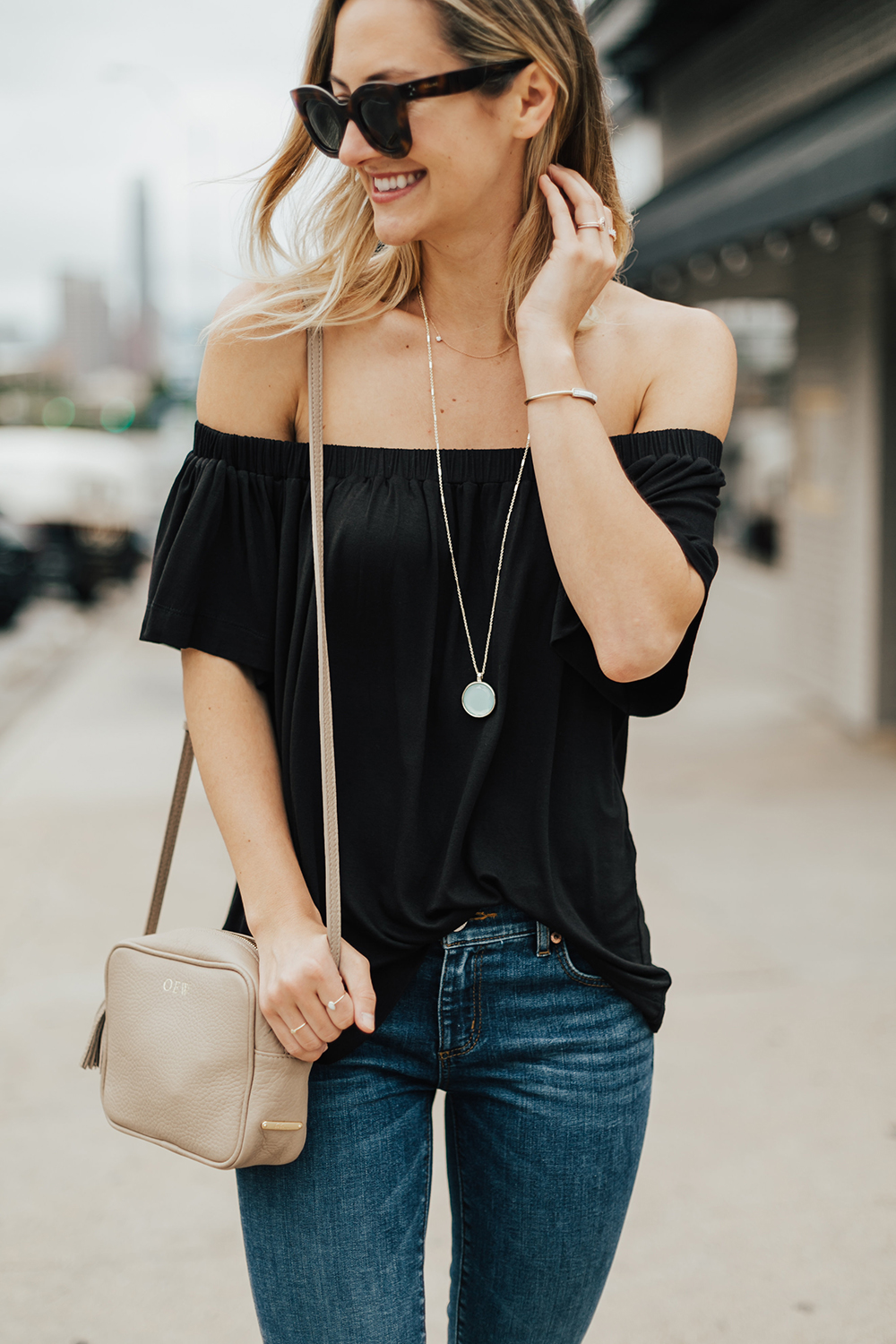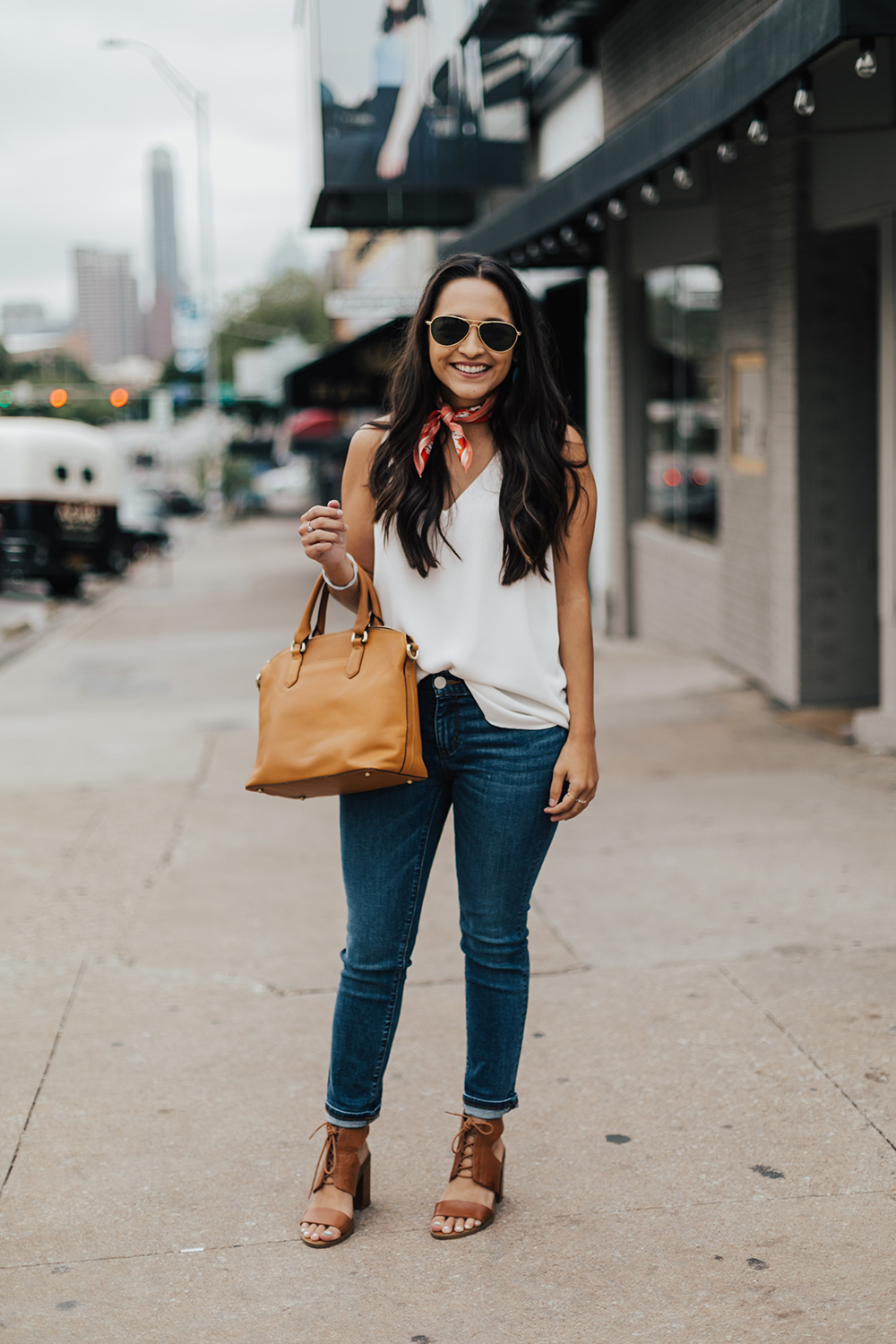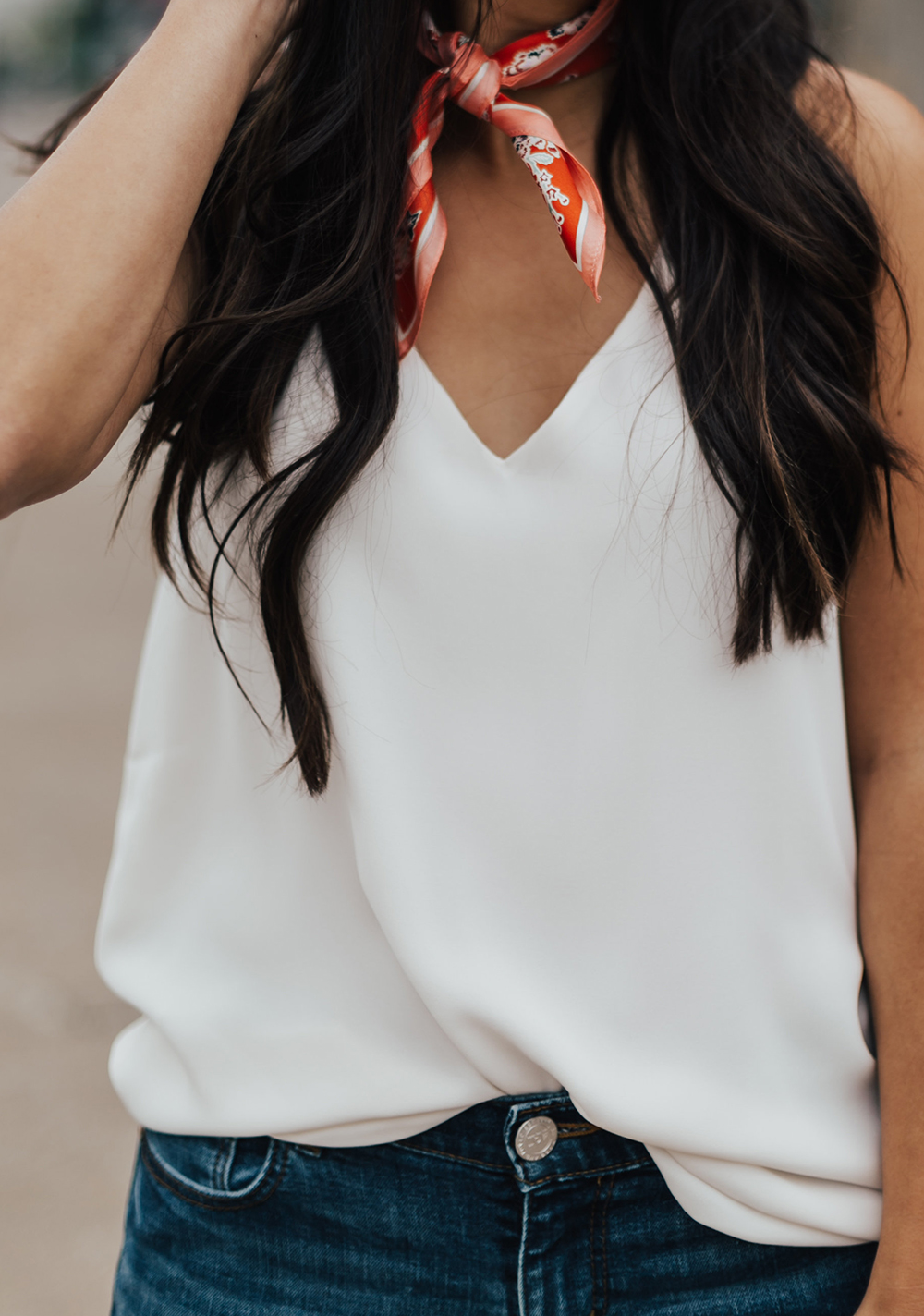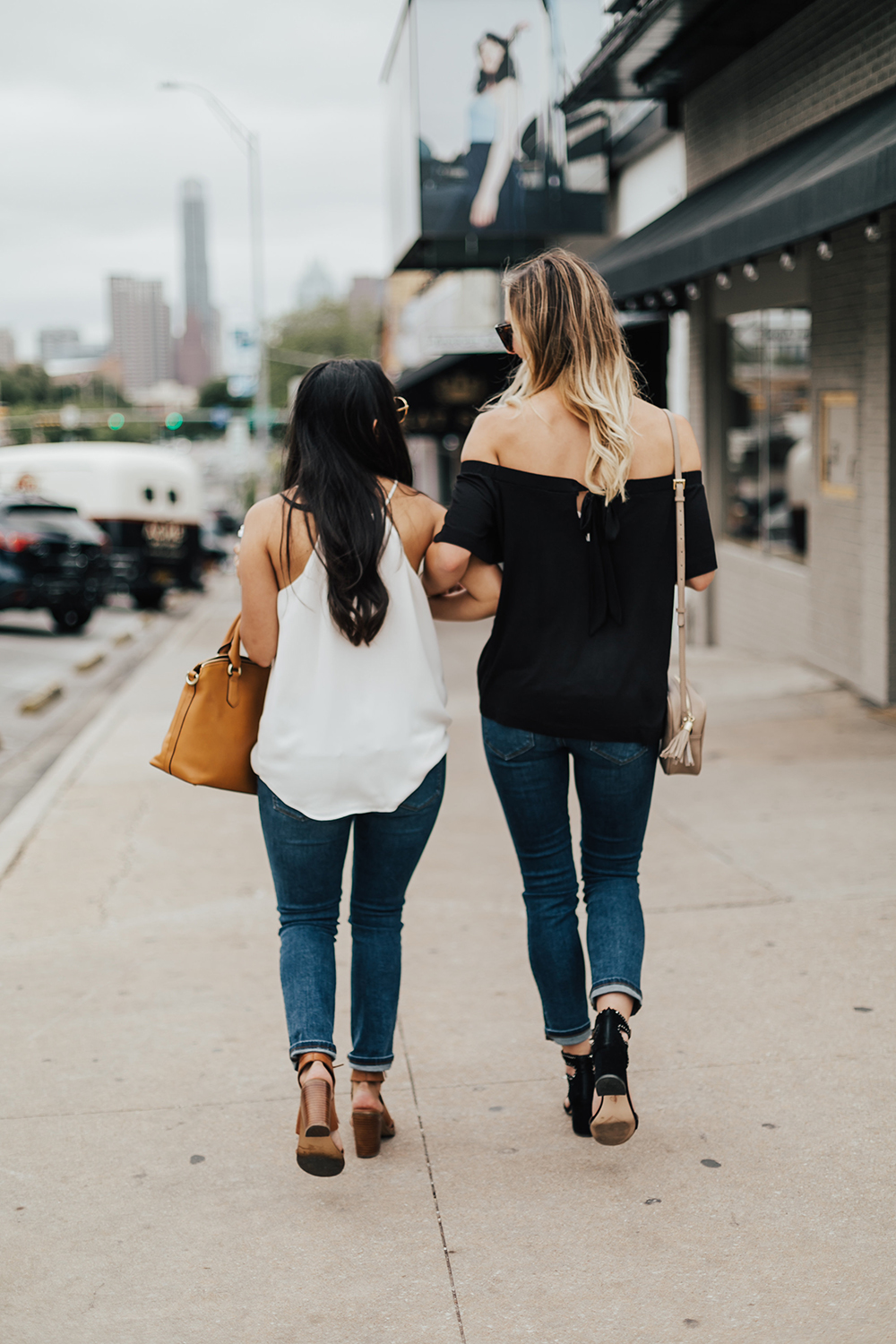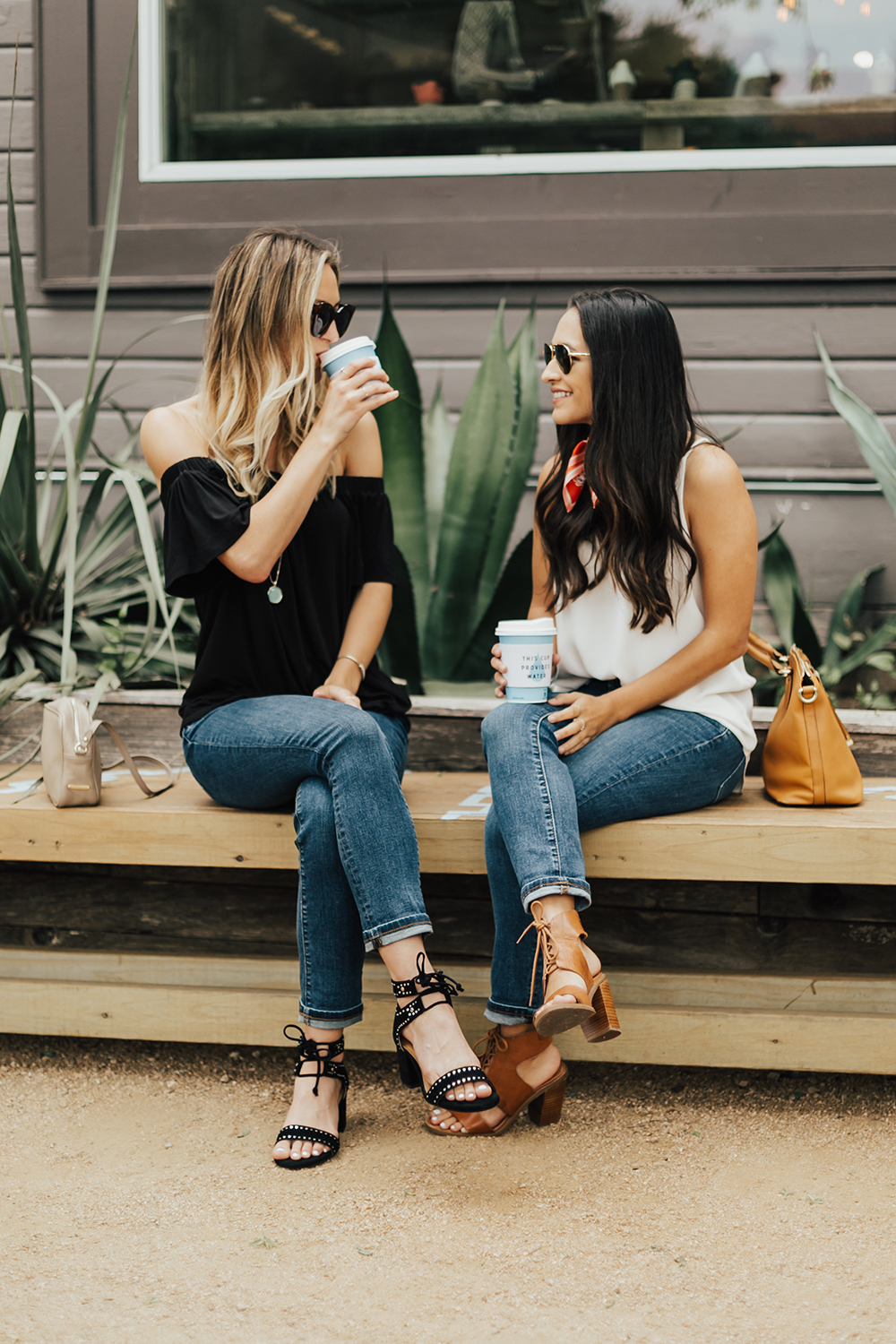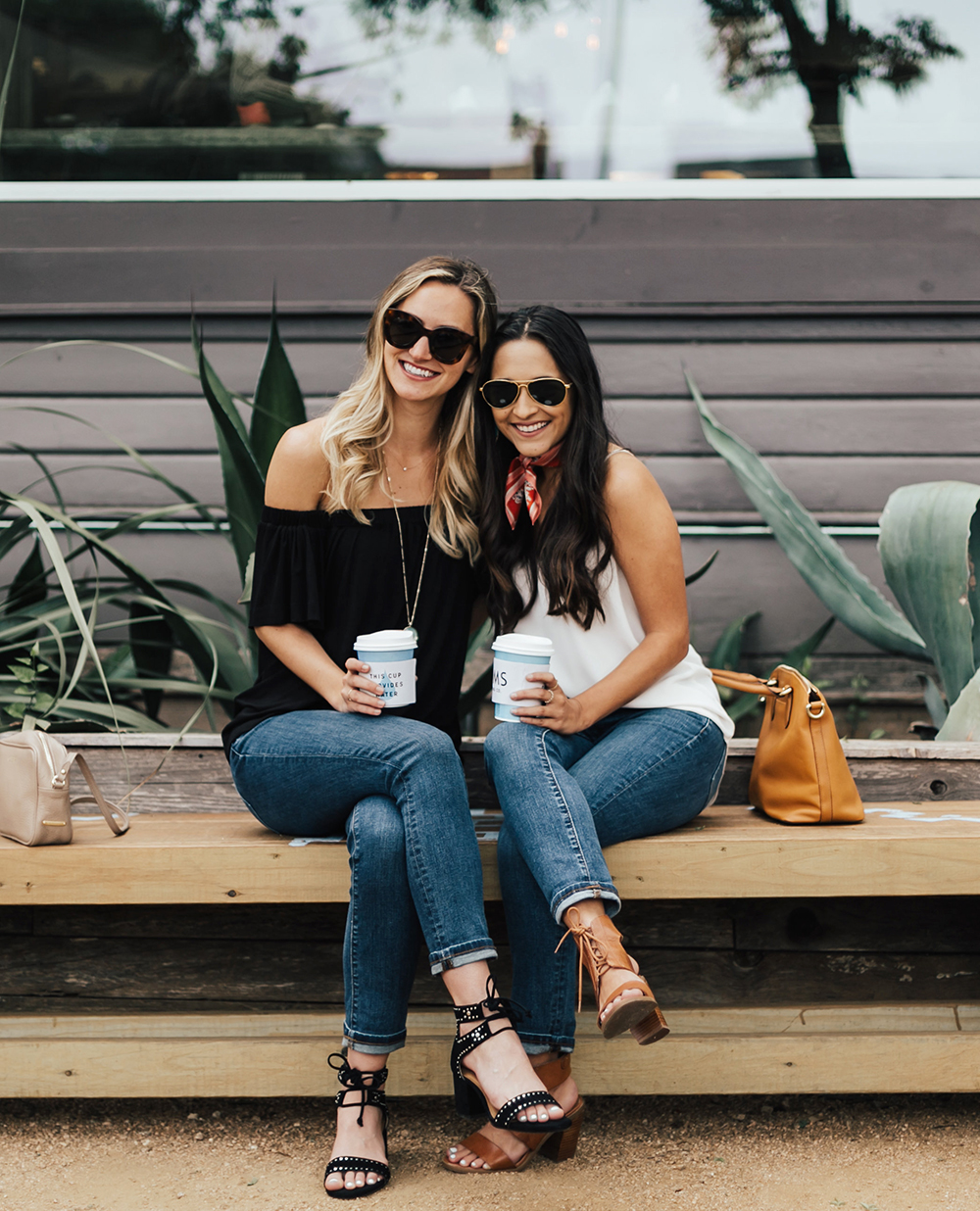 For size reference, I am wearing a size XS in the black off-shoulder top (…which is seriously SO soft! Love the bow-back detail, too) and my jeans fit TTS – they've got some stretch and are honestly crazy comfortable…I wore them for the next three days straight after this shoot, ha! Veronica is wearing a petite XXS in her cami (available in black) and these petite jeans (they also fit TTS). I am also loving how LOFT has so many gorgeous scarf options, and Veronica wears her darling little pink and white scarf so well!! It adds such a perfect color pop and feminine detail to a classic jeans & cami look. I accessorized with a pretty long necklace (that's reversible – one side is white pearl, the other is chalcedony) and I'm obsessed!
Veronica and I met during our first year of college (omg…9 years ago, my how time flies!) and we've been best friends ever since! After college, we were roomies for two years and got to soak up living in the cutest neighborhood in Austin (Tarrytown = swoon alert!) together. We experienced getting our first "big girl jobs" out of college, rehashing bad dates over coffee each weekend (god bless this time in our lives…we had so many awesome/terrible dating stories haha!), being there for each other through tough times with family and above all, simply unconditionally loving each other as we both found our footing in adult life. Even through big life changes (marriage, switching jobs, buying homes, etc.), we've remained super close and loyal to each other. She's definitely a member of the Watson family (…no joke, my mom asks me how Veronica is doing every time we talk, ha!) and I appreciate our friendship so much and love her dearly! …Okay, sappy rant over… 😉 just wanted to share some background info so y'all know just how much this gal means to me!
Now that we're both in serious relationships and busy with work/life (she works full time and runs a non-profit on the side…#girlboss), making time to catch up (…and step away from our computers) is something we both try to do often! South Congress has always been one of our favorite spots in Austin, so we ventured to Tom's Coffee for a pick-me-up and then did a little window shop strolling as we caught up. (Ps. If you're headed to Austin for a getaway, South Congress Avenue is a must on your list of to-do's!!).
Aaaand that's a wrap! What are your must-haves from the LOFT sale? Check out more from the amazing sale here. Special thank you to Veronica for joining this post – what a treat! (…y'all, how cute is she?!).
**Photos by Brandon Hill Photography
MY LOOK: BLACK OFF-SHOULDER TOP / JEANS / SHOES (similar) / NECKLACE
VERONICA'S LOOK: CAMI TOP / JEANS / SHOES (similar) / SCARF

SHOP MORE SALE MUST-HAVES

A big thank you to LOFT for sponsoring this post! All opinions are my own.