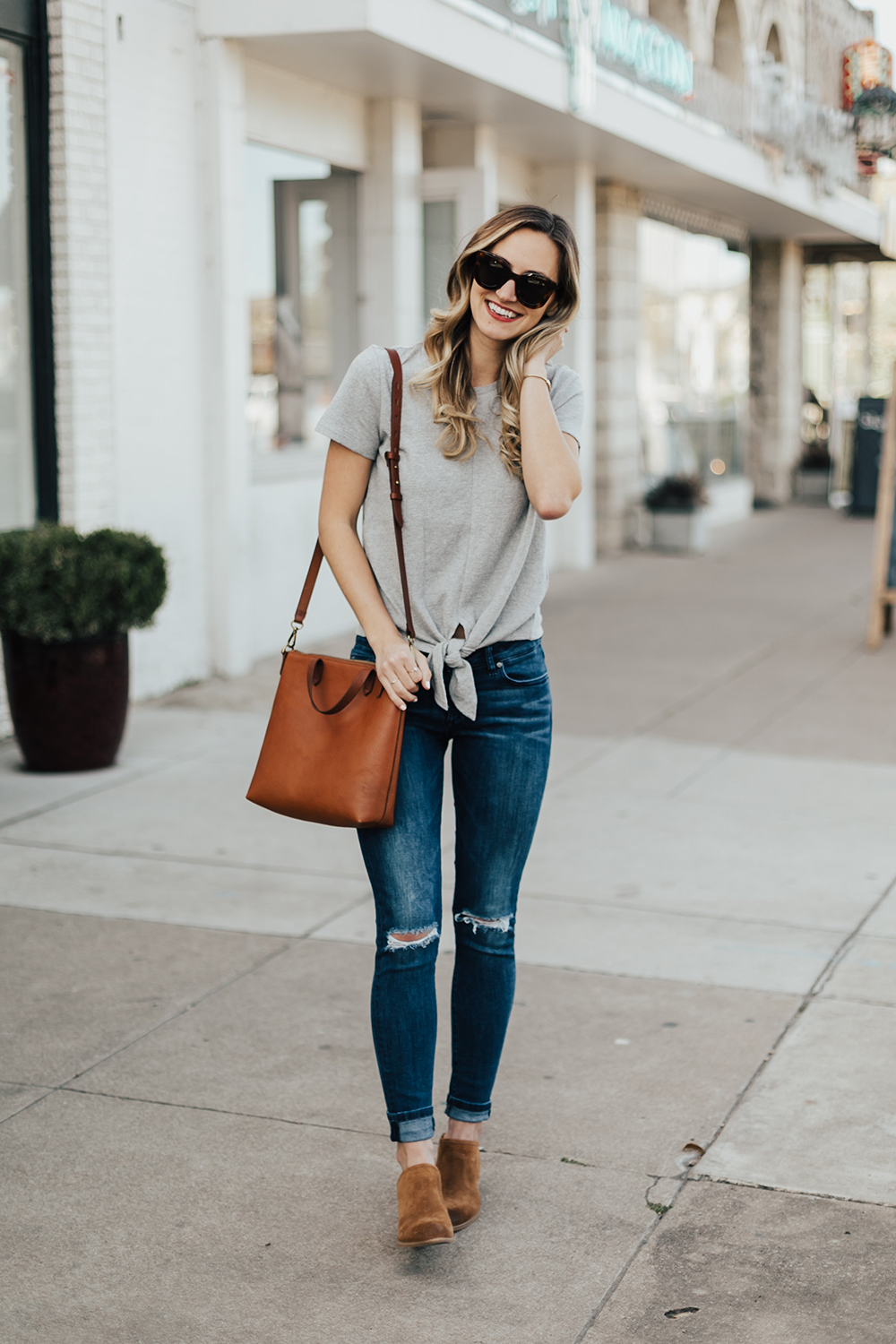 Happy Monday, gals! How was your weekend? Blake and I ordered takeout and watched Heavyweights (remember that awesome Ben Stiller film from the 90s?) – Blake hadn't ever seen it! I was like, "where was your childhood?!" 😉 It was a classic in the Watson household growing up. Aside from that, we kept busy doing some spring cleaning and spending time with family…it was a nice, relaxing few days!
Switching gears to this look – who else is loving the knot front tee trend? It's such an adorable update on a classic t-shirt! …And y'all know me, I can't say no to a cute tee & jeans outfit! 😉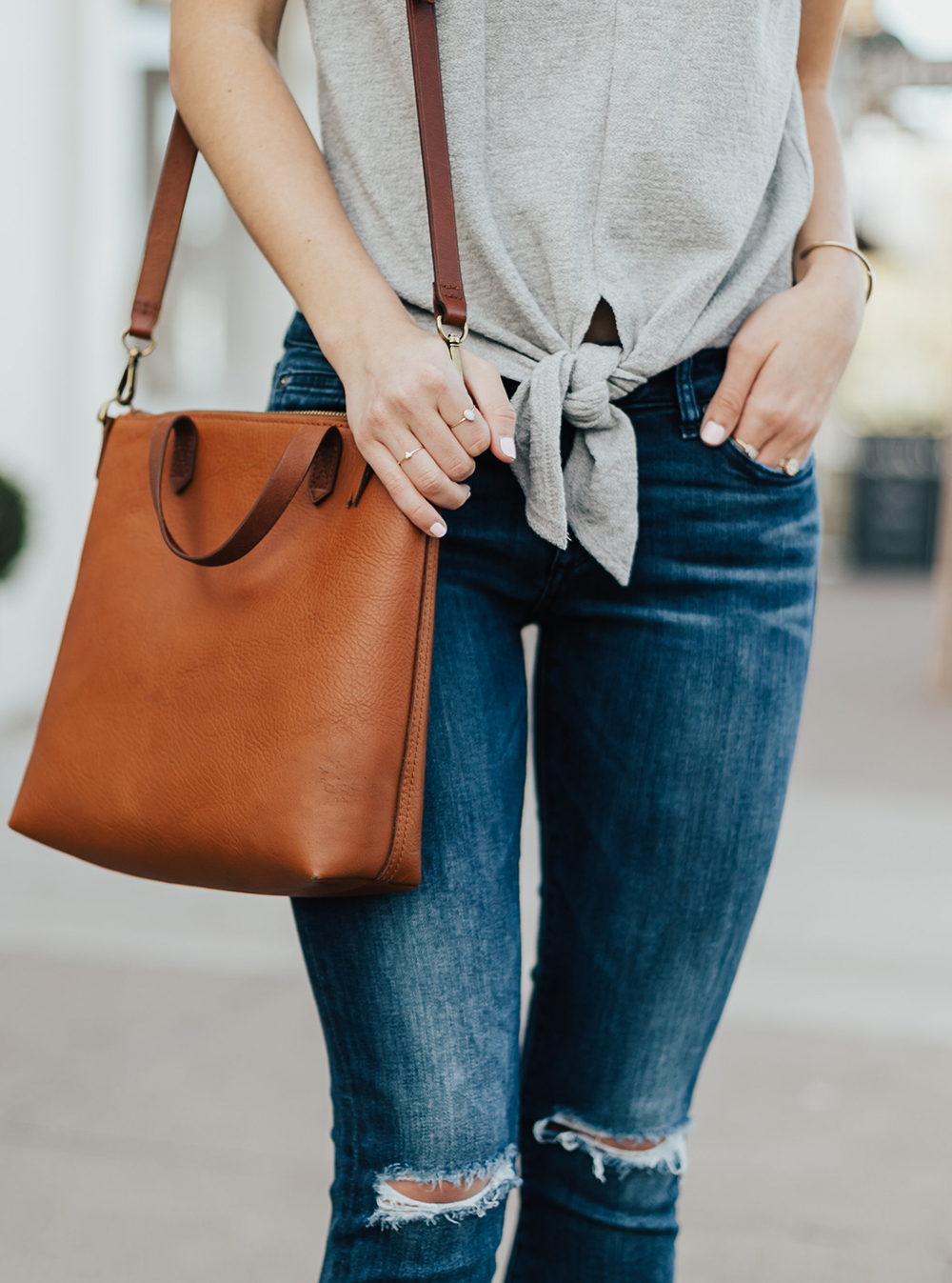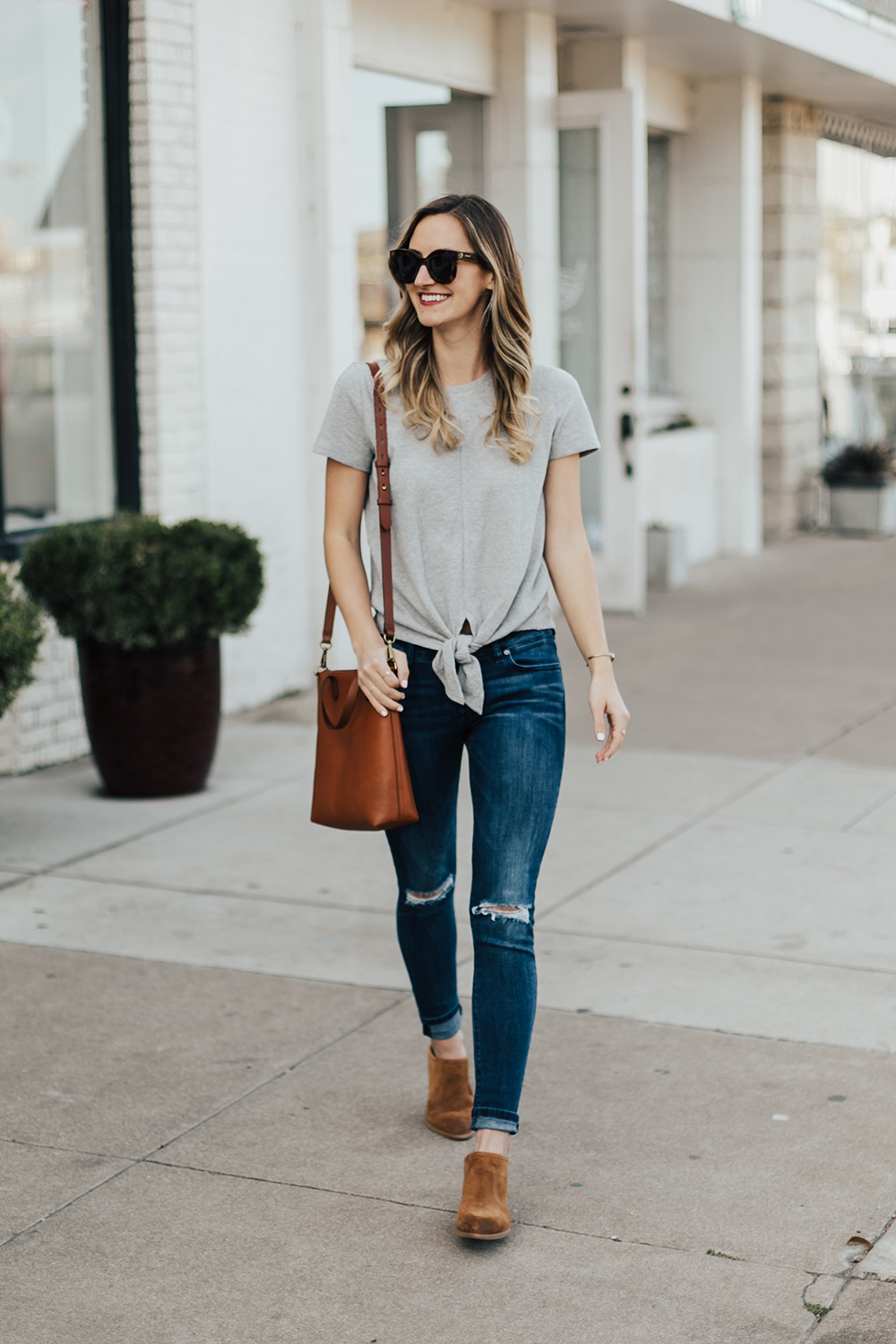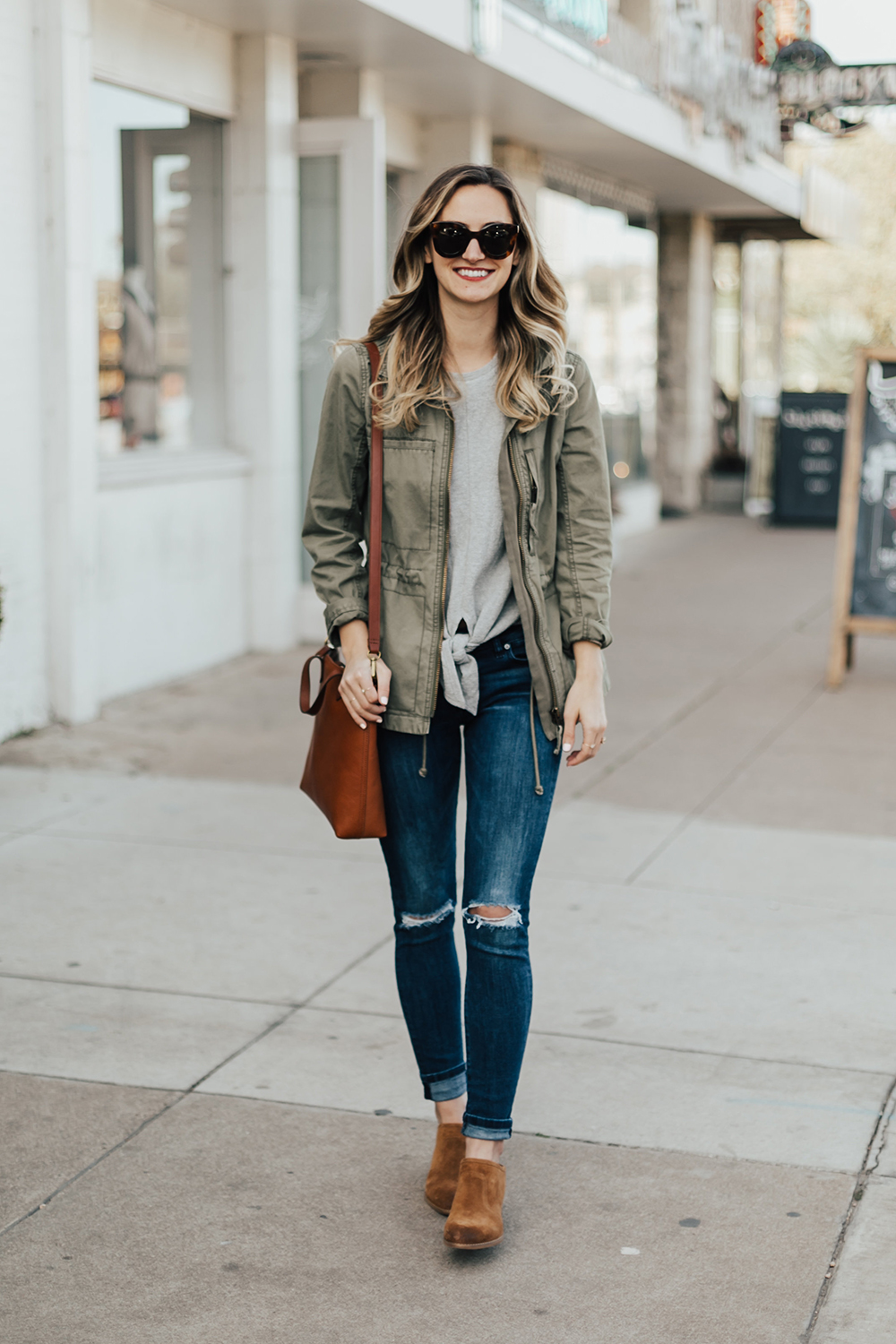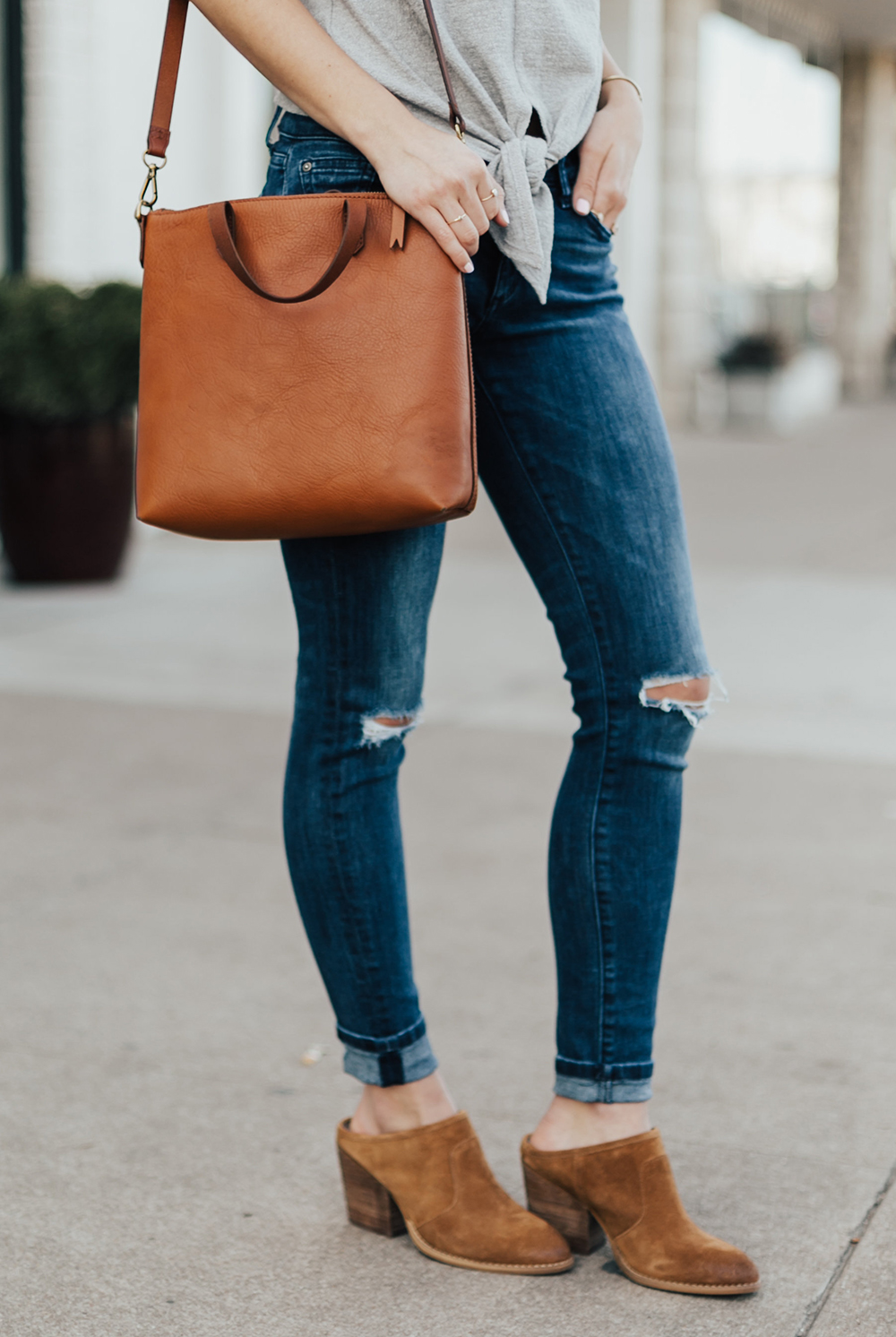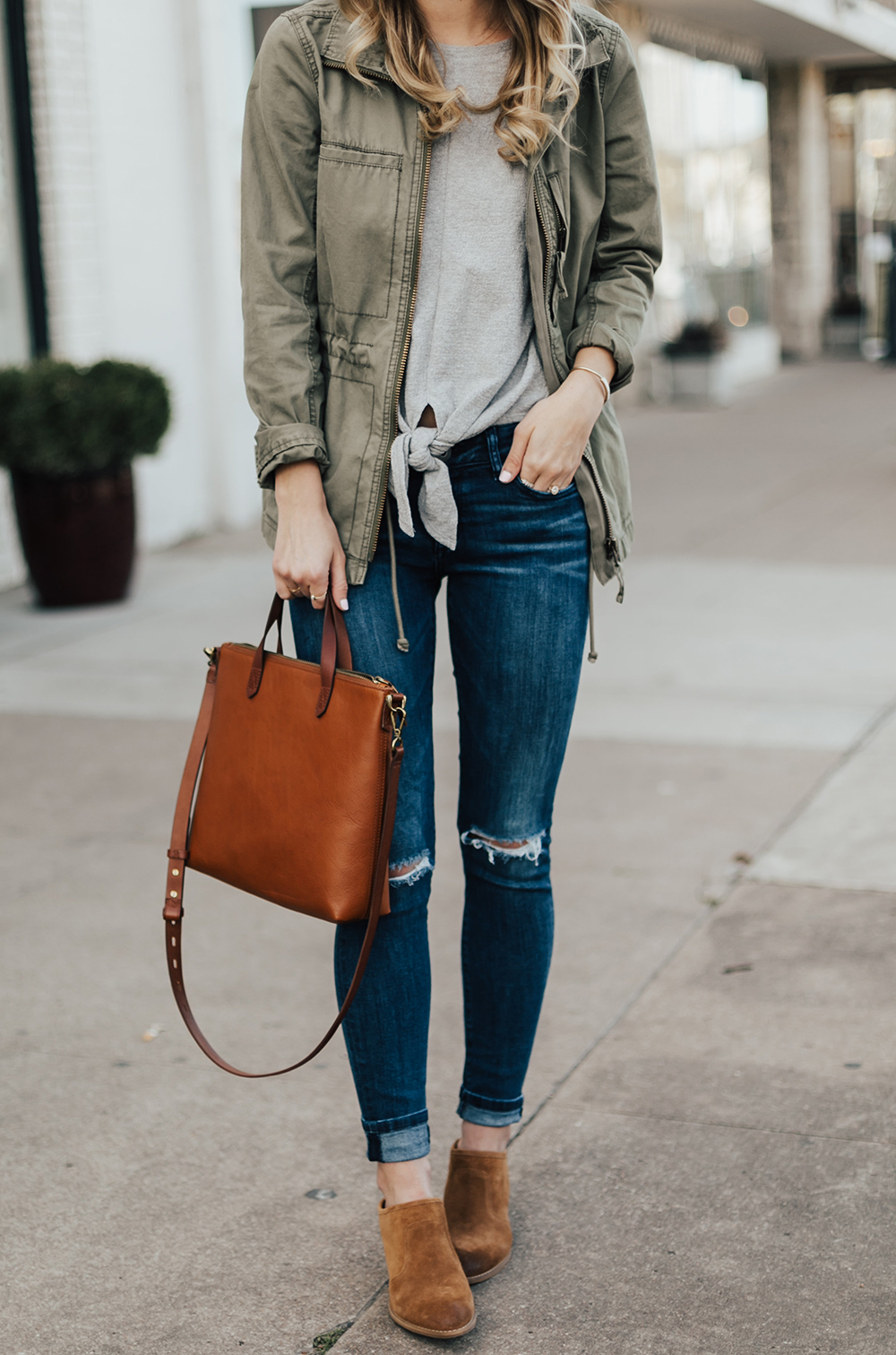 My top is by Madewell and it comes in quite a few color and print options. I'm wearing a small for reference. It's ultra soft and looks just as cute with cutoff shorts and espadrilles, so it's an easy one to pack for a warm weather getaway!
I'm wearing my favorite pair of DL1961 jeans, that are actually on sale right now! Even if you can't snag this exact pair, I highly recommend investing in DL1961 because OMG they are so comfy and flattering…I know they're pricier than other denim I've worn, but truly, I can't say enough good things about the quality and fit of this brand. I frequently receive emails from readers asking me for denim recommendations, and this brand is always at the top of my list. They fit true to size for reference!
Ps. This is the exact same pair of jeans I have on but without the distressed knees – they're from the latest season!
As always, I'm a sucker for cognac accessories and feel like that soft brown color really just completes the look from my handbag to my shoes. Cognac is such an approachable color, I think that's why I find myself gravitating towards it season after season. Not to mention, when you start investing in cognac handbags and shoes, it makes it easier to mix and match whenever you're getting dressed! My handbag is also by Madewell and I wear this thing daily! It's pretty much my go-to bag because it holds so much, and I love the handles or cross body option…it's the best! My shoes sold out but I am linking to some similar options below. 🙂
Hope y'all have a great start to your week! XOXO
**Photos by Brandon Hill Photography
shirt – MADEWELL / jeans – DL1961 / shoes – similar CALVIN KLEIN / handbag – MADEWELL / jacket – (wearing size small) MADEWELL / sunglasses – CELINE similar LE SPECS