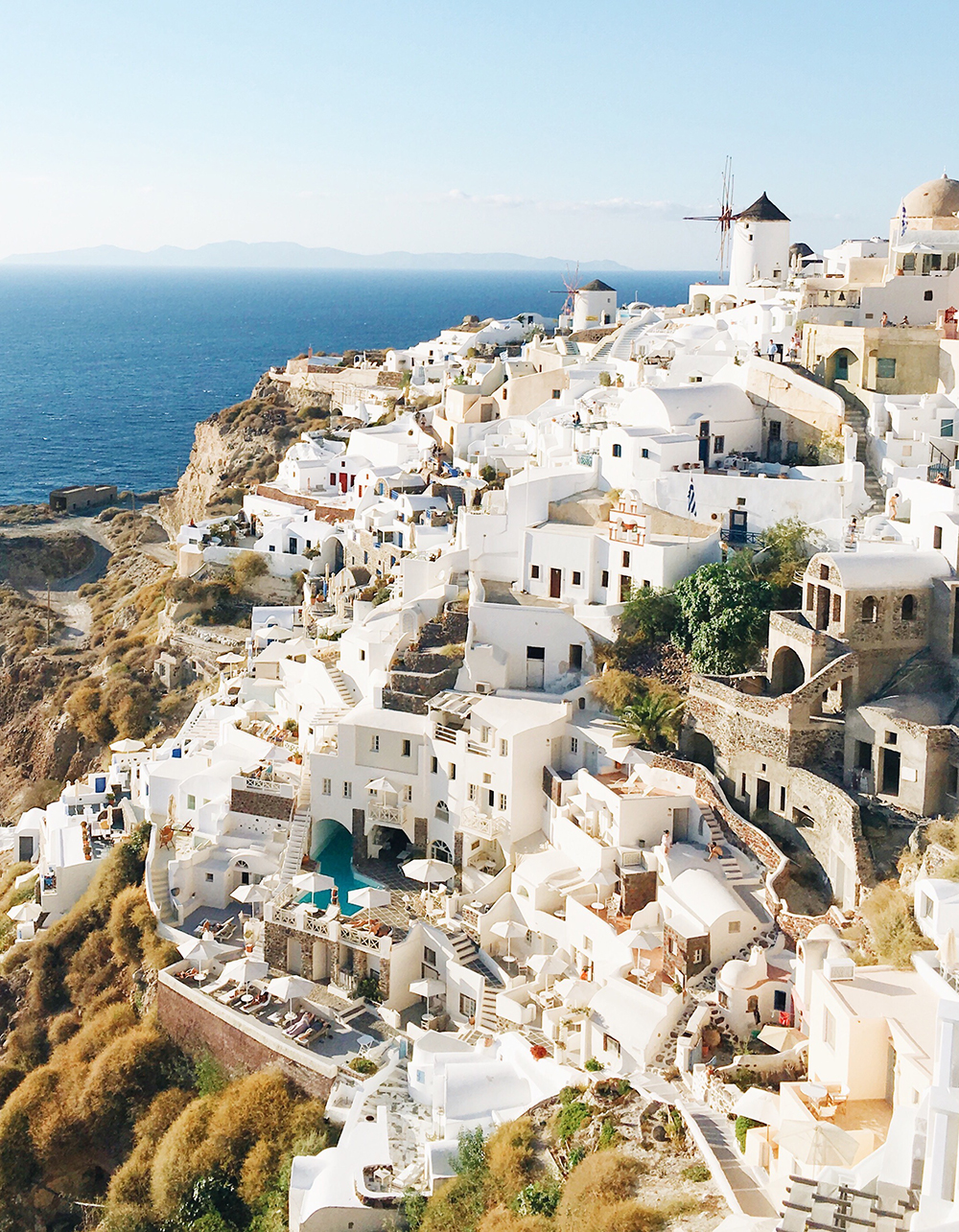 Aaaand months later (we visited in late September/early October), I am finally sharing the ins and outs of our honeymoon to Athens and Santorini, Greece! Not going to lie, editing these images brought back all the "feels" and I definitely called Blake over to my office area more than once to look at photos and reminisce with me. I still stand by that it was my favorite vacation ever…for one, Santorini was such a relaxing and romantic place – and Athens was so rich with incredible history that I was pretty much in awe for three days straight…and two, given that Blake and I are both workaholics, it was seriously SO incredible to disconnect and just be present and explore with each other for 12 days straight. We make a great team and he's my very favorite travel partner! (…Our shared love for drinking coffee and beer in new places = a match made in heaven, ha!). From the scenery to the Greek food (omg heaven!), to spending days on end with my darling, it was pure magic and a trip I'll forever fondly remember.
As folks are planning their spring/summer getaways, I've had a ton of emails and messages from LL readers asking to share where we stayed, what activities we did, and any tips and insight regarding this trip, sooo here we go! Sharing a photo diary first, then will spill the details at the end of this post (…the pros and cons!). I hope y'all enjoy!!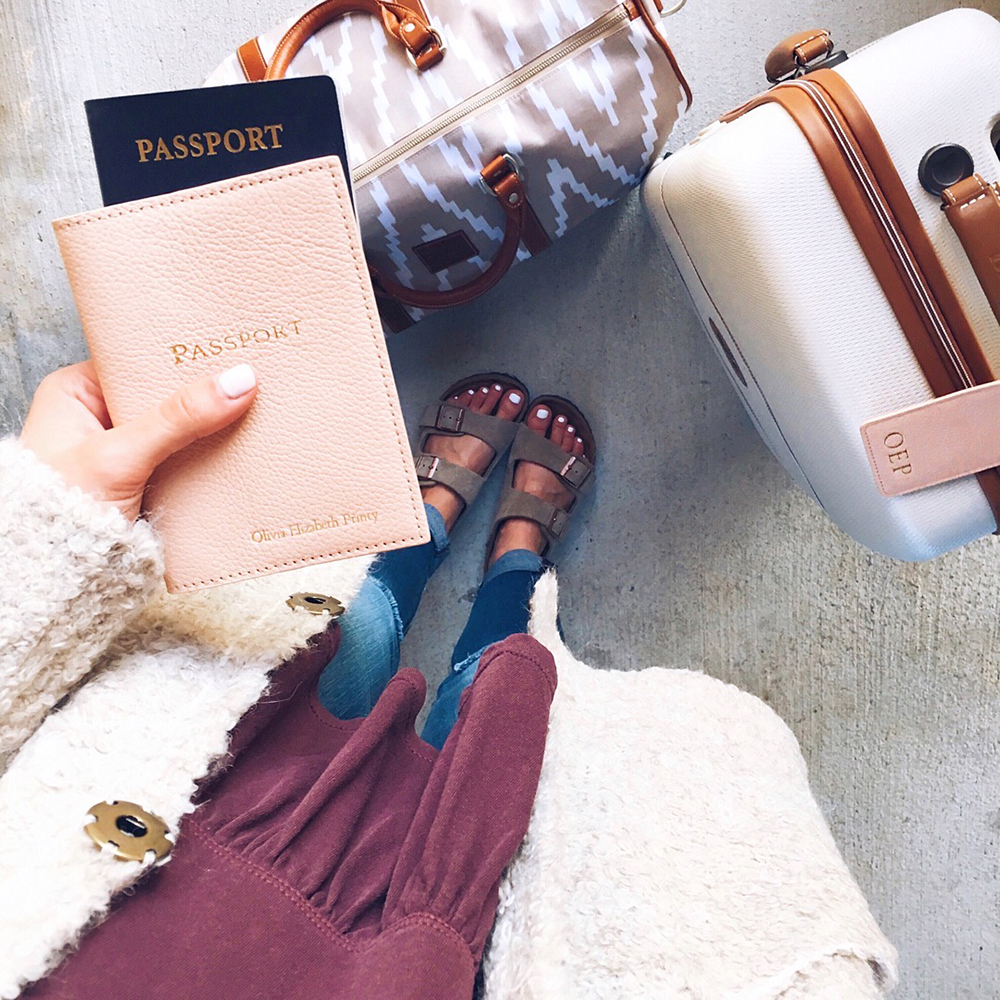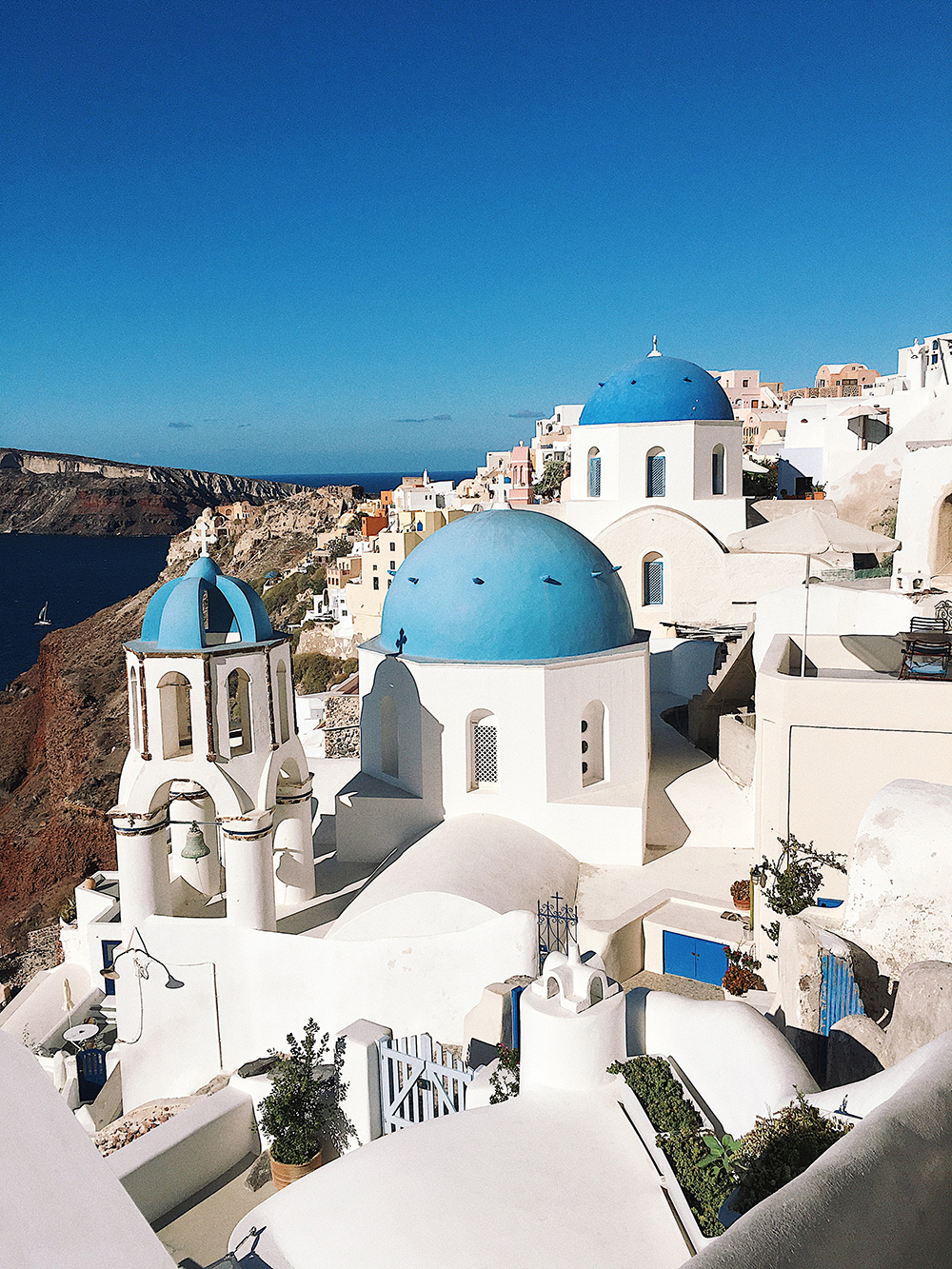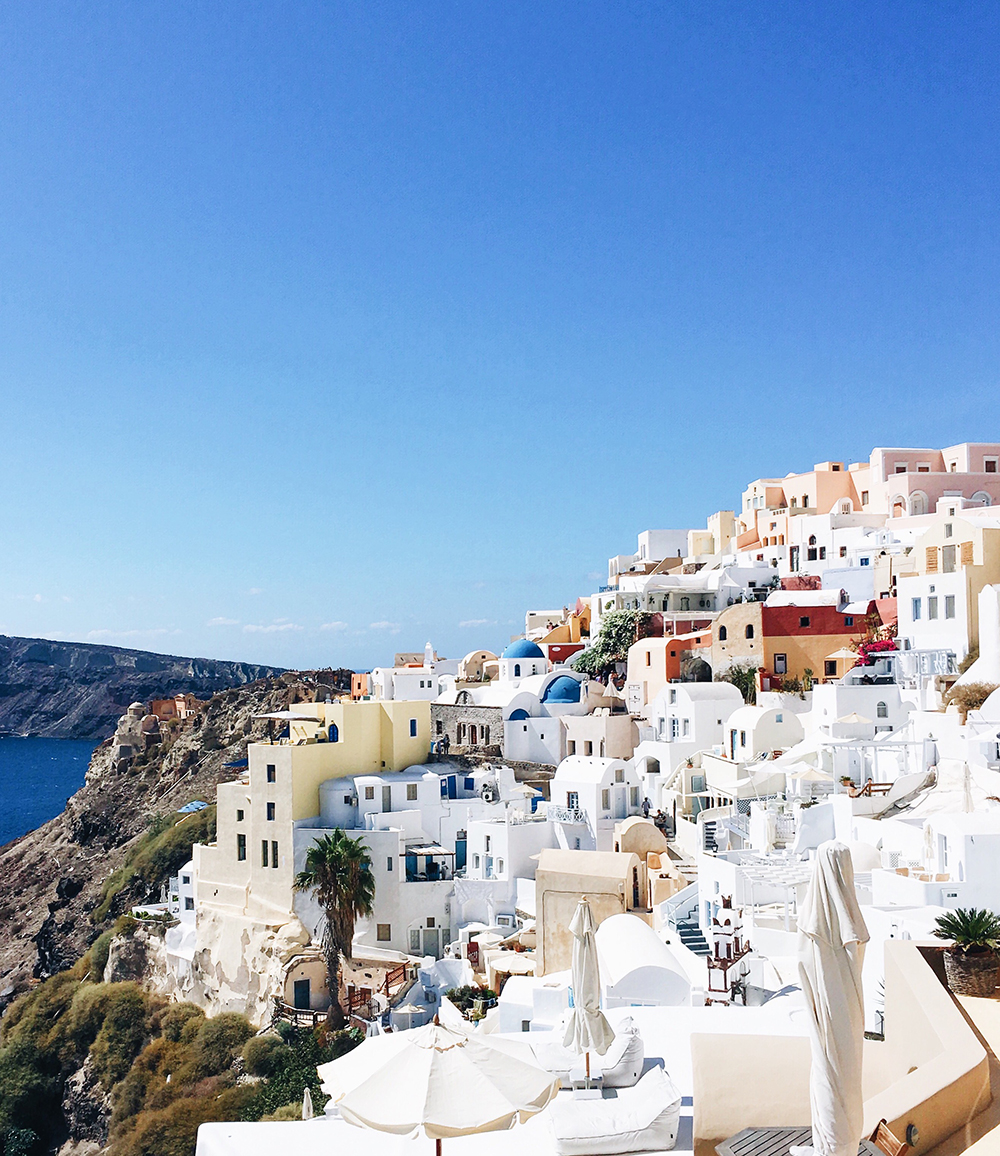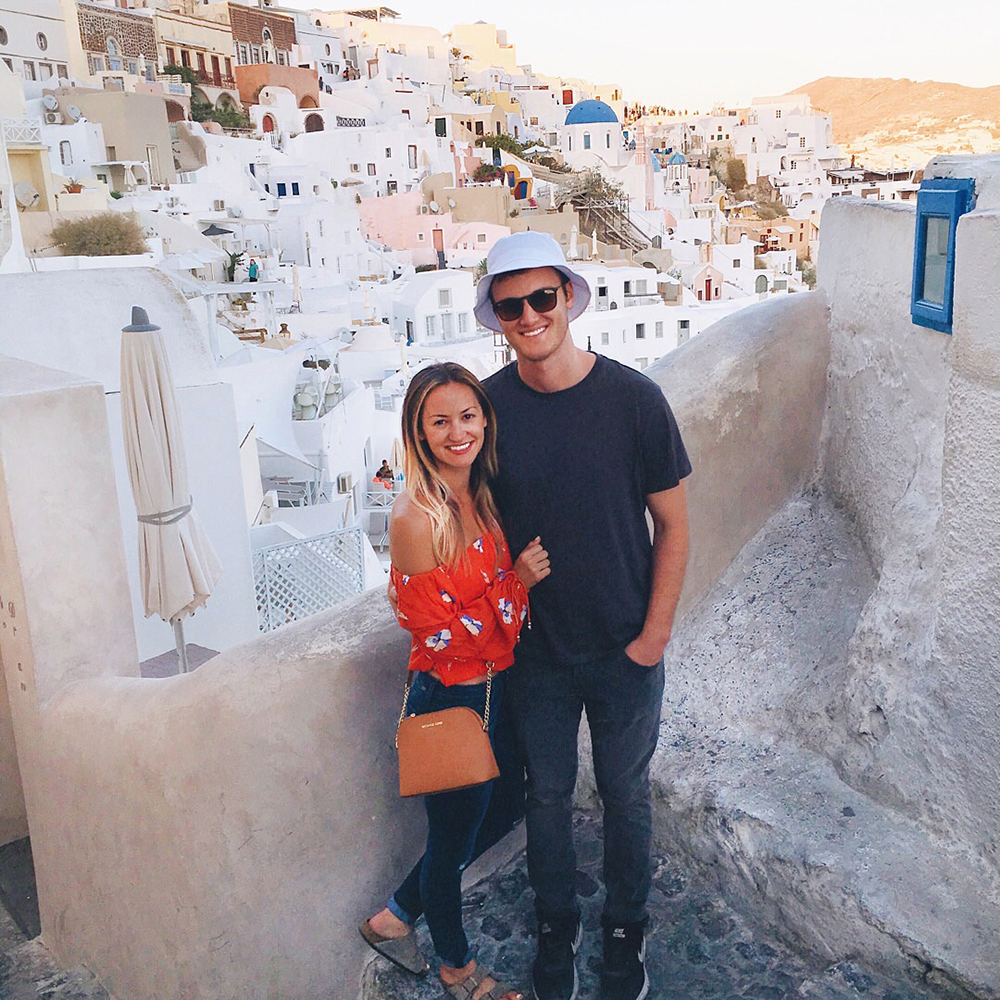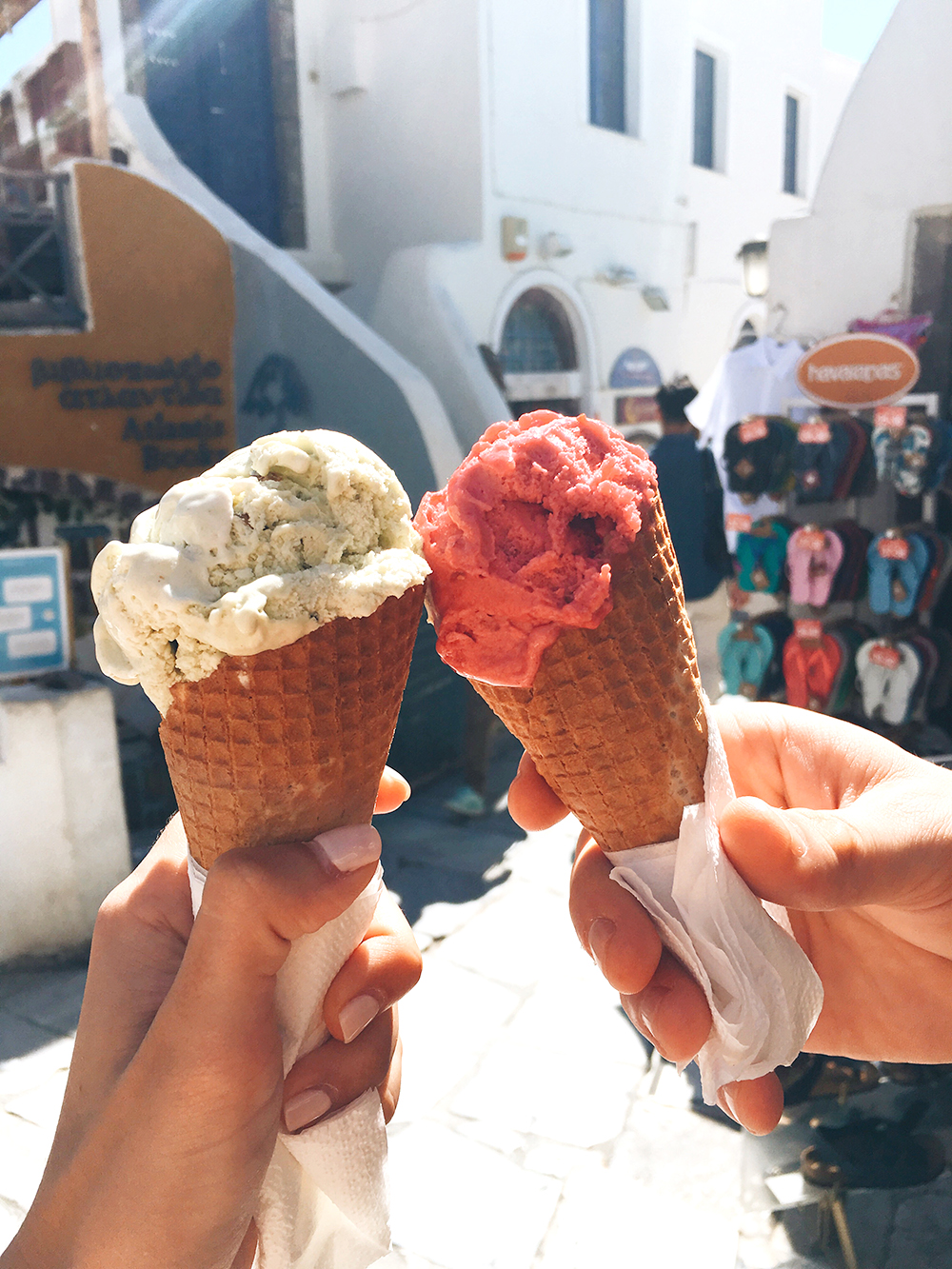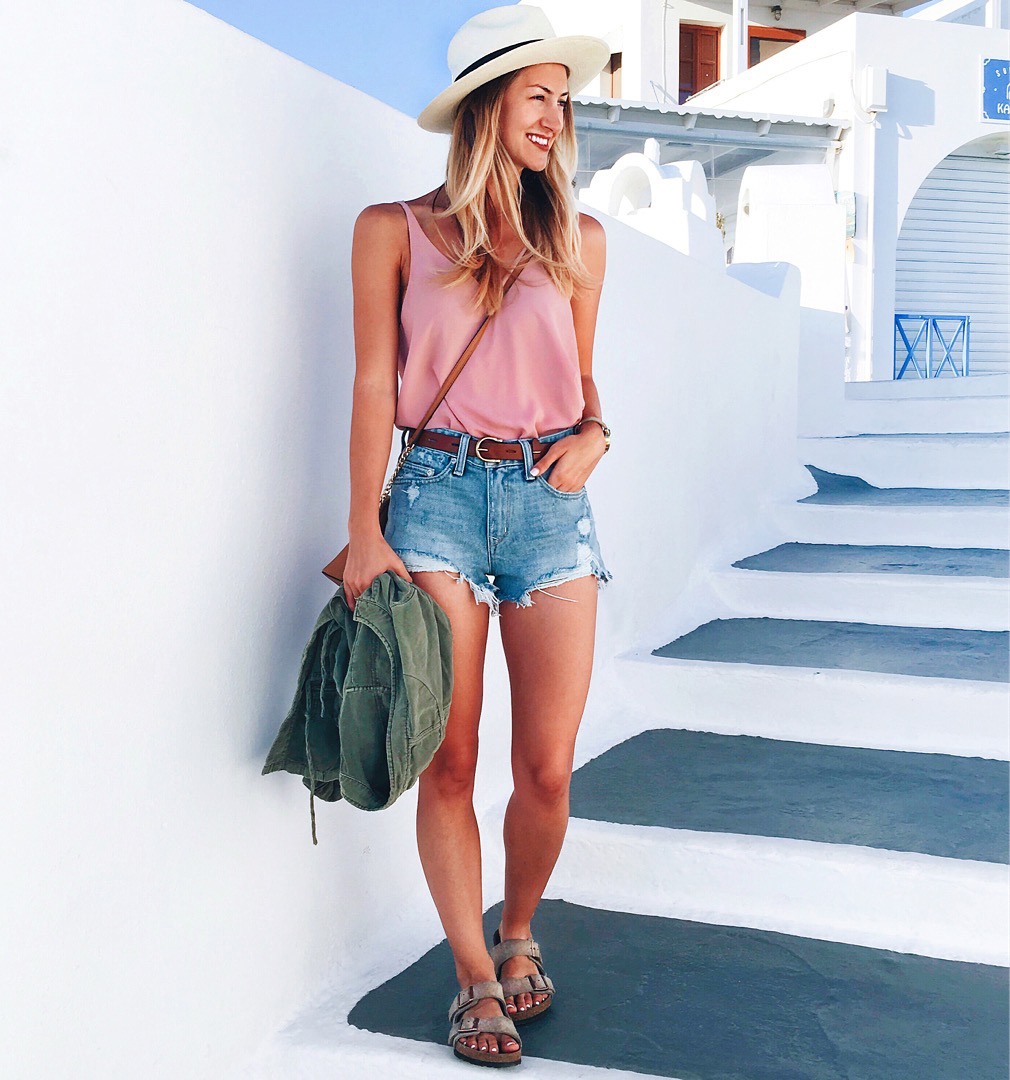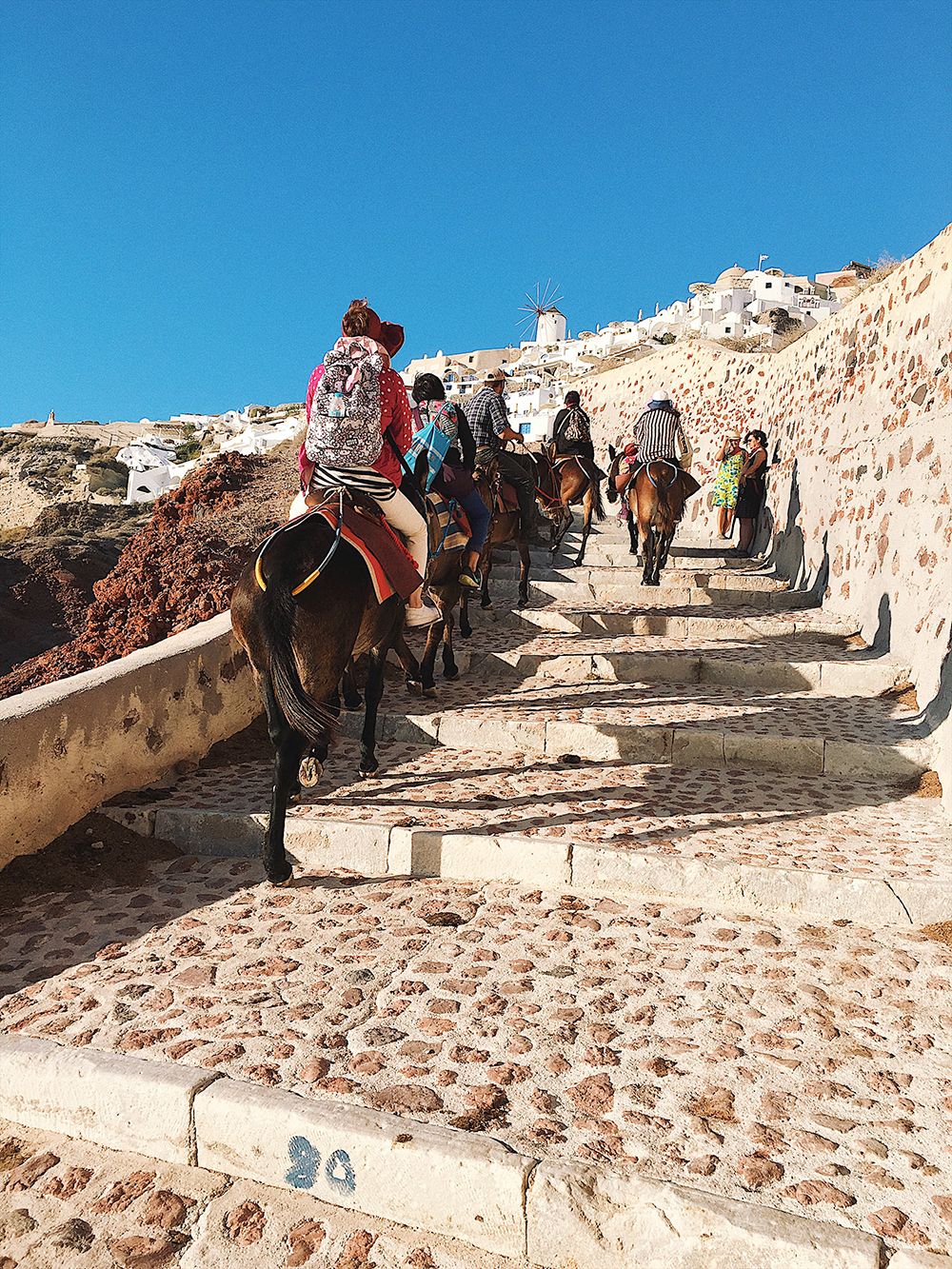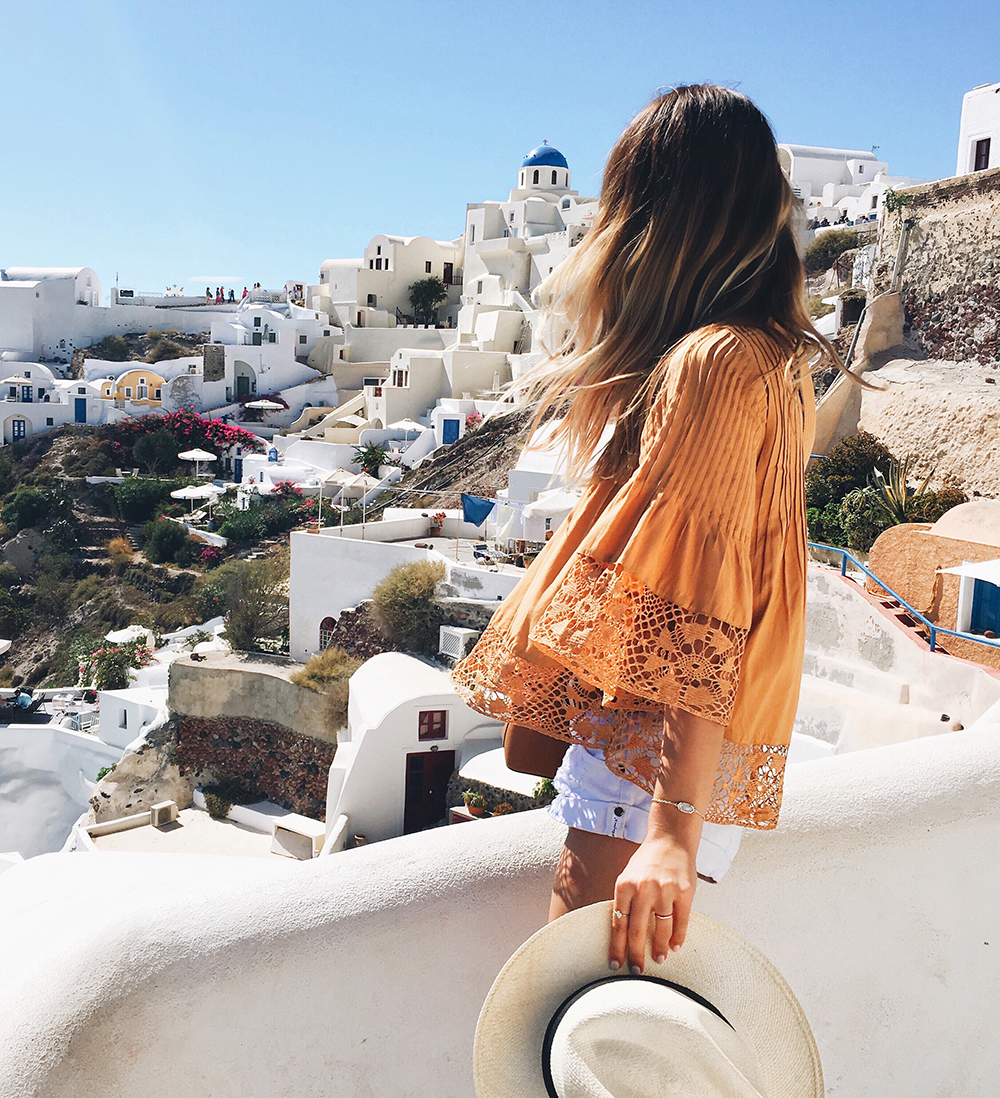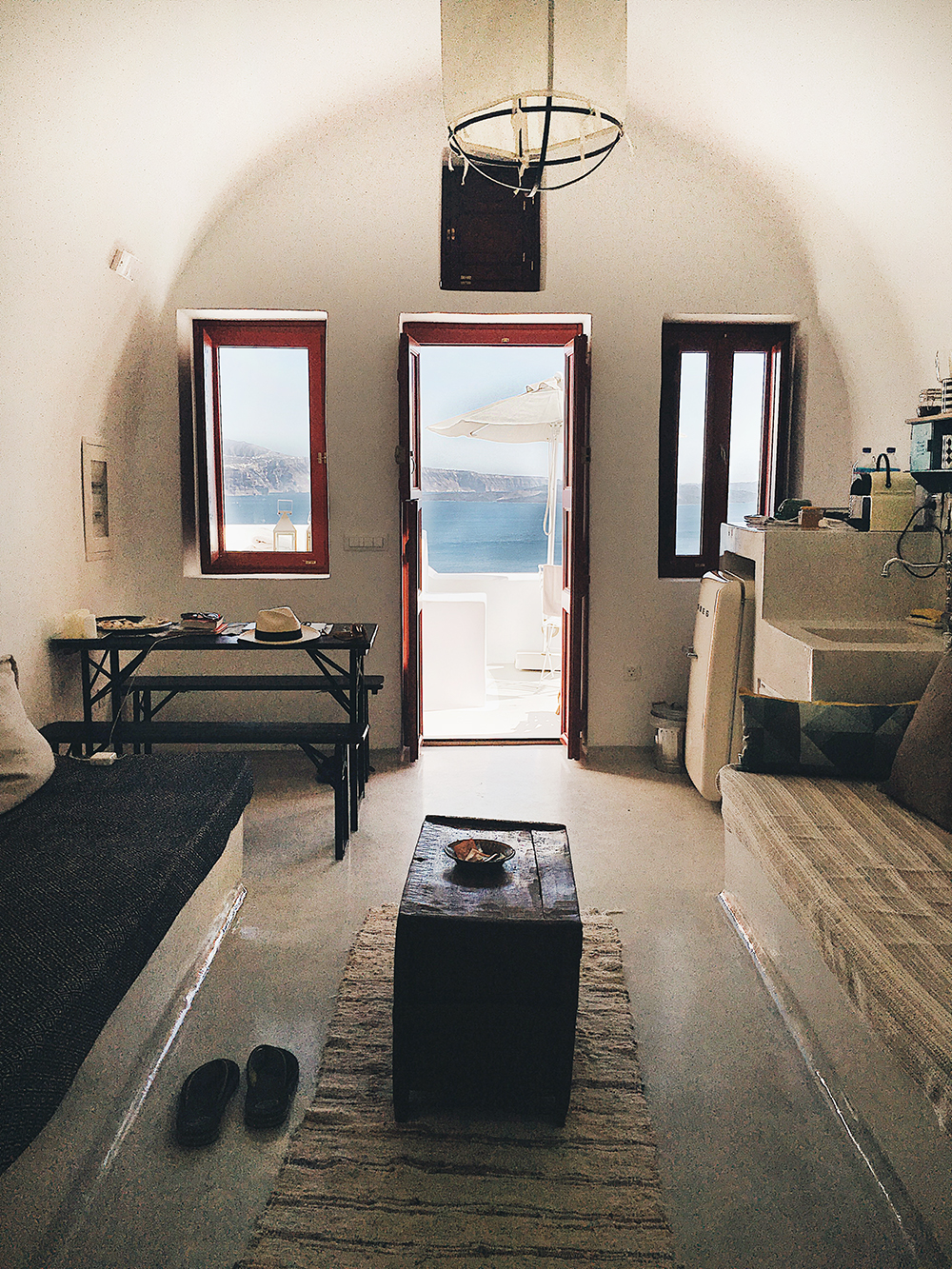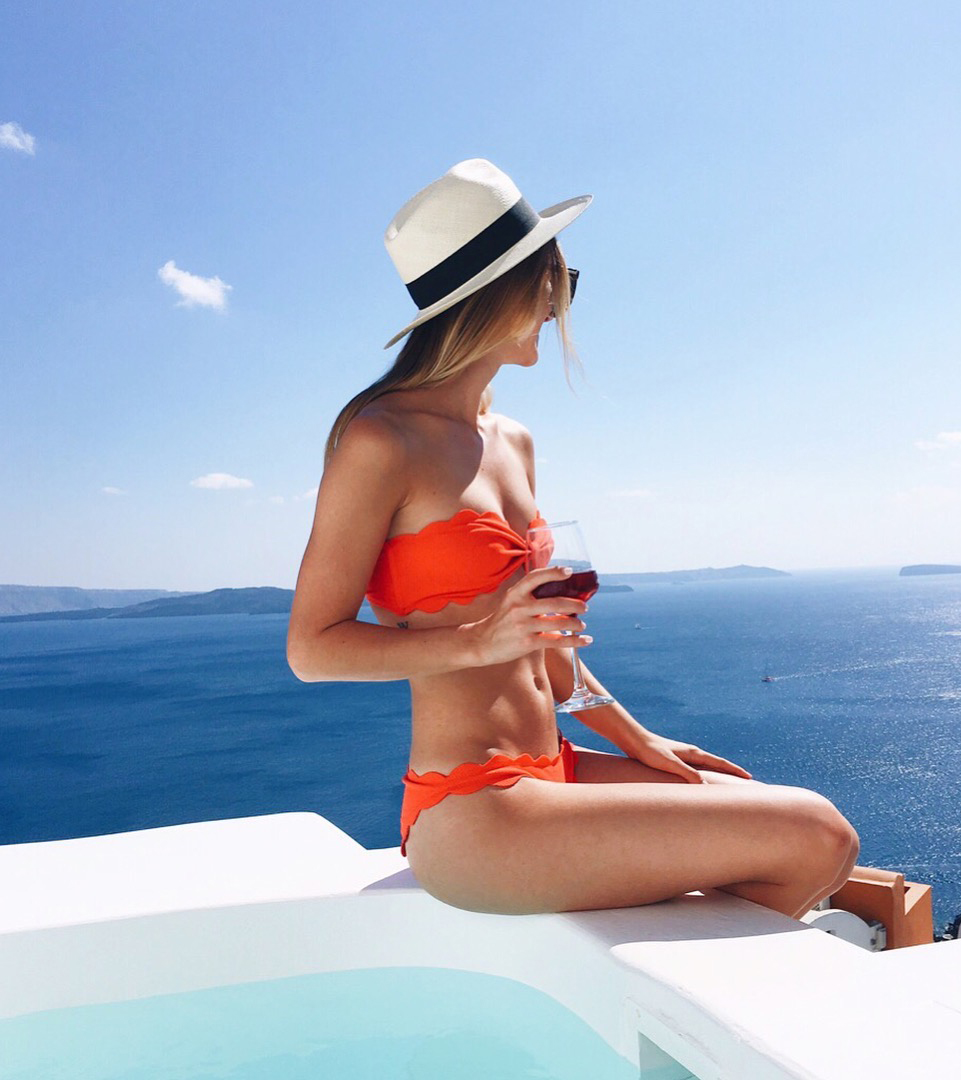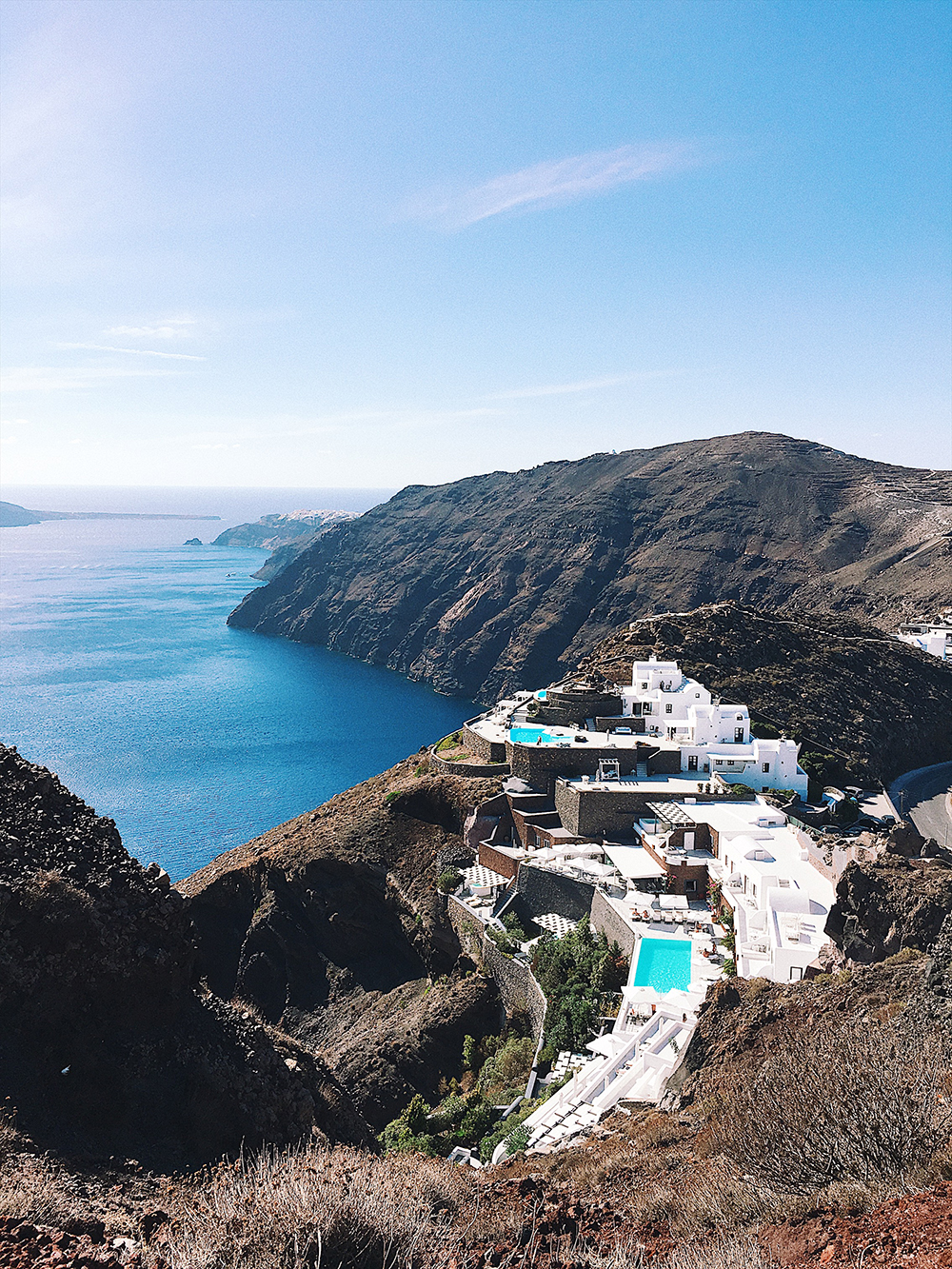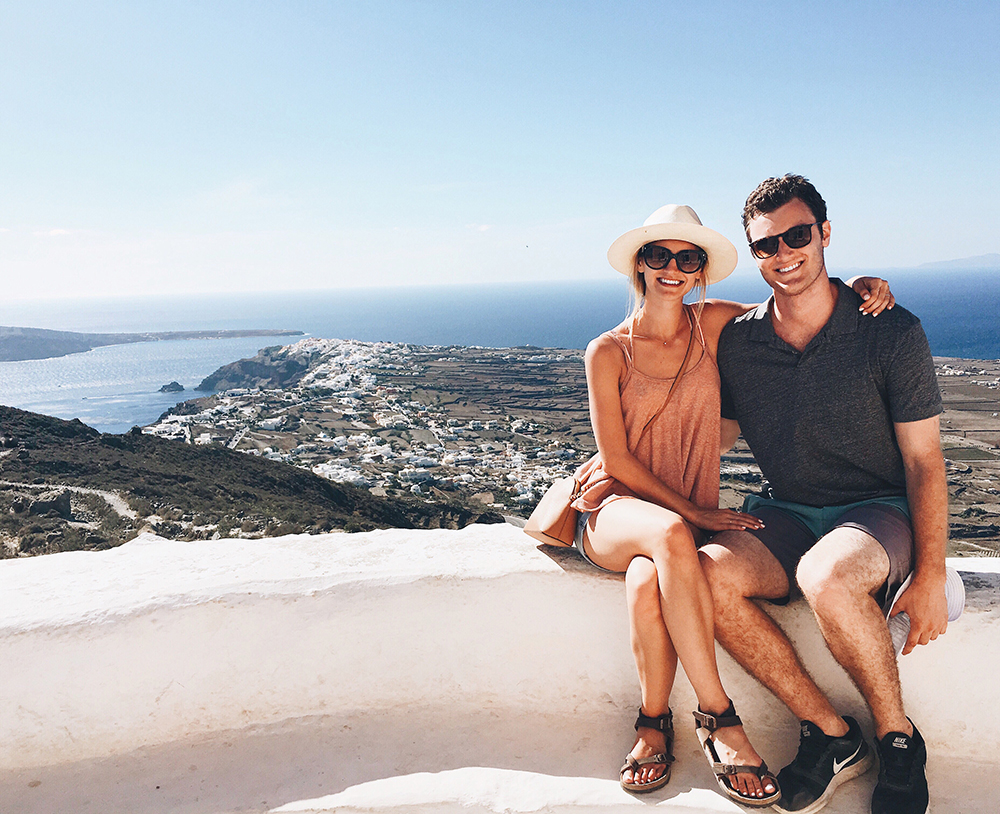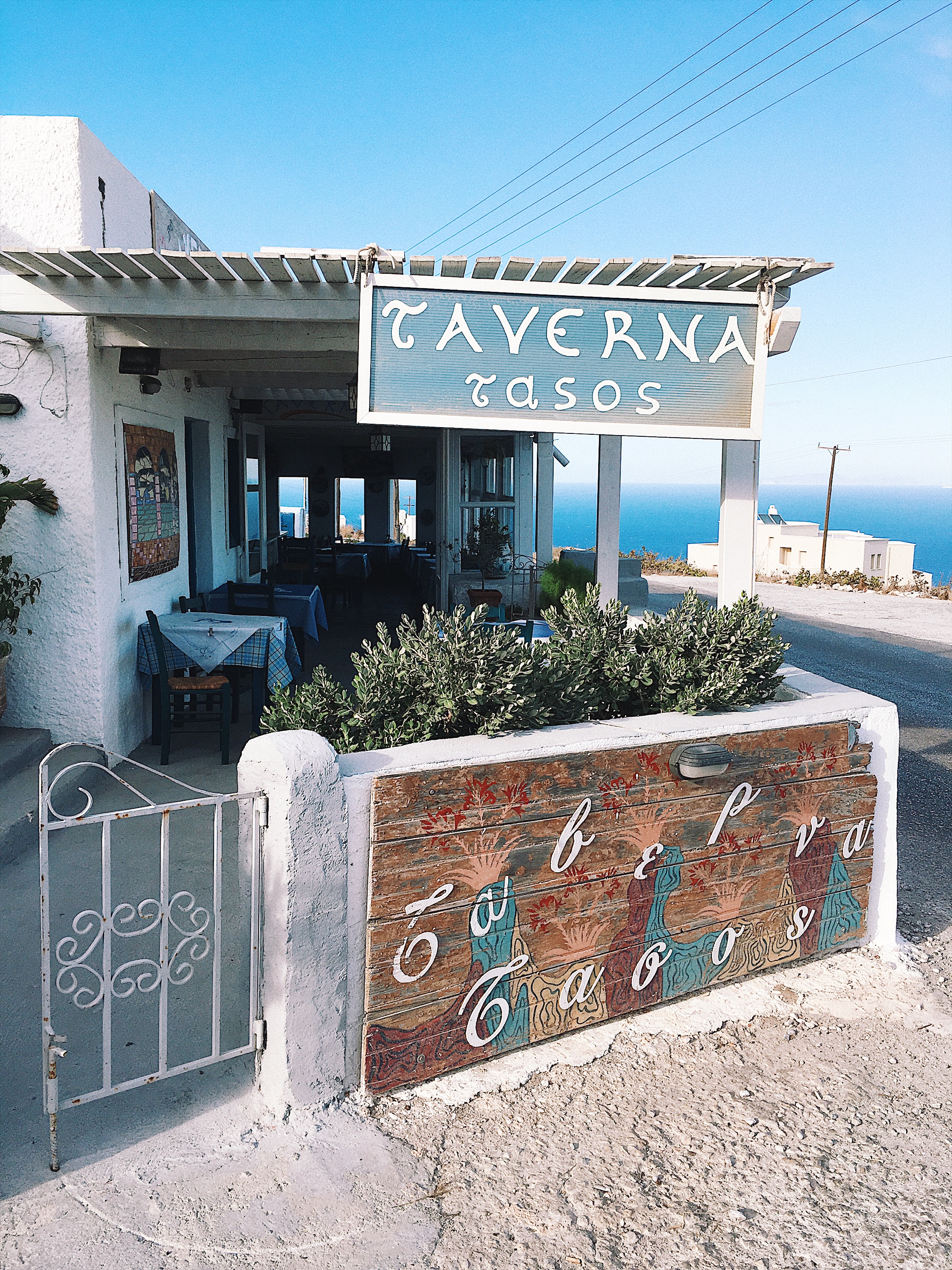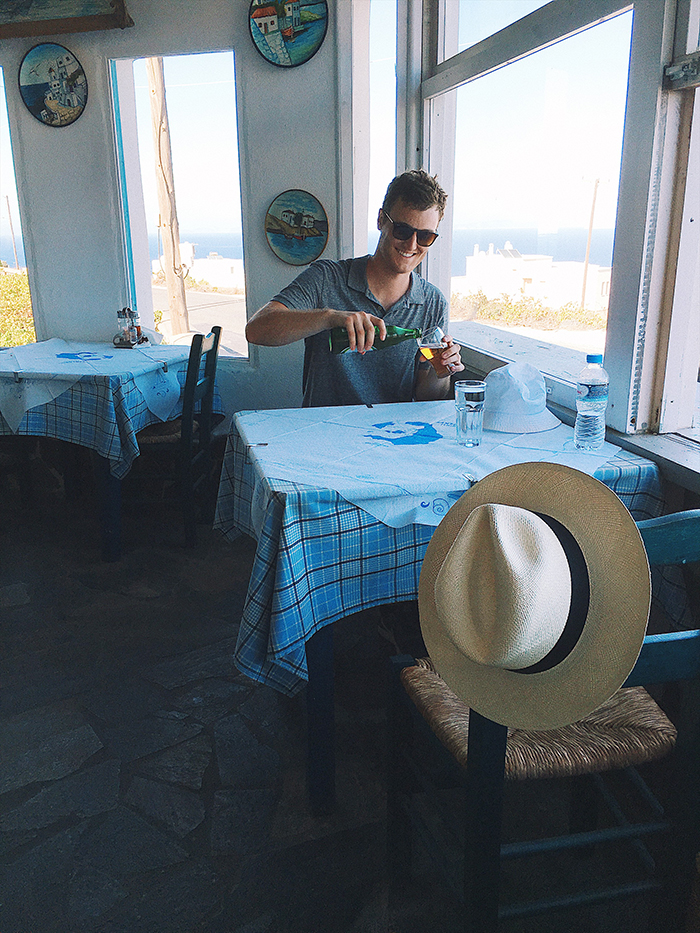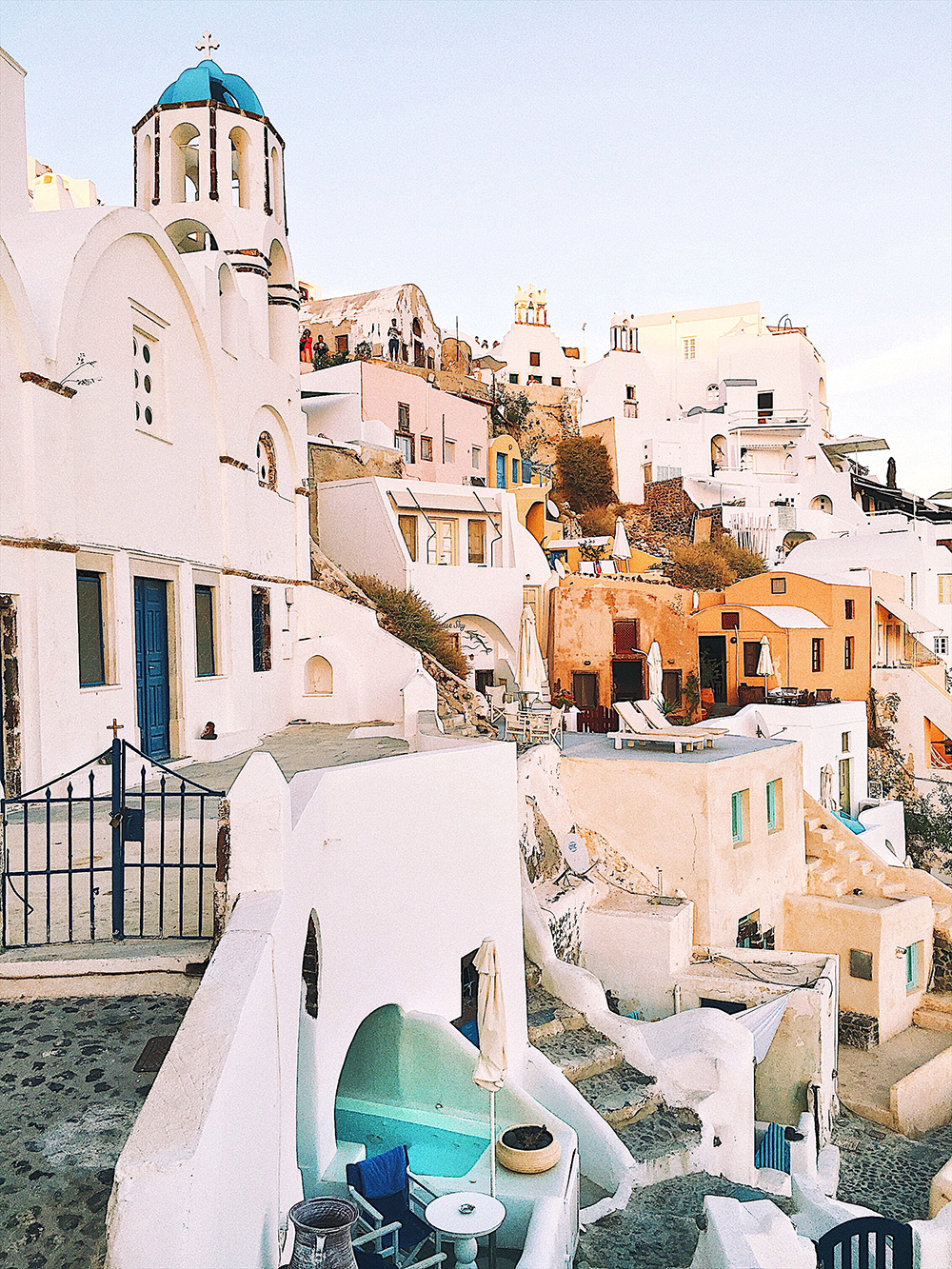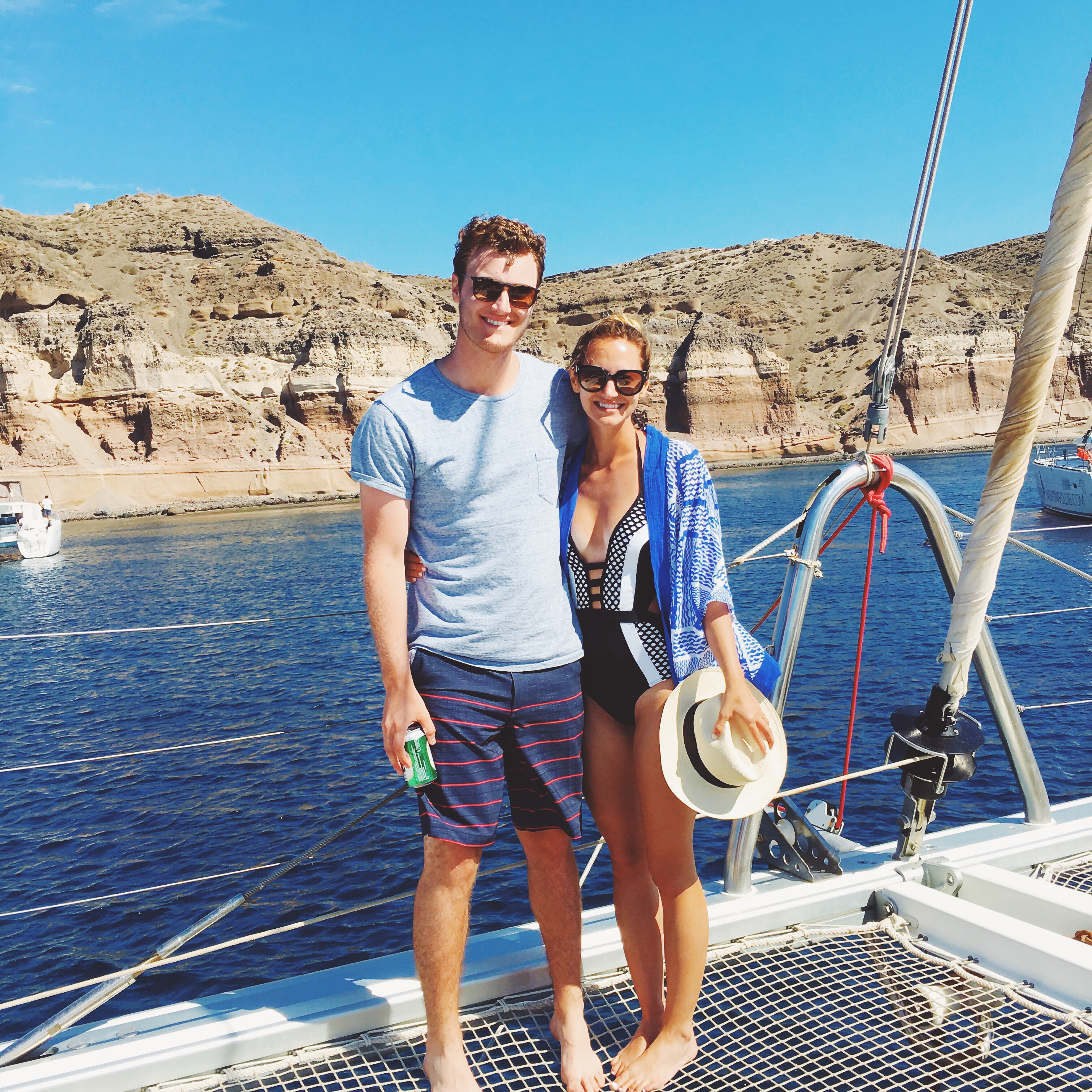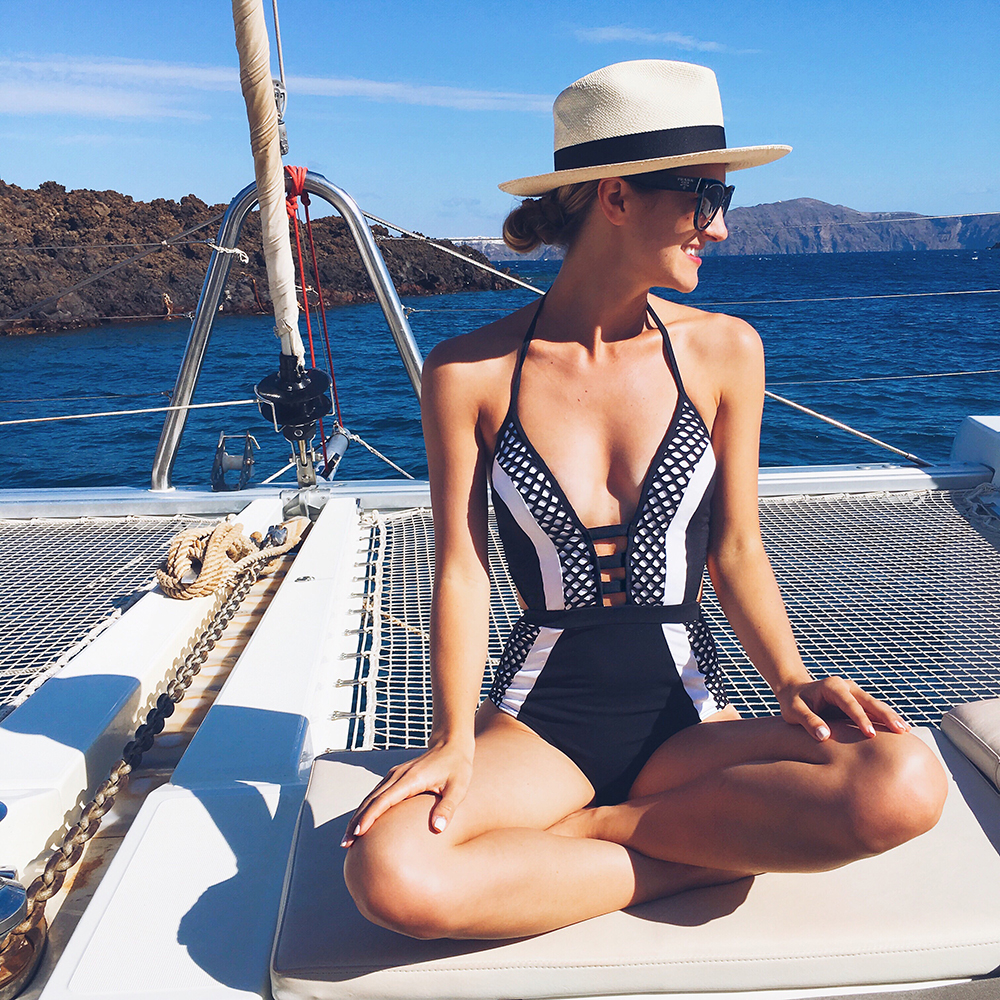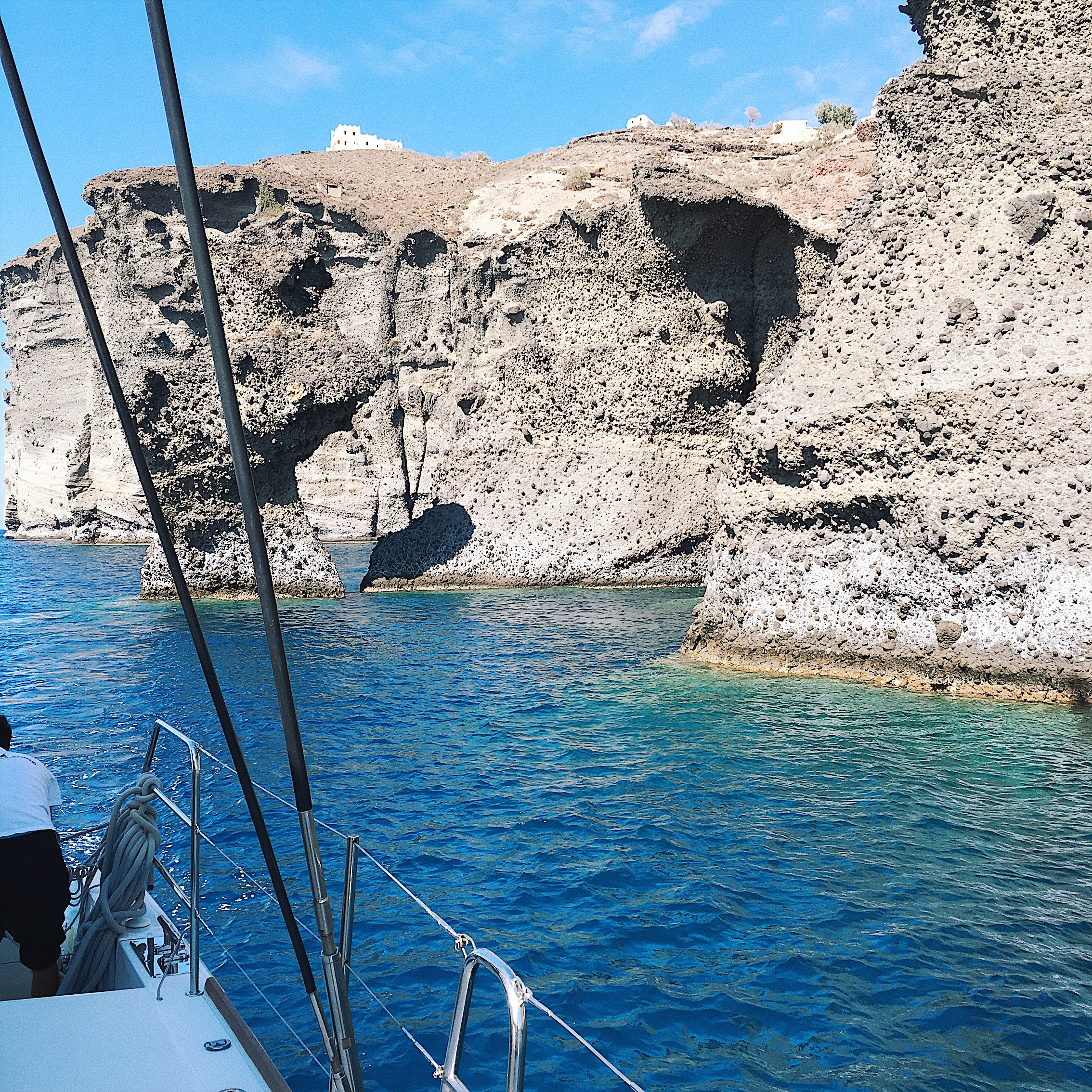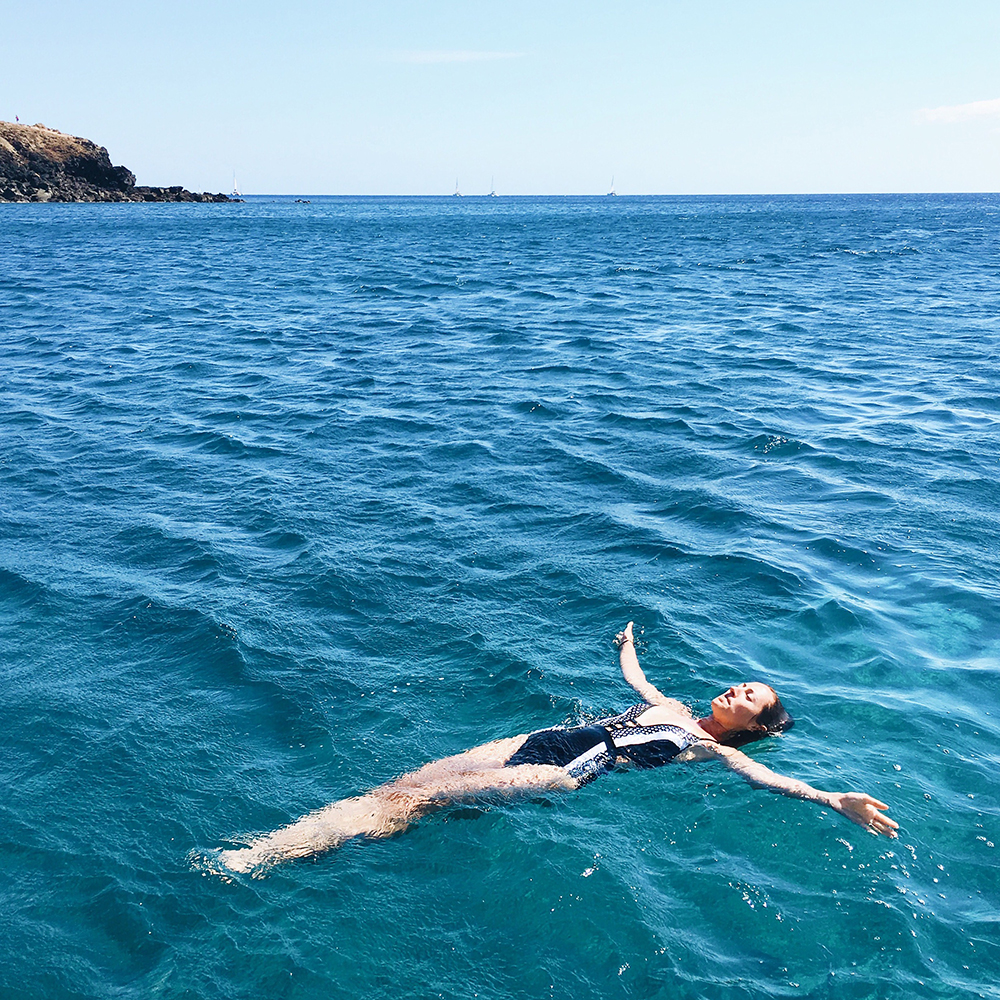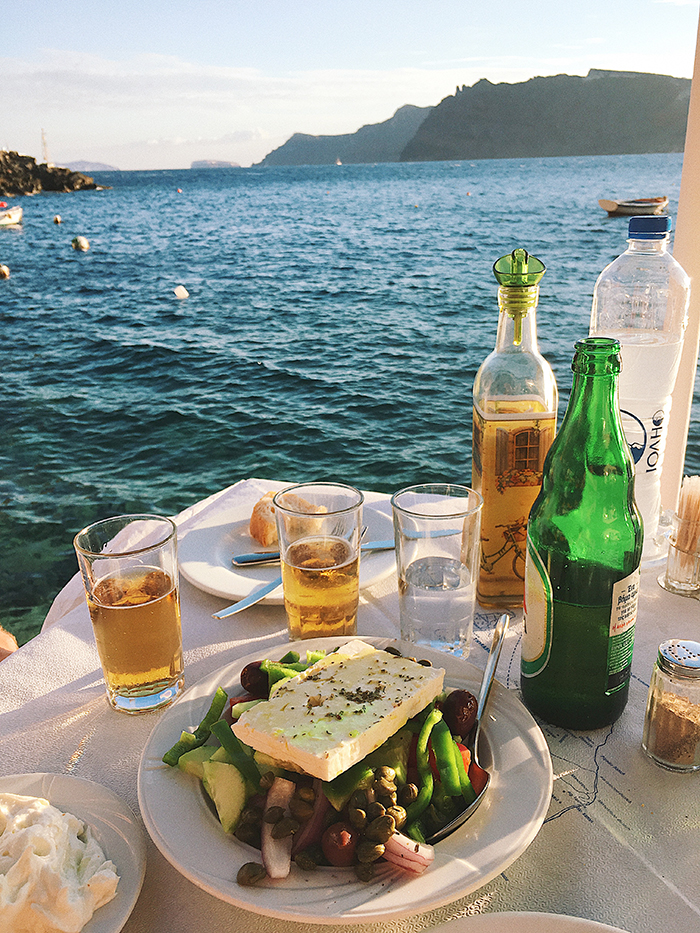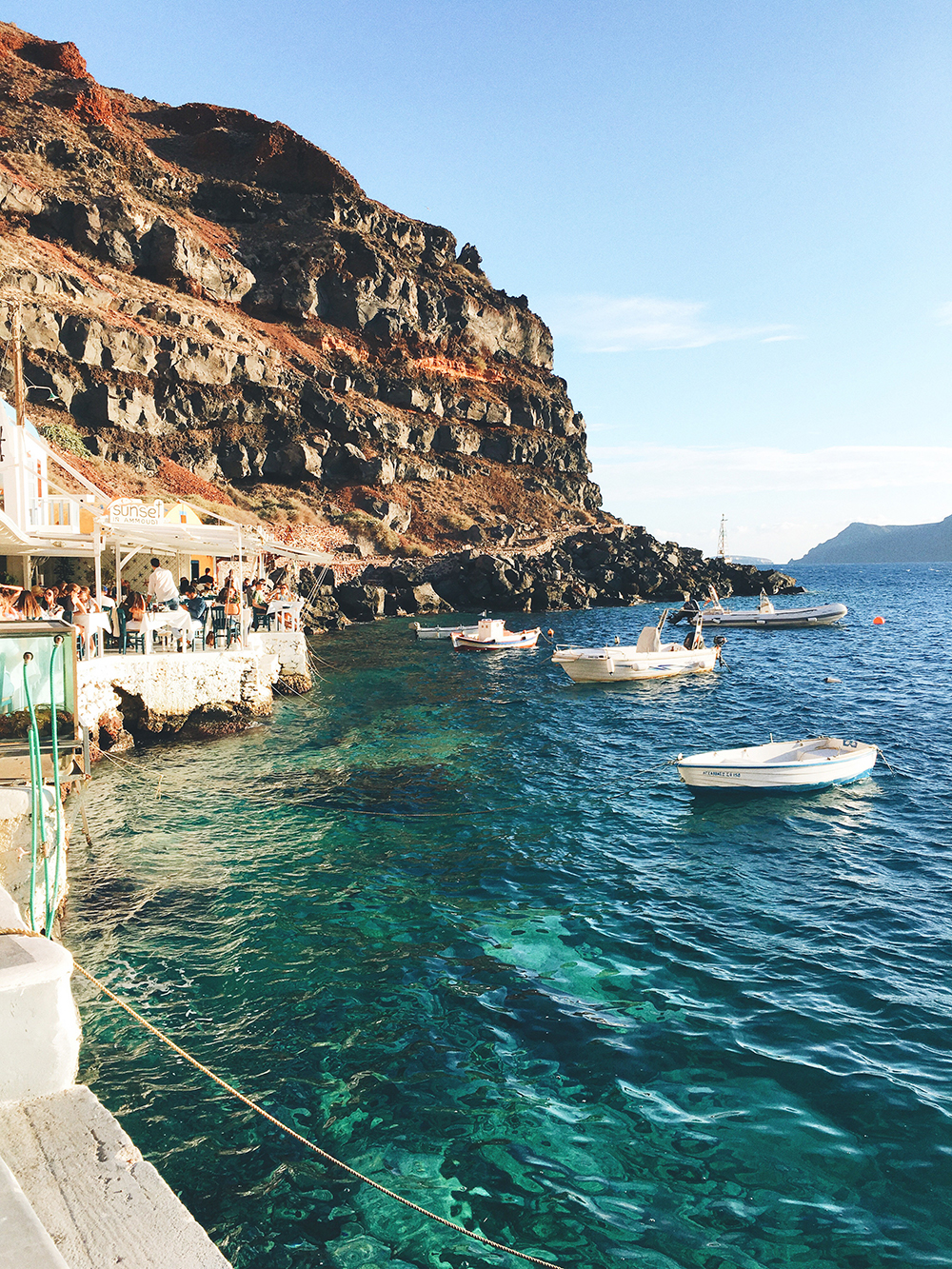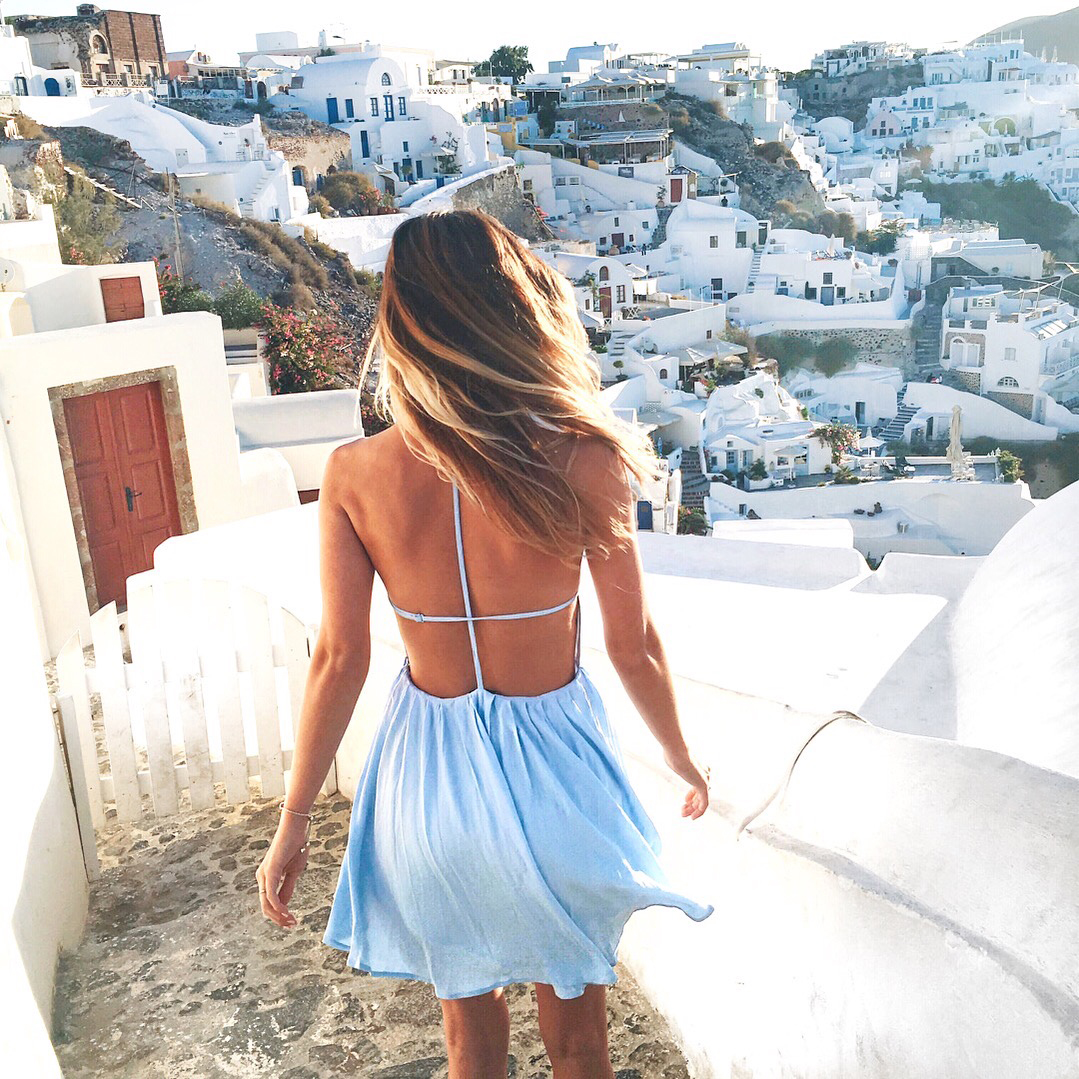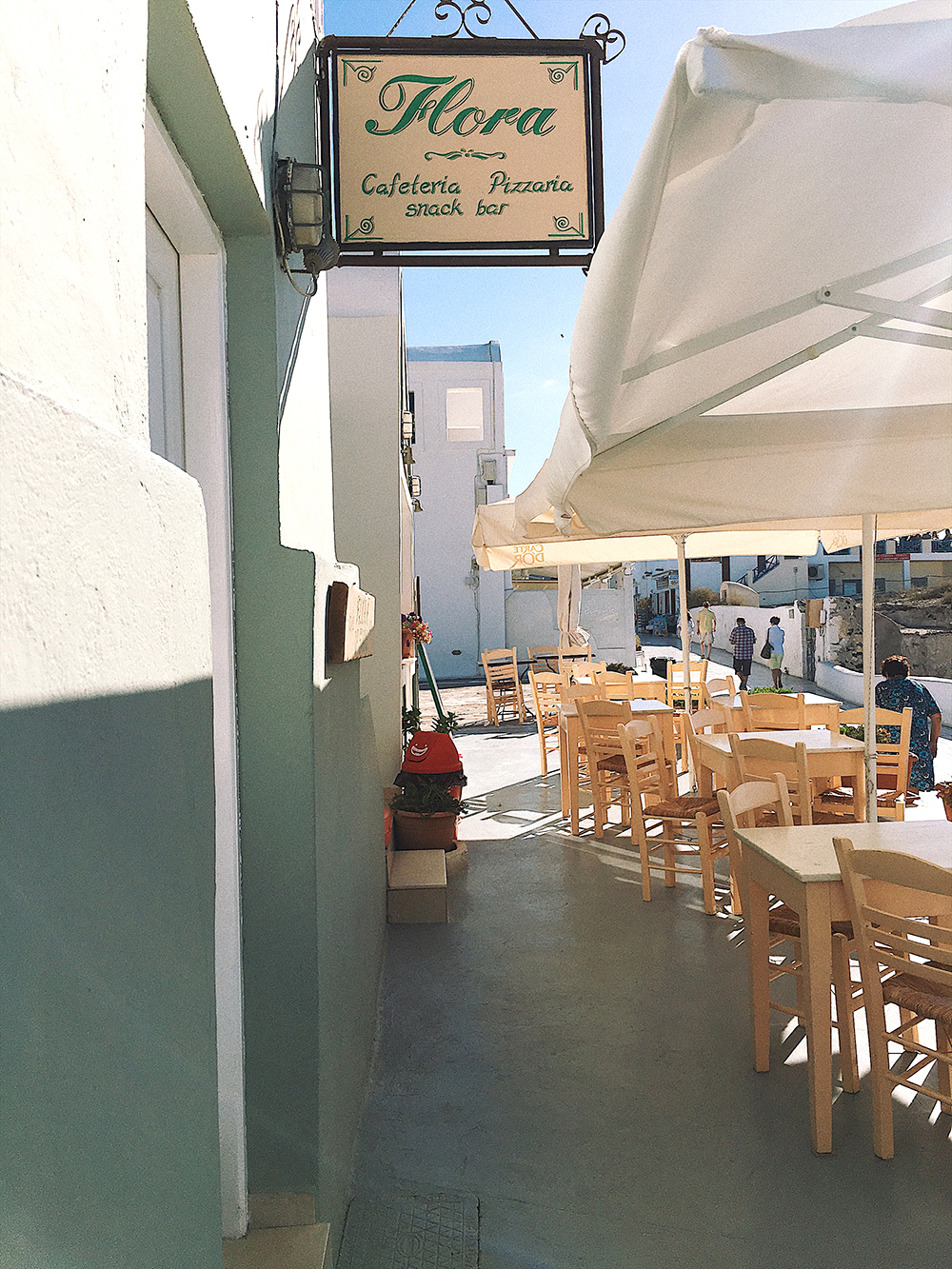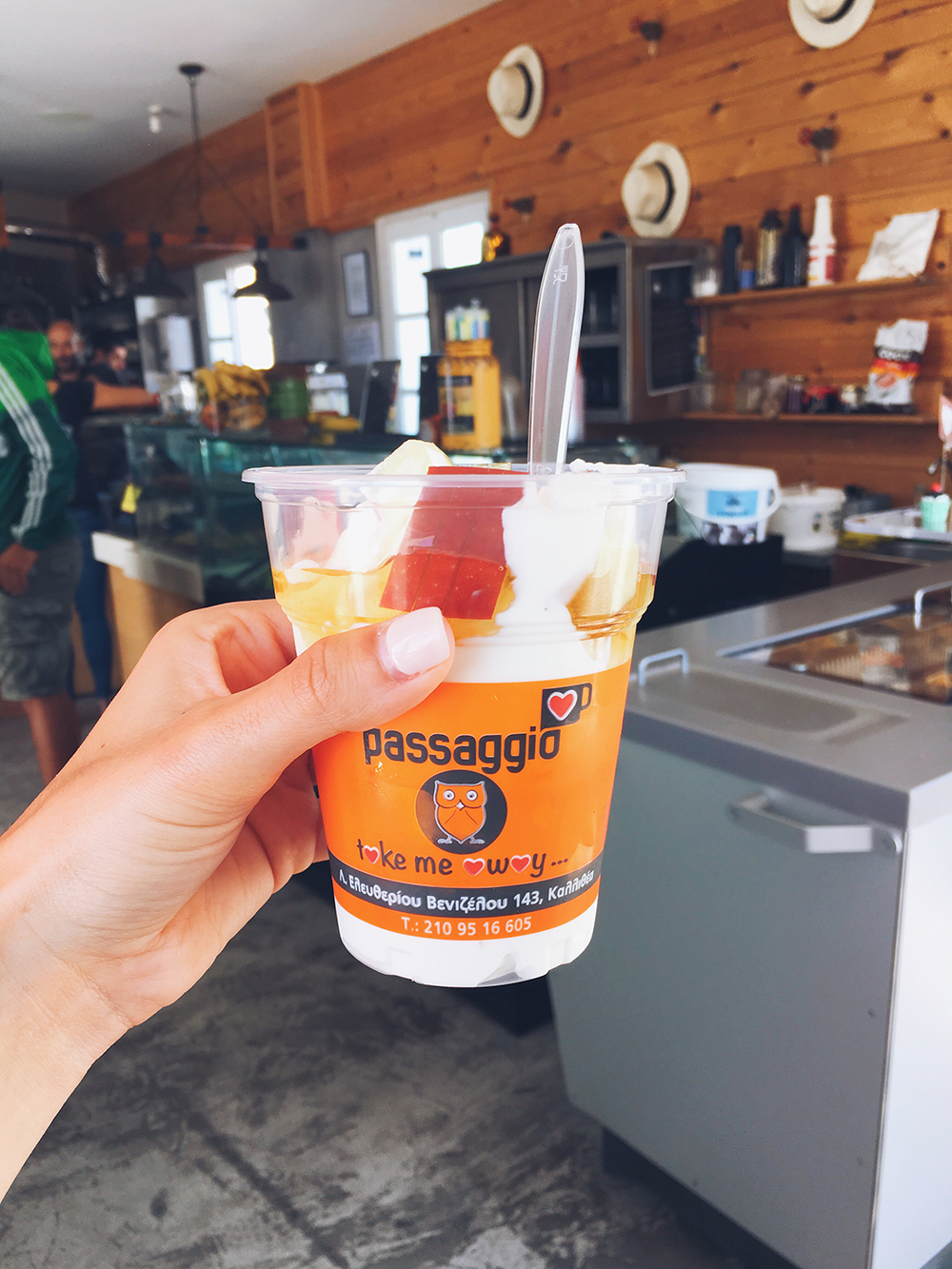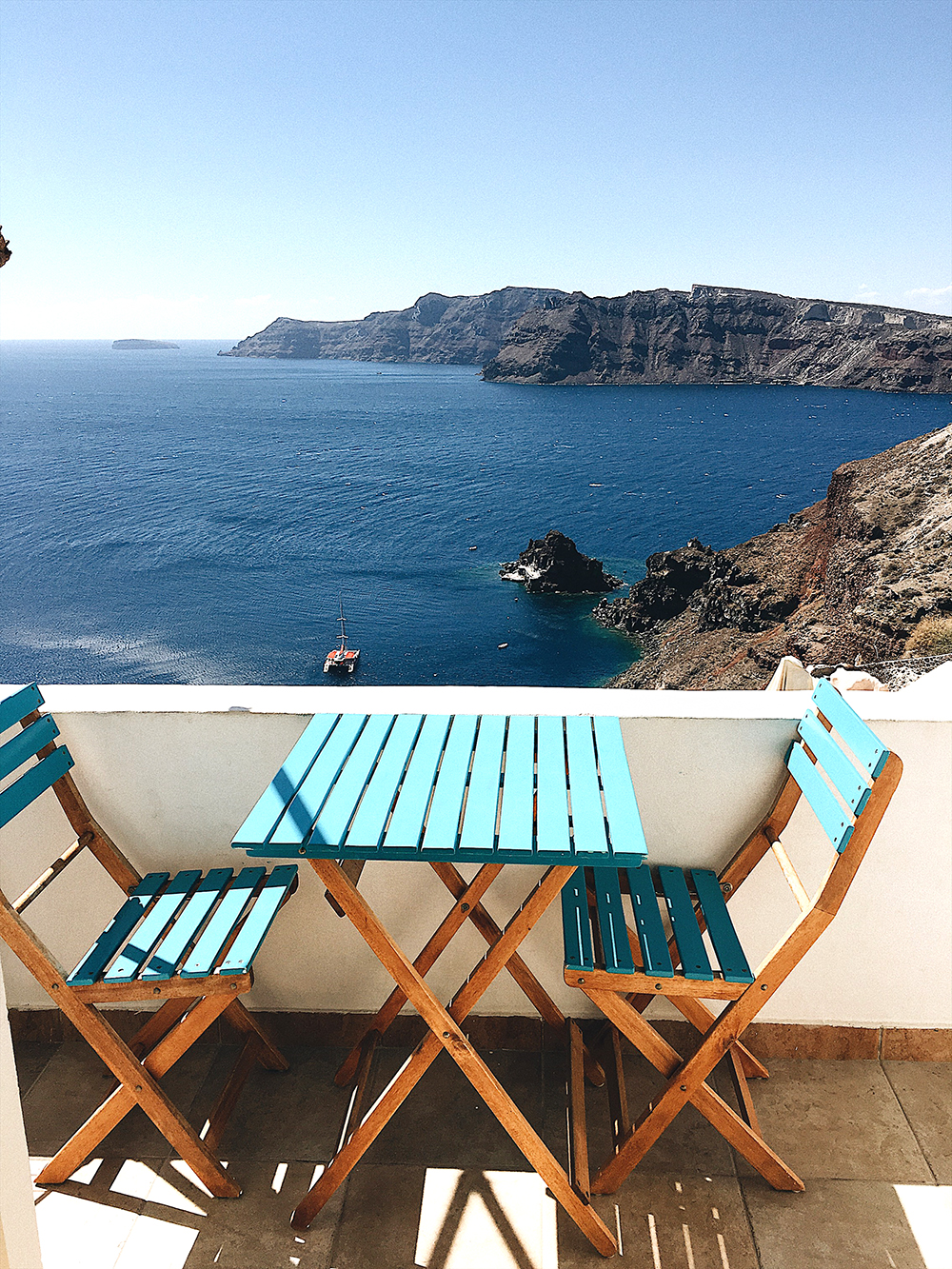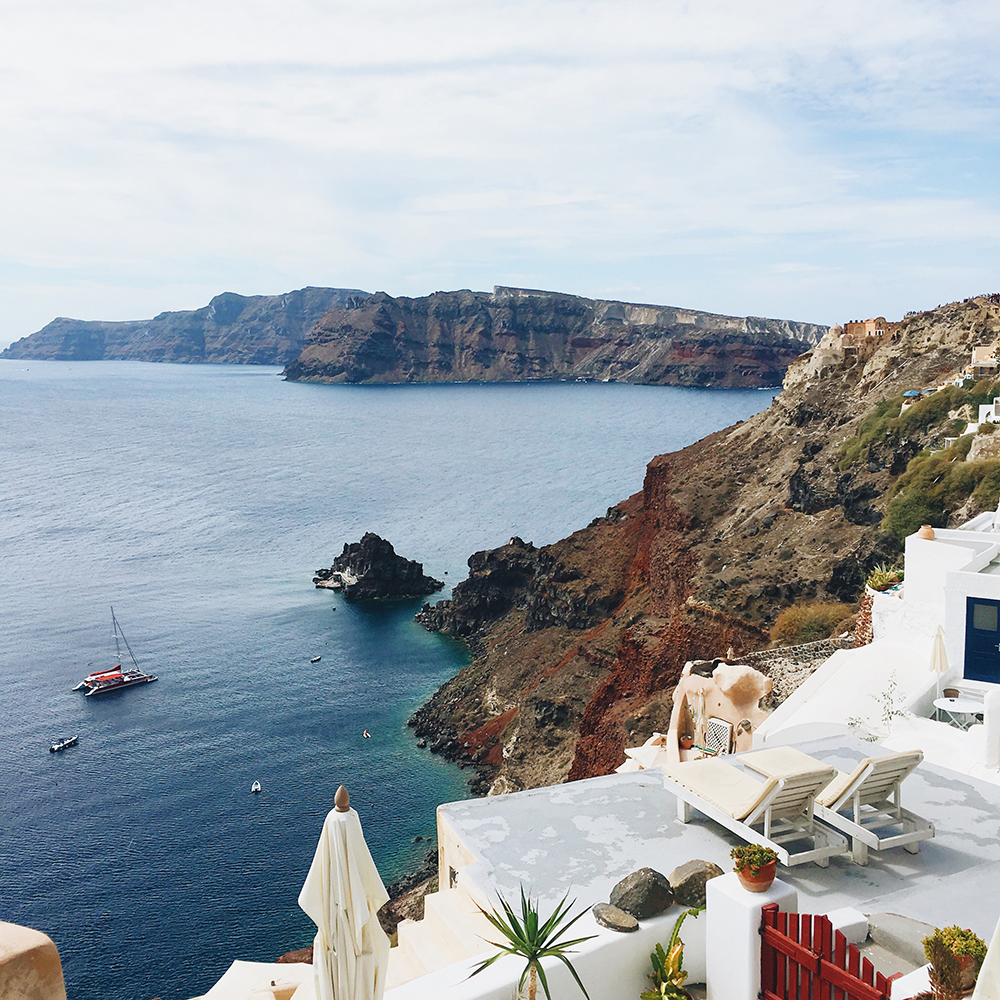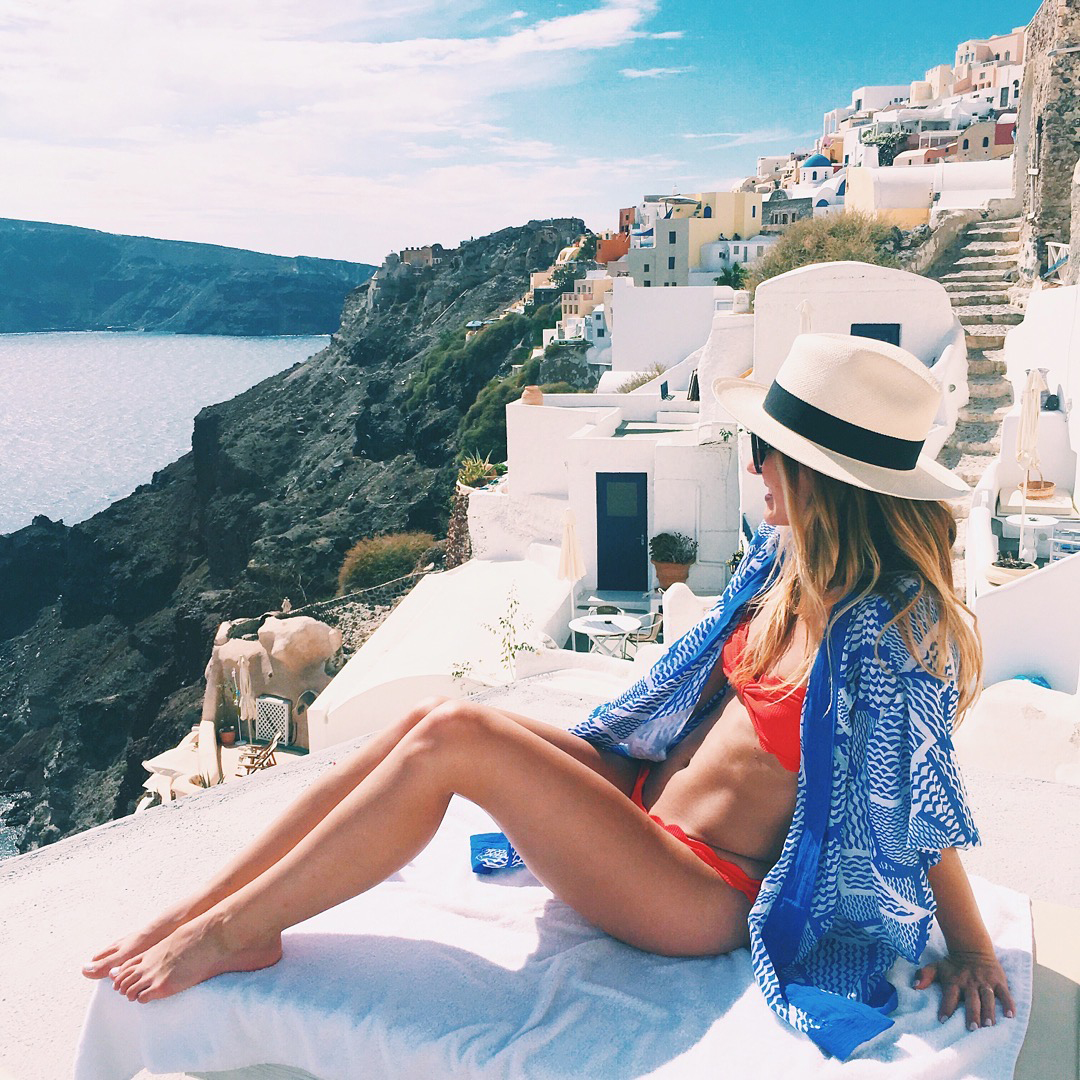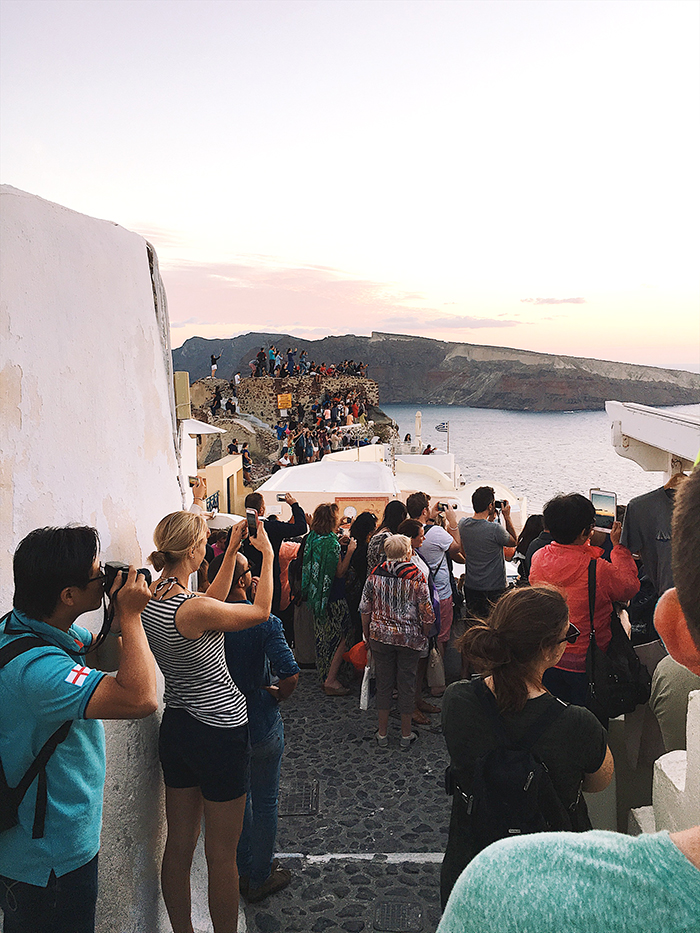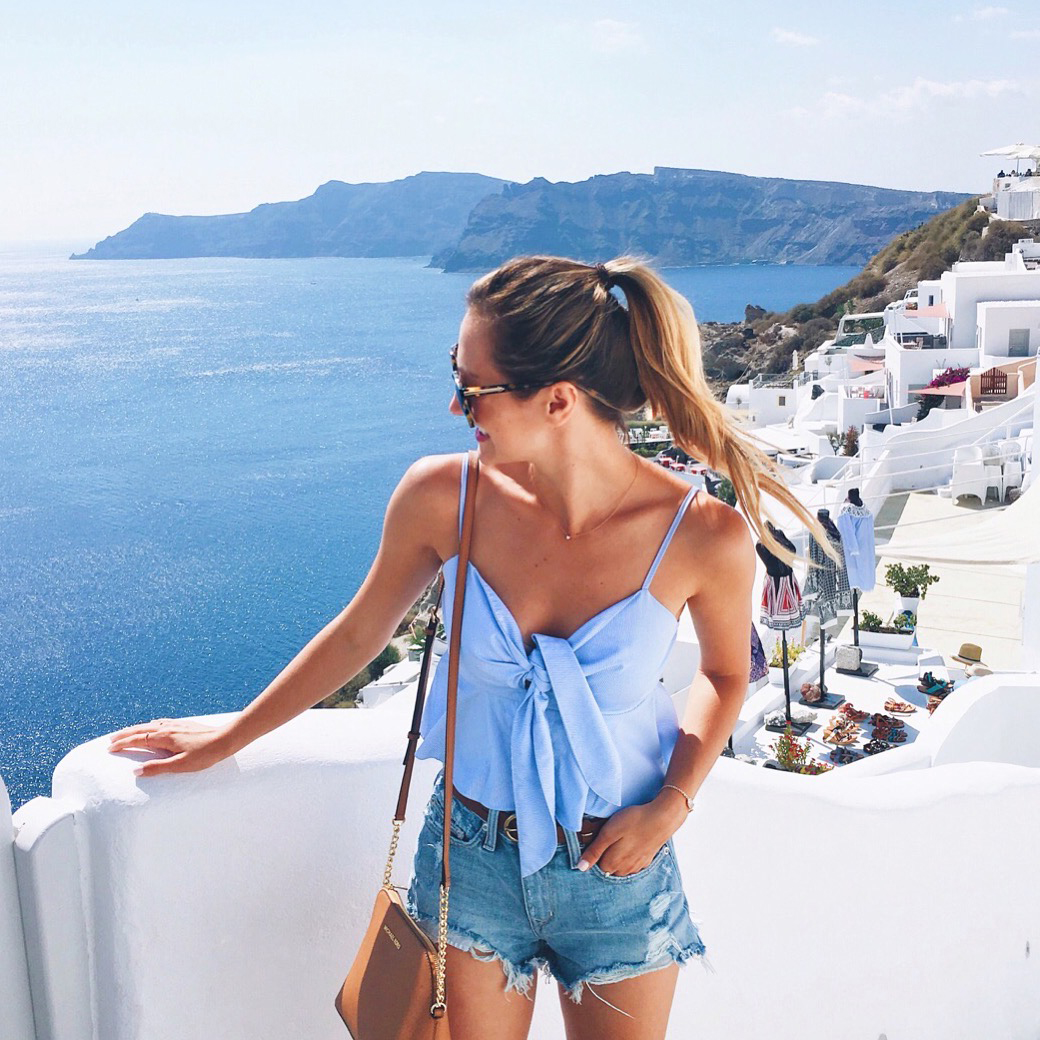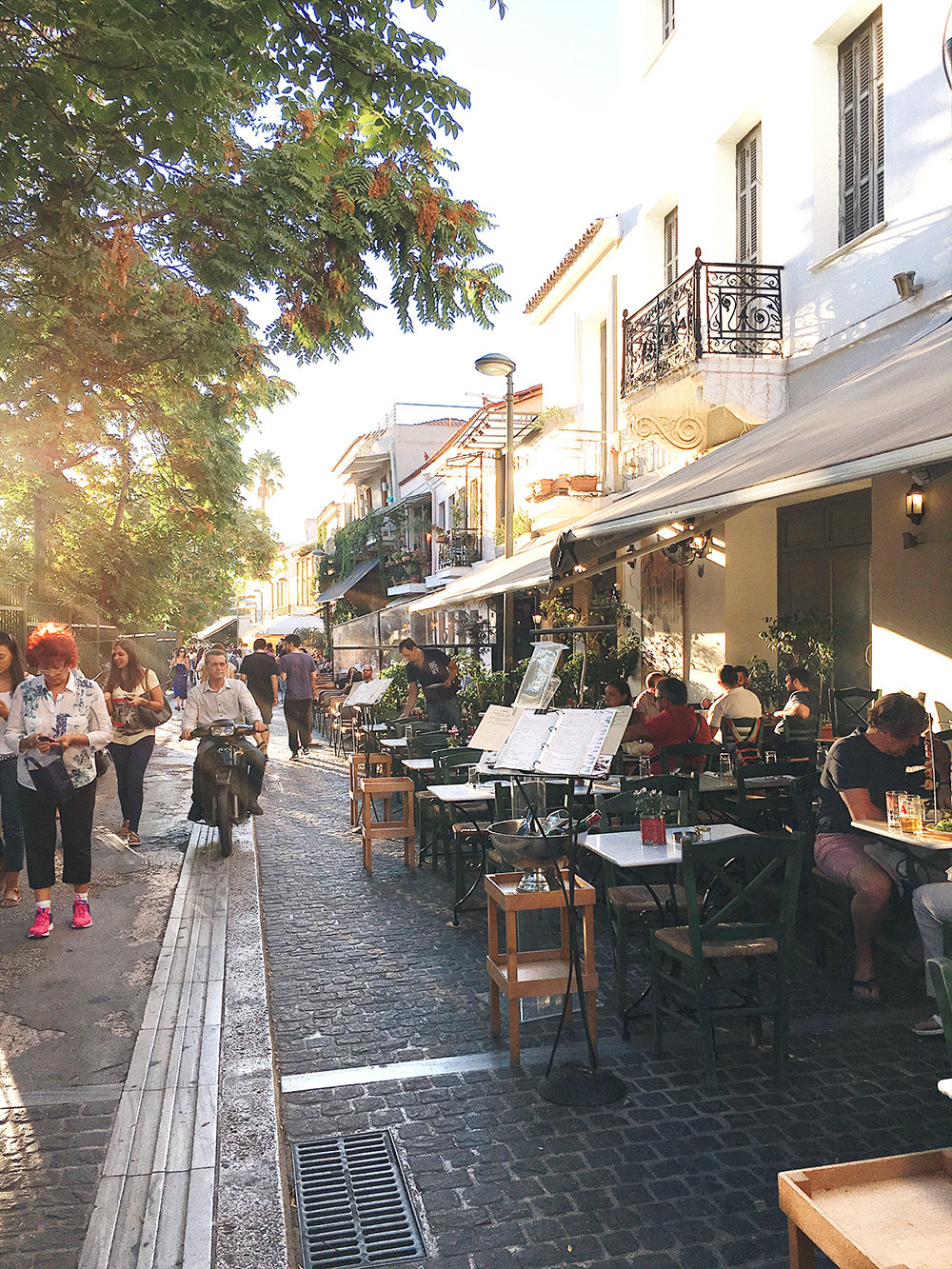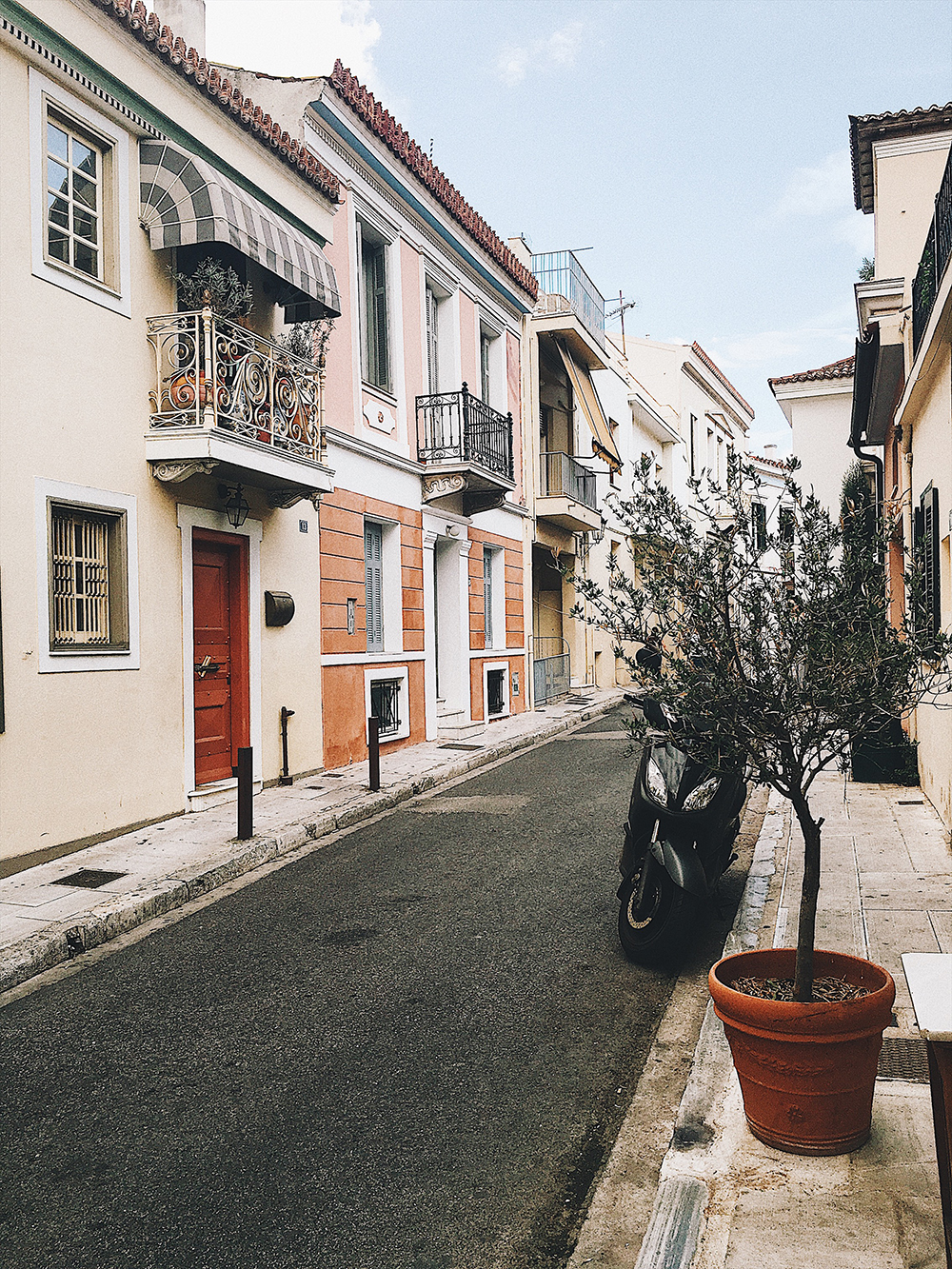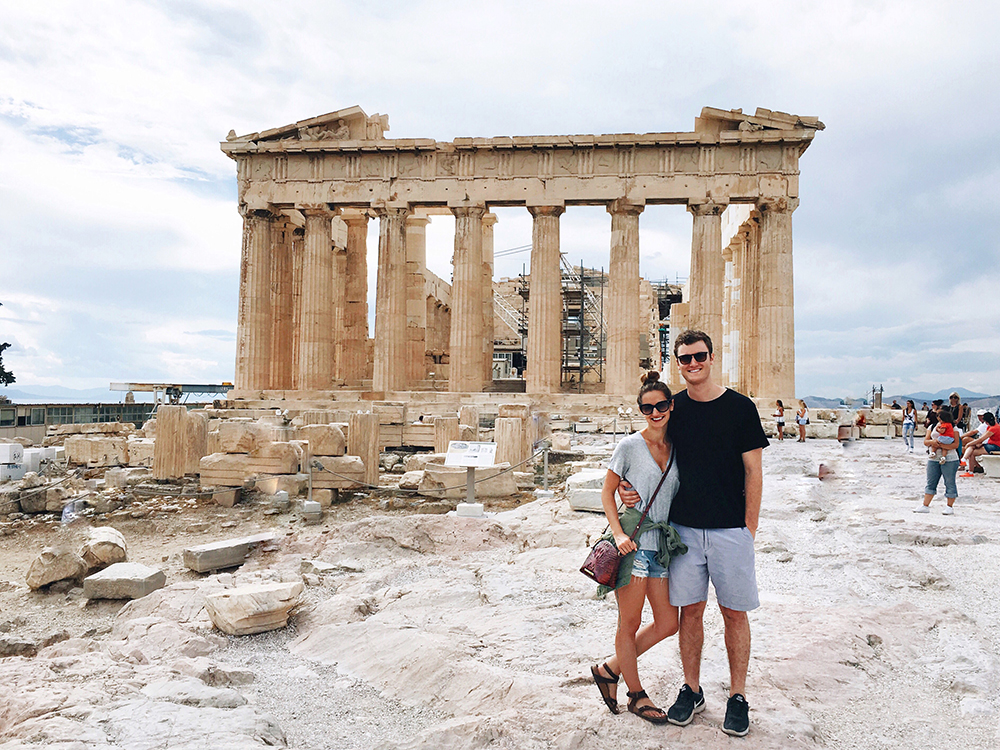 First off…is Greece not STUNNING?! Okay, now that we've got that out of the way… 😉
ATHENS
Blake and I flew from Austin to Athens and stayed at this adorable Airbnb for two nights. Our apartment was in the heart of the commercial district in Athens and within walking distance from all of the historical sites like the Acropolis and Parthenon – we were about a minute away from Monastiraki Square (where there are a ton of vendors/open air markets – it's a touristy area but a lot of fun). There was also a coffeehouse a block away that we stopped into each morning en route to explore the city called Coffee Island (which wasn't particularly amazing, but hey, when you need your morning caffeine fix, it's perfect!), as well as a ton of awesome bars with great local beer options. We always love to try the local beers when visiting other cities/countries, so this was a perfect apartment right next to a ton of lively, awesome options. The apartment had a really lovely patio, so grabbing a bottle of wine and enjoying a drink under the stars was so wonderful, too. (I'm cheesy, I know…but seriously, it was awesome!).
Ps. If you're a coffee drinker, you'll either have to get used to Greek coffee (which to me, tasted like 'instant coffee' – kind of thick and chalky, I wasn't a huge fan…not to offend anyone, just my personal opinion!), or order espresso drinks at restaurants. I ended up ordering cappuccinos everywhere we went because I didn't love the coffee options in Athens or Santorini – just a heads up if you're particular about your coffee! (…which as y'all can tell by now, that's me, ha!).
Three days/two nights in Athens was actually perfect to see all the sights and get a good sense of the food and culture. I definitely recommend that amount of time!
On day three we had planned to take a ferry from Athens to Santorini  (it's an 8 hour ferry ride, heads up!), but the day before we were scheduled to head out, our Airbnb host called and told us there had been a strike amongst ferry workers and that we should try and snag an airline ticket asap before they sold out. (Seriously our host, Stratis, was wonderful and so helpful!). Thus, we splurged on the tickets (…well, really we had no other option haha), and made it to Santorini within about three hours (it's a 50 minute plane ride). If you can afford to buy an airline ticket, I highly recommend this option when traveling from Athens to Santorini! It was painless, enjoyable and super quick…well worth it!
OIA, SANTORINI
Sooo…this is where we indulged during our trip and stayed in THE COOLEST Airbnb EVER! It was a really beautiful "cave" studio apartment that had a dip pool (which is a must, just gonna say it!) both inside and outside the apartment – AND it's just all around stunning, clean and modern. The apartment is at the top of the cliffside, so no one can see into your apartment/patio area, which really makes a big difference in terms of privacy because a ton of the housing options are in front of crowded pathways or built lower so others can see into your space from above.
Given the cost of that apartment, we spent the first few days in Santorini sipping wine on our patio, cooling off in the dip pool and overall just soaking up the gorgeous space as we got into "vacation mode." This apartment had such an amazing view, too. It was incredible!
I should also mention that our host (Giannis) was super accommodating and booked our transportation from the airport to our apartment – he even met us and helped with my luggage, such a doll!
After a few days at the cave, we ventured to another nearby studio in Oia (the part of Santorini we stayed in) and finished out the remainder of our time on the island at this Airbnb. The view was just as wonderful as our first place and it was quite charming and lovely, too. A few things to note: this apartment felt a lot older, the shower was tiny (…I would have to squat under the faucet, haha ah!) and there was a pretty bad leak in the ceiling that dripped every few minutes (…nothing a bucket can't fix! 😉 ). All that aside, you really can't complain when you're in paradise, and we had a great experience here overall. In the photos above, you'll see a cliffside view with a couple of lounge chairs – that was snapped from our window and those were our "basking chairs" each day…so gorgeous!
During the second portion of our stay in Santorini, we ventured out and did a ton of stuff – here's my list of recommendations:
Santorini Recommendations:
1. Sign up for a catamaran tour (we did the day trip that leaves at 9am and gets back around 3pm, it was SO cool!!). You'll swim and snorkel around the island and then the crew cooks a traditional greek meal that's delicious, we had so much fun!
2. Hike from Oia to Fira – it's a 7 mile hike that takes about 3 hours. It's along the cliffside of the island and completely breathtaking…highly recommend! We did the 3 hour hike, then stopped for a beer in Fira and did a little grocery shopping (we made dinner at our apartment a couple times), then took the bus back to Oia (…couldn't handle another 7 miles walking back, ha!).
3. Walk down to the fisherman's pier and have dinner or lunch. We were lucky to snag a spot for dinner and got to watch the sunset from our table, it was so gorgeous!! (On your walk down the hundreds of steps, you'll see donkeys bringing people and luggage up the stairs).
4. Do some shopping at the local boutiques in Oia – there are a TON of really cool local jewelry shops…it was amazing!
5. Grab a greek yogurt + fruit cup at a restaurant/coffeehouse called Passaggio (…as featured in a photo above). There aren't a lot of restaurants that allow you to take coffee to-go, but this place had AWESOME coffee and you haaaave to get the greek yogurt + fruit cup, it's heaven! You can take both coffee & the yogurt cup to-go, that way you can stroll around Oia and soak in all the views with your treats, we loved that!
6. Bring a few books and lay out on your patio and just soak up the gorgeous views as you read…I think I pinched myself like 100x while doing this…
7. Go swimming! The water is cool and so refreshing after basking in the sun.
8. Eat all the greek salads you can…nothing better than the real deal, y'all! (Also, can we just take a moment and give thanks for feta cheese? I still dream about that cheese…it was SO good!).
9. Watch the sunset from the famous Sunset Seranade point – truly breathtaking!
10. If you have the time, it would be great to take a boat to another Island (I wish we would have taken a day-trip to Mykonos), but if you're only in Santorini for a few days, you'll have plenty to do while there.

Santorini Cons:
I had no idea Santorini is SO touristy, so staying 3 days is honestly plenty of time – if you're going to stay longer, I recommend island hopping so you don't go stir crazy! I think I was highly mislead by Pinterest (typical me, ah!) and thought for some reason it's just open and airy and no one is around…buuut that's not the case at all (…that image I shared above with all the people taking photos of the sunset = that's basically how it is everywhere in Oia…it was kind of madness! I've never seen so many people taking selfies at the same time…). We were told that everyday, cruise ships stop in Oia and bring in 7,000 tourists, in addition to those already staying on the island. So, just something to note in advance because I was an idiot and thought it would be more locals for some reason (…aka, don't believe what you see in Sisterhood of the Traveling Pants…haha, ah!).
WRAPPING UP
The crazy amount of tourists aside (…and hi, I'm guilty of being one of them!), this trip was the most relaxing and magical vacation I've ever been on. Doesn't hurt that I was with my new hubby and still on cloud 9 from all the wedding festivities experienced just days before. In sum, Santorini is unbelievably romantic and also quite luxurious (…which I'm not exactly used to, but hey, definitely loved ha!), so you really just have to let go of your "to-do's" and relish in the beauty of your surroundings and whoever you're traveling with.
One more thing: we love staying at Airbnb's, but a hotel in Athens or Santorini would also be an awesome way to go! Given the expense of this trip, we opted to stay in places where we could cook if we wanted to and save a little money, etc. Hotel or apartment renting, though – you can't go wrong. 🙂
Lastly, we flew from Santorini back to Athens and stayed one night at the Sofitel Hotel directly across the street from the airport. This was actually the best idea to break up our travel a bit and enjoy one last night in Greece. The hotel was beautiful and we just strolled across the way to the airport and ate there for dinner, ha! It was easy and convenient, definitely recommend doing this!
Phewwww, okay I think that's everything! If you have any more questions, please leave a comment below and I'll get back to you soon!! For anyone planning this as their next trip – I am so excited for you (like really, my heart is kind of aching it's so lovely) and I hope you have THE best time!!! XOXO