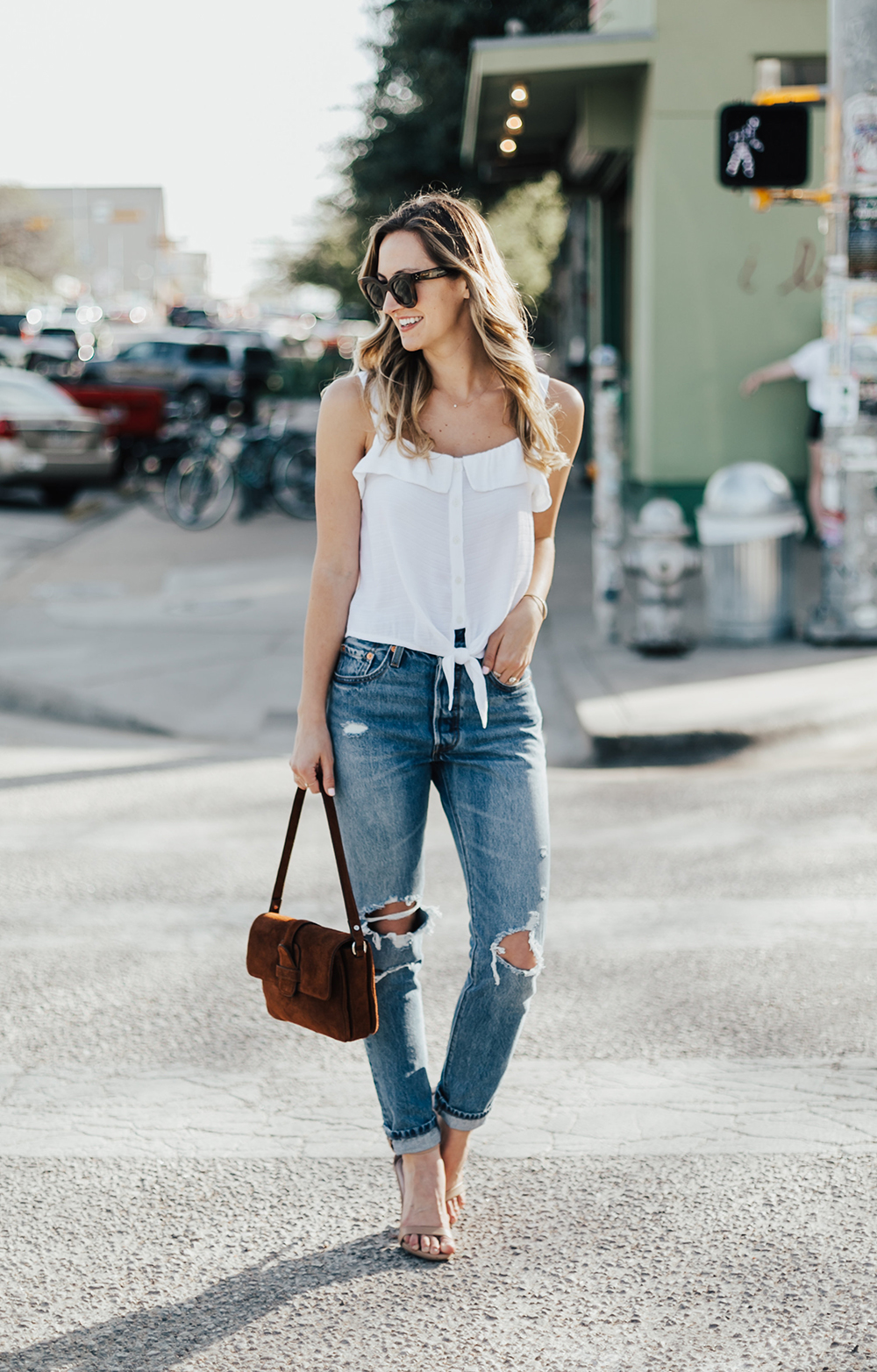 Ohh spring, how I love you so. This week has been pretty incredible when it comes to Austin weather, and I've forced myself to get outside everyday and take full advantage! I am going on day 4 of my "Olivia, step away from your computer and do something outdoors" daily mission, and truth be told, it's been heavenly. There's just nothing quite like Vitamin D, comfy sneakers and a phone call with my sister/mom/friend to get all the happy feels going in my mind and body. Going to do my best to keep up this positive form of daily activity…I can already tell it's making a big difference!
On the subject of getting outside…South Congress Avenue is one of Austin's most beloved streets (…you'll notice all the folks snapping pics with the wall mural on the right), and it's one of my absolute favorite places to stroll, grab coffee or cocktails, and window shop. Austin is such a relaxed city, so rocking some distressed denim with a darling little tie-front top is a definite do.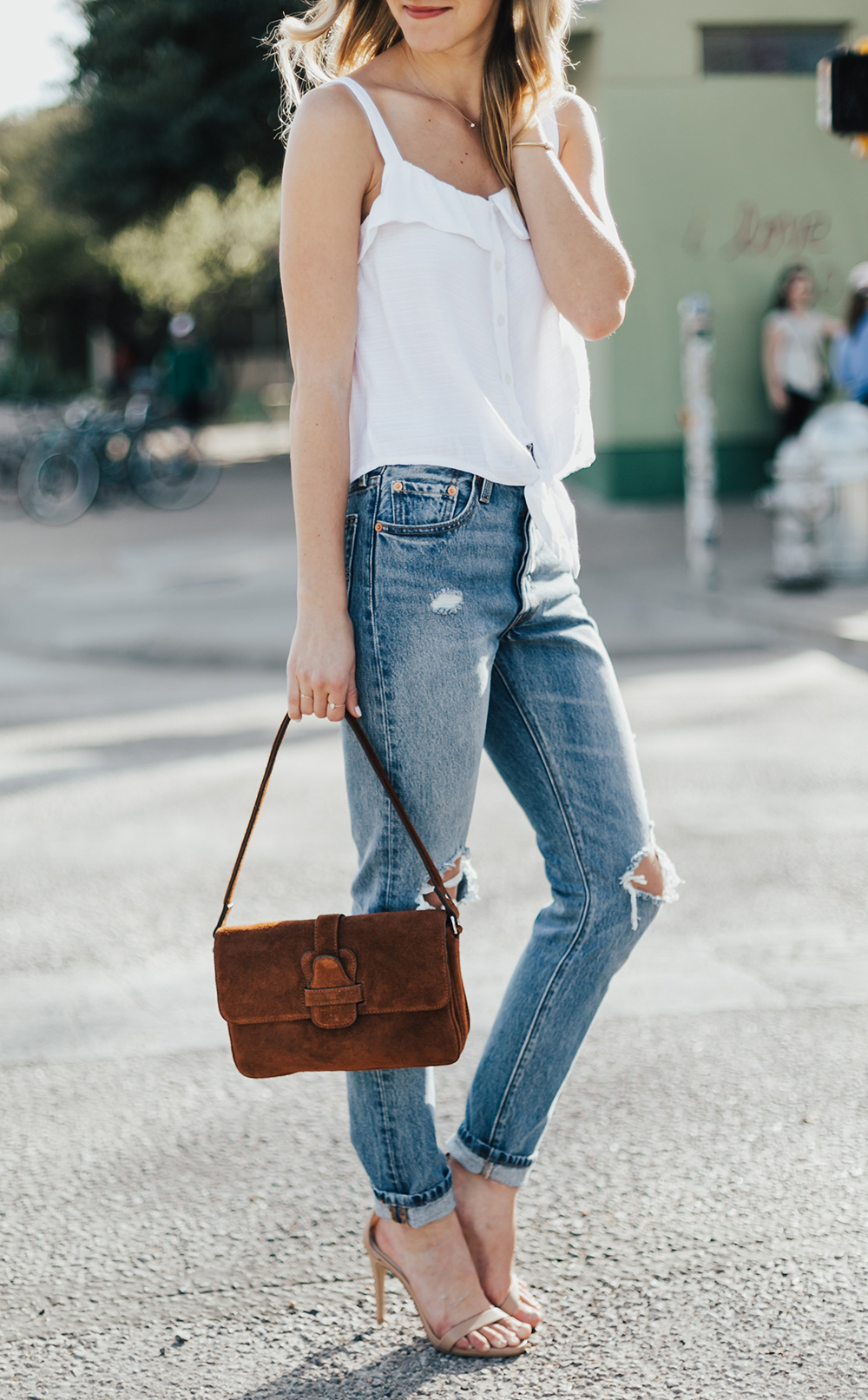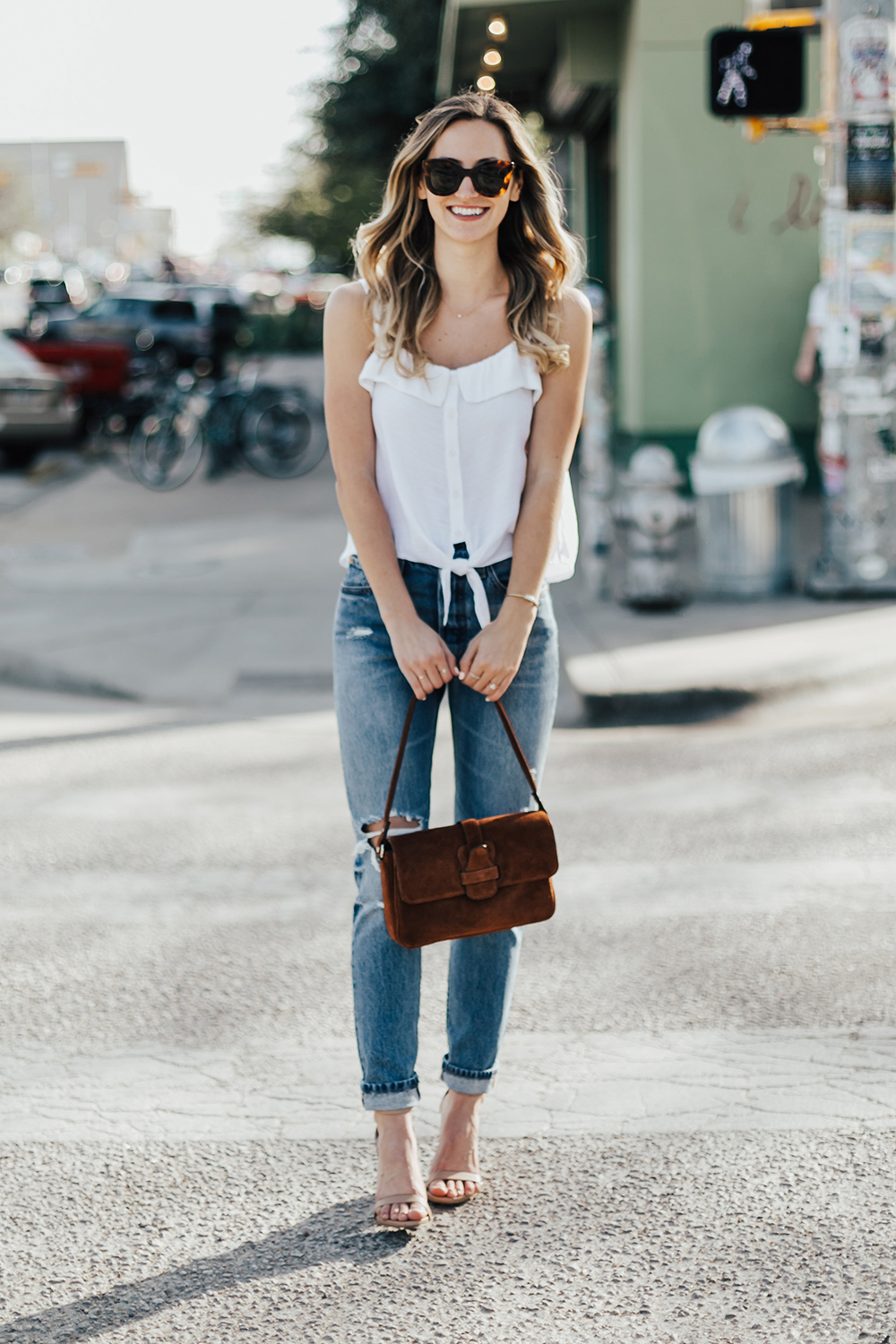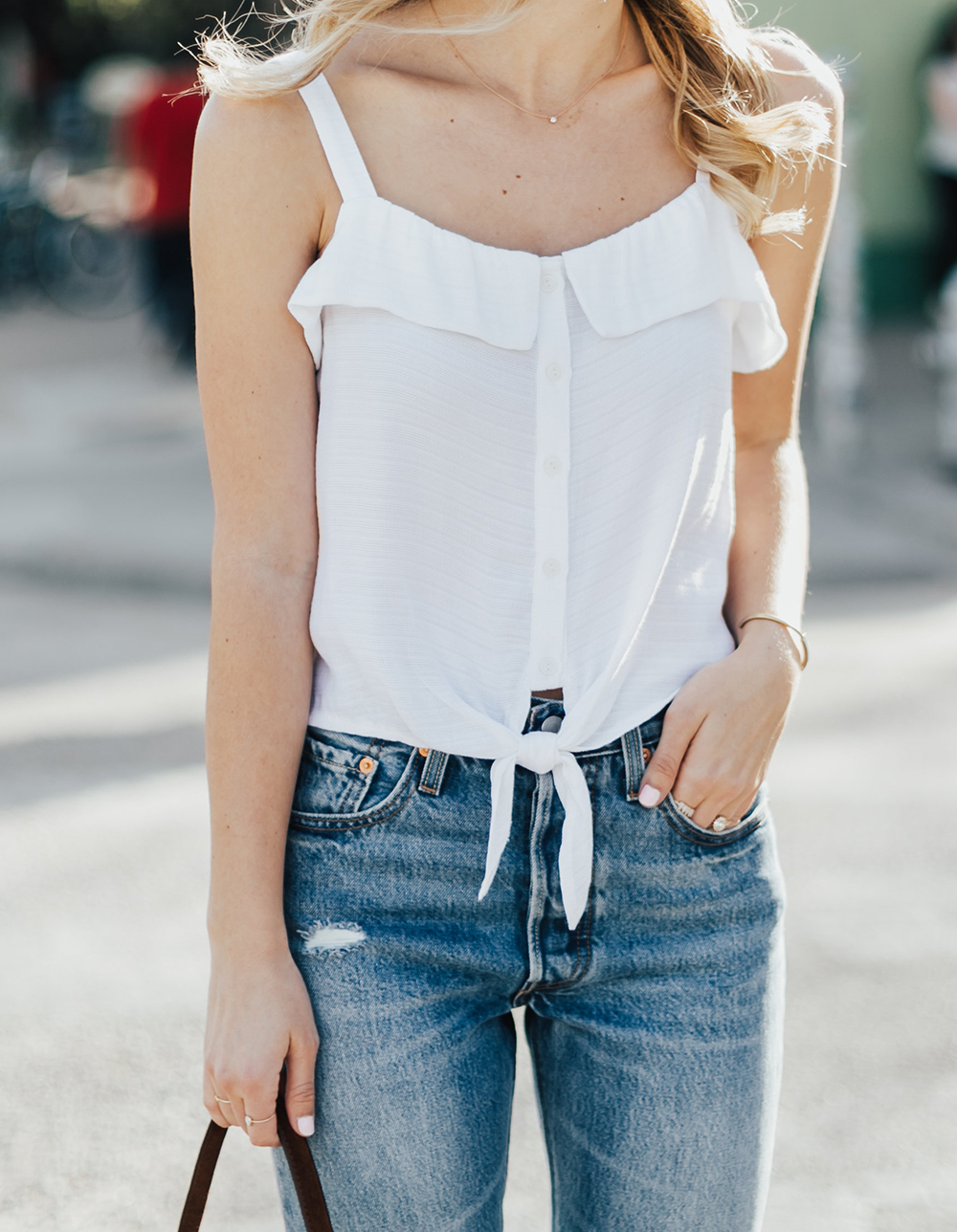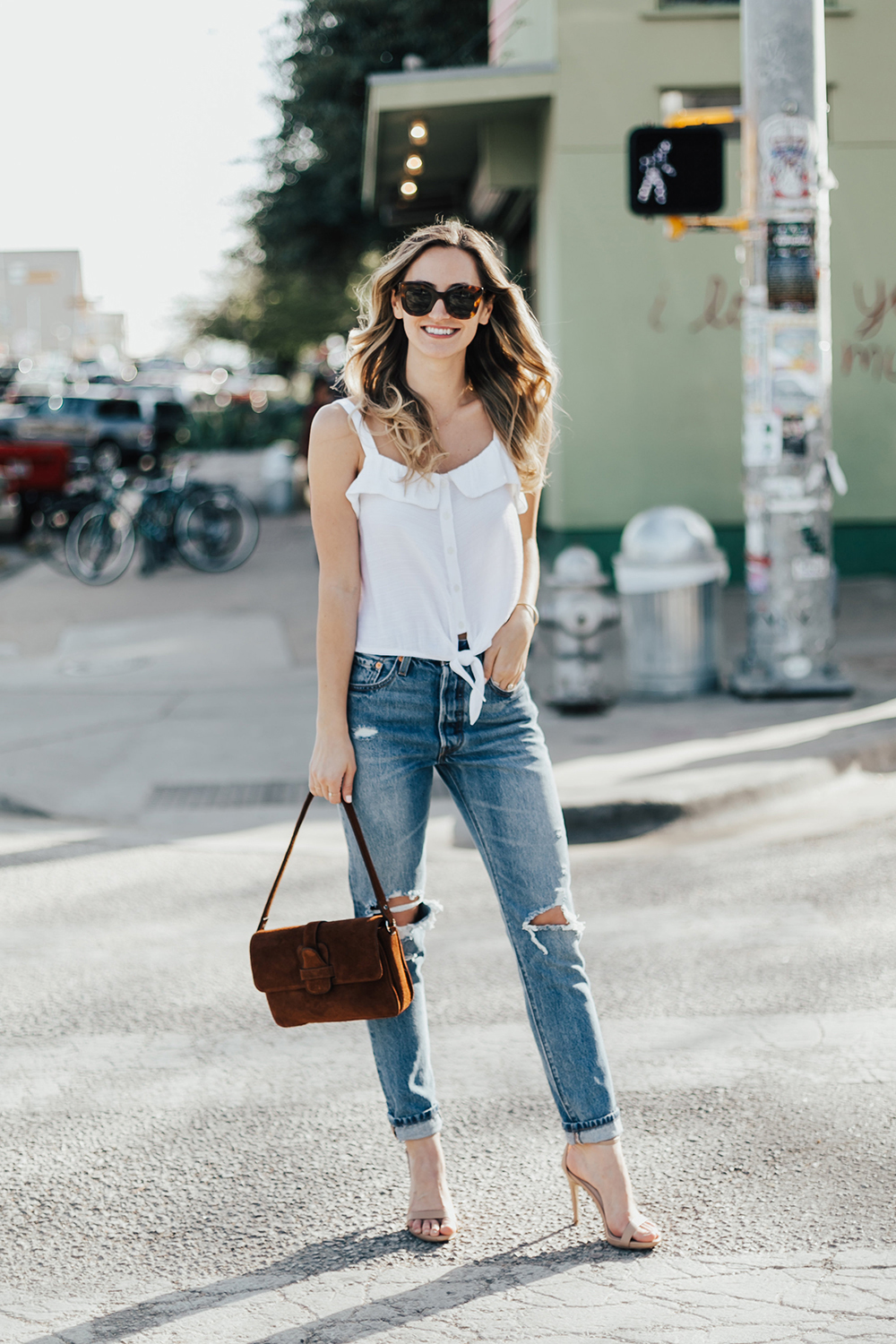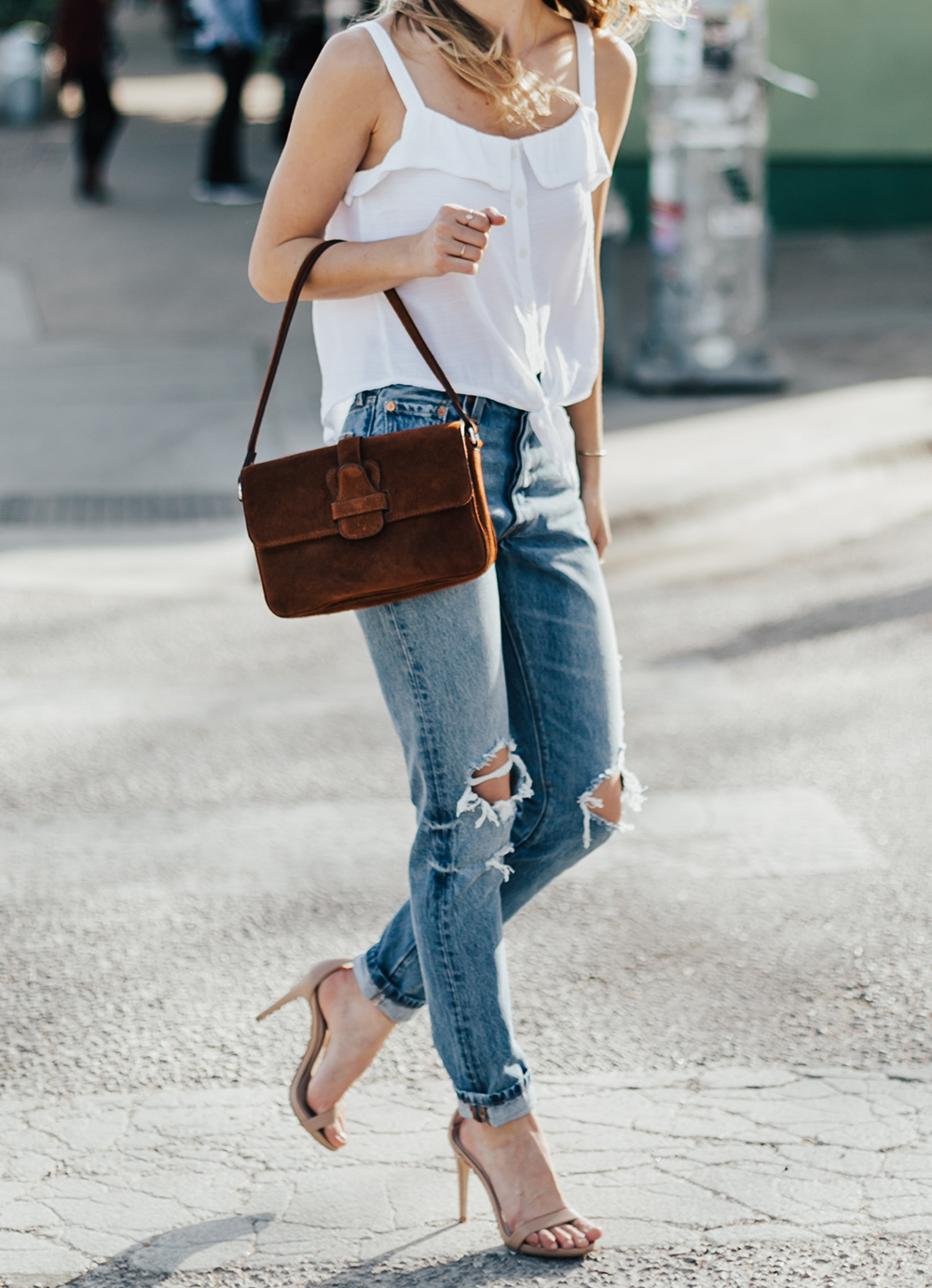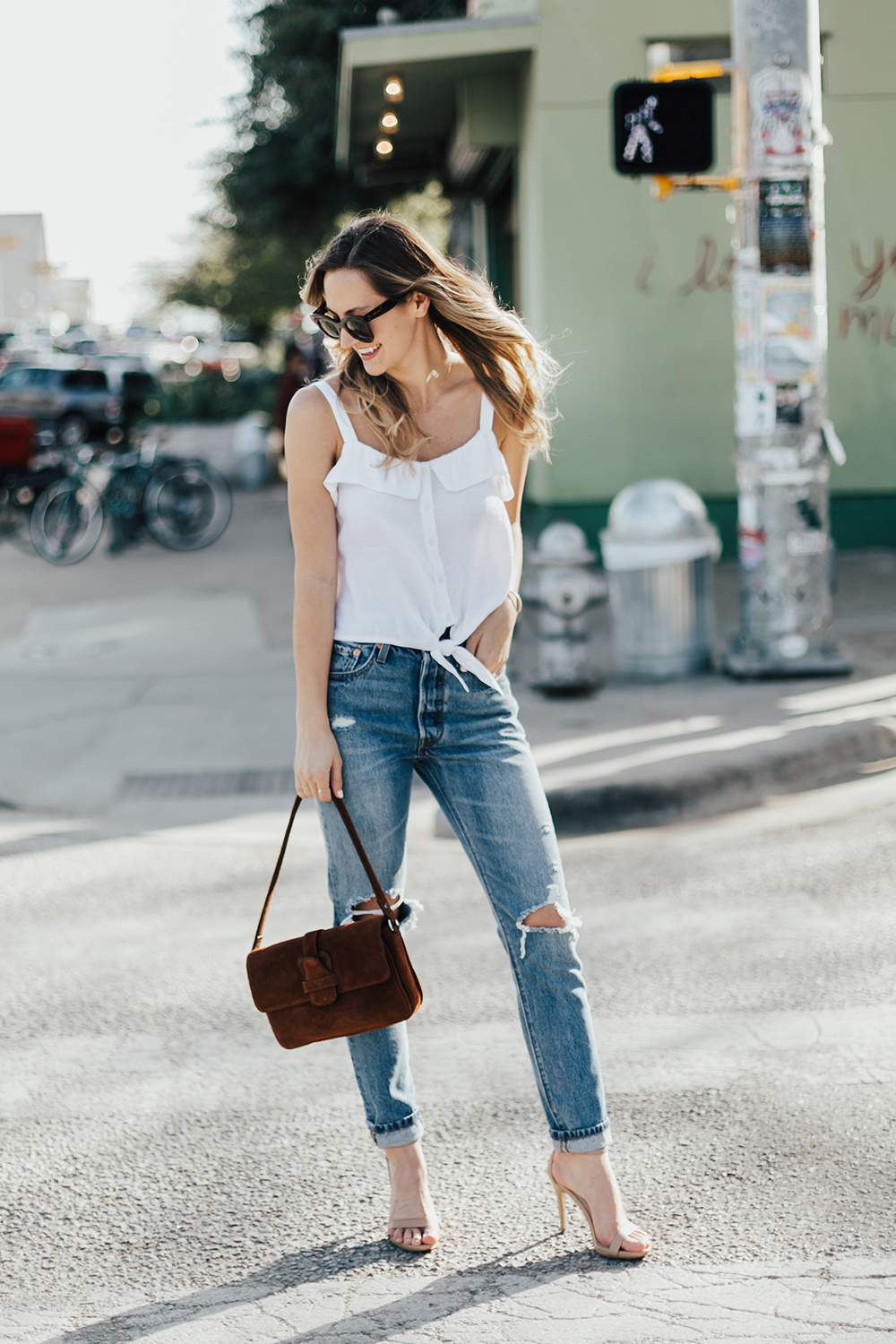 I wrote about this pair of jeans on my Instagram feed (…they're ranked in my top 3 favorite pairs of denim), and I had quite a few folks reach out that they were sold out in a lot of sizes where I linked them with LikeToKnow.It. However, I have great news! I did some online research and found them at Bloomingdales FULLY stocked – YAY! They fit TTS and if you roll them up at the ankles, look super cute with heels or flats! I'm 5'6 for height reference.
My top is by ASTR and I love the ruffle and tie-front details, it's such an adorable update to a classic white tank. I'm wearing size XS. I paired it with the prettiest suede bag from Banana Republic (sucker for their handbags…always so darling! Psst…this one is on SALE!) and the most perfect pair of nude heels. Seriously, I can't recommend these shoes enough…I've worn them SO much…weddings, casual with jeans, meetings…you name it, they're worth it! (Under $100!).
Alrighty gals, hope your week is going strong! My bestie Ben gets into town tonight, so I am in cleaning mode (…nothing like having guests to whip your booty into shape haha, ah!), then have some fun dinner plans. Tomorrow I turn 27 (seriously, WHERE has the time gone?!), so I'm looking forward to brunching with Ben as we celebrate our birthdays! …His was in November, but I'm such a hot mess that we never properly celebrated. I guess more mimosas are in store! 😉
**Photos by Brandon Hill Photography
top – ASTR / jeans – LEVIS / shoes – STEVE MADDEN / handbag – BANANA REPUBLIC (on sale!) / sunglasses – CELINE, similar LE SPECS