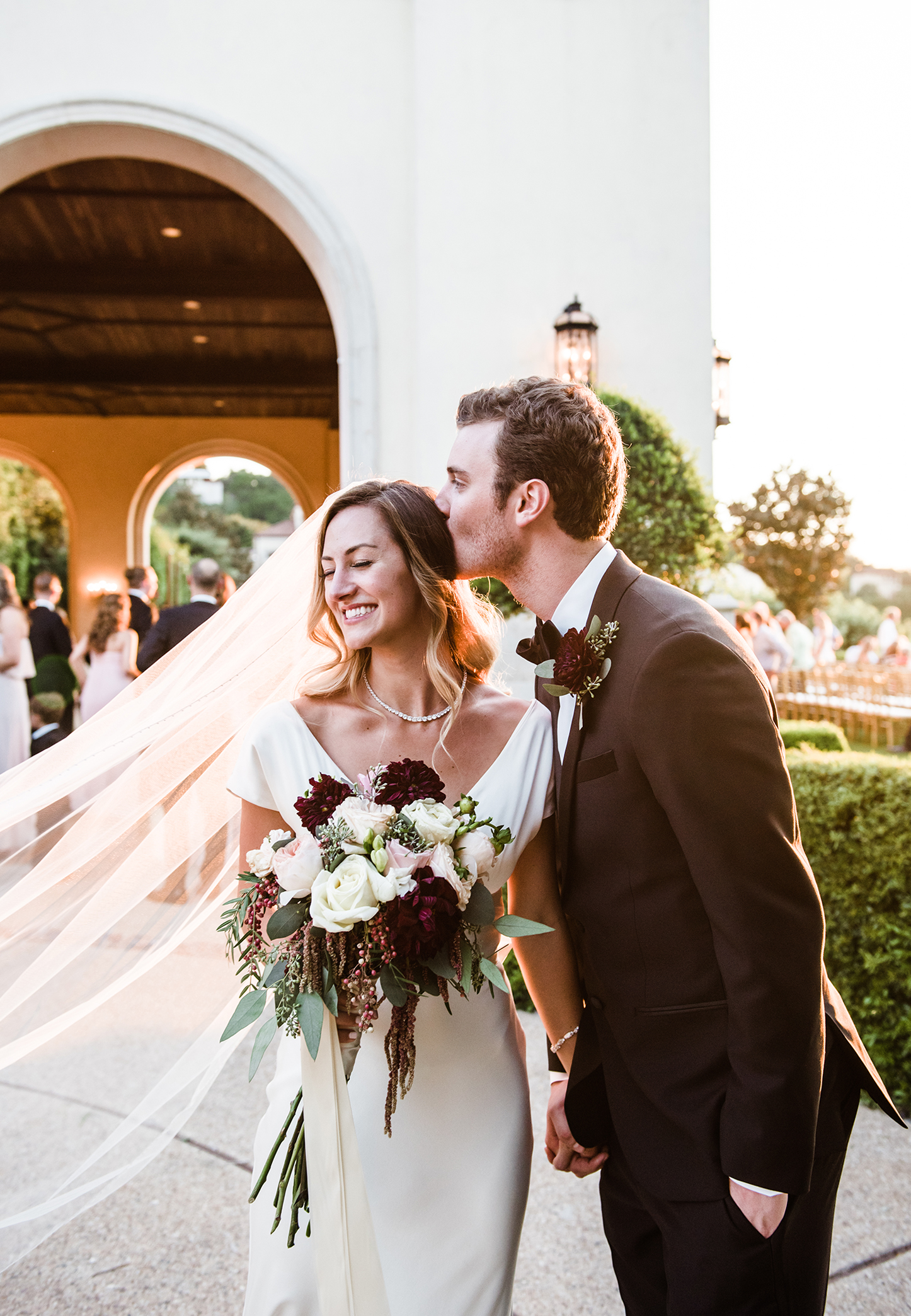 Ohh my heart! Going through photos to create this post really brought out so many emotions! I purposefully didn't wear makeup as I put this one together knowing I'd be a blubbery mess, ha! Excuse my delay in getting this post up, after a restful January, starting fresh in February just felt like the right time to share our wedding photos! Psst… you can also find our wedding reveal post on Style Me Pretty! It has been such an incredible treat to be a Blogger Bride for SMP and I hope I was able to provide some helpful planning tips and inspiration to current and future bride-to-be's!
Blake and I have been hitched for four months now and life could not be any sweeter. I truly love him more each day and we have grown closer than ever…it really feels right that we are "husband" and "wife" – I don't think there are any words more suitable for the bond we have. When people ask us if it feels different to be married, I always say yes, but that it's tough to describe. It's a comfort level unlike before, knowing you've got a best friend for life and someone who loves you equally, forever.
There's no one I adore or cherish more than that man above. Blake, my darling, you are my world and my heart and I am forever grateful that you chose me. What an honor it is to be your wife. Cheers to our many wonderful years ahead, and to building a life filled with so much love.
**Photos by Laura Morsman Photography
I am beyond thrilled to finally share our wedding photos with y'all and shed some background on the aesthetic and inspiration behind it! I'll be spilling the details about all of our vendors at the end of this post, too (in case you need some bridesmaid dress assistance or Austin vendor recommendations!). So…without further ado…!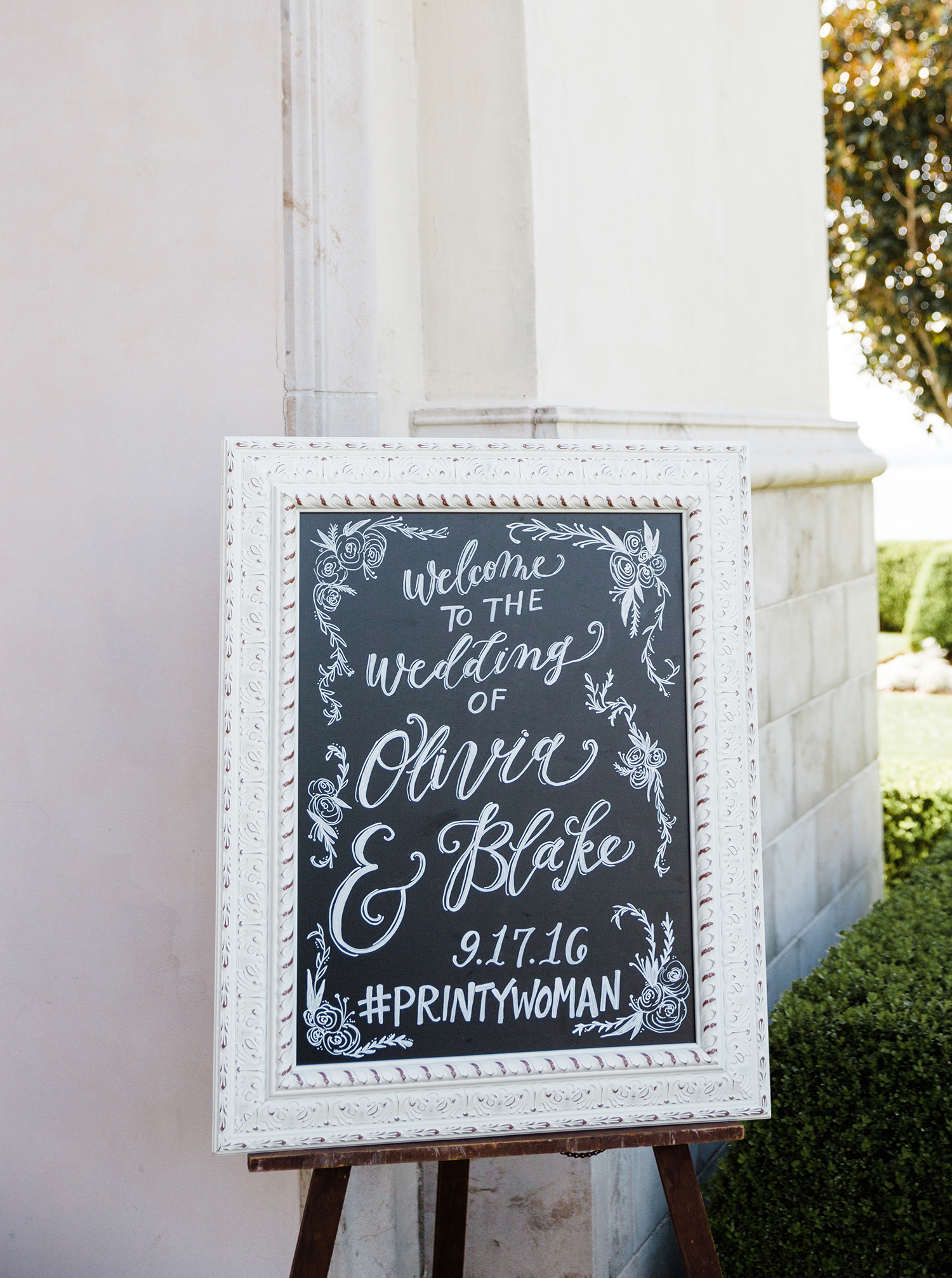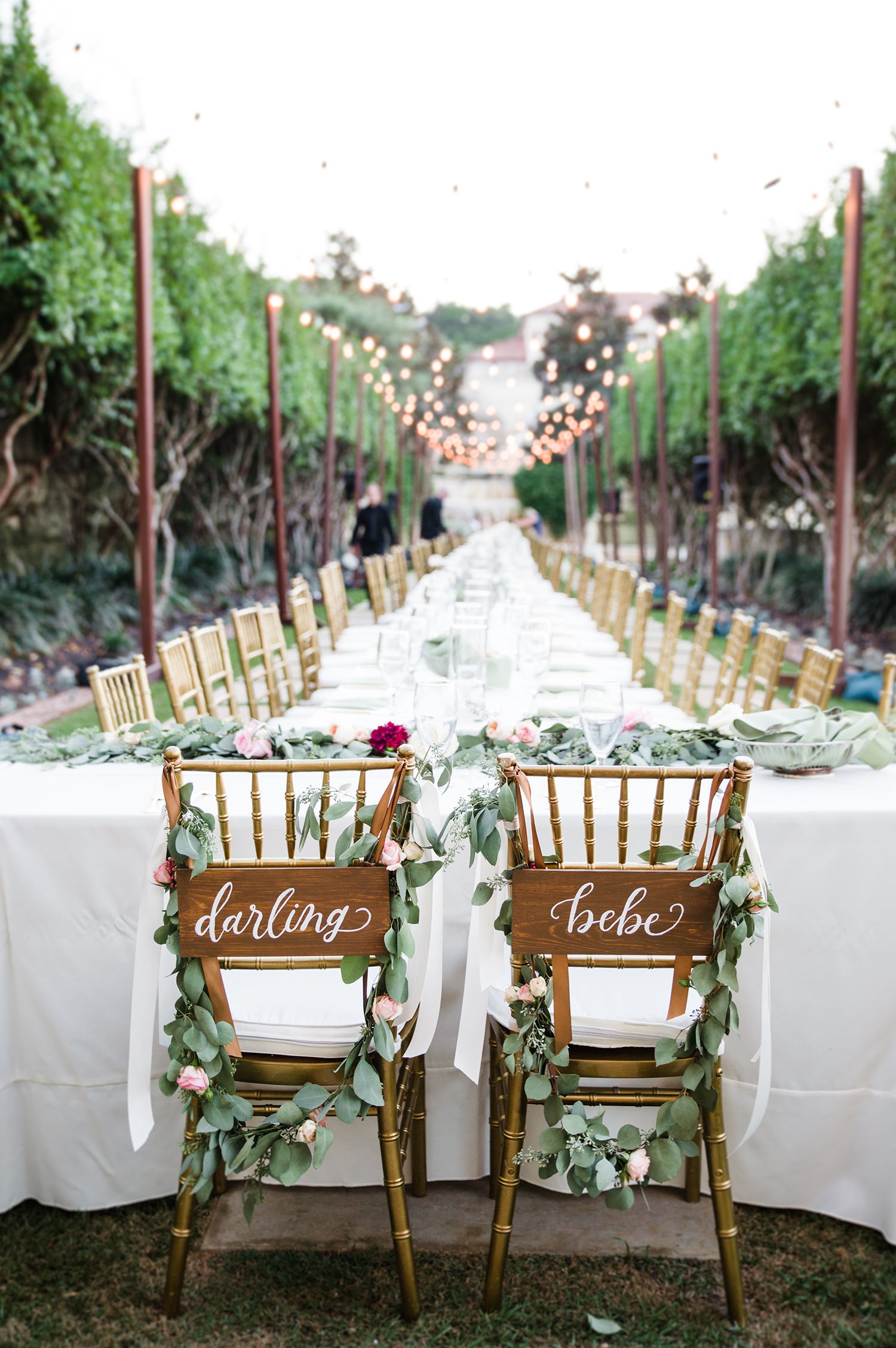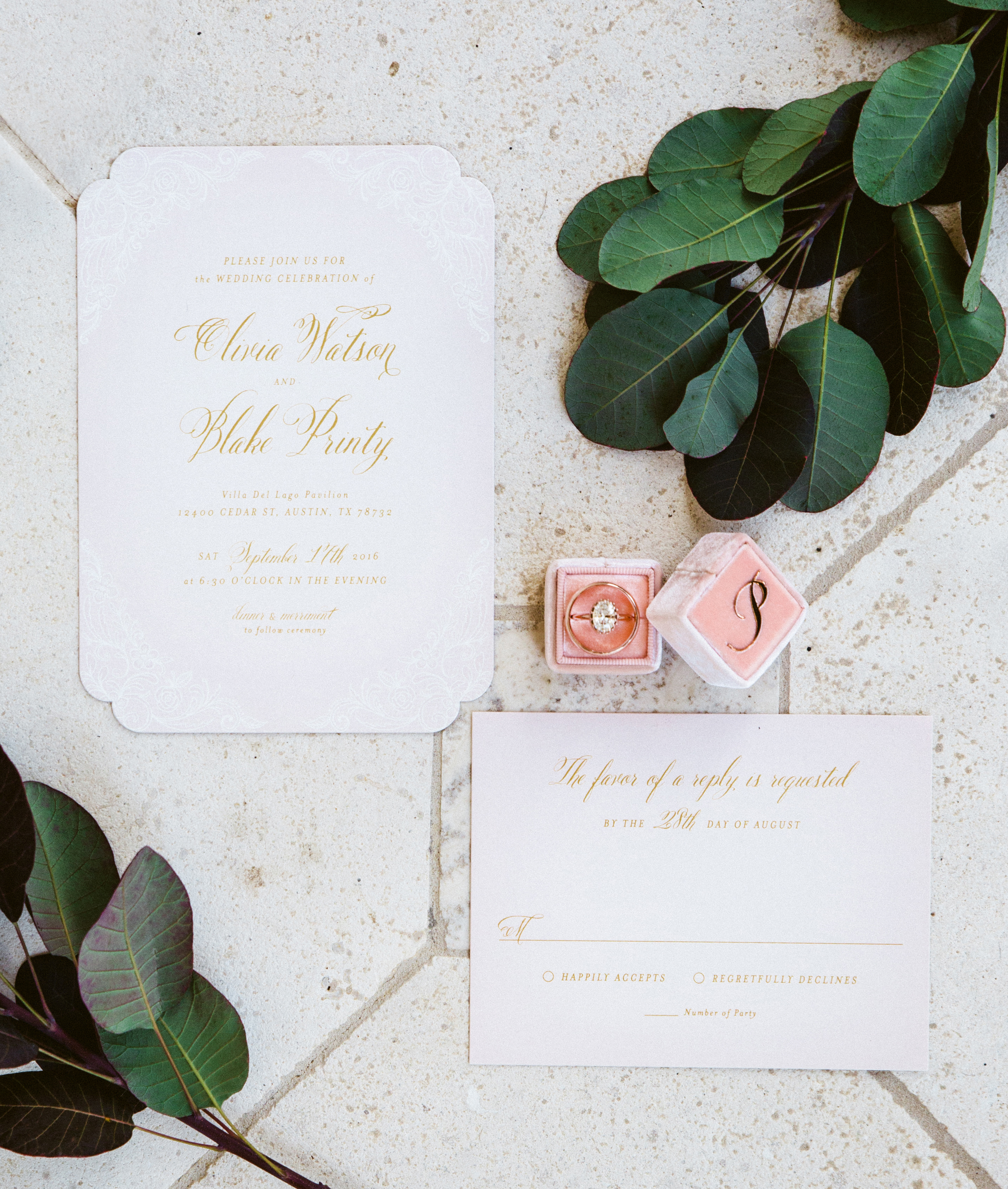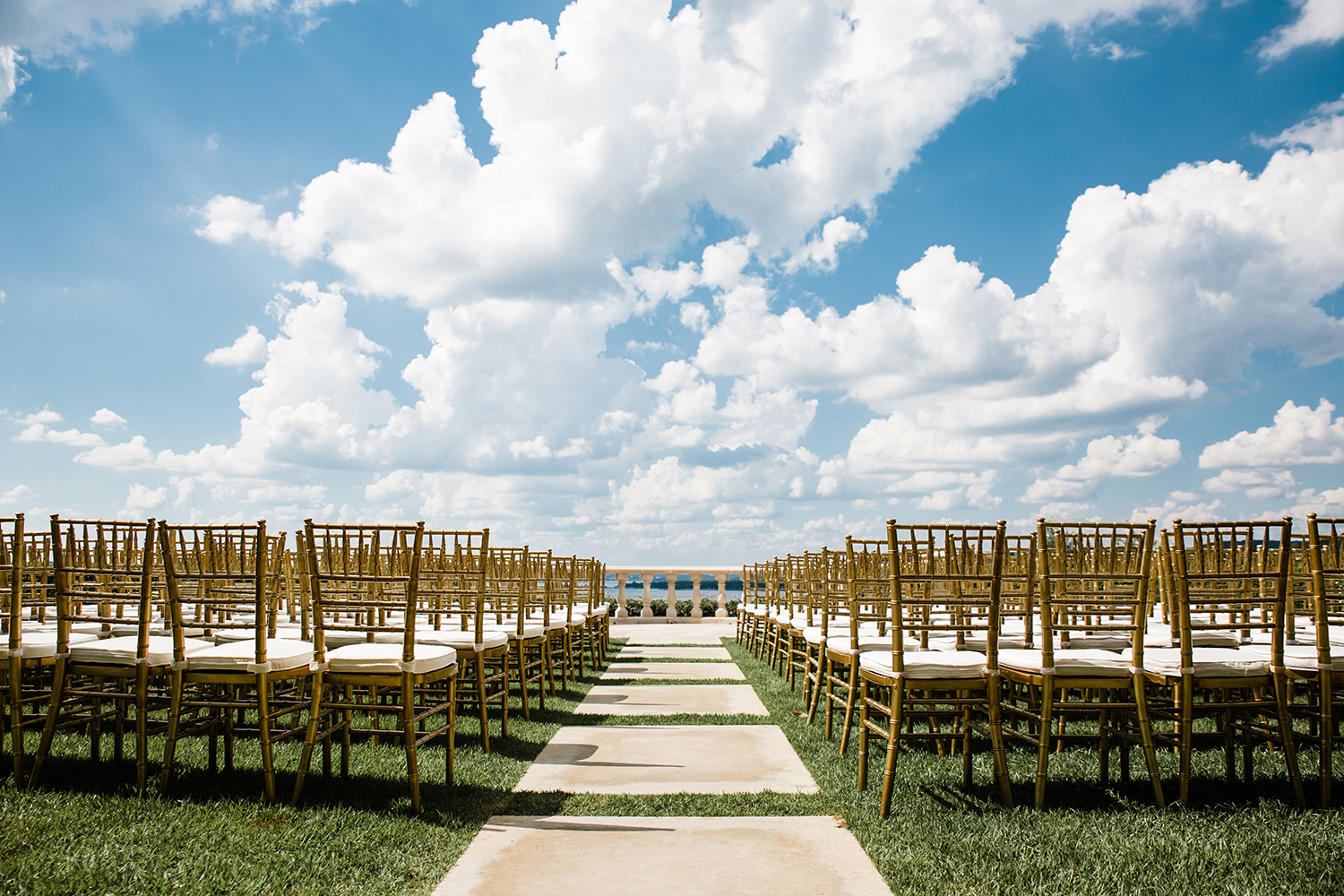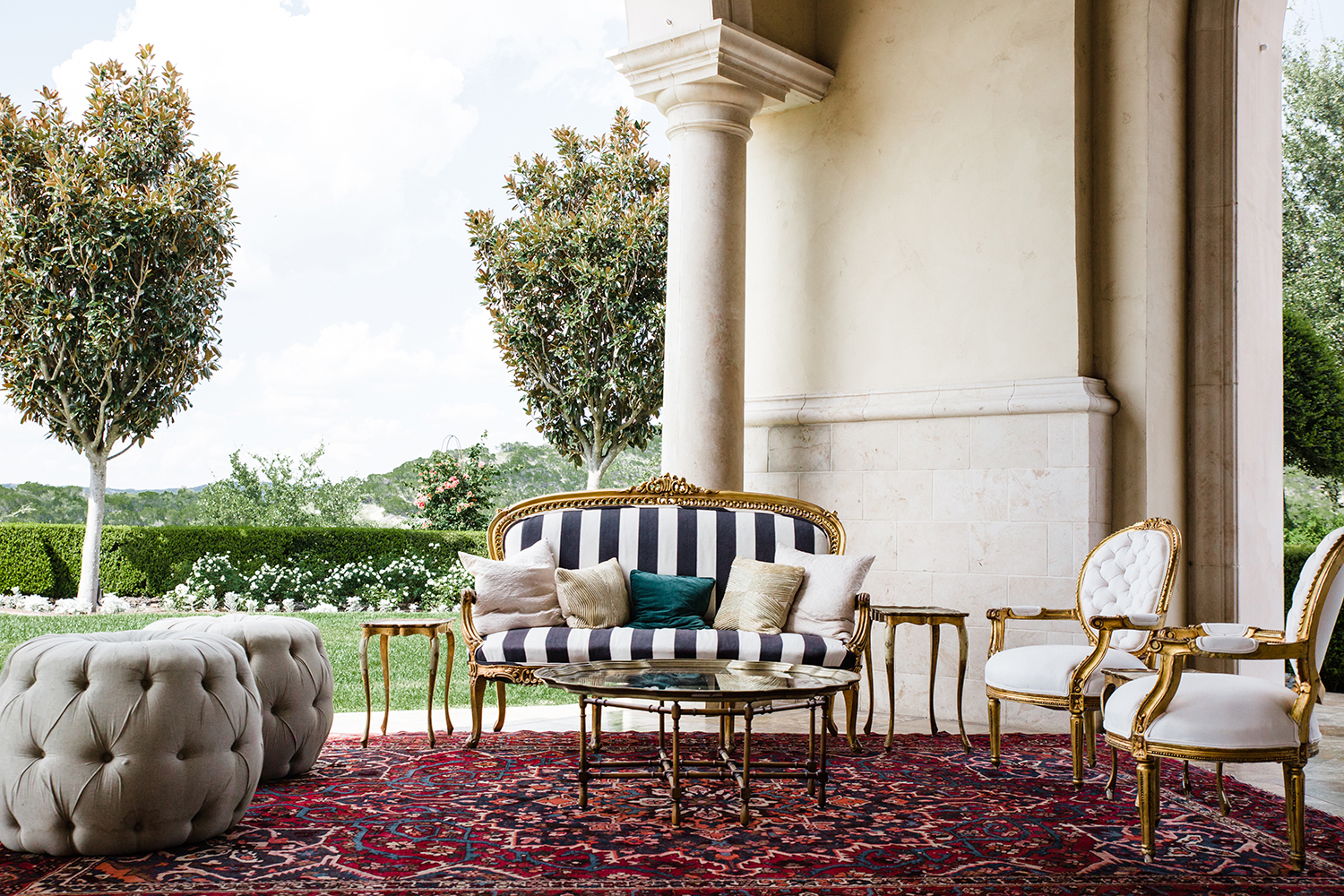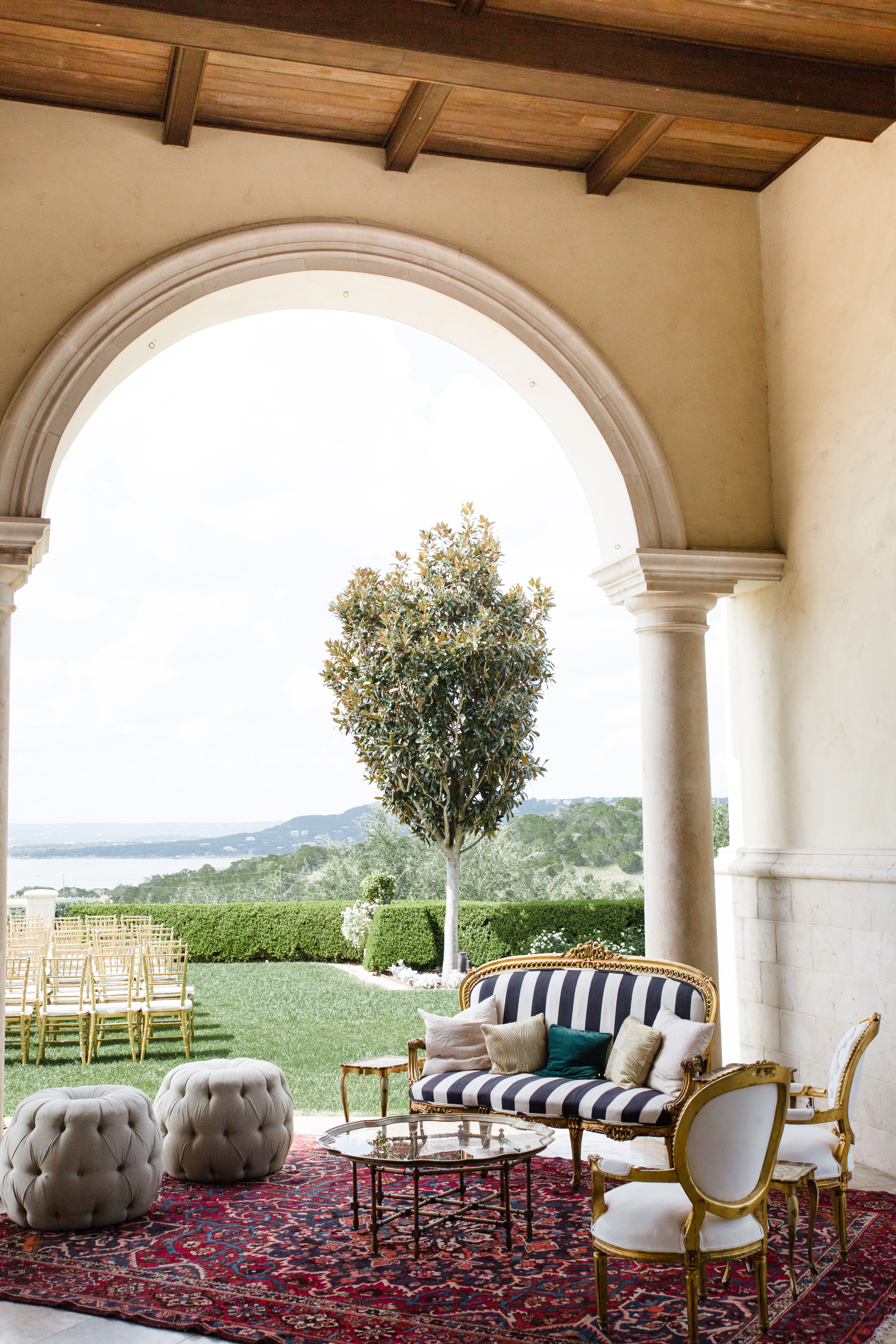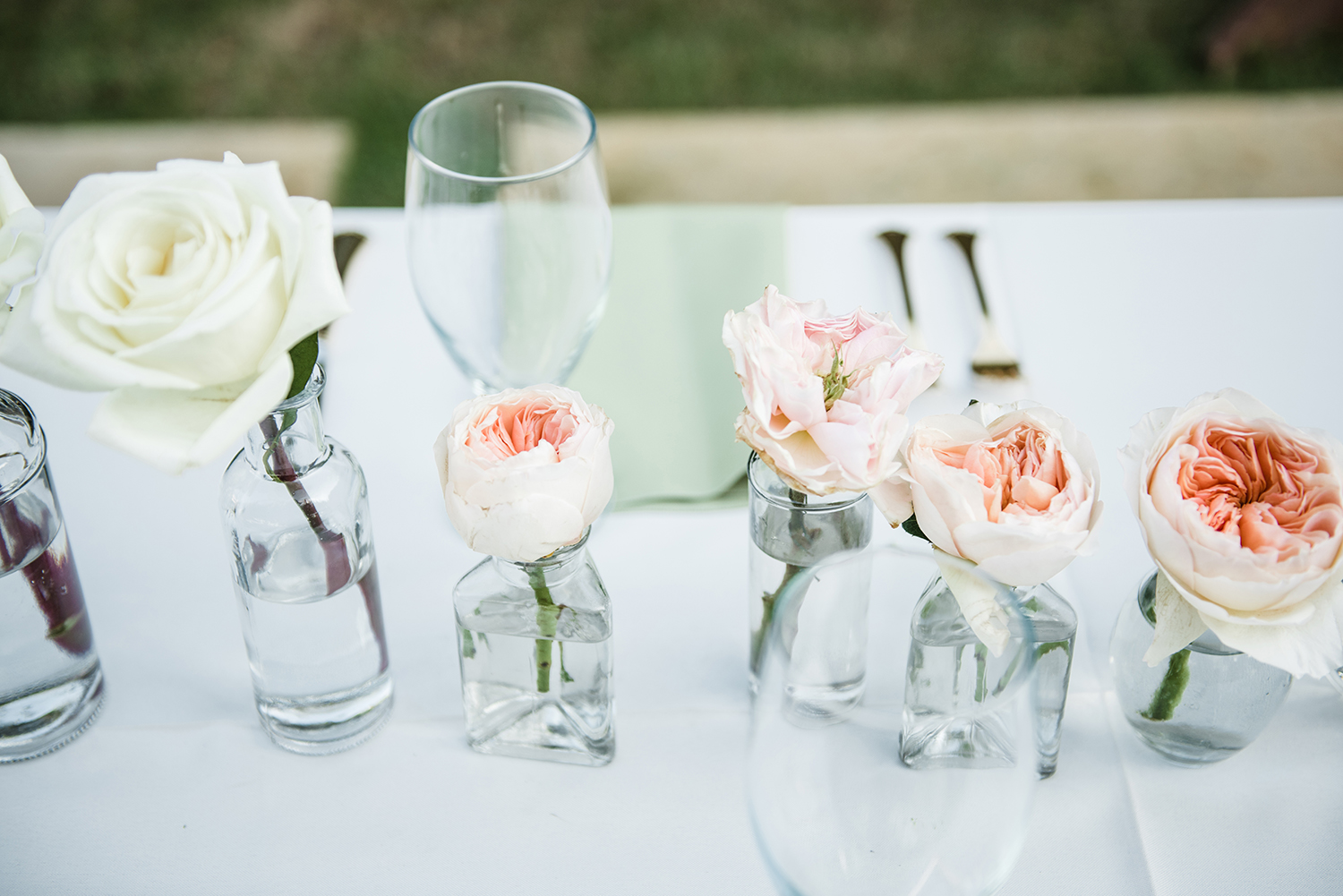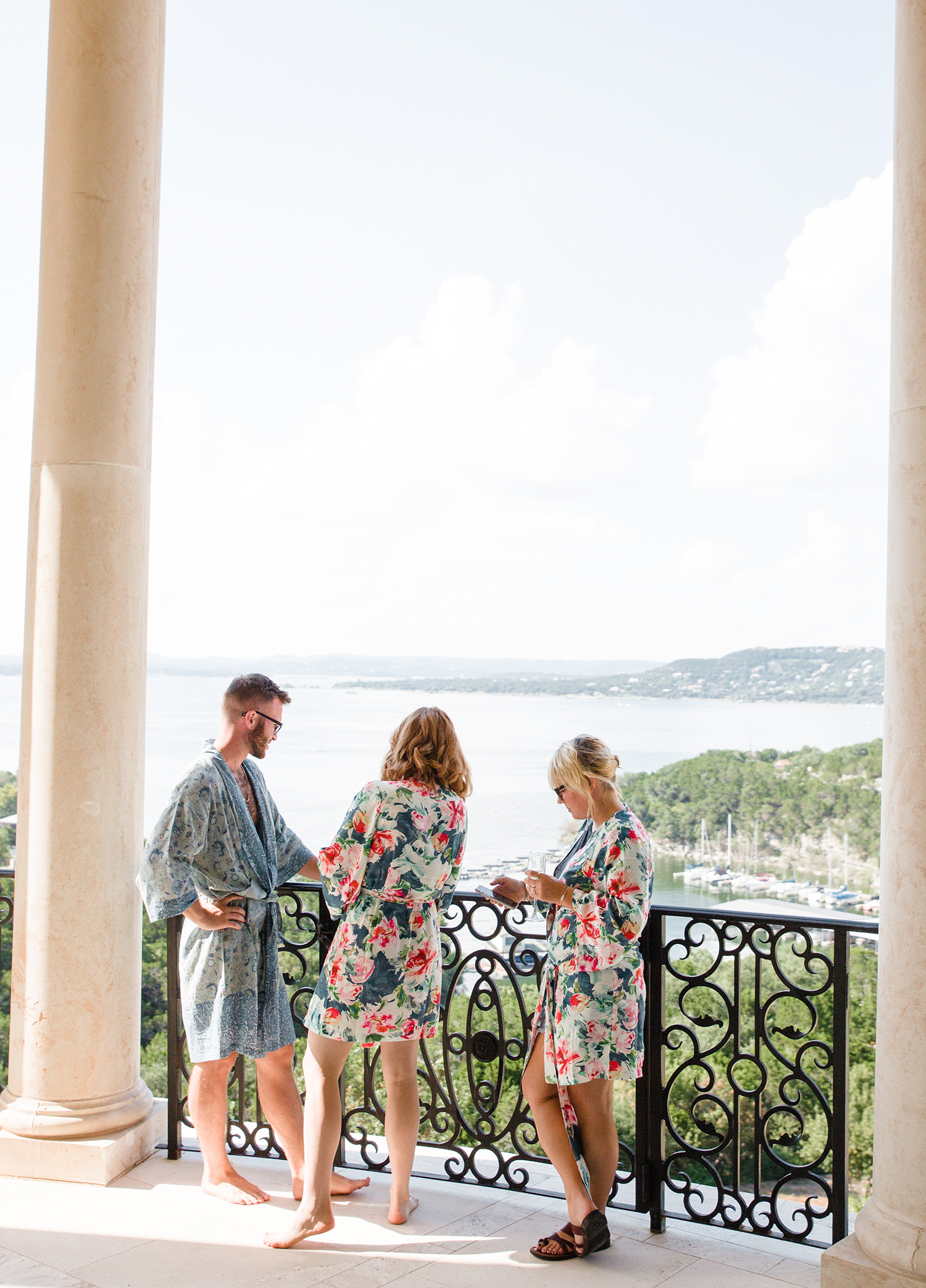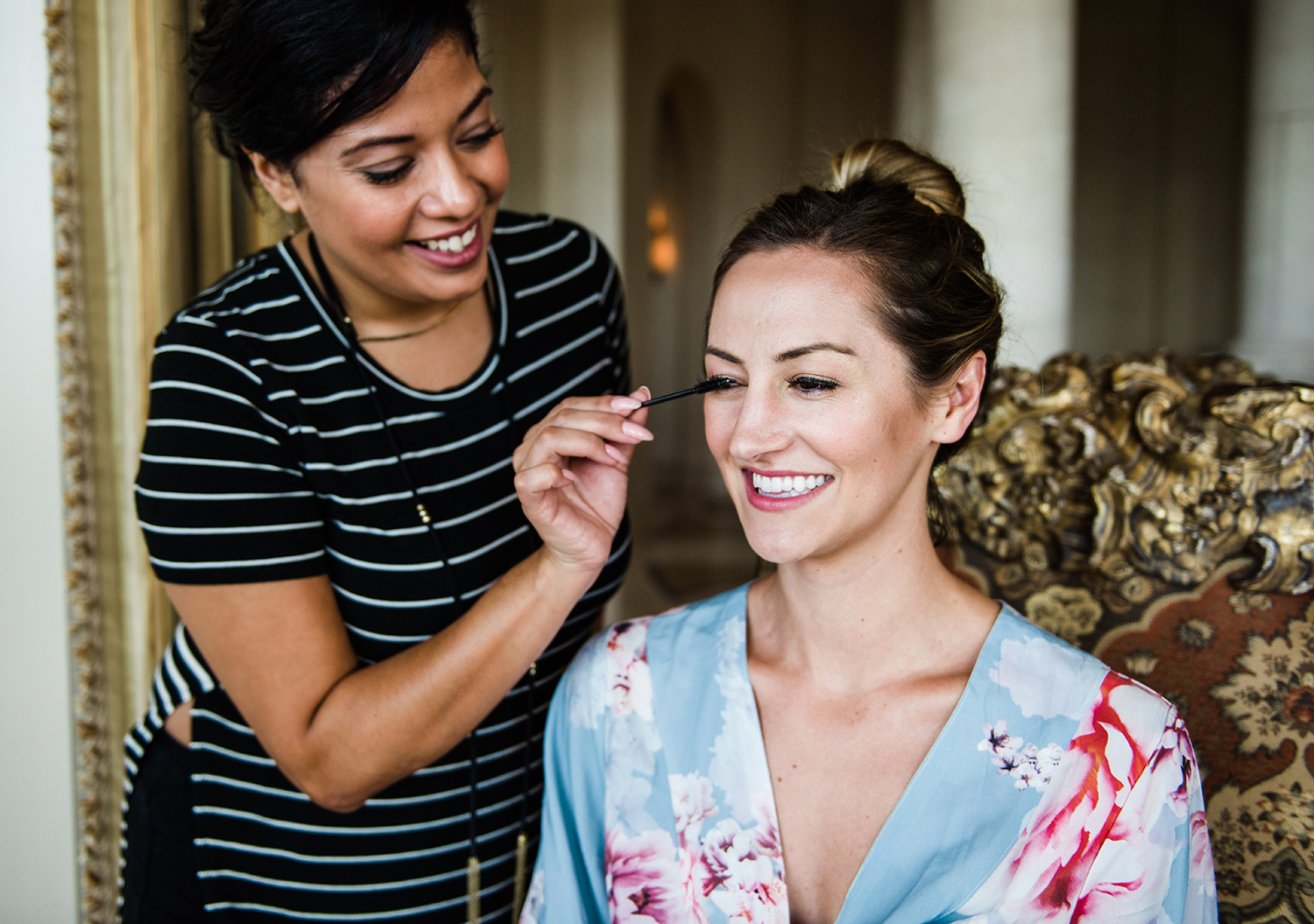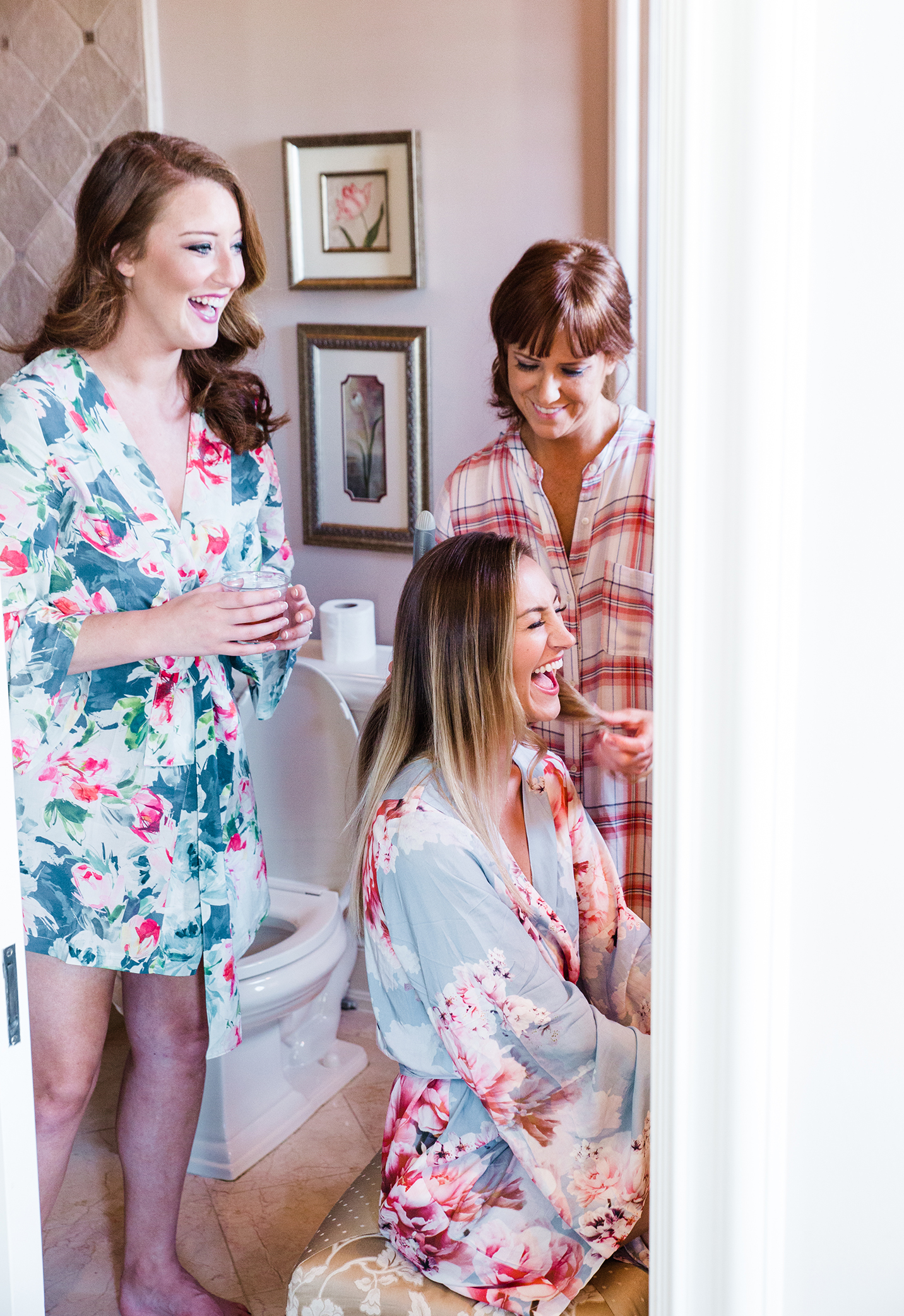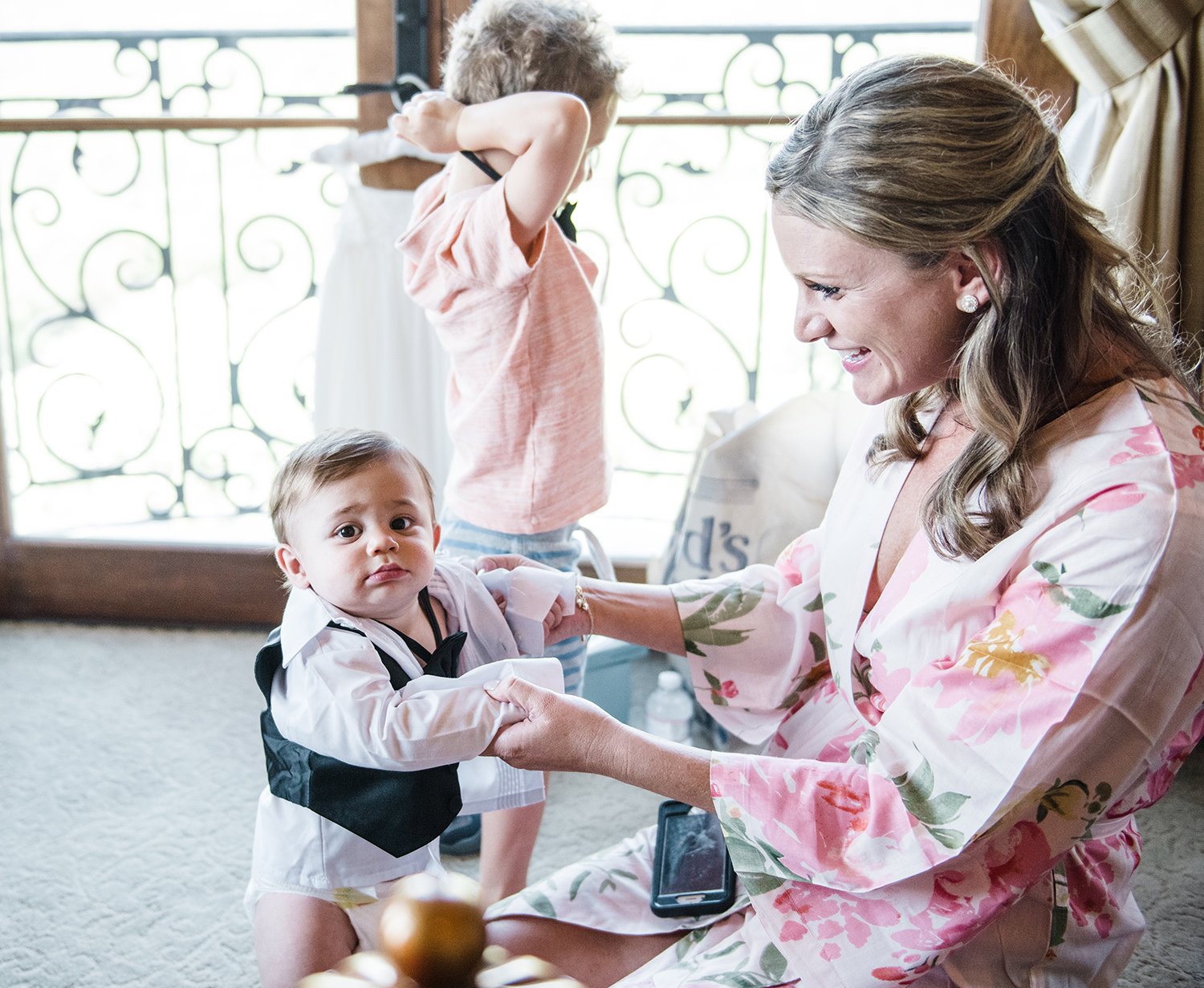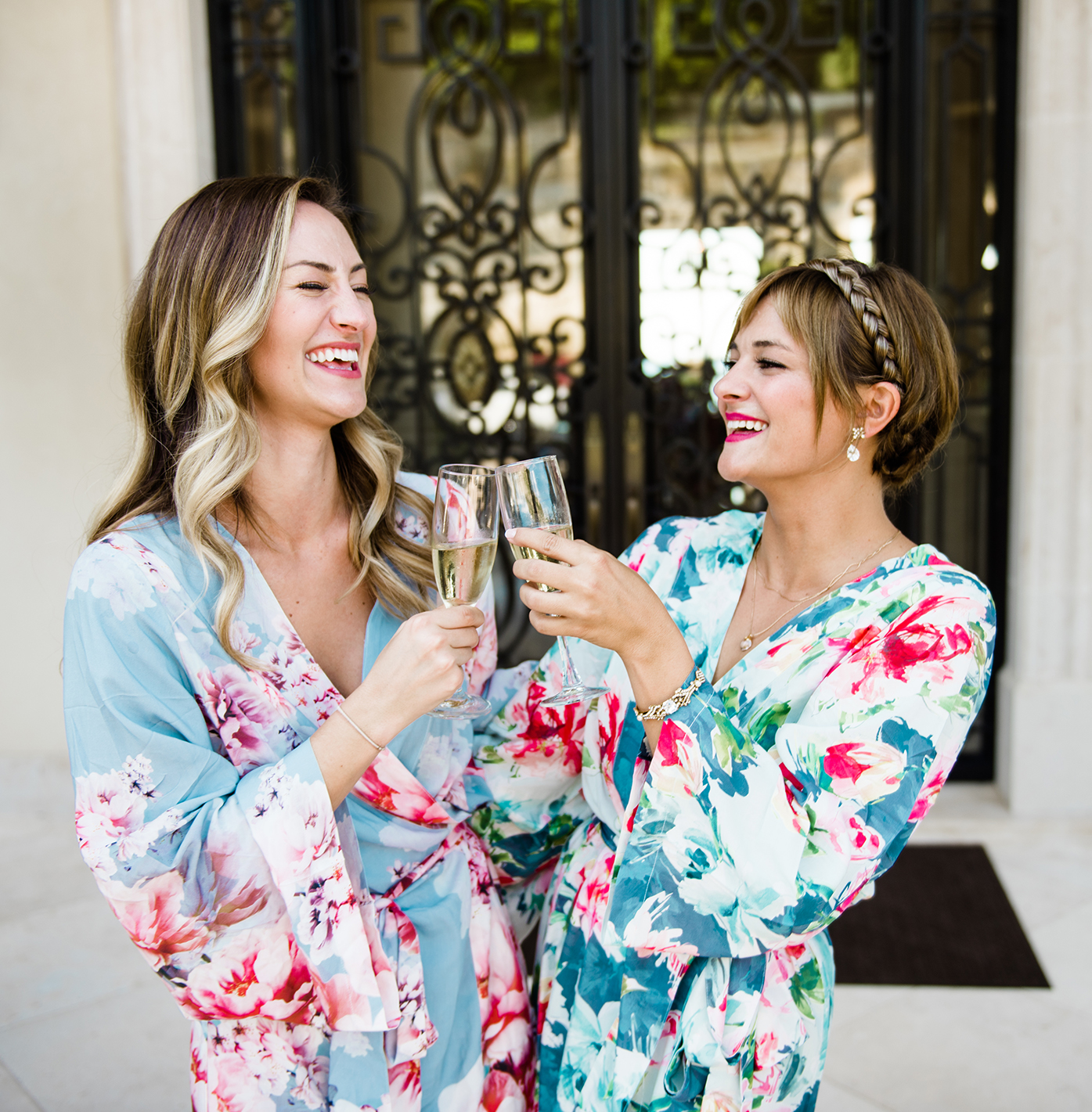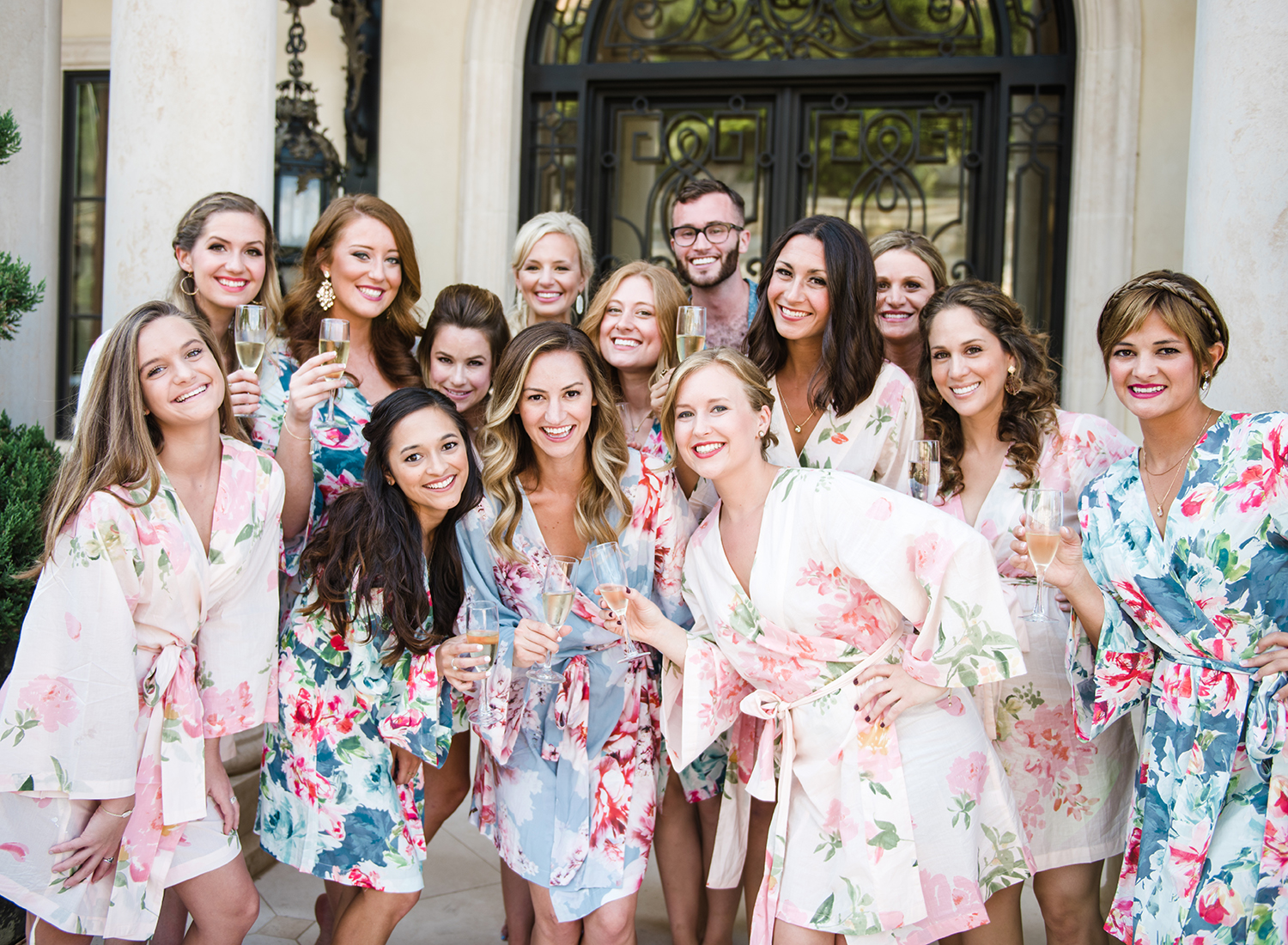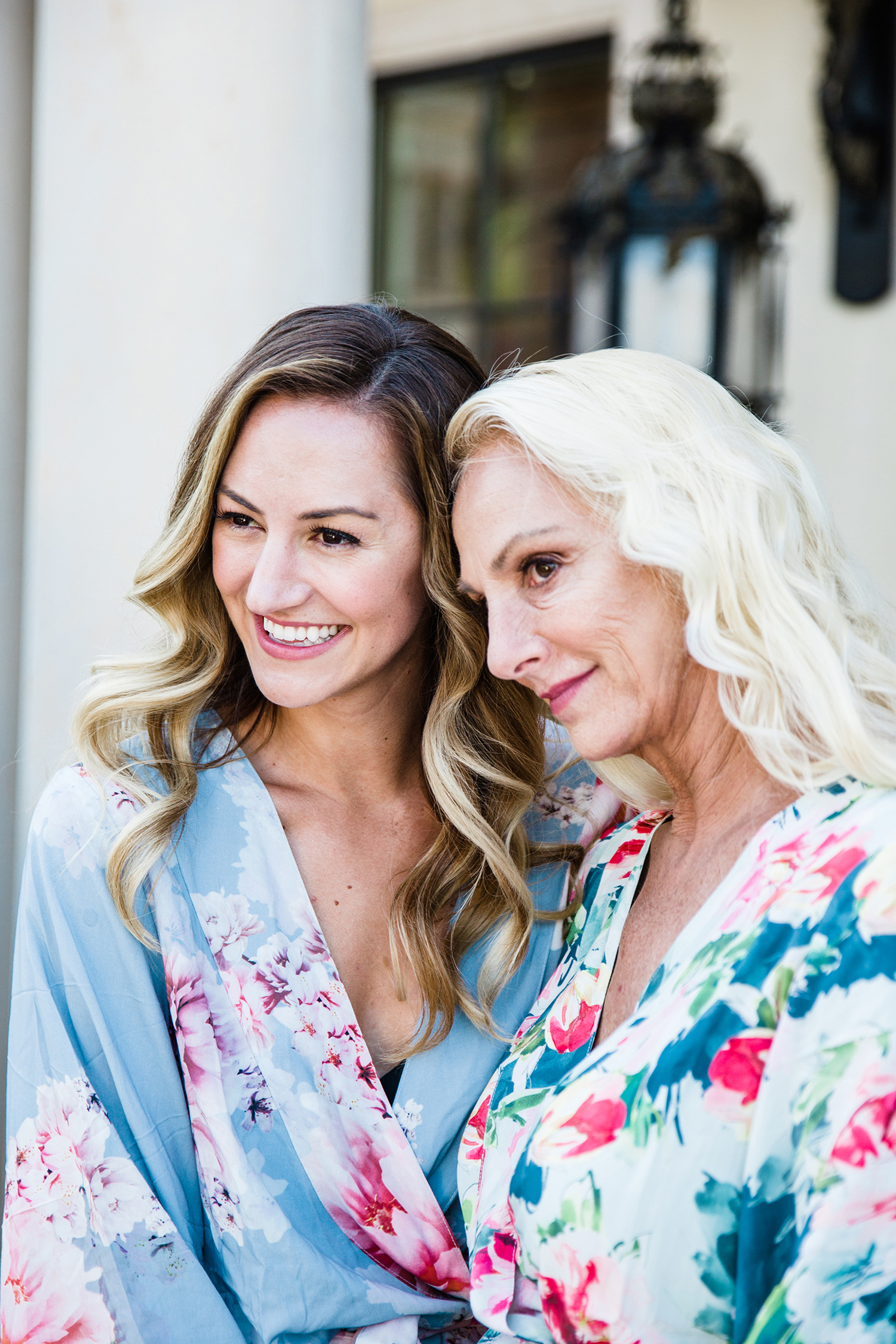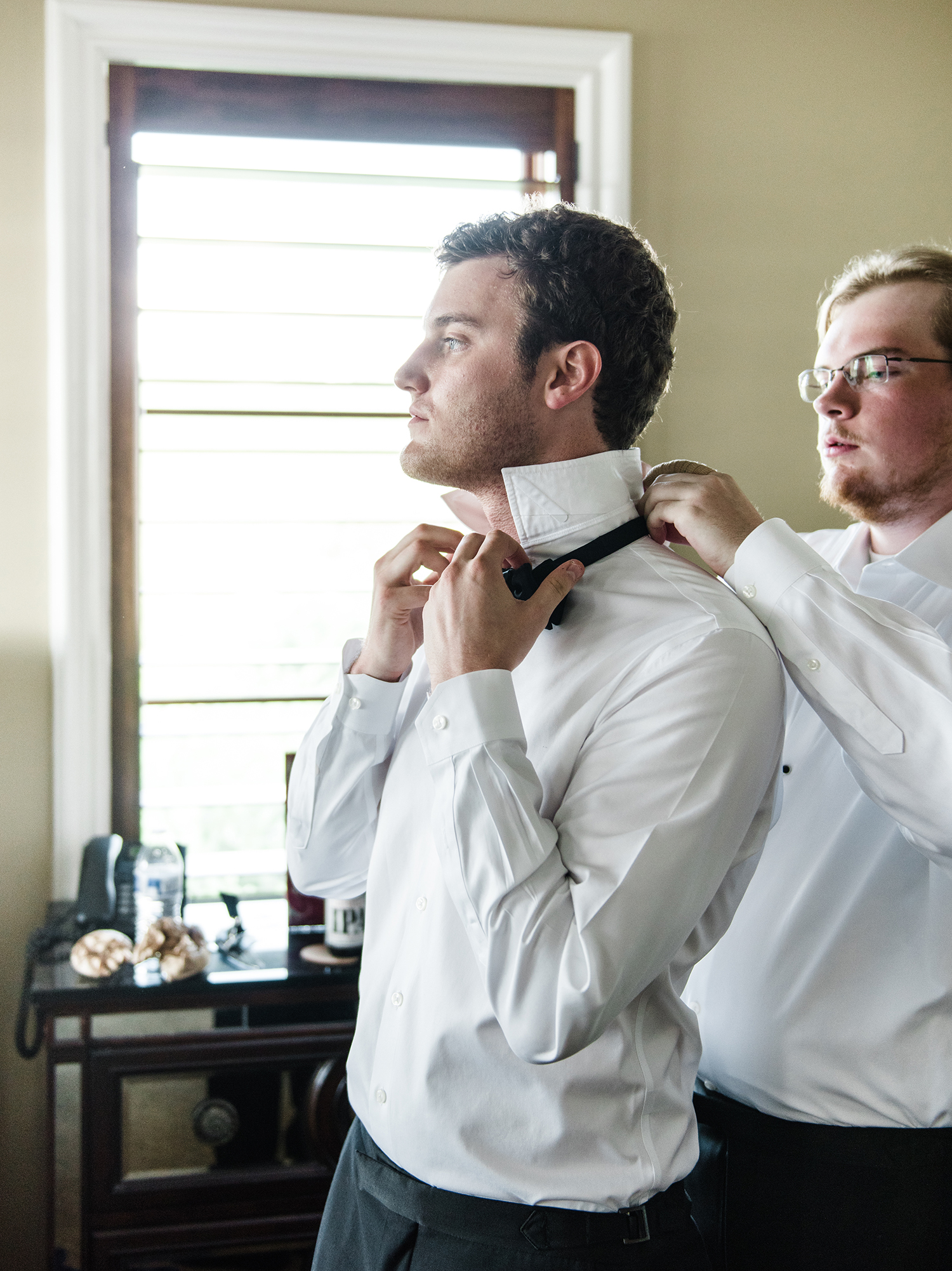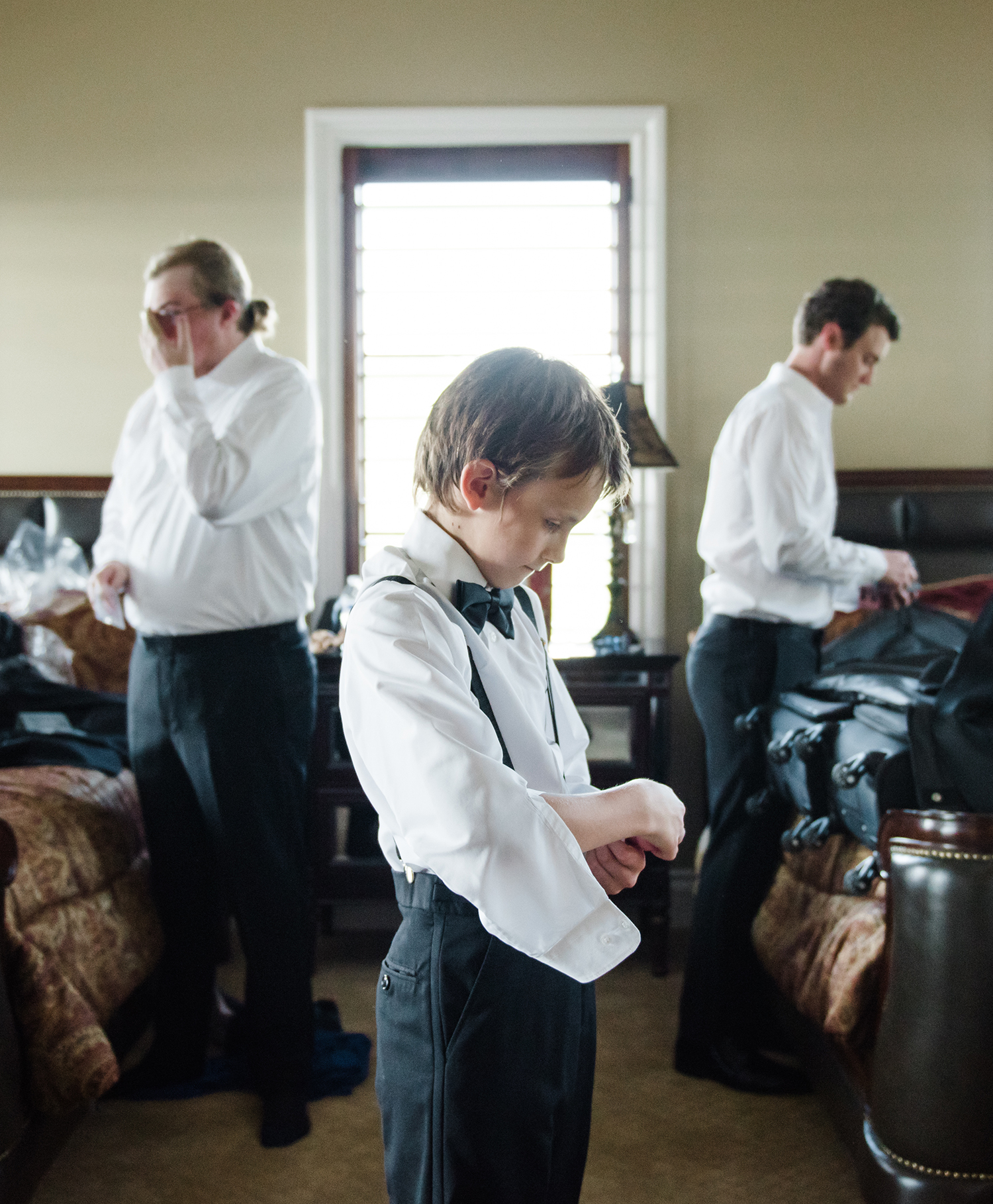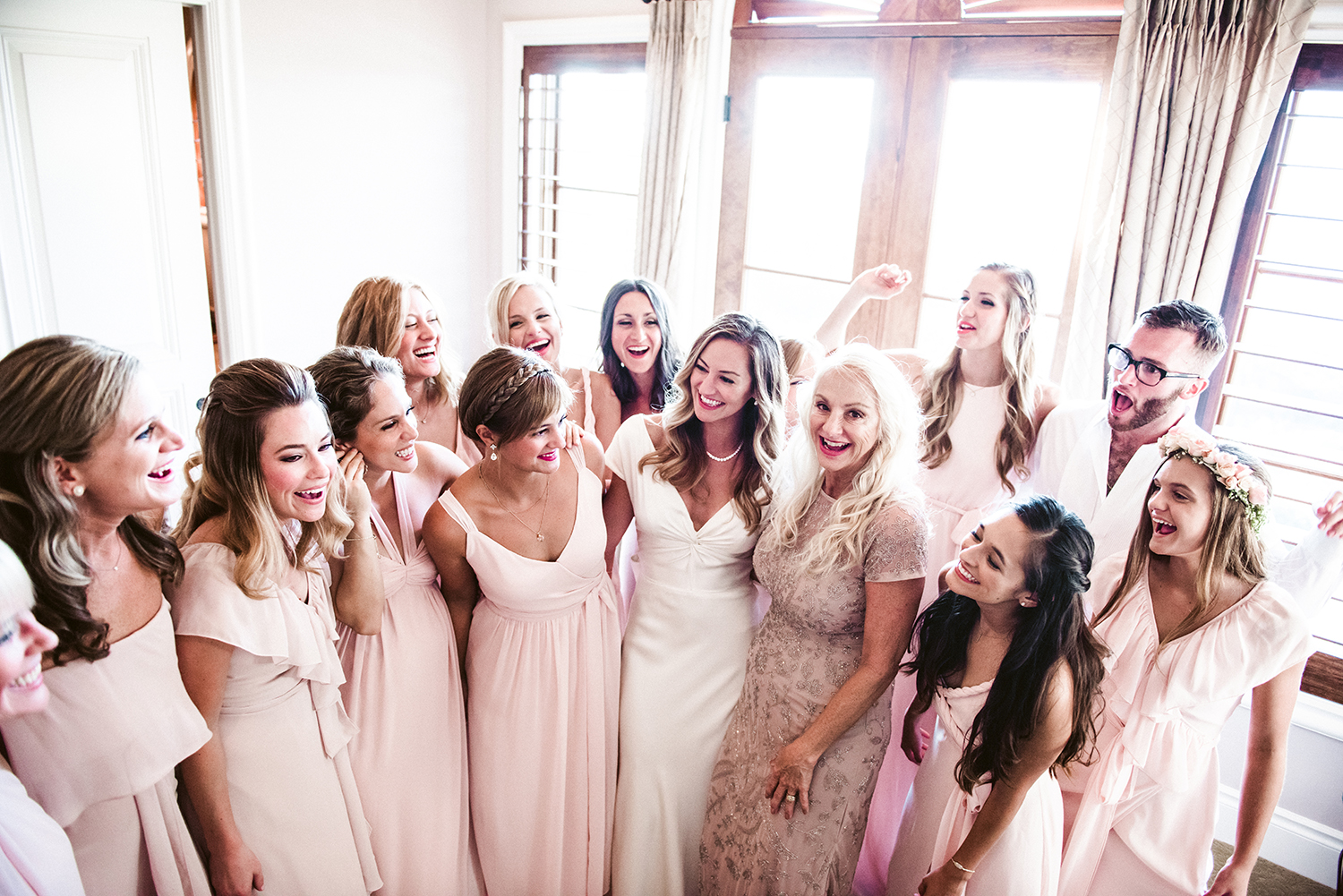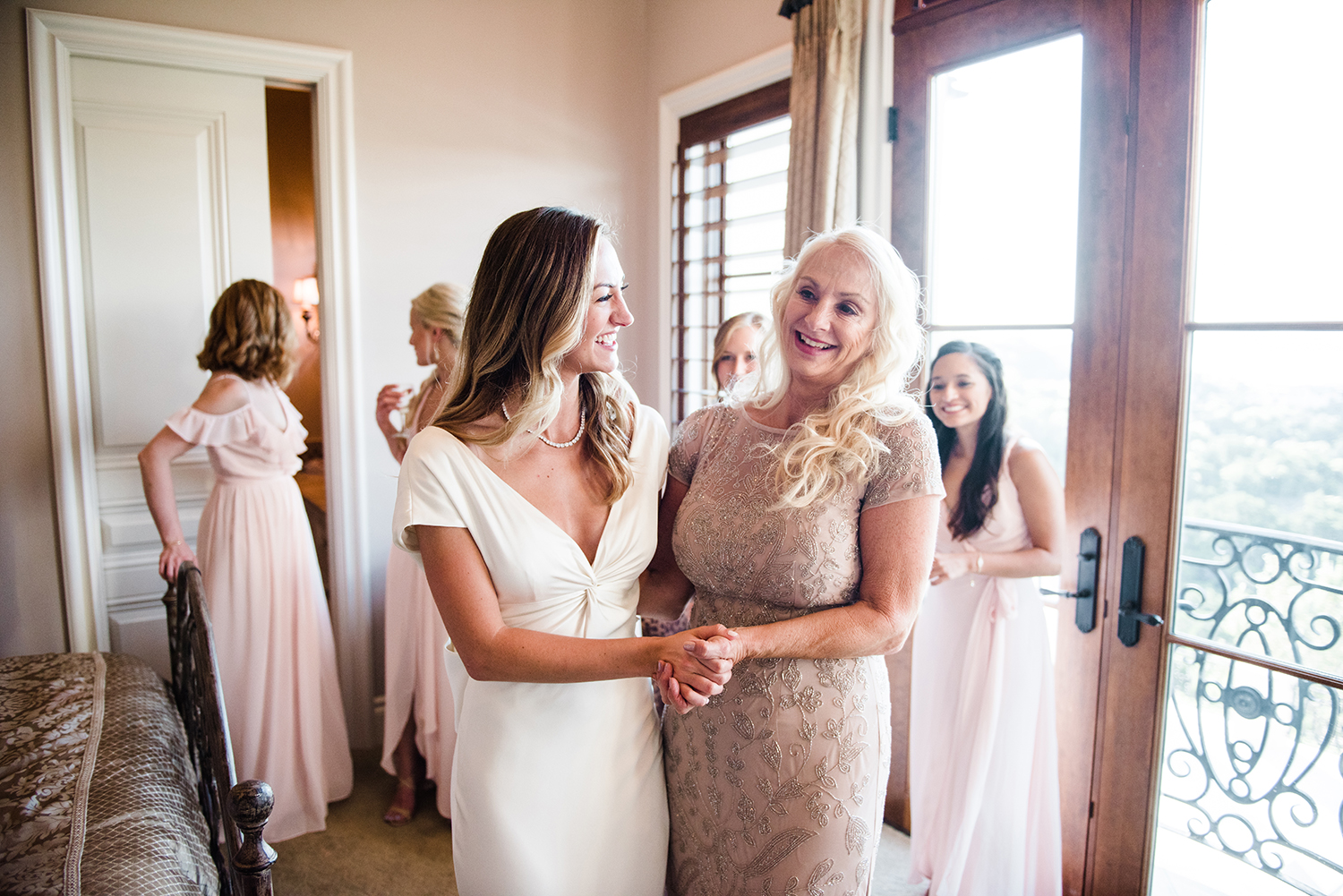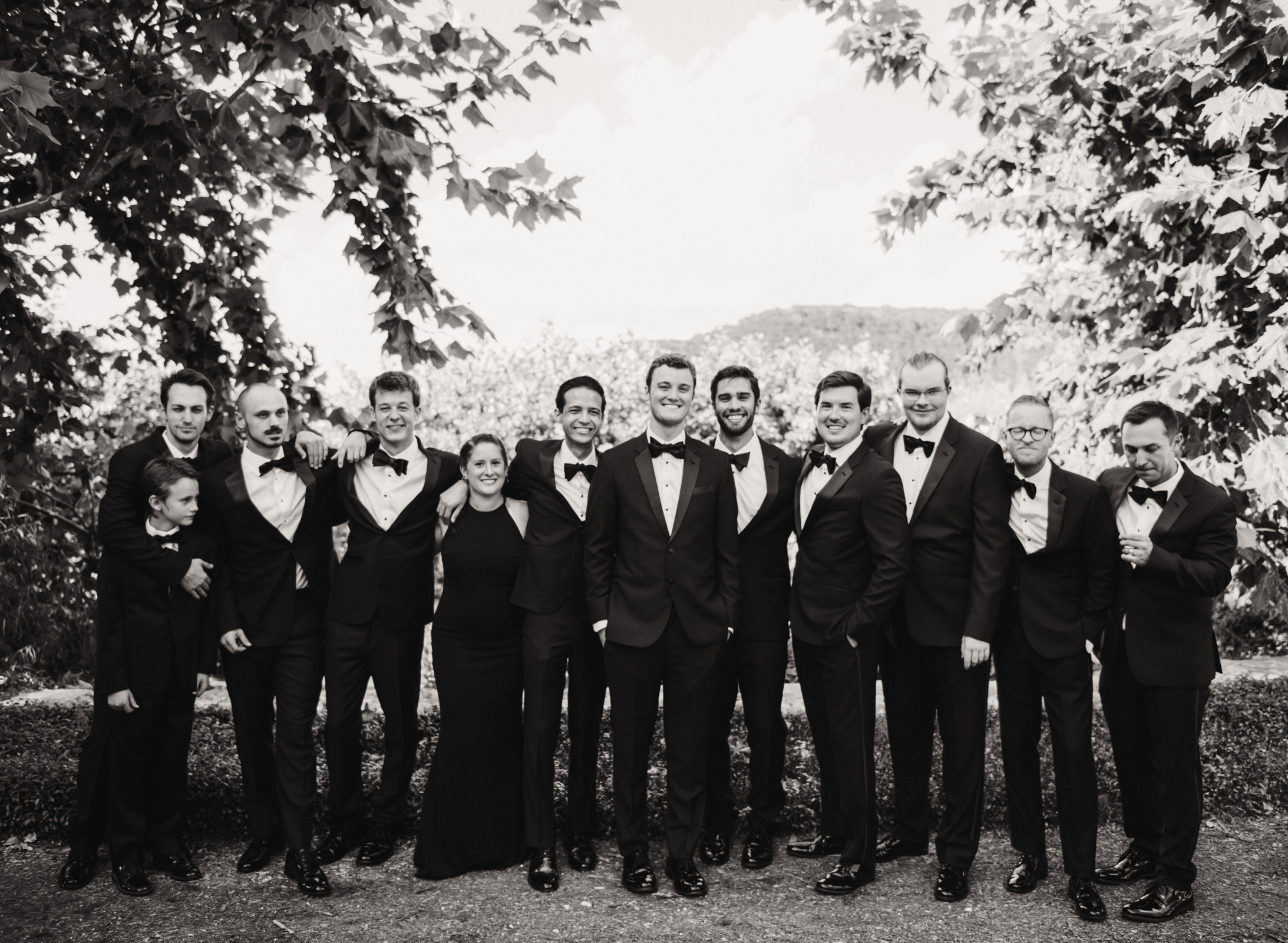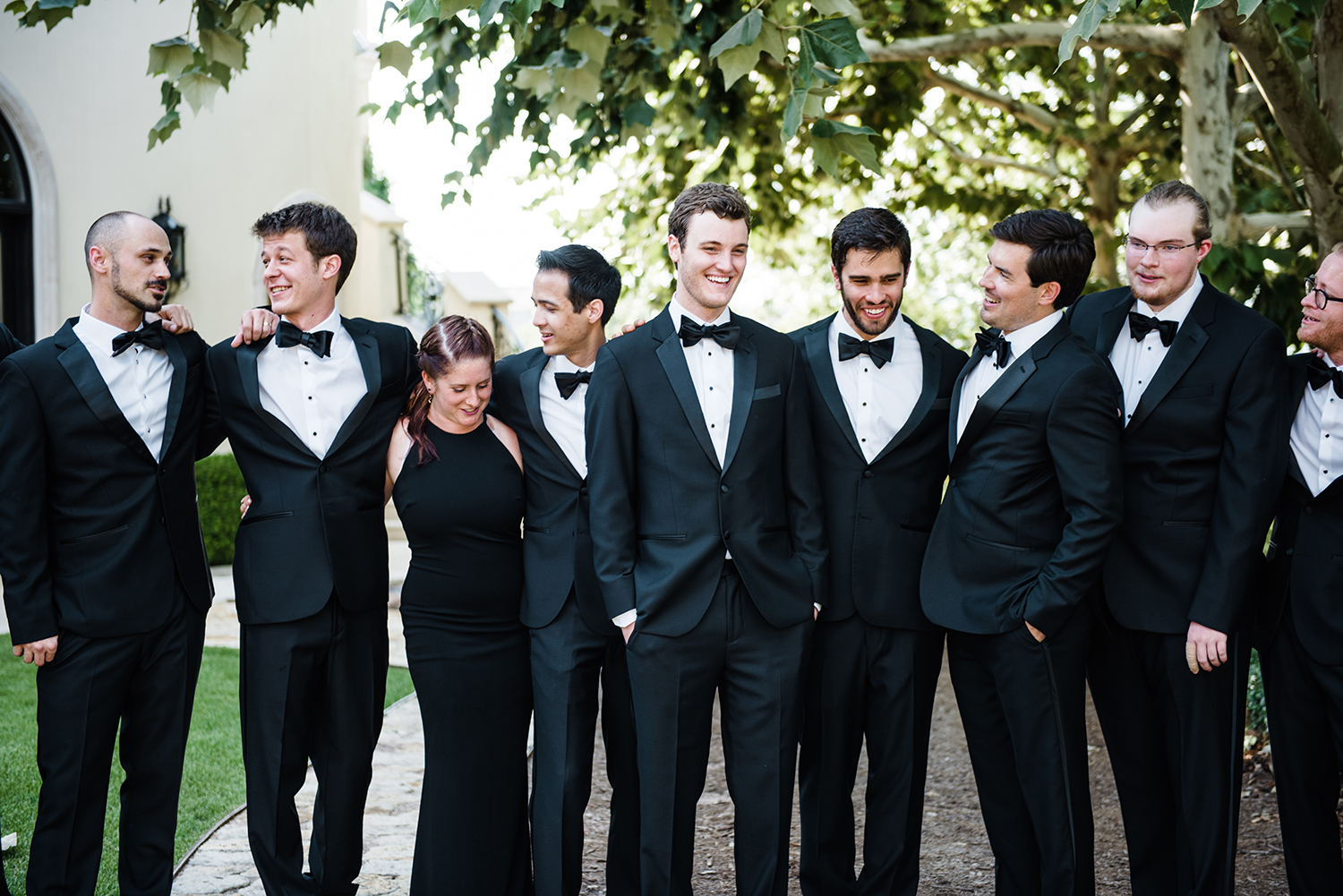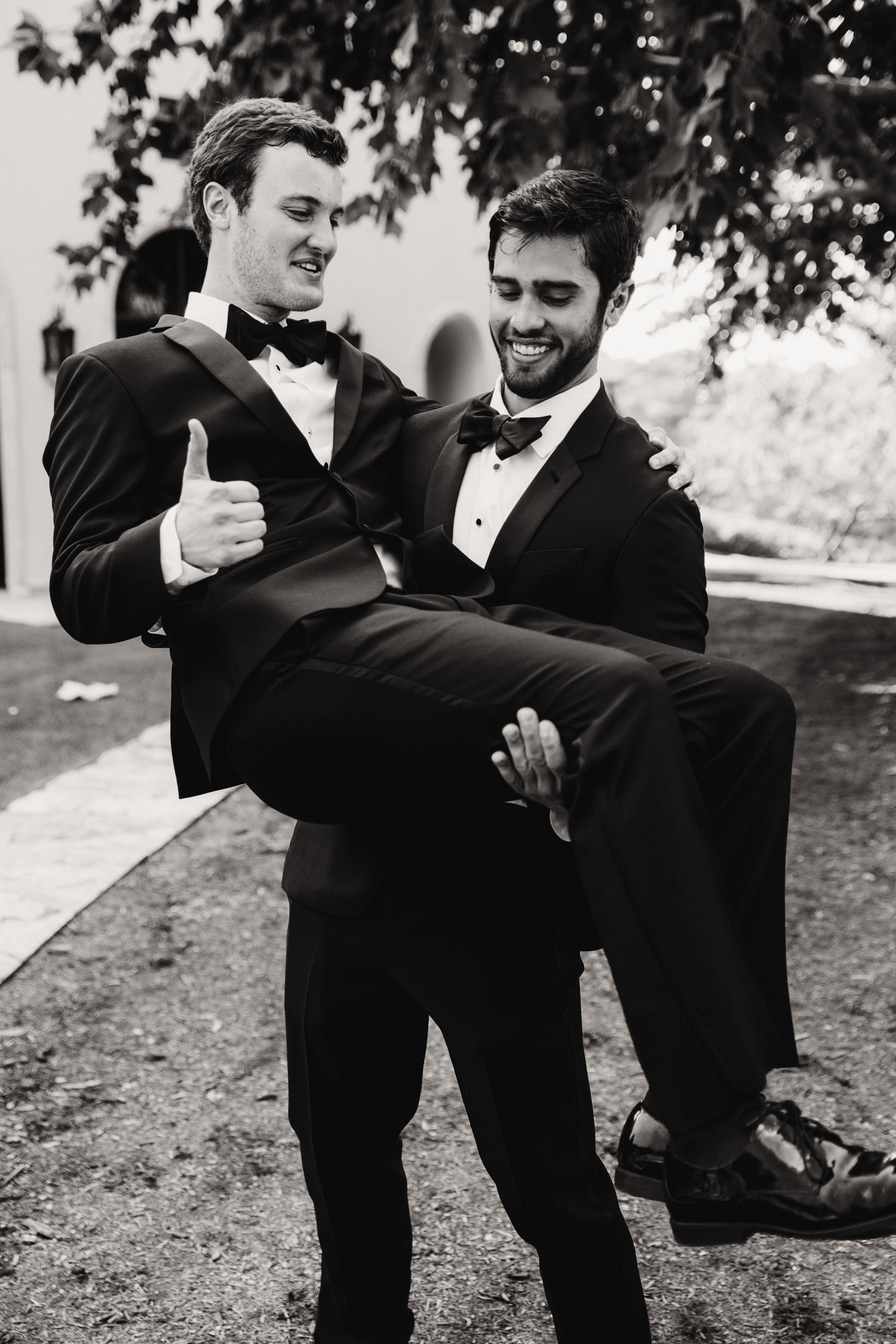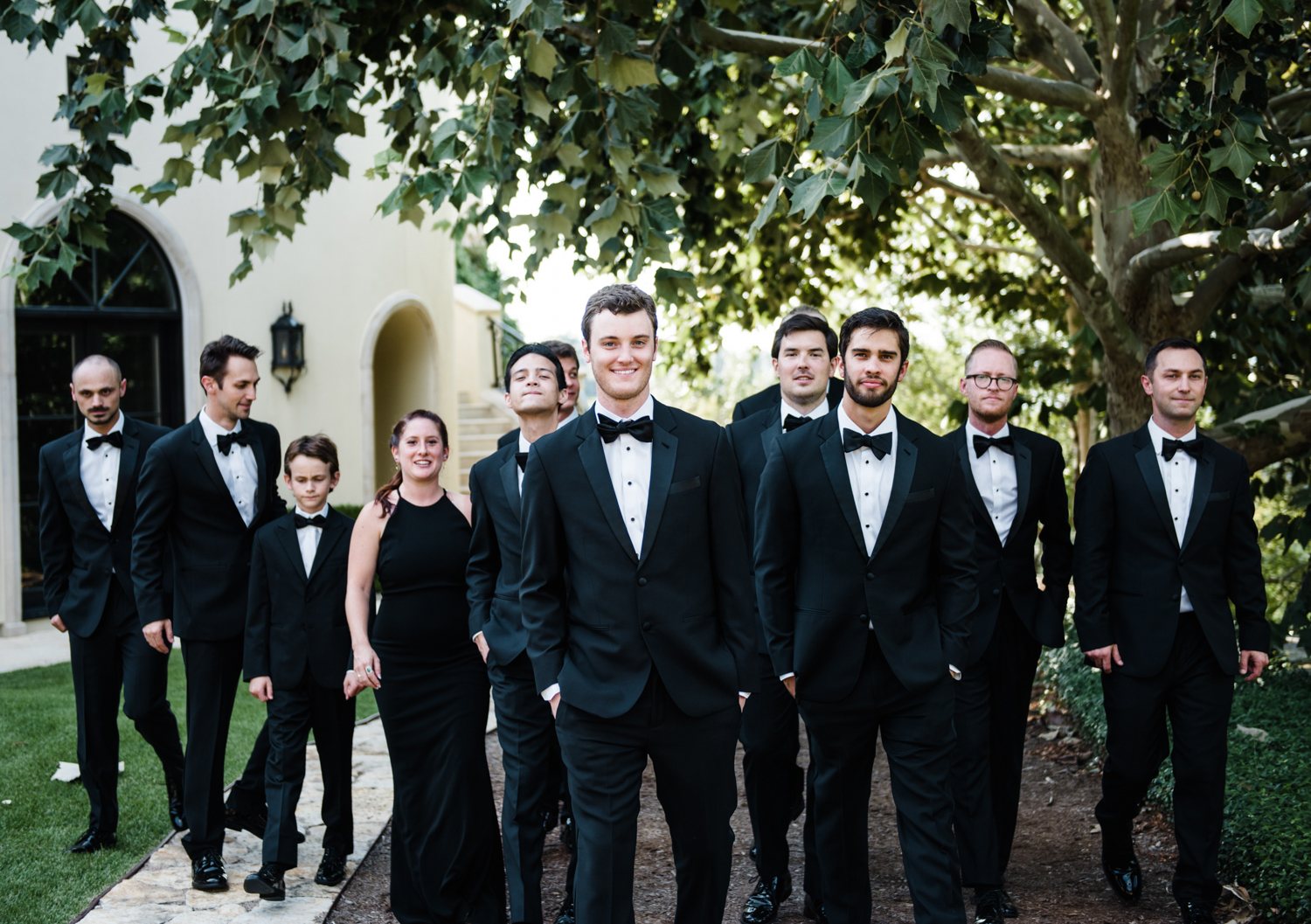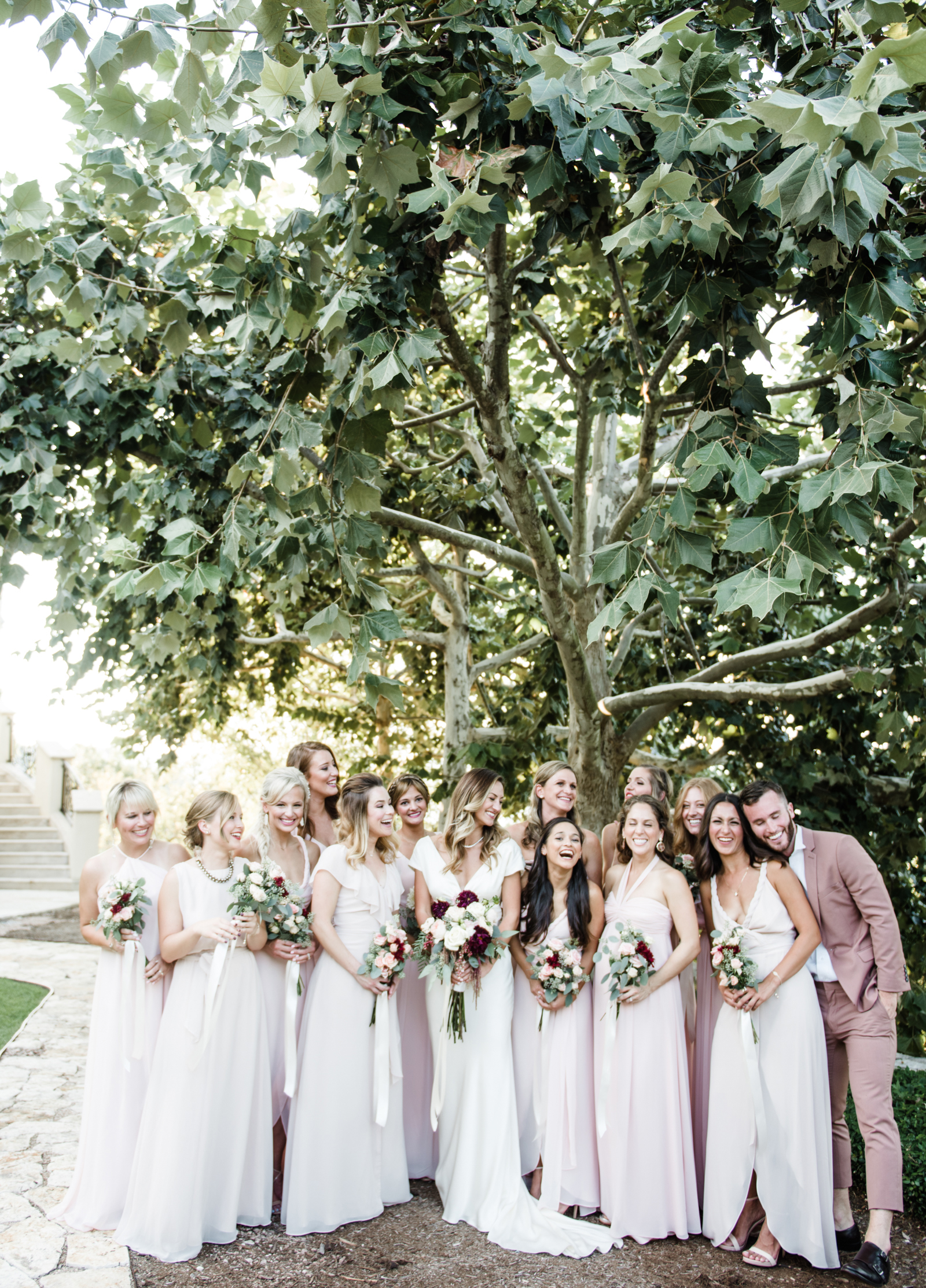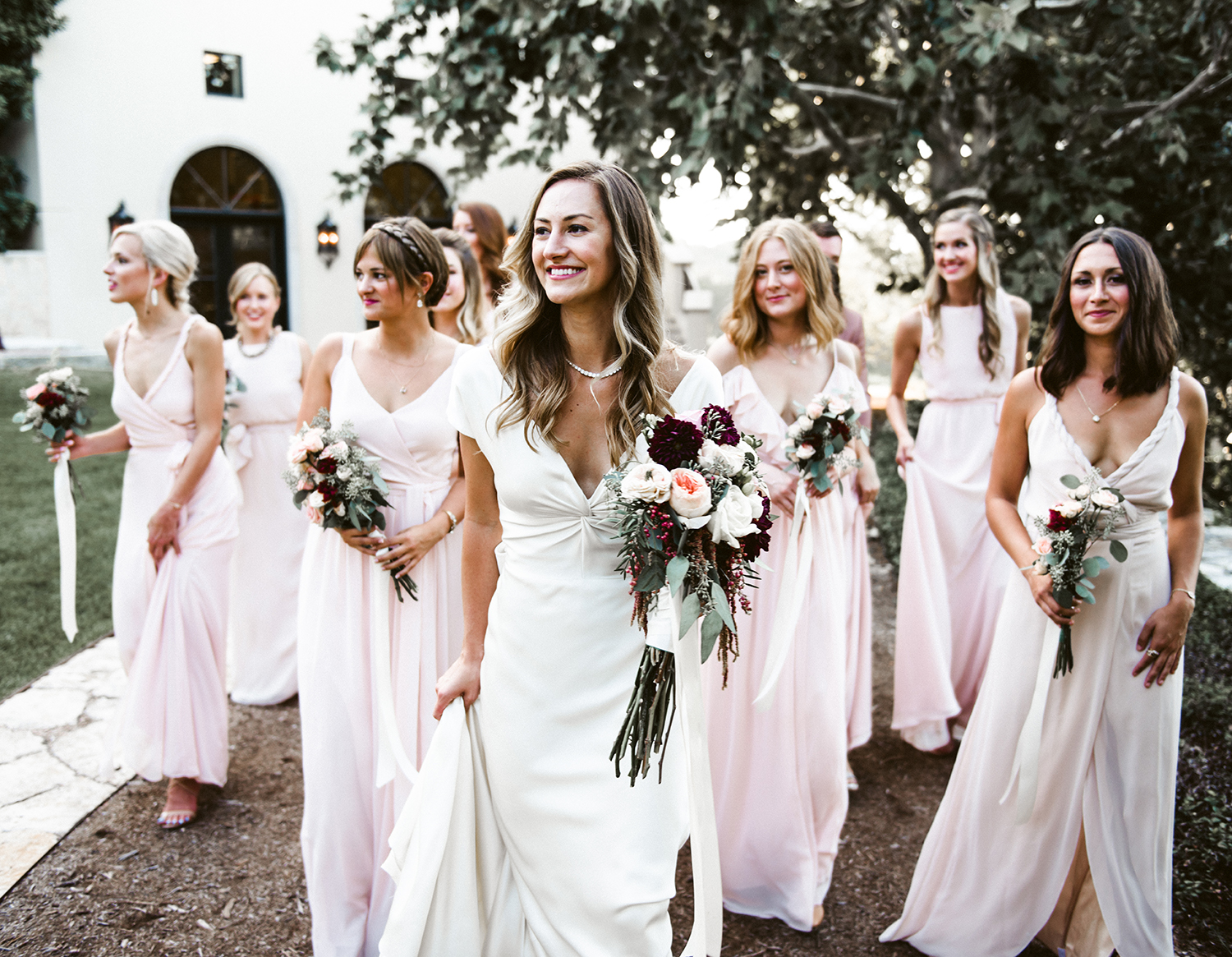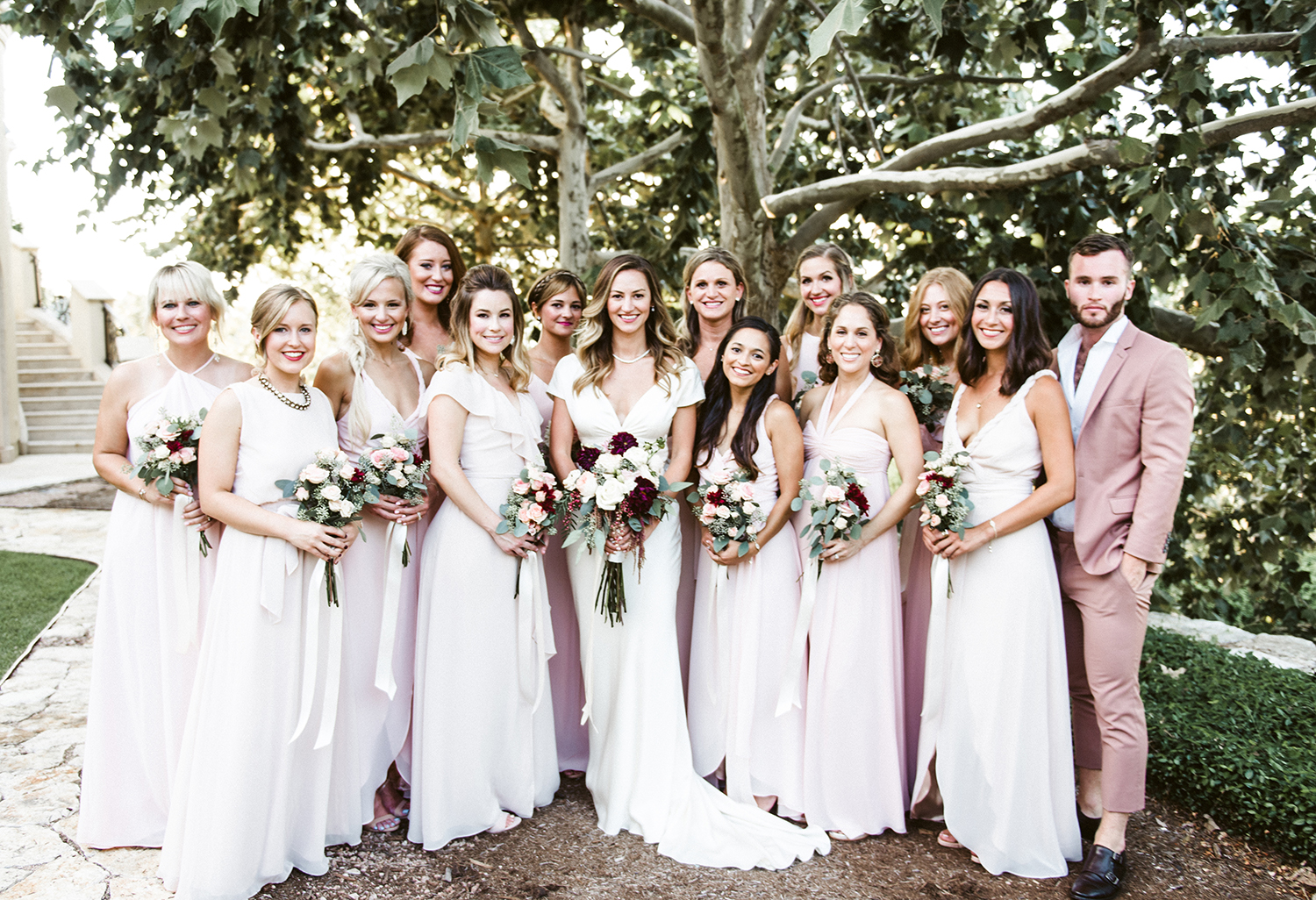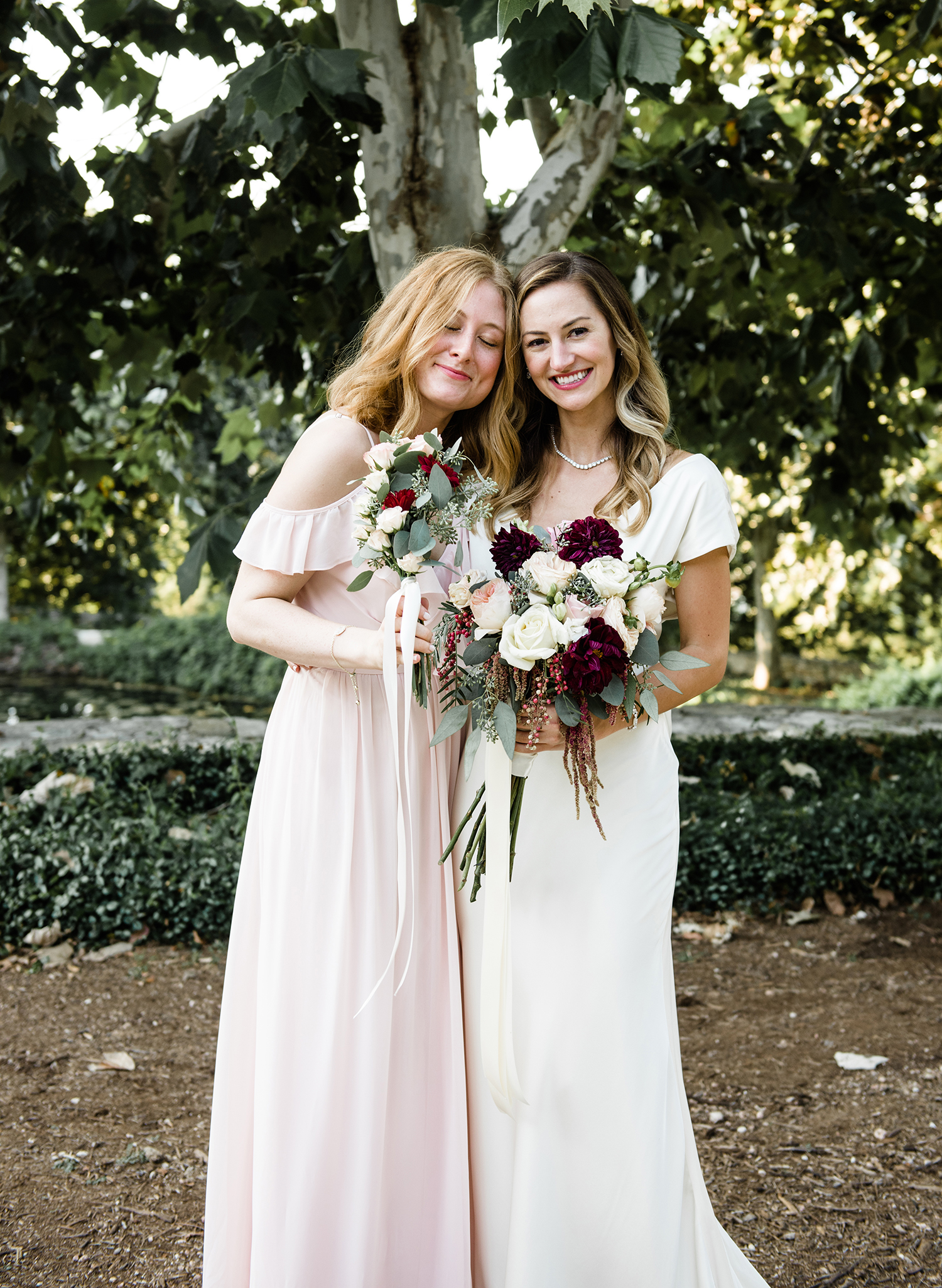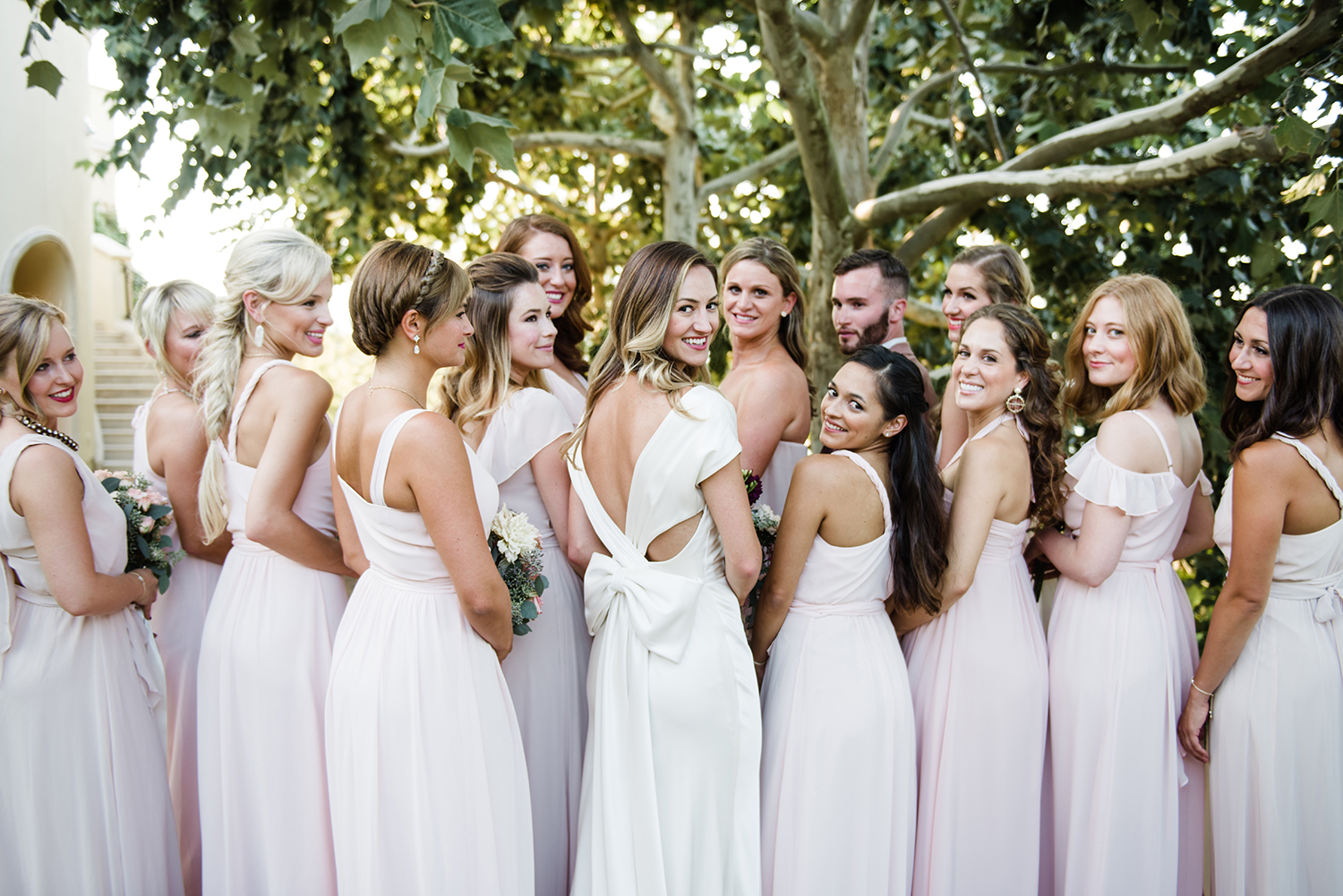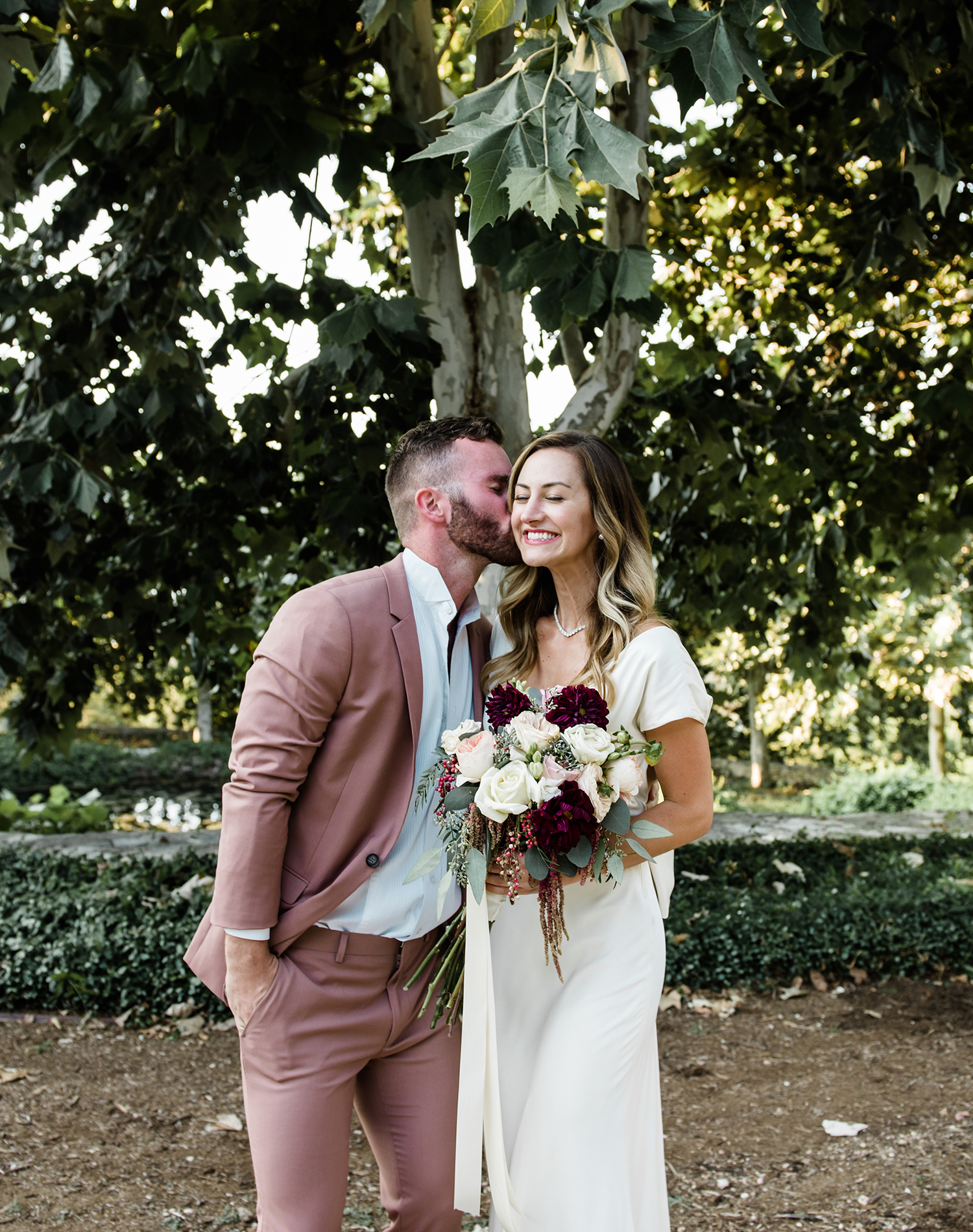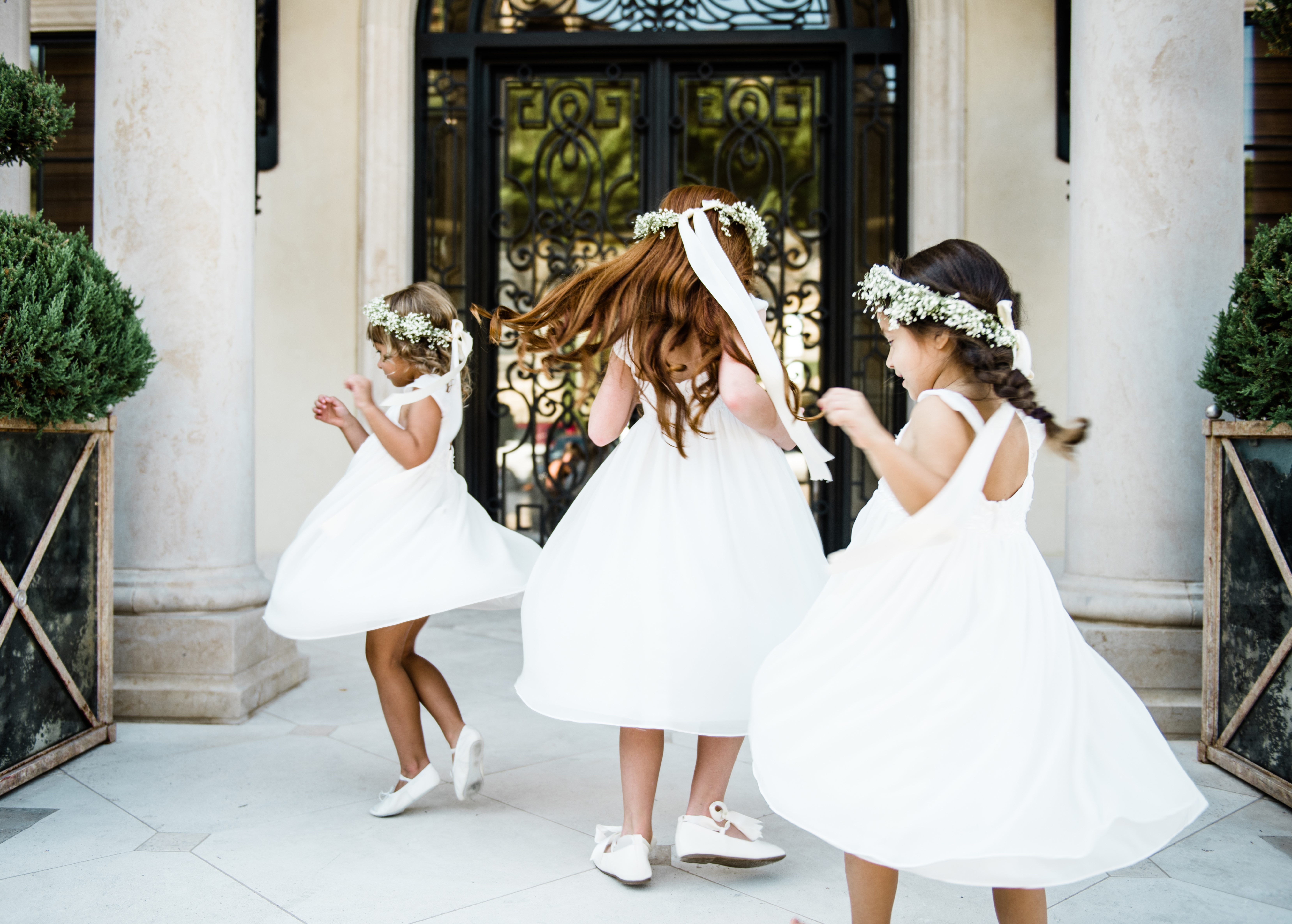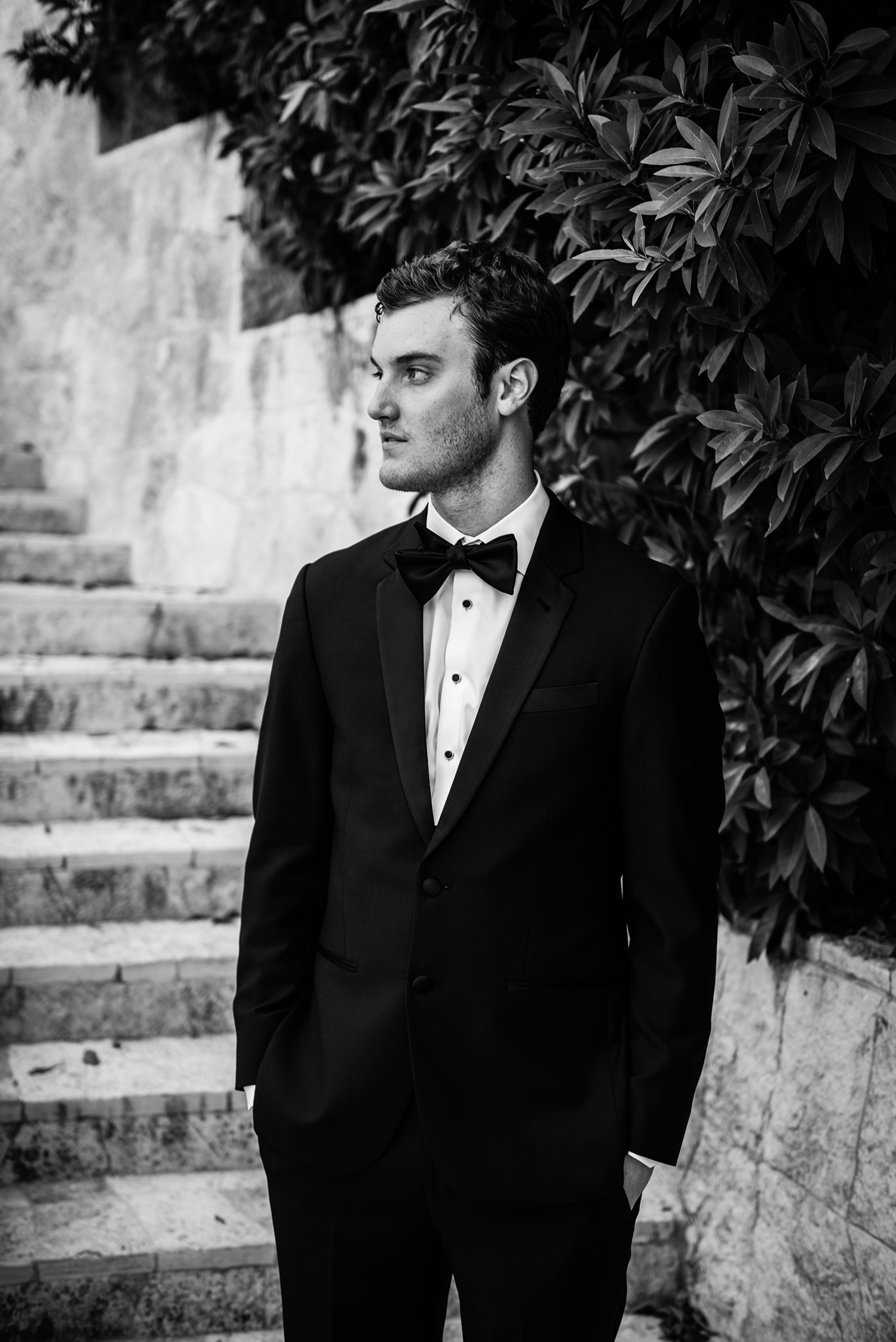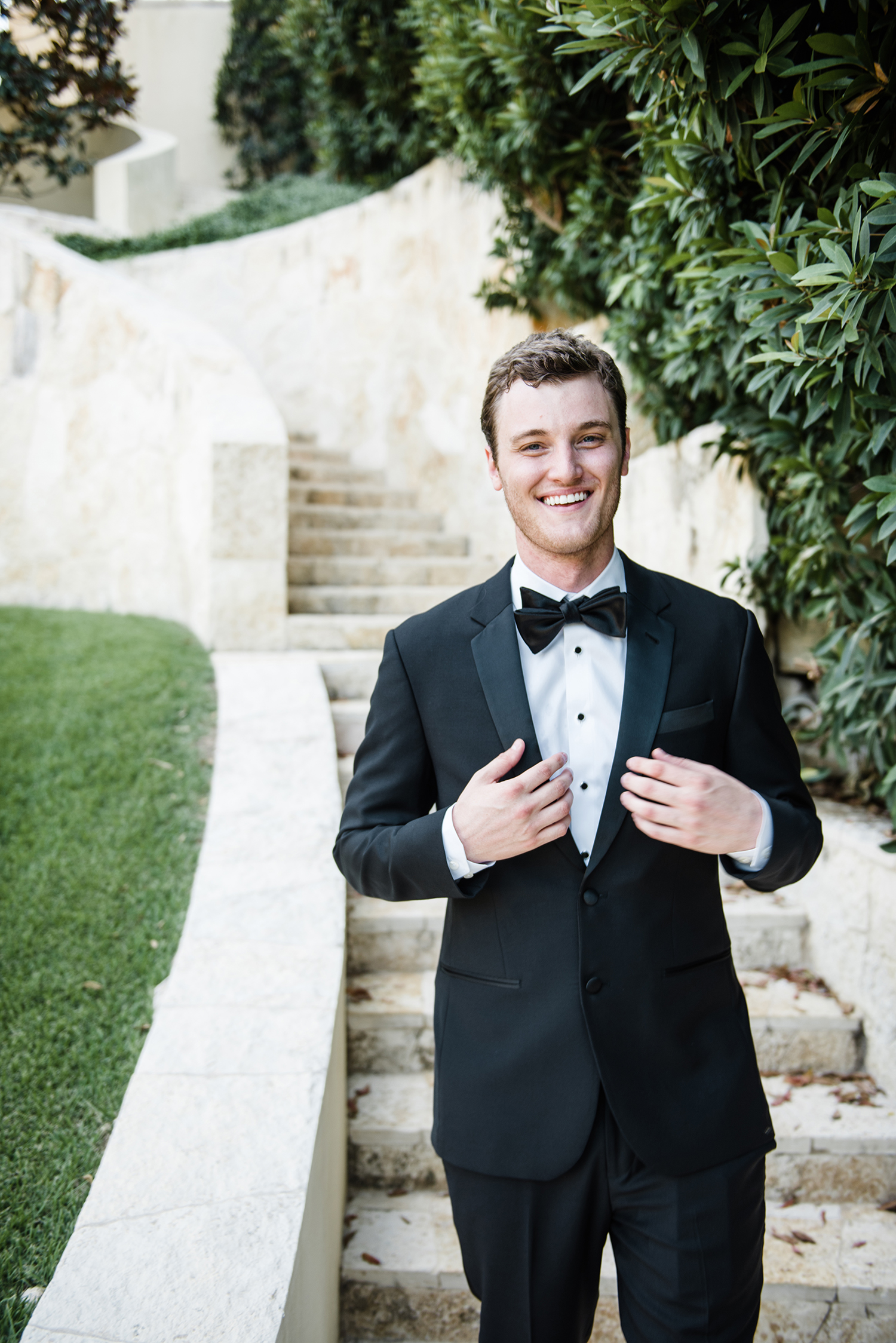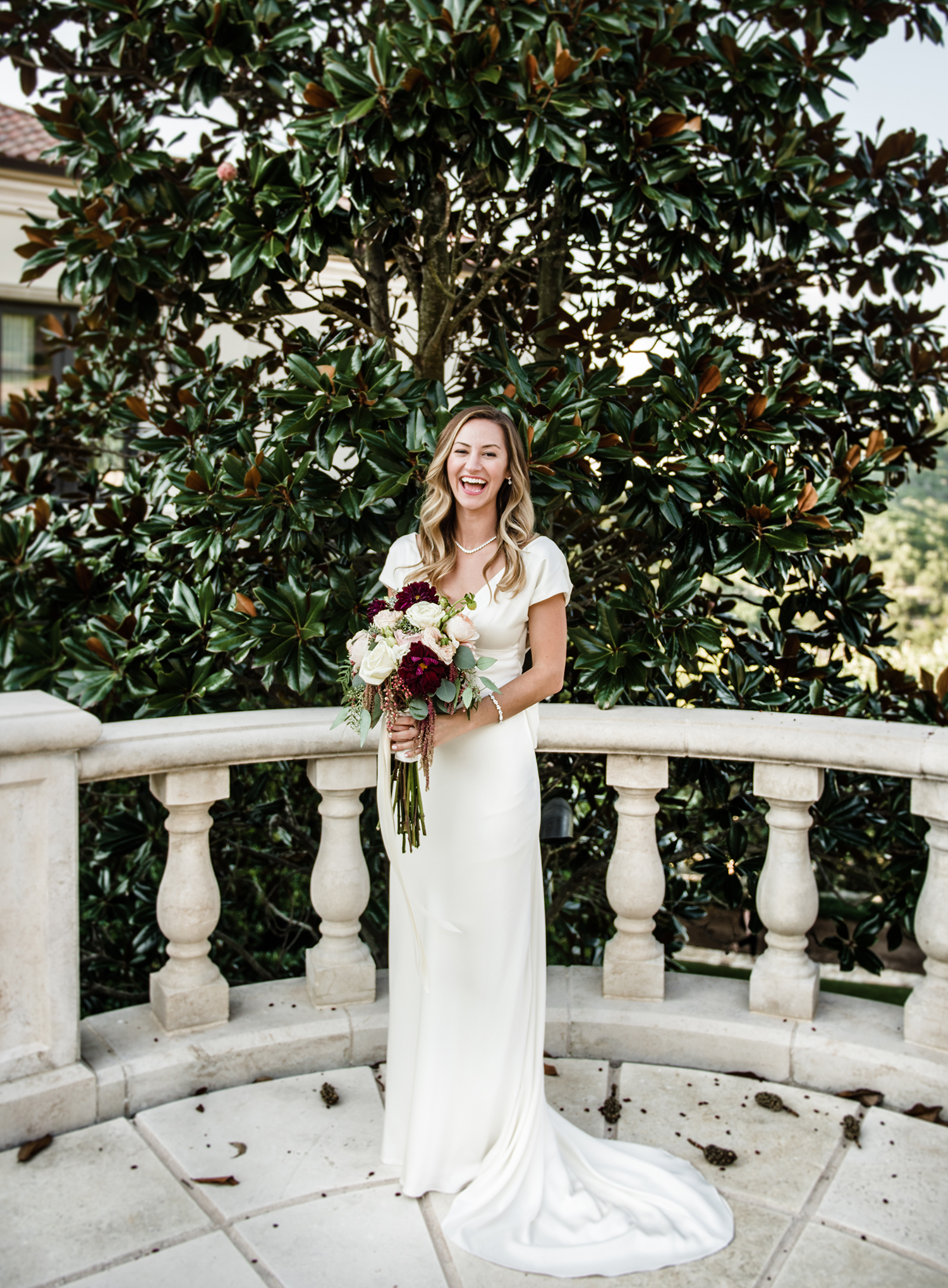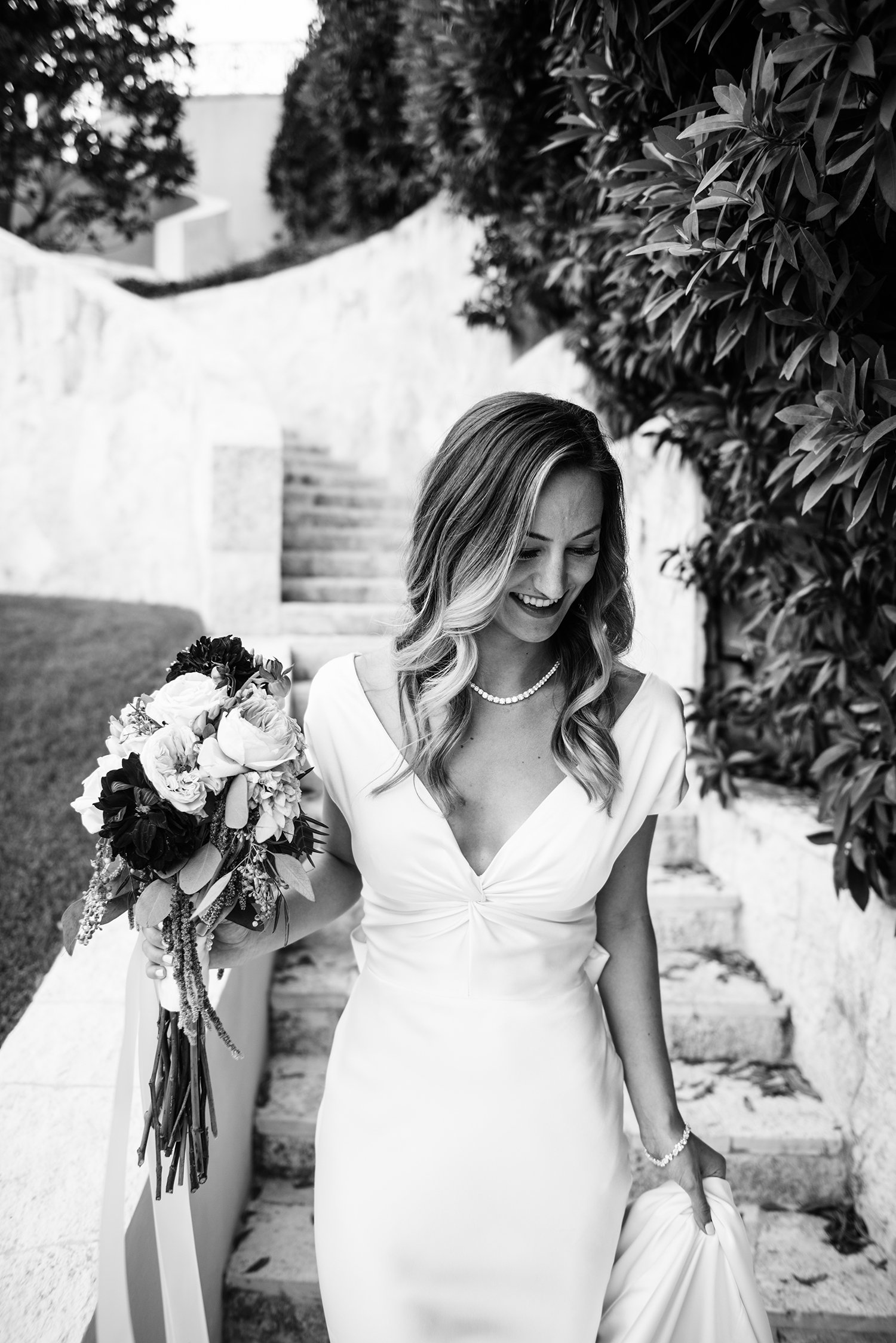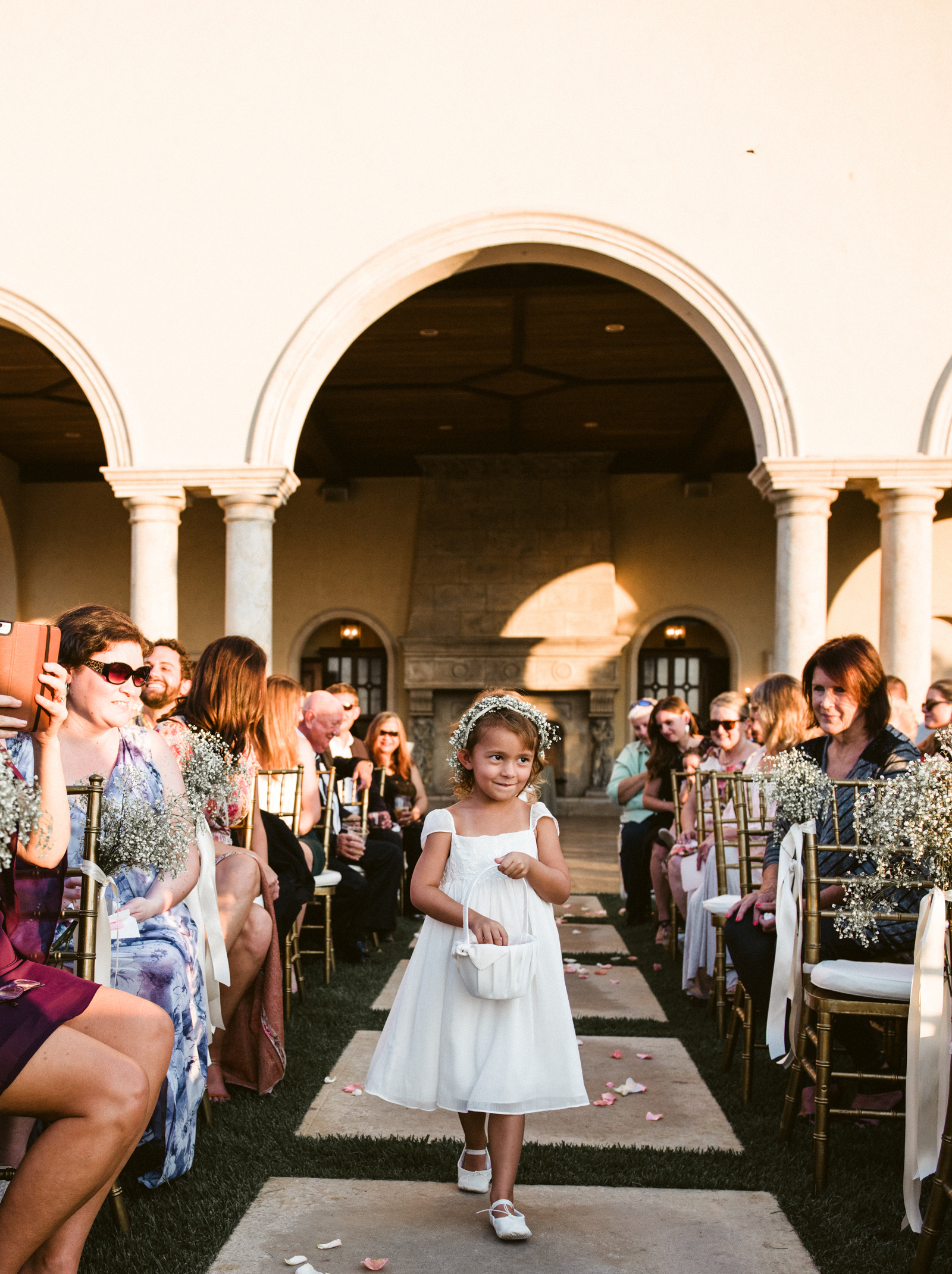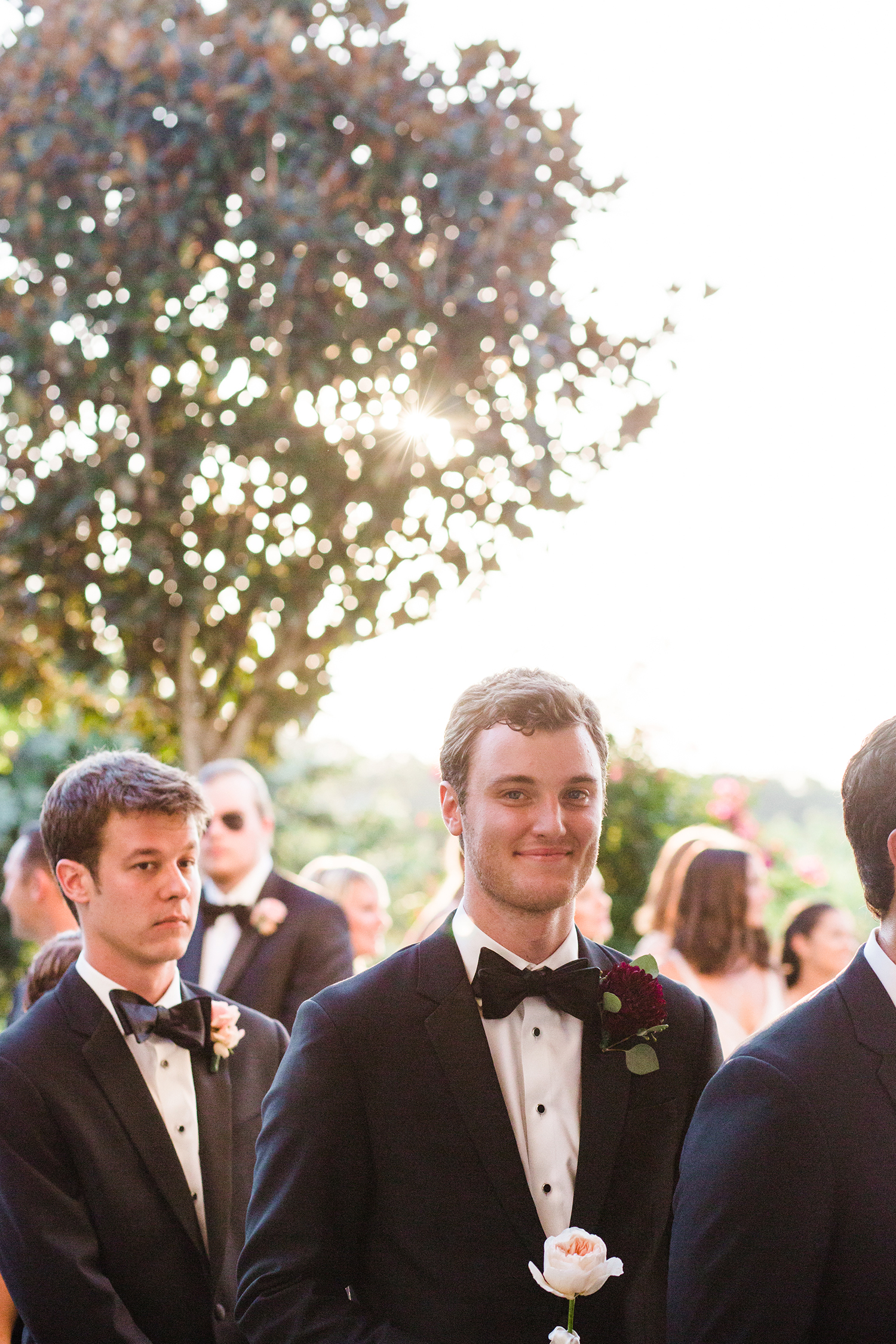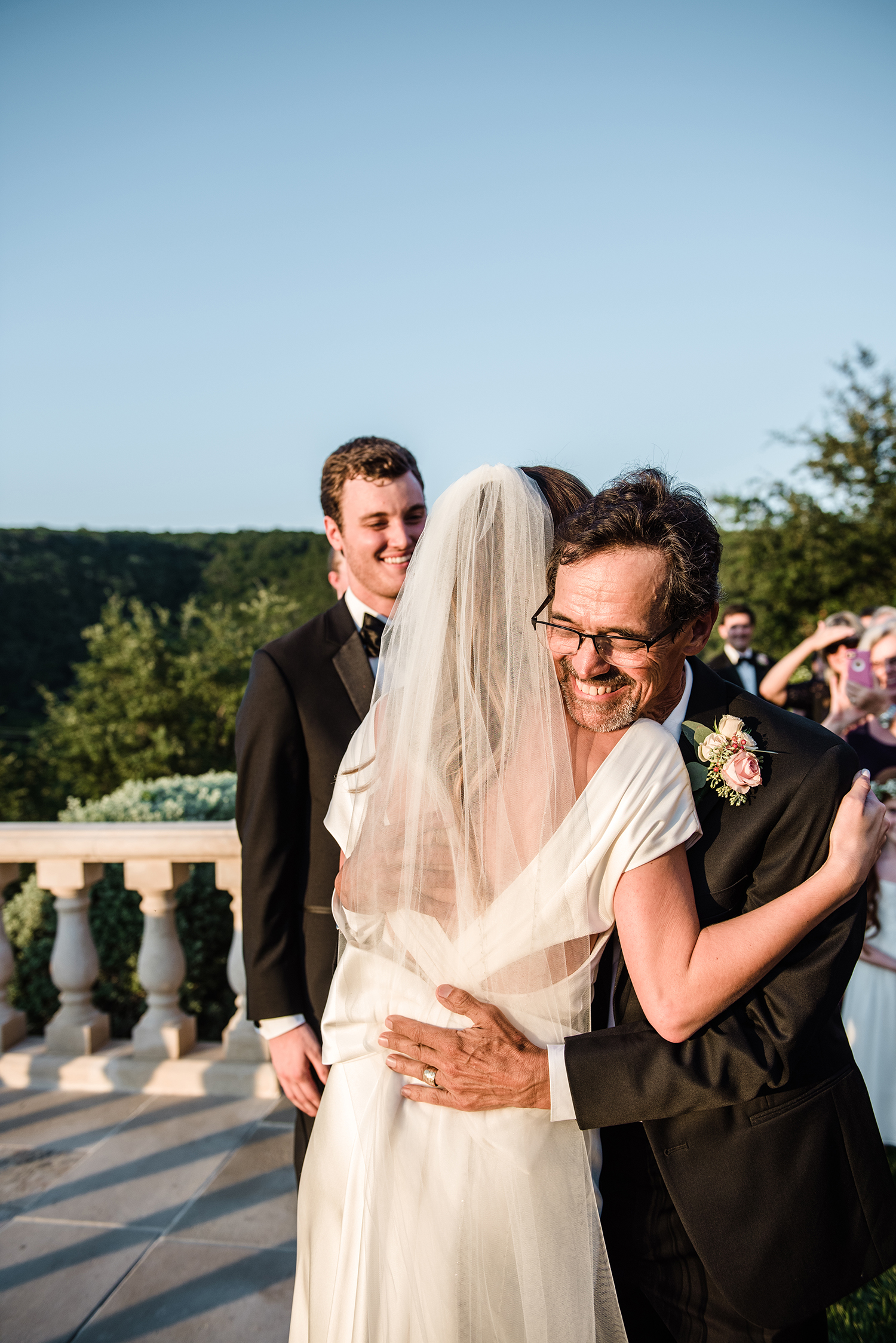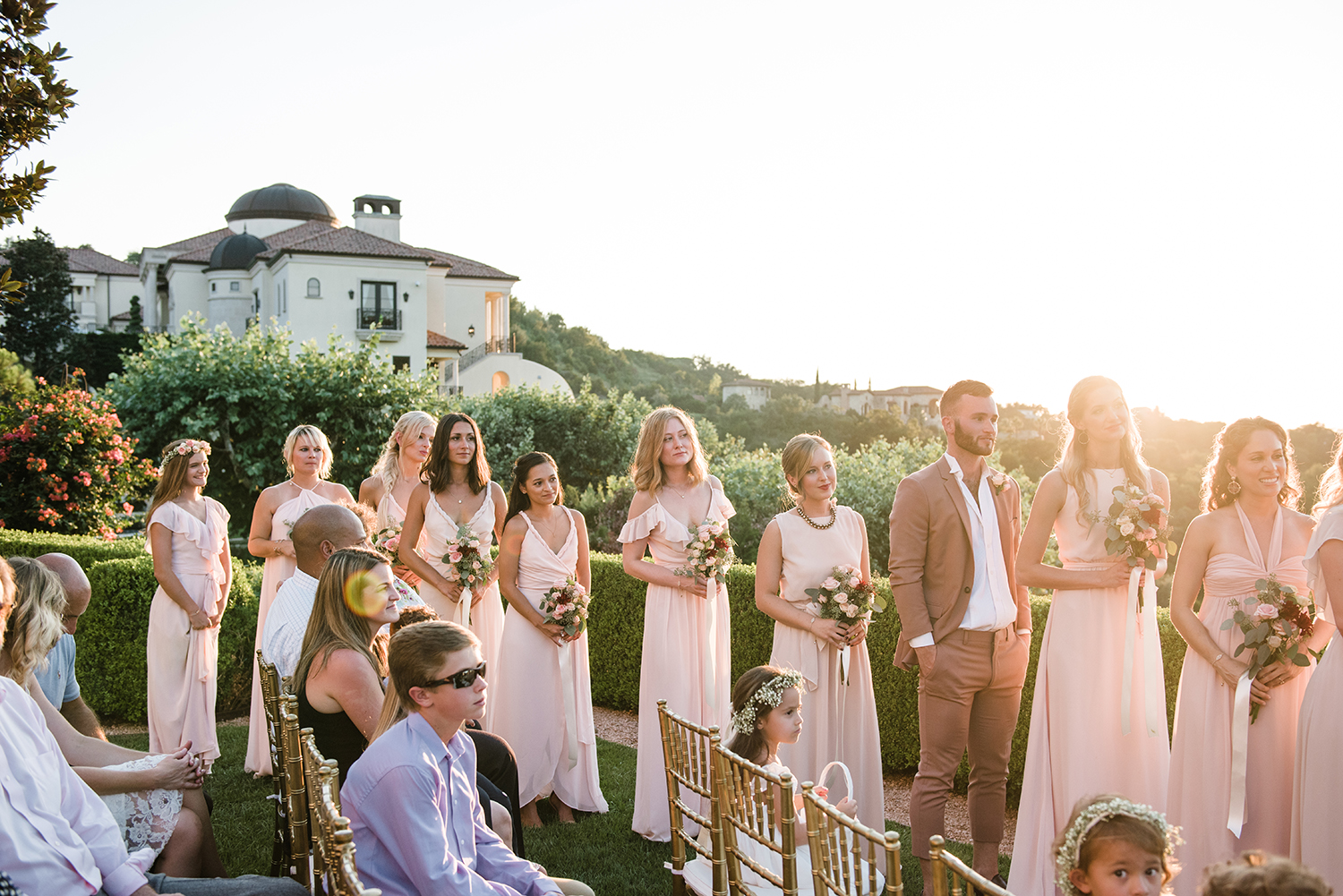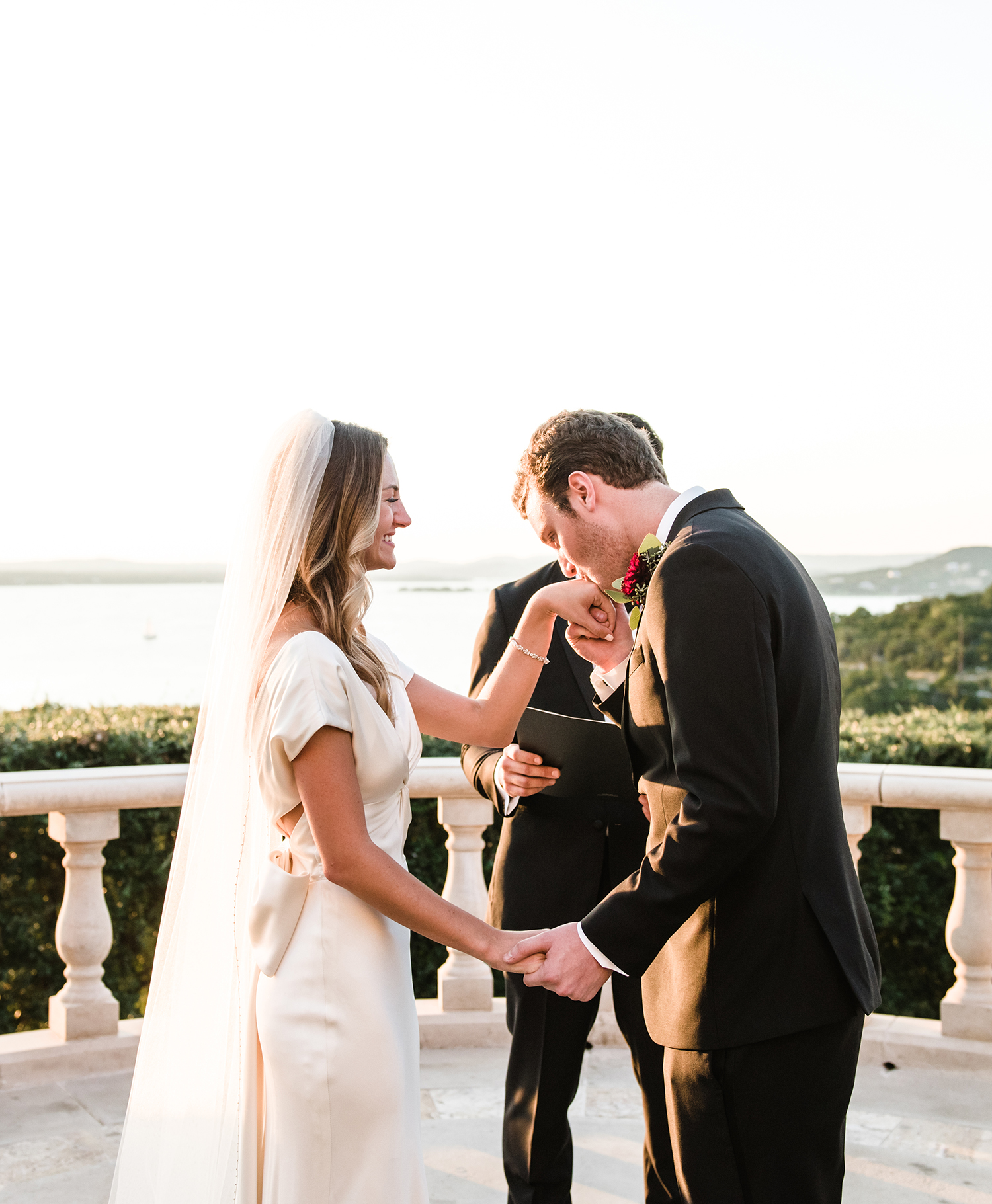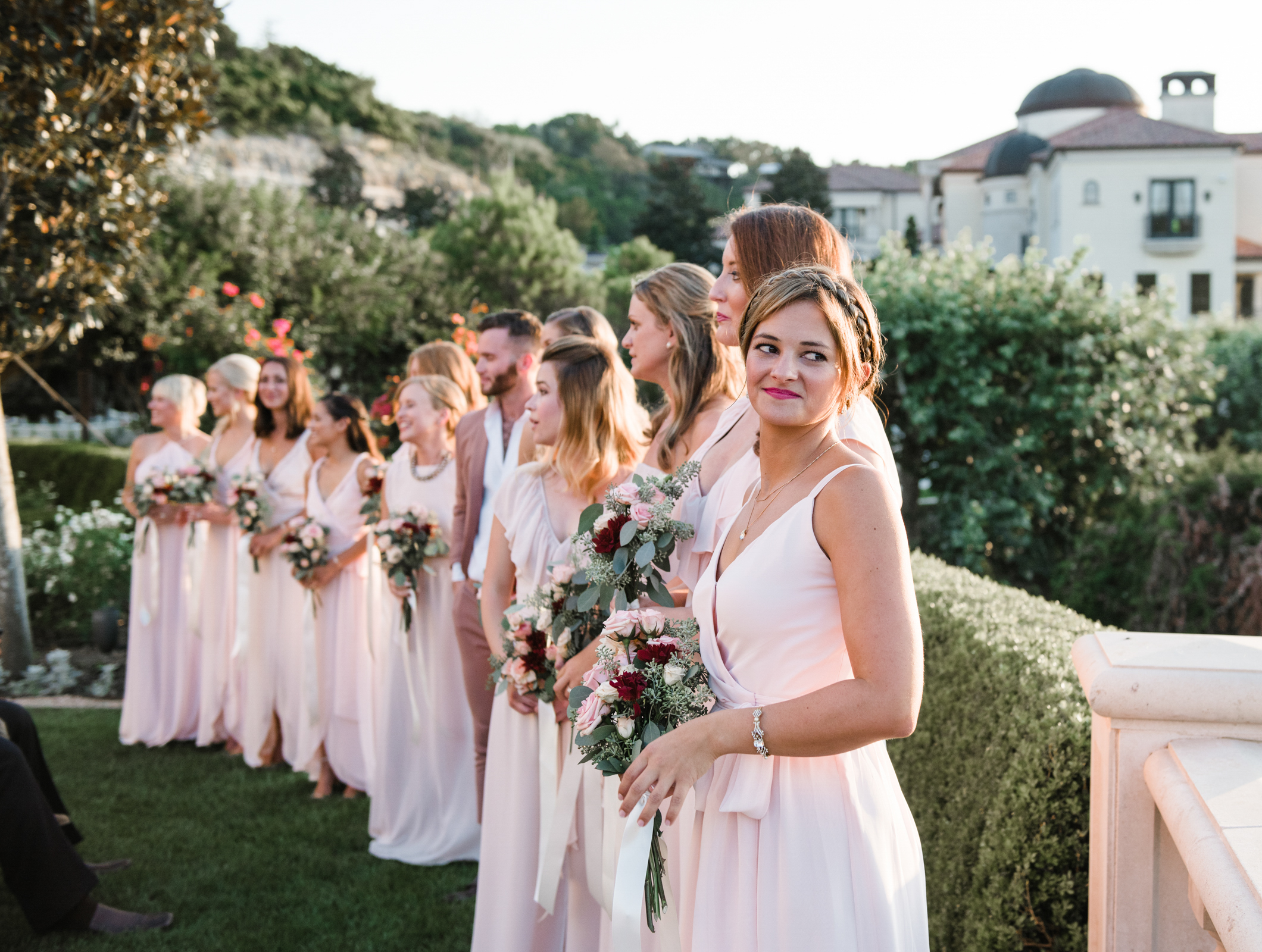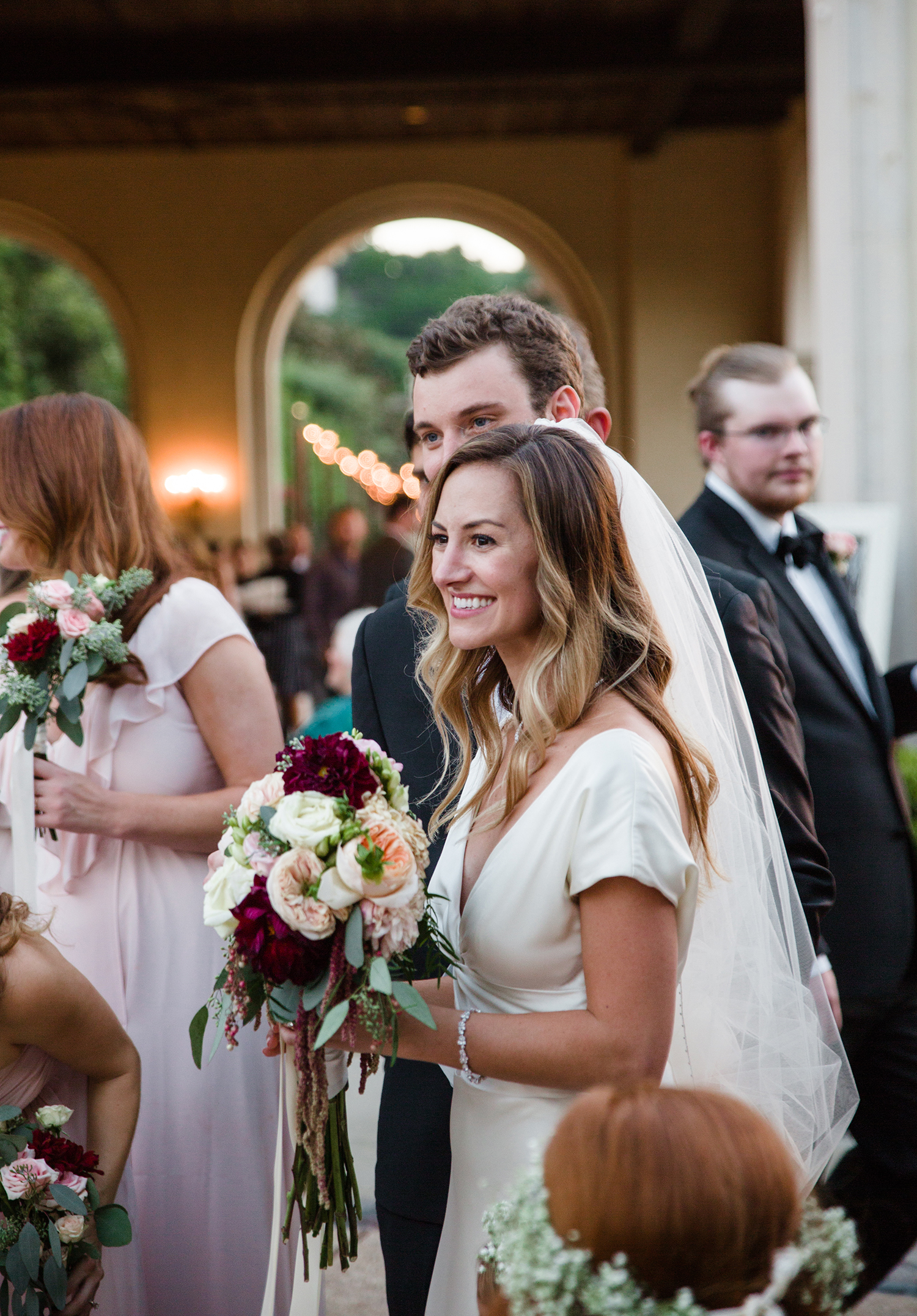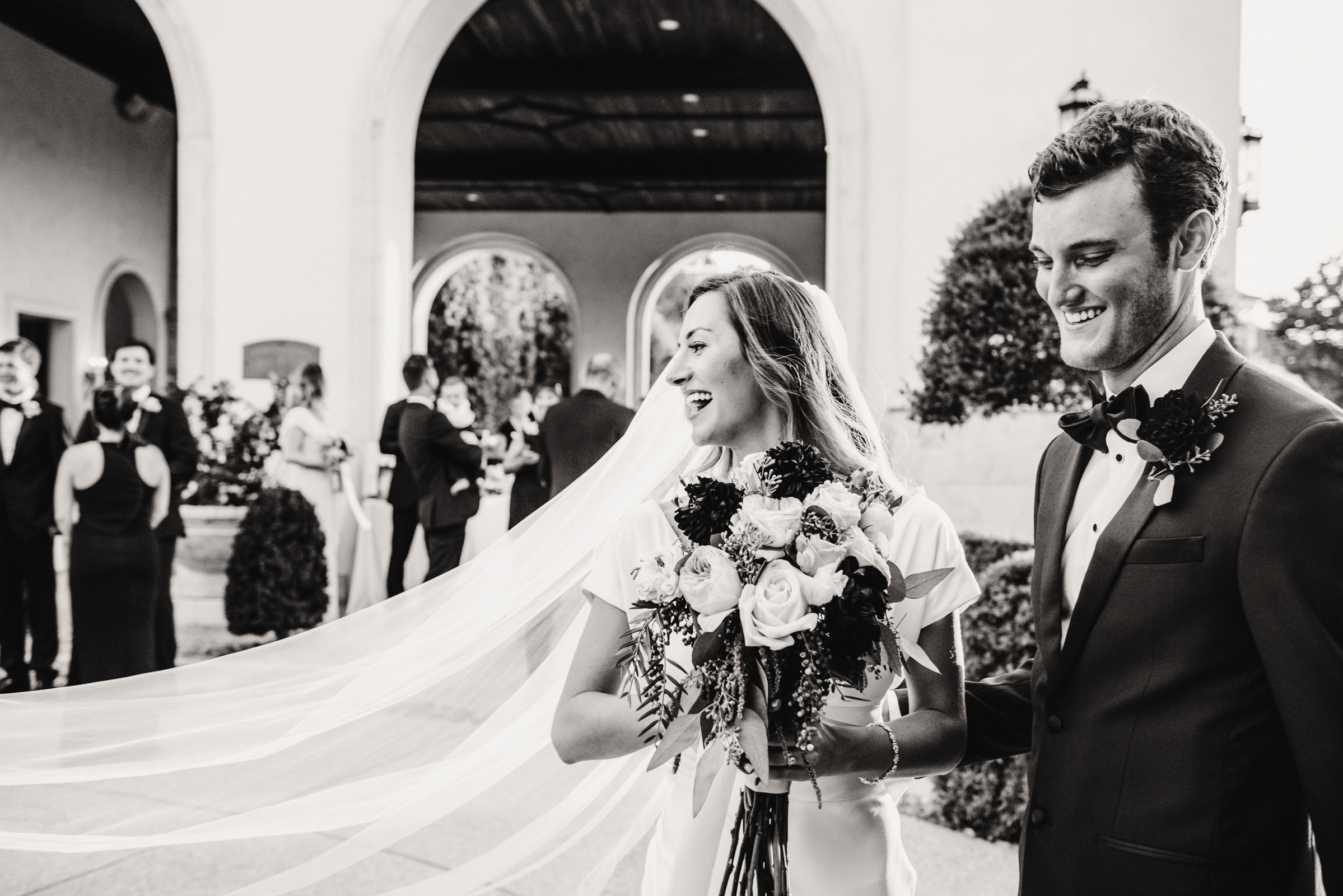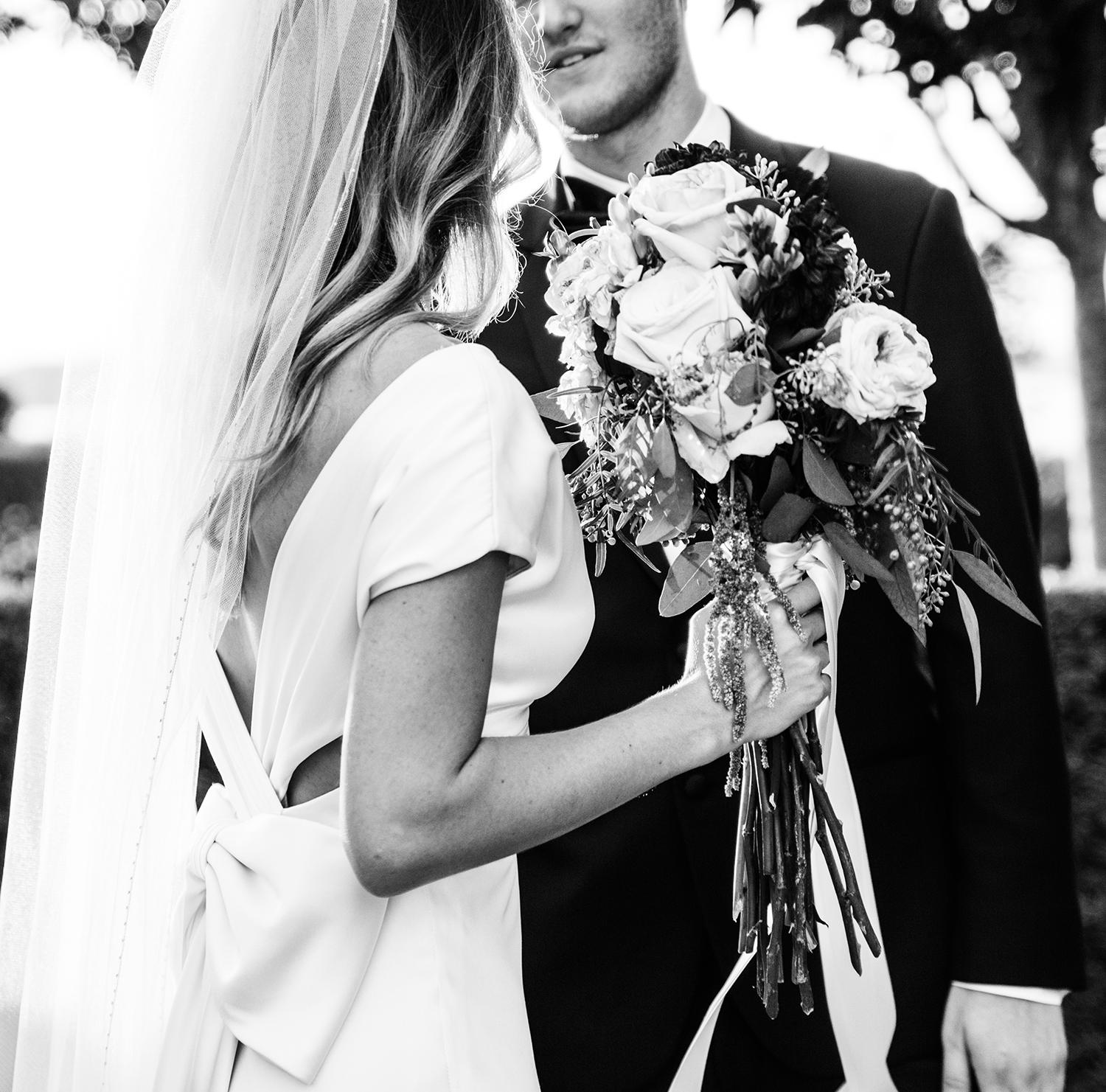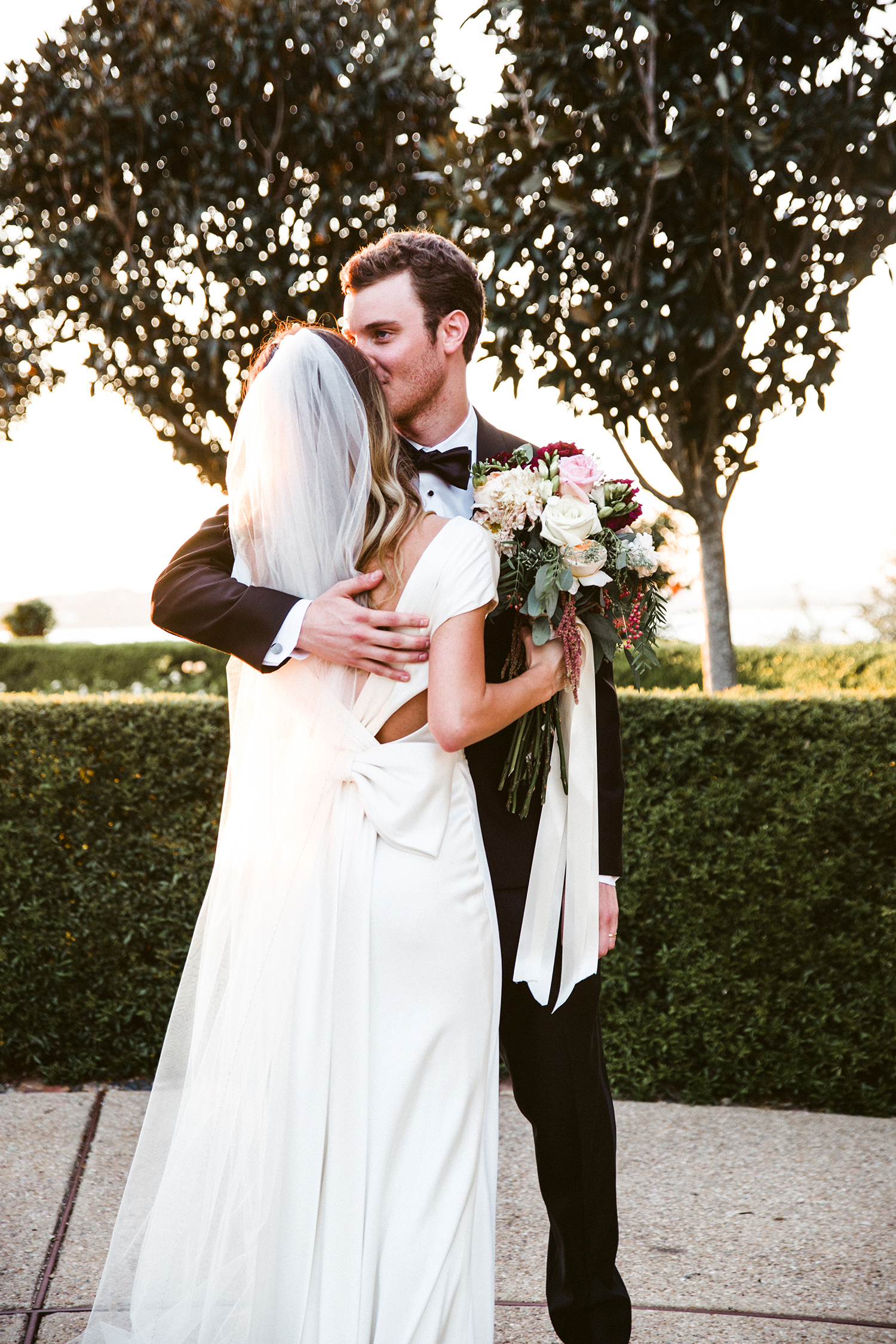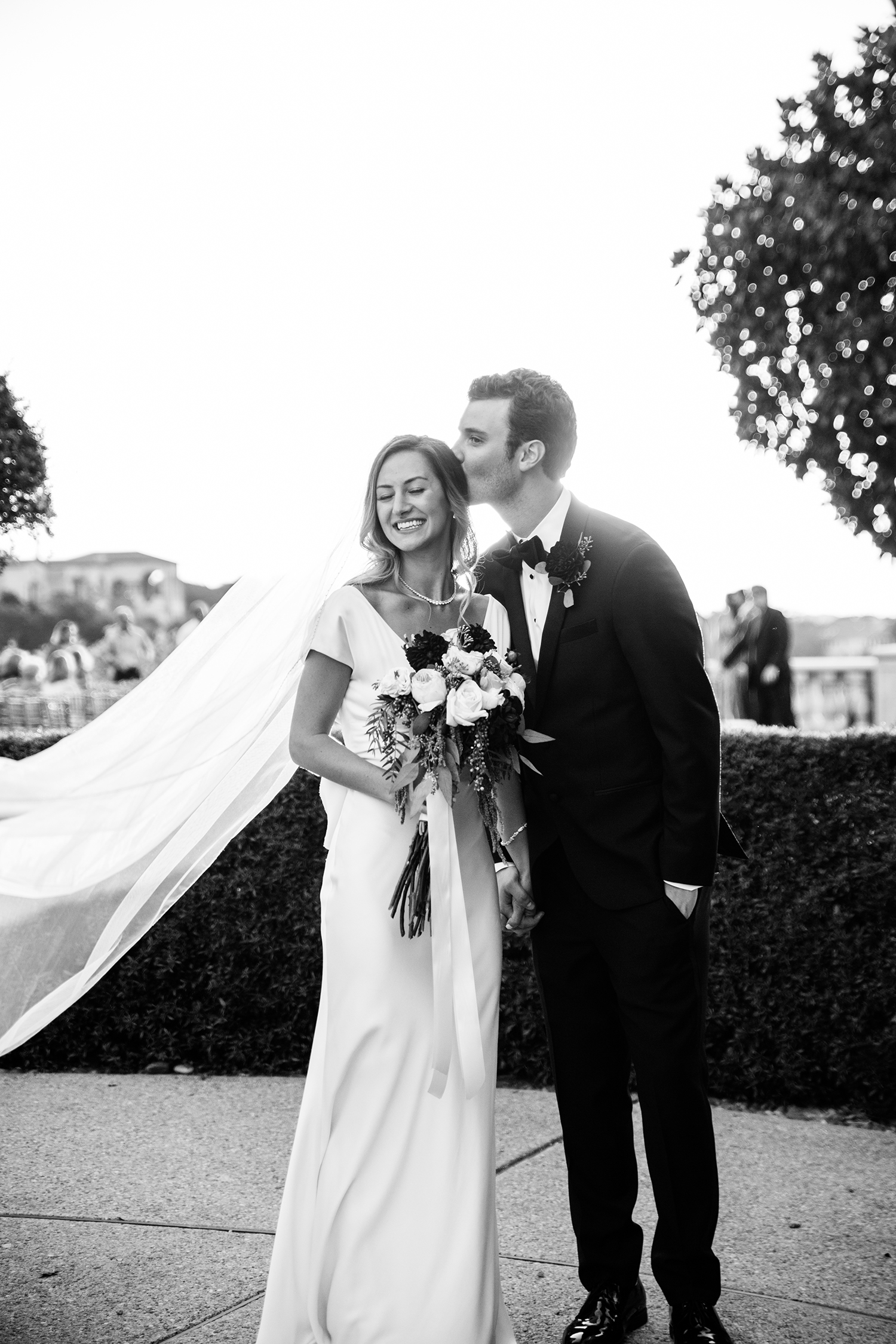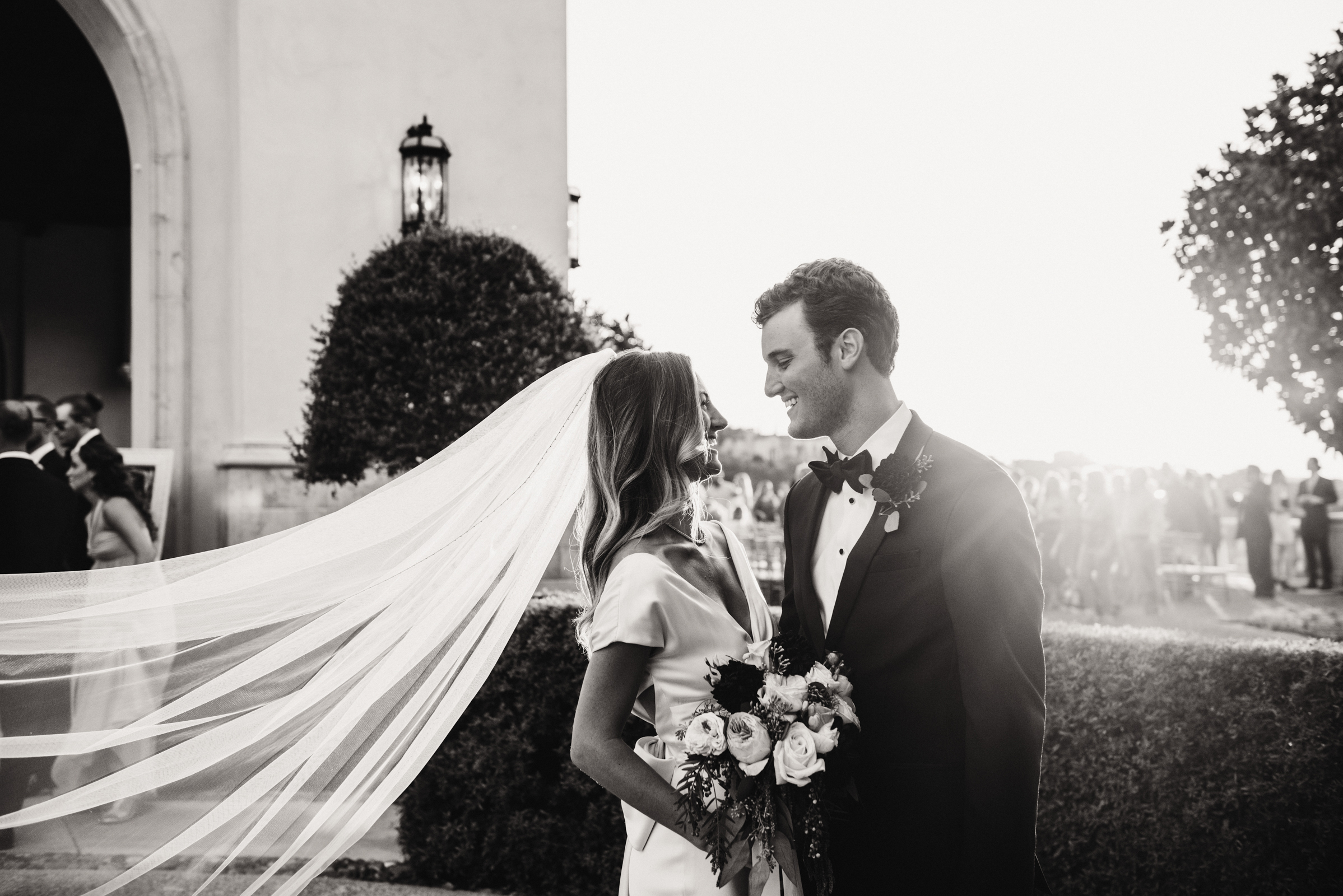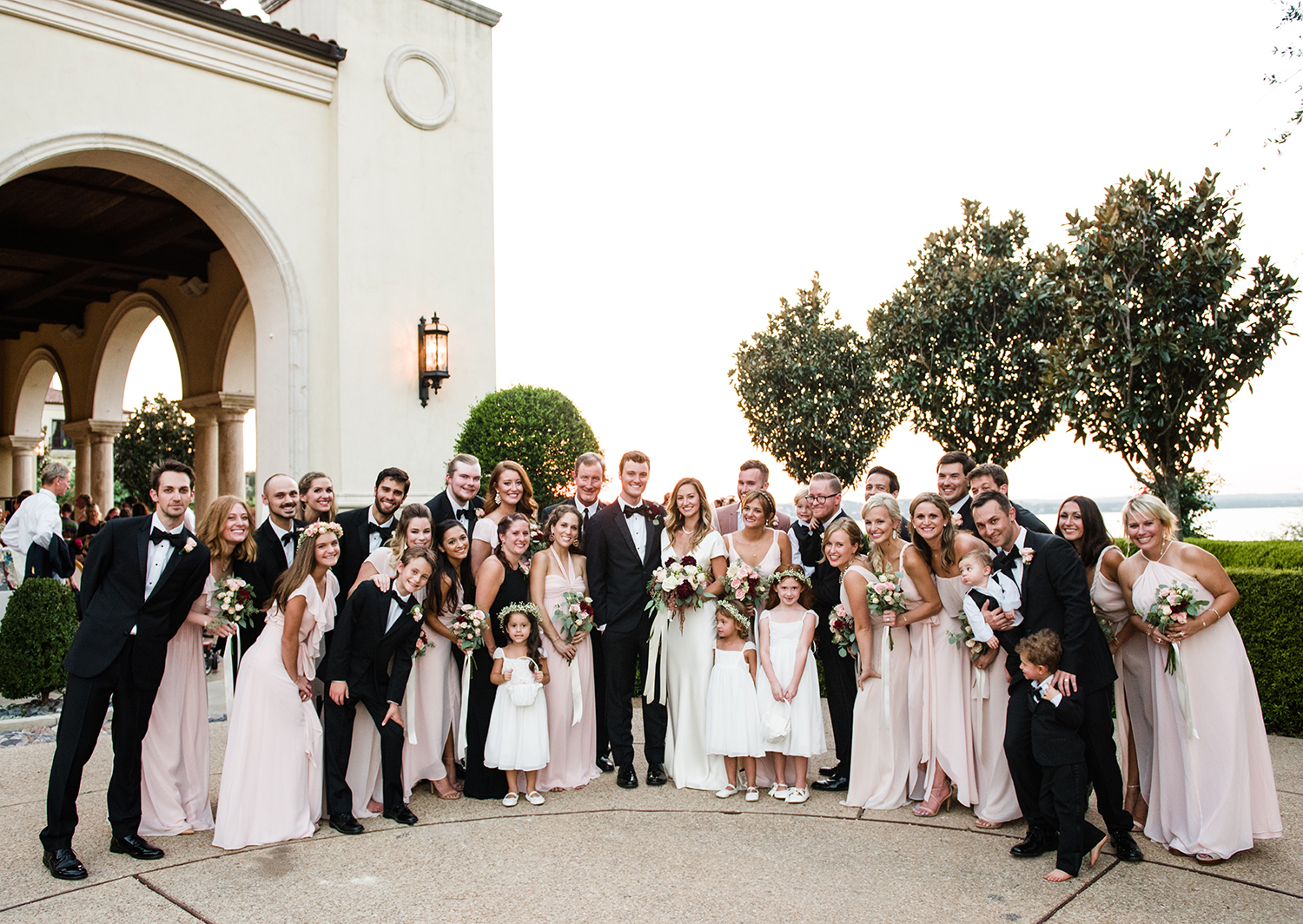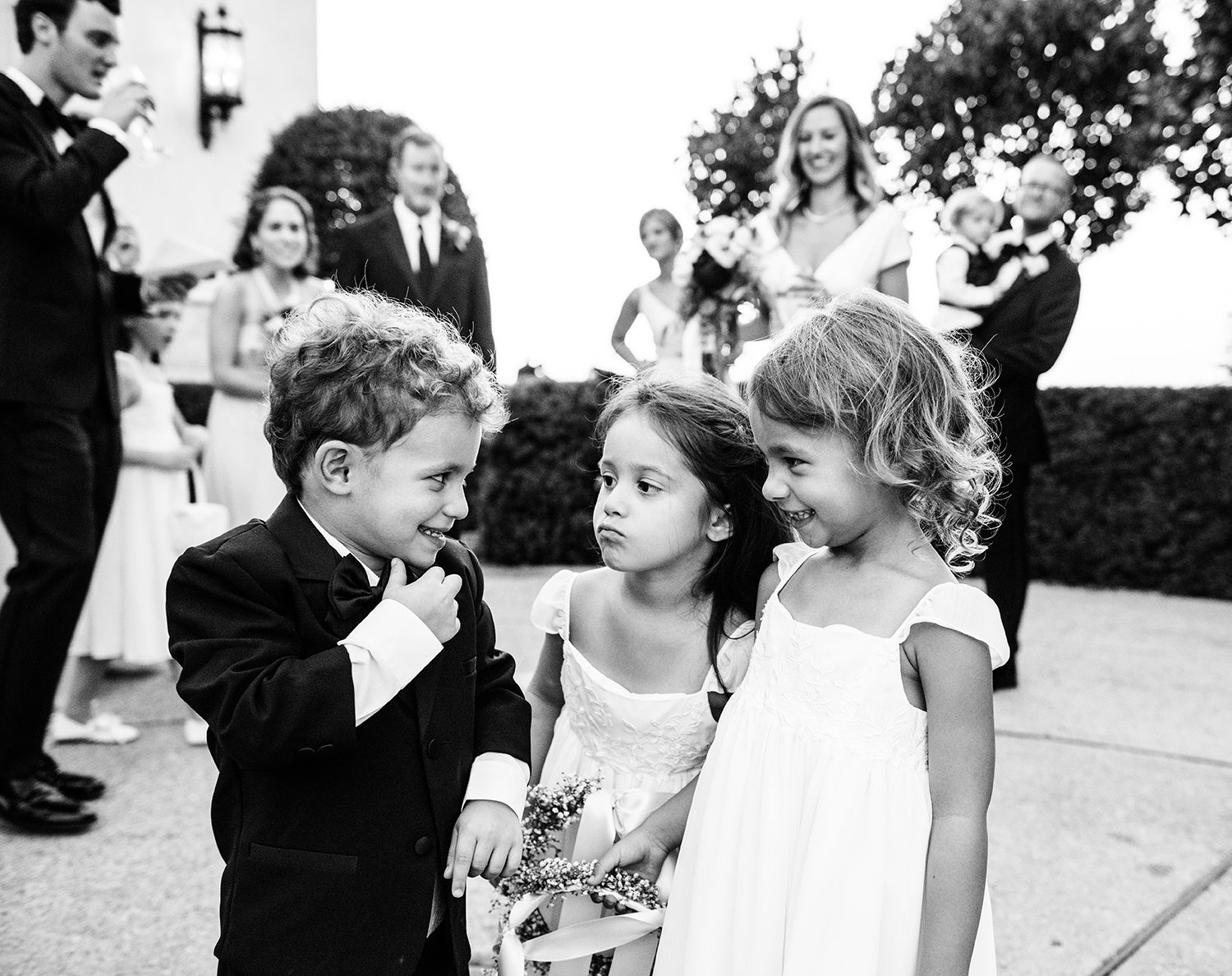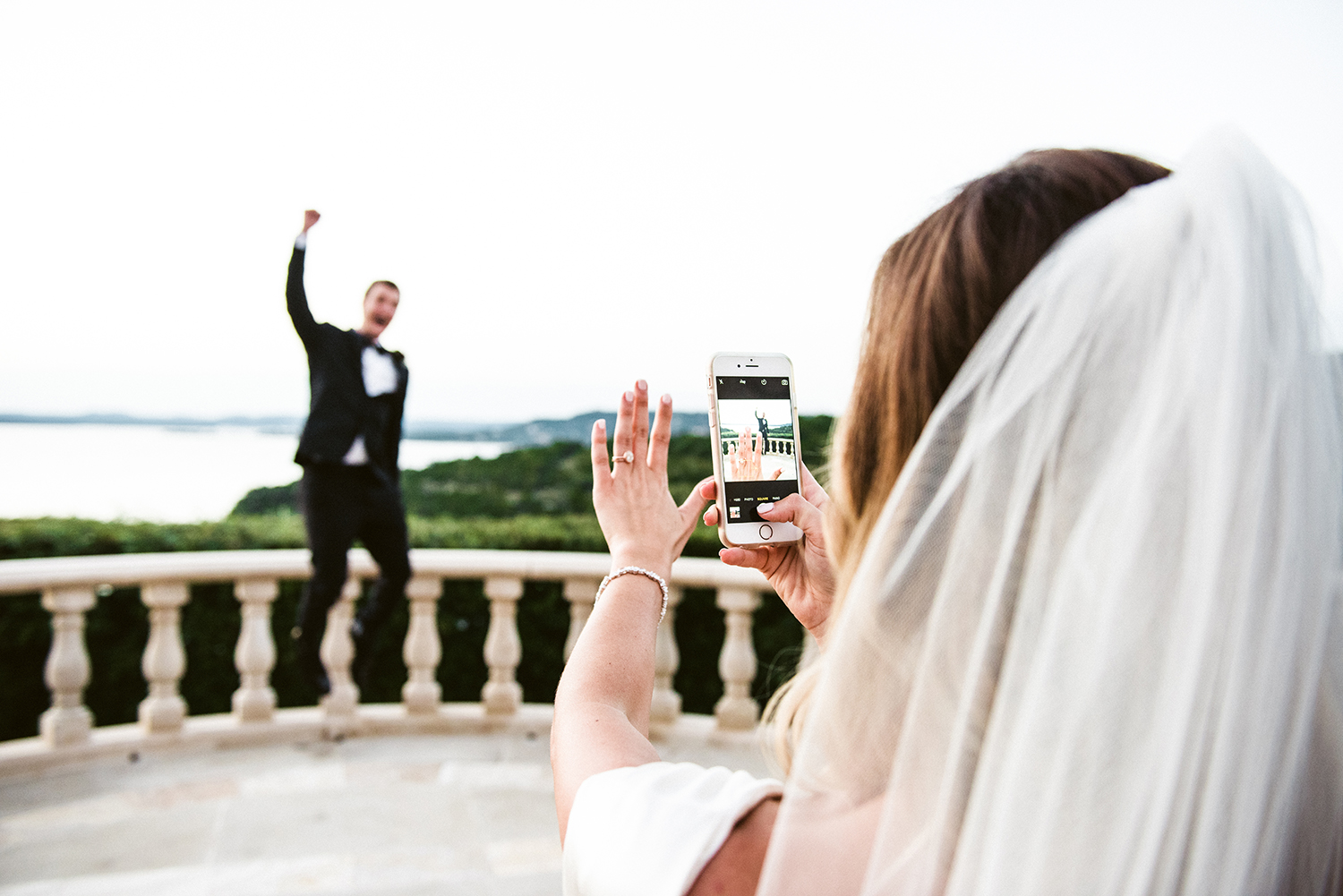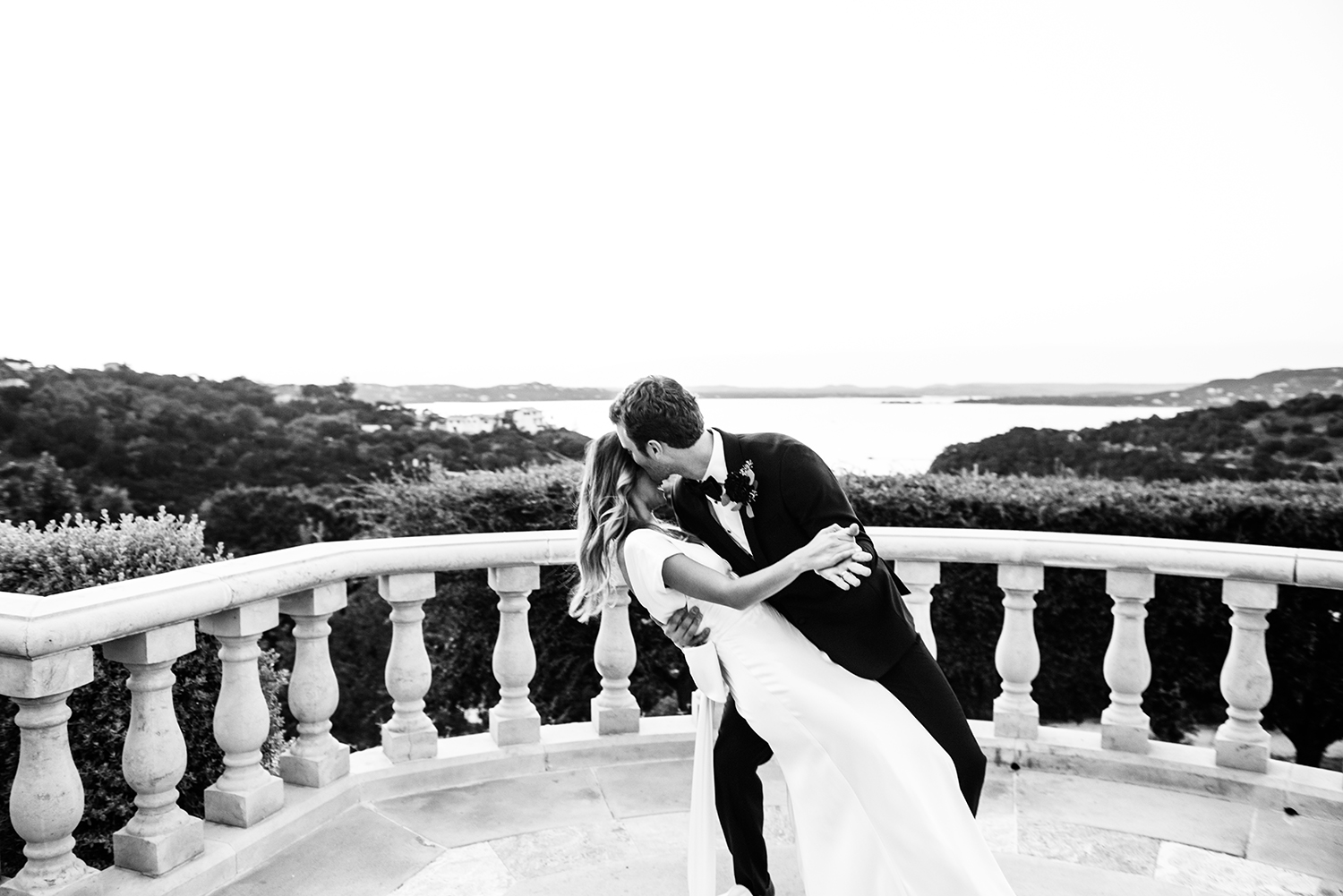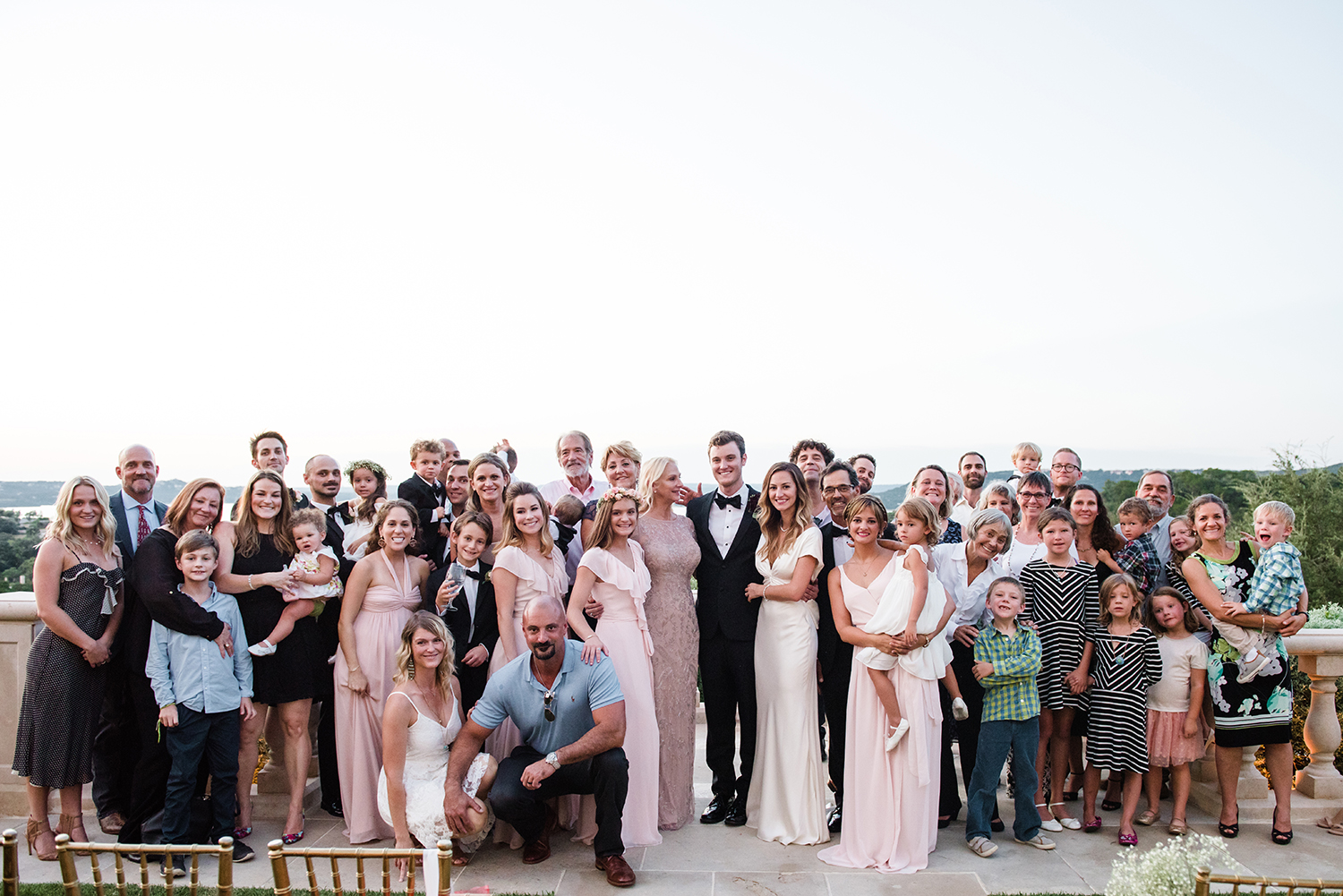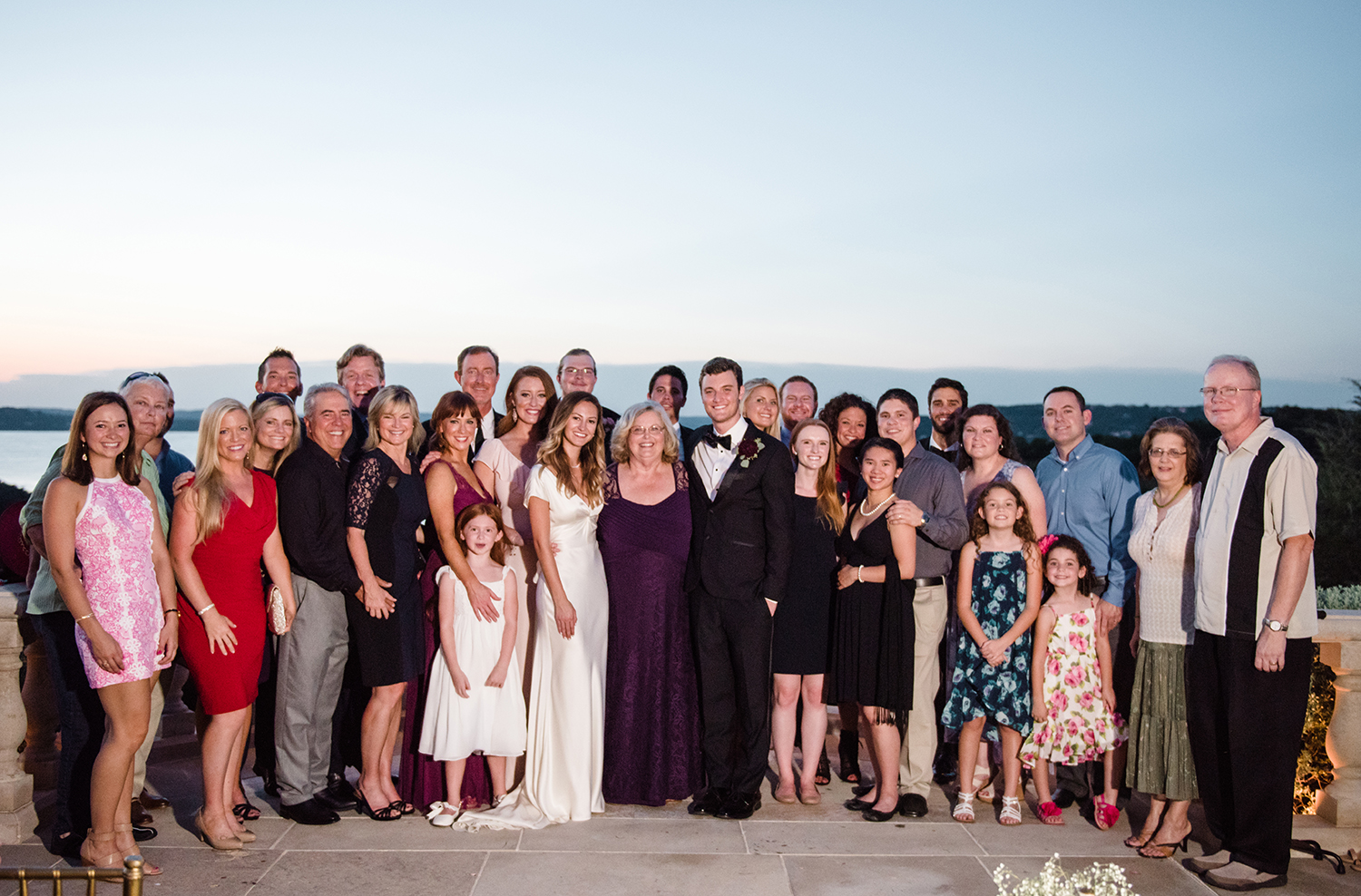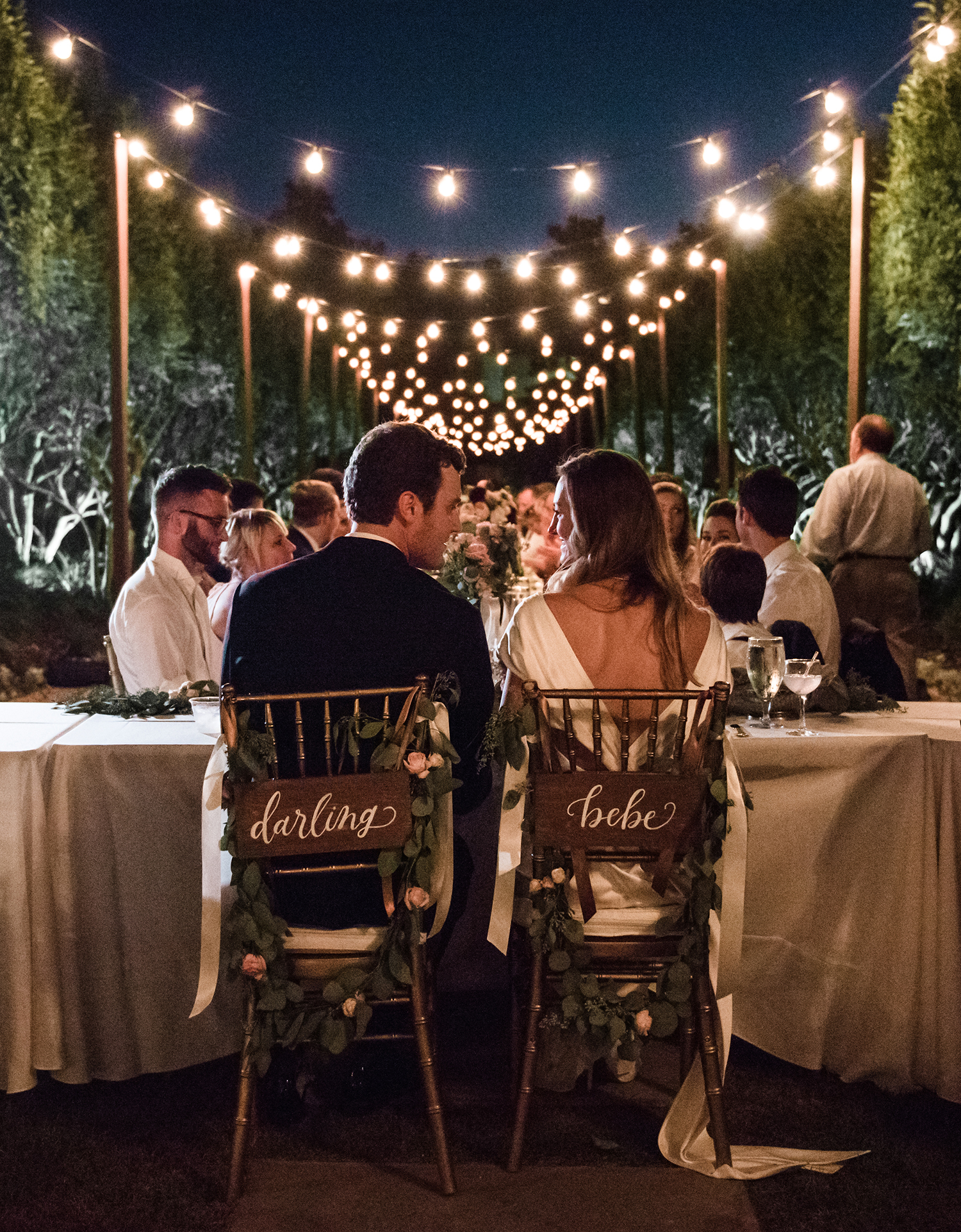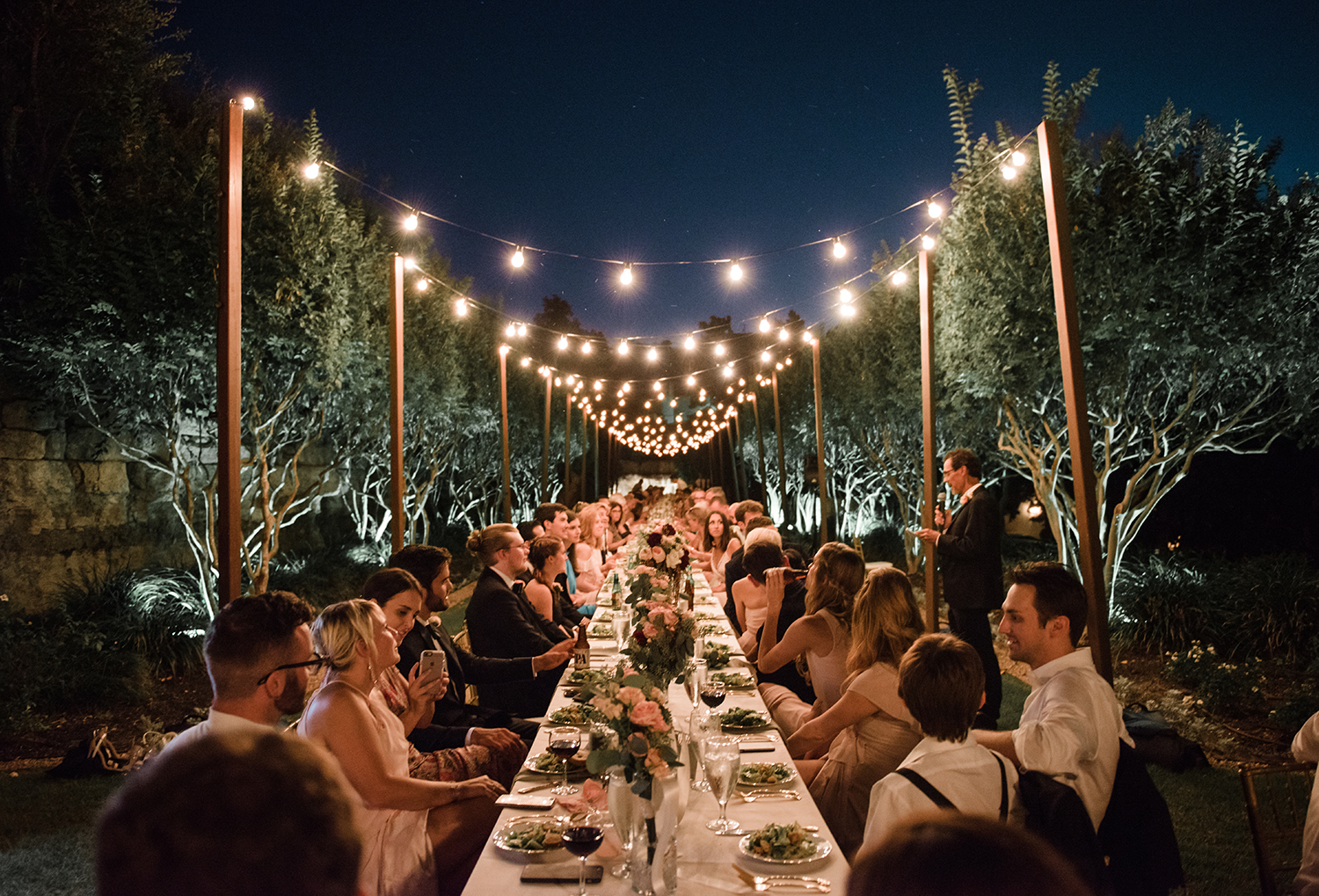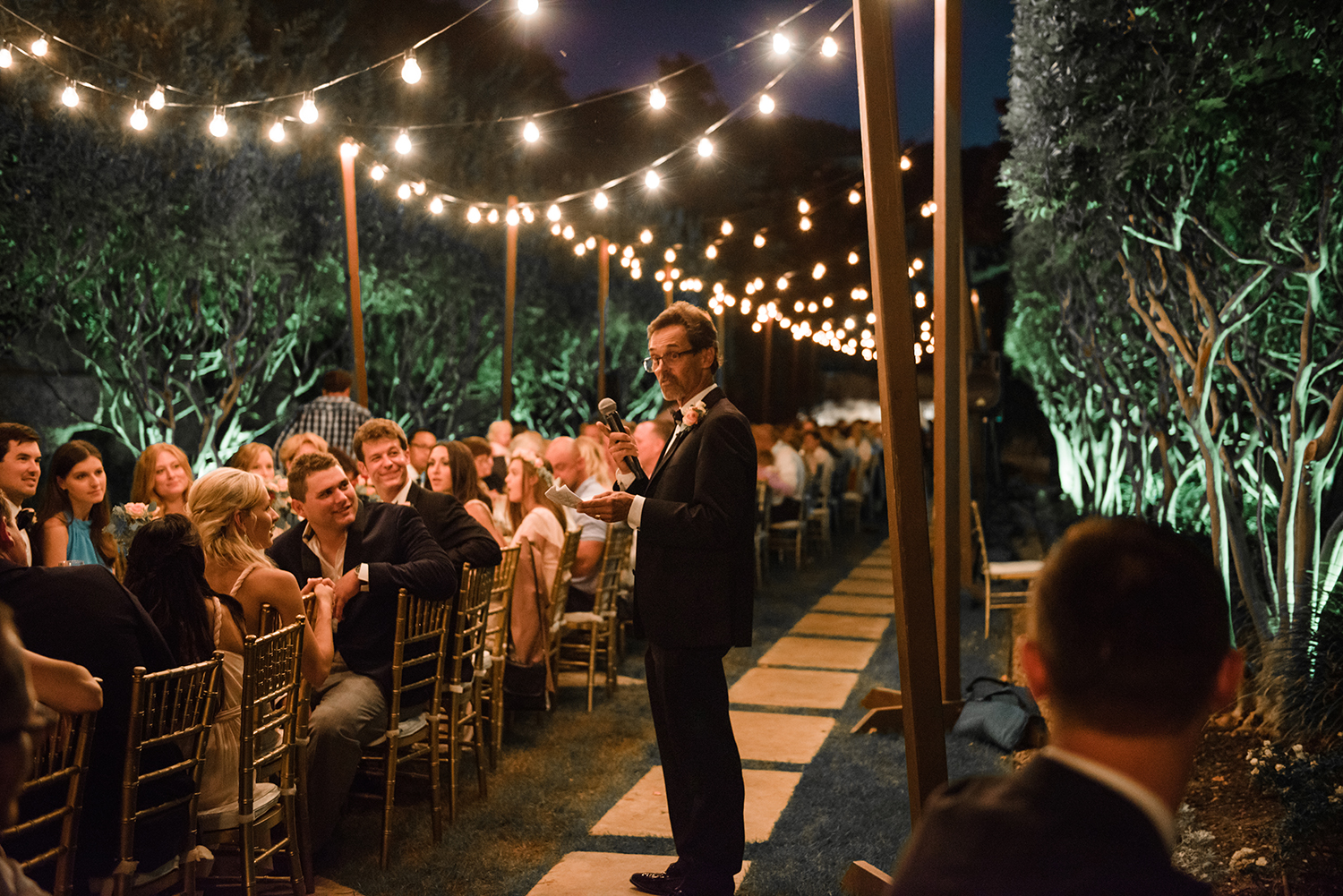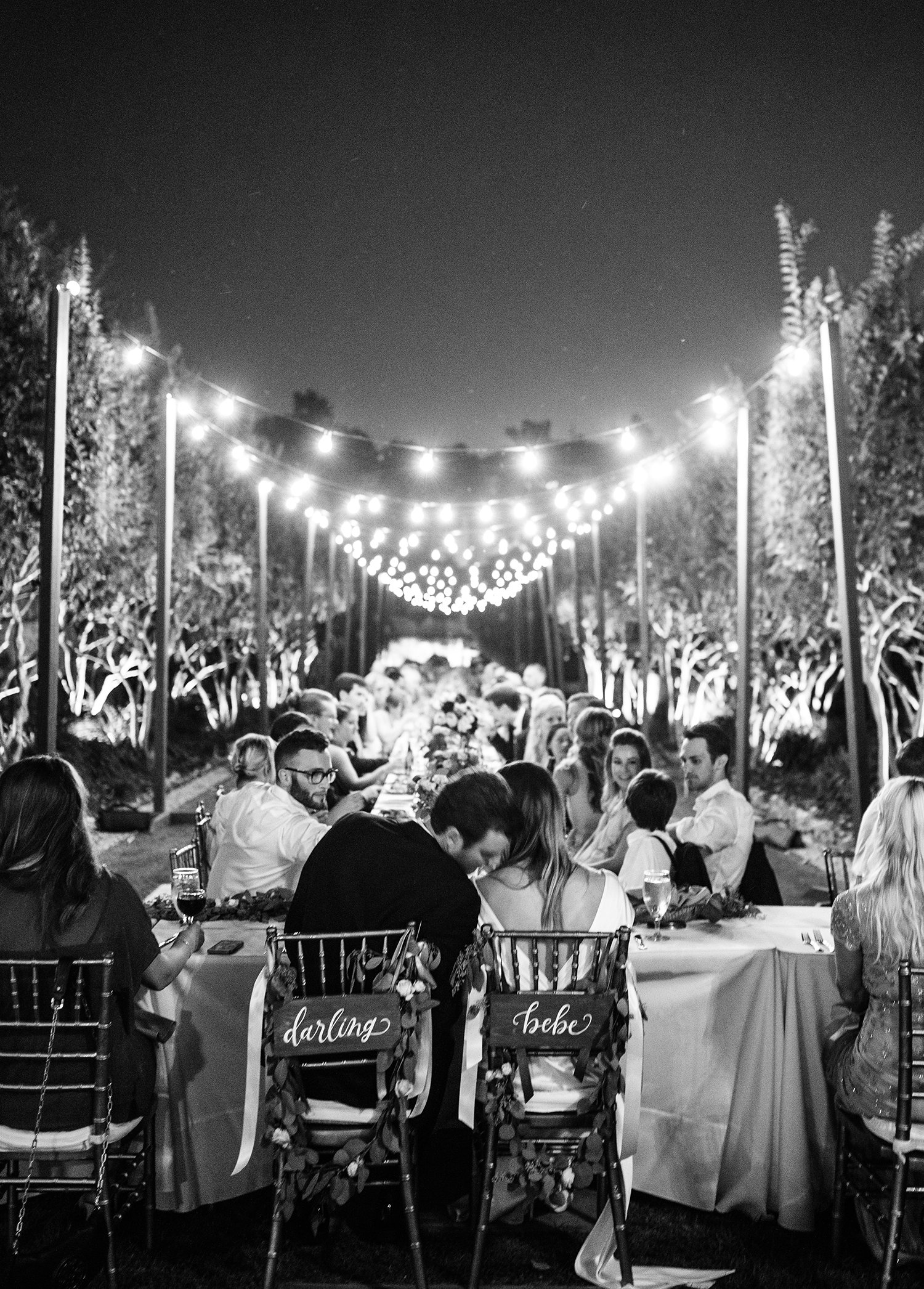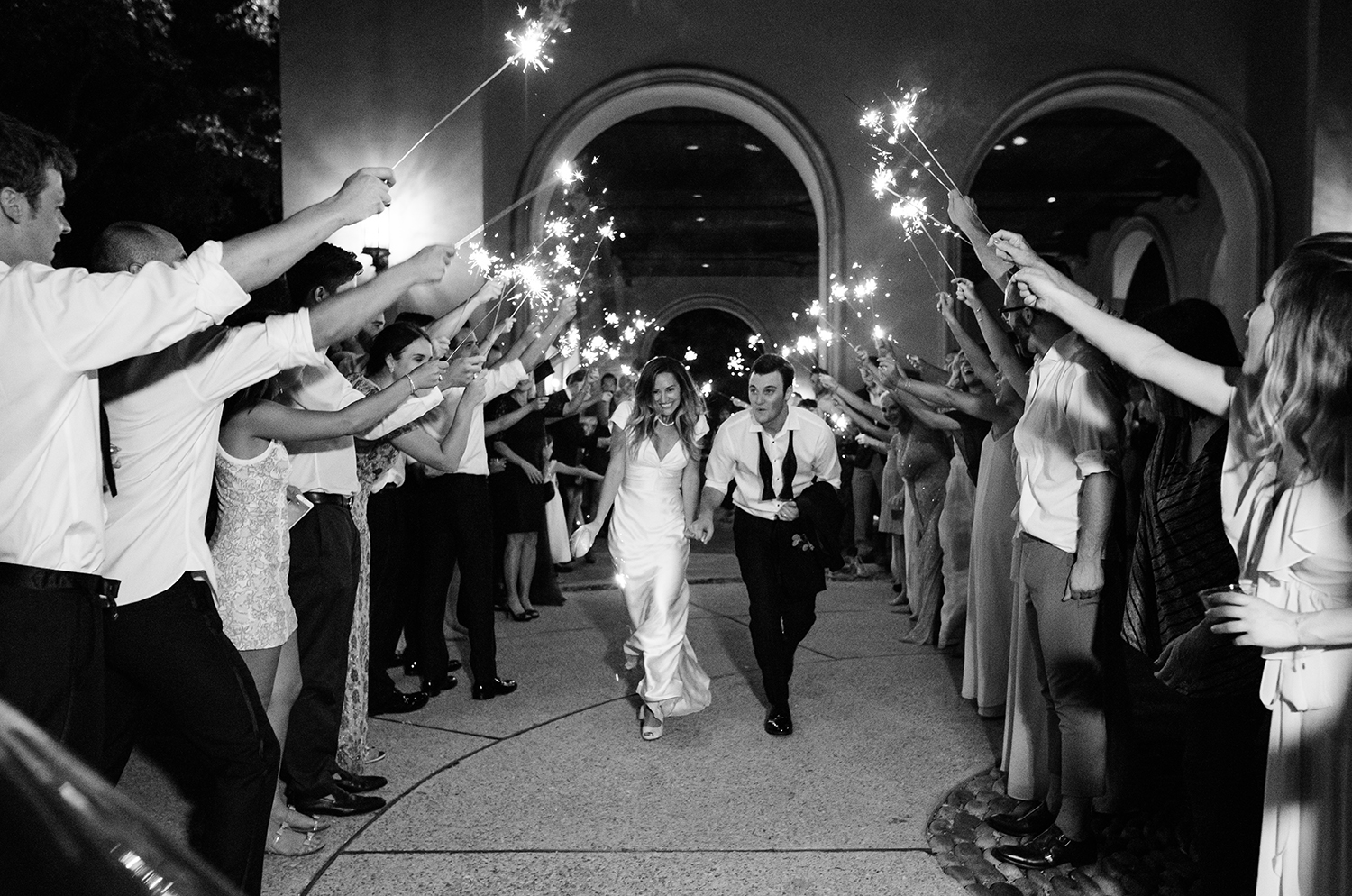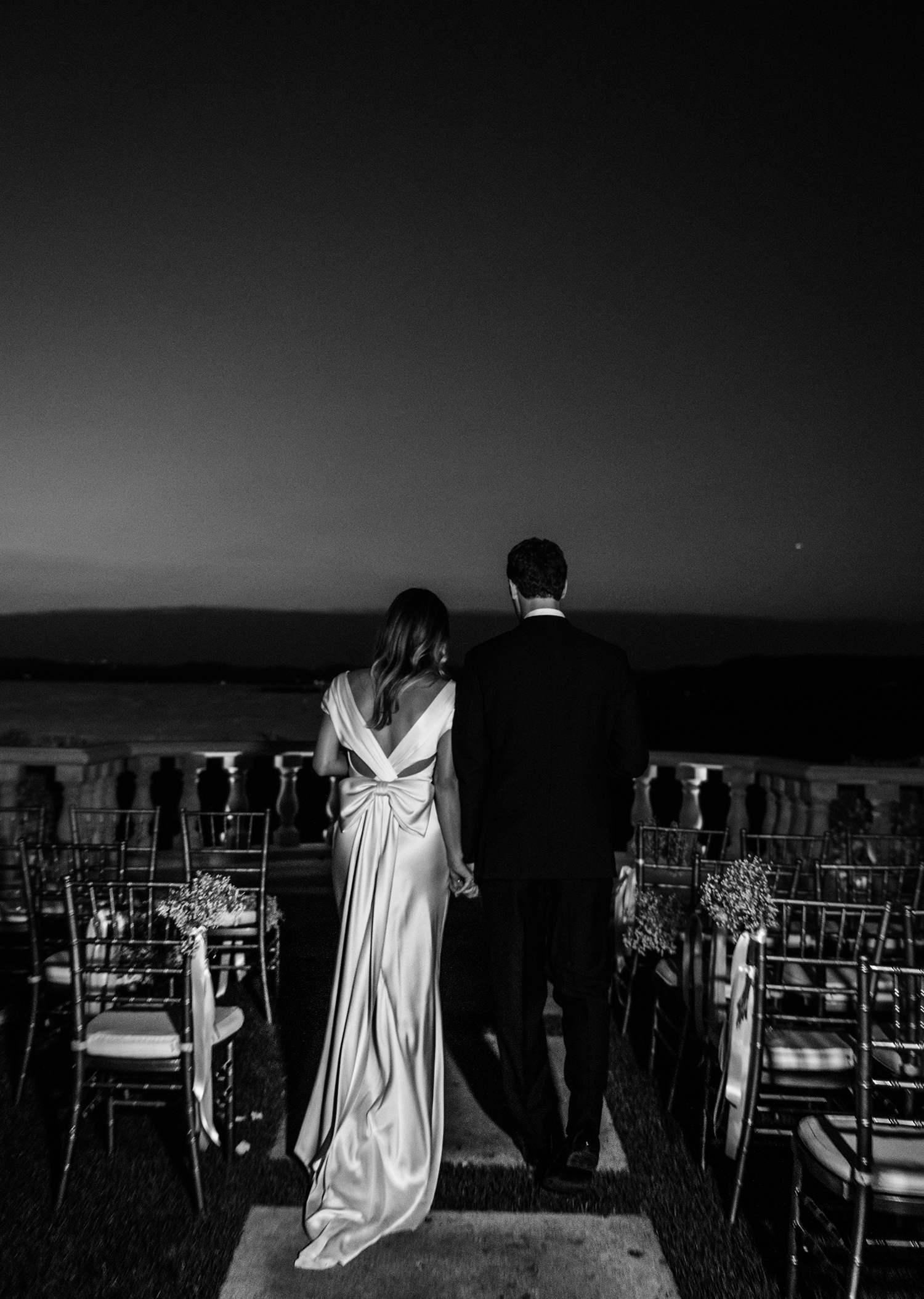 Amidst the grounds of Villa Del Lago overlooking beautiful Lake Travis in Austin, Texas, with the sun glowing and a string quartet playing "Across The Universe" by The Beatles (the movie we saw on our first date in high school), we promised to stand beside each other as husband and wife forever moving forward. It was a day filled with so much love and happiness, unlike anything I've ever experienced before.
The inspiration behind our wedding was a pairing of classic glamour and whimsical romance. My grandmother's sense of style always had a big impact on me growing up – she had such an old Hollywood grace about her, and I wanted to honor her aesthetic as I chose my dress, jewelry and hairstyle for the wedding. Though I tried on what felt like hundreds of dresses, when I slipped into my gown, I knew right away it was the one. My mom wore my grandmothers satin wedding dress, and it has the same neckline and overall silhouette as the one I chose. It felt like fate finding my dress, and it was a beautiful way for me to celebrate my sweet Mimi on our wedding day. From my satin gown with a statement bow at the back, to the festoon lighting strewn above our dinner table stretching across the lawn, the overall vision for our wedding came together perfectly. I remember taking a moment while seated at dinner to look down the table and relish in such a special moment with those we care about so dearly. It was truly dreamlike. Though our guest count was 150 people, the atmosphere felt intimate and sweet, which was our biggest hope as we planned the wedding.
Blake and I got engaged in May 2015 and decided a long engagement was best given our busy schedules. It was the absolute best decision and gave my mom and I time to plan the wedding together. Though planning a major event with hundreds of people in attendance is quite an undertaking, my biggest piece of advice to those planning a wedding with their mom is to relish in that precious time spent together. I know wedding planning can be overwhelming and stressful at times, but remind yourself to enjoy the journey and know that these moments are fleeting. I was and still am so appreciative for the incredible amount of time and effort my mom put into our wedding. From meeting with our florist six times, to selecting the wedding cake flavors, to ordering the 13 stunning Joanna August bridesmaid dresses and hand-addressing hundreds of invitations, she was without a doubt the definition of Superwoman. I am so thankful that showing gratitude to her throughout the process made for an enjoyable planning period that we can both look back at fondly.
Another piece of advice I can give bride-to-be's is to keep the meaning of your wedding at the core of planning. While of course the flowers and décor play their part, what's most important is the celebration of love and the union of two people. When I would get stressed out, Blake did a great job reminding me what our wedding was about – us. Don't sweat the small stuff (I promise it will come together in the end) and remember the purpose of your wedding. Keeping that in mind helped me to stay calm throughout the months leading up to our big day.
When the morning of our wedding finally arrived, we woke up to a feeling of genuine bliss. The sun was shining and there wasn't a cloud in the sky. Before we parted ways in preparation for the wedding, we took a drive to visit Blake's mother's gravesite and take in a calm moment together. I was so fortunate to have known Barbara when we dated in high school, and it was important to us that we recognize her on this monumental day. Her beautiful spirit was all around – from the vibrant sunset during the ceremony, to the breeze amid the trees and the single pink rose that Blake held in her honor as he walked down the aisle, she was certainly with us and so proud of Blake.
My bridal party arrived in the early afternoon to start getting ready at the estate adjacent to Villa Del Lago pavilion. I surprised everyone with the cutest floral robes by Plum Pretty Sugar and Blake's cousin kindly kept restocking pink champagne for everyone (thank you, Ronda!!) as we got our hair and makeup done. We definitely felt like princesses – it was so much fun! I rarely have my makeup done professionally, but Monica at NAAVA Salon gave me such a gorgeous, natural yet enhanced look for the wedding. I liked a darker lip with full lashes and she achieved it perfectly! My glamorous hair (that stayed put all night!) was beautifully styled by Shannon at West End Salon. These ladies were a glam squad dream team!
Guests arrived to the outdoor venue greeted by chilled wine, a string quartet and a stunning lounge area outfitted by Loot Vintage. I about died when I saw that striped and gold sofa back during the planning period, and knew immediately it had to be at the wedding! It effortlessly exuded that old Hollywood, glamorous feel I adore so much.
As the sun was setting, I took my dads' arm and we walked across the steps and towards the aisle. Blake and I opted not to do a first look, so with tears in my eyes and a heart so full it might burst, I glanced up and we locked eyes for the first time that night. To this day, I have never seen a smile so big on his face. I made my way to him and as we took each other's hands, he mouthed "I love you so much," and it was everything I ever wanted in that moment. I was so fulfilled. There we were, those same two teenagers who fell in love nine years ago…all the way to the young adults dressed in a tux and a wedding gown, professing their everlasting love for one another. We've changed a lot through the years, but our hearts have always remained connected.
What a feeling it is to promise your love to someone, surrounded by the people who matter most to you. Just like love, it's not something to be described, it's something to be felt.
We cannot thank our dear friends and family enough for attending our wedding or sending well wishes from afar – we love you all SO much!!! Special thank you to Justin (Blake's best friend) for being our officiant – you're such a pro and it was an honor to have you! Another very special thank you to my beautiful aunt Susie for singing such a magnificent piece from "I Do! I Do!" – what a treat that was for everyone and a wonderful moment I will treasure forever.
---
Photography: Laura Morsman Photography: Sweet Laura, ohhh my goodness we owe you the world for capturing this day SO beautifully! We will forever cherish these memories, thanks to you! Bride-to-be's – if you're looking for a photographer with a heart of gold and photography skills like no other, I can't recommend Laura enough! She is the most positive human I have ever met and will not only capture the beauty of your special day, but will shower you with happy vibes and so much wonderful energy. Laura – thank you SO much!
Venue: Villa Del Lago: We can't thank you enough for allowing us to get married at our dream venue! We are so grateful and could not have asked for a more perfect evening with family and friends – all at one table! This property is magical and everything we'd hoped for – there's nothing quite like it in Austin! Ronda & Kelly, we thank you and love you dearly!
Day-Of Coordinator – Debi Hamilton,  (thank you x a million, you are a gem! Debi manages Villa Del Lago, she is a pro and such a sweetheart!)/ Catering + Table & Chairs Setup: Whole Foods / Chalk Board & Chair Signs – Exquisite Squid (thank you, Allison!! Everything was too perfect for words!) / Lounge Setup – Loot Vintage (100% recommend, absolutely incredible and the owners are wonderful ladies!) / Florals – Whole Foods (special thank you, Karen, for your kindness and hard work!! The bouquets were perfection!)/ Bridal Makeup – NAAVA Salon (LOVED working with them, talented makeup artists and the sweetest ladies!) / Bridal Hair – Shannon at West End Salon (my hair stayed ALL night – true testament to Shannon's talent, especially between the Texas humidity and breaking it down on the dance floor! She is the best!!!) / Bridesmaid Robes – Plum Pretty Sugar / Bridesmaid Dresses – Joanna August (SO many options for every body type, these dresses were a dream come true – perfectly whimsical, feminine and flattering!) / Maid Of Honor Dress – BHLDN (wasn't my sister, Kimberlee, a beauty in this? Such a stunning MOH!) /Bridal Jewelry – Nadri (necklace, bracelet, earrings) / Groomsmen Tuxes – The Black Tux / Flower Girl Dresses – David's Bridal (no longer available) / Invitations – Minted