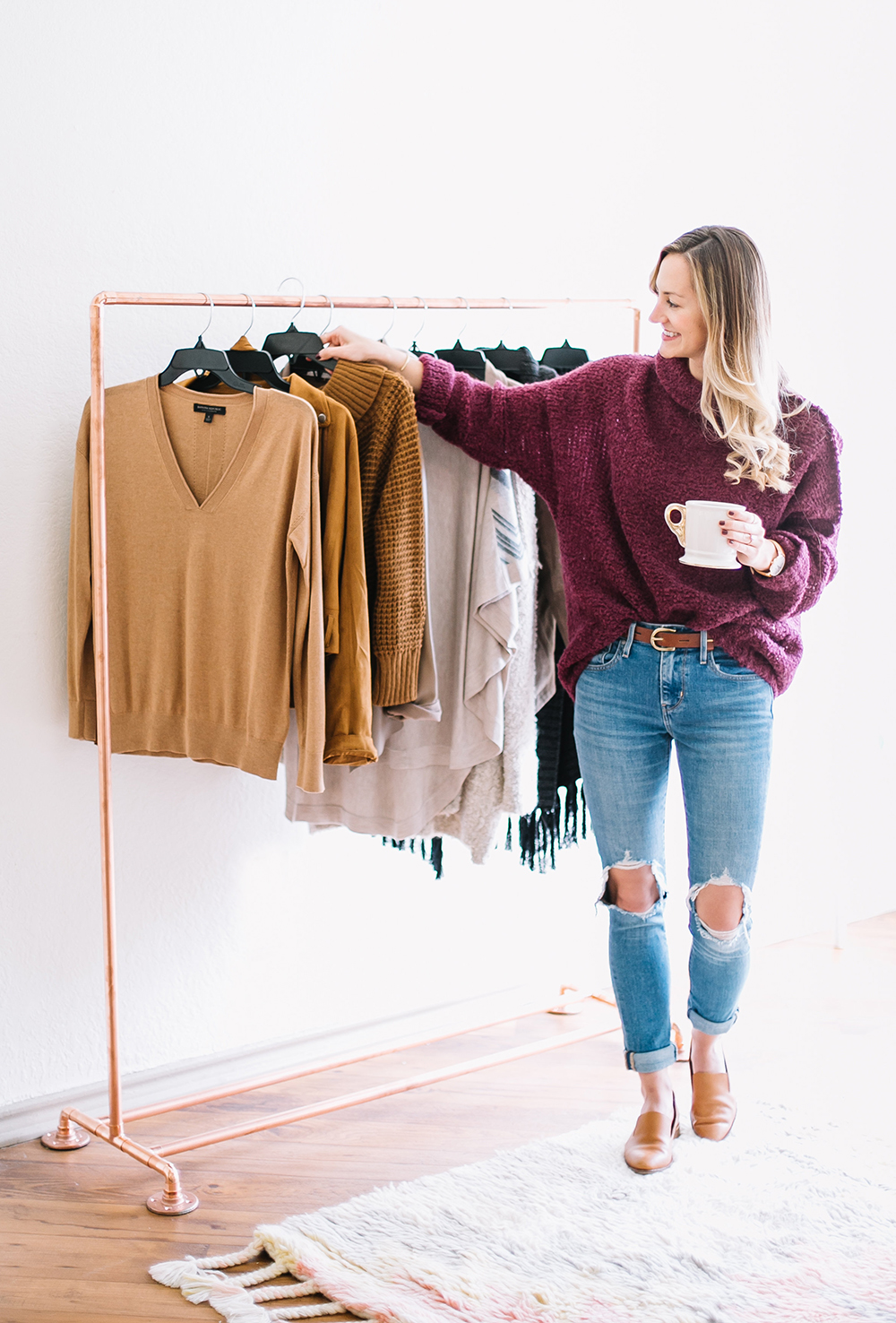 Anyone else have an obsession with Etsy for those unique home decor finds? Hi, that's me! It's always my go-to when I'm searching for something a little out of the ordinary to decorate our space or add a unique touch. I love that it's a wonderful site where artisans from all over the world can sell their products under one roof…not to mention, supporting small shops is always a do in my book! As Blake and I save for a house this year, we're locked into a 14-month lease at our current apartment, thus, making this little one bedroom abode feel like a home has been a top priority for us over the last few months. It definitely helped that we got married three months ago and wedding gifts jump started our home decor hunt… I realized I finally felt like an adult when I was more excited about new pots and pans arriving on our doorstep than a pair of shoes – ha!
Given our small apartment and my ever-growing closet and workspace needs, my home office has officially taken over the dining room…(sorry, Blake!). We have a very open floor plan with our bedroom/bathroom being the only rooms that are secluded, thus, it was inevitable that my desk and work area would be visible from the moment you step foot in the door. That said, I have been making a big effort to transform my workspace into something aesthetically pleasing (…not just piles of clothes/shoes/handbags pushed to a corner…ah!) by way of practical pieces that not only help keep me organized, but are easy on the eyes, too. This is where my love for Etsy comes into play!
When I started blogging in 2014, I bought my first clothing rack – it was silver and quite bulky with big wheels (…not exactly pretty…!). But over time and after two years working in a space that "got the job done" but didn't necessarily feel inspiring, Blake and I decided it was finally time to completely revamp my office area (…blog post for that reveal is coming soon!) to create a space that felt airy, open and above all, clean. Thus, I ventured online to find a new clothing rack that fit the vibe we were going for. There are a lot of gorgeous clothing racks on Etsy, but the one that caught my eye and even had Blake's approval was that gorgeous copper piping clothing rack as seen in image #1 above. I love the sleek, minimalist and industrial feel. It's not only practical, but so gorgeous, too!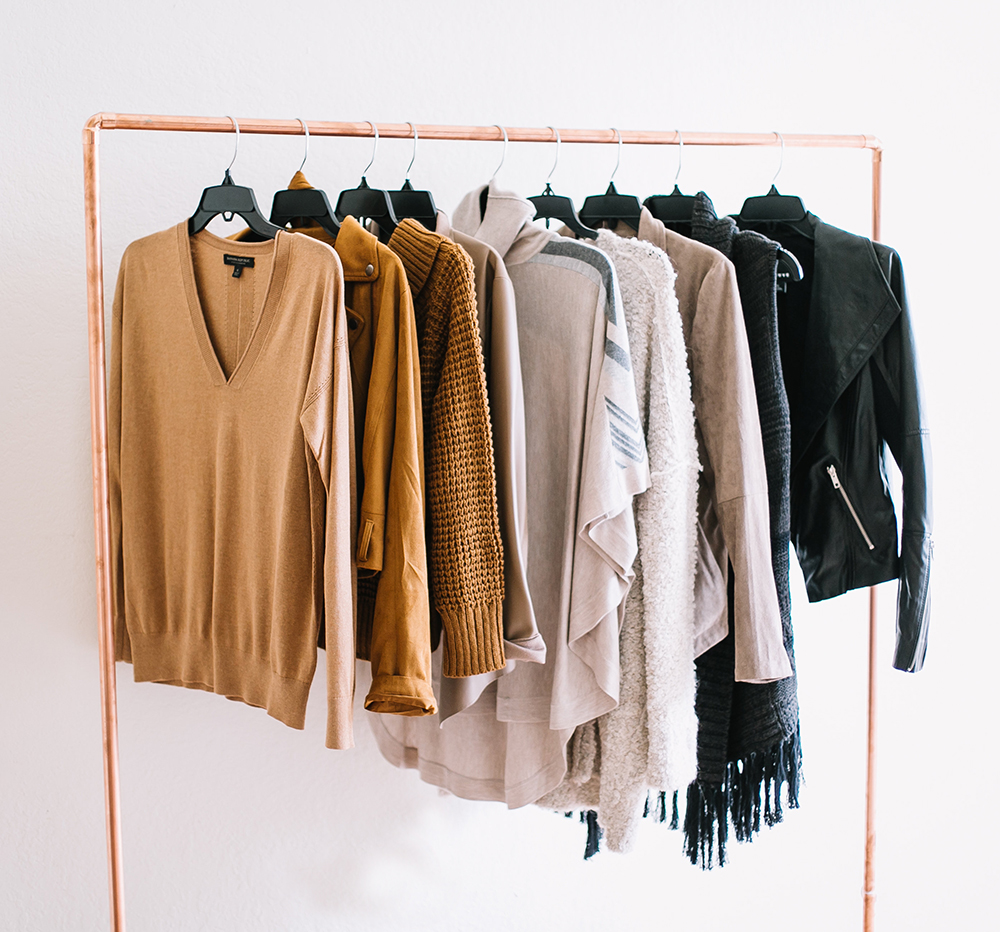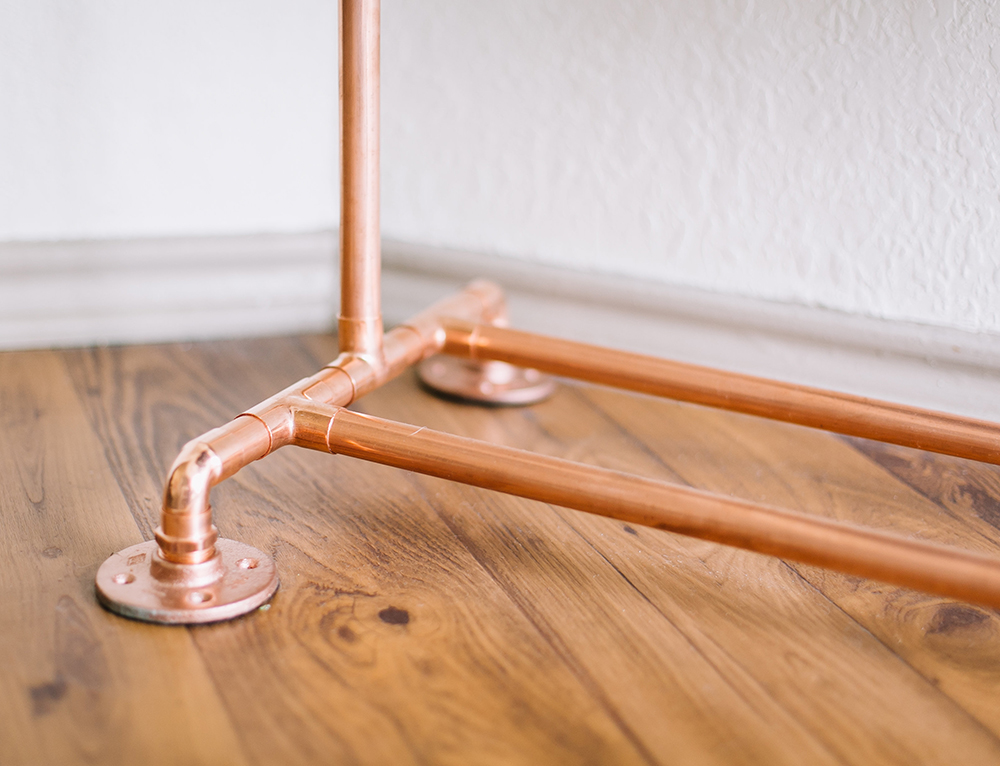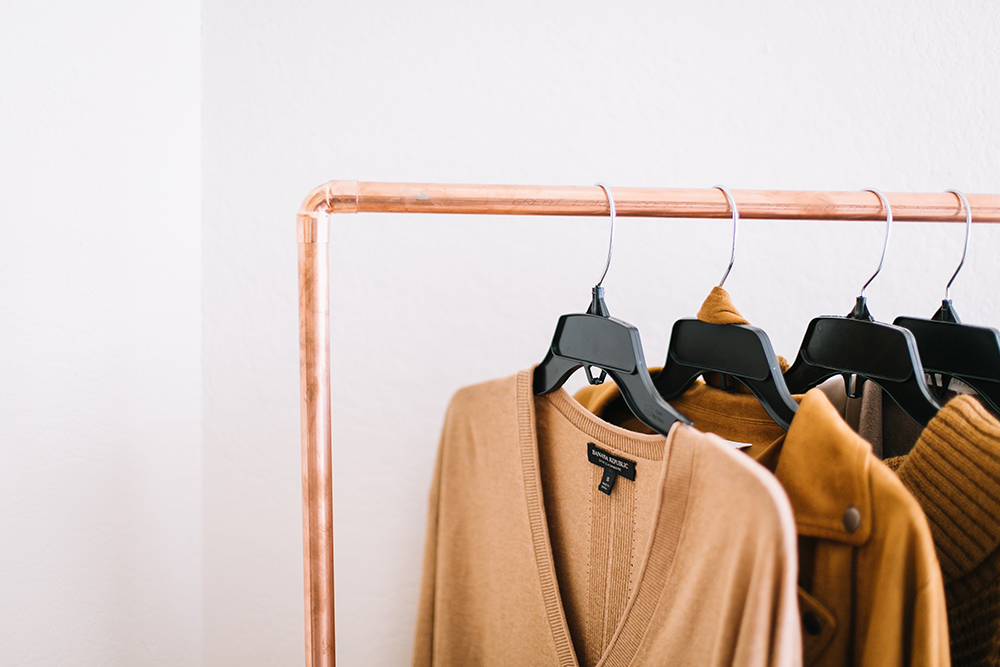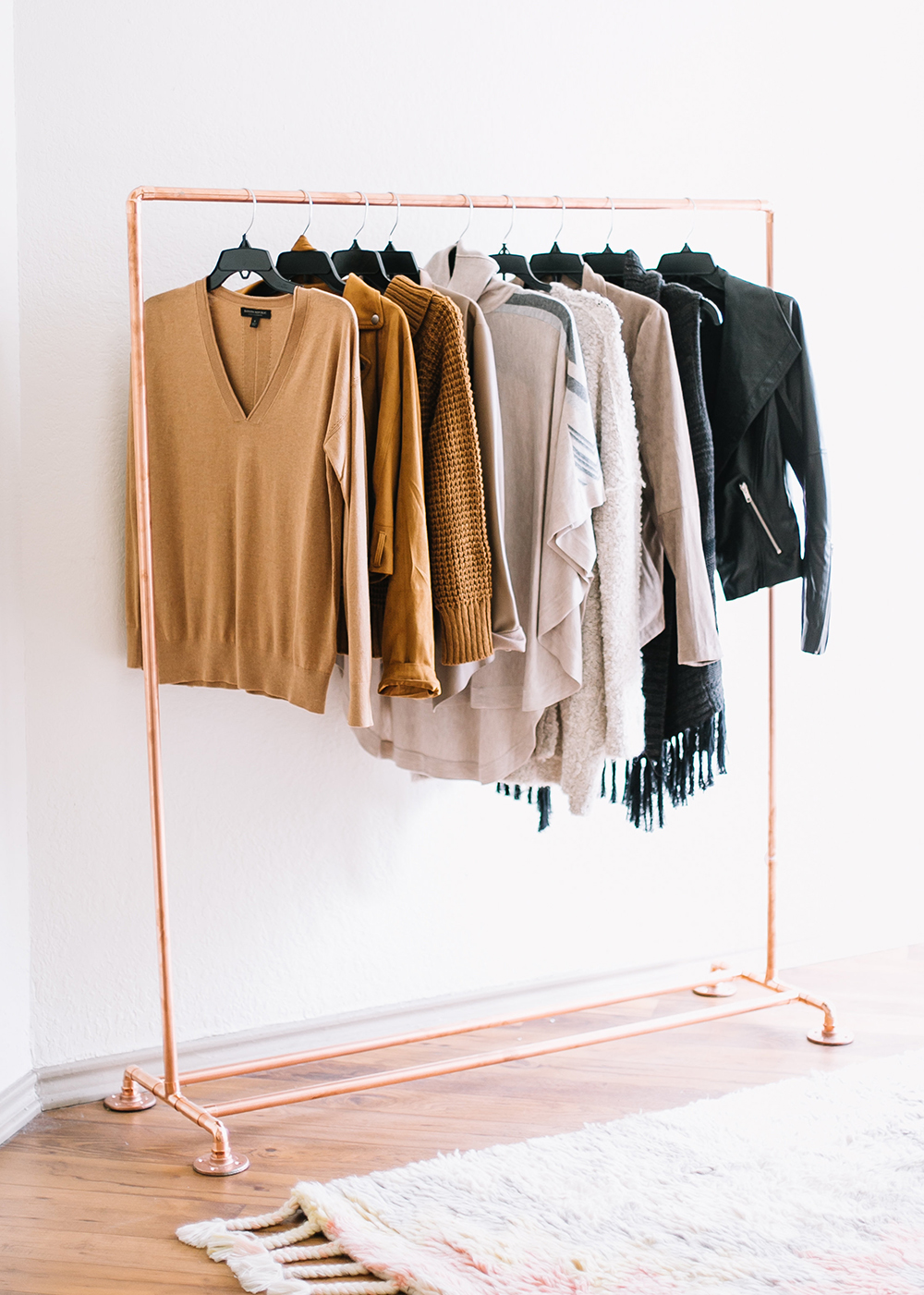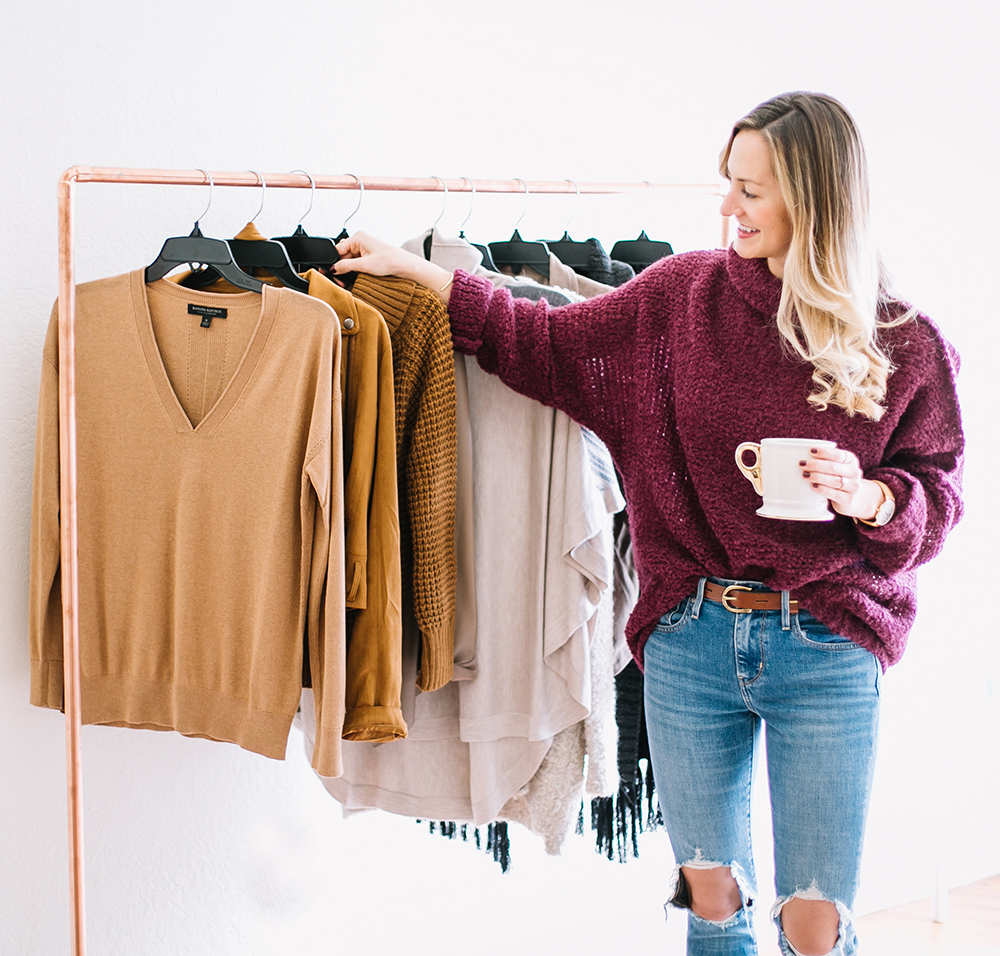 These photos were snapped before the "home office makeover" went into full effect – but you get the gist of how beautiful this new clothing rack is! Given the nature of my job and our smaller living space, it's important to find chic home decor pieces that are space efficient and practical, too. I think that's one of my very favorite things about shopping through Etsy, you can find shops and products that cater to your personal aesthetic and overall just feel more "you" – and it's super awesome to be able to talk directly to the shop owner or artisan. It's one of the few sites that celebrates our "un-similarities" and carries something for everyone – even the fashion blogger who makes an office out of a dining room, ha! 😉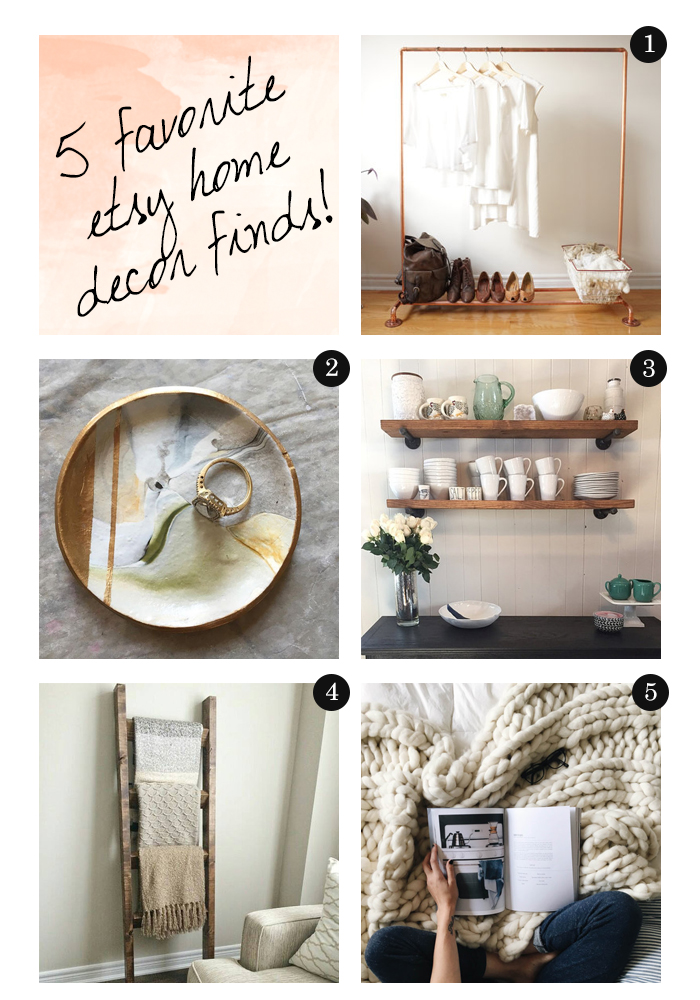 I'm a big Etsy shopper (seriously, it's one of my favorite places for gifts and decor picks), so you've likely noticed that I scooped up that gorgeous chunky knit throw blanket about a month ago (#5 above – I've been sharing it on Instagram, see here) and Blake and I just purchased the floating shelves in #3 to put above our sofa in the living room – something we'd been talking about for a while and finally decided to make the purchase last week. (…Now we just need some art and a few plants…hmm..). I already "favorited" the wooden blanket ladder (#4) and am excited to add that to our abode over the next few months. I added the gold leaf jewelry tray to my list above because I LOVE having jewelry trays around our apartment, and that one stuck out given it's artsy feel (…and I'm a sucker for anything with gold accents). I take my jewelry off throughout the day and like to keep a tray in the kitchen, bathroom and bedroom…it's just easier for me!
Do you have a favorite Etsy home decor store? I would LOVE to learn about it! I am constantly on the hunt for unique pieces to fill out our home – please share in a comment below!
**Photos by Brandon Hill Photography
CLOTHING RACK / JEWELRY TRAY / BLANKET LADDER / FLOATING SHELVES / KNIT THROW BLANKET

A big thank you to Etsy for sponsoring this post! All opinions are my own.