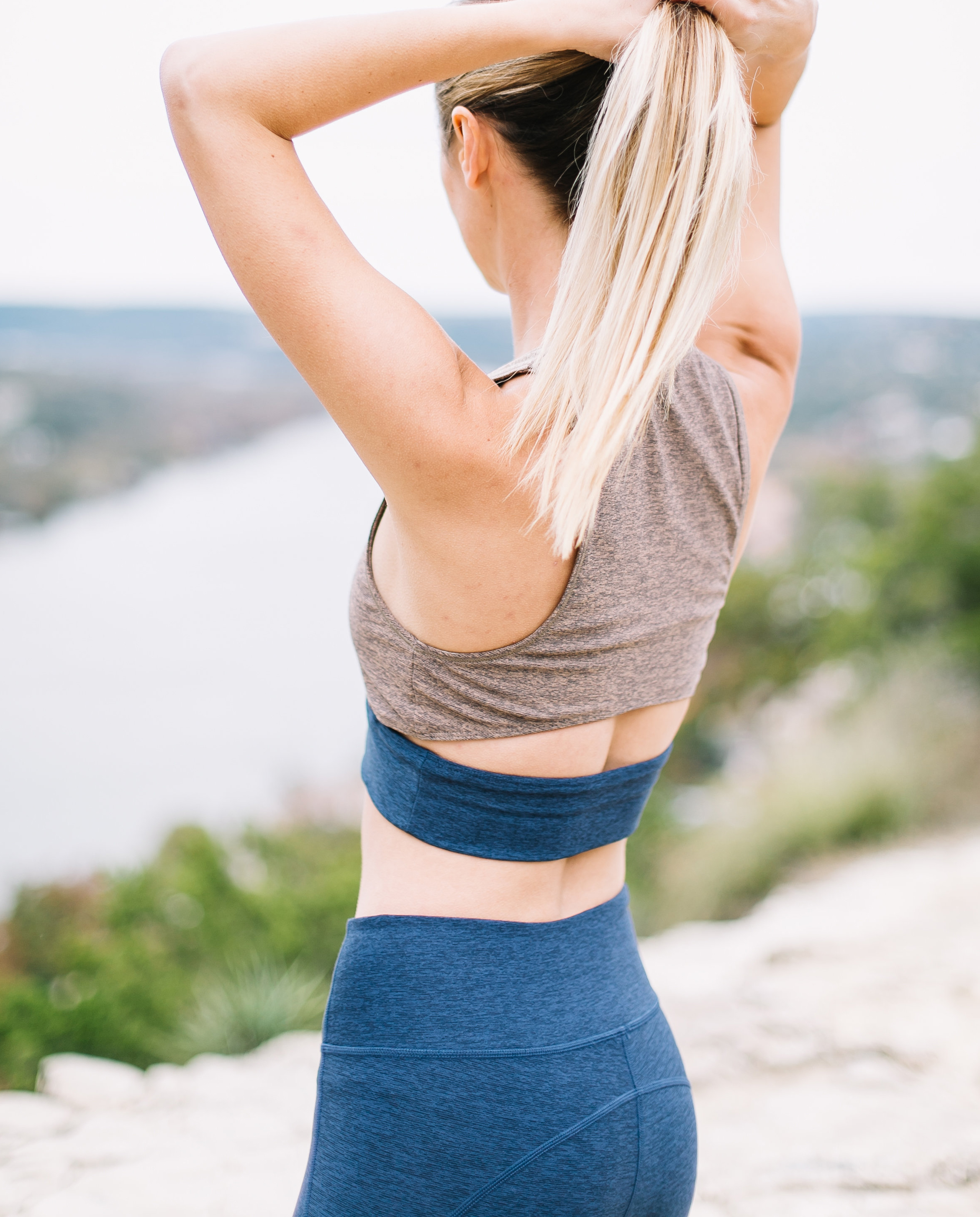 Hello there, friends – I'm going to switch things up today and get a little personal with y'all! I don't know about you…but this month has been overwhelmingly busy in my world. So busy, in fact, that I have had a couple of cry-fests (…that's what I like to call it when I sob for about 10 minutes straight, ha! Call me crazy…but it's simply my form of coping when life throws too many things my way), just as a healthy need to release my pent up stress and anxiety to "do it all." The thing is, I am one of those people who believes I can always be doing more – pleasing more people, achieving higher goals, bumping out more content…you name it, I've added it to my plate (…and by the way, this is me admitting that whole, "I do it to myself" thing…!). And while yes, setting goals to work towards is awesome, killing yourself in the process is simply not okay. I feel like each month is a learning experience for me in navigating just how much I can handle in both my work and personal life – especially since oftentimes my personal life is integrated into my work…which is where the necessity of finding balance comes into play.
**Photos by Brandon Hill Photography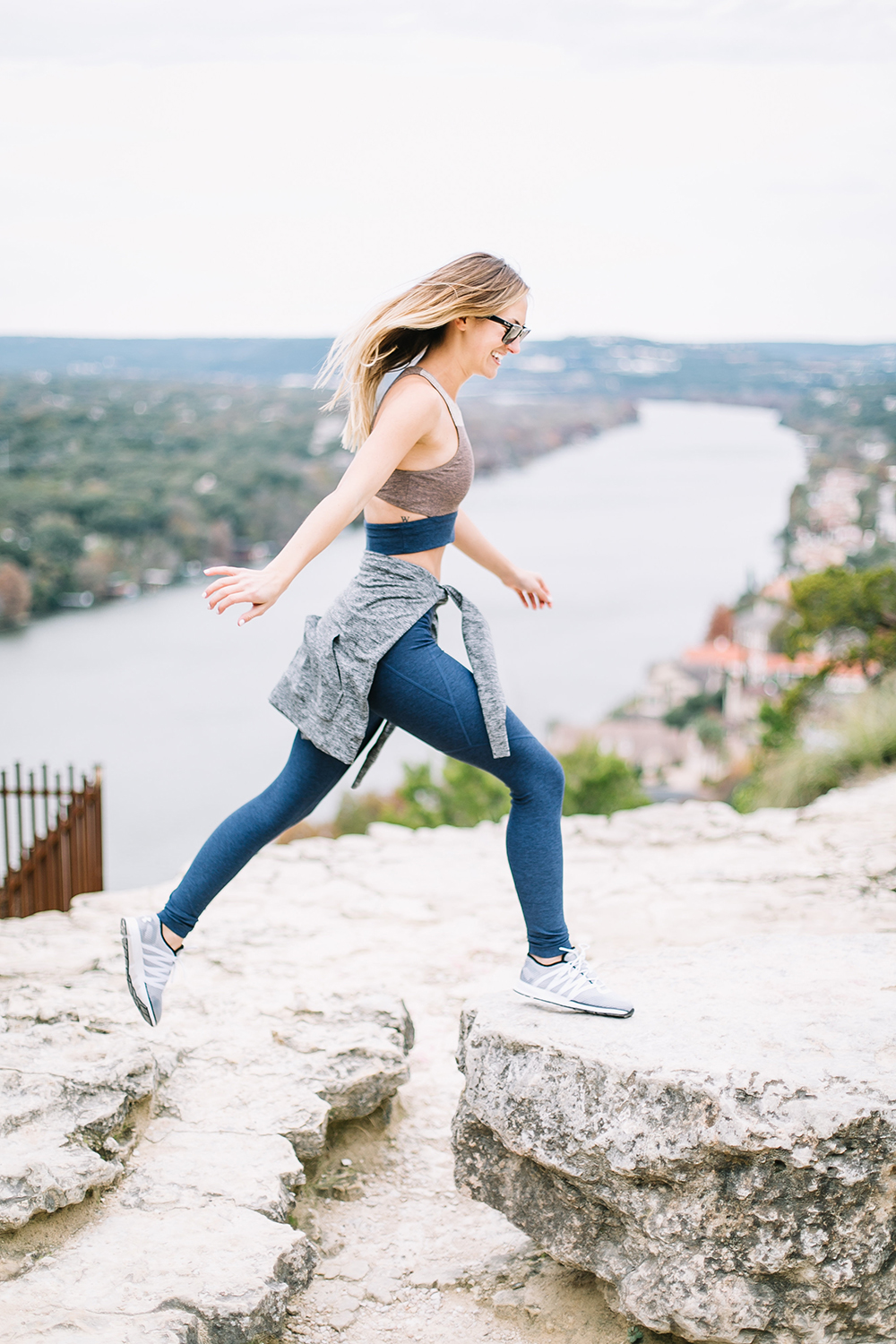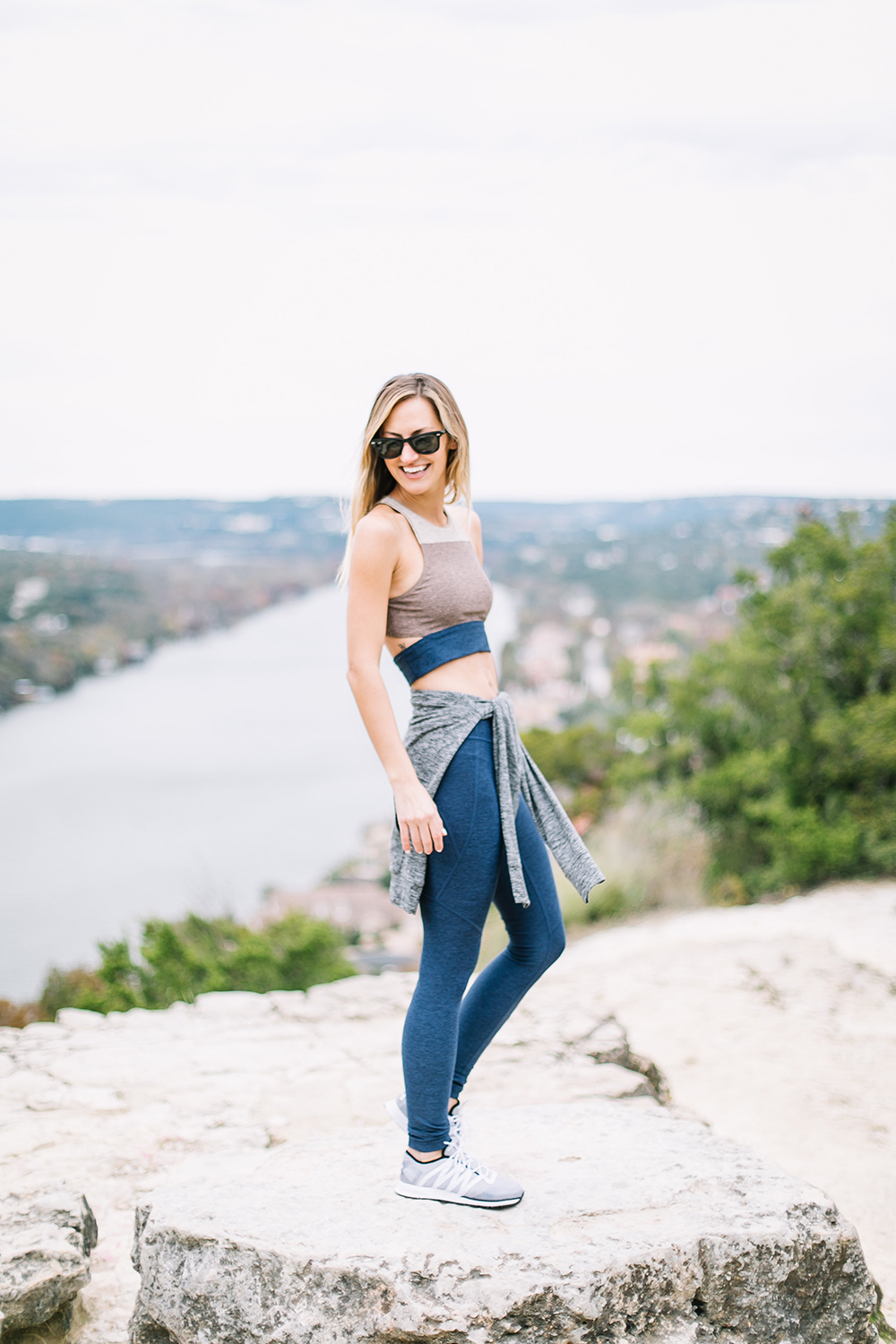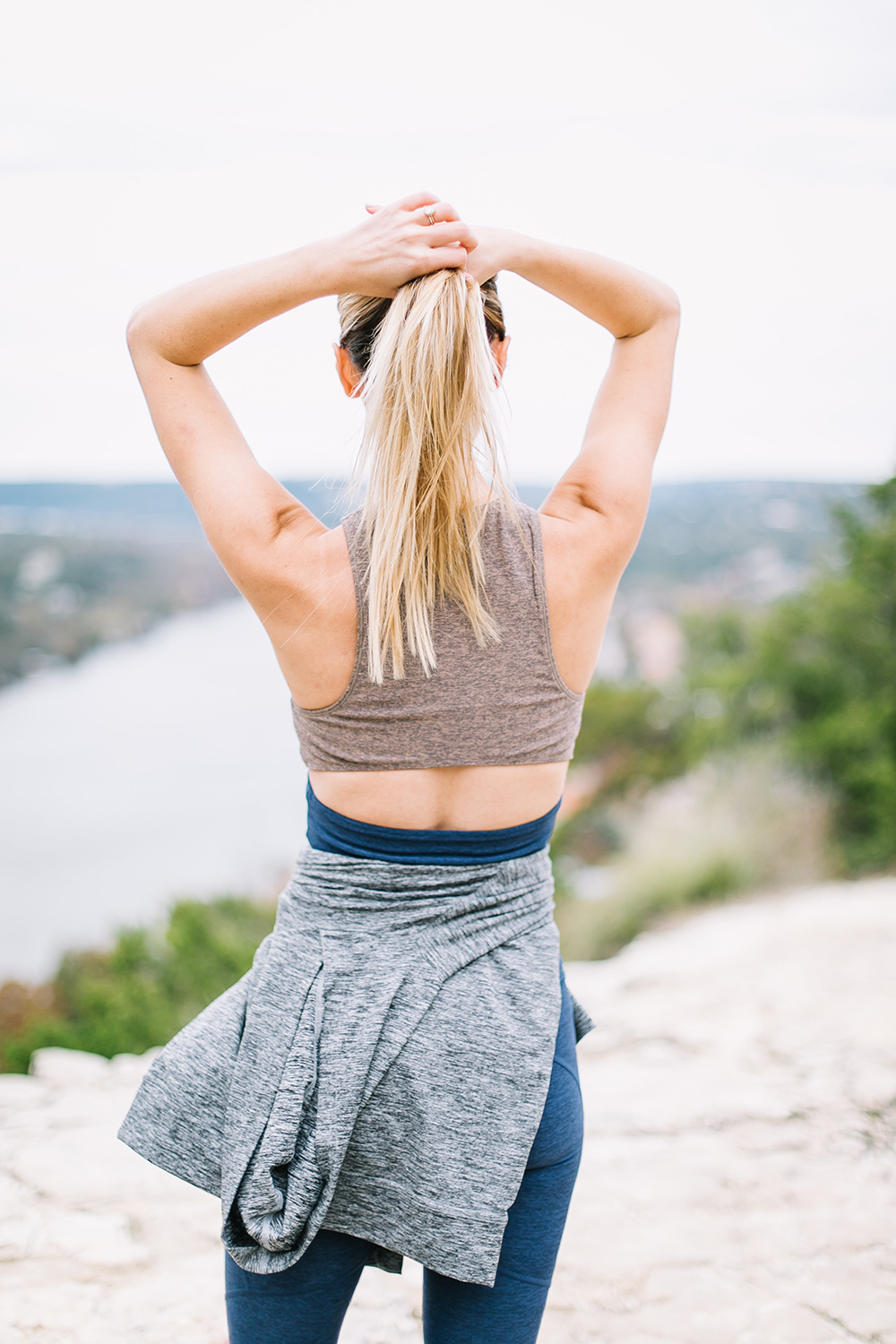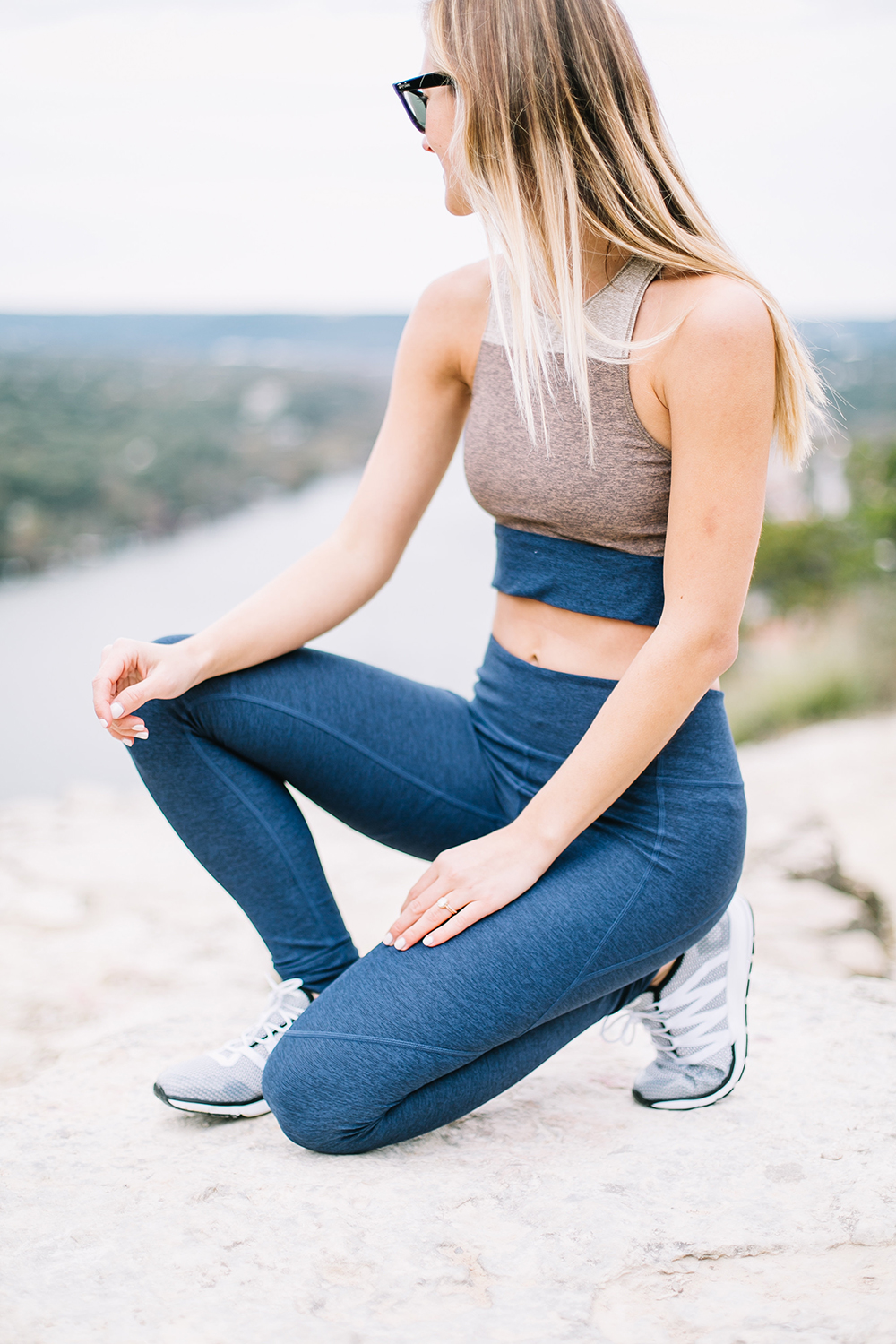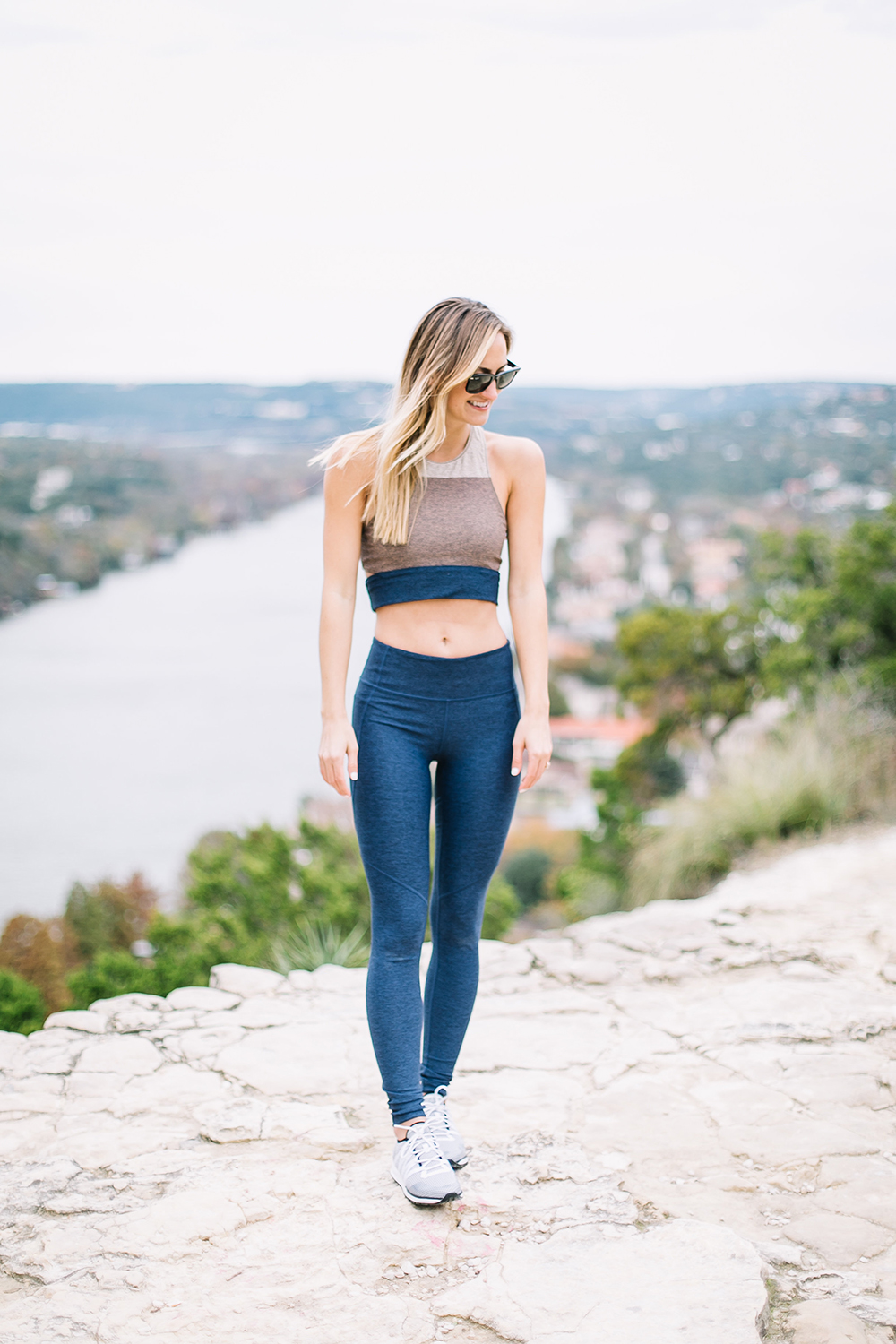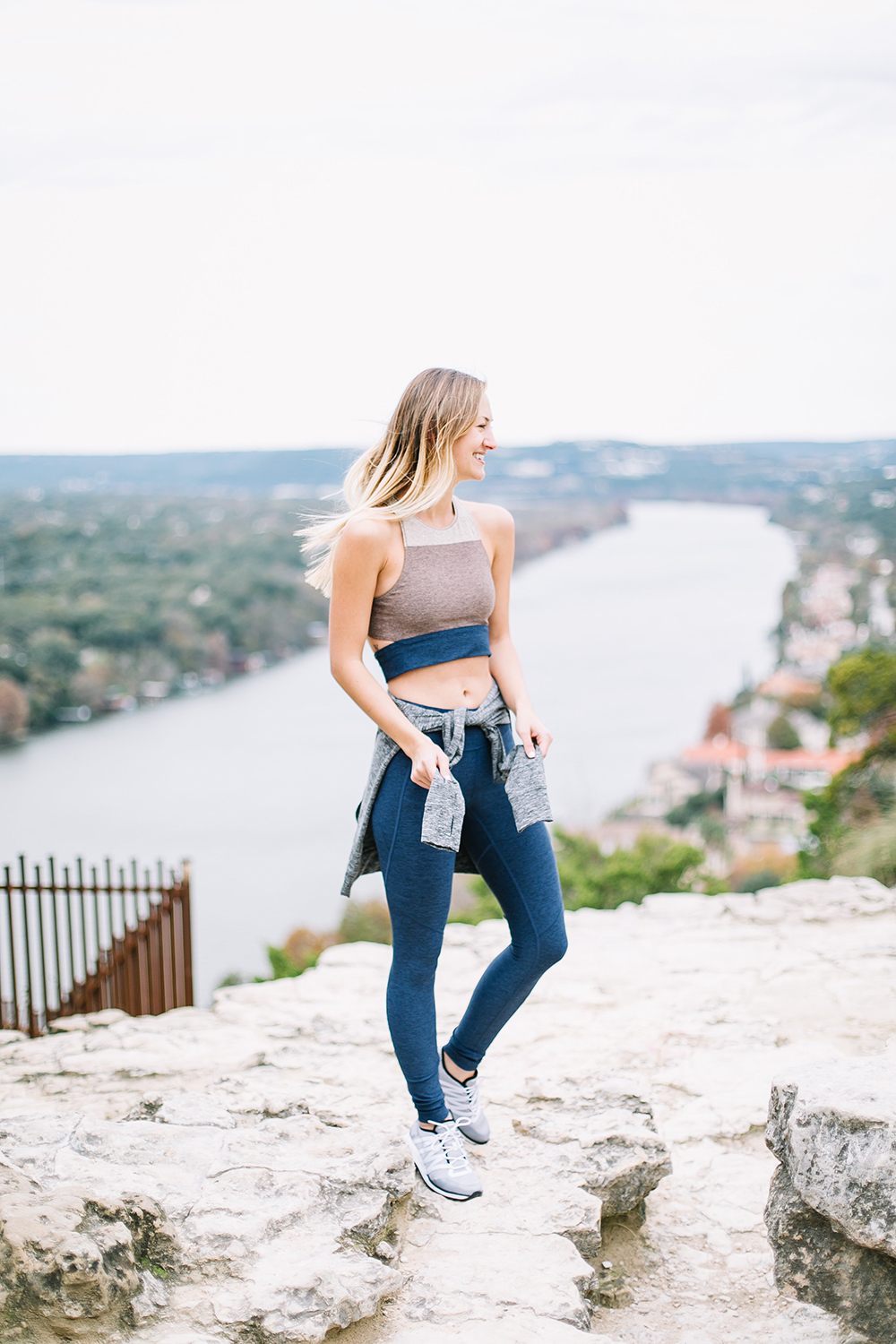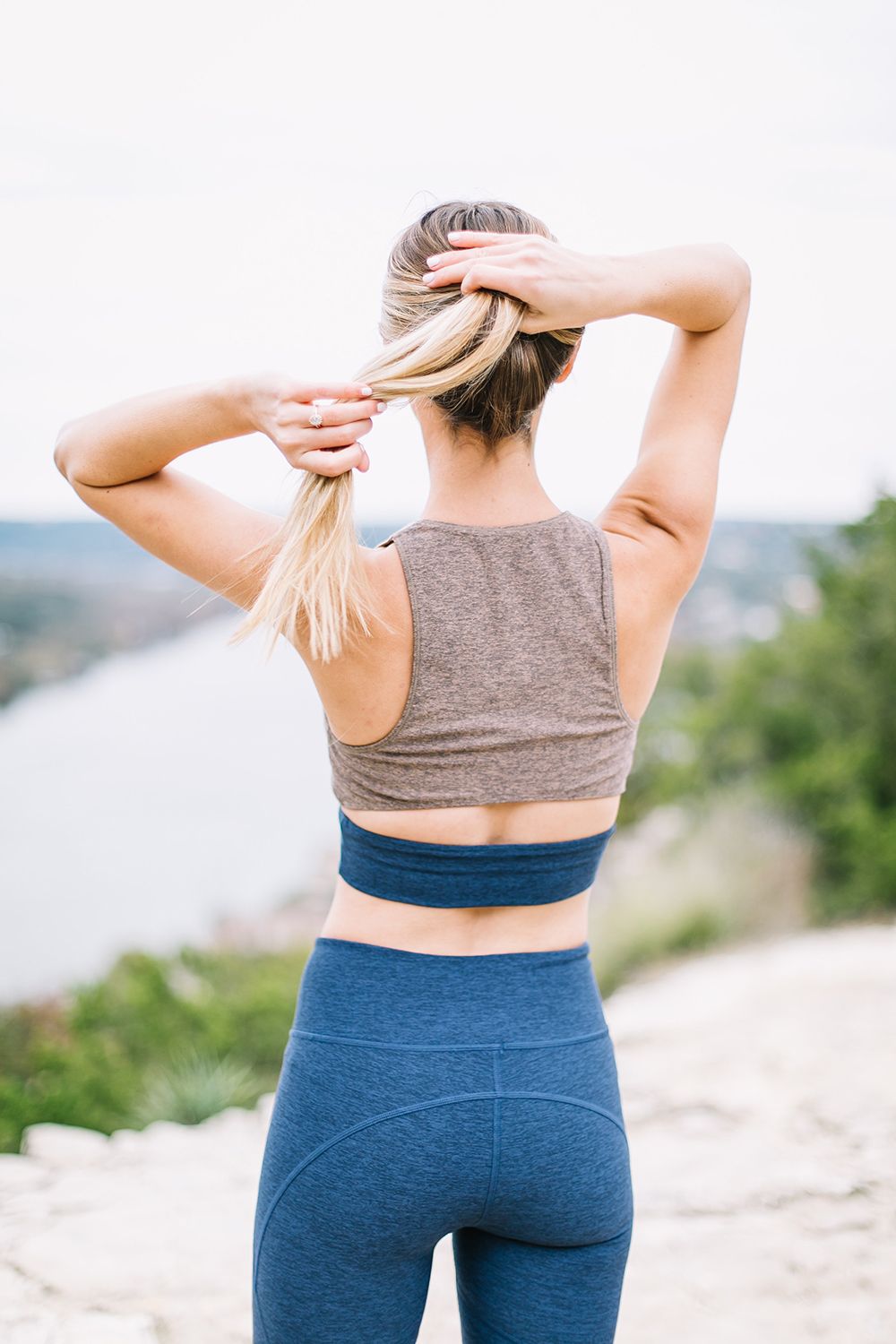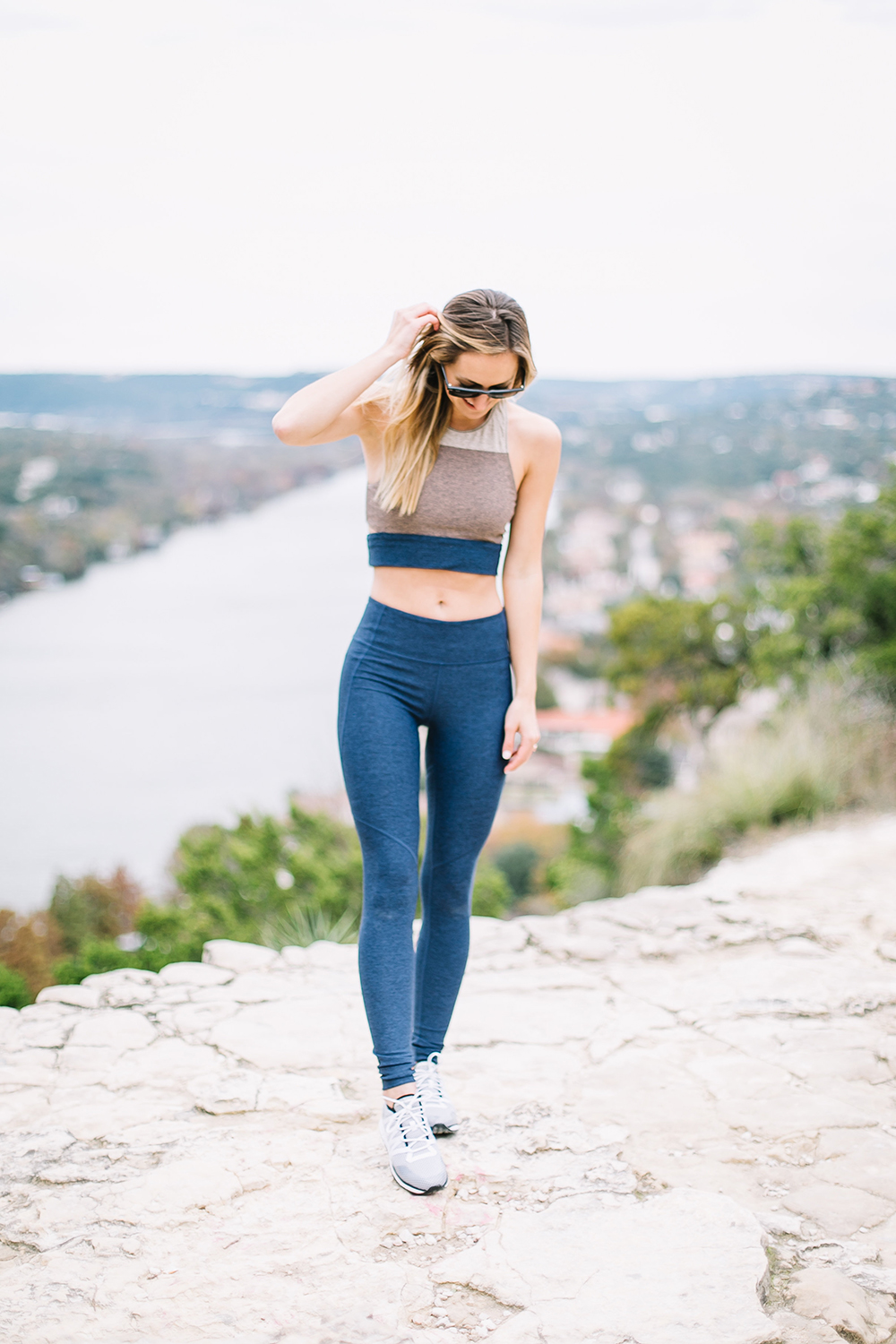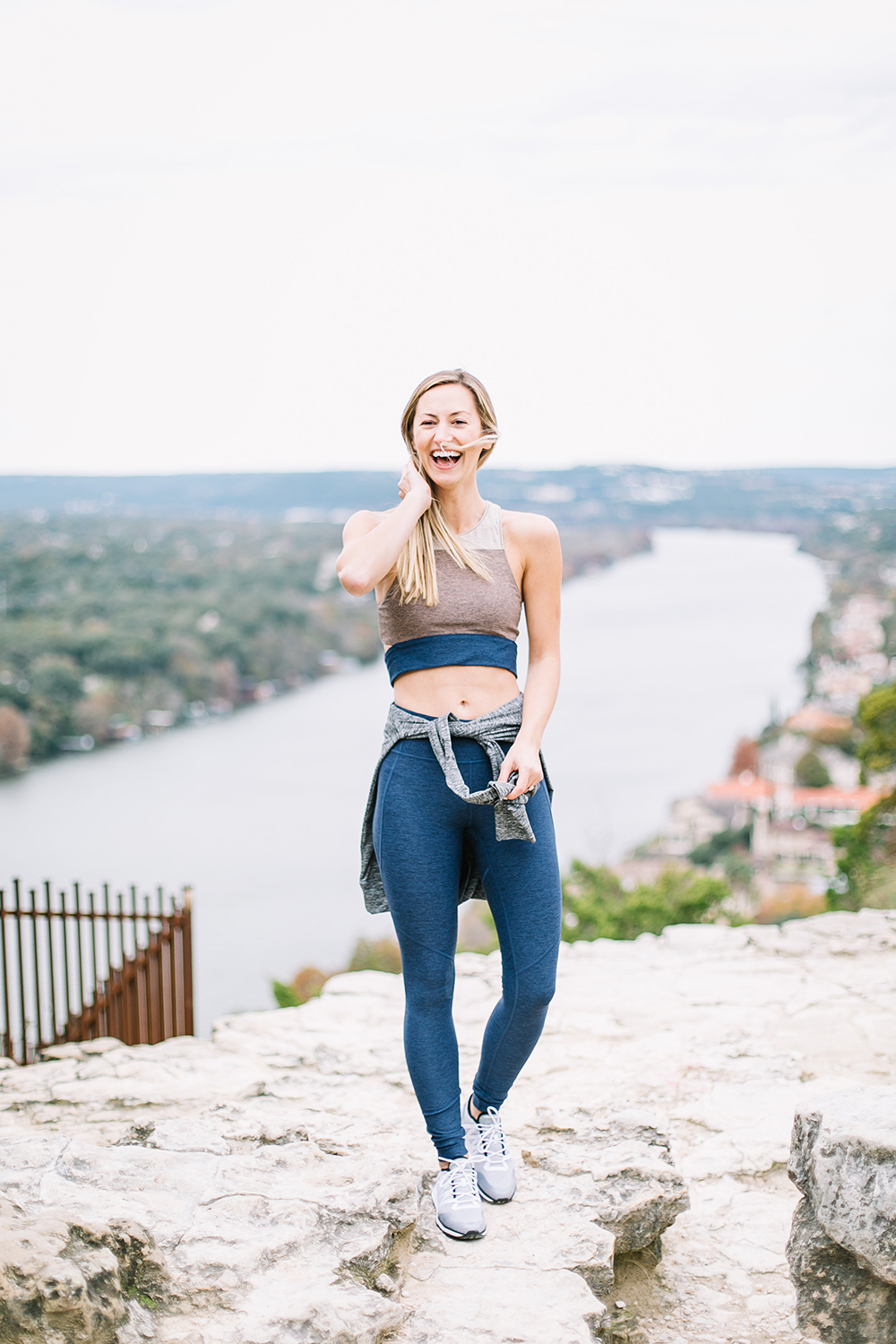 One of my best friends is training for a half marathon and I'll admit, though I don't have the time to train for something like that right now, it has piqued my interest and encouraged me to shut my laptop and get outside more often. For one, being outdoors is such a wonderful stress reliever (…and a healthy escape from my desk) – and two, I like that I feel refreshed and energized when I come back from a run or hike… there's really nothing like fresh air, a beautiful view and healthy movement to ease my stress level and motivate me to take on the rest of the day.
…Which brings me to what I am wearing in this post… Good transition, right? But here's the thing, my leggings, sports bra and hoodie are by Outdoor Voices – a wonderful sportswear brand that stands behind wellness and as they say, "doing things." Think more casual activity like a leisurely bike ride around town, rather than crossfit or a triathalon. So – what does "doing things" mean to me? It means stepping away from the black hole that is my email inbox (…can you tell this month has been a struggle? Ha..), to take a hike around Mount Bonnell, that gorgeous cliffside trail you see in the photos above. I've been coming to Mount Bonnell since I was a kiddo, and it never fails to leave me both rejuvenated and in awe of its beauty. Gorgeous green trees, the lake in view and crisp air all around me – it's hands down one of my happy places.
I love that Outdoor Voices focuses on fashionable, leisurely fitness pieces that are seriously SO flattering and practical! They have a ton of fun crop-top options (like the one I have on, how cute is the color block and back detailing? Wearing the "Portobello" color combo + navy leggings) and their hoodies are my absolute faaaavorite! (I have this one in two colors…I'm obsessed!). I've been wearing their pieces for over a year now (…you might remember this pink + grey combo I sported for Style Me Pretty last year) and each season they carry new color combinations and styles that I completely adore.
Balance in life is key – it's something I am constantly working towards…some days are better than others, but it really should be at the top of my list of goals. With balance comes peace of mind, greater happiness and of course, fewer "cry-fests"…ha! And while staying in shape is big for me, the mental benefits of going outside and being active are equally vital in my world.
What do you do to find balance? I would love to know! Perhaps I can add it my list of healthy "to-do's" .. 😉
CROP TOP (wearing size small)/ LEGGINGS (wearing size small) / HOODIE (wearing size small)
A big thank you to Outdoor Voices for sponsoring this post! All opinions are my own.