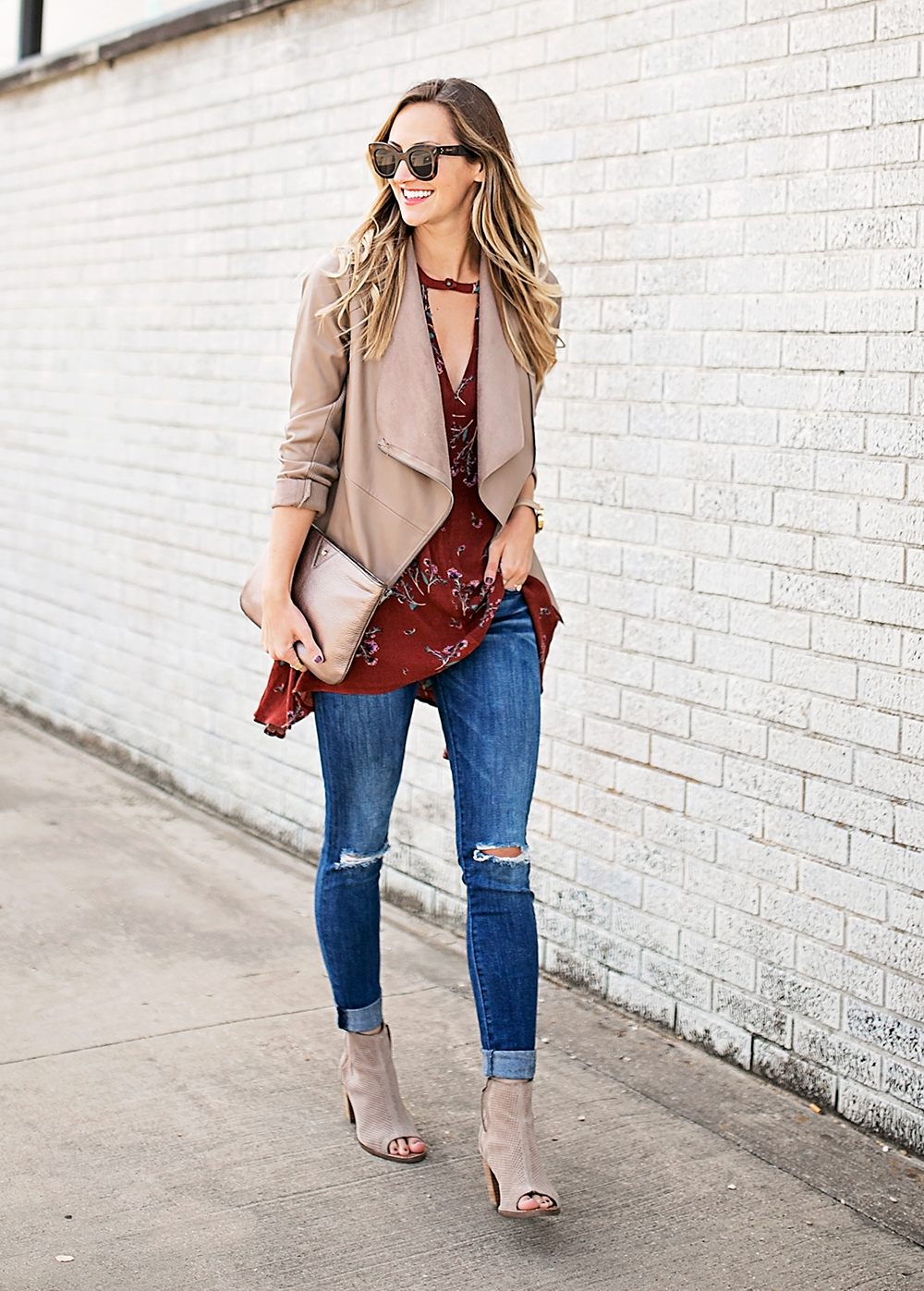 Hello gals! How's your week going? Let's just say today was quite heavy for a lot of us, so I'm going to nix the election chatter and instead keep things on a positive note! Like, for one, this awesome draped-front jacket that has been a closet staple of mine for years (I loooove this brand, amazing quality and so affordable!) and those peep toe booties, which if you follow me on Instagram (or have followed my blog over the years), y'all know are my number one go-to pair of shoes for every season… So, let's get to the outfit details, shall we?
**Photos by Angie Garcia Photography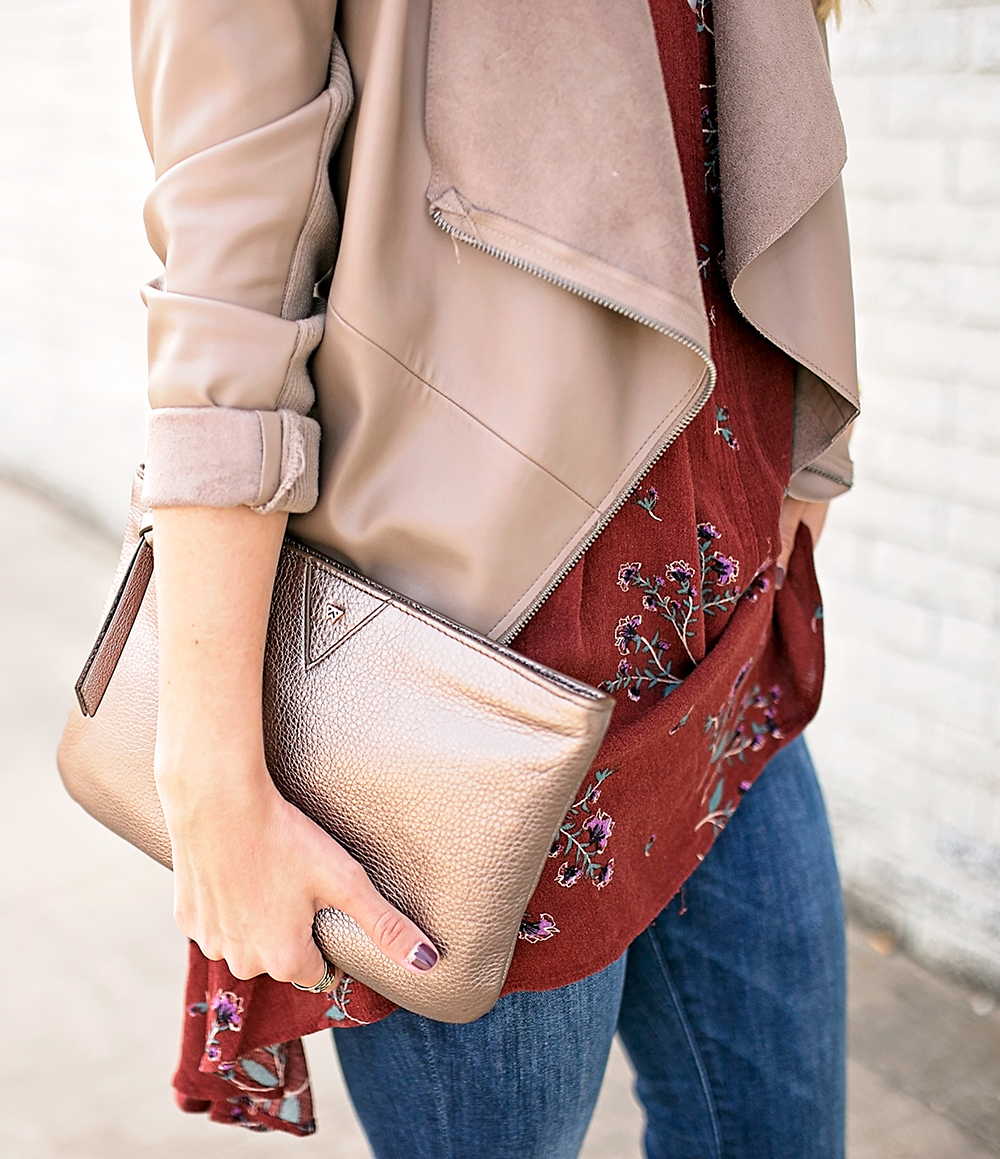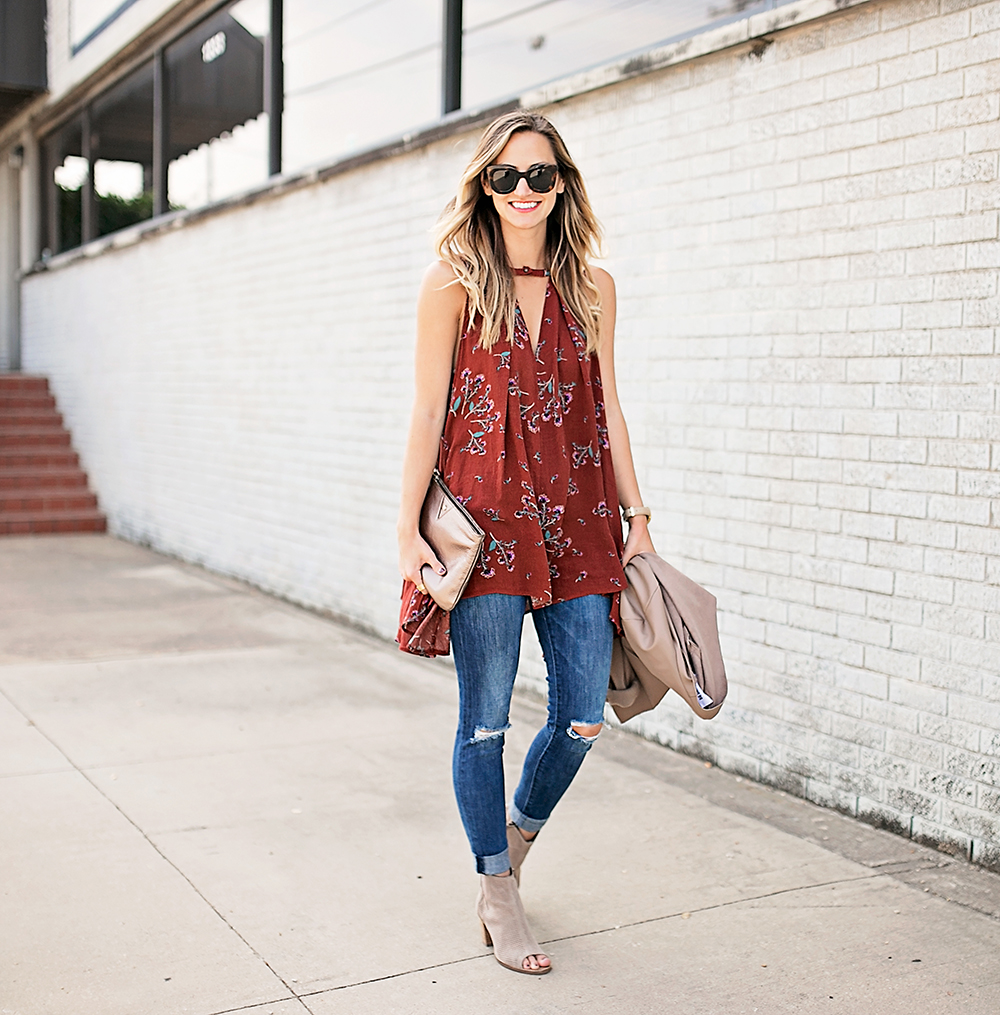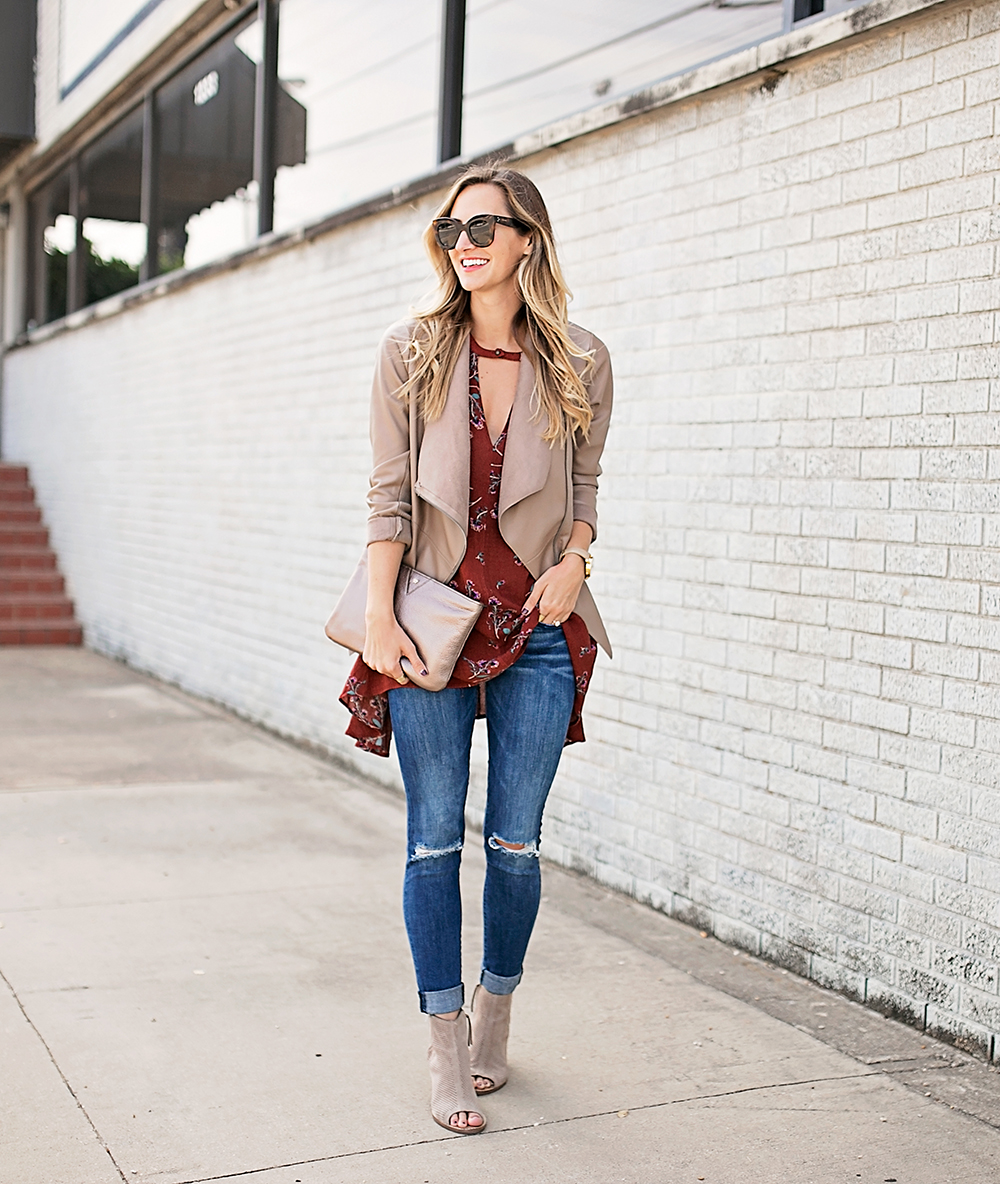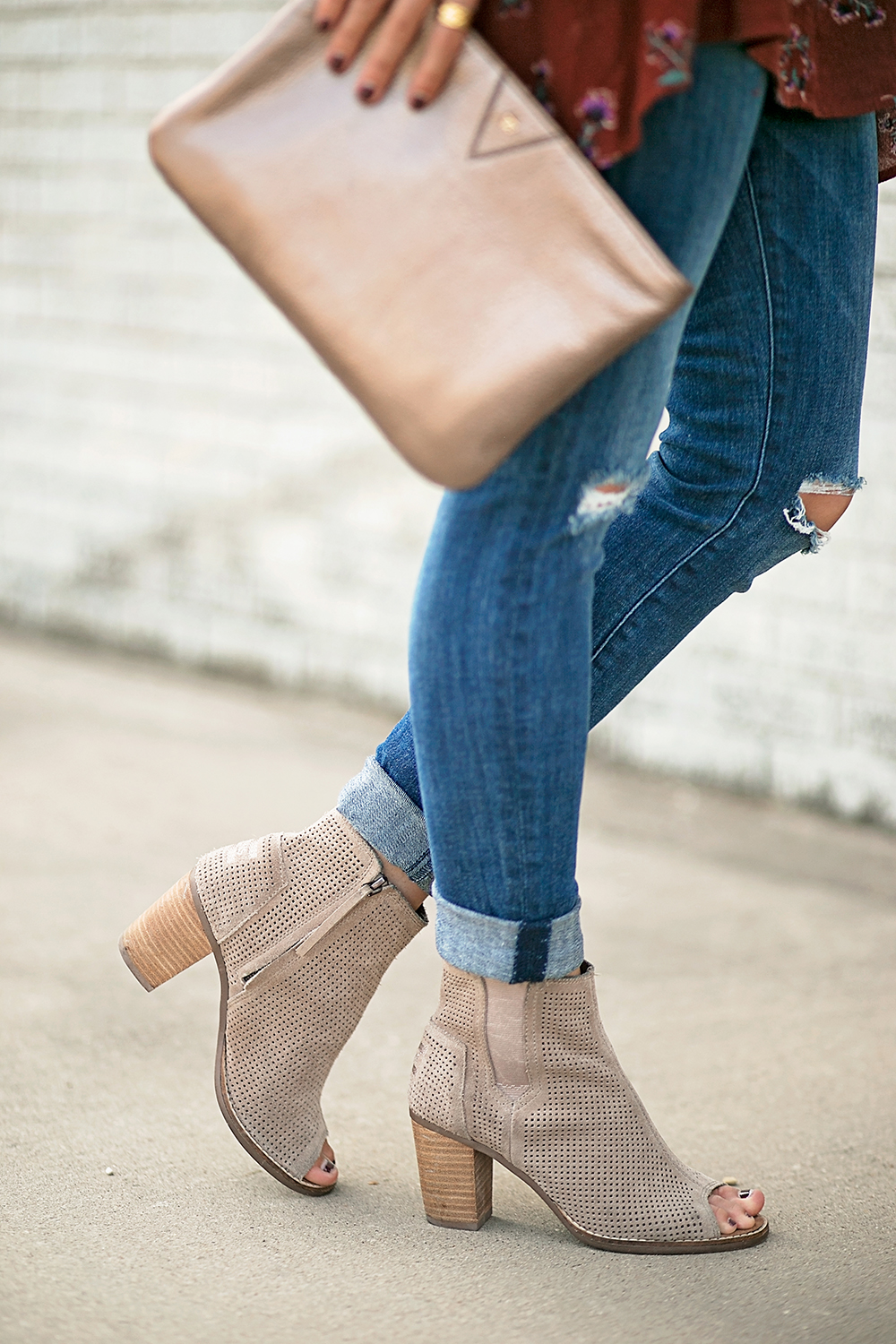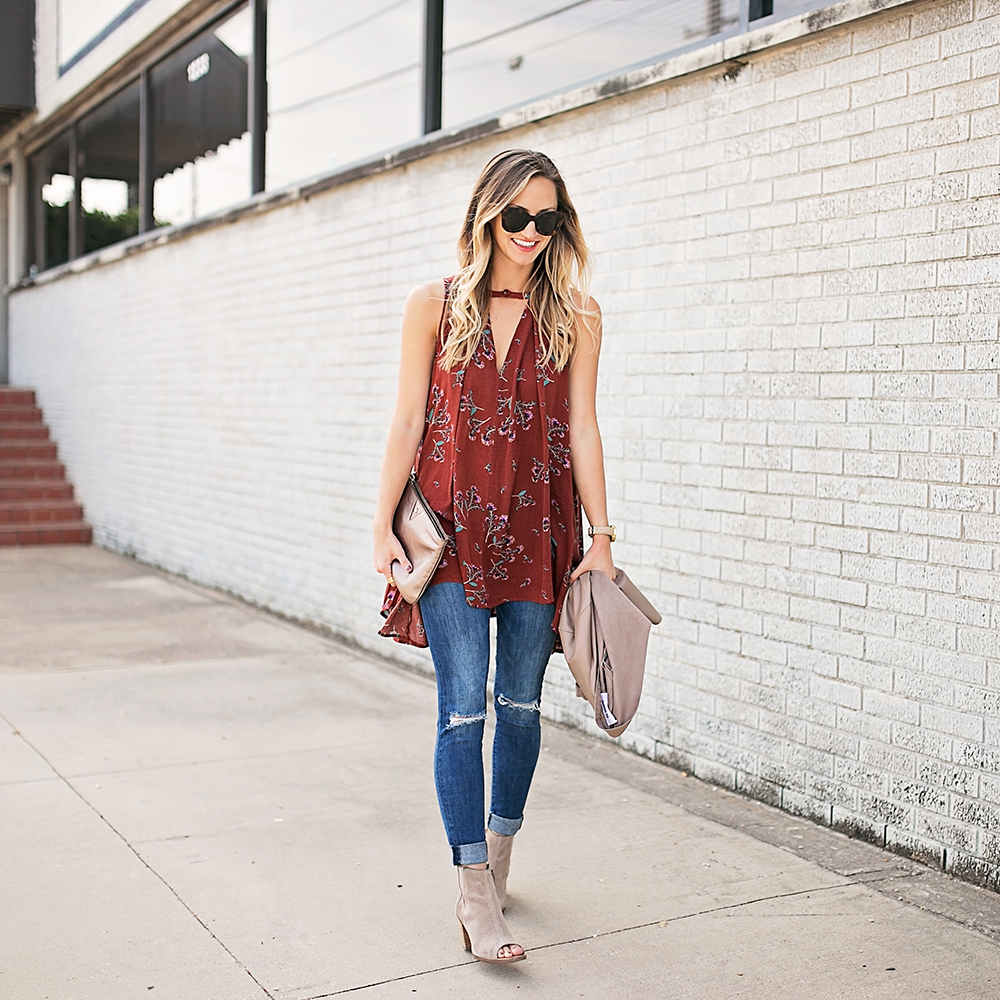 This gorgeous bohemian tunic tank has been such an amazing purchase of mine! It's by Free People and comes in 4 pretty floral color options (and ps. it has POCKETS! #yaaas). I wore this flowy tank to ACL fest last month with cutoff denim shorts, and now that the weather is finally cooling off, have been layering it under my jackets or cardigans. I love the keyhole front detail and the fabric is so soft and beautiful, you'll definitely feel gorgeous in this thing!
My jacket is by BB Dakota (wearing a size small) and though this exact one is not available any longer (mine is "vegan leather"), they always come out with very similar draped front jackets every fall/winter, so I found this one that looks almost identical t0 mine! (Oh, even better? It's on sale!). This taupe color is SO versatile and since I'm all about matching my shoes with my jacket or handbag, I definitely get a TON of great use out of this one! (See what I mean? It matches my shoes perfectly! 😉 ).
Anyone else a big fan of peep toe booties? For those of you in warmer states, we can basically wear this style of shoe the majority of the year! Thus, $97 veeeery well spent. 😉 These pretty kicks are by Toms and trust me, they are SO comfortable that you may just be reaching for these over flats or sandals! They come in a bunch of fun color options for fall: black, olive, rust, taupe, etc. Highly recommend them!!
Finally, my sunnies are by Celine and my gorgeous metallic clutch is by Kelly Wynne. Is that bronze clutch not darling? I love the shimmery color (so perfect as we approach holiday party season!) and it actually holds a TON! The interior is cobalt blue (such an adorable detail) and the leather is super soft and buttery. It's such a beauty!
On that note…I have a fun event to share with y'all! …And hopefully if you're in the Austin area, you'll pencil me in for this one! 😉 I'm hosting a wine sampling and shopping event (umm, yes please!) with the Kelly Wynne team over at their beautiful storefront at the Domain Northside next Thursday November 17, 2016 from 6-8PM. If you haven't stopped by Kelly Wynne before, prepare for girly, handbag heaven and lots of yummy wine and bites! (Seriously, their storefront is stunning!). Wine tasting starts at 6:30PM, so bring your besties and let's have some fun!! SO excited to meet y'all!!
Alright friends, wishing you all a wonderful and strong finish to the week! XOXO
jacket – BB DAKOTA (similar lower priced option HERE) / floral tunic tank – FREE PEOPLE / jeans – DL1961 / clutch – KELLY WYNNE / shoes – TOMS / sunglasses – CELINE (similar lower priced option HERE) / watch – MVMT