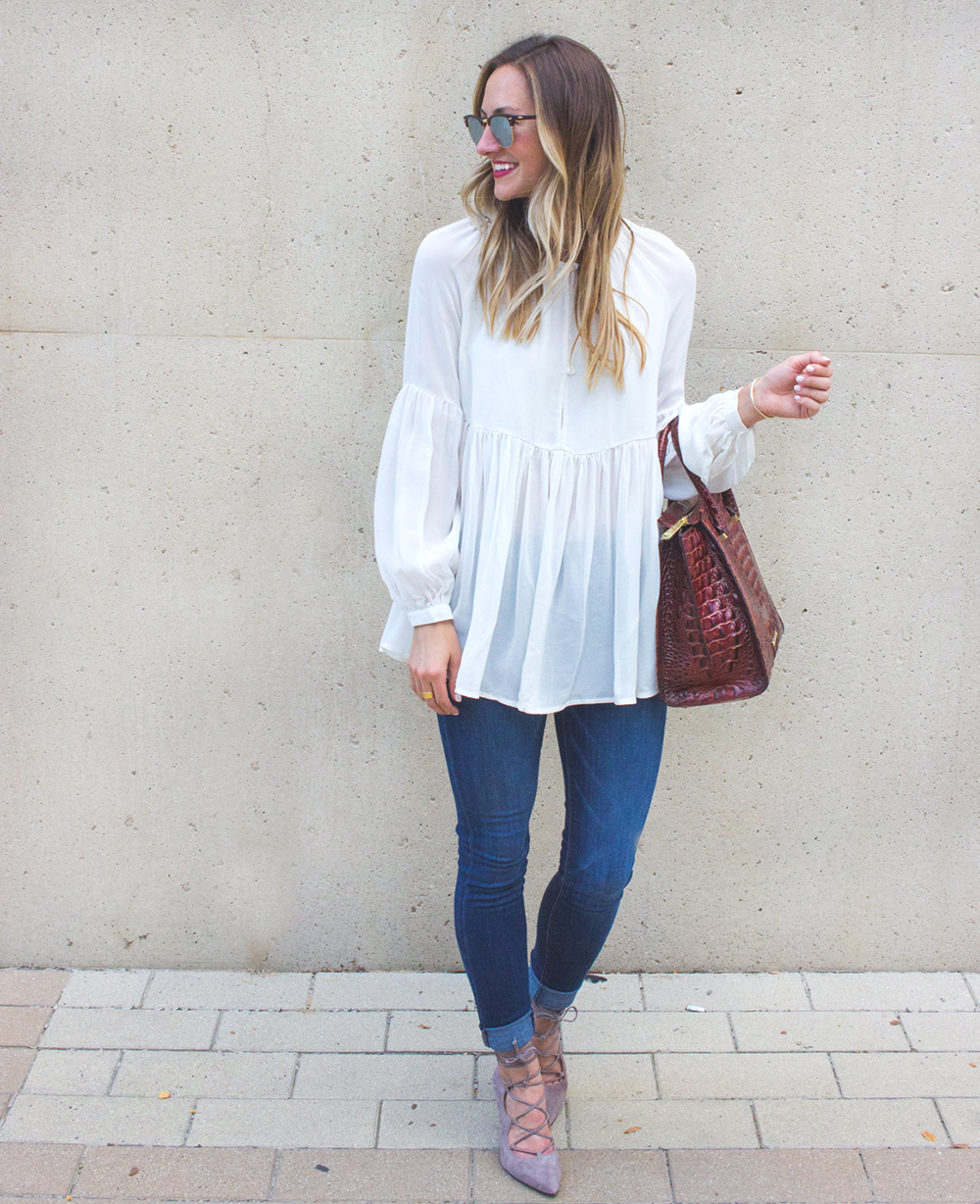 Happy weekend, loves! Hope your Saturday is off to a great start! I am still recovering from the first day of ACL (yesterday)…this morning I woke up with quite the headache..ha! The sign of a good time? Perhaps..! 😉 The granny in me must have gone away yesterday and the 26-year-old "carefree Olivia" finally let loose. I must say, it felt so nice! Been a while since I've danced to live music without worrying about a lengthy to-do list waiting at home. (…Gotta love "adulting," right? Welcoming this break from it, ha!). Thus, I'm excited to get back out to the festival grounds this afternoon…currently hydrating as best I can before we hit ACL for day 2…always such a fun time of year in Austin!
In other news…let's talk about this gorgeous babydoll, chiffon top – shall we? 😉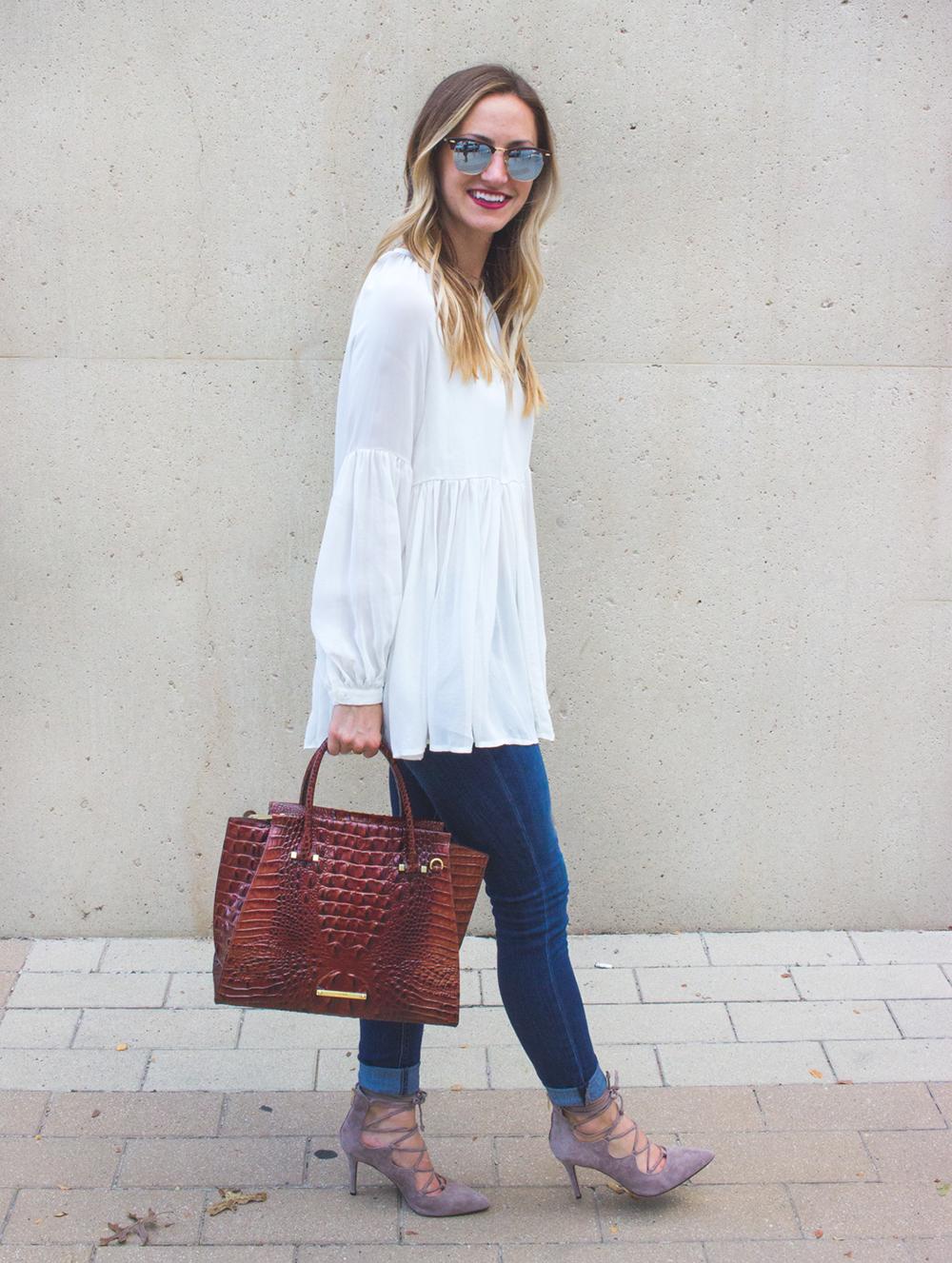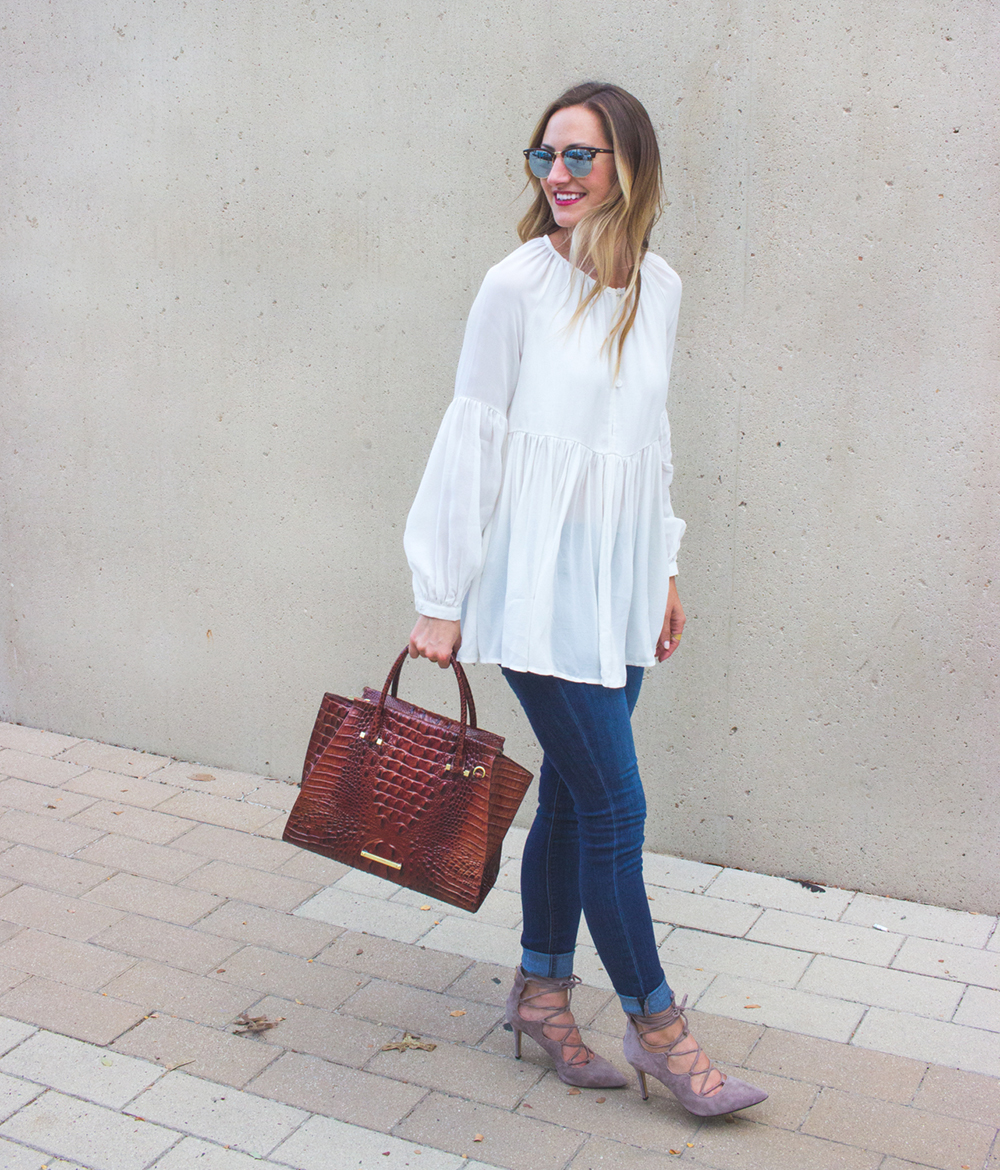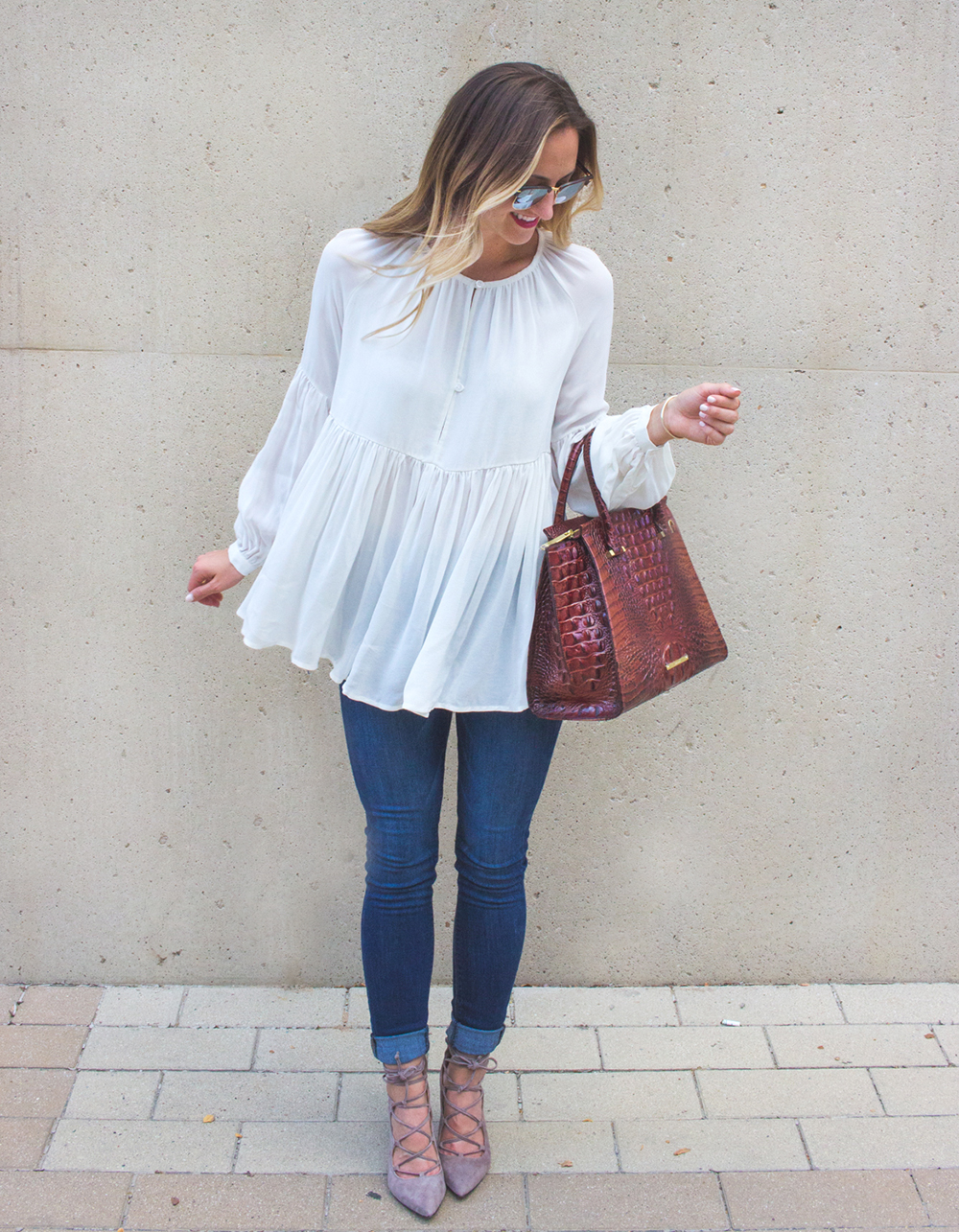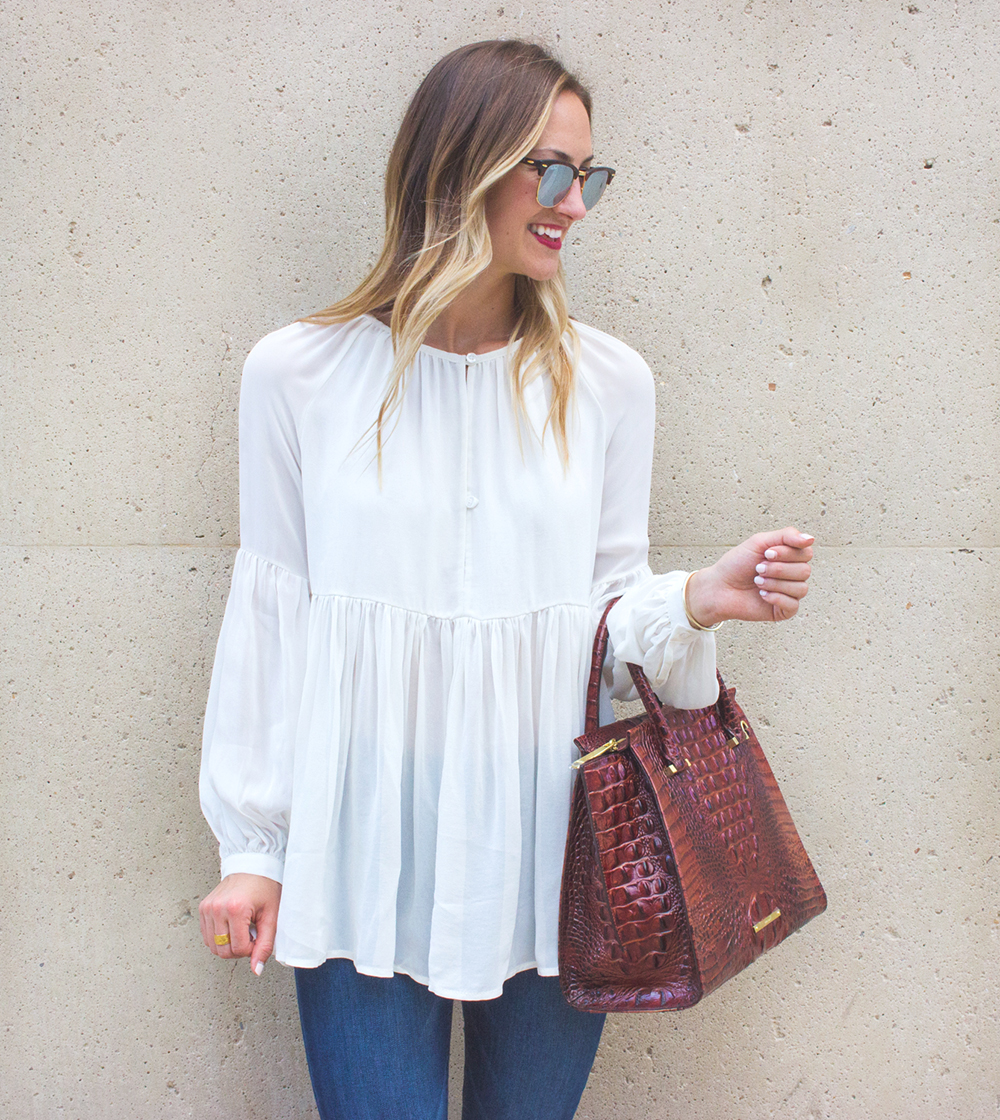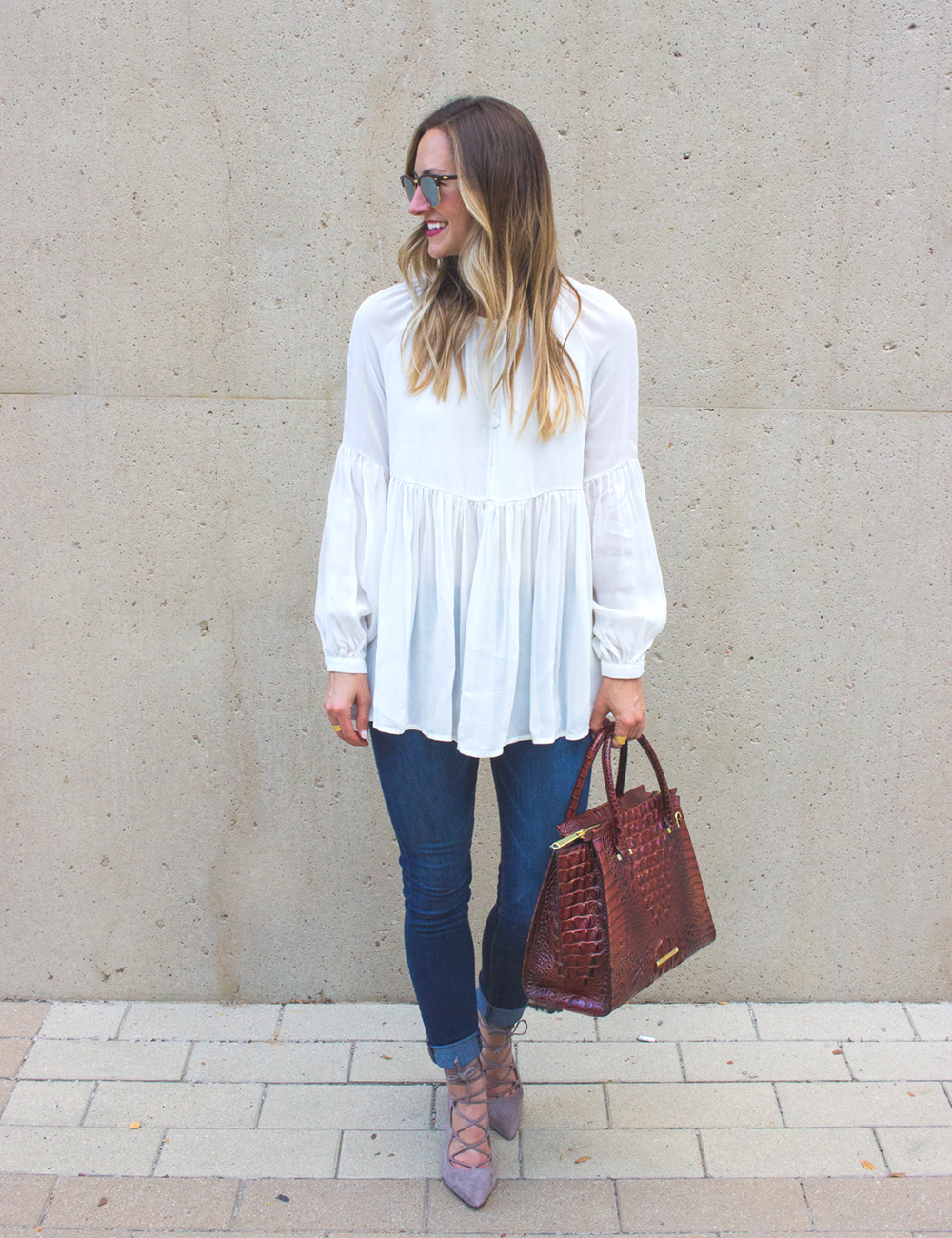 Talk about feminine perfection…this top is so dreamy! It's from the Sincerely Jules collection (one of my very favorite bloggers and someone I look up to immensely!) and it's under $100 (but looks so expensive!). The bust portion is double lined, so I am just wearing a regular nude bra under it, no need for an undershirt or bandeau top. Truly, it is so beautiful and classy – one of those pieces you can wear forever and a great "timeless" purchase. I'm wearing a size XS for reference.
I paired the top with my favorite skinny jeans from Express. These are so affordable and fit amazing, I always feel so good when I have them on! They fit TTS. I wanted to add a little trendy factor by wearing my Vince Camuto taupe lace-up heels…which are so gorgeous and super nice quality! These are great shoes to dress up a work outfit or add a little flirty/sexy detail to jeans and a pretty top. Lastly, I'm rocking my newest Brahmin handbag…is it not a beauty?! It adds such an elevated touch to any look (love the structured, winged details) and that color is SO perfect for fall.
Alrighty gals, Blake is telling me step away from my laptop and get to ACL! Wishing you a marvelous weekend! XOXO
top – SINCERELY JULES  / jeans – c.o. EXPRESS / shoes – VINCE CAMUTO / handbag – c.o. BRAHMIN / sunglasses – RAY BAN
SHOP MORE BABYDOLL FAVORITES