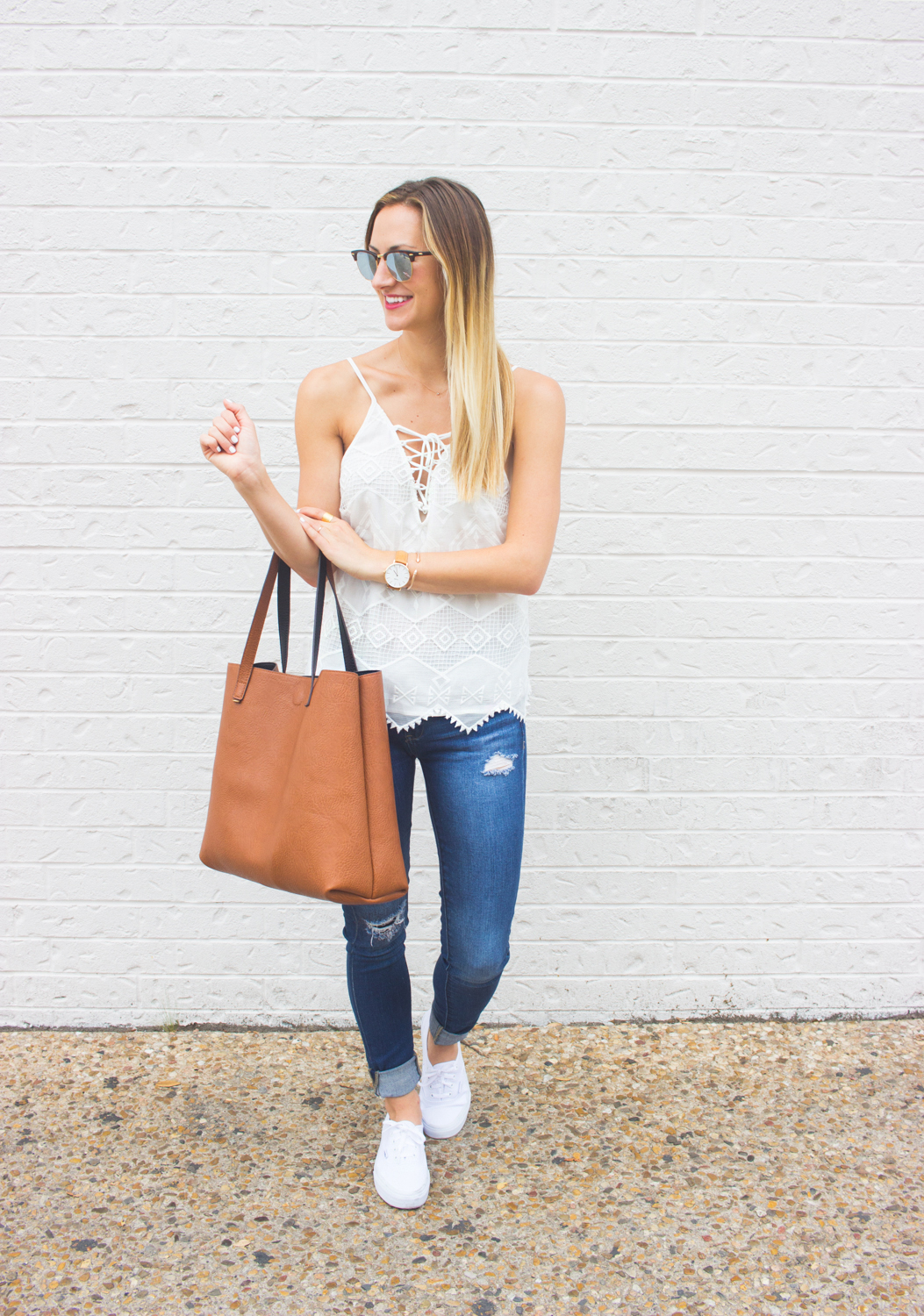 Hello there! Hope your week is off to a great start! 🙂 Mine started off crazier than ever (true story: the last month of wedding planning calls for more bottles of wine and longer bubble baths than I thought… definitely losing my sanity and trying to stay afloat at the moment, ah!). Thus, this past weekend Blake was a total gem and said "hey Olivia, let's go grab coffee and sit on a patio and just turn it all off for a minute"…and you better believe it was amazing and I definitely needed a break like this one! I slipped on my comfiest kicks, go-to jeans and the cutest textured, lace-front tank top & we drove over to Cafe Medici near UT campus – he snapped a few outfit shots before we made our way to hot lattes and breakfast tacos. It was pretty wonderful – I am very excited to marry a man who knows me so well and steps in when he sees I can't handle things anymore! (…And to also marry a man who agrees to take pictures of me next to walls before we go on a date…ha!).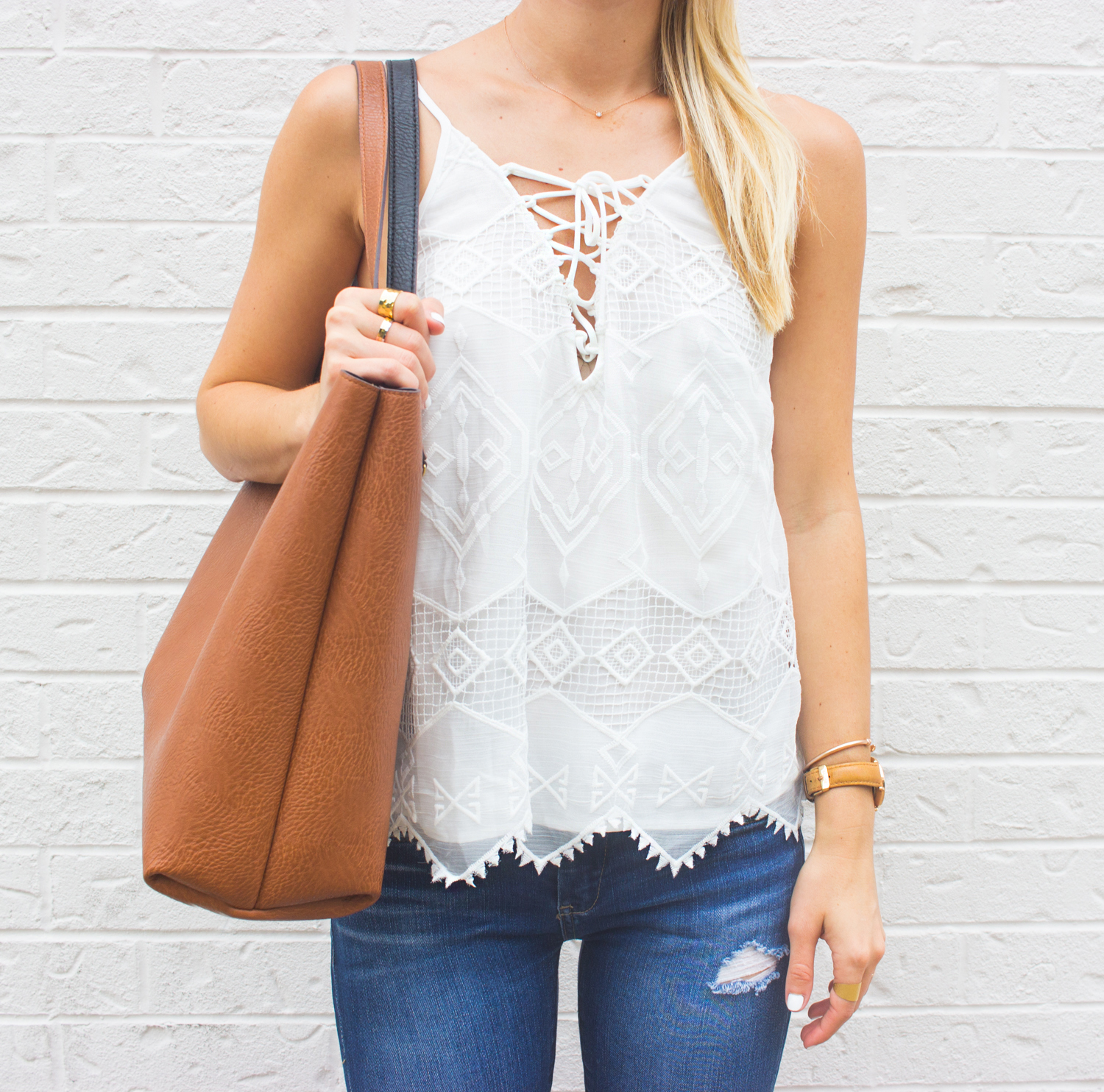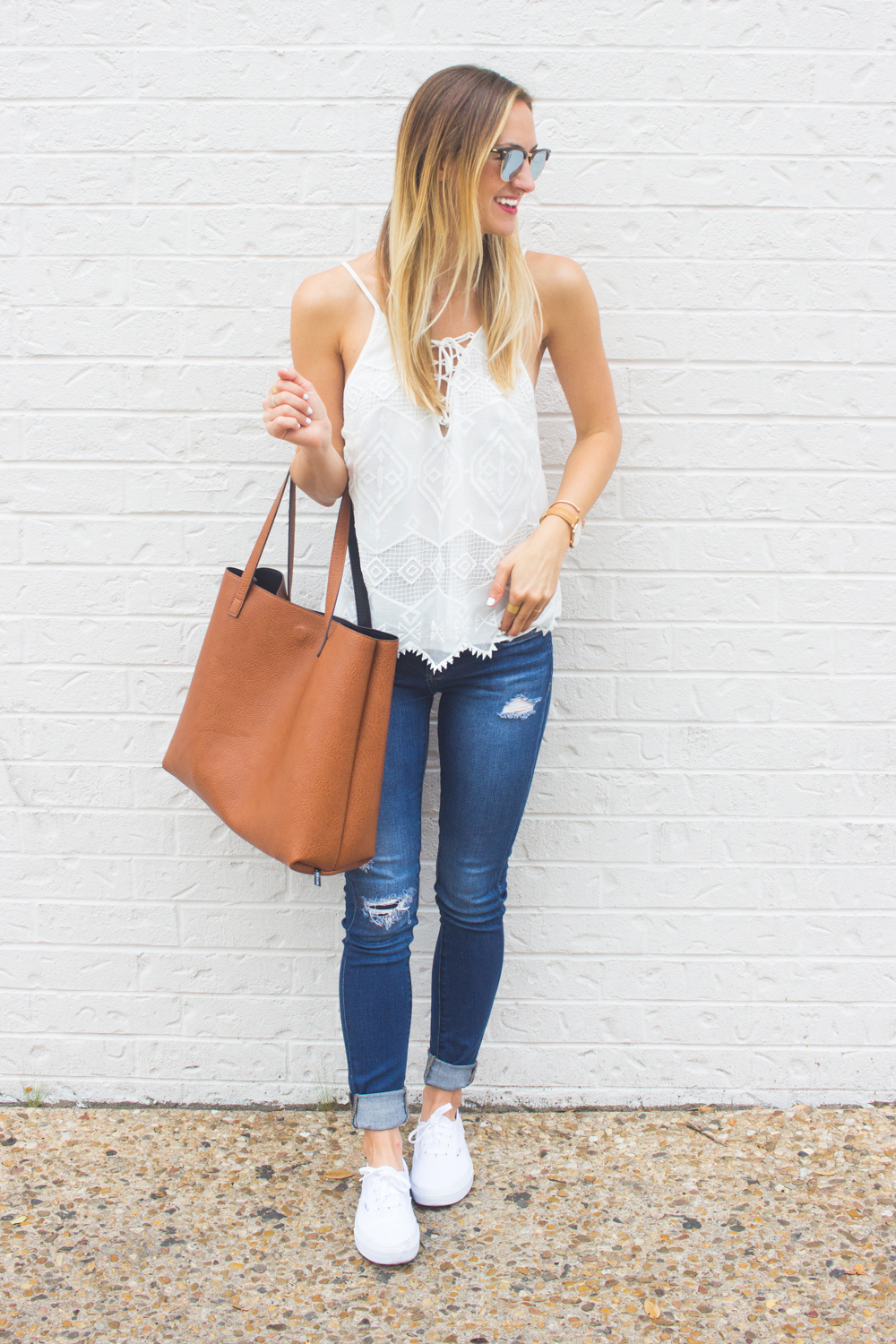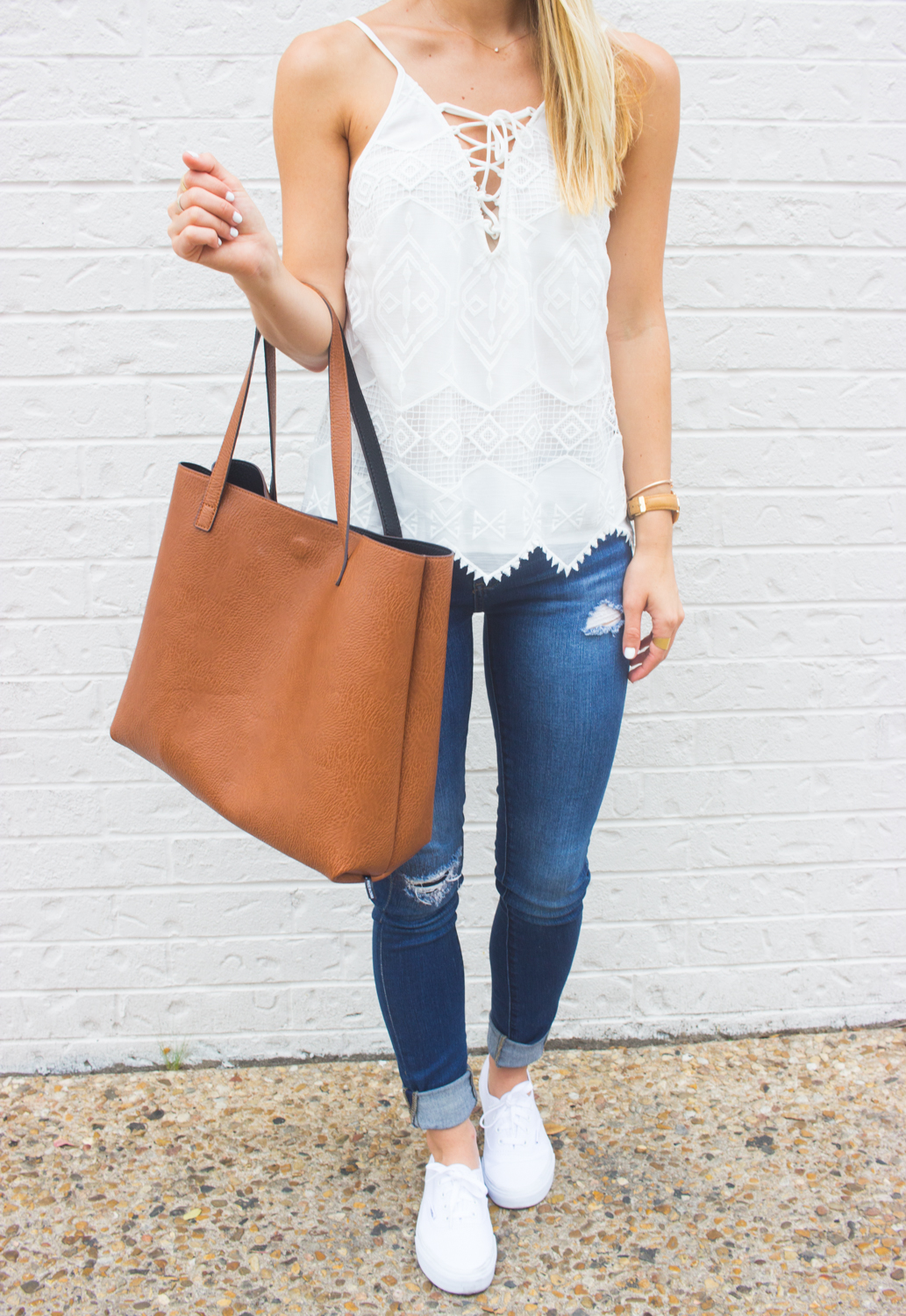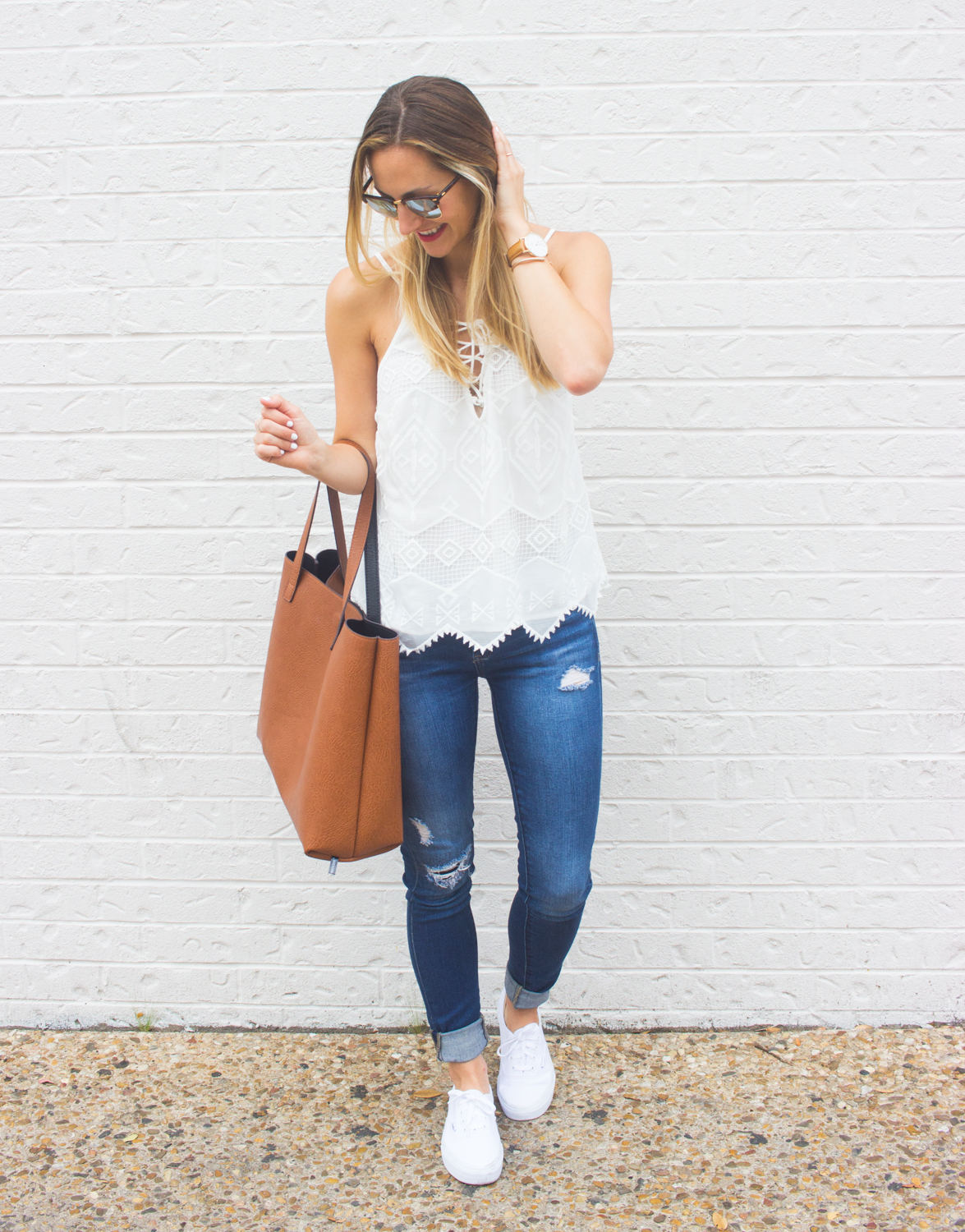 As y'all know, Nordstrom is one of my very favorite retailers and this entire look – head t0 toe – is all Nords! I love the affordability and amazing quality of the brands they carry, I am always happy to say I'm a 'Nordies Girl'…or at least that's what we used to call the Nordstrom obsessed shoppers when I worked there back in the day, ha! Proud to be one these days! When it comes to the women's apparel at Nordstrom, the options are amazing and they carry so many brands I adore…
Which brings me to a the pieces that make up this adorable weekend look! Van's sneakers (y'all, how cute are these? Just $49!!), the jeans I rarely take off by BlankNYC (they fit true to size, just $88…total steal!), the cutest textured, lace-front tank top (…seriously, this is a MUST-have for summer!!! You will not be disappointed, I always get so many compliments on it!) and of course an everyday tote bag…that's reversible and under $50! Ba-bam, everything you see is budget friendly and fabulous. You're welcome! 😉
Okay gals, as I mentioned, the thick of wedding planning is killing me slowly and thus, I must nourish my body with more wine and a good 'ol bubble bath soak (…I just scooped up the latest Glamour Magazine during our grocery store run last night, so that's on the agenda, too!). Time to shut my laptop, throw my phone in the other room and enjoy some r&r!
Thanks so much for stopping by, hope you love this look as much as I do!!
top – ASTR / jeans – BLANKNYC / shoes – VANS / tote bag – NORDSTROM / sunglasses – RAY BAN / watch – KATE SPADE / bracelet – KENDRA SCOTT / necklace – similar ZOE

SHOP MORE SUMMER TANK TOPS

A huge thank you to Nordstrom for sponsoring this post! All opinions are my own.