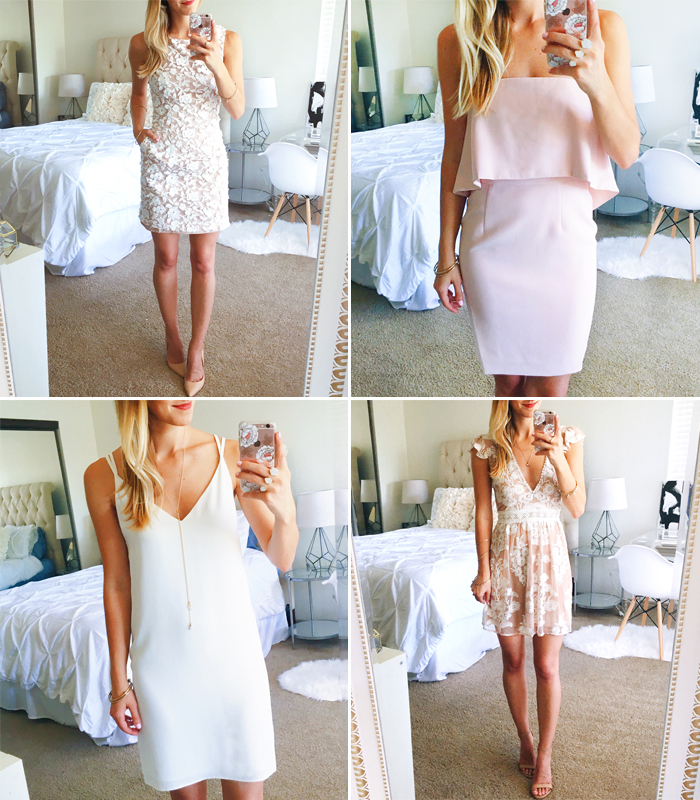 Hey gals! I am pretty darn excited to share that today I'll be partnering up with the Style Me Pretty team to co-host a Facebook Live video chatting about 5 gorgeous dresses perfect for bridal festivities leading up to your big day! September is fast approaching (our wedding month!), so it's time to really nail down those outfits for all of the shindigs and luncheons leading up to THE day.. eek, this is the fun part! The planning is (almost) over and now it's time to feel beautiful in a little white dress fit for any bridal occasion (..okay, I may have thrown a blush pink dress into the mix, too!) – from bridesmaid luncheons, to bridal showers and the rehearsal dinner, I've got you covered – so keep reading to see my favorites and shop these looks for yourself!
Ps. Tune into the Style Me Pretty Facebook page between 1-2pm CST today to catch our video!! See you there!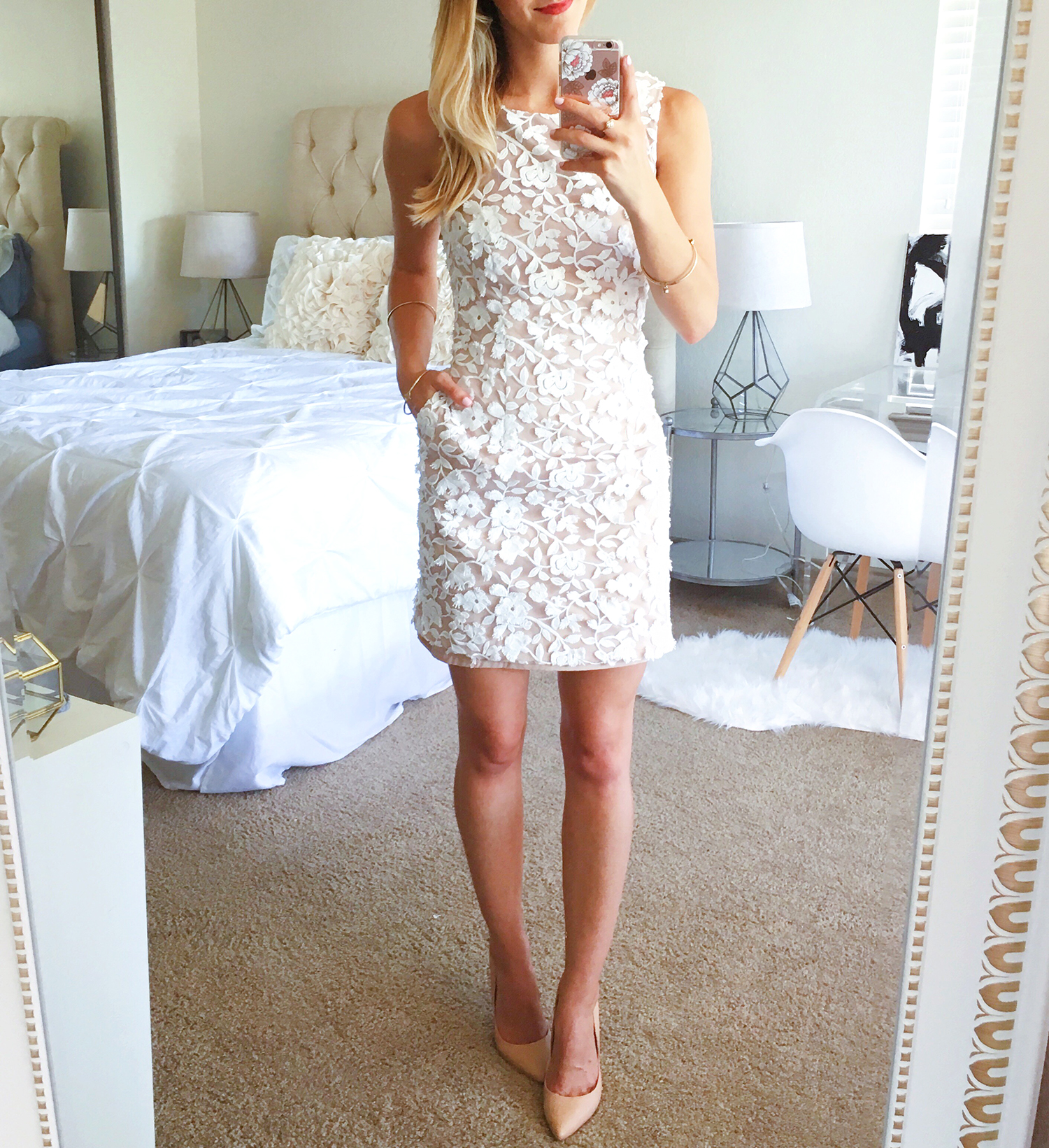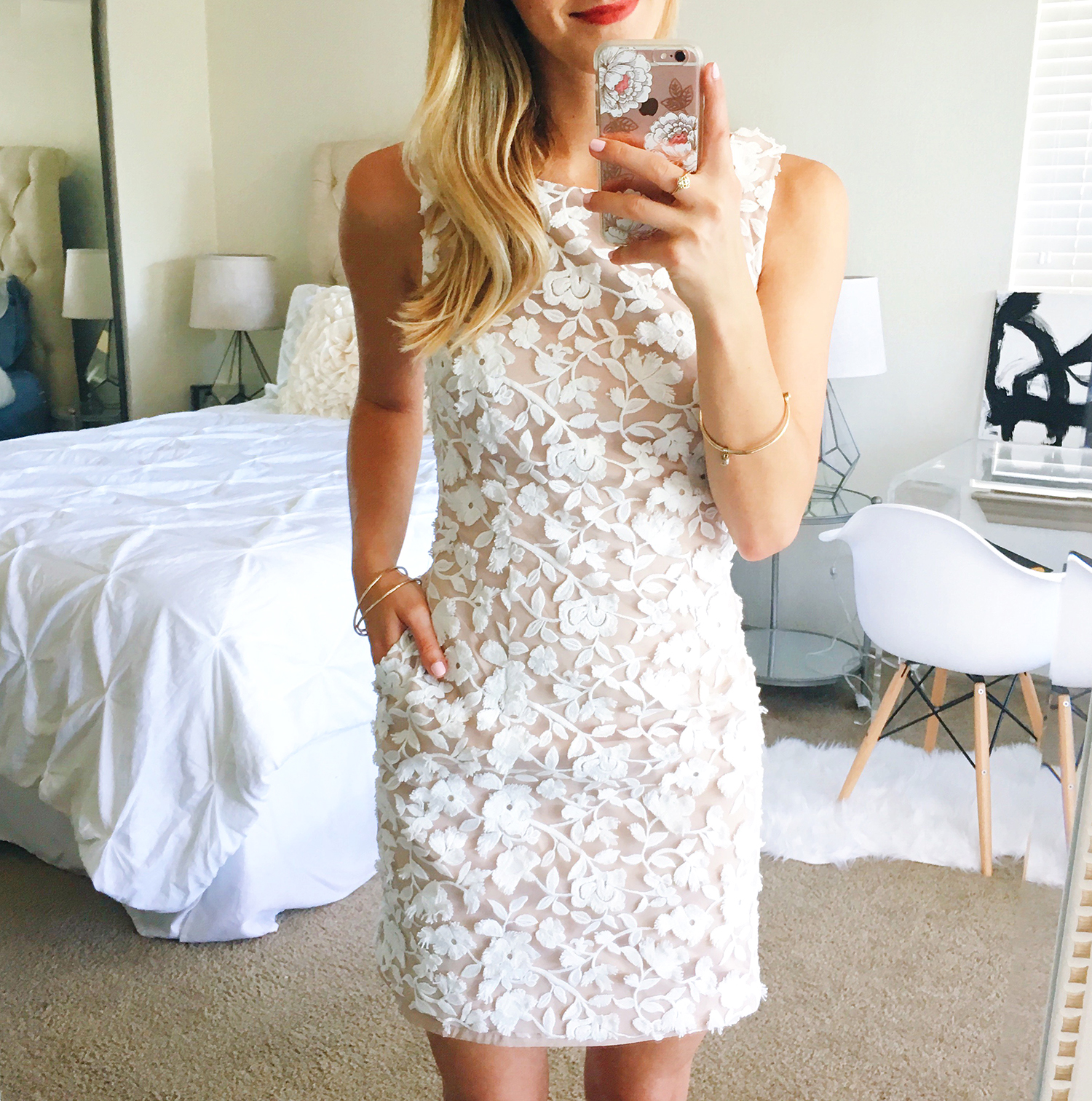 Aidan Floral Chiffon Overlay Dress: Ooh girls, is this dress not incredible?! In love with the classy cut, gorgeous lace detailing and of course, the fact that it has POCKETS! This dress would be stunning for a rehearsal dinner or a more formal bridesmaid luncheon! It fits TTS.
DRESS / SIMILAR SHOES / SIMILAR BRACELETS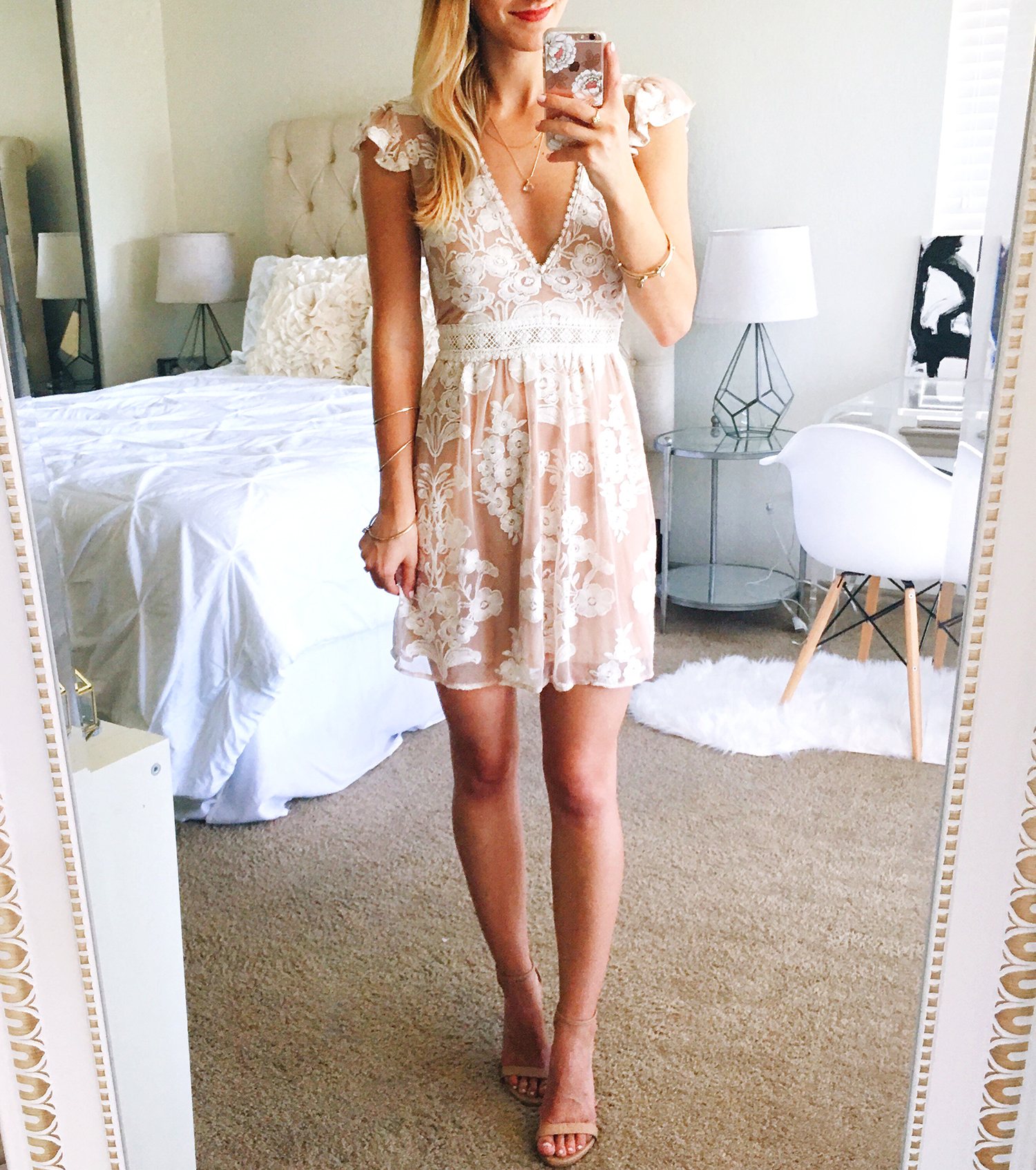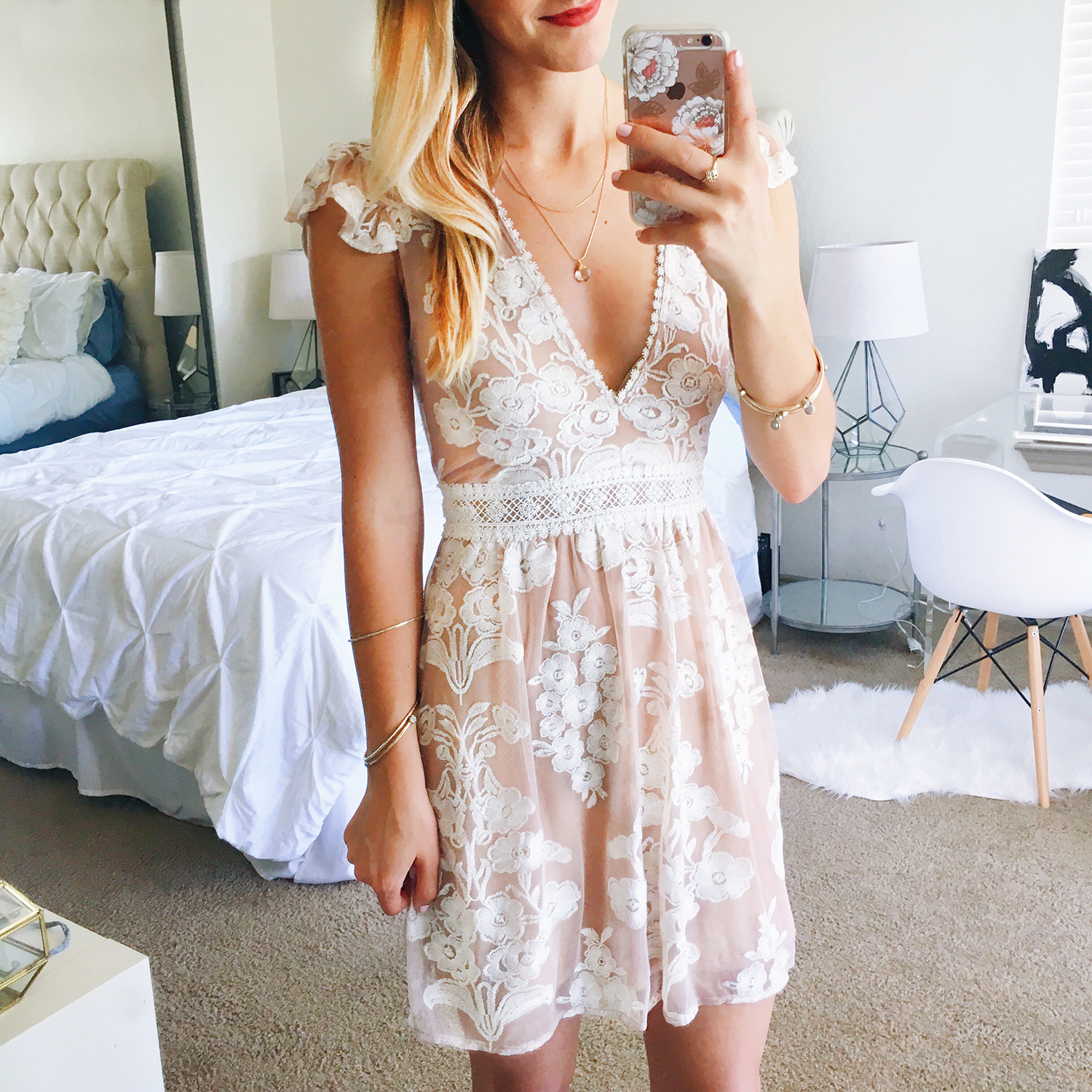 For Love & Lemons Deep-V Dress: Do you see what I see? Pure magic in dress form? Okay, good – me too! 😉 But honestly, this may be one of my all time favorite LWD's because it is SO flattering and those precious, dainty ruffled cap sleeves just add such a dreamy touch to this dress! This thing is super light weight and airy, so if you've got outdoor shindigs planned, this one is totally for you!! Because the neckline does plunge quite a bit, I popped in some swimsuit paddies and I was good to go! Also – this dress has a sheer back, so you'll either have to rock some insert pads or a sticky bra so it doesn't show! Seriously, hands down this is a dress that makes you feel incredible. It fits TTS.
DRESS / SHOES / SIMILAR NECKLACE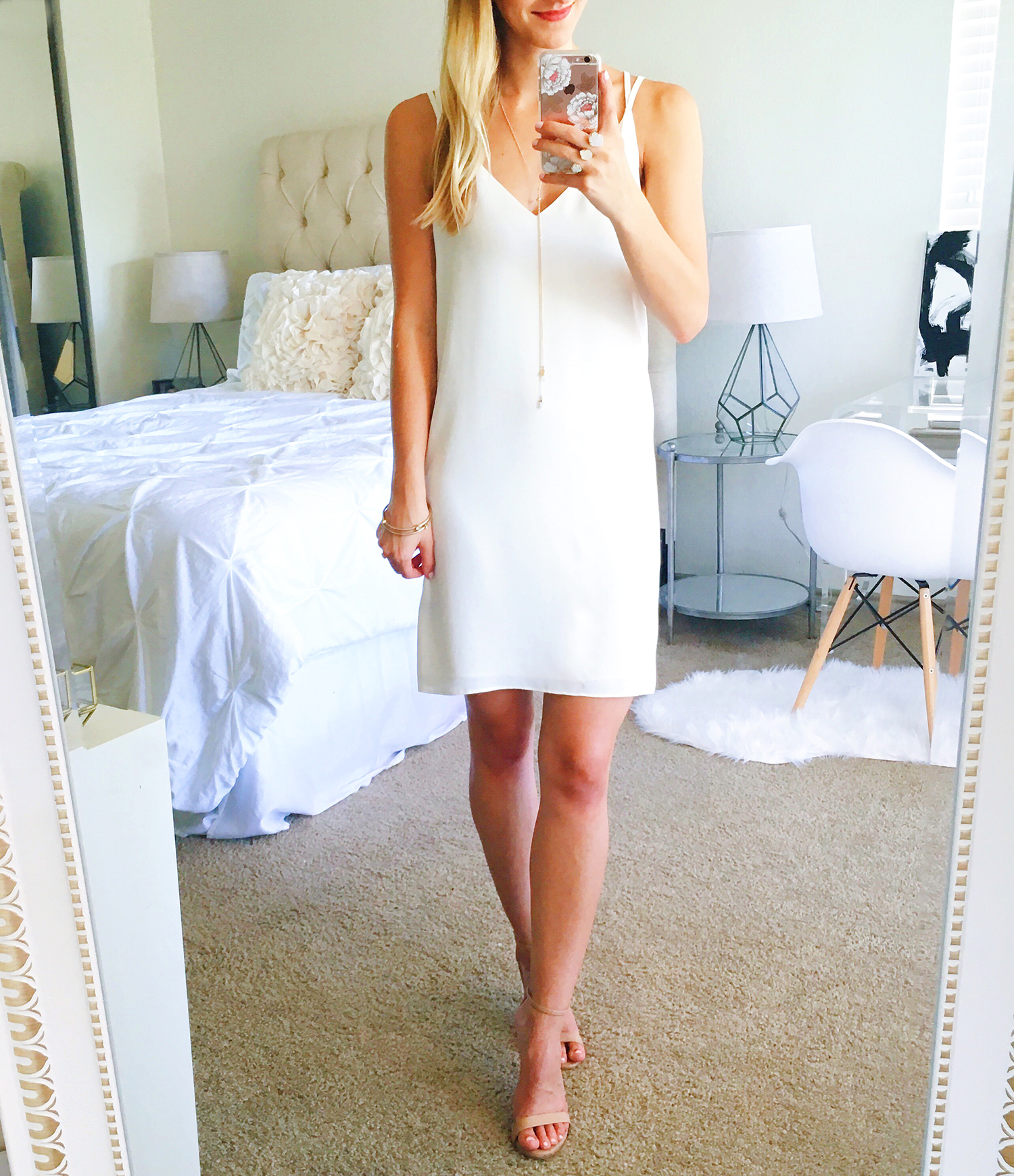 TOPSHOP STRAPPY BACK WHITE DRESS: If you're on the hunt for a LWD that can take you from day to night with the swap of heels to sandals, THIS dress is for YOU! I own this dress in blush pink and black, and the white is truly stunning and so perfect for bridal! I love that this shift dress is classic and simple, so really it's a blank canvas for jewelry and other accessories like belts (love it belted at the waist, super adorable and shows off your figure!) and statement shoes and handbags, too. Add a bright lip color and you're all set! This brand fits small, so I recommend sizing up! Ps. SUPER budget friendly, too!! (Just $55!).
DRESS / SHOES / RING / NECKLACE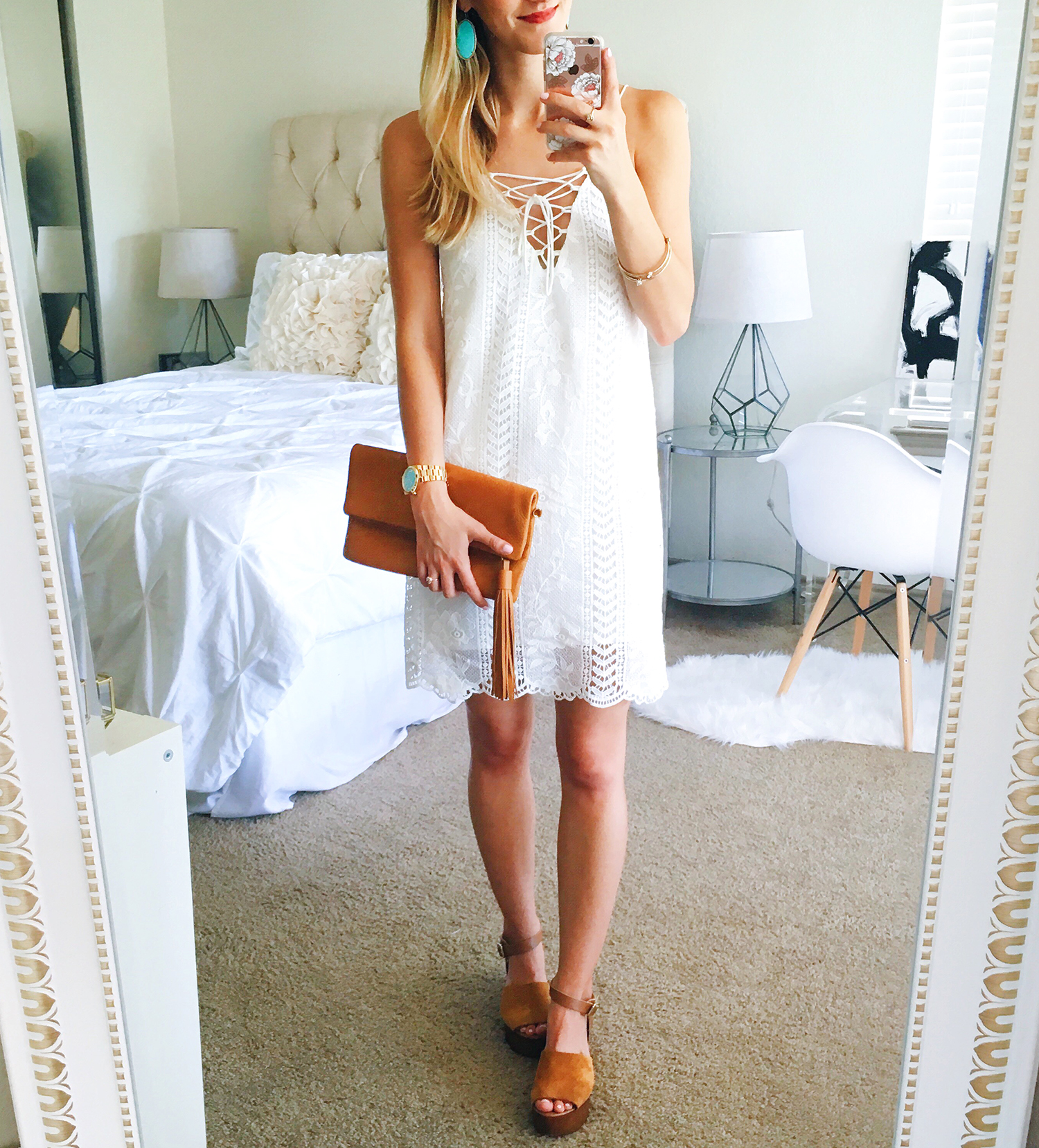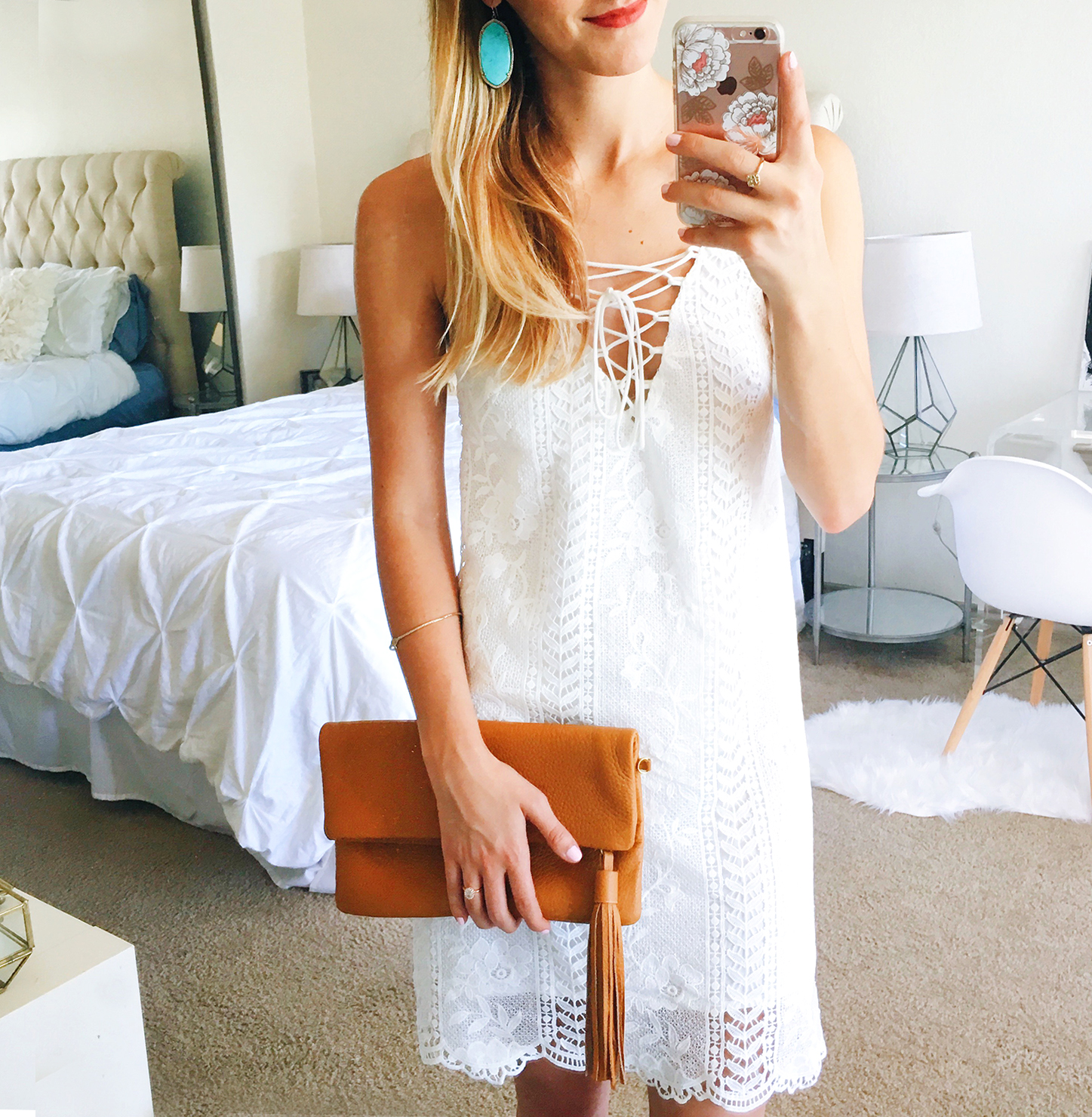 ASTR Lace-Front Dress: Big fan of this brand and love a good, trendy dress to whip out on a moments notice! Lace-front details are super in right now, so I love this dress for a backyard engagement party (think ultra casual, boho vibe) or even a laid back bridal shower look. The scalloped lace hem adds a sweet detail to this dress and the overall fit is ultra comfy and easy to wear time and time again! (Great dress to pack on your honeymoon, too, especially if you're headed somewhere tropical & warm!). Dress fits TTS.
DRESS / SHOES / CLUTCH / EARRINGS / RING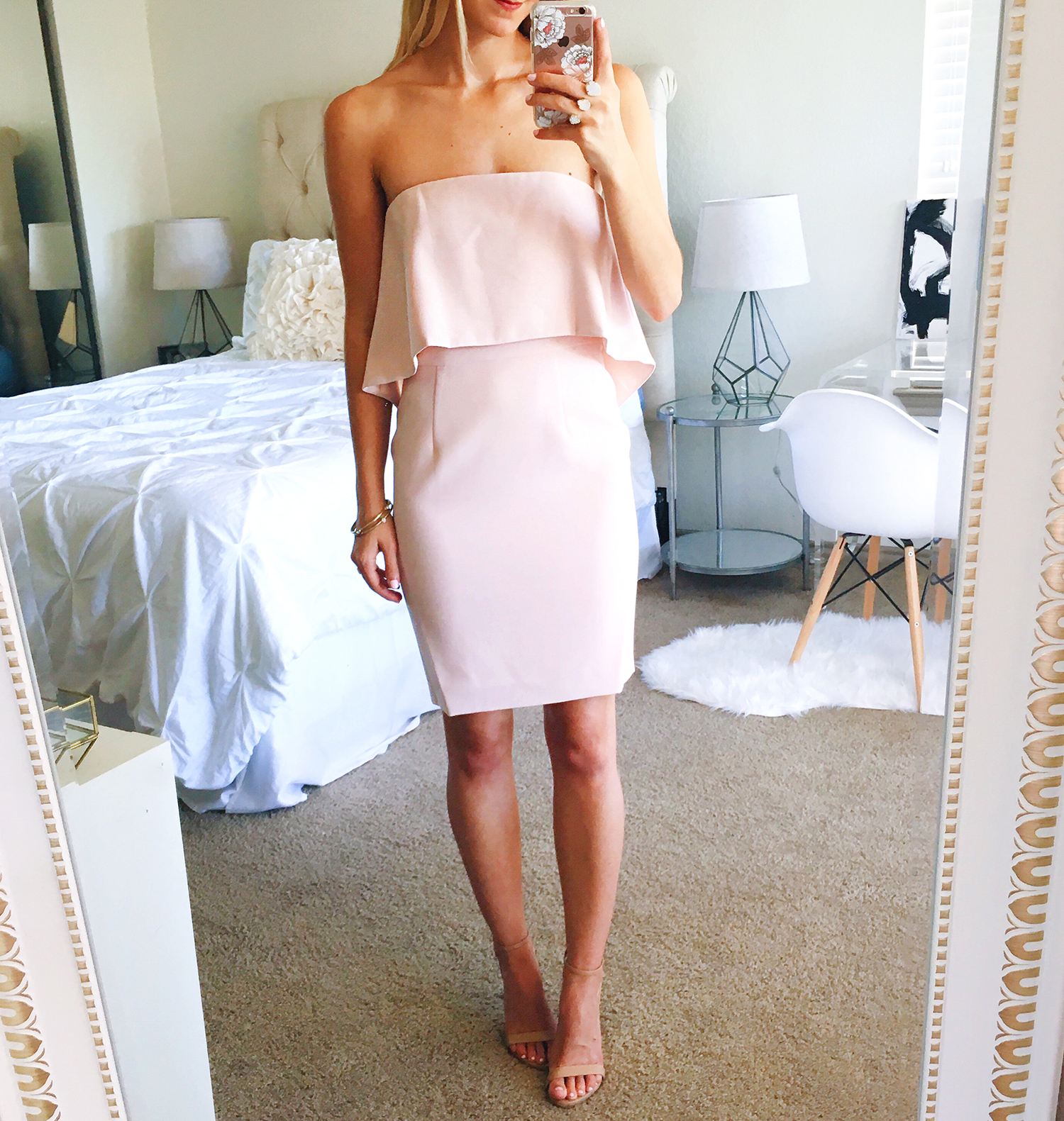 JAY GODFREY BLUSH PINK COCKTAIL DRESS: So perhaps I saved the best for last (…in my opinion!) because I had to throw a curveball and unexpected pick into the mix! This stunner by Jay Godfrey had me swooning since it arrived in the mail (and yes, I've totally worn it around my apartment dreaming up when I can wear it next, ha!) because it's that perfect combination of sexy and sophisticated, but also romantic in the blush pink color. SO in love! The back has a half zipper and then a fairly open upper back (take a closer look at the back here) – so it's truly a showstopper from all angles. I am thinking of wearing this dress to our rehearsal dinner, love the cocktail length and the more formal feel! Dress fits TTS.
Alrighty ladies, be sure to tune into the SMP FB Live post today – eek, so excited to talk about these gorgeous dresses and answer any and all bridal questions thrown my way – see you there! 🙂