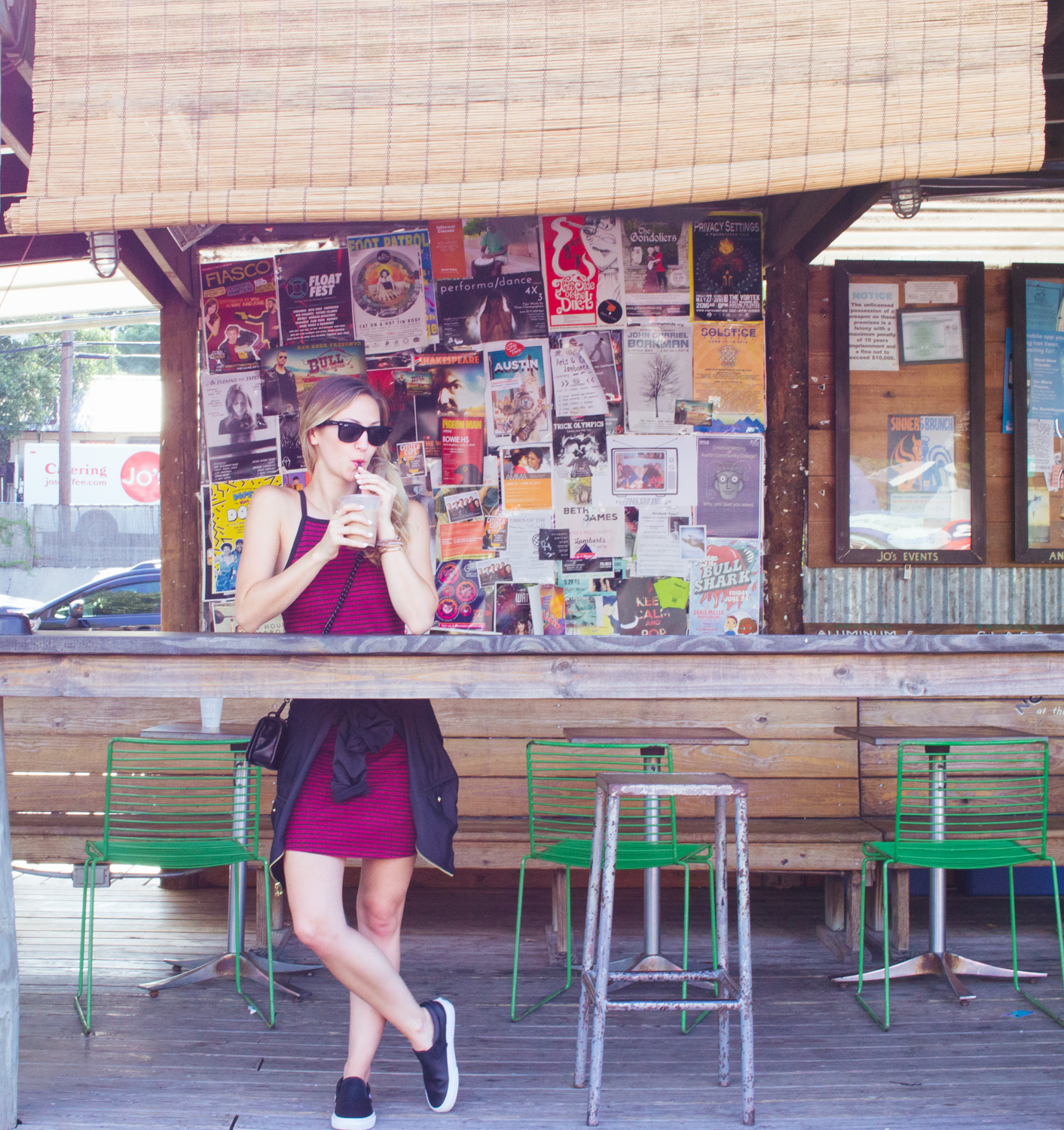 Hi ladies! Hope your week is off to a great start! 🙂 I've been in go-go-go mode working on some fun collaborations and lots of new Style Me Pretty posts to come (wahoo! Working on my bach trip roundup feature…can't wait to share!) – and I also got to venture over to South Congress Avenue and stop by one of my favorite coffeehouses, Jo's Coffee, for a suuuuper yummy Iced Turbo (espresso, chocolate, hazelnut, cold brew coffee and cream…omg YUM) and some galpal time with one of my best friends! …Who I also asked to snap some photos while we were there (..pretty sure my friends just expect this by now haha) because that bomber jacket + striped dress = in love and had to share with y'all!
I've seen so many girls rocking bomber jackets all over Pinterest and after going on a hunt to find the perfect one (…and within my budget range!), I found it at Express! Y'all…this thing is SO cute for all seasons (…I mean, it'll get cooler at night in Austin soon, right? 😉 …and if not, the 'ol 90's style around-the-waist thing works in the meantime, ha!) and I love it with the high neck striped dress (on super sale!). Express is all about showcasing that effortlessly cool, 90s style right now, and I am totally on board!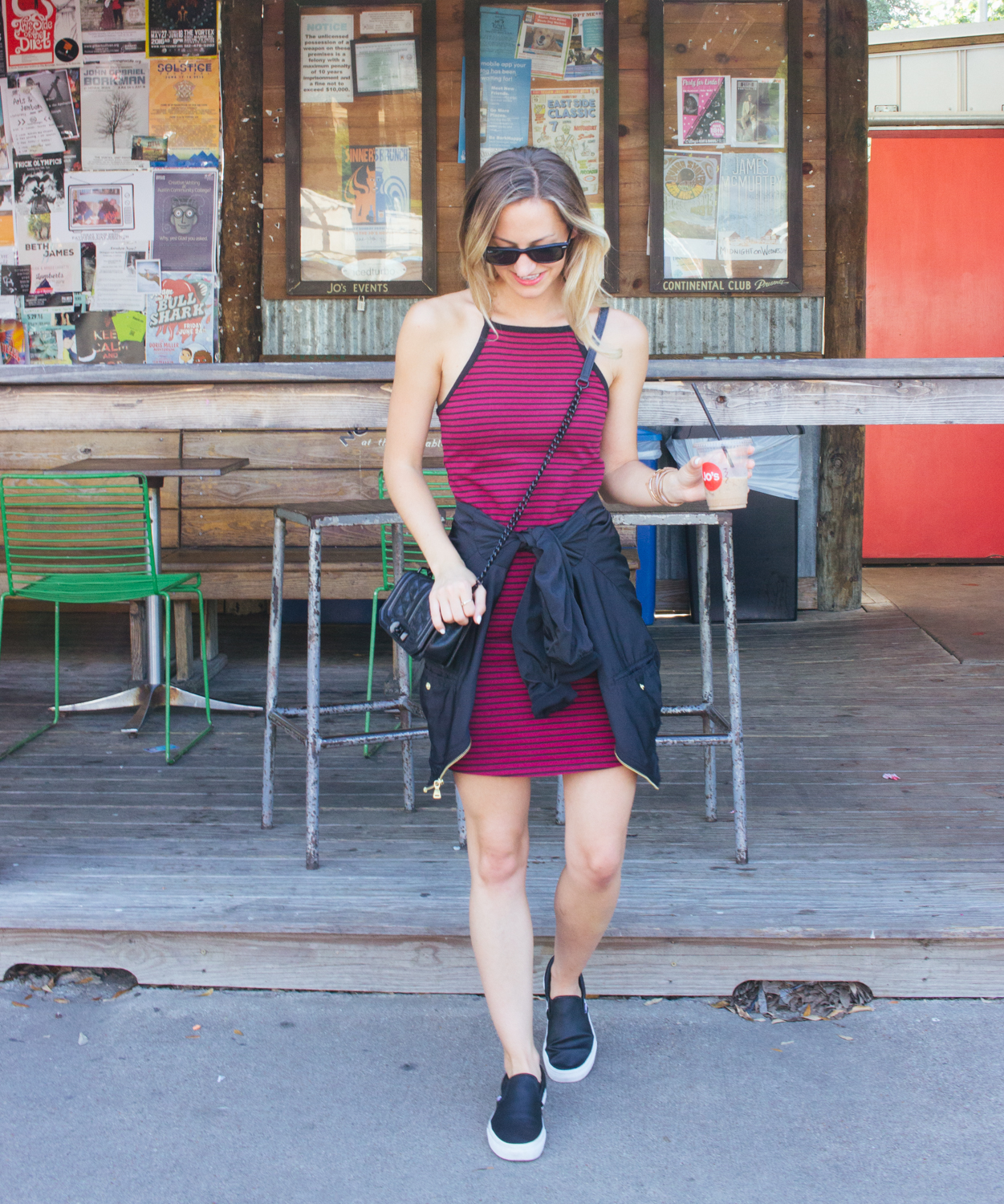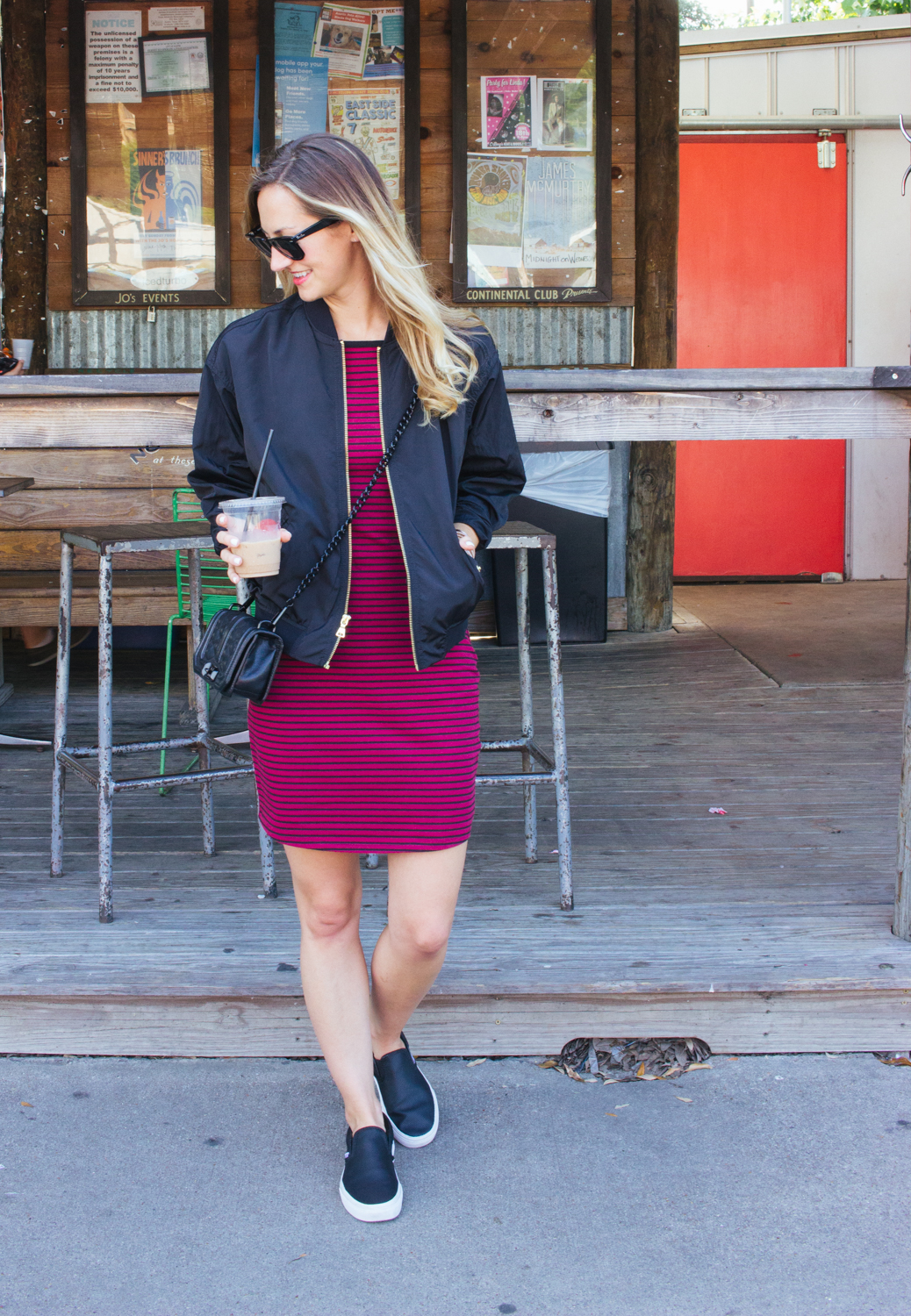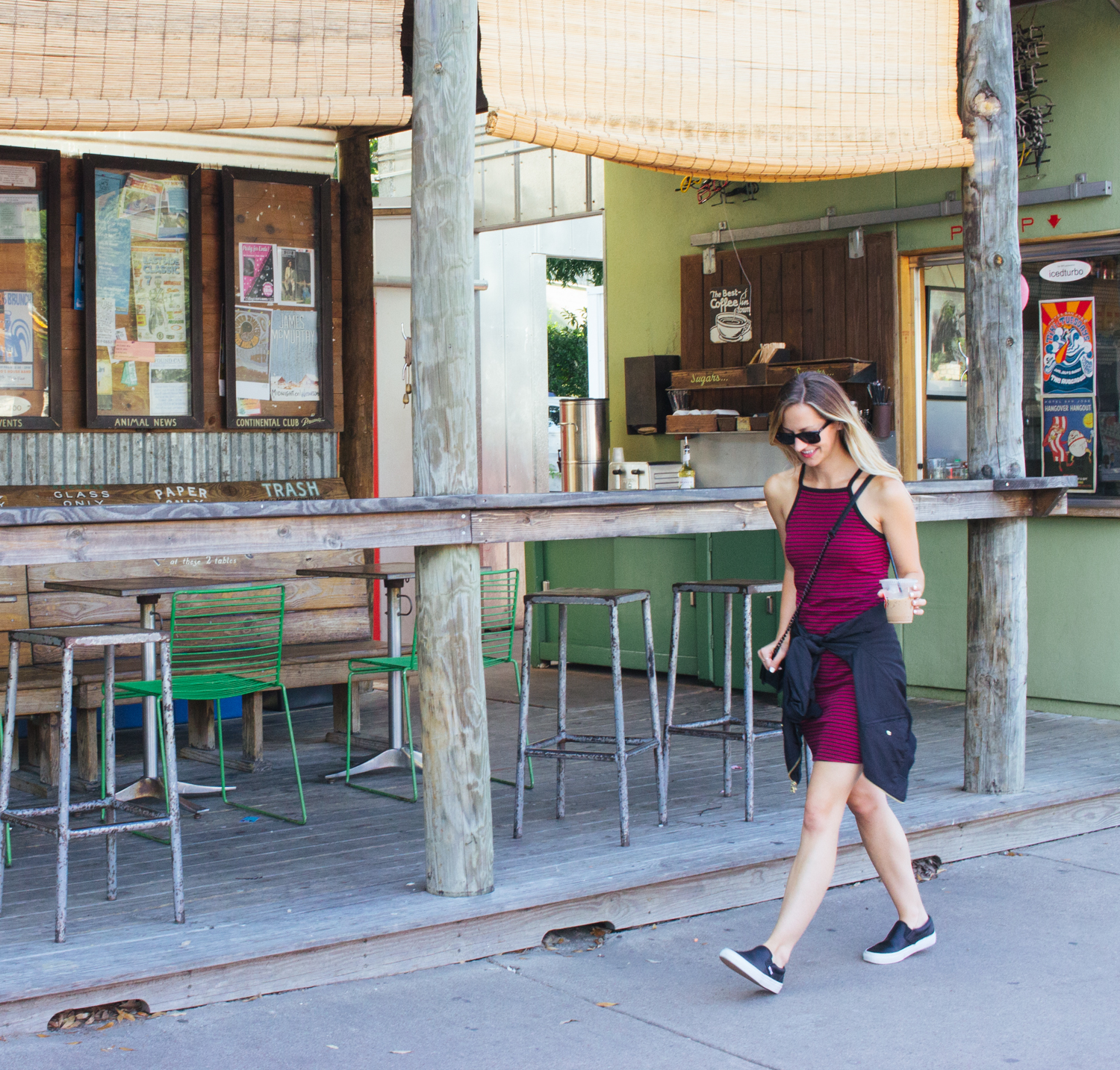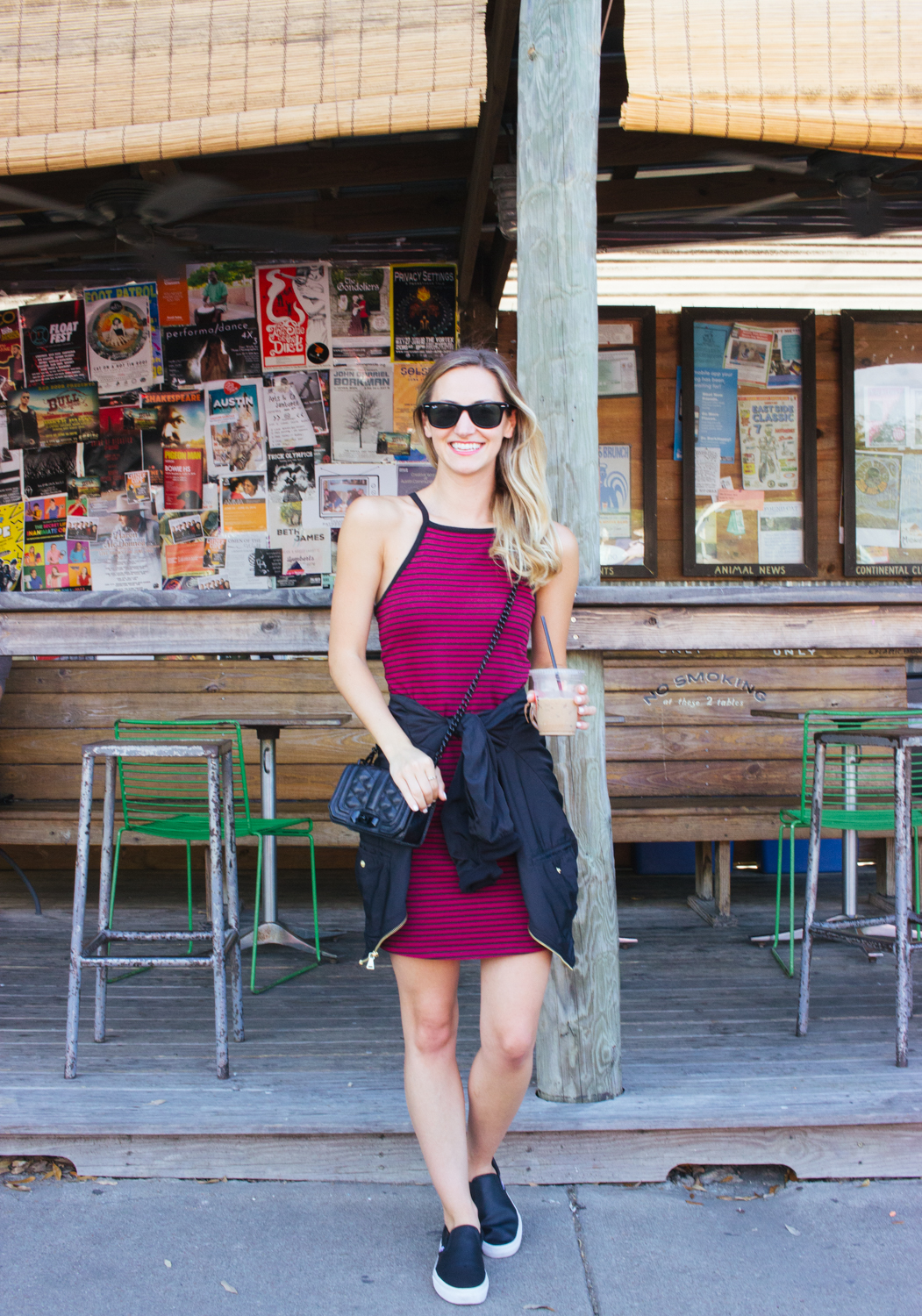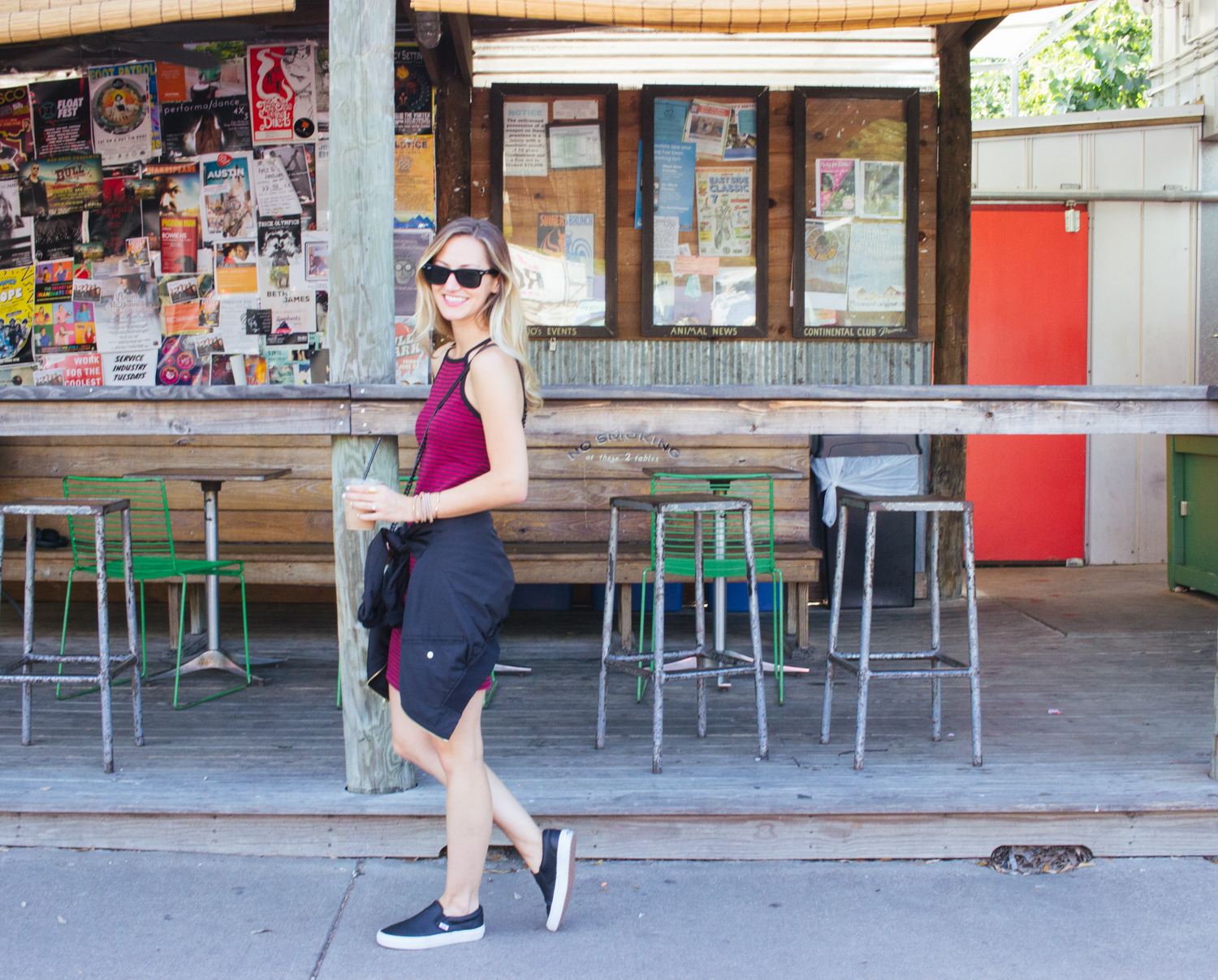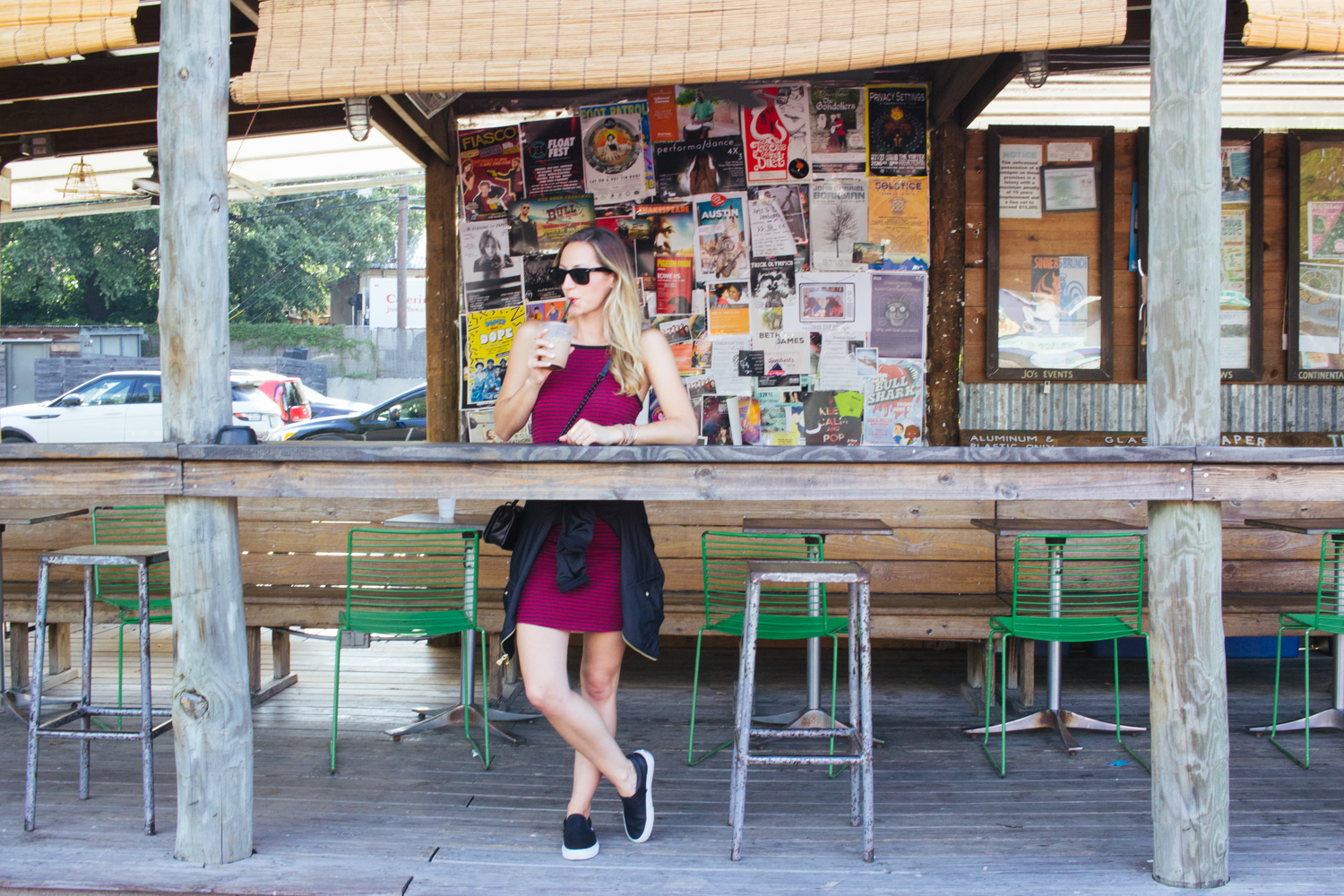 We have an Express at the mall near my apartment and I am not even lying when I tell you I spent nearly TWO hours in the store.. they have SO much cute stuff right now and the prices points are incredible!! From dresses (on sale as low as $10!) to cutoff denim shorts in a ton of flattering fits (…I may have tried on the entire denim table display haha), let's just say you should get yourself over to Express and do some summer shopping! (Psst…lots of amazing online deals right now!).
I'm wearing a size XS in the bomber jacket (it runs a little big, so I recommend sizing down) and a small in the dress (I like some breathe room in my body-con dresses!). This jacket comes in quite a few color options (olive green, burgundy) and my striped dress was just marked down to $23 (down from $40!), so definitely go check out those cute styles + deals.
As we finally hit summer, I am loving sneakers with dresses for that casual, on-the-go vibe. It's super cute and also so comfy and easy to wear all day long while running errands or meeting with friends.
Alright ladies, I'm closing my laptop & heading over to my first wedding dress fitting appointment – can't wait! Y'all…we're less than THREE months away…so crazy! Hope you all have a marvelous Tuesday!! XO
jacket – EXPRESS / striped dress – EXPRESS / shoes – VANS / handbag – REBECCA MINKOFF / sunglasses – RAY BAN / wrap bracelet – CHAN LUU

 A big thank you to Express for sponsoring this post! All opinions are my own.