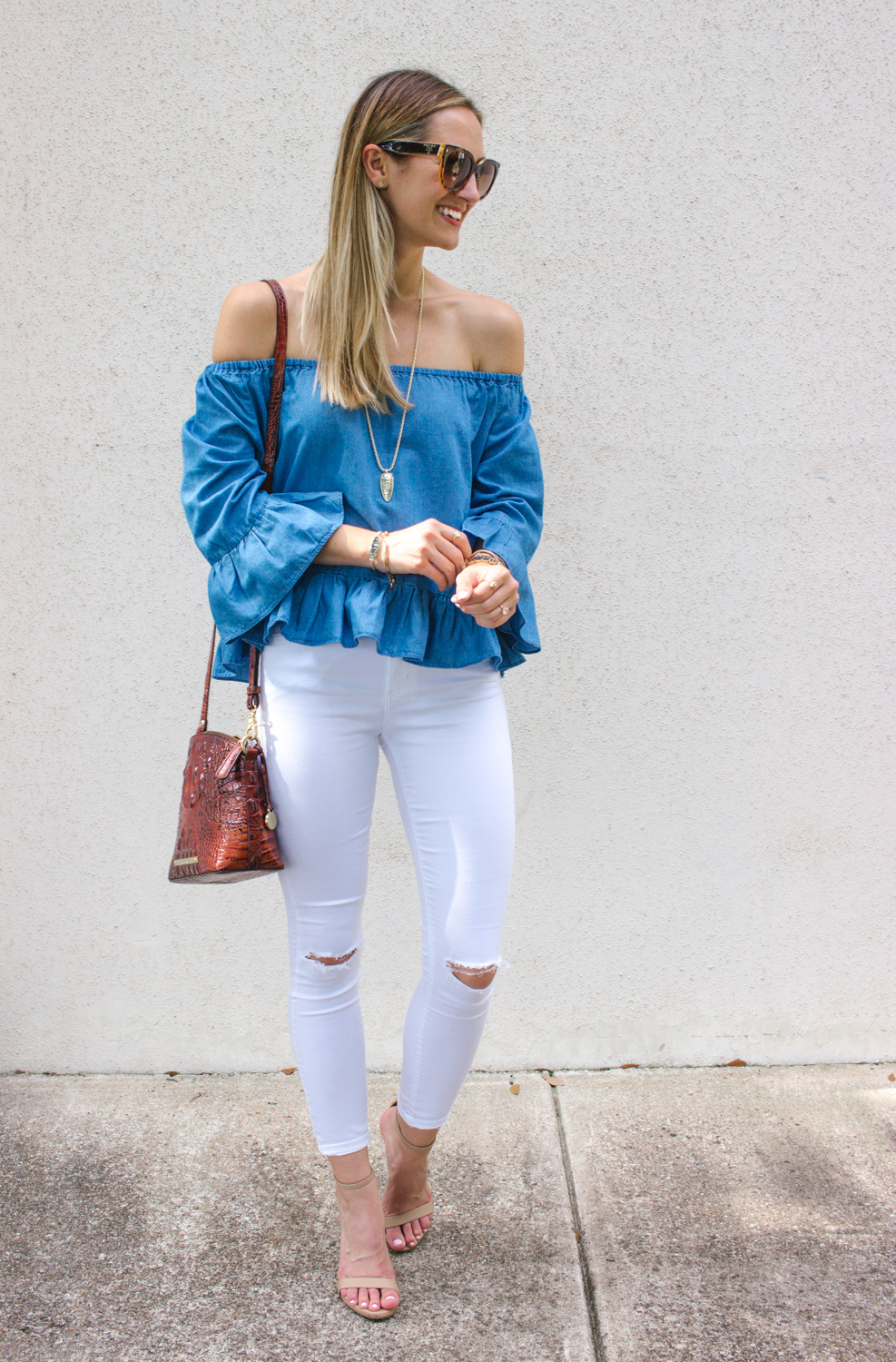 Hello there! I know I know, it's been a LONG time since my last blog post – please forgive me!! We finally got back from our Mediterranean travels (oh ya know, just a 24 hour travel day yesterday…ah!) and I must say, it was kind of nice to have such spotty internet access because it gave me a short mental break and really gave me time to soak in Europe and quality time with Blake! Even though I am suffering from the travel blues (miss it already!), I was pretty happy to wake up in my own bed this morning (…there's no place like home, ya know?). Ready to get back to my routine for just two days, then I'm headed to COSTA RICA for my bachelorette party shindig!! 7 days of sunshine, surfing and pina coladas, here we come!
But before I switch gears to travel posts, I wanted to share this ahh-dor-able  chambray off shoulder top & white jeans outfit – it's so perfect for summer!!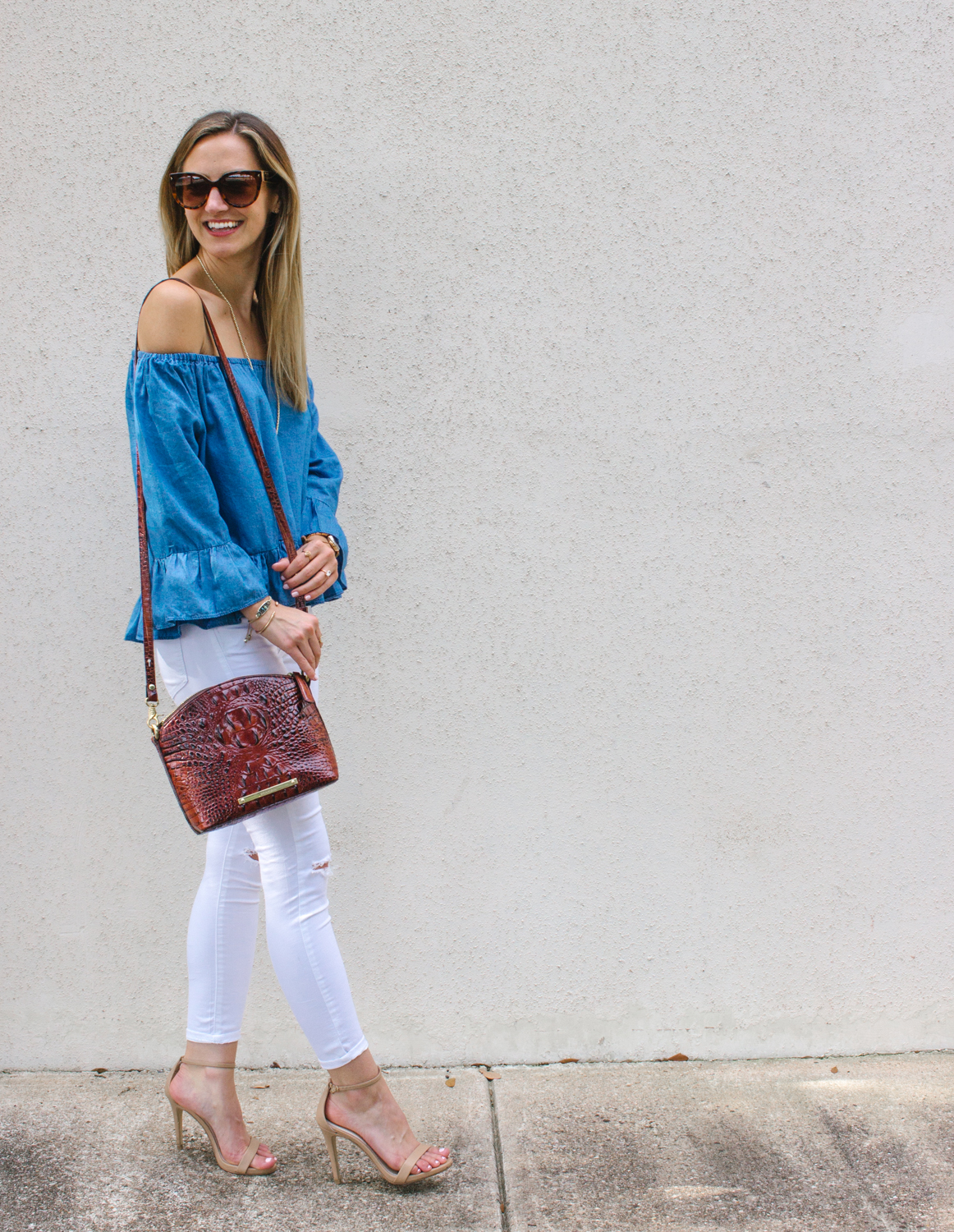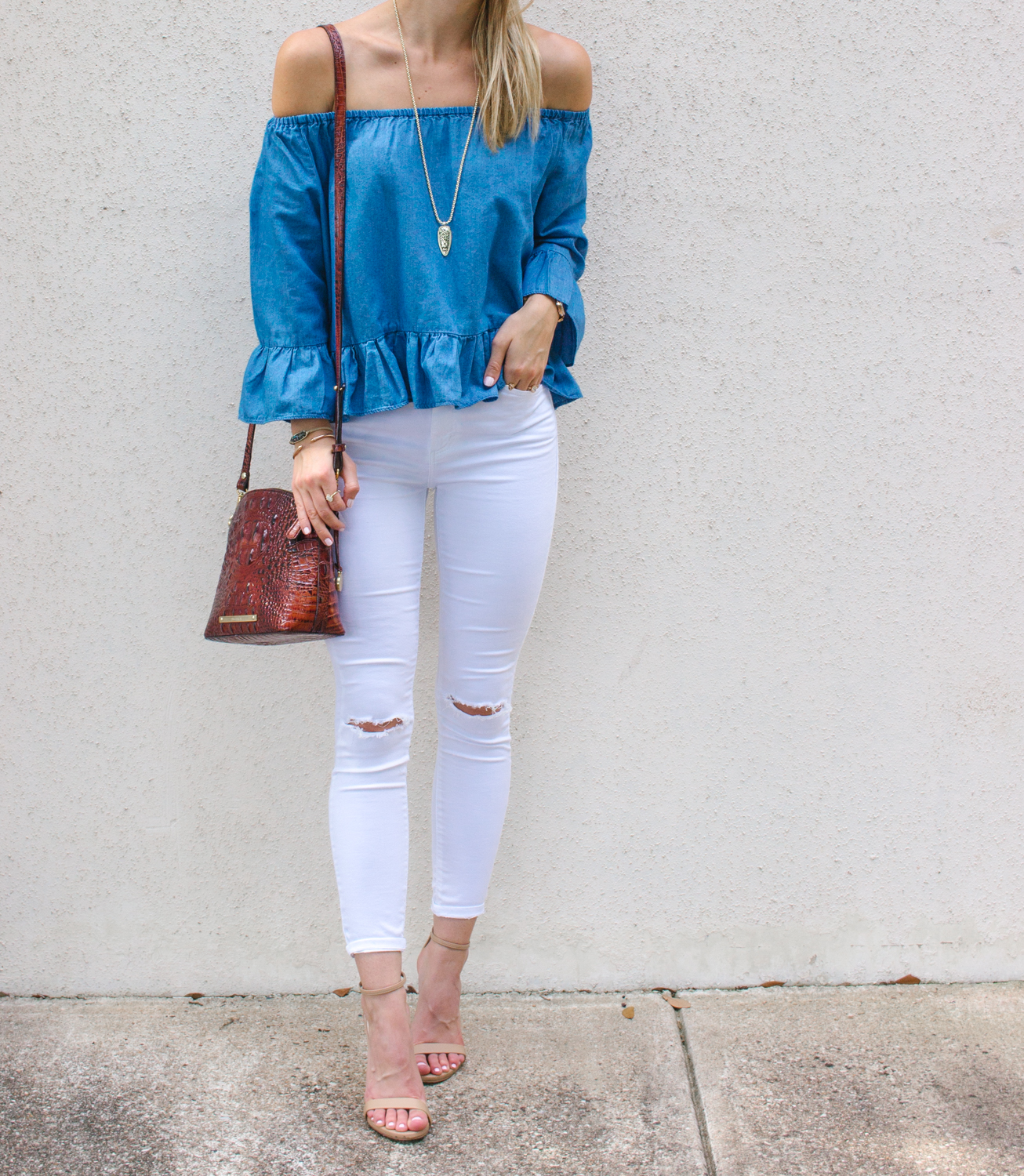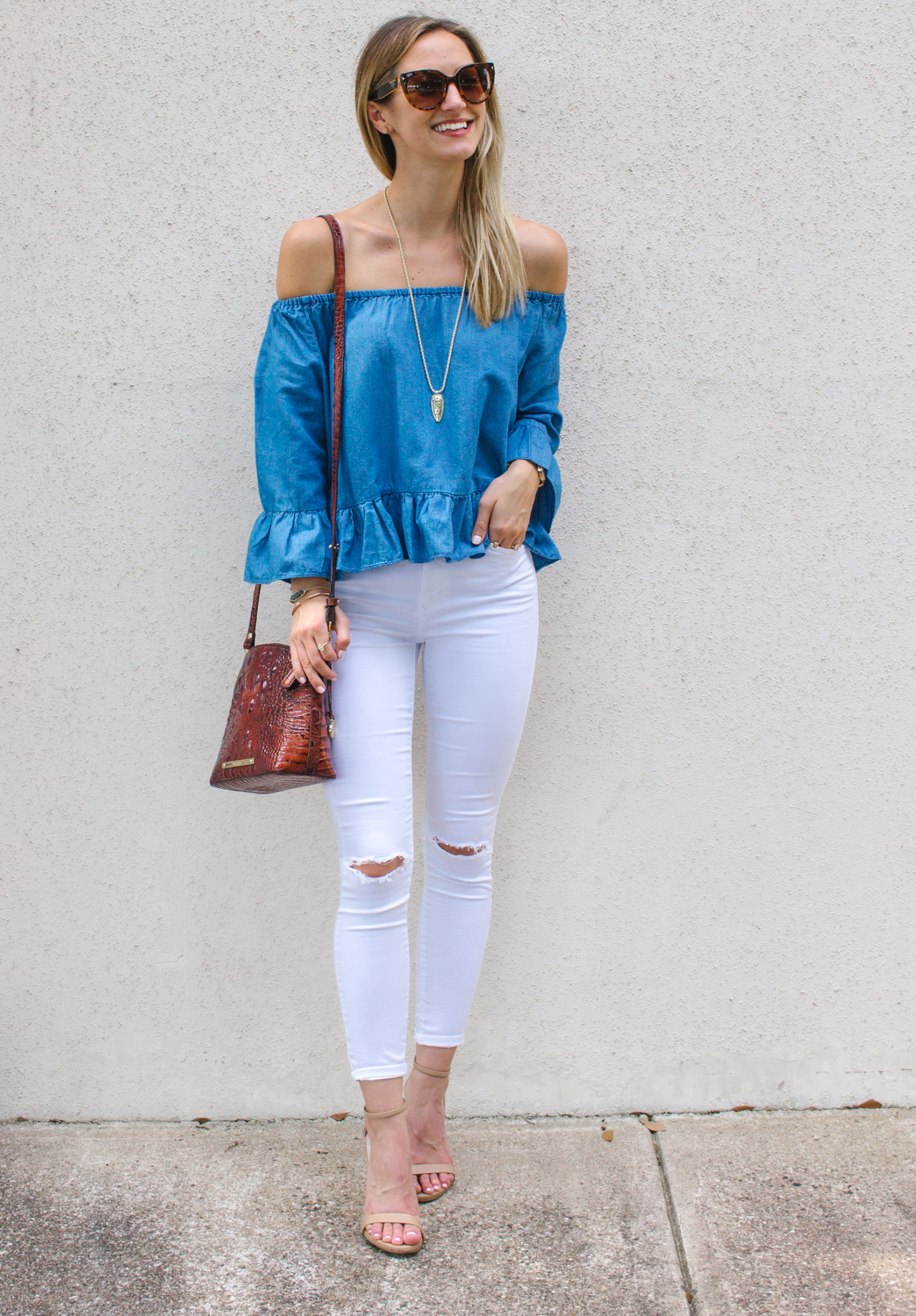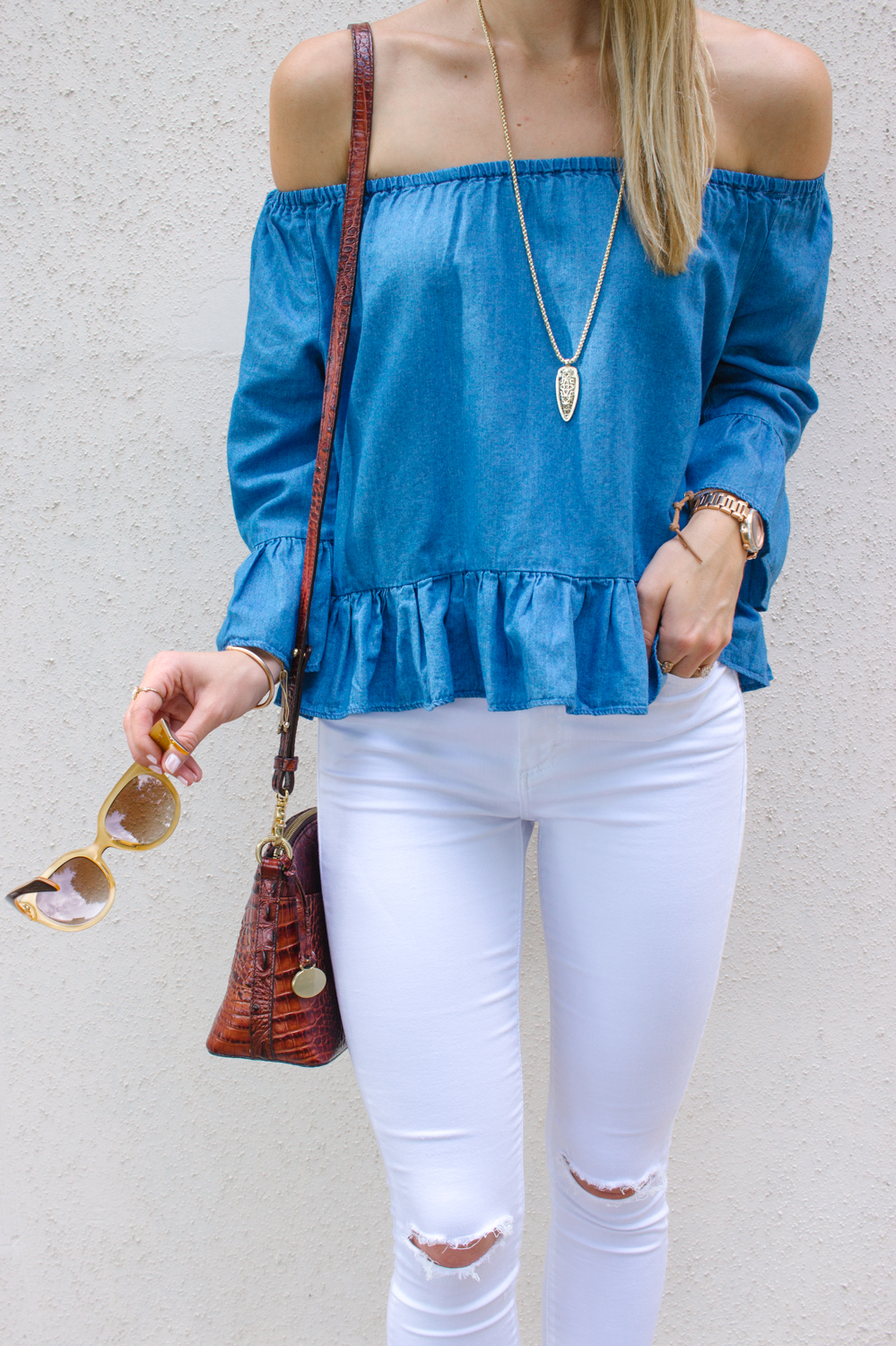 I am a big fan of Goodnight Macaroon tops/dresses/rompers – you name it, they have the cutest and most feminine options! This off shoulder chambray number caught my eye immediately and I knew it would be oh so precious for date night, a music fest, over a swimsuit…you get what I mean – lots of places to wear such a versatile top this season! I am wearing a size small for reference. 🙂 I love the girly ruffle details at the sleeves and trim of the top, it adds a perfectly flirty touch that I definitely gravitated towards!
My jeans are by Topshop (order a size up – I normally wear a 25 but got a 26 in these) and I am in LOVE! You'll be seeing these a lot more (…not that you haven't already and I've only had them for about a month haha) because white is such a fabulous color for summer and the cut is super chic and flattering, I highly recommend these. My shoes are those nude strappy heels that I feel are a staple in any gals wardrobe – I get more wear out of these than any other heels I own, and they're well under $100 (mhmm, I may just scoop up the black pair too for that price!). Lastly, my handbag is by Brahmin (yes yes, y'all know I'm a fangirl of this brand and now own a ton of their bags!) and I love the pecan color and texture, I always find their bags so classy and unique, not to mention the price point is a steal for the quality of these bags.
If you follow me on Instagram, you may have noticed that I wore these sunglasses almost daily on my trip! I love the oversize cat eye frames in tortoise shell (always such a "soft" color pick in my opinion, can never go wrong with tortoise shell) and the quality is outstanding…trust me, they just feel amazing! They're by Prada and also come in black.
Alrighty ladies, I am working on a "what I wore on my trip" roundup post to go live tomorrow – I can't wait to share more details from our trip!! I had so many folks asking about outfit details that I figured this would probably be the best way to start off my travel diary posts…so stay tuned for that! 🙂
Just want to say thank you to everyone for your kind travel well wishes all week long to me and Blake, y'all are truly the best and it means so much to me that you enjoyed following along – I loved every second I was able to share photos on my Instagram and Snapchat behind the scenes photos of our getaway…!
Hope you had a marvelous weekend!! XO
top – GOODNIGHT MACAROON / jeans – TOPSHOP / shoes – STEVE MADDEN / handbag – BRAHMIN / sunglasses – PRADA / necklace – KENDRA SCOTT / watch – MICHAEL KORS

SHOP MORE OFF SHOULDER TOPS