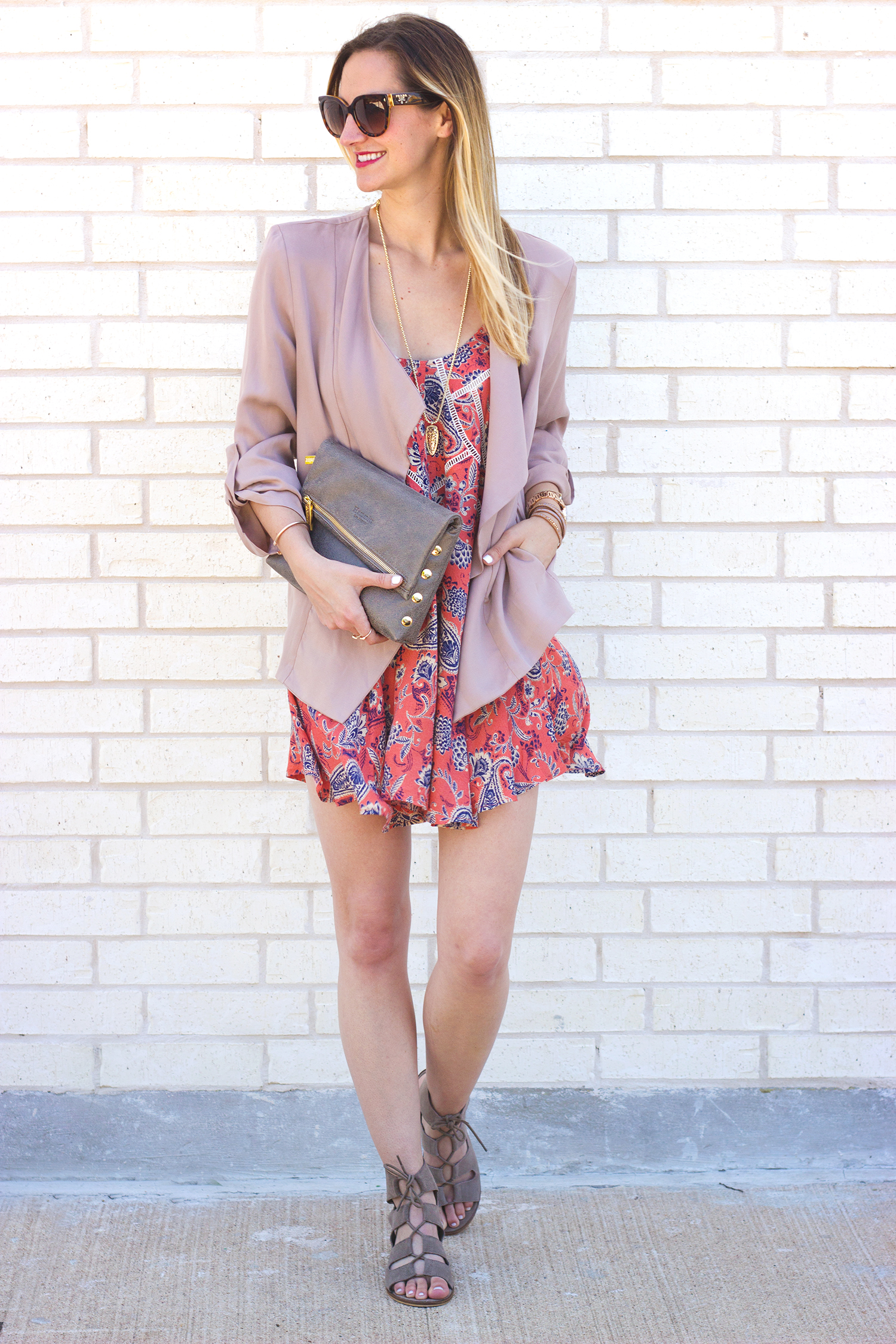 …Of course I post this juuuust as the weather drops a bit in Austin! Ha, typical..! 😉 I guess that draped front jacket will come in handy again…however, I may swap the breezy shift dress for jeans until the heat comes back (…it's been VERY windy in Austin…trust me, makes for quite an interesting public photo session haha! Which mostly consists of me leaning up closely against the wall and trying my hardest to keep my dress from flying up from all angles, half mortified and half genuinely terrified the wind will win that battle…I gotta say, Marilyn made that moment look pretty darn graceful, ha! Those outtakes will just stay in my trash folder…that's for sure.. 😉 ).
Now that I've spilled my guts about the awkward woes of snapping photos in public (ha! That is a true struggle of mine, quite a weird and vulnerable thing to do!), we can move on to this look..(the good stuff, right? 😉 ). My dress is a razorback shift dress that has a zipper down the back (as you can see in the 4th photo in this post) and a fabulous paisley print and some intricate stitching along the bustline. This thing is TOO cute and so perfect to take you from spring (when paired with a jacket) all the way to summer (literally just nix the jacket..okay and maybe add a tan…and perhaps a topknot if we're talkin' Texas heat 😉 and voila, golden for summer! This dress is super affordable and I'm wearing a size small for reference. I'm a big fan of Sun & Shadow products, too, LOVE this brand and buy a lot of their pieces! Great fit, quality and an amazing price point.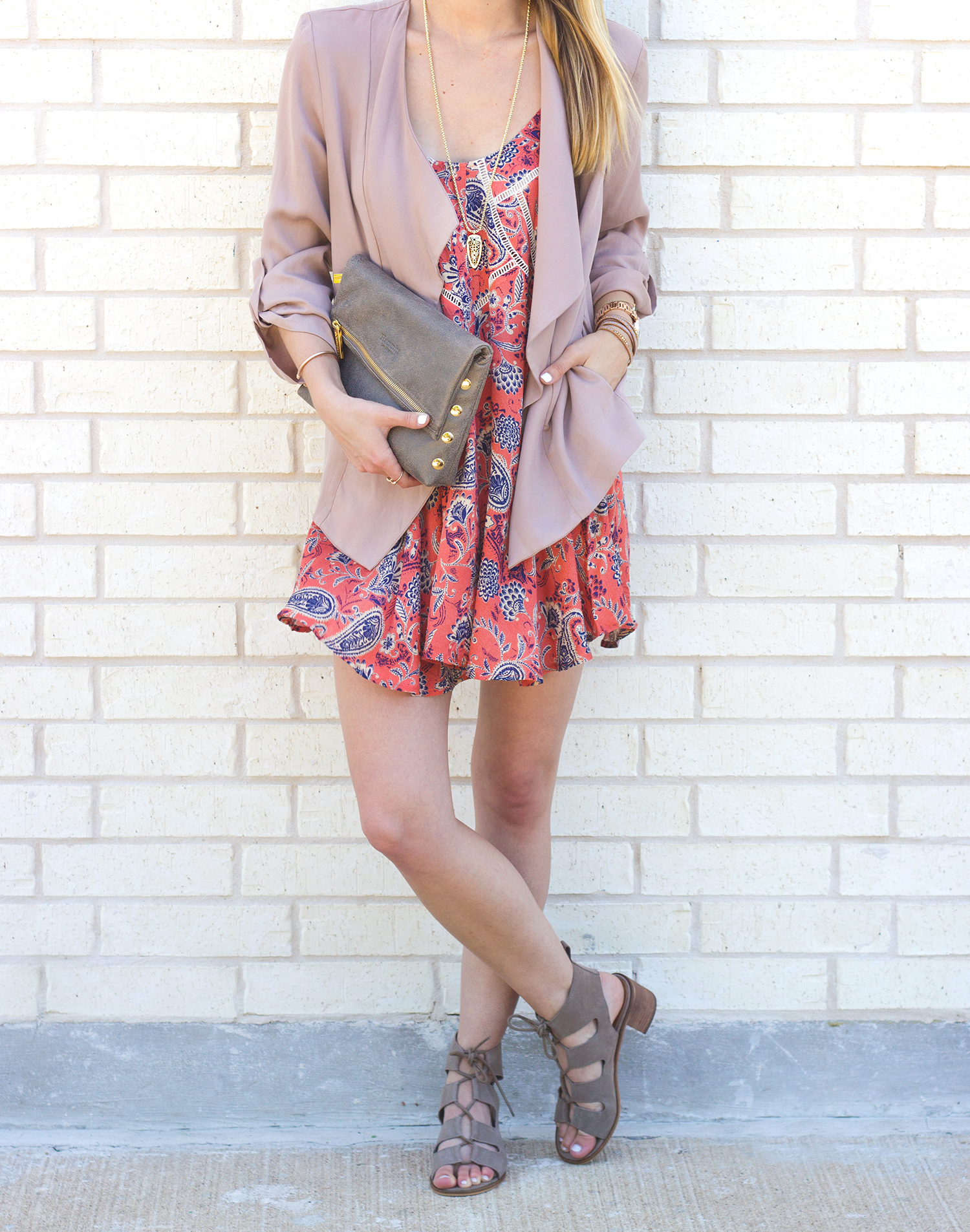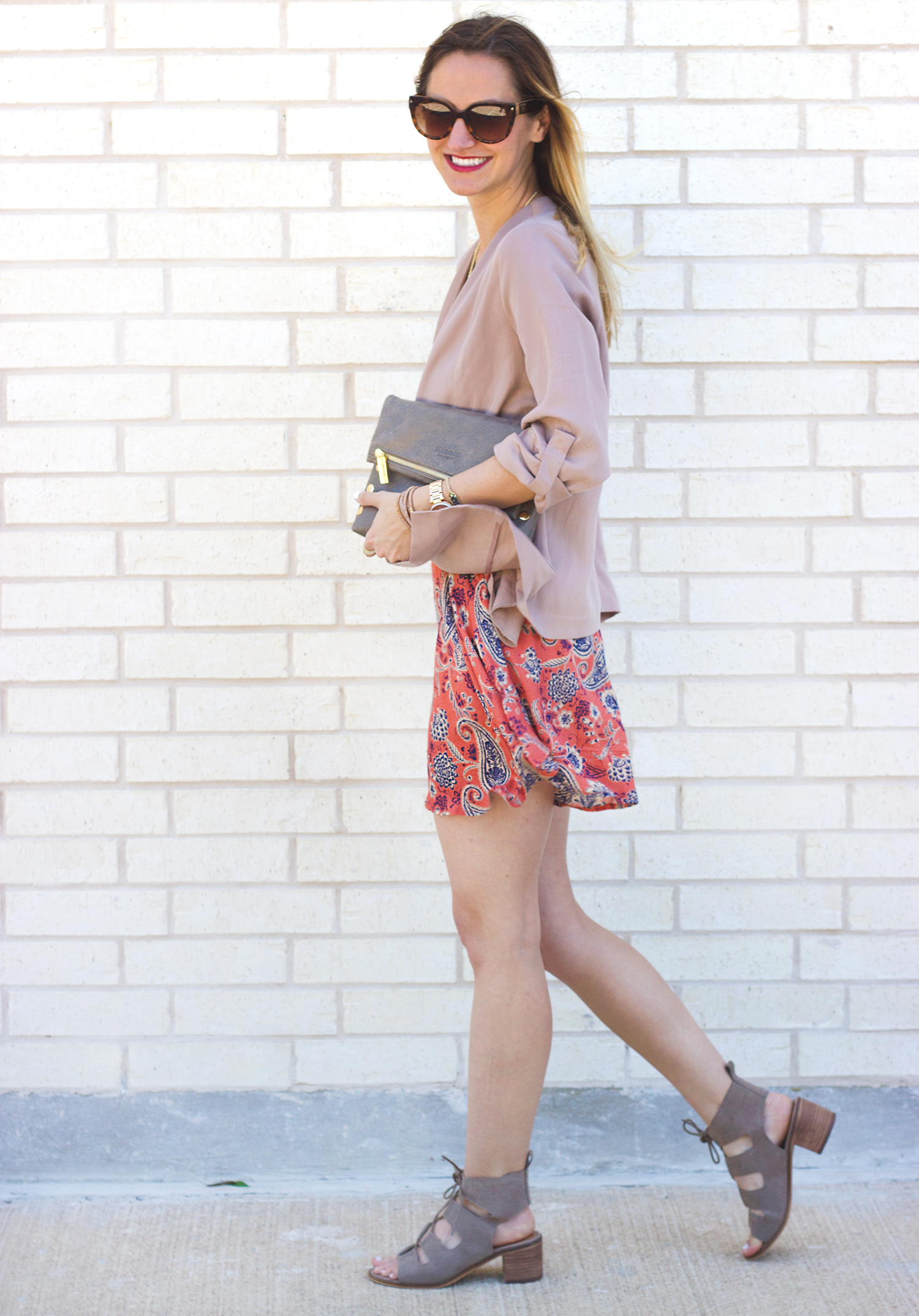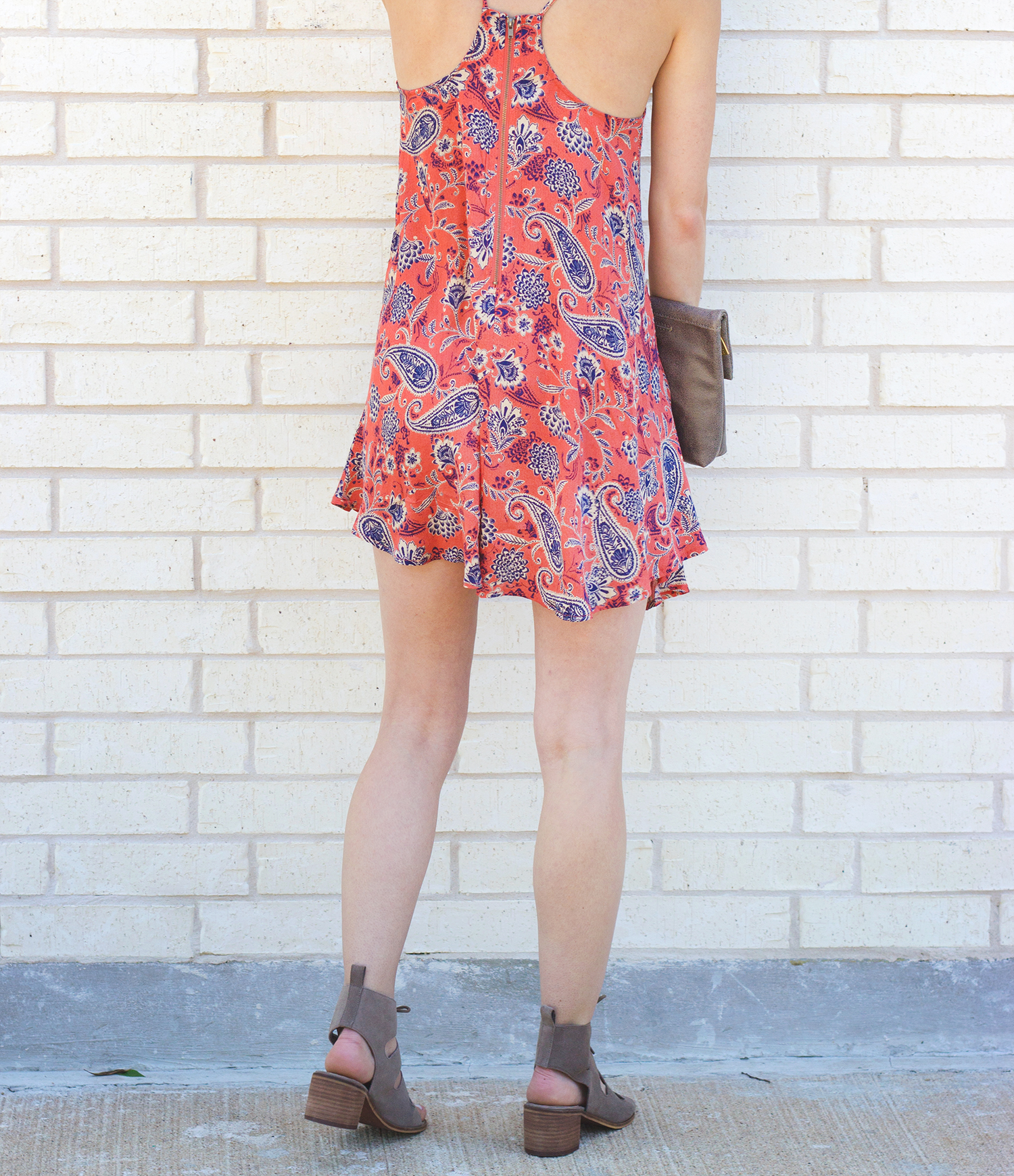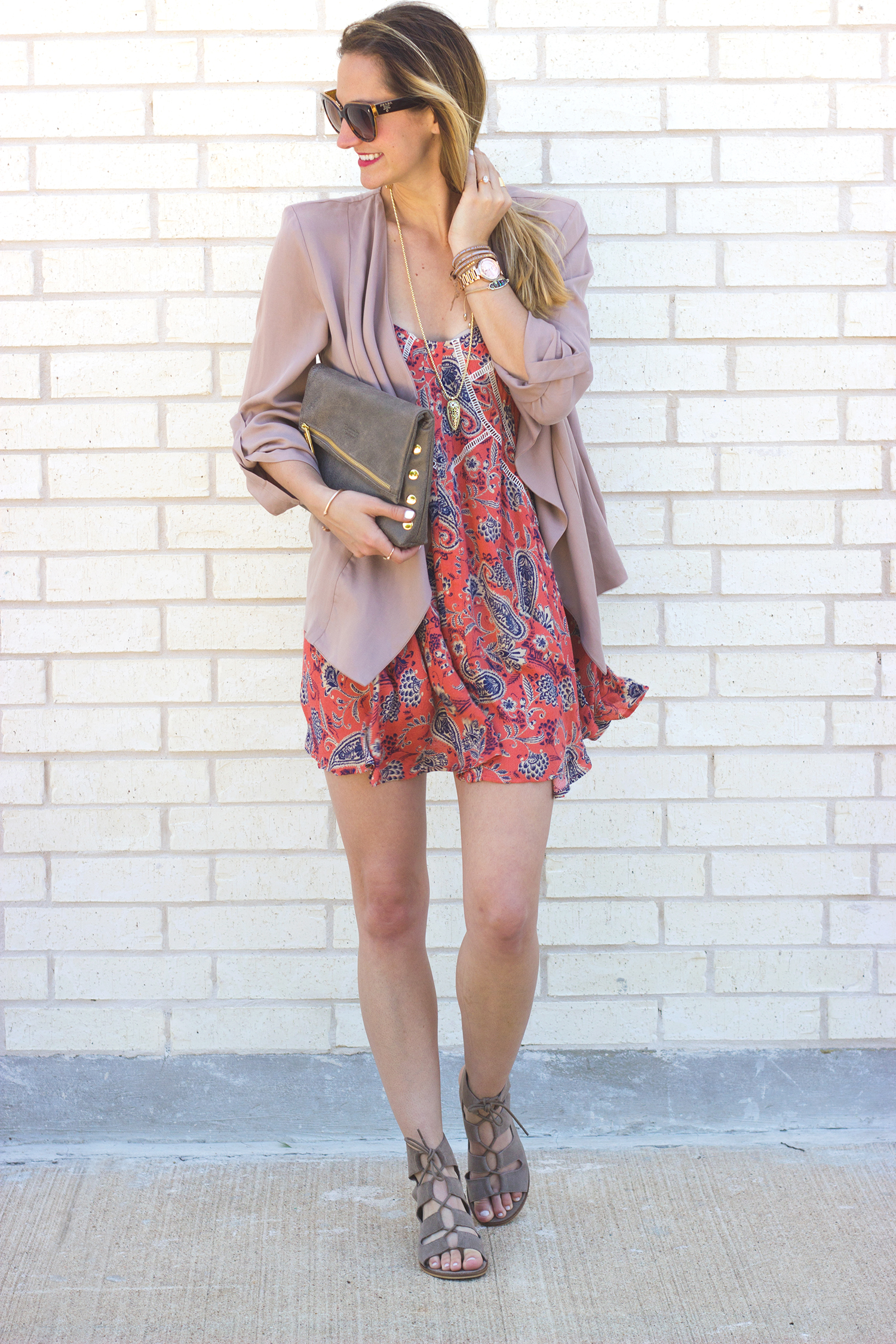 I paired the dress with a lightweight draped front jacket (seriously, this one is SO perfect for a dinner date when you need to add a chic touch to a casual dress, or even over a tee with jeans to add a little fashion forward vibe to your look) – and I highly recommend this one! (Wearing a size small for reference). This jacket was on back order for a few weeks and finally made it's way into my closet very recently..where it shall stay – happily! 🙂 I love the color and am obsessed with the casual yet polished touch it adds to a simple shift dress. Done and done!
Good news, my shoes are finally back in stock (hooray!) and they fit true to size. They're extremely comfy (literally, you don't have to break them in, woo!) and to answer a question I get asked quite frequently about these shoes – yes, if you're a momma running after a toddler, these shoes are suitable for YOU! I love the low heel and the laces are super soft and don't rub at all – well done, Steve Madden! I actually wore these during that blogger conference a few weeks back and they kept me up and running all day long, no achy feet by the end of it all – YAY. Scoop them up and see more color options here.
Lastly…my accessories! My sunnies are Prada (trust me, worth the price tag, these things are gorgeous!), my clutch-to-crossbody handbag is by Hammitt LA (stunning leather goods…can't even handle the beauty of this "VIP Clutch" …obsessed is an understatement!), and my gold arrowhead necklace by Kendra Scott. I linked my bracelet stack below, so scroll just a tad for that info! 🙂
Alrighty gals, that's a wrap for me today! Hope your week is going well, thus far! XO
dress – SUN & SHADOW / jacket – ASTR / shoes – STEVE MADDEN / handbag – c.o. HAMMITT / necklace – KENDRA SCOTT / sunglasses – PRADA / watch – MICHAEL KORS / wrap bracelet – c.o. CHAN LUU (similar dupe here) / abolone shell bracelet – c.o. KENDRA SCOTT

SHOP SIMILAR PICKS